Giant balls of metal fall from the sky in towns across the globe leaving locals baffled… so what on earth are they?
Brits, Russians and now Peruvians have spotted tearing across the sky within weeks of each other baffling amateur star-gazers around the world
GIANT balls of metal spotted falling from the sky in different parts of the world have left people baffled.
Brits, Russians and now Peruvians have spotted fireballs plummeting into their local towns within weeks of each other – so where did they come from?
Locals in the Andean region of Peru were terrified after finding this huge metal object in a field
Locals from Peru's southeastern Andean community were terrified after finding three mysterious metal objects in nearby fields.
They found the huge rocks hours after dozens of pictures and videos of a blazing object, taken in Brazilian and Peruvian towns Tingo Maria and Pucalklpa, 115 miles away from each other, were uploaded on to social media.
Romulo Barros, the chief of the fire service in the Brazilian municipality of Cruzeiro do Sul, said the object was most likely a meteorite.
But the Peruvian Air Force confirmed the fireball was actually a Russian space rocket re-entering Earth's atmosphere.
The Peruvian Air Force released this picture of the mysterious object locals found
Locals in the South American country were baffled by the extra terrestrial spheres
However the Peruvian Air Force confirmed that the fireball was not a meteorite but a space rocket breaking up in the Earth's atmosphere
He added, the fireball may have been the re-entry of the SL-23 rocket and the three metal spheres were fuel tanks belonging to a satellite.
And Meteorologist Alejandro Fonesca, from the Federal University of Acre in Brazil, said that no meteorites had been predicted to fall in the area.
He suggested the ball was more likely made up of space debris, a term used to describe defunct man-made objects, such as old satellites, that are left in space.
He said: "When the debris enters the atmosphere it comes under intense friction and this causes it to set on fire. That is what could have happened."
The balls were eventually confirmed to be a rare atmospheric re-entry of a rocket that was launched from Kazakhstan on Boxing Day.
The SL-23 rocked body re-entered Earth's atmosphere at 23:32 UTC on January 27, 2018, providing a rare opportunity to witness a rocket body slowly burning out in the atmosphere.
Two years ago similar balls were found in Vietnam.
Three metal spheres between 27cm and 80cm in diameter with Cyrillic writing on them, were found about 60 miles apart.
The balls were 40kg pieces of the rocket used to hold reaction control system propellant or tank pressure gases, they are often the only surviving parts of the rockets.
It was launched as part of a joint venture between Russia and Angola to put the Angosat-1 into orbit in a bid to improve communications in the African country.
Two years ago similar balls were found in Vietnam.
Three metal spheres between 27 and 80 centimeters in diameter with Cyrillic writing on them, were found about 60 miles apart.
Their observations came weeks after Americans, Brits and Russians saw similar fireballs crash into earth.
On New Years Eve, two young men filmed a green fireball flying across the fields of Wakefield.
Two young Brits film this fireball flying over Wakefield on New Year's Eve
Confirming their suspicions, the UK Meteor Network said the International Meteor Organization received more than 700 reports of a fireball on December 31 at around 5.35pm.
Days later on Orthodox Christmas Day, Russians were shocked to see the night sky momentarily turn deep blue as a meteorite whizzed across the sky.
Artyom Russkikh told Siberian Times he felt a "vibration" as he was driving and heard an explosion, as he saw the fireball.
On January 17, the USGS confirmed a meteor crashed into Michigan at 810pm, causing a minor earthquake.
Source: https://www.thesun.co.uk
I Visited a Local UFO Hotspot During the Annual Gathering of Tinfoil Hat Enthusiasts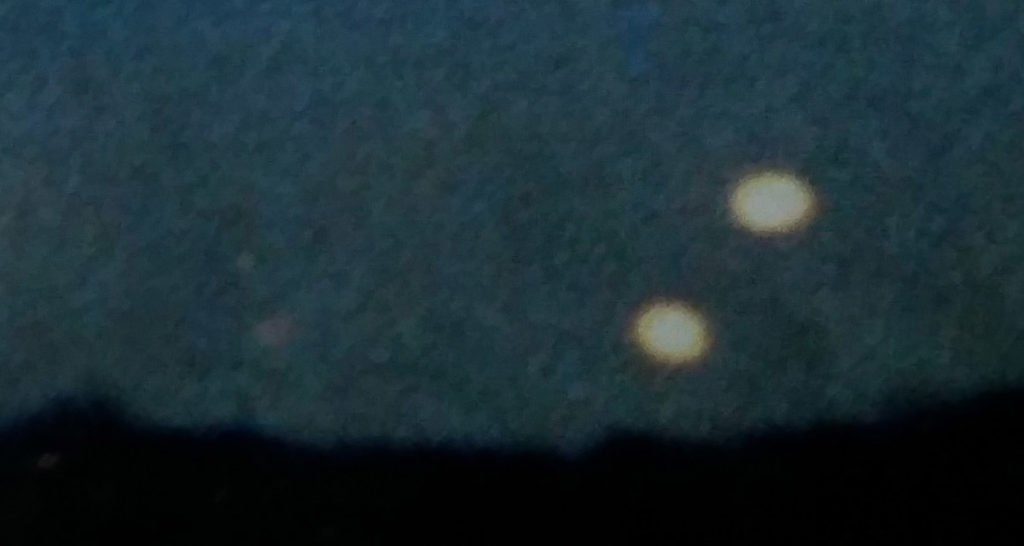 UFO enthusiasts have been gathering in this Wisconsin town for 30 years to share their experiences and catch a glimpse of something strange in the sky.


UFOs photographed in the town of Dundee, WI
There are three small communities that claim to be the UFO capital of Wisconsin, but the most compelling is the unincorporated town of Dundee about 20 minutes from Cult of Weird headquarters.
10,000 years ago, the last glaciers tore through the area, leaving behind a devastated landscape that is now the picturesque Kettle Moraine State Forest. When the glaciers receded, they left behind a 250-foot pile of sediment called Dundee Mountain. It's not an actual mountain, but it is the highest point in the area.
And locals will tell you there's something suspicious going on there.
Strange lights and unidentified objects witnessed in the sky over Dundee Mountain and nearby Long Lake have left residents puzzled for decades. So much so, in fact, that in 1988 tavern owner Bill Benson and some friends decided to host a gathering for those who had experienced something in the area.
Bill's bar, Benson's Hide-a-Way, is the self proclaimed UFO headquarters of the area. It sits on the north shore of Long Lake, providing a clear view of Dundee Mountain's peak to the south. The bar is a kitschy backwoods nightmare, and that's why it's amazing. The walls are covered in images of little green men. A model of a UFO hangs behind the counter. A small grey figure with large black eyes floats in a jar of cloudy liquid. It is said to be from Area 51.
30 years since the first gathering was held, the annual UFO Daze event seems more like an excuse to wear goofy aluminum foil hats and drink the spiked green alien punch, but that doesn't mean there isn't something going on. Behind the bar Bill keeps a binder of photos documenting unexplained activity in the area, from blurry lights in the sky over Dundee Mountain to the bizarre 1995 occurrence when a large patch of reeds in the lake near Benson's became flattened and interwoven so thickly that residents could walk on it without falling through into the water.
A crop circle in the lake.

Photos of UFO activity around Dundee Mountain and Long Lake
Last weekend Cult contributor J. Nathan Couch and I set out to uncover the secrets of Dundee's UFO activity at the 30th annual UFO Daze. We didn't succeed, exactly, but we did see a few aliens (inflatable ones tied to boats) and some pretty amazing tinfoil hats.
Read about it here: Searching for aliens at the 30th annual UFO Daze
'Slender Man' movie will respect attack victim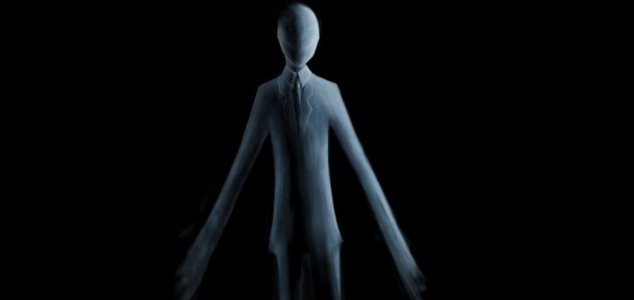 Image Credit: CC BY-SA 4.0 LuxAmber
Slender Man was invented on an Internet forum almost a decade ago.
The movie will not play in two counties out of respect for a girl who was almost killed by two teenagers.
The chilling incident, which occurred in 2014, saw Anissa Weier and Morgan Geyser, both 12, lure one of their classmates out to a woodland park in Wisconsin before attempting to take her life.
The senseless attack was reportedly 'dedicated' to Slender Man – a fictitious entity invented on an Internet forum who typically appears as a very tall, thin individual with a black suit and no face.
The character has been the subject of numerous creepypasta stories over the last few years.
Now with the release of a new movie based on the Slender Man phenomenon, it has been reported that the film will not screen in Milwaukee or Waukesha counties out of respect for the victim.
"Like many people across the United States, Marcus Theaters was deeply concerned and saddened when the Slender Man phenomenon touched Southeastern Wisconsin in such a profound way, changing the lives of many families forever," the movie theater chain said in a statement.
"After careful consideration, and out of respect for those who were impacted, we have decided not to play the upcoming Slender Man movie in Milwaukee and Waukesha counties."
"We will show the film at select other Marcus Theatres locations."
Source: IGN.com
Exoskeletons are About to Walk Ford's Factory Floors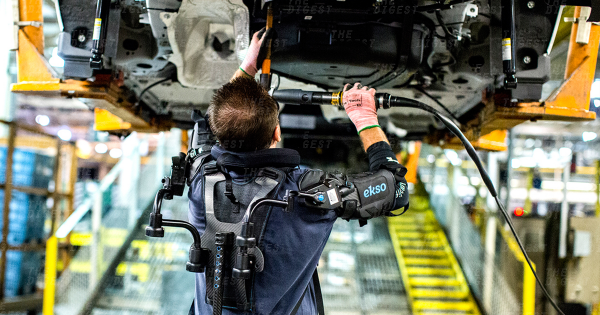 HALF MAN, HALF MACHINE. Full-blown automation may be the future of manufacturing, but we're not there yet. While some machines have taken over the more painstaking tasks on the factory floor, humans still play a vital role in the production line. But often, it isn't easy work. Tasks typically require being on one's feet, and some even involve making repetitive arm motions up to 4,600 times a day or one million times a year. Ouch.
At Ford though, this might all be changing. Exoskeleton use on Ford's factory floors could soon shift into overdrive, according to Engadget.
ENTER THE EXOSKELETONS. In November 2017, EksoVest Exoskeletons, built by Ekso Bionics, were given to workers in two Ford factories. Now ,up to 75 exoskeletons will be distributed to employees at 15 factories across the world. The exoskeletons don't have motors, or even batteries, but provide "passive assistance" in the form of arm support from five to 15 pounds. By giving more arm support the higher a person reaches, the device takes strain off of the arm muscles. If you're not convinced it would make a difference, hold your hand above your head for a few minutes.
WE HAVE THE TECHNOLOGY. This is only the beginning for exoskeletons at Ford. "Today, it's only the passive upper-arm support skeleton that helps with overhead work," Marty Smets, Ford's technical expert of human systems and virtual manufacturing, told Engadget.
Taking one step at a time could lead Ford to other avenues of exoskeleton use within its factories. By establishing systems for the use now, Ford is well positioned to adapt new devices as they become available. "We wanted to focus on one exoskeleton initially, then expand from there as the space grows," Smet said.
Time will tell, but perhaps man and machine can co-exist peacefully after all.
READ MORE: Ford thinks exoskeletons are ready for prime time in its factories [Engadget]
More about exoskeletons at Ford: Ford Pilots a New Exoskeleton to Lessen Worker Fatigue