Ghosts of Flight 401 – The official airline of the paranormal
The most extraordinary and credible research into the ghost phenomenon ever documented is the so-called "Ghosts of Flight 401." On December of 1972, an Eastern Airlines Tri-Star jetliner, Flight 401, crashed into a Florida swamp. The pilot, Bob Loft (on the left), and flight engineer Don Repo (on the right), were two of the 101 people who perished in the air crash. Not long after the crash, the ghosts of Loft and Repo were seen on more than twenty occasions by crew members on other Eastern Tri-Stars, especially those planes which had been fitted with parts salvaged from the Flight 401 wreckage. The apparitions of Loft and Repo were invariably described as being extremely lifelike. They were not only reported by people who had known Loft and Repo, but their ghosts were also subsequently identified from photographs by people who had not known Loft and Repo.

The strange tales of the ghostly airmen of Flight of 401 circulated in the airline community. An account of the paranormal happenings even appeared in a 1974 US Flight Safety Foundation's newsletter. John G. Fuller, the best-selling author of The Ghost of Flight 401, carried out an exhaustive investigation into the hauntings with the aid of several cautious airline personnel. A mass of compelling testimony was produced as a result. The website Flight 401 – The Black Box Story provides an account of the crash as told using material from the Black Box. It highlights how poor cockpit resource management caused a tiny light bulb to distract the pilots and bring down a Tristar jetliner.

The cause of the crash was found to be a couple of minor design faults in the controls, and Lockheed rapidly corrected them. However, it was after some of the undamaged parts of the aircraft were subsequently recycled onto other planes that the mysterious incidents began to be reported. Although Eastern Airlines refuses to discuss the matter, researchers have interviewed numerous individuals claiming to have encountered the ill-fated pair on L-1011s. As the reports would have it, Loft and Repo have devoted their after-lives to watching over the passengers and crew of these Lockheed passenger planes.

Many of the testimonies are extremely persuasive. Many come from people in highly responsible positions: pilots, flight officers, even a vice president of Eastern Airlines, who allegedly spoke with a captain he assumed was in charge of the flight, before recognizing him as the late Loft.

Other sightings are convincing because they have multiple witnesses. A flight's captain and two flight attendants claim to have seen and spoken to Loft before take-off and watched him vanish – an experience that left them so shaken they cancelled the flight.

One female passenger made a concerned enquiry to a flight attendant regarding the quiet, unresponsive man in Eastern Airlines uniform sitting in the seat next to her, who subsequently disappeared in full view of both of them and several other passengers, leaving the woman hysterical. When later shown a sheet of photos depicting Eastern flight engineers, she identified Repo as the officer she had seen.

Another incident occurred when one of the L-1011 passenger planes that had been fitted with salvaged parts was due for take-off. The flight engineer was mid-way through carrying out the routine pre-flight inspection when Repo appeared to him and said, "You don't need to worry about the pre-flight, I've already done it."

Repo and Loft are apparently not content merely to be present on these airplanes. Often their style is far more hands on, particularly in Repo's case. Aside from his appearance to a pre-flight engineer who he appeared to have been assisting, there is testimony from a flight attendant who observed a man in a flight engineer's uniform, whom she later recognized as Repo, fixing a galley oven. The insistence of the plane's own flight engineer that he had not fixed the oven, and that there had not been another engineer on board, would seem to lend weight to her claim. Repo was also seen in the compartment below the cockpit by a flight engineer who had accessed it in order to investigate a knocking he heard coming from there.

On another occasion, Faye Merryweather, a flight attendant, saw Repo's face looking out at her from an oven in the galley of Tri-Star 318. Understandably alarmed, she fetched two colleagues, one of whom was the flight engineer who had been a friend of Repo's and recognized him instantly. All three heard Repo warn them to, "Watch out for fire on this airplane." The plane later encountered serious engine trouble and the last leg of its flight was cancelled. It is interesting to note that the galley of Tri-Star 328 had been salvaged from the wreckage of flight 401.
The sightings were all reported to the Flight Safety Foundation (an independent authority) which commented: "The reports were given by experienced and trustworthy pilots and crew. We consider them significant. The appearance of the dead flight engineer (Repo) … was confirmed by the flight engineer." Later, records of the Federal Aviation Agency recorded the fire which broke out on that same aircraft.

One of the vice-presidents of Eastern Airlines boarded a Miami-bound TriStar at JFK airport and spoke to a uniformed captain sitting in First Class. Suddenly, he recognized the captain was Loft, at which point the apparition vanished.
Another incident occurred when Repo appeared to a captain and told him, "There will never be another crash. We will not let it happen."
A female passenger found herself sitting next to an Eastern Airlines flight officer who looked pale and ill, but would not speak; she called a stewardess but before the eyes of several people, the man disappeared. The woman was later shown photographs of Eastern Airlines engineers and she identified the man as Repo.
Unfortunately, further research into the well-witnessed paranormal incidents was severely hampered by the airline company which steadfastly refused to co-operate with the ghost investigators.

Eastern Air Lines Flight 401 left New York's JFK airport, bound for Miami International Airport, on December 29, 1972. The Lockheed L-1011 carried 163 passengers and 13 crew members. The flight was under the command of Captain Robert Loft, 55, a veteran Eastern Airline plot. His flight crew included First Officer Albert Stockstill, 39 and Second Officer (flight engineer) Donald Repo, 51.

The flight departed at 9:20 pm and crew and passengers enjoyed a routine flight until 11:32 pm. At this time, the flight was near its destination in Florida and the crew began to prepare for landing. First Officer Stockstill noticed that the landing gear indicator did not illuminate. The other crew members assisted Stockstill, but became distracted by it. While the crew was focused on the landing gear indicator, the plane crashed.

Stockstill died on impact as the plane crashed into the swampy Florida Everglades. Captain Robert Loft and Second Officer Donald Repo survived the crash, briefly. Captain Loft died before he could be pulled from the wreckage. Officer Repo died the next day.

Of the 176 people on board, 101 died.

The Ghost of Flight 401
[youtube https://www.youtube.com/watch?v=vJt0oSpYJM8]Frank Borman, prior to becoming CEO of Eastern Airlines, arrived at the scene after the crash to assist with rescue efforts.
Over the next several months, the employees of Eastern Airlines began to report sightings of the dead crew members Loft and Repo on board another L-1011. Parts from Flight 401 were reportedly salvaged after the Flight 401 crash investigation and refitted into another L-1011 in service. Ghostly sightings began to be reported by those who knew Loft and Repo. Eastern's management threatened dismissal to those caught spreading "ghost stories", it was said.

By this time, the rumors of the haunting had spread far and wide. Television and books told the stories of the ghosts. By this time, Frank Borman was the CEO of Eastern Airlines. Borman called the stories of a haunting "garbage" and considered suing the producers of the 1978 made-for-TV movie The Ghost of Flight 401 for libel.

Despite this, former Eastern Airlines employees still insist to this day that they saw the ghosts of Loft and Repo on board the other L-1011. Parts were said to have been removed from the plane. After the parts removal, there was no further mention of any more appearances by Loft and Repo.

After the 1972 crash, it was discovered that the indicator light that distracted the Flight 401 crew was caused by a burned-out light bulb. The landing gear could have been manually lowered with or without the light. The crash was due to the error of the crew. It is said that this is the reason Loft and Repo haunted Flight 401 – to keep future flights safe from human error.

The Ghosts of Flight 401

Over the following months and years, employees of Eastern Air Lines began reporting sightings of the dead crew members, captain Robert Loft and second officer (flight engineer) Donald Repo, sitting on board other L-1011 (N318EA) flights.

Parts of Flight 401 were salvaged after the crash investigation and refitted into other L-1011s. The reported hauntings were only seen on the planes that used the spare parts. Sightings of the spirits of Don Repo and Bob Loft spread throughout Eastern Air Lines to the point where Eastern's management warned employees that they could face dismissal if caught spreading ghost stories.

While Eastern Airlines publicly denied some of their planes were haunted, they reportedly removed all the salvaged parts from their L-1011 fleet. Over time, the reporting of ghost sightings stopped. An original floor board from Flight 401 remains in the archives at History Miami in South Florida.

The story of the crash and its aftermath was documented first in John G. Fuller's 1976 book The Ghost of Flight 401, and later in Rob and Sarah Elder's 1977 book, Crash.
Two made-for-television movies based on the crash were aired in 1978: Crash of Flight 401, aired in October, was based on the Elders' book, and dramatized the crash, rescue efforts and NTSB investigation; while The Ghost of Flight 401, aired earlier in February, was based on Fuller's book and focuses more on the ghost sightings surrounding the aftermath.


Eastern Air Lines CEO (and former Apollo astronaut) Frank Borman called the ghost stories surrounding the crash "garbage".[37] Eastern considered suing for libel, based on assertions of a cover-up by Eastern executives, but Borman opted not to, feeling a lawsuit would merely provide more publicity for the book.[38] Loft's widow and children did sue Fuller, for infringement of Loft's right of publicity, for invasion of privacy, and for intentional infliction of emotional distress; but the lawsuit was dismissed and the dismissal upheld by the Florida Fourth District Court of Appeal.[39]

Musician Bob Welch recorded a song on his 1979 album Three Hearts titled "The Ghost of Flight 401".

The crash also appeared in a Season 5 episode of Mayday (also known as Air Crash Investigation). The episode was titled "Who's at the Controls?" (In some countries, the title "Fatal Distraction" was used.)

The flight was also mentioned in Season 1 episode 4 (entitled Phantom Traveler) of the television show Supernatural.
High Strangeness at a Haunted Japanese Schoolhouse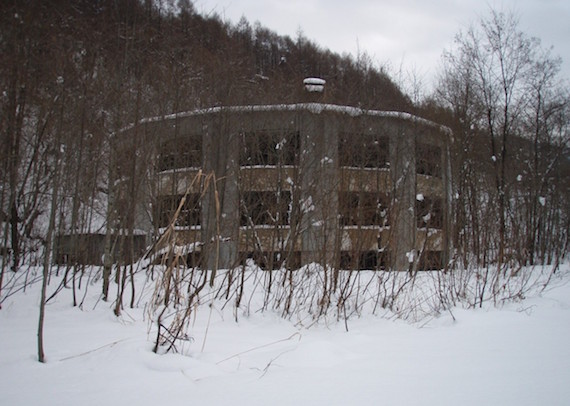 Up in the cold, northern reaches of Japan is the nation's second largest island, Hokkaido. Known for its spectacular natural vistas and picturesque scenery, it is perhaps not a place one would at first associate in any way with haunted locales and ghouls and ghosts. Yet here in the rural town of Bibai, nestled among the beautiful vistas and right up against the Lake Miyajima wetland lies the creepy and enigmatic ruins of a former schoolhouse that has accrued a sinister reputation as one of the most haunted, weirdest places in Japan.
The building itself was apparently built back in 1906, and was designed in a distinctive round shape from which it earns its simple nickname "The Round Schoolhouse." From the 1940s up until the 1970s it was used as an elementary school, after which it was closed for unknown reasons and simply left there where it stood to fall into ruin. Rather creepily, the structure seems to have been left as is, with tables and desks still set up collecting dust in the crumbling structure, all lined up as if expecting students that will never come. This would have once been a place of children playing and laughing, yet now the surrounding grounds have become a thick tangle of overgrown brush that hungrily surround the building, the playground buried in forest growth to poke forth like the skeleton of some half-buried prehistoric beast, and any road that led there was long devoured by the forest, making the only way to reach it on foot from the nearest road.
Dark rumors and stories sprang up almost immediately after the closing of the school, beginning with locals claiming that the woods in the vicinity were haunted by bobbing, mysterious lights and half-glimpsed shadowy figures, and the night often pierced by disembodied screams as well as other less discernible anomalous noises. Additionally, there were rumors of several children who had gone out to play in these woods and never come back. It was not long before these phenomena and rumors were linked to the abandoned former school house, and things would get spookier still.
Through the late 70s and 80s the Round Schoolhouse became a popular place to go and try and see ghosts, and by all accounts it was absolutely infested with them. Frightened trespassers to the site would come back with terrifying tales of encountering all manner of supernatural phenomena on the school grounds or within its dilapidated building, and it has steadily become increasingly well-known on into later years as an absolute hotspot for the paranormal. Paranormal investigators who have been there consistently put this location in top ten lists of Japan's most haunted places, and there have been Japanese spirit mediums who have been so overwhelmed with negative spiritual energy here that they refuse to come back. Japanese videos on YouTube of macabre adventure seekers in the ruins have also become quite popular, whether they show anything paranormal or not, and the legend of the haunted Round Schoolhouse of Bibai has surged.
Even above and beyond talk of hauntings, more sinister rumors tell of people going off to explore the ruins only to disappear without a trace, and stories abound of abandoned cars found on the nearby road, their occupants said to have gone off towards the schoolhouse to never return. Perhaps worse yet are those said to have come back completely stark raving insane, driven over the brink of madness by whatever it was they had seen in that forsaken place. Stories of the missing or of people going mad at the Round Schoolhouse are very persistent on Japanese paranormal sites, with comments of witnesses common.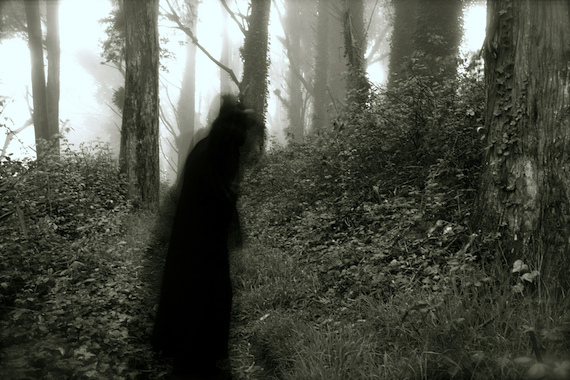 While much of the information on the Round Schoolhouse is rather ambiguous and murky as to its veracity, there have been a few accounts that I have tracked down that seem particularly interesting. By far one of the oddest reports I have seen was of a group of three curiosity seekers who one day in 1998 went off to the ruins to poke around and seem to have gotten way more than they bargained for somewhere in the bowels of that old, darkened building. It started innocently enough, when the group of friends decided to make a trip out to the place after seeing one of the many videos of it on YouTube. They parked their car along the lonely road and began their trek through out the forest and its tangle of trees towards the main building.
Once there, the main witness claims that they were almost immediately overcome by a clinging, unsettling cold, and that they sensed that they were being watched from the shadows by an unseen force that seemed to creep along following them. This was followed by a series of escalating paranormal experiences, such as items being knocked over, doors slammed shut, and most frightening of all the startled shout of one of the friends when he was apparently aggressively shoved by some invisible entity. The longer they stayed, the more the intensity of these phenomena increased, until they got to the point where they had seen enough and made their way back outside. As they did, a black form allegedly congealed out of the shadows and followed them. The witness would say (translated by me):
That shadow stalked us all the way out of the building and into the woods. We couldn't see it much as it was hiding, but we knew it was there. We could catch glimpses of it, and it made us pick up our pace. As we got closer to the car it became more visible, tangible, and more threatening. We finally got into the car and that was when something very black, large, and heavy slammed into us. It was as if a black bear had hit the car, but then it was gone without a trace, and we were alone in the forest again.
An even weirder account seems to suggest that there is some sort of vortex or inter-dimensional doorway within the Round Schoolhouse. This apparently happened as recently as 2000, and again involves a couple of amateur paranormal investigators, drawn to this location by all of the mysterious tales and creepy stories. Perhaps it was their mistake to come here in the evening hours, but whatever the reason they certainly came across something rather outlandish in that building.
Even as they made their way through the forest towards the schoolhouse they purportedly heard strange sounds coming from the trees, such as what sounded like someone banging on a tree with a stick, the sounds of someone snapping twigs, and what one of the witnesses swore was the sound of giggling. Things didn't get any more normal when they reached their destination, and disembodied footsteps seemed to echo out all around them, but it was when they reached one particular room where things would take off into the truly bizarre. Here they came across a faintly glowing opening in the wall, which supposedly shimmered and rippled. The witness would say of what happened next (again my own translation):
We stared at this glowing patch upon the wall for several moments, and that was when something seemed to come out of it. It looked like a hunched over figure but it was impossible to see the face. Then there were others, coming out two at a time, until they were looming all around us in that dank confined space. My friend and I looked at each other and ran. He says he looked back and the glowing was gone, but those shapes. They were everywhere.
Unsettling to say the least, and it is not apparent what happened after that but they apparently made it out in one piece. One has to wonder just what these people saw. Was this some sort of portal? Was it all an illusion? Who knows? It does seem to fit into the idea floated around that this is a site that harbors some sort of doorway through dimensions, and that all of this is not a haunting, but rather a bleeding over of another realm into our reality. Indeed, the Round Schoolhouse has never had any particular tragedy or violent incident as far as anyone knows, so is this the result of something even stranger than ghosts? Or is this an urban legend orbited by creepy pasta tales and spooky stories? If you are ever in the vicinity of Bibai, Hokkaido, maybe you can go check it out for yourself, if you dare.
SOURCE: Mysterious Universe
Parents terrified after seeing a ghostly face next to their baby's crib
Have you ever seen or heard a ghost? Many people say that there are ghosts in their homes, which appear in any room and at any time of the day. And the reality is that there are ghostly apparitions in all places, from old houses, new houses, forests, cemeteries, offices or restaurants.
Sometimes, these appearances are caused by tragic death, or due to residual energy, or simply are not ready to move on to the next life. But whatever the reason, they exist. But if we have to talk about terrifying experiences with ghosts, are those related to strange noises and whispers in videos, psychophonies and even appearances in baby monitors.
New mothers have many worries, and even more so if a ghost harasses their child. Unfortunately, there are many cases of ghostly voices recorded in baby monitors . And terrified mothers have two options: ignore the sound or investigate and try to find a solution. But what would you do if instead of listening to the voice of a ghost you saw it? We do not know, but some parents have been terrified to see a strange presence by the cradle of his son.
The ghostly face
The video, published on Reddit , shows a child moving in his crib late at night. At first nothing strange, but if we look better you can see something really disturbing. In the background, just behind the baby, there is a spooky face, similar to the face of a girl.
"This is the moment when concerned parents installed a camera to monitor their child and were surprised when they watched the video" , says the description that accompanies the video. "The images show the child moving in the crib late at night. But if we look better we see a disturbing truth. In the background there seems to be a spooky object that looks like a face. It does not move through the video, but the images are cut before we know what happened to the child. "
The terrible paranormal experiences of the family
After the publication on social networks, the mother explained the story behind the video. According to its version, the recording corresponds to the afternoon. But the phenomena began in September 2016, after suffering a miscarriage. On the night of the abortion, her other 18-month-old son had an electronic toy. Since then, his son's toys were inexplicably ignited , talking and singing. And it did not matter if the batteries were worn out, they just went to work.
However, this has not been the only supernatural incident that parents have experienced. The mother assures to listen regularly to the cable of the lamp in her room moving and hitting against the back of her bedside table.
"We do not have mice and I can not think of any logical explanation of why this is happening,"explains Melanie Meez, the baby's mother, on Reddit. "The last time I heard it was the night of the video right after I got into bed."
Also about two months ago he heard a repeat of beats as if it were Morse code in the middle of the living room during the night. It was strong enough for parents to come down to see what it was. But he stopped when they entered the room. They were in the room for about 30 seconds and they heard the strange noise again. It sounded like a fingernail hitting a plastic with no pattern or rhythm . It lasted about 20 seconds and the sound came a few meters away from where they were standing and it seemed to come from the wooden stairs. They had never heard that noise before or heard it again.
And there's more, as last week the lid of his son's cup fell into the sink for no apparent reason. Her husband decided to place two empty cups of their children with their caps near the sink. When they returned, they were all inside the sink.
"I'm just a mom with two great kids. I have always looked for logic in situations and it seems that I can not explain what happens in our house " , concludes the mother.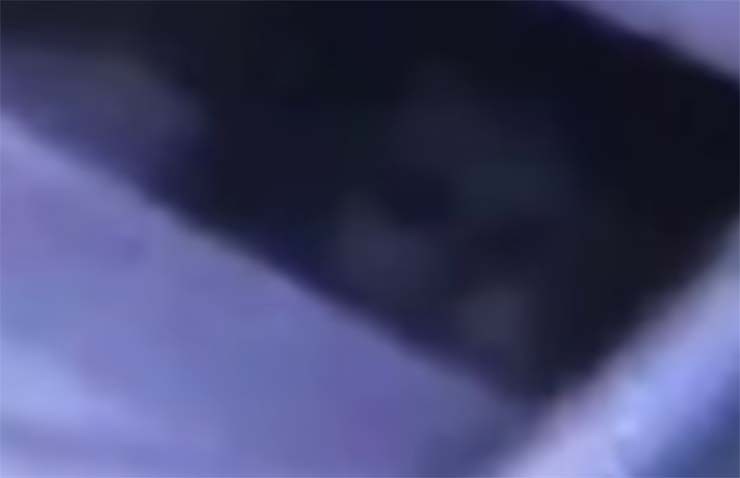 Debate on social networks
No doubt it is a video and a really scary story. And as such, it has had some repercussion in social networks. Believers in the paranormal have different opinions, some believe that it may be the ghost of an unborn child protecting what should have been his brother , while others suggest that it is an evil entity harassing the child, so Parents should seek help from a professional in the field.
But skeptics have another opinion about the incident. If it is not a video edition, then there could be a lot of objects or toys that could create that effect . Although what they do not take into account are the experiences of this poor family, which could be a victim of some kind of negative entity. But of course, for them that is the least important thing.
What is the mysterious face that you see in the video? Is it some kind of entity? Or can it be a mundane object creating an optical effect?
Man Who Claims His Apartment Is Haunted Provides Chilling Proof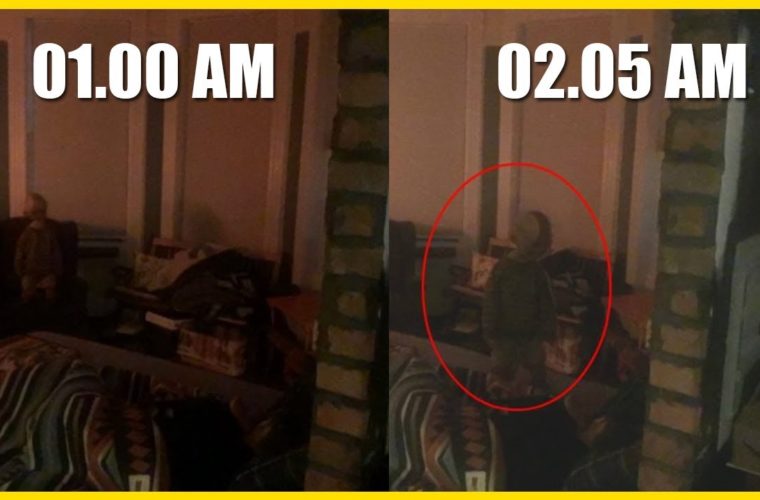 Man who claims his apartment is haunted provides chilling proof.
We take a look a man who claims his apartment is haunted & provides chilling proof.
Whether or not you believe in supernatural beings, ghost stories have a way of captivating even the biggest of skeptics. Though most of these tales are fiction, a special few are believable. Such was the case for one New York cartoonist named Adam Ellis.
Adam recently took to Twitter to tell his followers about a haunting experience. At first, his friends weren't sure if they believed him. But when he showed them the bone-chilling evidence, they were left stunned.