Ghost lights: Believe in them if you dare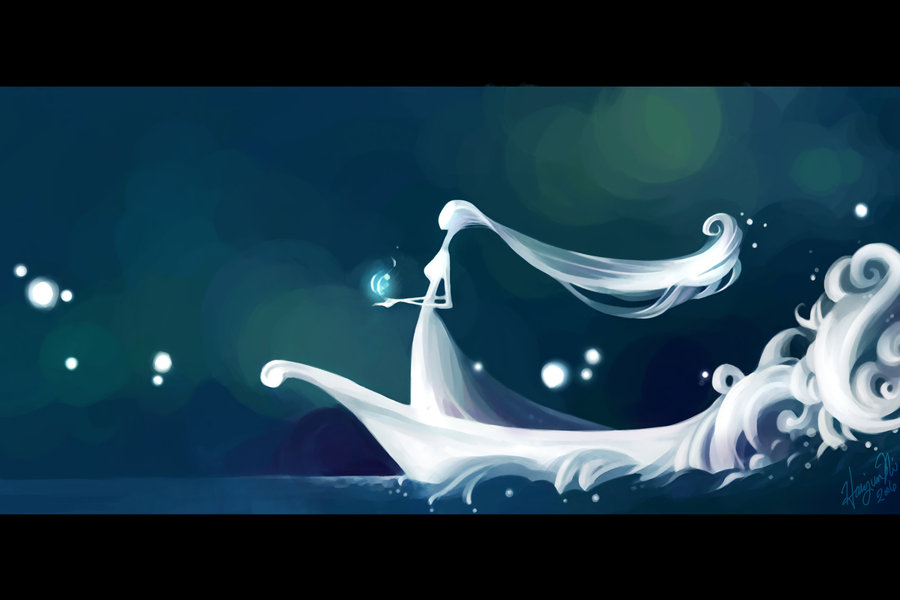 | | |
| --- | --- |
| Marfa lights viewing area this way | In folklore, ghost lights were strange lights seen over swamps or bogs.  But we're more sophisticated today.  Aren't we? |
Will-o-the-wisp lighting a bog or mire. Artist unknown. The source is Flammarion's L'atmosphère: météorologie populaire (1888, p.749).  Image via inamidst.com.
Ghost lights and will-o-the-wisps are associated with our modern-day jack-o-lanterns. Here's a traditional Cornish jack-o-lantern, made from a turnip.  Image via Wikimeida.
The red dot indicates the location of Marfa, Texas.  It's, shall we say, remote.
McDonald Observatory Otto Struve Telescope, completed in 1938.  I saw my first Marfa lights from the catwalk of this telescope dome, which, by the way, is a not un-creepy place to be alone at 3 a.m.  No offense, Otto.
Ghost lights used to be called will-o-the-wisps.  They were a weird glow over swamps or bogs.  Nowadays, people report strange lights in the sky in all sorts of places.  Some are more famous than others.  The ghost lights closest to me are in the desert-like Davis Mountains near Marfa, Texas, but you can also see them in the Brown Mountains of North Carolina, for example.  There are modern, very ordinary explanations for these lights.  Yet people still love to try to spot them.
In English folklore, a will-o'-the-wisp was thought to be a distantly viewed lantern or torch carried by a fairy or other mischievous spirit.  These ghostly lights were said to recede if travelers approached them, so that the bone-tired wayfarers were drawn farther and farther into the bog.
Our modern-day pumpkin carving at Halloween is associated with this old story and tradition.  Will-o-the-wisp and jack-o-lantern meant the same thing in old England.  Turnip lanterns, sometimes with faces carved into them, were made on the festival of Samhain, which took place around the same time as our Halloween, a time when fairies and spirits were said to inhabit the night.  Remember, Halloween comes at a time of year when the nights are growing longer.  We in the electric light era don't fully appreciate the primal fear to be had from this daily increasing darkness.  It's said that turnip lanterns were used to light one's way outdoors on a Samhain night.  The lantern might have represented the spirits and otherworldly beings, as in I'm with you guys.
Of course, we're so much more sophisticated than that today.  Aren't we?
The Marfa lights.  Well, we are, plus we have cars.  So nowadays people travel long distances to seek out ghostly lights in the sky.  A famous example in my neck of the woods is the Marfa Lights.  They've been observed in the sky near the little West Texas town of Marfa, Texas for many years.  I saw them on my first visit to the University of Texas McDonald Observatory in the late 1970s, while standing outside at night, on a catwalk of one of the large telescope domes.  An astronomer pointed them out: two unmoving lights, a brighter one and a fainter one above the horizon, in a place where no stars should be.
Reports from some other eye-witnesses are much more elaborate than my sighting.  Supposedly the lights are "brightly glowing" – "basketball-sized spheres" – "shining in many different colors" – "hovering at about shoulder height."   Or sometimes, people say, they shoot around rapidly in any direction.  Or they appear in pairs or groups.  Or they may divide into pairs or merge, disappear, reappear, and sometimes move in patterns that seem regular.  The town of Marfa loves them, and has placed highway markers (see photo top of post) indicating where on-lookers can pull over to watch for the lights.
Papiblogger.com had a nice account of his family's viewing of the Marfa lights.
After several driving delays and a huge gas shortage scare we finally arrived in Marfa past dinner time at night … From our kids' perspective, Marfa's big draw, of course, are the Mystery Lights, a Texas version of Alaska's aurora borealis.  To make things interesting I brought a professional digital camera and a tripod and took time-lapse images of the Marfa Lights from the observation deck where everyone normally sees them.  If you look at my un-doctored photos [see below], you will notice a red light surrounded by other brighter lights.  All appear to be around the same size but what's interesting is that the white lights surrounding the red one clearly have some movement.  For the record, I don't believe there's anything magical or alien-related to the lights but I do find them interesting, especially knowing that many experts and some documentaries have studied them and no one knows what to say they are.
Marfa lights – or not – from papiblogger.com.
Where to go to try to see the Marfa Lights:  They're said to be seen, typically, south of U.S. Route 90 and east of U.S. Route 67, five to 15 miles southeast of Marfa.  Best thing to do is go to Marfa, Texas and ask … well, anyone.  Marfa is only about an 8-hour drive from the city of Austin, if you don't stop for lunch.  And if you do stop for lunch, I recommend La Familia in Junction, Texas.  Have fun!
Default skeptical explanation for Marfa lights.  The most credible explanation is that they are simply car headlights, seen from a great distance and distorted by temperature gradients. Critics of this explanation quickly point out that people have been reporting sightings of the Marfa Lights for over 100 years, since before there were cars.  But Brian Dunning of the podcast Skeptoid says:
Well, apparently, the Marfa Lights have not been around all that long, after all. The earliest accounts come from a rancher named Robert Ellison in 1883. However, upon closer inspection, it appears that there is no actual record that Robert Ellison ever saw such a thing. There are reports from his descendants that Ellison said he saw lights, but there is no written record, not even when he wrote his memoirs about his life in the region in 1937. Curious that he would leave that out. Apparently, all evidence that the lights existed prior to the arrival of automobile highways in the region is purely anecdotal.
Take that, Marfa Lights!
Brown Mountain Lights via spookyplaces.us.
Brown Mountain Lights.  Someone asked us about Brown Mountain Lights, so I thought I'd mention them, too, although I haven't seen them.  Apparently, from the Blue Ridge Parkway near Brown Mountain in North Carolina, people sometimes say they see mysterious, red, circular lights.  An early account of them dates back a report by a fisherman in the September 24, 1913 Charlotte Daily Observer.  He said he saw:
… mysterious lights seen just above the horizon every night.
Default skeptical explanation for Marfa lights.  A USGS employee, D.B. Stewart, later studied the area and said the fisherman had seen train lights.  Brian Dunning of the podcast Skeptoid agrees.
The Brown Mountain Lights have their own road sign, too.  Photo via spookyplaces.us.
Where to go to try to see the Brown Mountain Lights:   Wikipedia says:
Try the overlooks at mile posts 310 (Brown Mountain Light overlook) and 301 (Green Mountain overlook) and from the Brown Mountain Overlook on NC Highway 181 between Morganton, NC and Linville, NC. Additionally, good sightings of the Lights have been reported from the top of Table Rock, outside of Morganton, NC. One of the best vantage points, Wisemans View, is about 4 miles from Linville Falls, NC. The best time of year to see them is reportedly September through early November.
So there you have it, on this Halloween 2012.  Ghost lights!  Believe in them … if you dare.
Ghostbusters Star Dan Aykroyd's Roots in Real Life Ghost Hunting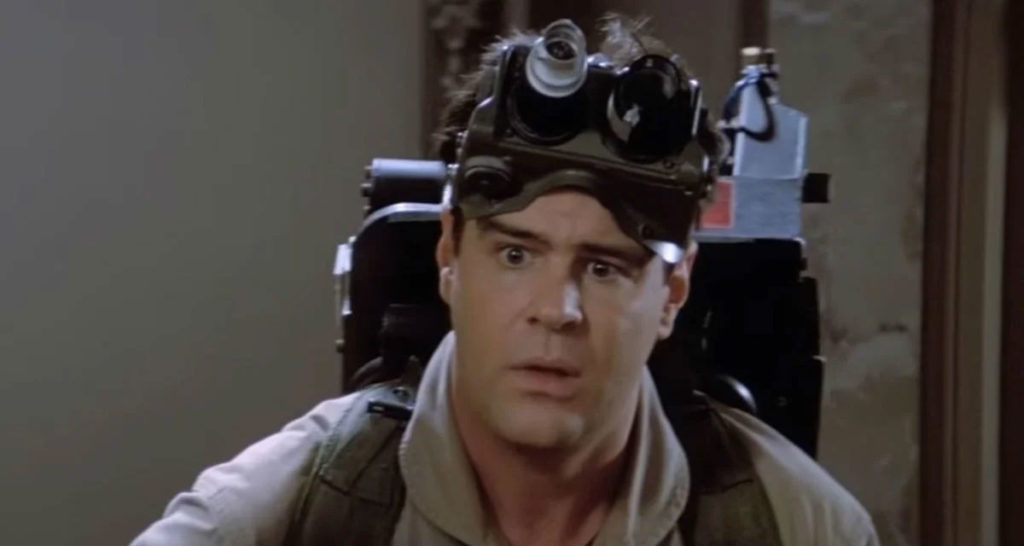 When Dan Aykroyd wrote the original Ghostbusters film, he was drawing from a rich family history of spiritualism and the paranormal.

Dan Akyroyd in Ghostbusters (1984)
For those of us who grew up in the 80s, the 1984 Ghostbusters film was probably one of our earliest introductions to the occult, inspiring a lifetime of obsession with all things paranormal. Sure, I was disappointed when I learned Tobin's Spirit Guide wasn't real, but my hope was renewed when I discovered real occult texts.
And of course Ecto-1, a 1959 Cadillac combination car built by the Miller-Meteor company, kick-started a love for creepy cars and all things hearse-shaped.

Ecto-1 goes for a spin in the trailer for Ghostbusters: Afterlife
Do you believe in UFOs, astral projections, mental telepathy, ESP, clairvoyance, spirit photography, telekinetic movement, full trance mediums, the Loch Ness monster and the theory of Atlantis?
I grew up reading about these topics. My mother passed down to me a rabid interest in the unexplained. But since I was 3 when Ghostbusters hit theaters, it was surely my earliest introduction to fortean subject matter.
Dan Aykroyd, who portrayed Ray Stantz and co-wrote the original Ghostbusters film, is a 4th-generation ghost hunter with a lifelong interest in the paranormal. He still lives on the family farm in Ontario where his great-grandfather Samuel Augustus Aykroyd used to conduct seances.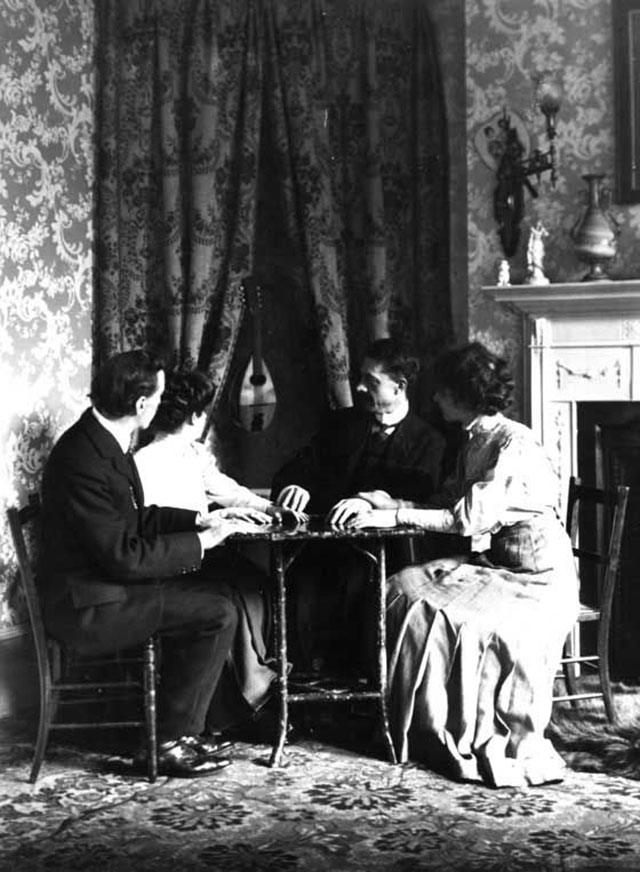 "My mother speaks about a time when she was nursing me and an old couple came to the end of the bed," Aykroyd told The Telegraph in 2012. "The image faded away. She pulled out an album and saw that it was my great grandfather Sam and Jenny, his wife, coming to approve the new child."
In an interview with the late John Belushi, Belushi said he and Aykroyd would visit the farmhouse, turn off the lights, and wait for the spirit of Aykroyd's grandfather to appear.
"I am a Spiritualist, a proud wearer of the Spiritualist badge," Aykroyd said in a 2009 issue of Psychic News. "Mediums and psychic research have gone on for many, many years. Loads of people have seen spirits, heard a voice or felt the cold temperature. I believe that they are between here and there, that they exist between the fourth and fifth dimension, and that they visit us frequently."
Watch the first trailer for Ghostbusters: Afterlife, the upcoming sequel to the original Ghostbusters films:
Paranormal Experience: Cradle of Evil
Anomalien.com reader S. (wanted to stay anonymous) shares her story about an encounter with the unexplainable.
The town where I was born is a cradle of evil. I'm sure of it. I've felt it, I've seen things there that just don't happen in real life, only in the movies.
I don't live there now, I got out as soon as I could, but I feel it's pull, I feel it when I go to visit my mom, that angry heavy feeling in the air. It's the only town in the world that gives me goosebumps as soon as I hit the city limits, and I've even been to San Fransisco.
The stories I could tell would fill up this website for years, but for now I'll begin with eight words that start out every ghost story in my hometown.
One night, out at Fort Phantom Hill Lake…
My brother and I were sitting in the cab of my girlfriend's truck. I remember it like I was there just last night. I was wedged between another girl and Cody, smoking a cigarette. My girlfriend and two other girls were in the bed, covered by a blanket to battle the lake-chilled night air.
The girls were laughing and whispering, my brother and I had the back window open so we could still chat with them. The girls didn't seem to want to talk too loud, almost like laughing out into the dark would wake something up. I turned. "What are you girls talking about back there?"
"There's a guy sitting on the back of his car by the water," Rachel answered with a puff of menthol cigarette smoke. "He's been there since we pulled up."
The back of the truck was facing the water. My brother hated watching Lake. Ever since he saw the Lady of the Lake (our own weeping woman, though that's a story for later) Cody hasn't been too fond of Fort Phantom.
He still drove out there whenever we wanted to go, but he was always uncomfortable. That night though he seemed to be in good spirits. So was I. I climbed into the back of the truck, using the window so I wouldn't have to crawl over anyone, and snuggled beside my girl to look down at the other lake-watcher. "What's he doing down there?" I wondered, and Rachel shrugged.
Cody chuckled, glancing back at us over his shoulder. "Maybe he's lonely. How about we offer to let him join the party back at the house?" He said, tapping the brakes to flash our brake-lights in the universal 'follow us' signal.
I laughed. "No way, dude, that's crazy." I said and Cody grinned.
"Oh, come on, where's your sense of adventure?" He dared, tapping the brakes again and making the brake-lights flare a couple more times. My girlfriend nudged me, hard.
"Look!" She whispered fiercely, staring down at the shoreline with wide eyes. I looked. The guy below had opened his trunk and pulled something long out of the open hatch.
-This is Texas.- I thought. -That could be a baseball bat, a shotgun, or a machete.-
"Dude, chill out Bro, I think he just pulled something out of his trunk." I whispered loudly to Cody without turning my head. I couldn't take my eyes off of the guy below, who was currently shutting the trunk of his smaller car. Looked like a volvo or a Nova, something sporty.
I watched him walk around towards the front of the car, slowly, then suddenly the brake-lights of the truck flashed again. "Dammit, Cody, I told you to chill out!" I growled, my head whipping around. Cody was flustered.
"I know, it was an accident!" He yipped, and I knew he was afraid. I was getting scared too. I was still looking back at him when I heard the car door below slam. Rachel held her breath. I just slowly turned to look down at the shore. The guy was just sitting in the car, like he was daring us to flash the lights again.
"Cody," I began quietly, as steady as I could. I moved towards the tailgate a bit so that Rachel and the two girls could hold on a bit better. "Get us the hell out of here." I finally said, a bit too loud maybe. Cody started the truck with no trouble.
The car below and its driver didn't move. I let out my breath, thinking it was just some jerk trying to scare us and that he wasn't going to do anything after all. Then Cody hit the brakes to shift from 'park' into 'drive.'
I wasn't looking at the car below, I was too concentrated on sitting with my back against the tailgate, holding the side in the common 'texas back-end seatbelt' position. Seconds after our brakes flashed, there was a roar.
It sounded like machine and beast made one, like something was howling at us. Cody's head snapped around to look behind him, his eyes wide and I got chills. "GO!" I yelled, just as the car came roaring up the side of the shoreline. It was steep there, no sporty little thing should have been able to do that in mere seconds, but it did.
The car was on us quicker than it should have been, and I felt my teeth rattle as the truck lurched forward, spewing gravel and dust. I held on for dear life as we cleared Johnson Park, swerving wildly onto the side road, over the dam, and deep into the dark belly of Fort Phantom Hill.
The back roads there are pitch black at midnight, and the dark seems to swallow you whole, no matter how bright your headlights are. We pitched onto the dirt roads, speeding down them without really knowing where we were going.
I was blinded by the headlights of the car behind us, deaf from the sound of the beast-engine and the rattle of gravel on the undercarriage of the truck. Cody yelled, and only as he took a sharp left turn did I realize what he'd yelled. "Hang on!" My hand clamped down just in time to keep me from pitching over the side of the truck-bed, and I had to yank to keep steady.
When I looked up I saw the driver of the other car, just for an instant. His eyes were dark and sunken in, his skin looked gray in the light, and his lips were stretched in this ugly grin. Next thing I knew the truck tipped again and I lurched to the other side of the truckbed, my chest banging against the opposite side.
Rachel yelled, sobbing but when I looked up there was no car anymore. Just a trail of dust. I let out my breath, rubbing my chest. "Damn! Good job, bro!" I had to yell, but, man I felt good. My head wasn't splattered across that guy's Nova, so my night was going peachy keen so far.
As we made our way back to the main road, which only took about 5 minutes, we all laughed and talked about how we'd "smoked that guy" and what a great driver Cody was to get that truck to move like that. 5 minutes to find the main road seemed to make us cocky enough to think we could go back to lake-watching.
"Let's go back!" Rachel laughed. "There's no way he's back by now and I came out here to have a good time dammit!" She giggled and I laughed too. Mind you, Rachel is not my girlfriend anymore.
So we went back. Talk about the stupidest thing we could have possibly done.
We cruised up to the park and pulled in, looking around to make sure that we were alone. We pulled up to the shoreline, looked around and I laughed. "Yep, looks like we lost him." I said, then just after I said it I heard the engine. Cody cussed and I looked around wildly, feeling sweat slide between my shoulders. "Where the hell is it?!" I yelled.
I heard Cody cuss again as he put the truck in drive. "Screw this! We're going!" He hit the gas and we sped towards the exit. We were halfway there when headlights hit us, and I saw the car come from out of the trees and brush of one of the lake's trail paths. It roared after us, right on our tail, and out onto the main road. We didn't stand a chance.
It only seemed like we'd pissed him off. I looked back and all I could see through the window of the sports car was two gray hands clutching the steering wheel so hard the knuckles were white, and the cuffs of a high school letter jacket. Everyone was screaming, even me.
I could hear the bumpers scraping, and it made my teeth shiver. I remember yelling stop, then there was a flash of red, a hard bump that threw me forward onto Carol and Rachel, then screeching tires.
We were still moving when I looked back and saw the car do a U-turn and peel out back towards the lake. On the back window I saw numbers separated by a dash. 37-1. What the hell? I still don't know for sure what it means.
I scrabbled to the window and put my head through it to look at my brother who was white like ashes, with both hands clutching the wheel. "What the hell did you do to make him stop!?" I yelled, still half-panicked.
He barely looked at me, his eyes were wide with terror. "I tapped the brakes." He replied in a trembling voice and I sat back, staring at him for a minute.
When we got back to town the panic had worn off, and we skidded to a halt outside of the Denny's. That Denny's is the last bit of civilization you see on the way to Fort Phantom Hill, and it's also the first haven you have upon leaving it. "What the hell did you mean 'I tapped the brakes'?" I asked Cody, who was shaking as he lit a cigarette.
"I remembered that if you're playing chicken with someone then someone has to back off and give over the road before the other stops. I don't know why but I just felt like he was playing chicken with us." He replied and I shook my head, not buying it. Then I thought about it. Why not? This was Texas after all, crazy stuff happened.
Then Rachel got mad. "That's not funny! He scared the crap out of us and Sam almost got killed! We should go back and beat his ass!"
I shook my head some more, stealing a drag from my bro. "No, let's just leave it alone. Frankly, I don't want to mess with someone who was grinning like that when I almost plastered my face onto his hood."
We argued about it for an hour. In the end I lost, and we went back…again. -Stupid, stupid, stupid.- I kept thinking. I was shaking and scared that we'd have to play chicken all over again.
I was wrong.
When we got there, we didn't have to look long to find the sporty little Nova that nearly creamed me. It was parked on the same path it had roared out of before, only this time, there was grass in the tires, one of the tires was flat, the windshield was cracked and there was long soft grass that stood not only around the tires, but nearly up to the grill.
The thing was coated in dirt, when just a little while ago it looked shiny and new, and even creepier, there wasn't anyone in the car or the park. In fact, just us idiots were out at Fort Phantom Hill that night, and that car didn't look like it had moved for years. So the question is:
Phantom Car, or crazy chicken game? You know what I think.
Cradle of evil strikes again.
S.
'Paranormal Activity' Filmed by Beauty Vlogger
YouTuber Daisy Marquez had been filming a promotional piece when something unexpected happened.
The 22-year-old self-taught makeup artist, who is no stranger to paranormal experiences, had been filming a sponsorship video for an e.l.f skincare set when the door behind her mysteriously creaked open on its own, hitting her on the back of the head and leaving her visibly unnerved.
In the footage, which has so far been viewed over 2.8 million times on Twitter, Marquez can be seen staring wide-eyed upon the realization that the door had opened by itself.
Speechless, she spends the next minute contemplating what just happened.
While a door opening isn't the most convincing evidence of the paranormal on its own, Marquez also reported that earlier that day she had been 'pushed' down the stairs by an unseen force.
"I'm trying to put two and two together and I find it so weird that I fell down the stairs earlier today," she wrote. "I didn't trip, I wasn't on my phone I legit just fell down the stairs as if something pushed me."

"I find it so bizarre and scary now that this just happened."
She had also previously moved house following strange activity at her former residence.
You can check out the video for yourself below.
I was in the middle of filming a sponsorship and this just happened… pic.twitter.com/EPZ9Xpkaao

— Daisy Marquez (@daisymarquez_) 26 November 2019