Ghost hunter claims he has the worlds best evidence of life after death
A ghost hunter from Cornwall is convinced that he has the proof of life after death in a video showing figures 'emerging from a grave'.
Mark Davies, 47, has challenged "any expert" to prove his video doesn't show spirits emerging from a grave containing the bodies of two women at Falmouth Cemetery.
He told Cornwall Live he has probably the best evidence in the world right now of authentic paranormal activity, in the footage filmed last week.
"I've been doing this for two years now and have never seen anything like it."
Mark has edited the video down to a 16 minute clip and is hoping that it will force senior paranormal investigators to take notice.
Mark has already appeared in local news after he spoke out about his encounter with a mysterious creature which he described as an 'alien' or a 'demon'.
He said: "It's crazy. There's a number of things happening and I've edited it to bring into focus the heads on the grave.
"To the left of the grave there are also figures coming out and you can see an orb figure that moves.
"A solid object clearly walks for two seconds then vanishes in a sort of white mist.
"I invite any expert to dispel this evidence as it is the pinnacle of proof for life after death.
"You can see the faces coming out of the grave and something happening. A ball of cotton or something floats above the graves, it's mental."
Mark says that now the weather is improving he intends to go out and investigate Cornwall's paranormal activity more frequently.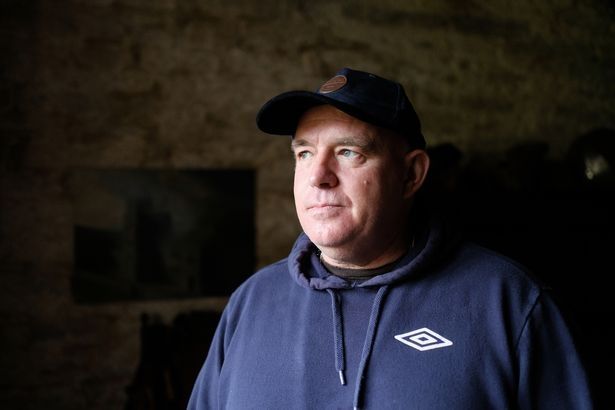 He added: "This is proof of life after death and I'm hoping to get it on the national news so someone important in the paranormal field will notice it.
"Visually it's as clear as day and the most concrete evidence you can get. I just wanted visual proof to show people and I've got it now."
Mark says that he pays no attention to doubters and just wants to concentrate on his work.
He says his next step is to investigate why the spirits appear to be stuck in the graveyard.
He said: "I will use transcommunication special radio to help them across. The spirits need to be comforted and know that they won't be judged.
"They just need to forgive themselves and go home."
Source: The Mirror
Scottish Isle to Erect Statue Honoring Its Famous 'White Wife' Ghost
If you need more proof that tourism is the growth industry of the future, look no further than Scotland's  whose council is considering erecting a statue honoring a hooded female ghost who haunts a lonely stretch of road and appears in cars driven by single young men. What fun!
"I thought at the time, 'there's no moon tonight'. When I looked around the White Wife was sitting in the seat next to me. She was transparent, grey and she smiled. I'll never forget that smile. At the time it gee'd me a braa gluff, yes!"
If you understand those words, you're probably from the Shetland Islands of far north Scotland where a unique Shetlandic dialect combining Old Norse (due to the islands being part of Norway until the 15th century) and Scottish is spoken ("braa gluff" means a grand fright). In an interview with The Shetland News, noted Unst fiddler Steven Spence was describing his own encounter with the White Wife of Watlee while driving alone from Baltasound to Uyeasound on the Watlee Brae ("brae" is a road with a steep grade) when he was gluffed to find a ghost sitting next to him. The spirit disappeared before he could say anything, but Spence knew the legend of the White Wife and was sure it was her.
The Shetland News was interviewing guys with White Wife encounters after local artist Eric Burgess-Ray proposed building a life-sized statue of the hooded apparition and community council chairman Gordon Thomson agreed to sponsor it, seeing that it would make a great and "quirky" attraction that would draw tourists to the "island above all others" of the Shetland islands. According to the long-told legend, the White Wife of Watlee is the ghost of an elderly female who is looking for her son, usually near the Brig of Watlee ("brig" is a bridge). Not much else is known about the woman, why she haunts that particular stretch of road or how she or her son might have met the demise that doomed her to live on as a spirit.
"It's just one of those things you cannot believe unless it happens to you."
Unst resident Alan Hunter told The Shetland News of his own experience on the same road when an old grey woman appeared in the passenger seat of his car and stayed there for about mile before disappearing. Enough single men have seen the White Wife of Watlee that the nearby Valhalla Brewery (the UK's northernmost brewery) offers a White Wife ale – "a light ale with a golden, clean finish. It's dry, refreshing, bitter and characteristically fruity aftertaste."
Eric Burgess-Ray wants his statue approved and on display in time to help this year's tourist season because "people like a good ghost story." However, Unst already has plenty to offer. Besides being the northernmost of the inhabited British Isles, it's home to the remains of the Muness Castle, 60 Viking longhouses – three are being restored – and the Hermaness National Nature Reserve. It also already has a monument to the White Wife – a flat rock with a line drawing of her head on it.
A rock? A ghost that appears in cars needs a better memorial than that. Let's hope the White Wife of Watlee gets her well-deserved statue.
Source: Mysterious Universe
New Book Reveals London's Oddest Hauntings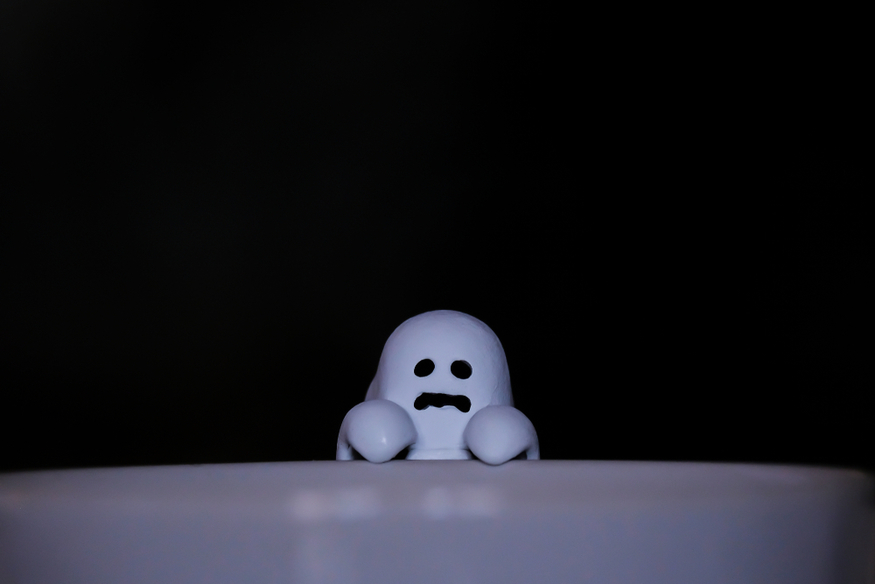 Image: Shutterstock.
Do you know which theatre houses a female phantom who sits in the stalls cradling a blood-soaked severed head?
Where can you find an antique wheelchair that moves of its own accord, terrifying those who hear its squeaking wheels approaching?
And where in London were two people frightened to death — literally?
Answers to these questions can be found in Paranormal London, the latest book by Gilly Pickup. Here, the author shares five of the more unusual spooks from her research, all with a transport theme.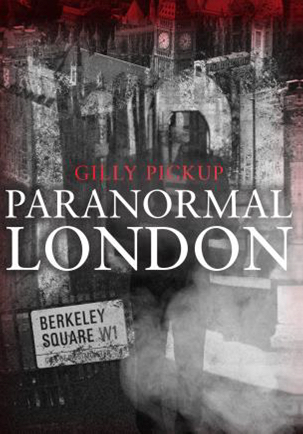 The black nun of Bank tube
Shortly after Bank station opened, people said that it was haunted by a nun. Research showed that she was probably a woman called Sarah Whitehead mourning the death of her brother, a bank clerk who was arrested and hanged for forging cheques in 1811 in the nearby Bank of England. The news drove his sister mad. Every day for the rest of her life, Sarah visited the bank and asked to see her brother. She always did this in mourning dress so staff nicknamed her the 'Black Nun'. Sightings are always accompanied by a wave of sadness and a foul smell. The station has other associations with death. 56 people were killed in the booking hall when a bomb hit the station in the second world war. Another part is built into the crypt of St Mary Woolnoth, while there are rumours of a mass grave for 17th century plague victims somewhere beneath the station. Perhaps the 'foul smell' is associated with that.
The haunted foot tunnel
Few parts of the capital can feel so creepy when experienced alone as Greenwich Foot Tunnel. The echoing passage beneath the Thames has been the site of multiple paranormal occurrences. One spirit is that of an eight-year-old girl who has communicated with ghost hunters on several occasions. Perhaps the hauntings can be attributed to the spirits of those whose bodies were moved during construction of the tunnel.
More spookiness beneath the Thames
Blackwall Tunnel, a little downriver, is haunted by a young man killed in a 1960s motorcycle accident. Sometimes he appears to motorcyclists, flagging them down and asking for a lift to Leigh-on-Sea. He told one of those who picked him up where he lived. Coming out of the tunnel, the driver turned briefly to make a comment only to find his passenger had disappeared. The driver went through the tunnel again but found no sign of his passenger. He was so shocked that he drove to the address his passenger had given him. He was told a man of that description had lived there several years previously but had died.
Dread in an elevator
Founded in 1123 as part of a monastery, St Bartholomew's Hospital has its fair share of ghost stories. The most active phantom haunts the lift within a stairwell. Sometimes when a staff member steps into the lift late at night or in the early hours and presses the button to go to an upper floor, the lights go off. The unfortunate passenger finds themselves moving slowly down to a dark basement. The lift doesn't budge from there until they get out and start walking up the shadowy stairwell towards their destination – only to realise that they are being followed slowly by the lift.
Ghost station
Disused stations like Aldwych and Down Street are popularly known as ghost stations, but more than one active station claims a spook. Kentish Town West, on the Overground, is one such. Recently, a member of the public accompanying a team of paranormal investigators became overwhelmed and taken over by a spirit energy. She describes in chilling detail how she had never experienced anything similar on any other paranormal event she has participated in.
Paranormal London by Gilly Pickup is out now from Amberley. We've given you the Amazon link, but we'd always recommend using one of London's independent book shops.
Disclaimer: as a bastion of rational thought, Londonist does not believe in ghosts, but we do enjoy a good supernatural yarn as much as the next person.
Read More On This At "Paranormal, Ghosts, Hauntings" – Google News
Why we should believe in ghosts
Halloween is a time when ghosts and spooky decorations are on public display, reminding us of the realm of the dead. But could they also be instructing us in important lessons on how to lead moral lives?
The origins of modern-day Halloween date back to 'samhain', a Celtic celebration for the beginning of the dark half of the year when, it was widely believed, the realm between the living and the dead overlapped and ghosts could be commonly encountered.
In 601 AD, to help his drive to convert northern Europe to Christianity, Pope Gregory I directed missionaries not to stop pagan celebrations, but rather to Christianise them.
Accordingly, over time, the celebrations of samhain became All Souls' Day and All Saint's Day, when speaking with the dead was considered religiously appropriate. All Saint's Day was also known as All Hallows' Day and the night before became All Hallows' Evening, or 'Hallowe'en'.
Not only did the pagan beliefs around spirits of the dead continue, but they also became part of many of early church practices.
Lucrative belief
Pope Gregory I himself suggested that people seeing ghosts should say masses for them. The dead, in this view, might require help from the living to make their journey towards Heaven.
During the Middle Ages, beliefs about souls trapped in purgatory led to the church's increasing practice of selling indulgences – payments to the church to reduce penalties for sins. The widespread belief in ghosts turned the sale of indulgences into a lucrative practice for the church.
It was such beliefs that contributed to the Reformation, the division of Christianity into Protestantism and Catholicism led by German theologian Martin Luther. Indeed, Luther's 95 Theses, nailed to the All Saints Church in Wittenburg on 31 October 1517, was largely a protest against the selling of indulgences.
Subsequently, ghosts became identified with 'Catholic superstitions' in Protestant countries.
Debates, however, continued about the existence of ghosts and people increasingly turned to science to deal with the issue. By the 19th Century, Spiritualism, a new movement which claimed that the dead could converse with the living, was fast becoming mainstream, and featured popular techniques such as seances, the ouija board, spirit photography and the like.
Although Spiritualism faded in cultural importance after World War One, many of its approaches can be seen in the 'ghost hunters' of today, who often seek to prove the existence of ghosts using scientific techniques.
In Taiwan, for example, about 90% of people report seeing ghosts
These beliefs are not just part of the Christian world. Most, although not all, societies have a concept of 'ghosts'. In Taiwan, for example, about 90% of people report seeing ghosts.
Along with many Asian countries such as Japan, Korea, China and Vietnam, Taiwan celebrates a Ghost Month, which includes a central Ghost Day,  when ghosts are believed to freely roam the world of the living. These festivals and beliefs are often tied to the Buddhist story of the Urabon Sutra, where Buddha instructs a young priest on how to help his mother whom he sees suffering as a 'hungry ghost'.
As in many traditions, Taiwanese ghosts are seen either as 'friendly' or 'unfriendly'. The friendly ghosts are commonly ancestral or familial and are welcomed into the home during the ghost festival. The unfriendly ghosts are those that are angry or 'hungry' and haunt the living.
Moral reminder
As a mythology scholar at the University of Southern California who has studied and taught ghost stories for many years, I have found that ghosts generally 'haunt' for good reasons. These could range from unsolved murders, lack of proper funerals, forced suicides, preventable tragedies and other ethical failures.
Ghosts, in this light, are often seeking justice from beyond the grave. They could make such demands from individuals, or from societies as a whole. For example, in the US, sightings have been reported of African-American slaves and murdered Native Americans. Scholar Elizabeth Tucker, from Binghamton State University of New York, details many of these reported sightings on university campuses, often tied to sordid aspects of the campus's past.
Sightings are often a reminder that ethical lapses can carry a heavy spiritual burden
In this way, ghosts reveal the shadow side of ethics. Their sightings are often a reminder that ethics and morality transcend our lives and that ethical lapses can carry a heavy spiritual burden.
Yet ghost stories are also hopeful. In suggesting a life after death, they offer a chance to be in contact with those that have passed and therefore a chance for redemption – a way to atone for past wrongs.
This Halloween, along with the shrieks and shtick, you may want to take a few minutes to appreciate the role of ghosts in our haunted pasts and how they guide us to lead moral and ethical lives.
This article originally appeared on The Conversation, and is republished under a Creative Commons licence.