Ghost Adventures halloween special is called a disgrace by former home owner
The woman who owned an allegedly haunted farmhouse in Harrisville for 32 years has come out against a program about the property that premiered Halloween night on the Travel Channel, questioning a scene in which a Burrillville police officer is seen discussing alleged calls for service to the home during the time she lived there.
Norma Sutcliffe, who owned the house that inspired the 2013 hit film The Conjuring from 1987 through June of 2019, has long said that the property at 1677 Round Top Road is not filled with malevolent ghosts and spirits as many have claimed.
And following a two-hour Ghost Adventures special on the house that was released last week, Sutcliffe is speaking out – and has filed a complaint with the Burrillville Police Department regarding statements made about her life there.
"This is a disgrace and I am angry about an appearance of a police officer claiming things that are absolute lies," Sutcliffe told NRI NOW.
The team from Ghost Adventures visited the house in August to film the special, in which paranormal investigator Zak Bagans meets with former resident Andrea Perron, among others, and claims to attempt to verify reports that the house is "cursed."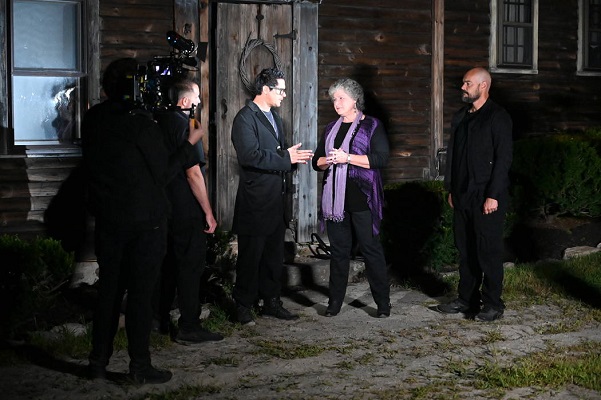 Perron and her family lived on the property in the 1970's, and it was their experience with famed paranormal investigators Ed and Lorraine Warren that inspired the film – the first movie in what is now a series known as The Conjuring Universe.
Sutcliffe sold the home, which she and her husband bought in 1987 for $169,500, to Cory and Jennifer Heinzen in June for $439,000.
The Heinzens, also paranormal investigators hailing from Maine, have said they plan to open the farmhouse to the public, and camera crews were on the property filming for a national program within months of their arrival in Burrillville.
"We're here because the new owners believe that this dark force has been reawakened," Bagans says.
Bagans also speaks to Burrillville Police Lt. Albert Carlo in the program, dubbed, "The Curse of the Harrisville Farmhouse."
"We've tracked down the lieutenant who has jurisdiction over this area", the star of the popular ghost hunting program says.
"A lot of people knew of the house and knew of some of the things that happened here," says Carlo. "After the movie it became non-stop traffic up and down the road"
Bagans says that Carlo told him that the owner "just before Cory," had several emergency calls to 911 for mysterious illnesses.
"We would come here in the middle of the night," said Carlo. "It was constant for a guy that didn't seem to be all that ill."
Sutcliffe calls the statement "lies," and she has filed a complaint over the story with the Burrillville Police Department.
Asked about the appearance, Burrillville Police Col. Stephen Lynch said that the Policeman's Bill of Rights prohibits him from speaking publicly on any complaints regarding an officer.
The show also discusses incidents that allegedly took place in the nearly 300-year-old home, including reports of suicides and murders of members of the Arnold family that once owned it.
The problem, says Sutcliffe, a counselor who operated a daycare facility in the house for some 20 years, is that it's all false. Sutcliffe says she researched the home, and the Arnold family, whose stories have become an urban legend, at the library in Harrisville.
"There was never any murders, suicides or drowning on property," said Sutcliffe, running through members of the Arnold family named as victims of mysterious deaths on the program. "Prudence was murdered in Douglas, Mass. in her home. No drowning was ever published. Sarah and John died at their homes."
And while some may think it's harmless to indulge in curiosity around a story that is ultimately fabricated, Sutcliffe disagrees, saying that the historic property should be "revered not exploited."
She has also sent a letter to the Travel Channel.
"You have lied about everything," wrote Sutcliffe. "Do what should have been done before you filmed. That is to find truth through evidence."
"If you claim (it's) so obviously haunted then get the real scientists and skeptics in to do research," Sutcliffe wrote. "But you don't dare. We can't continue to defraud the world, more so now. We have enough of that surrounding America and the world."
She's not alone on her mission to clear up the facts.
J'aime Rubio says she has spent a lot of time researching the life of the woman whose spirit alleged haunts the property – Bathsheba Sherman – and has published her findings.
"It was not until the 1970's that mysterious rumors sprang up out of thin air, ruining Bathsheba's reputation posthumously," wrote Rubio in a blog, which can be found here. "No one in town had ever heard of any questionable events regarding Bathsheba, but all of a sudden, stories were spreading like wildfire in this small community. Older folks who respected history became agitated by the false accusations, while the younger more superstitious ones wondered about the possibilities of this spine-chilling folklore actually being real."
Rubio has made it her mission to clean up the record, and tell the true history behind the home and its former inhabitants.
"To give any entity an identity and attach to them the name or stories of people who were once actual living human beings and then sully them in death is so very wrong," Rubio wrote. "This has happened to poor Bathsheba, and for far too long. My job as a writer is to sift through the story and get to the raw facts. Sometimes we find out that stories are not fact based, and so we have the responsibility to provide the true information to the public in order to set the stories straight."
For Sutcliffe, it's about protecting a piece of history.
She says that when the movie came out in 2013, people began visiting the house at all times of day and night and damaging the property.
"Even though I no longer own farm, I will forever fight to protect the value of the property as an invaluable heritage site," she said.
Source: NRI Now
Archaeologists make a shocking discovery in an ancient funeral of children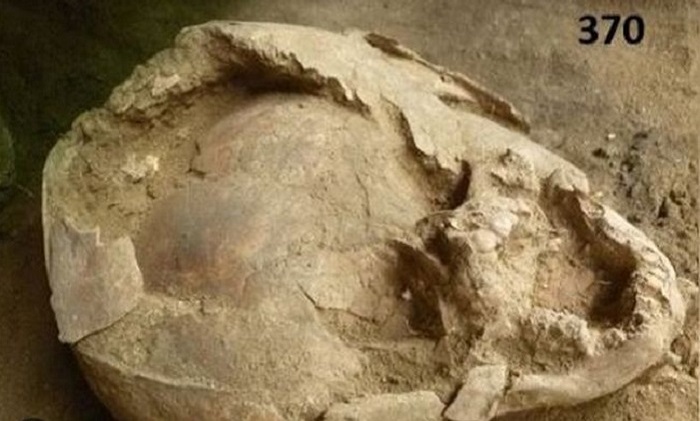 They were buried about 2,000 years ago. On their heads were tightly fitting "helmets" of human skulls, and more specifically of older children.
In 2014-2016, archaeologists conducted intensive excavations in the Salango region, Ecuador. Most recently, their results have been published in Latin American Antiquity.
In total, 9 scaffolds were excavated at this site, which, according to the ceramic remains, belong to people from Guangdong who lived in Ecuador between 100 BC. and 800 AD.
One of the two children was 18 months old when she died and the other was 6-9 months old. When archaeologists discover their remains, they immediately see that their skulls are strange and too thick. It turns out that the upper skulls of older children are tightly stacked on the skulls of young children.
It seems that when they were placed on the skulls of babies, they still had remains of flesh. Otherwise, the skulls would dry up and then fall out of their heads.
Archaeologists were shocked by such a ritual. They have never encountered anything like this in Ecuador and in Central and South America before. They have not read about such customs in other countries. Still, scientists do not know whether young children and skull owners died naturally or were killed.
Most likely, all children died of malnutrition. During their study, scientists found that there were clearly visible signs of hunger on the bones. During excavations, archaeologists also discovered a layer of volcanic ash that had fallen there shortly before the funeral. The ash can explain why starvation began in these places.
In addition, a finger phalanx, also childish, was sandwiched between one of the skulls and the helmet. This part of the likely rite also puzzles archaeologists.
According to archaeologists, one version of the creation of "helmet skulls" is that it was a kind of attempt to protect babies. Ancient people may have believed that the souls of babies were still too undeveloped and "wild", and therefore, in the afterlife, they would need a guide and protector at an older age. But, for now, these are just guesses.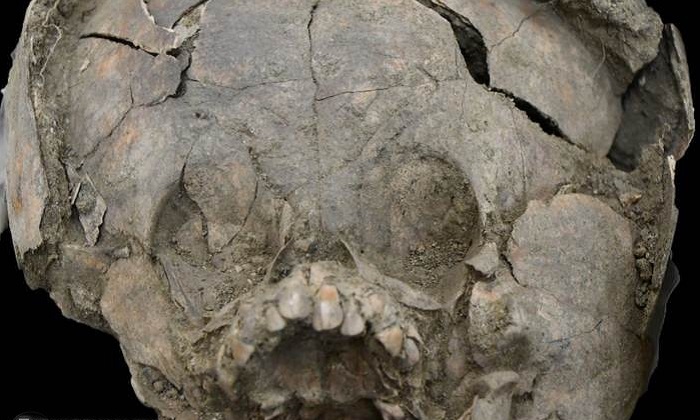 In the graves, near the bodies of the babies, are also found small figures of people made of stone, probably representing a kind of "guardian".
Astronauts develop bizarre clots and blood flows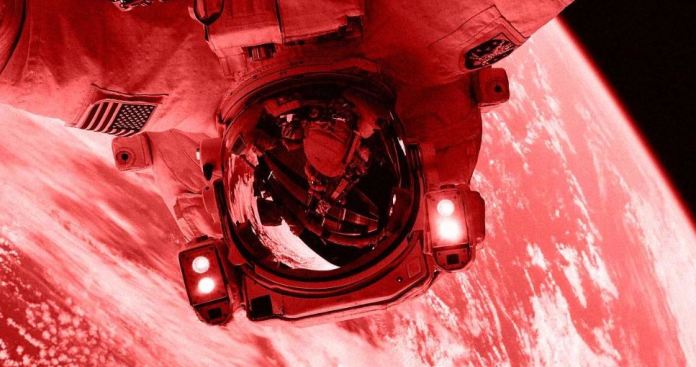 According to a shocking report by NASA scientists, blood flow can stop and even reverse in the upper bodies of astronauts.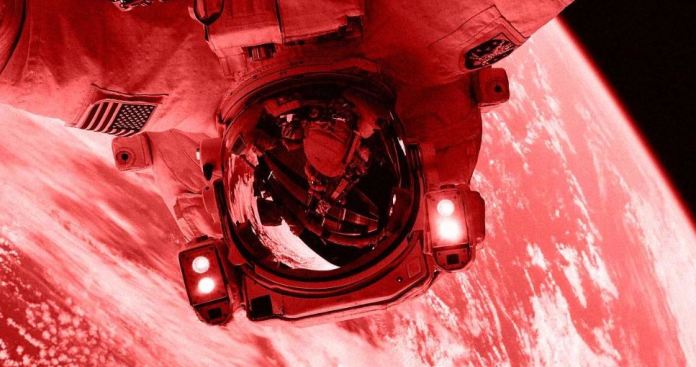 According to a shocking report by NASA scientists, blood flow can stop and even reverse in the upper bodies of astronauts.
The study could have some major implications about prolonged trips through deep space, as we're still trying to nail down the exact effects of spending long periods in microgravity.
The study looked at periodic ultrasound tests of 11 healthy astronauts who staffed the International Space Station.
The results were alarming: blood flow had either stagnated or reversed in the left internal jugular vein, a major blood vessel on the side of the neck, in seven crew members. The tests also found a clot and a partial clot in two of the crew members after their return to Earth.
A paper of the study was published in the journal JAMA Network Open on Wednesday.
"This was an unexpected finding," Michael Stenger, senior author and manager at NASA's Johnson Space Center, told NBC News. "We did not expect to see stasis and reverse flow. That is very abnormal. On Earth, you would immediately suspect a massive blockage or a tumor or something like that."
And that could have some very serious effects on astronauts' health.
"If you get a clot in the internal jugular vein, the clot could travel to the lungs and cause a pulmonary embolism — that's very dangerous," professor of medicine at the Johns Hopkins University Andrew Feinberg told NBC.
People love girl's 'iconic' Christmas list including laundry detergent and $4,000
One dad may be regretting asking his daughter what she wants for Christmas this year after she returned with a 26 line wish list which may require a lottery win to fulfill.
People were loving both her bravery and the phonetic spelling of the items she's hoping to find under the tree after her dad posted the list to Twitter with the caption: 'My 10 year old daughter must be out of her mind with this Christmas list'.
Santa will need to work closely with Apple as she begins the list with an iPhone 11, AirPods and a new MacBook Air.
There were also the usual popular requests, such as clothes, make up, a real bunny – and clothes for the bunny.
But it was choices like 'Chanel purs', 'purfum', 'julery' and particularly 'asenchal oil' which really grabbed people's attention.
One replied "Asenchal oil lmaooooo I love her" as another wrote "That baby sounded it OUT".
Others were simply wondering what a 10-year-old was planning to do with $4,000, with one calling it a 'rockstar move'.
"Right like oh yea lemme ask for 4K too," said one reply. "Right by the bunny clothes."
"I think she's planning to move out," said another.
The tweet has racked up more than 85,000 likes, 16,000 retweets and 3,600 replies. Here's a few of the best:
We've got a feeling someone might be a little disappointed when they wake up on Christmas morning as others pointed out that it's pretty likely she'll only be unwrapping clothes and make up on December 25 – but were glad to see 'mama has her priorities in check'.
The good news for parents is that although Christmas may be a time of goodwill to all men etc, it's also a time of bargaining with your children to get them to behave.
Advice for parents
They know the only way to get these presents is to make it on to Santa's good list and now there's a new app where Father Christmas will personally call your child to give them a stern warning about misbehaving.
'Message from Santa' will give kids a personalised call, text message or voicemail – and you can add as many little ones as you wish.
It can, of course, also be used to endorse good behaviour, with St Nick dropping your kids a line to tell them to keep up their angelic behaviour.