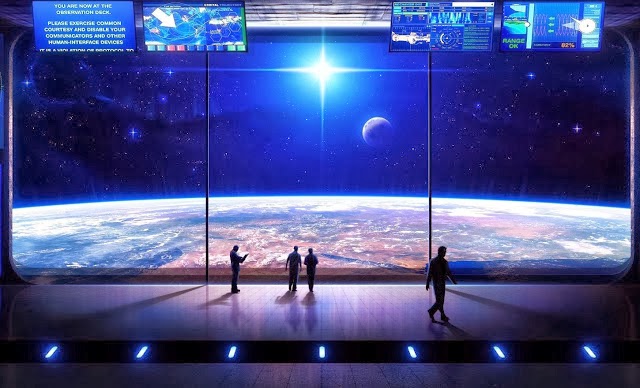 Standing on the observation deck of the Pleiadean science vessel, looking down on Earth; it was unsettling to hardly recognize the place from the images in the historical record. The verdant greens once so striking from space are now muted & diluted by the Fukushima Radiation Belt covering the entire planet in a perpetual blanket of death. It hardly looked like the same planet at all. As I waited for the scheduled historical tour to begin, I couldn't help but wonder to myself why no real efforts were ever made to prevent the self-inflicted genocide of these people, on what was once considered a rare gem of a planet. What could possibly have been more important to them than the survival of their species? Why didn't they act?
From the safety of high earth orbit hundreds of cold & silent satellites appear as a swarm of angry space insects surrounding the planet like a metal mist. Like their creators, the satellites are all dead now, serving only as tombstones marking the sad absurdity of human arrogance on this toxic & quarantined planet. Just another fledgling civilization that failed to survive the Drake equation, and who too late learned that just because you can do something, doesn't always mean you should do it.


The historical record shows that the humans had the technology to save themselves, but chose not to…the why of it being forever just another galactic mystery that may never be understood. Was it the Archon infestation which drove the humans all insane, or were they able to defeat the parasites only in the death of their entire planet? The archive shows that in the final years of life left to them, the humans took to spraying their beautiful blue skies with a toxic cocktail of aerosol dispersants which were deadly poisonous to them. Was this act the height of insanity, or a noble final effort to prevent the spread of the Archon infestation to the rest of the galaxy? Because there are no survivors, perhaps we will never know. Their own records might have answered some of these questions, had they all not been intentionally destroyed by the gatekeepers of truth.
The auto-vid-tour will begin shortly but I find myself mesmerized by the view of the dead planet from the observation deck. How very sad that with so many naturally occurring dead worlds throughout the galaxy, that these humans turned their home world into another one ~ it's simply beyond reason, they had such great potential. The humans learned the hard way not to take life for granted, and that the universe can be a cold and dispassionate place sometimes. All that remains of them now is serving as a monument to self-serving stupidity, and perhaps a cautionary tale to other civilizations as well.

The auto-vid-tour begins with a beauty shot of the Earth that was, a blue-green jewel of a planet reflecting Sol's sunlight in the star filled black of space. It's no wonder so many other races were drawn to this world, populated by those who neither respected or valued it. In the before times, earth was a resource laden oasis in the cosmos; known as the water world, because few planets could boast having as much of the precious universal solvent. The humans were rich beyond the dreams of avarice; and what did they do with their valuable water? They polluted it, along with everything else on the planet; seeing their only home as something to be exploited for monetary gain. Mass insanity!
The audio track of the auto-vid-tour talks about the earth as it was. As I gaze at the image, comparing it to the view outside the ship, I wonder once again what it must have been like to live there, in those days long before everything went bad.

The narrator, (a computer generated facsimile of Morgan Freeman's voice.) begins the timeline of earth's demise on March 11, 2016 ~ 5 years on:
"It only took five years to turn earth's oceans into a toxic radioactive soup; the result of the Japanese illegally dumping more than 300 tons of radioactive coolant water Daily, directly into the pacific ocean. The Thermohaline circulation of the worlds ocean currents took care of the rest. Sometimes called 'the great ocean conveyor belt'; these currents evenly distributed fukushima radiation around the world. The initial discovery of ghastly genetic mutations showing up in various marine mammals, including polar bears…and the accelerating die-off of whales & dolphins eventually forced world governments to ban the harvesting or sale of all seafood. The western half of north america is where the animal mutations first appeared. Folks tended to ignore stories of mutant polar bears because it was so far off; but when bears and mountain lions killed scores of people in 2014, it was somewhat harder to ignore."
The narration explained that natural predators affected by radiation in the environment, water & food; became ultra-aggressive, savagely attacking humans when normally they'd avoid humans at all cost, except perhaps to defend their young. Because nuclear radiation and fallout are so corrosive on the genetic level, it was speculated these wild animals eventually suffered damage to their neural pathways; and went insane; not to mention what other damage done by the radiation.
"Elsewhere, like the seafood industry, the dairy industry died due to extremely high levels of radiation in cows milk across the continent. Each year more food crops were added to the banned list as the radiation made its way deeper into the food chain. The ever expanding radiation cloud circling the planet has resulted in massive 'no-fly zones' because the Rad-count is so high that airplanes become flying microwave ovens. Then, in the winter of 2015 a massive earthquake destroyed the Diablo Canyon nuclear plant in southern California, resulting in two hydrogen explosions, and a second nuclear volcano, releasing massive amounts of radiation, exactly like Fukushima."
The narration paused as several images appeared on the screen: children playing in a playground, a family sharing the evening meal, a herd of wild deer peacefully grazing in a wilderness meadow, children skipping flat stones across a river, Rams dueling in a mating ritual high atop a snowy peak, and a wide angle shot of an historic gathering called Woodstock. I didn't need or want the dulcet tones of the narrator just now because it's true that a picture is worth a thousand words. Seeing these images, and the others that followed, gave just the slightest taste of what being a human on the earth must have been like.

"The 2016 presidential election in the USA was without doubt the strangest in the nation's history as the entire corrupt system was collapsing on all fronts, and the citizens were up in arms…literally. The all-but-dead Republican party nominated cable pundit Ann Coulter as their candidate while the Democratic nominee was TV actor Peter Dinklage, (Tyrion Lannister – "Game of Thrones") For the first time ever, Americans mostly ignored the entire year long circus that was the presidential campaign, and perhaps to send a message of their own, elected Independent party write-in candidate Stephen Hawking, who unfortunately declined, so the election was given to the candidate with most votes, Peter Dinklage!
I remember the story from the archived records of this solar system, because the common consensus among historians was that the 2016 American election marked the time of that country's final descent into chaos and anarchy. There was much speculation at the time whether this was actually the last official election America would see. People refused to believe that the system which lied about every single thing before Fukushima & Diablo Canyon, would suddenly start telling the truth now that it really matters; and they turned their backs on that system…allowing it to die from starvation.
"What you allow … is what will continue."
The computerized voice of Morgan Freeman resumes the narrative ~ "We jump ahead in time to March 11, 2021~ Ten Years on….
to discover that the radioactive cloud around earth has doubled is size, and now extends well south of the equator, with droves of human refugees flowing south like water, trying to stay ahead of it; as if the radiation would respectfully stop before they hit the southern ice fields…which themselves have been in constant retreat these last ten years. Meanwhile, the concentrations of radiation in the cloud grow ever stronger where it has existed the longest. Life in these regions gets harder every year for those who cannot or will not migrate. The number of "No-Go" zones keeps increasing, some due to instantly lethal radiation accumulation, but mostly because of lawlessness, & anarchy. It turns out that every apocalyptic movie ever made had it pretty much right regarding the behavior of uncivilized humans, and the barbaric harshness of such times. One by one, the FEMA camps are all being taken over by the prisoners as fewer and fewer people want to be stuck guarding them now that the government stopped sending food and medical supplies to the camps over a year ago. The packs of starving feral dogs are all gone now, mostly killed off and eaten by the packs of starving feral humans, who continue to be a far worse problem than the dogs. The Hunger Games, not just a movie anymore!"
"The radiation takes it's toll politically as well, as the beleaguered Japanese government finally topples and disintegrates…leaving those left alive on the radioactive islands to fend for themselves; pretty much as from the onset."

"Each year, more and more newborns exhibit horrifying genetic mutations, and despite the growing trend, officials continue to blame it on global warming, swamp gas or just about anything except the two spewing nuclear volcanoes at Fukushima & Diablo Canyon." The images now shift to those of the results of radiation on human genetics, and just as the photographs which adorned the walls of the War Memorial Museum in Nagasaki, Japan, to look upon them is to make the very soul weep. "Seeing the true extent of mutated newborns truly alarmed the authorities, but alas, it was too little – too late…and with no way to put the genie back in the bottle. Knowing the percentage of deformed & mutated newborns would only increase exponentially with the passage of time only added a sense of desperation to their urgency."

3-11-2026 ~ 15 years on…
"and the first of the 'Nuclear Children' appear on the scene. These are the children who for unknown reasons are immune to radiation but whose DNA has still been mutated, leaving them with what we would call, 'abilities' or powers that normal humans have never had. Just as the indigo, and crystal children before them, these nuclear children are smarter, kinder, and more sophisticated than their peers – from any time in history! In typical human fashion these very special children were all sent to special facilities for study, and confinement upon their discovery; which motivated a great many parents to protect their children by keeping their gifts a secret."

"Most problems refuse to vanish by being ignored, they just get worse – and the escalating homeless situation was a prime example. Living without the benefit of even the most rudimentary shelter; homeless people took the full brunt of radioactive fallout, and were among the most advanced cases of radiation poisoning in America. With debilitating conditions made worse by the invisible death, and rotting flesh falling from their faces, they lumbered about looking every bit like real-life zombies. Shunned, and even hunted…this growing army of diseased homeless kept to the shadows as much as possible; truly the walking dead."
With no 'jobs' to go to, life for the average american now consists of hunting for food and staying alive, with each getting harder by the day in most places. No help from anywhere, no national guard…they were all killed in the futile mid-east petroleum wars prior to the Fukushima incident. Just when you think your area is stable, another band of nomadic scavengers comes thru, pressuring for food and survival. They are rarely polite, you never know when the shooting will start."

"Planet wide crop failures increase every season, resulting in all out food riots, and increasing animosity towards the rich elite who continue to grab everything not nailed down or glowing blue in the dark. Between the radiation & chemtrails, ordinary rainfall was dangerous enough to damage the skin upon contact, and made some nostalgic for the good old days of acid rain. Then there was the 3 year long winter, ending in 2024 which killed off millions of people, livestock and wild animals. In that same year there were so many suicides that 'they' stopped officially listing them as such; proving that not even radiation can kill off denial."
"In America, President Dinklage managed to win a second term, mostly on the merits of his repeal of something called 'ObamaCare' and his support of free national health care. Of course another kind of health care was becoming such a problem it threatened to bankrupt every remaining nation on the planet…mutant babies. By this time there were so many deformed & mutated newborns that caring for their medical needs alone required secretly stealing money from the defense budget. Faced with this dilemma as humanity faced extinction, was simply too much for many in government, and so there was an epidemic of slamming doors as people finally discovered their consciousness, and quit. Unknown and horrific diseases spread around the planet with the radiation. In a futile final effort to halt the spread of these diseases the president decreed that all migration within the country was now illegal – all wandering groups of humans were considered infected and shot on sight. As the 3 year winter ended in 2024 along with the second term of president Dinklage; the congress of the United States disbanded, declaring that from then on, all power would rest with the individual states. The federal government, was no more!

3-11-2046 -25 years on:
"It has been five years since the final commercial airline flight on planet earth. Repeatedly flying up where the concentrations of radiation are so high finally contaminated the aircraft so badly that just sitting in one for an hour gave deadly doses. The Black Swan has arrived at long last; initiating a cascading system wide failure, like falling dominoes. This nightmare in free-fall eventually struck down the mighty airliner industry like so many before it. Governments were by no means exempt from the falling dominoes, as it just got too hard to maintain the facade any longer for many of them. Countries over dependent on outside sources crumbled first of course, leaving total anarchy in their wake, which in too many instances led to civil wars. Of course there were still plenty of 'un-civil' wars too; with non-renewable resources dwindling everywhere, some countries resorted to attacking their neighbors, which was why France nuked Germany into the stone age … ahead of the rest of the planet."
"Between the radiation, disease, starvation and marauding humans; the population of earth was dropping with truly impressive speed. Those who had taken to living at sea soon found what a great error that had been, as the storms created on earth these days made the old days look tame by comparison. Most ports of call refused them entry, except of course for those who wished to loot the ship and kill the passengers. With no resupply of fresh food or water that wasn't deadly radioactive, passengers of these "Oasis ships" as they were called eventually turned to cannibalism. Survival of the fittest, for a while longer."
"Everyone thought that China had lost their minds when they began building massive empty cities back at the turn of the century. Nobody could figure out why the Chinese would build replicas of some of the most famous cities on earth…until they opened them all up to refugees fleeing the radiation. Now everyone had another mystery to ponder, why would the Chinese want to provide shelter for nuclear refugees – and what makes anyone think the radiation would by-pass China?? Mass Insanity!"

"All the while the human die-off accelerates as the sick, weak & frail fall to radiation poisoning with truly frightening frequency, as everyone else gradually gets sicker, and sicker. As one former blogger said on his deathbed…"Hey, at least we finally got them to stop spraying us with chemtrails!" About the only corporation still thriving when the states became un-united was Monsanto, and because they had already been doing it for some time, they just continued to operate as though they were the standing government. Suddenly nobody had any objections to eating GMO food-like-products, when Monsanto began sending free truckloads of the stuff everywhere. It's all a mater of perspective!"
3-11-2061 ~ 50 years on:
"Except for the 'extremeophile' life forms which inhabit black smoker hydrothermal vents on the sea floor…the oceans of earth are devoid of life fifty years after Fukushima. Forests, spanning thousands of miles, which once functioned as Gaia's lungs are now countless barren wooden spires jutting skyward, devoid of foliage; like accusing fingers pointing up. These dead forests and jungles once noisy with the vocalizations of many diverse species now lie silent as death itself -nothing stirs, nothing lives, all dead now."

"Never get locked into a single view of the world."
More photos glide by now as the narrator observes a moment of silence for the dead earth. A single wet tear escapes my left eye, and slowly slides down my face. I, who never knew this place or it's people, mourn for them in their abject and arrogant stupidity.
"The major cities of earth have long been abandoned and lay just as empty as those Chinese mystery cities back at the turn of the century. Humanity retreated to the hinterlands in small groups, with the idea of starting over, because when everything stops working the city is no place to be at all, no reason to even stay there. Everywhere life reverted to a simpler, less complicated way of being. The only thing anyone was busy doing, was dying. Seven billion strong before that fateful earthquake in 2011…earth's population had dropped to less than half that in the first 30 years…after that nobody bothered keeping records anymore, no point to it."
"When the system failed completely; somehow, 'the nuclear children' escaped, or were released from confinement. After all, it was fairly clear to everyone by then, that if earth was going to have any kind of a future, it would be on account of them. To everyone's surprise, the nuclear children showed zero interest in saving or restoring society. Instead they disappeared from view, in small groups here & there, scattered across the planet where none could find them. In the spirit of universal compassion, eventually all of the nuclear children were invited by various galactic neighbors, to leave earth, and they all did. With the help of several races, the nuclear children of earth established a colony in the Pleiades star cluster, where the spiritual evolution of mankind could continue.

3-11-3011 ~ 100 years on:
The historical record shows that even with the extremely well publicized data surrounding the Mayan calendar, and the prophecy that time would cease on earth precisely when the spiritual evolution happened in 2012; people ignored the information, and even worse, ridiculed it because they didn't understand it. It makes me wonder how the species managed to make it as far as they did without exterminating themselves. When children play with powers beyond their ability to understand; tragedy is inevitable given free will being as it is. That the humans would destroy themselves once they split the atom, was pretty much a given; considering the temperament of the species. Whether the end came from warfare or industrial accident matters not, it's a crapshoot…snake eyes, you lose!

"Historians from various worlds always point to the abundant number of warning signs that humans ignored on their way to oblivion, especially so with the infamous Mayan calendar prophecy pointing to 2012 as the end of an age! Did the Maya foresee Fukushima, and subsequent nuclear disasters? Did they have an understanding of how the Archons genetically tampered with human DNA in order to enslave them…was this the great danger to humanity the Maya tried to warn future generations about; carved in stone to survive a millennia? If so, just imagine their amazement if they were to learn how humanity treated their time capsule warning. Mass Insanity!"
"One hundred years after the Fukushima incident, there isn't a single human alive to solemnly observe the moment. The planet is now a seething, fuming wasteland inhabited by bus sized cockroaches, and a variety of mutated flying rodents who survive as parasites to the roaches, living off their scraps. The roaches in turn feed on dog sized insect like creatures which developed along with black mold which spread around the globe from Fukushima."
"There is no terror in the bang, only in the anticipation of it."
~Alfred Hitchcock~
"Perhaps in another few hundred thousand years or so the earth may again be suitable to sustain some form of complex life such as the humans were. Perhaps some homeless spindrift space faring race will come along and claim this barren rock for their own; if so they will soon discover why nobody else wanted it. The story of the humans and the world they lived on is over. Just another failed species in an evolutionary cul-de-sac. The real tragedy in all this is that the humans failed to live up to their potential, and as a result lost everything they ever were, and were ever going to be, which might have been something to behold. Instead, they gave away their power to charlatans & thieves who left them as little more than a bad example…which is why the Pleiadeans sponsor this annual historic cruise. Thank you for attending, and be mindful of the inertial dampeners as we leave orbit for the next highlight on the tour. Next stop; the Tarantula nebula!
Until Next Time ~ Be Good to Each Other
Source: Augureye Express
The Ley Lines: could they influence the Earth in any physical way?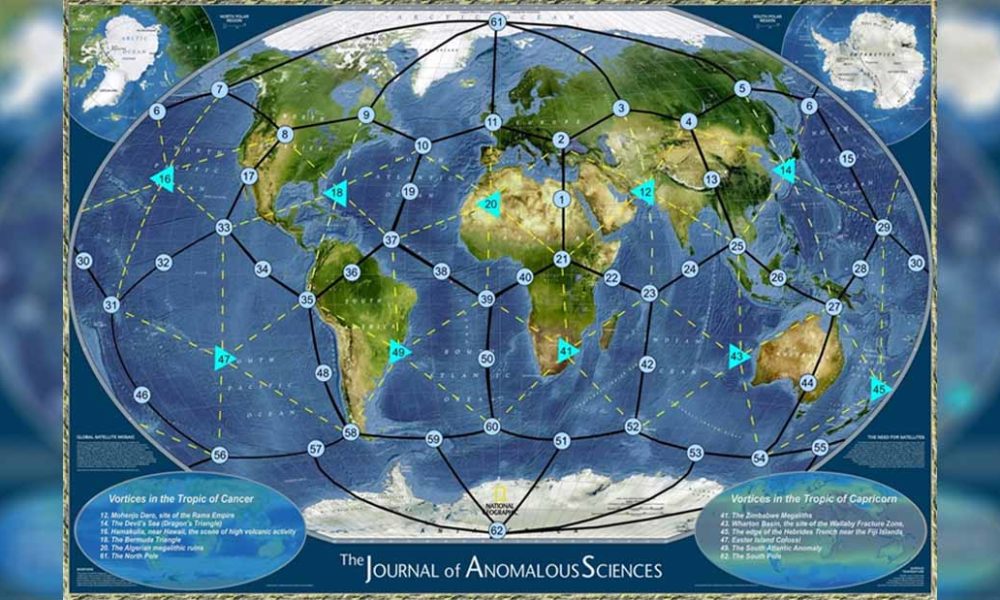 The Ley lines would be "subtle" magnetic energy flows that would be found throughout the Earth. They would physically influence the places they travel.
The Ley Lines are hypothetical energy routes that run throughout the Earth. According to experts on this subject, many ancient megalithic monuments were built in vortices or intersection points of these lines (like Stonehenge or the Pyramids of Egypt). These routes would establish a planetary harmonical energy and it is thought that would influence the ecology of the planet, since the energy would be perceived concentrated in fertile natural places such as mountains, lakes and forests. They would also affect the human beings!
This kind of Energy has been referred to as "subtle" or "etheric", since it is different from the types of magnetic energy that science knows. Different ancient cultures would also have called them: dragon trails, dragon currents or snake paths.
The term was coined in 1921 by amateur archaeologist Alfred Watkins, who observed a alignment of several megalithic monuments and ancient places from Great Britain. First it was considered that the Ley Lines were only alignments, but then they were given an esoteric character, with the rectilinear flow of that subtle energy of the Earth.
The Ley Lines influence the ecology of the Earth
Theorists of this esoteric phenomenon say that the lines intersect in several places, forming power points or vortex points around the planet. These vortex points would influence the ecology and life of each place. This is also related to the so-called geomancy.
In fact, this concept has bases in the ancient Chinese religious philosophy of feng shui. Feng shui speaks of chi, or "vital breath" that moves in currents and is affected by the shapes, space and direction of the cardinal points. The art of feng shui seeks to perceive the flow of lung-mei or dragon currents and accommodate space and objects to benefit that flow.
The Ley lines, and especially the vortex points, would be places of concentration of positive chi (energy). A great natural example where this occurs is a valley surrounded by hills: the mountainous circle would create a vortex point of etheric energy, forming a kind of shield and fortress. The green valley with the help of that vortex, attracts water currents and creates fertile soils.
In druid belief, the energy of the Earth was called wyvern, and it slid across the ground. The wyvern lines transmitted life (or vitality) and fertilized the land.
Magnetism affects water and earth
You have to keep in mind that magnetism affects water (can purify it). According to researcher Rene Noorbergen, the ancient civilizations knew about Earth's magnetism (or of one type of energy, at least) and that would have been used to fertilize the earth (Modern horticulturists know about the fertilizing properties of magnetic fields).
In the vortex points too, observable energy phenomena would be generated, like strange lights that have been reported near a Dolmen monument  in Loon and near a monastery in Aduard, both in the Netherlands.
Will the existence of these Ley lines be possible? Scientists have not really investigated this, but it is known that the Earth has enough movement of magnetic energy which, in addition to the known electromagnetic spectrum, is very wide, with different wavelengths (such as visible light and X-rays).
References: EarthGeomancy / Ancient-Wisdom / LeyLijnen / IntuitiveDoc.
The secret séance rituals of America's largest Spiritualist community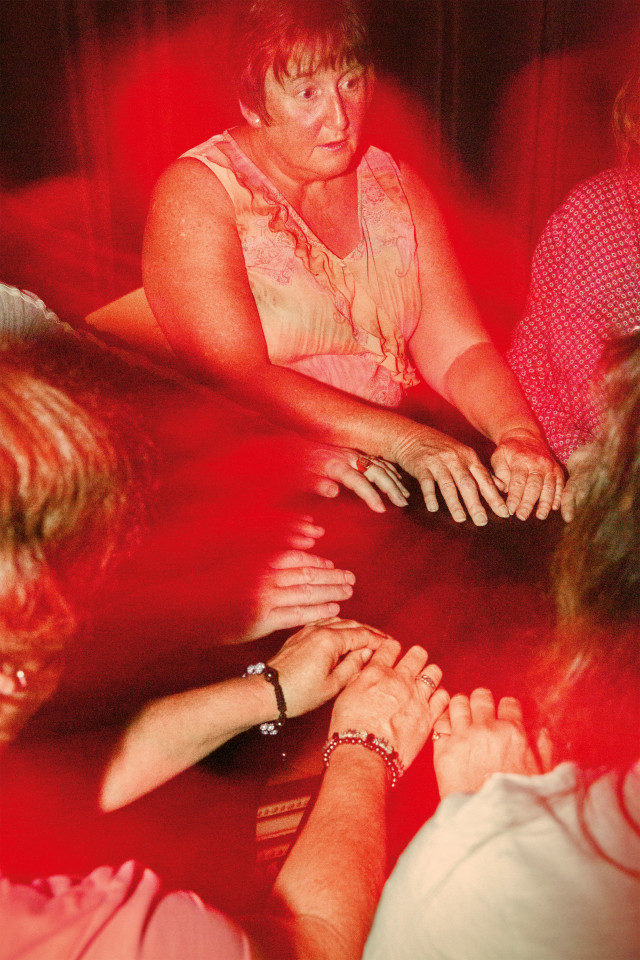 Eric Spitznagel
NY Post
Shannon Taggart was never a big believer in ghosts. But that changed in 2001, during one of her first visits to Lily Dale — a hamlet in southwestern New York state that's home to the world's largest spiritualist community.
The Brooklyn photojournalist was taken by surprise while watching a private reading with Gretchen Clark, a fifth-generation medium.
"All of a sudden, she started laughing at nothing," Taggart tells The Post. "Apparently the spirit of her brother was in the room and told her a joke."

"I told him not to interrupt me while I'm working," Clark explained to her client and then turned to an empty spot and yelled, "Chapman, we've talked about this!"
She composed herself and returned to the reading and then just as quickly turned back to Taggart.
"Margaret's here," Clark announced.
"Margaret? I don't know any Margaret," Taggart insisted.
Clark closed her eyes and listened. "She says 'Texas.' What does 'Texas' mean?"
Taggart instantly knew. "My great aunt Margaret lived in Texas and she'd died a few months earlier," Taggart says. "I'd totally forgotten. My whole body just tensed up. It was truly spooky."
That encounter was just the beginning of a spiritual awakening for Taggart, who would spend the next 18 years documenting mediums in New York as well as Essex, England, and Antequera, Spain. More than 150 of her photographs, many never before seen, are published in her new book Séance (Fulgur Press).
Taggart didn't set out to prove or disprove spiritualism. Rather, she says, she was driven by "a sinking feeling that these mediums knew something about life that I didn't."
When she first traveled to Lily Dale, it was out of curiosity.
Years earlier, her cousin had learned from a medium that their grandfather hadn't died from heart disease — as Taggart had always believed — but by asphyxiation. She laughed off the story, until her parents confirmed it.
"Someone at the hospital put food into his mouth and left him alone," her father had said, "and he choked."
This story stayed with Taggart over the years, and she became consumed with "how a total stranger could have known the details of this tragedy."
In 2001, at age 26, she decided to visit Lily Dale despite knowing nothing about the place except that it was a short drive from Buffalo, where she grew up, and the medium who revealed her grandfather's secret had lived there.
The town was founded as a gated spiritualist summer retreat in 1879, and not much has changed since then. With a population of some 275 residents — many of whom are practicing mediums — it looks like a town frozen in the mid-19th century. Narrow roads are lined with old-fashioned houses, many adorned with signs announcing "the medium is in." A rickety wooden auditorium in the center of town is typically "papered with flyers advertising trumpet séances, past-life regressions, astral-travel workshops, spoon-bending classes and circles to develop mediumship," Taggart writes.
She arrived with no plan and was initially too nervous to do anything but drive around.
But Taggart eventually wrote a letter to the Lily Dale Assembly's board of directors asking permission to take photos during what she first thought would be "one summer making a photo essay about this quirky little town."
"I would just wander around and literally knock on people's doors and say, 'Would you talk to me? Would you teach me about spiritualism?' " she recalled. "And they very graciously did."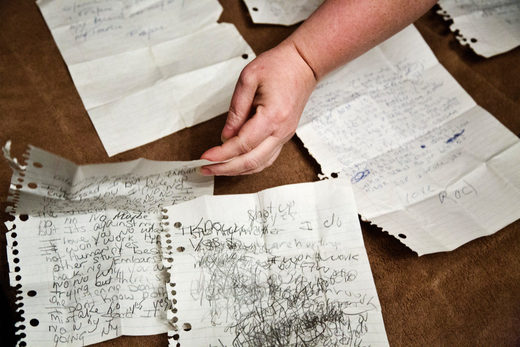 A medium claims to have received letters under her pillow from a man who lived in the 1800s after meeting him through a Ouija board.
What she learned from them wasn't necessarily how to communicate with ghosts. It was a peek into a shadowy subculture that "was once a seminal force in Western culture," Taggart writes. "A legacy that was absent from every textbook I had ever studied, including my histories of photography."
Spiritualism — a belief system based not just on the existence of spirits, but the idea that they want to stay in contact with the living — was once part of the mainstream. It was embraced by public figures like psychoanalyst Carl Jung, evolutionary biologist Alfred Russel Wallace, poet William Butler Yeats and even Abraham Lincoln. But today, it's almost entirely hidden.
"It flourishes in fiction and entertainment but is marginalized by academia and the media," Taggart writes. The contemporary Western worldview is that spiritualism is the stuff of fiction. But after what Taggart witnessed, and photographed, she wasn't so sure.
As her exploration took her overseas, she learned that not all mediums started out wanting to be mediums.
Reverend Jane from Erie, Pa., found the calling at age 6, when "she saw a spirit standing inside her grandmother's closet," Taggart writes, and discovered she could make supermarket cans fly across shelves and candles do somersaults in the air.
Others came to it after being triggered by the grief of losing a loved one.
British medium Simone Key, a lifelong atheist, was drawn to spiritualism after her mother passed and she began getting messages, on her long-broken word processor, that read: "We must communicate."
Annette Rodgers of Essex, England, felt the calling after her 16-year-old daughter, Lauren, died from a heroin overdose. Two years later, still deep in depression, Rodgers attended a spiritualist church "on a whim and immediately felt 'Yes, this is what I need,' " she told Taggart.
She now runs a spiritualist center in Spain and says her dead daughter visits regularly.
Dorothy Pries works at the Lily Dale Museum
"I once saw Lauren turn Annette's iPhone around on a table," a fellow medium recounted to Taggart. "Her connection to her mother is that strong."
But mediumship isn't limited to communication with dead loved ones. Sometimes things get awkward.
Lily Dale medium Betty Schultz recalled a reading she had with a Catholic priest who was a regular client. "The spirits showed Betty a baby who had died and told her the priest was its father," Taggart writes. Betty silently insisted to the spirits that there was no way she'd be sharing this information.
Without explaining why, she sent him to another medium — who later scolded Schultz: "Why didn't you give that man the message from his baby?"
Taggart developed close friendships with some of her photo subjects, like Lauren Thibodeau, a longtime Lily Dale resident who found her way to spiritualism without any warning. She explained how she first went into a trance on New Year's Eve 1989 in front of her husband and his friend, the best man from their wedding, "who never came to their home again," writes Taggart.
Thibodeau shared one of the biggest headaches of spiritualism: uninvited famous people. Most mediums want nothing to do with celebrity ghosts — there's no faster way to drive away an on-the-fence skeptic than "I have a message from Albert Einstein" — but Thibodeau says it's sometimes unavoidable.
She remembers a session in which Elvis Presley's ghost showed up unannounced.
"No!" Thibodeau shouted at the ghost. "I'm not doing this, get out of here!"
When the spirit refused to leave, Thibodeau apologized to her clients. "I'm sorry, I have Elvis here and I don't know why," she said. She then learned that the mother of the woman she was doing a reading for had been a housekeeper at Graceland.
For Thibodeau, it was a lesson in not being too quick to cast judgment. "Now, any time a spirit comes, regardless of who they are, I'll give a message," she told Taggart. "I don't shoo them away. We communicate with dead people, and a dead celebrity is still dead."
Even after almost two decades following mediums, Taggart isn't sure she'd call herself a believer just yet. "I no longer subscribe to the popular belief that spiritualists are charlatans just trying to make money off of people," Taggart says. "For the most part, I found them to be very sincere."
But as for whether she believes in ghosts and life after death, the now 44-year-old is still on the fence. The closest she comes to sounding like a convert is when discussing an unsettling experience from 2013. It happened while she was visiting Sylvia and Chris Howarth, a married medium couple in England.
The morning after watching Sylvia do a séance in the dark — something the experienced spiritualist rarely did because "sometimes the phenomena continued into the next day" — Taggart was making tea in their kitchen and reached to open a cupboard.
"The ceramic knob exploded in my hands," Taggart remembers. "Half of it shot into the air and crashed to the floor. The other half became razor-sharp and cut into my hand, and it started gushing blood." Chris ran into the room, reached for the broken knob, and soon he was bleeding too.
"Just telling that story again, it gives me chills," Taggart says.
So was it a paranormal encounter? She isn't sure.
"All I know is, I still have a scar because of what happened that day," she says. "And I still think about it all the time. So who knows?"
Miracle in Colombia – A saint statue rescues city dwellers from landslide
Residents of the city of Jericó, in the Colombian department of Antioquia, are sure that it is the statue of St. Montoya which rescued them from a heavy landslide a week ago because of heavy rains.
The altar with the statue was located on the slope of the mountain from which the landslide descended. Muddy streams flooded the streets and destroyed more than 10 houses. However, none of the locals died or even seriously injured, and the statue itself was not damaged at all.
However, more than a thousand people lost access to their homes and were evacuated.
Local priest Jesus Herrera told reporters:
"We consider it a true sacred miracle that nobody was killed, and Los Aguacates did not collapse."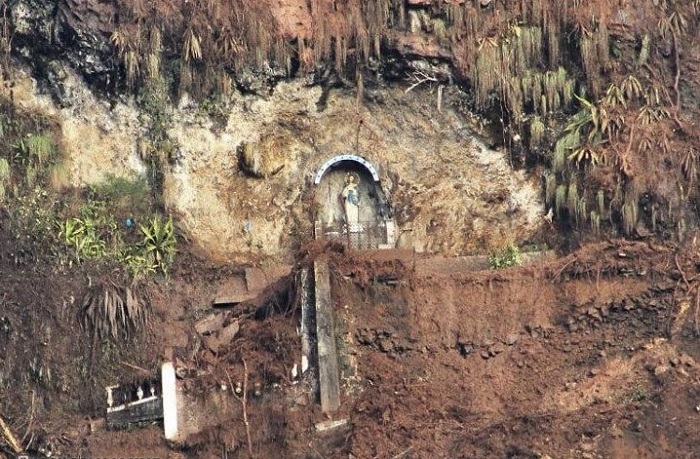 Only two people were slightly injured – an elderly woman and a small child. This muddy landslide floods the entire surrounding area, including the city streets.
According to locals, at such a level of disaster, there would have been many more casualties had it not been for the protection of St. Montoya.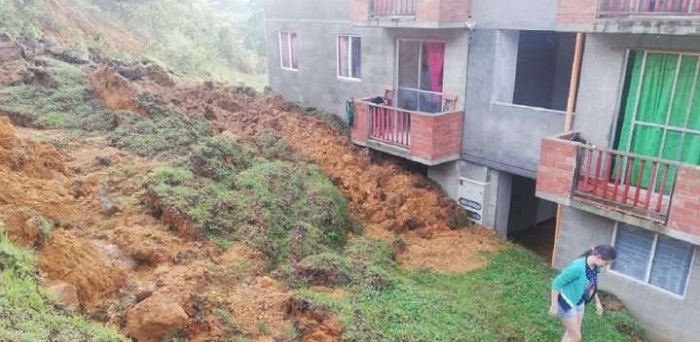 The statue of the patron saint of the city of St. Laura Montoya (Saint Laura Montoya), was installed here in 1919, in honor of a true Catholic nun.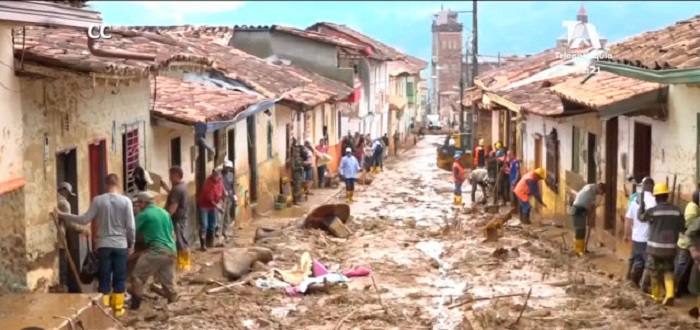 She was Colombia's first saint. Immediately after the statue was erected, worshipers began to visit it, finding it miraculous.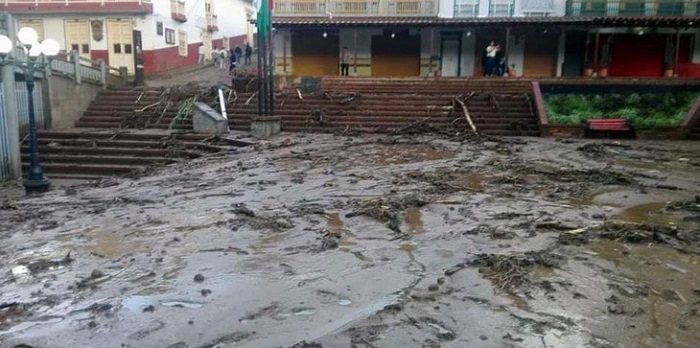 One of the locals says:
"Apart from material damage, we have no reason to cry. I'm sure we were all saved from the miracle the saint gave us. "
Mariana Garces, another resident says:
"Just look at all this horror that is now on our streets. No one can help us, but I think, nevertheless, someone or something intervenes. I already believe that there are spiritual powers in these places, and I am not the most religious person. "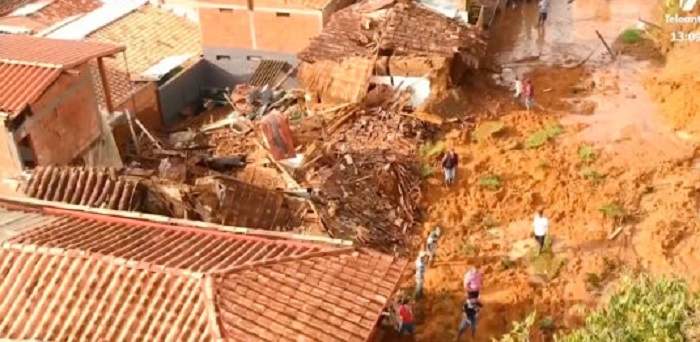 In addition to Heriko, heavy rainfall caused flooding and landslides in six other Antioquia regions, but there the effects were smaller and only 3 houses were completely destroyed.