Fukushima Unit 4 Has Shown Signs of Collapsing
Via ENENews:
Tepco's video tour of Fukushima Daiichi nuclear power plant, Sept. 2013 (At 1:00 in) – The power line tower of units 5 & 6 fell over due to a collapse of the embankment. Consequently, the whole site lost its outside power source. 20-minute video here

WERU's News Report interviews Dean Wilkie, nuclear reactor operations at a U.S. Department of Energy test reactor in Idaho (At 28:50 in) – When the accident happened back in March 2011 there was a power pole, one of these huge power poles, inside of the Daiichi facility, inside the area there, and the ground that it was set on became super-saturated with water and they had a mud slide and that whole tower went down […] At Fukushima now, what we're seeing, all of this work that they've been doing with these walls and then it's causing the water to back up, it's starting to saturate soil that's underneath the buildings and in adjacent areas around the buildings. Couple that with the fact that there are known fractures in that soil — it was very obvious during the earthquake.  Full broadcast here

Nuclear Expert Gordon Edwards interview on the Green Power Wellness Show (At 32:00 in) – The worry with Unit No. 4, even though there was no fuel in the core of the reactor, there's a spent fuel pool very precariously perched up above 5 floors. If the plant were to collapse — which it's been showing signs of doing — then that fuel would be all over the place and it would be impossible to cool. And that would be a real… you could get far greater emissions than we did initially. Full interview here
Harvey Wasserman writes at Global Research:
Why is this so serious?

We already know that thousands of tons of heavily contaminated water are pouring through the Fukushima site, carrying a devil's brew of long-lived poisonous isotopes into the Pacific. Tuna irradiated with fallout traceable to Fukushima have already been caught off the coast of California. We can expect far worse.

Tepco continues to pour more water onto the proximate site of three melted reactor cores it must somehow keep cool. Steam plumes indicate fission may still be going on somewhere underground. But nobody knows exactly where those cores actually are.

Much of that irradiated water now sits in roughly a thousand huge but fragile tanks that have been quickly assembled and strewn around the site. Many are already leaking. All could shatter in the next earthquake, releasing thousands of tons of permanent poisons into the Pacific.

The water flowing through the site is also undermining the remnant structures at Fukushima, including the one supporting the fuel pool at Unit Four.

More than 6,000 fuel assemblies now sit in a common pool just 50 meters from Unit Four. Some contain plutonium. The pool has no containment over it. It's vulnerable to loss of coolant, the collapse of a nearby building, another earthquake, another tsunami and more.

Overall, more than 11,000 fuel assemblies are scattered around the Fukushima site. According to long-time expert and former Department of Energy official Robert Alvarez, there is more than 85 times as much lethal cesium on site as was released at Chernobyl.

Radioactive hot spots continue to be found around Japan. There are indications of heightened rates of thyroid damage among local children.

The immediate bottom line is that those fuel rods must somehow come safely out of the Unit Four fuel pool as soon as possible.

Just prior to the 3/11/11 earthquake and tsunami that shattered the Fukushima site, the core of Unit Four was removed for routine maintenance and refueling. Like some two dozen reactors in the US and too many more around the world, the General Electric-designed pool into which that core now sits is 100 feet in the air.

Spent fuel must somehow be kept under water. It's clad in zirconium alloy which will spontaneously ignite when exposed to air. Long used in flash bulbs for cameras, zirconium burns with an extremely bright hot flame.

Each uncovered rod emits enough radiation to kill someone standing nearby in a matter of minutes. A conflagration could force all personnel to flee the site and render electronic machinery unworkable.

According to Arnie Gundersen, a nuclear engineer with forty years in an industry for which he once manufactured fuel rods, the ones in the Unit 4 core are bent, damaged and embrittled to the point of crumbling. Cameras have shown troubling quantities of debris in the fuel pool, which itself is damaged.

The engineering and scientific barriers to emptying the Unit Four fuel pool are unique and daunting, says Gundersen. But it must be done to 100% perfection.

Should the attempt fail, the rods could be exposed to air and catch fire, releasing horrific quantities of radiation into the atmosphere. The pool could come crashing to the ground, dumping the rods together into a pile that could fission and possibly explode. The resulting radioactive cloud would threaten the health and safety of all us.

Chernobyl's first 1986 fallout reached California within ten days. Fukushima's in 2011 arrived in less than a week. A new fuel fire at Unit 4 would pour out a continuous stream of lethal radioactive poisons for centuries.

Former Ambassador Mitsuhei Murata says full-scale releases from Fukushima "would destroy the world environment and our civilization. This is not rocket science, nor does it connect to the pugilistic debate over nuclear power plants. This is an issue of human survival."

Neither Tokyo Electric nor the government of Japan can go this alone. There is no excuse for deploying anything less than a coordinated team of the planet's best scientists and engineers.
However (via World Nuclear News):
Within the new structure built over the badly damaged reactor building of unit 4, Tepco has been installing equipment that will allow the transfer of used nuclear fuel for long-term storage elsewhere. Underwater inspections in the pond have shown most of the fuel to be undamaged, but the pond contains a lot of dust and debris which will complicate operations. The cover is fitted with air filters that will prevent any release of radioactivity as the fuel is moved.

Transport containers will be placed in the empty and undamaged reactor vessel and the fuel will be transferred to them underwater using the fuel handling machine. The used fuel will eventually be placed in the site's shared used fuel pool, which was undamaged by the natural disasters two years ago.

Removal of fuel from unit 4′s storage pool is one of the highest decommissioning priorities at the site. The reactor was off line for maintenance when the earthquake and tsunami struck on 11 March 2011. Its full core load of fuel, plus used fuel from previous operation, was being stored in a fuel pool at the top of the reactor building. Although this meant there was no possibility of a reactor accident at unit 4, there was a risk of the pool overheating. The stability of the pool was then reduced by major structural damage to the building caused by the ignition of hydrogen that leaked through ventilation systems shared with unit 3.
Gaius Publius writes at America Blog:
This is the problem today. There are about 1300 fuel rods stored in that room, packed together vertically in racks. Think of a pack of cigarettes standing upright with the top of the pack removed. Normally, the movement of fuel rods is done by a computer-driven machine that reaches into the room from above and removes or replaces a fuel rod by drawing it upward or lowering it downward.

The machine knows to the millimeter where each fuel rod is located. Also, the rods are undamaged — perfectly straight.

The problem is that this pack of cigarettes is crumpled, and the process must done manually. Therefore, the likelihood that some of the fuel rods will break is high. If that happens and fuel rods are exposed to the air — BOOM. What does "boom" look like?

Fukushima's owner, Tokyo Electric (Tepco), says that within as few as 60 days it may begin trying to remove more than 1300 spent fuel rods from a badly damaged pool perched 100 feet in the air. The pool rests on a badly damaged building that is tilting, sinking and could easily come down in the next earthquake, if not on its own.

Some 400 tons of fuel in that pool could spew out more than 15,000 times as much radiation as was released at Hiroshima.

Meanwhile, at the rest of the site:

More than 6,000 fuel assemblies now sit in a common pool just 50 meters from Unit Four. Some contain plutonium. The pool has no containment over it. It's vulnerable to loss of coolant, the collapse of a nearby building, another earthquake, another tsunami and more.

Overall, more than 11,000 fuel assemblies are scattered around the Fukushima site. According to long-time expert and former Department of Energy official Robert Alvarez, there is more than 85 times as much lethal cesium on site as was released at Chernobyl.

If the whole site blows, "boom" could mean the release of 85 times as much radioactive cesium into the air as was released at Chernobyl. Into the air. Into a stiff cross-Pacific breeze.

There are a number of people warning of this danger; none are getting much play. For example, this from the Japan Times (quoted here):

In November, Tepco plans to begin the delicate operation of removing spent fuel from Reactor No. 4 [with] radiation equivalent to 14,000 times the amount released by the Hiroshima atomic bomb. …. It remains vulnerable to any further shocks, and is also at risk from ground liquefaction. Removing its spent fuel, which contains deadly plutonium, is an urgent task….

The consequences could be far more severe than any nuclear accident the world has ever seen. If a fuel rod is dropped, breaks or becomes entangled while being removed, possible worst case scenarios include a big explosion, a meltdown in the pool, or a large fire. Any of these situations could lead to massive releases of deadly radionuclides into the atmosphere, putting much of Japan — including Tokyo and Yokohama — and even neighboring countries at serious risk.

A lot depends on what blows up, if anything. If only Unit 4 blows up, Japan is at risk, including Tokyo, and the nuclear dust will pass across the Pacific to the U.S. People on the West Coast will be warned to keep their windows closed for a while.

If the whole facility blows up, one scientist is talking about moving her family to the southern hemisphere. From the article quoted above:

Chernobyl's first 1986 fallout reached California within ten days. Fukushima's in 2011 arrived in less than a week. A new fuel fire at Unit 4 would pour out a continuous stream of lethal radioactive poisons for centuries.

We're in very apocalyptic territory, with a wide and unknown range of outcomes. Take that for what it's worth — little could go wrong, or much.
Read more here.
A strange phenomenon in the Arctic, the cause of which is unknown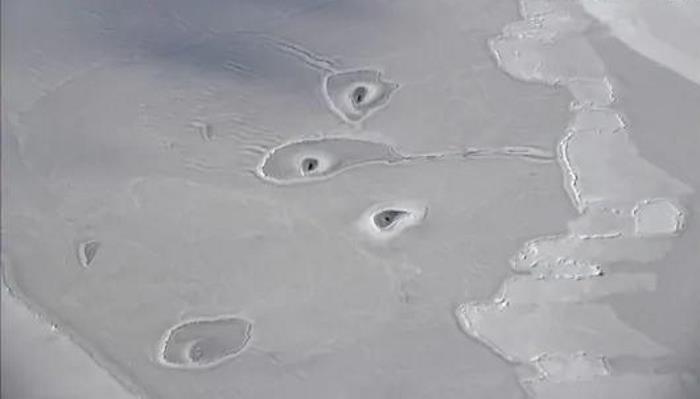 In 2018, a plane flying over the Greenland glaciers noticed strange holes in the ice. NASA scientists cannot yet find the reason for their appearance.
The Arctic is a mysterious place, and as the Earth's climate changes, it changes faster than scientists can record. So, according to NASA, strange holes began to appear in the ice, and so far no one can understand what causes them.
The photo was taken by John Sonntag, a scientist working for NASA's IceBridge operation, an ambitious mission to capture as much detail as possible of the North and South Poles in hopes of figuring out what is happening right now in these remote parts of the planet.
Unfortunately, this photo raises more questions than answers, at least for now. But even though scientists from IceBridge do not have an exact answer to what these holes are, they make assumptions. / These holes may be caused by ice melting due to the water warming under the ice, or they may be air pockets caused by whales or seals. However, for the latter variant the holes are somehow too big.
NASA even asked its readers on the Internet for advice on what it might be. There were many assumptions, but it is not yet possible to say exactly why these holes formed.
Rich people from all over the world are buying submarines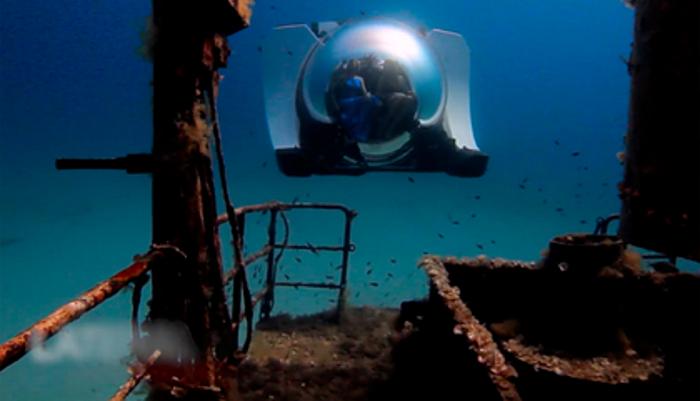 The wealthy around the world will spend millions of dollars on private submarines, following Russian billionaire Roman Abramovich, The Times reports.
According to the publication, in the period from 2019 to 2020, it was about the sale of 15 to 25 submarines, however, this number is expected to double in 2021. According to representatives of the three leading submarine manufacturing companies, next year the market will be estimated at 75 million pounds.
Among the first buyers of deep-sea vessels were the owner of Chelsea Football Club Roman Abramovich, the late Microsoft founder Paul Allen and the Emir of Abu Dhabi, Sheikh Khalifa Al Nahyan.
Roy Heijdra of the Dutch company U-Boat Worx noted that wealthy people increasingly want their yachts to be specially equipped for exploration, not just luxury holidays. According to him, ten vessels were sold in 2020 worth up to £ 2.2 million each. Among them was the Nemo model, which is estimated at 875 thousand pounds, has a height of 2.8 meters and can dive to a depth of more than 90 meters with two people on board.
In turn, the executive director of the Florida company Triton, Bruce Jones, said that compared with the previous year sales of submarines this year rose by almost a third, despite the pandemic coronavirus. At the moment, he has about five orders that need to be completed by the beginning of 2021.
A prehistoric forest that grew on earth a million years ago was found on the slope of Kilimanjaro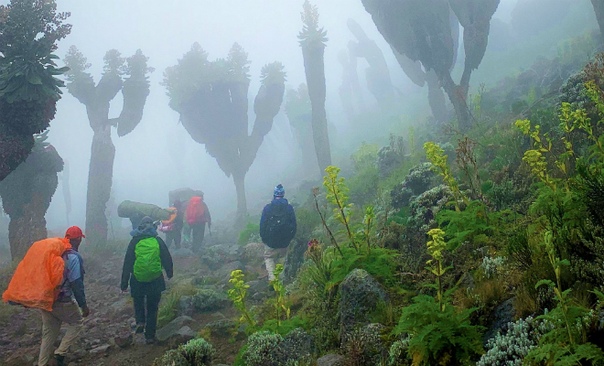 Just 300 kilometers south of the equator is the highest point in Africa, the potentially active stratovolcano Kilimanjaro, which covers an area of ​​more than 390 hectares. But as a free-standing mountain, the climatic zones of which become less and less like a terrestrial landscape as it rises, Kilimanjaro is especially notable as an incubator for isolated, mutated or rare species that are almost never found anywhere else.
Recently, on one of the slopes, scientists discovered plants of a prehistoric forest. They grew on Earth a million years ago.
Senecio kilimanjari is a giant plant. It has practically not changed over the past million years, dinosaurs once roamed in the same forests. The territory of the giant groundwort begins at an altitude of 3000 meters. There is less rainfall and therefore the prehistoric forest is not so dense. This only further emphasizes the monumentality of the giant plants standing separately from each other, capable of growing up to 5-7 meters.
To survive in such a harsh environment – high in the mountains, temperatures regularly drop below zero during the night – the plants have developed water accumulation in the core of the stem, the movement of nyctinous leaves (which means that the leaves close when the temperature drops too much), natural 'antifreeze "And self-isolation due to wilted and dead foliage (one of the reasons terrestrial plants look so strange).
The prehistoric forest rises to about 4,300 meters. Above the slopes of Kilimanjaro, only a barren alpine desert begins, ending in a colossal glacier at the very top of the stratovolcano.