Since 2015, dozens of Navy F-18 fighter jets have encountered unidentified aerial phenomenon (UAPs) — once commonly referred to as UFOs — off the East Coast of the United States, some not far from the nation's capital. Encounters have been reported by other military aircraft and civilian airliners elsewhere in the U.S. and abroad, too, including videos shot by airline passengers.
What these UAPs were and who was flying them — whether friends, foes or unknown forces — remains a mystery. Yet careful examination of the data inevitably leads to one possible, disturbing conclusion: A potential adversary of the United States has mastered technologies we do not yet understand to achieve capabilities we cannot yet match.
It is long past time for Congress to discover the answers to those questions and to share at least some of its conclusions with the public.
The U.S. government came a large step closer to confirming the reality of UAPs when the U.S. Navy acknowledged in late April that "there have been a number of reports of unauthorized and/or unidentified aircraft entering various military-controlled ranges and designated airspace in recent years."
But first, members of Congress and the public need to become familiar with the facts.
Unfortunately, it is impossible to gauge the overall level of UAP activity since military personnel rarely report their encounters for fear of damage to their careers. Even when reports are filed, the information generally is ignored because nobody "owns" the UAP issue and the various commands and agencies involved have not shared information on UAPs.
It remains to be seen whether the Navy's new UAP reporting process will be emulated throughout our massive, almost feudal security apparatus in which the barons sometimes spend more time protecting bureaucratic turf from rivals than protecting U.S. territory from adversaries. Thus, any genuine solution to the UAP issue must address the issue of interagency coordination and collaboration.
The good news is that America already possesses vast sensor networks, ranging from the depths of the oceans to the harsh bleakness of space, capable of collecting the requisite information. All that Congress need do at this juncture is require the secretary of Defense and the director of national intelligence to review the UAP issue and deliver a report providing a comprehensive assessment. This report should include not only an estimate of the situation but a description of the structure and processes required to ensure effective collection and analysis going forward.
The Trump administration should be free to provide the report at whatever level of classification it deems appropriate. One entity with which I am involved — To the Stars Academy (TTSA), an organization of former U.S. intelligence and national security experts analyzing the UAP phenomenon — has placed notional legislative language on its website to facilitate this discussion. While some modest manpower costs might be incurred, the TTSA proposal does not require new Defense Department funding. It also averts the spectacle of public hearings and the attendant risk of injecting partisanship or grandstanding into the process.
Why should Congress act? In the first instance because it is Congress's job to raise, organize and fund the military. It can hardly do so without being fully aware of the threats we face. Indeed, that is why we have a law requiring written notice to Congress of serious intelligence failures. Most Americans would no doubt agree that our inability to identify scores of mysterious aircraft repeatedly violating restricted U.S. military airspace in recent years is a shocking failure. But there is no need to wrangle over compliance with intelligence oversight laws. The Navy's recent admissions regarding UAP intrusions provide more than adequate grounds for requiring a written report to Congress.
Perhaps we'll learn that Russian President Vladimir Putin was not idly boasting when he bragged, more than a decade ago, that Russia's "newest technical systems will be capable of destroying targets at an intercontinental distance with hypersonic speed and extreme maneuverability." While it seems unlikely that Russia — or China — has pulled that far ahead of the U.S., there is no reason to leave this to chance. And while the Navy's announcement seems to eliminate the prospect that these vehicles are secret U.S. military aircraft, perhaps we'll find that Elon Musk has some amazing new toys.
It is not just that the UAPs that military pilots are encountering are strange — no paint, rivets, wings, antenna, safety lights, transponders or exhaust — but they sometimes are so fast and maneuverable that they defy our understanding of physics. For example, some of these vehicles appear to withstand forces of acceleration far greater than maximum design limits of any man-made aircraft. No wonder some military witnesses — often, pilots who are scientists or engineers themselves — actually lean toward the hypothesis that they are not from this world. Like all good scientists, these pilots recognize that our theories must adjust to facts and new information, however daunting, not the other way around.
If our best minds were brought to bear to study the technology confronting us, much as the Japanese did in the 1850s when confronted by Admiral Perry's fleet, then unprecedented technological breakthroughs could occur in short order. For example, the fact that these craft do not seem to produce exhaust yet fly vast distances at immense speeds could provide technical solutions to our energy crisis.
Some of America's finest aviators and air defense personnel are trying to get our attention. They are not panicked — but they are right to be concerned. It seems clear the facts demand further action. In light of the facts, a mere report requirement seems a very modest response to potentially disturbing new national security information.
If UAPs turn out to be toys of Elon Musk's making, we'll all breathe a sigh of relief. If they are Russian, we'll be glad we took action now rather than kicking the can down the road. If we learn that someone else's more advanced version of our Voyager spacecraft has reached Earth, then this humble measure will forever transform our understanding of the universe and man's place within it.
By any measure, the effort required to prepare a report for Congress seems to be a bargain.
Christopher Mellon served 20 years in the federal government and was deputy assistant Defense secretary for intelligence from 1999 to 2002, and for security and information operations from 1998 to 1999. From 2002 to 2004, he was minority staff director of the Senate Select Committee on Intelligence under Sen. John Rockefeller IV (D-W.Va.). He is a national security affairs adviser for To the Stars Academy of Arts and Science and a consultant to HISTORY's nonfiction series, "Unidentified: Inside America's UFO Investigation," which premieres May 31.
US special forces engaged in combat with aliens during the Vietnam war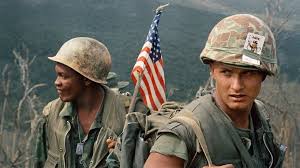 This incident happened in early 1972 during the Vietnam War. A US Special Forces group was secretly delivered at night and parachuted in an area on the Cambodia-North Vietnamese border.
The operation was vital: to destroy a facility in North Vietnam, which, as it was possible to establish by American intelligence, was secretly overhearing top secret conversations of the US Army in South Vietnam.
The SWAT team set up camp for the night, preparing to assault the North Vietnamese team at dawn. In the early morning, the commandos quietly crept up to the Vietnamese base, but what they saw there shocked and frightened them.
As the team got closer to the location of the North Vietnamese unit, they suddenly discovered that there was a large spherical ship that stood on three sturdy metal supports.
The ship suddenly began to hum, causing instant sickness, dizziness, and disorientation in the US military.
The group leader was about to issue a command to retreat when a group of strange looking humanoid creatures appeared.
Not believing what they saw, the special forces group was even more frightened by what these creatures were doing (according to the description of the soldiers, taking into account modern data based on numerous contacts, it can be assumed that they were "gray"): the aliens got out of a large pile various parts of human bodies and placed them in large containers – arms, legs, torso, heads; this terrible list went on and on.
Some were the remains of white people, others were black (US Army soldiers), and others looked like Vietnamese (Vietnamese soldiers from the base).
What they saw sobered and angered the special forces and the commander gave the order to open fire – the bullets hit the bodies of the creatures, but they did not do any harm, except for one who was killed by a shot in the head.
Several commandos were killed, and others were seriously injured by the effects of unknown weapons. Then the aliens quickly retreated into the ship and he quickly rushed into the sky,
Soon, another CIA team appeared on the scene, as one of the survivors said they were all given some kind of mind-altering drugs to try to make them forget about this incredible fight. And it worked, at least for a while.
However, in the late 1980s, two members of the special forces team who took part in that battle began to have nightmarish memories of the events of April 1972, which prompted one of them to contact many other special forces who were found and who were still alive.
Two had already died, three were not found at all, but the rest were able to meet in August 1988 and decided that this story should be told.
They turned to researcher and ufologist Leonard Stringfield and he published their story in his 1991 book.
The story is told in Stringfield's UFO Crash Retrievals: The Inner Sanctum. 
UK UFO case to be kept secret until 2072
The UK Department of Defense has blocked the planned release of a dossier detailing the famous UFO incident.
Back in August 1990, two tourists walking in the Scottish Highlands near Calvine, Pitlochry, witnessed a strange rhombic object hovering over the nearby landscape.
They managed to take pictures of the UFO before it flew away at significant speed.
Eager to share what they saw, the couple contacted the Scottish Daily Record and shared both their story and the photos they took.
Then the journalists shared the pictures with the UK Department of Defense.
It turned out that the tourists weren't the only ones who saw the object – the pilot of the RAF Harrier jet also witnessed the phenomenon – again near Calvine – after being forced to investigate this UFO.
Military intelligence officers sent these images to JARIC, which is the Joint Air Intelligence and Reconnaissance Center.
It is the UK's military center of excellence when it comes to image analysis. These intelligence officers concluded that these photographs were real and that no one had the slightest idea what they were.
Thirty years later, the dossier of the Ministry of Defense, including photographs, was scheduled for declassification and publication, which is typical of such documents.
However, the release has now been postponed for another 50 years for unknown reasons.
According to the 30-year rule, the file was supposed to be released on January 1, 2021, but if the ministry gets it, it won't be released until January 1, 2072 – an 82-year closure.
"By the time the world gets to see the file, the two witnesses will be dead. It is crazy. What are the authorities trying to hide?"
A complaint lodged under the Freedom of Information Act about the National Archives withholding the documents is now under investigation by the UK information watchdog, the Information Commissioner's Office.
The National Archives refused to comment further. The MOD refused to comment at all.
What are the authorities trying to hide?
FBI decrypted documents confirm that there are giant aliens
The topic of aliens has always attracted attention. Recently, foreign media disclosed that a declassified document released by the Federal Bureau of Investigation (FBI) once again confirmed the existence of UFOs and aliens.
FBI Declassified Document: Describes UFO and Aliens
The British "Daily Star" reported that earlier this year, the FBI released the decrypted documents in 1947. The 70-page decrypted report contained a "Memorandum 6751". The person who wrote the report was an anonymous university professor.
"Memorandum 6751″ mentioned that there were flying saucers, unidentified creatures, and " giant aliens resembling humans ".
The report stated that these aliens are like humans, "but larger in size. They are not from any planet known to people, but from the etheric." "Ether" is a term used in ancient Greece, generally referring to the atmosphere or sky.
There is also a description of the flying saucer in the decryption report, which refers to the fact that most of the flying saucers are loaded with alien creatures. The flying saucers have powerful radiation, are very fast, and have powerful attack capabilities.
"These flying saucers have a kind of radiant energy or light that can easily disintegrate any spacecraft that launches an attack. They can re-enter (earth) from the ether at will, or they can simply disappear from our sight without leaving a trace."
The report states, "If one of these (flying saucers) is attacked, the attacking aircraft will almost certainly be destroyed. As far as the general public is concerned, this may lead to proximity panic and international suspicion."
Tesla is a " Venusian "
In recent years, due to the expiration of the confidentiality period, the FBI has published many decrypted documents on its official website, including one about the famous inventor Nicholas. Tesla (Nikola Tesla) declassified documents, caused a public heat. The document mentioned that Tesla came from "Venus" and was an "alien".
The decrypted document is called "Nikola Tesla Part03 of03". It is the third document about Nikola Tesla decrypted by the FBI. It has 64 pages of content, some of which are blacked out and cannot be distinguished.
The remaining content that is not blacked out contains the following passage: "The people of the universe have contacted Nikola Tesla many times and told the FBI that Tesla was from Venus. Tesla was brought to the earth in 1856 to a Yugoslav couple to raise."
The publication of this document shocked the world. Faced with a wave of discussions and doubts from netizens, the FBI did not make any response or explanation, which is even more curious.
F-18 fighters chase UFO
"The Wall Street Journal" recently reported that the non-profit organization "National UFO Reporting Center" data shows that so far this year, UFO sightings have increased by 51% over the same period last year. The center has received approximately 5,000 sightings reported.
On September 8, the United States retired Lieutenant Colonel David. David Fravor accepted the Massachusetts Institute of Technology scientist Rex. In a live webcast interview with Lex Fridman, he talked about the bizarre experience of driving an F-18 fighter jet to chase UFOs 16 years ago.
On November 14, 2004, a UFO was found in the waters of San Diego, California, and Frevo piloted an F-18 fighter to investigate. Both he and the pilot of the other fighter saw a white Tic Tac mint-shaped flying object.
Subsequently, the pilot Chad Underwood flew an F-18 fighter jet, caught UFO on the radar, and successfully filmed UFO video with an infrared camera.
In April this year, the Pentagon released three videos of UFOs, one of which was taken by Underwood during this operation.
12 U.S. soldiers live on alien planets
Former Minister of Defense of Canada Paul. Paul T. Hellyer once disclosed that there are aliens living on the earth and working for the US government. Many US presidents have also admitted the existence of aliens on different occasions.
In addition, some U.S. military personnel disclosed that a top-secret exchange between the U.S. military and aliens was named "Operation Zeta," and an alien envoy came to the United States. In July 1965, 12 American soldiers secretly boarded an alien spacecraft to the planet Zeta.
Of these 12 people, 4 never returned to Earth. Of these 4 people, 2 died, 2 chose to stay on Zeta, and the remaining 8 returned to Earth 13 years later.