France Moves to Make 'Conspiracy Theories' Illegal by Government Decree
From: 21stcenturywire.com
Political elites and super-bureaucrats are worried. It's becoming harder to control consensus reality.
A history stitched together by lies and cover-ups, political assassinations, slight-of-hand false flag deceptions, secret societies, dual loyalties and stolen fortunes – this have been the privilege of ruling elites for centuries.
Putting aside history's 'big ticket' items though, the real reason for this authoritarian trend is much more fundamental. By knocking out their intellectual competition, political elites and their media moguls hope to minimalize, and thus eliminate any alternative analysis and opinion by applying the completely open-ended and arbitrary label of "extremist" to speech. They want to wind back the clock, where a pre-internet, monolithic corporate media cartel held a monopoly on ideas.
Although France has taken the lead in this inter-governmental effort (see below), the preliminary assault began this past fall with British Prime Minster David Cameron publicly announcing on two separate occasions, that all of these so-called 'conspiracy theories' (anything which challenges the official orthodoxy) should be deemed as "extremist" and equivalent to "terrorist" and should be purged from society on the grounds of 'national security'. The first came with Cameron's warped speech at the UN, and afterwards, a similar charge was made by the UK leader against anyone who dares press the issue of institutional paedophilia and child abuse.
Watch this UN speech by Cameron where he clearly claims that 'conspiracy theorists' are the 'root cause' and indeed, an equal threat to national security as ISIS terrorists currently running amok in Syria and Iraq (start 4:26)…
As yet, few are aware of how in the wake of the Charlie Hebdo shootings, French Prime Minster, Francois Hollande delivered an official declaration (see full report and text from his speech below). However, Hollande takes it beyond the usual hyperbole and focuses on giving the state an administrative and legal foothold for policing both speech and thought crimes in France. If this is can be accomplished in France, then a European roll-out would soon follow.
Ironically, in order to achieve this fascist leap forward, Hollande has equated "conspiracy theories" to Nazism, and is calling for government regulations to prevent any sharing or publishing of any views deemed as 'dangerous thought' by the state. Specifically, Hollande is citing "Anti-Semitism" and also anything which could inspire 'acts terrorism' – as the chief vehicles for what the state will be designating as 'dangerous thoughts'. With the thumb of Hebdo still pressing down, this may just sound like politics writ large by the French leader, but in reality it's full-blown fascism.
Worse yet, with all of the world leaders gathered togther in Paris in January supposedly marching solidarity for 'free speech' and proudly chanting "Je Suis Charlie" (image above), that Hollande would use this as political cover to restrict free speech in Europe should shock even.
reports how the new censorship regime has already been implemented this week:
"Earlier this week, the Interior Minister of France — with no court review or adversarial process — ordered five websites to not only be blocked in France, but that anyone who visits any of the sites get redirected to a scary looking government website, saying:
You are being redirected to this official website since your computer was about to connect with a page that provokes terrorist acts or condones terrorism publicly.

While it could be argued that the four website initially listed by the government for 'blocking' were exclusively for ISIS/ISIL-related activity and thus, should be kept hidden, the government has made no caveat in its reams of policy literature, other than some vague language as to what it defines as 'extremist', as to where this growing list will stop, or indeed, if it has any limits at all. Because this process is extrajudicial, then there will be no warning to gov't targets of this new regime. In fact, as RINF reports, this has already happened:
"In that first batch was a site called "islamic-news.info." The owner of that site not only notes that he was never first contacted to "remove" whatever material was deemed terrorist supporting (as required by the law), but that nothing in what he had posted was supporting terrorism."
Will French gov't censors also block this website – because it is challenging the government's new public filtering program? Are we entering a new intolerant, Chinese-style policing culture in Europe, and throughout the west? Certainly they have the ability and the legal clearance to do just that right now.
Fear of losing control over manipulative narratives has always been a primary obsession with those in power, and clearly, based on what we've seen here – governments are making an aggressive move on free speech now. Skeptics will no doubt argue that this 21WIRE article itself constitutes a conspiracy theory. If that was the case, then why have western governments, particularly those in the US and Britain, already spent millions, if not billions in state funds in order to infiltrate, disrupt, and occupy forum websites, and social networking groups of so-called 'conspiracy theorist' and even creating entirely new groups just to contradict them? Does that not already prove what the government modus operandi is?
As if that wasn't enough already, now France wants to take it to a whole new authoritarian level. It may sound ridiculous, but this is exactly what is taking place in government as we speak.
History shows that once this new regime is in place, they will not relinquish any new powers of censorship, and so a long, intellectual dark age is certain to follow…
(Translation by Roger Lagasse)
[…]
Read the rest: 21stcenturywire.com
The possibility of Planet X being a ship planet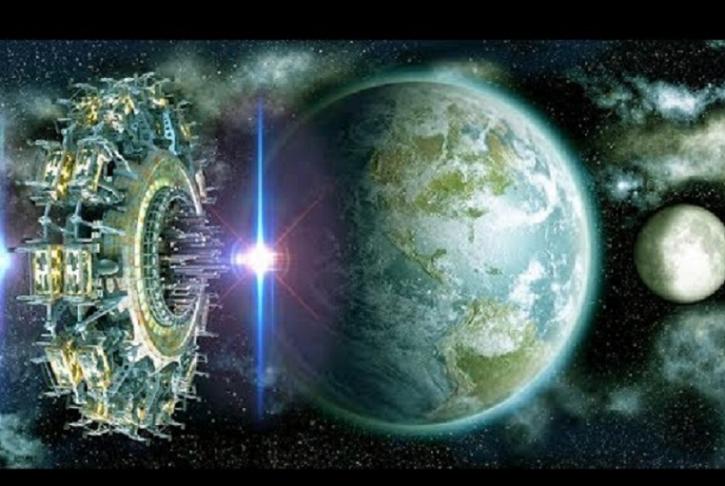 On September 8-10, 2020, several new videos were posted online by different accounts, in which people captured, as it seemed to them, Nibiru:
Unfortunately, the authors of such videos do not always indicate the exact time of recordings, which makes them difficult to be verified, however, will base them on the date of September 8 and see what the telescopes showed on that day.
The first service we will turn to for verification will be George Mason University, which kindly introduces the public to photographs of the Lasco C2 telescope:
As you can see, to the right of the Sun (from the point of view of an observer on Earth), a coronal mass ejection slightly illuminated a round object. Perhaps, of course, we have seen this, so let's turn to another source – the CACTus software, which was created to track solar flares:
Unfortunately, all telescopes are controlled by officials, and the officials, as we know, are tricky – this is clearly seen from the videos that they post to the public. The frame rate is one frame per hour or so – that is, the frames are carefully selected and filtered to those that can be shown to the masses, and those that should not be shown in any case.
Fortunately, Mr. Planet X News, a nybirologist with twenty years of experience, has some kind of contacts with light adepts, and from time to time they leaked deleted frames to him. For example – frames for the same on September 8, time 12:24 or so:
Thus, it seems that there is now some kind of round object around the Sun, which makes a full revolution in aproximately 7 days. Therefore, one week it is seen to the right of the Sun, one week – to the left of the Sun. Therefore, everything seems to be clear. Nevertheless, both our readers and we, as honest researchers, have some questions.
The first question is, why can't we see Nibiru? Why is it not seen by billions of people? Why is it only seen occasionally? The answer to this question is obvious:
This is already a secondary question and is not the subject of this material, so we turn to the second question – Kepler's laws.
According to these laws, the planet under consideration, revolving around the star, moves not in a circle, but along an ellipse, in which two points are distinguished: perihelion is the point of the orbit closest to the Sun, and aphelion is the most distant point of the orbit.
If we consider celestial mechanics, it is completely incomprehensible: how can Nibiru be in a circular orbit if it should rotate in an ellipse? The planets do not change their orbits – this is the law of astronomy. If Nibiru changed its orbit to a circular one and is now wandering somewhere between the Sun and Mercury, then it will not be able to return to an elliptical orbit and leave the solar system. Meanwhile, according to the legends, the mystery planet must leave us for five hundred years. It's a direct, insoluble paradox.
This kind of paradox can be resolved very simply if we assume that Nibiru is not just a planet, but a planet that has been turned into a spaceship. Once in a while, the Anunnaki visit the solar system – they slow down, descend from an elongated orbit to a circular one, fill their batteries from the sun, harvest on a farm, and then fly away on their own business – until the batteries are exhausted and the refrigerators run out of food. Then the cycle repeats.
In the light of these considerations, a third question arises: when will the Anunnaki bask in the sun enough and begin to harvest?
The twin-sun phenomenon is becoming a frequent occurence
One of the strangest and most inexplicable phenomena of recent times has become the phenomenon of "two suns" that people see today so often that special tags were even allocated for the topic on video hosting sites.
One of the newest videos on this topic was a video shot in Colorado around August 23, 2020:
Another video shot on August 20 and deleted from YouTube for some reason, only screenshots remained:
You can have guesses whether it was a glare on the window, photoshop, Nibiru or something else, so we turn to the source where you don't need to guess – to the NASA satellites, which show the following:
This photo baffles even the most famous Nybirologists, because the picture captures three hefty round objects at once, dangling around the Sun.
If the spots were monochromatic, one could say that these are some kind of artifacts. But on the objects, the illuminated side and the shadow side are clearly visible, with the illuminated sides turned towards the Sun. But what is this ?!
The first thing you can think about is that the Nibiru system is now somewhere relatively close to the Earth, between us and the Sun. The planets there are large, one of the satellites is assumed to be generally the size of Jupiter, so this system may have been captured by a satellite at close range.
The full video with a set of new photos from the solar observatory is given below:
We will not prove that all this is Nibiru and nothing else, since we are not interested in proving our rightness, but in the truth. And this truth can be very different from the generally accepted ideas about space:
Amateur astronomers have been looking at the Sun for a long time, finding from time there a lot of different wonderful things, but no one has yet seen the "flying horseshoe" there.
The horseshoe looks a lot like a ship with a very strange design that the directors came up with for the Alien trilogy and the movie "Prometheus". The only thing that confuses is the size of the ships: they are simply gigantic, there are no such spaceships even in the movies.
Therefore, there are only two explanations for what is happening: either there is no "solar system" and the Earth is some kind of an asteroid fragment covered with a glass dome, under which people of microscopic size live, or this horseshoe-like alien ship flew somewhere relatively nearby and just got caught into the frame that turned out to be against the background of the sun. If we follow that theory, its dimensions are quite acceptable.
Which of the explanations for what is happening is more correct – you decide.
A battery that can last 28000 years
Newatlas.com reports on August 25 that the Californian company NDB announced the creation of a truly revolutionary battery, which can hardly even be called a battery: it can last 28,000 years.
At the heart of each energy cell is the isotope of carbon C-14, aka Carbon-14, aka radiocarbon or radiocarbon, pressed into a diamond. Beta decay produces nitrogen, an electron, and an electron antineutrino from radiocarbon. The electrons are captured by a local capacitor built around the cell, after which the electricity is led out into a common circuit.

Carbon-14 is radioactive and its main source is graphite from nuclear reactors, which for decades was considered a hazardous nuclear waste that cannot be disposed of. However, there is little graphite inside the energy cell and its radiation is comparable to Carbon-14, which is full in the body of every living being.
Nevertheless, the diamond cell itself is sealed in another layer of artificial diamond made of ordinary carbon and its radioactivity is reduced to zero.
NDB batteries will be the same size as lithium batteries. That is, to power the microcircuit, the battery will be the size of a microcircuit, to power the phone – the size of a phone, to power the car – the size of its trunk.
The news, of course, is sensational, however, so far no one has seen these miraculous batteries in the store and there is a likelihood of a divorce of investors for the loot, since the faces of the inventors do not inspire confidence:
Scientific teams of much larger size have been unsuccessfully fighting over the topic of such devices for decades. It is believed that they received such batteries back in the Third Reich, but the allies did not give them a go, since they prevented them from making money on oil. Of course, no one from the general public saw these Nazi batteries themselves, but everyone saw a photo of one of the German shipyards taken from an airplane in 1944. There were six submarines there, much like what we today call nuclear submarines: the shape and size there were about the same.
There are also several testimonies of sailors who met these boats in the ocean and tried to chase them unsuccessfully. None of this worked, since at the end of the 1940s, their speed and depth of diving were impossible – the USA, USSR, Britain and France learned to make such boats only in the 1960s.
The Third Reich did not have nuclear propulsion systems, otherwise they would have already appeared in the allies in 1947, therefore it is assumed that there were high-capacity batteries, which made it possible to build such huge boats. The Germans themselves made them or someone helped them – the researchers do not know.
Rumors about the imminent appearance on the market of some new super-duper-batteries have been circulating for at least ten years, but, for some reason, the presentation has been postponed.
However, if this time they are nevertheless merged, the world will face a real energy revolution. Although not only energetic. There is also a fairy tale about aliens who steal people, make diamonds out of them, and these diamonds then serve as a source of energy for UFOs.
Since such a concept of the engine somehow did not properly fit into our heads, many considered these words as unrealistic. However, as we can see, diamonds are already being made of people, and now there is also a technology to turn these diamonds into batteries with a life of 28,000 years.