France Moves to Make 'Conspiracy Theories' Illegal by Government Decree
From: 21stcenturywire.com
Political elites and super-bureaucrats are worried. It's becoming harder to control consensus reality.
A history stitched together by lies and cover-ups, political assassinations, slight-of-hand false flag deceptions, secret societies, dual loyalties and stolen fortunes – this have been the privilege of ruling elites for centuries.
Putting aside history's 'big ticket' items though, the real reason for this authoritarian trend is much more fundamental. By knocking out their intellectual competition, political elites and their media moguls hope to minimalize, and thus eliminate any alternative analysis and opinion by applying the completely open-ended and arbitrary label of "extremist" to speech. They want to wind back the clock, where a pre-internet, monolithic corporate media cartel held a monopoly on ideas.
Although France has taken the lead in this inter-governmental effort (see below), the preliminary assault began this past fall with British Prime Minster David Cameron publicly announcing on two separate occasions, that all of these so-called 'conspiracy theories' (anything which challenges the official orthodoxy) should be deemed as "extremist" and equivalent to "terrorist" and should be purged from society on the grounds of 'national security'. The first came with Cameron's warped speech at the UN, and afterwards, a similar charge was made by the UK leader against anyone who dares press the issue of institutional paedophilia and child abuse.
Watch this UN speech by Cameron where he clearly claims that 'conspiracy theorists' are the 'root cause' and indeed, an equal threat to national security as ISIS terrorists currently running amok in Syria and Iraq (start 4:26)…
As yet, few are aware of how in the wake of the Charlie Hebdo shootings, French Prime Minster, Francois Hollande delivered an official declaration (see full report and text from his speech below). However, Hollande takes it beyond the usual hyperbole and focuses on giving the state an administrative and legal foothold for policing both speech and thought crimes in France. If this is can be accomplished in France, then a European roll-out would soon follow.
Ironically, in order to achieve this fascist leap forward, Hollande has equated "conspiracy theories" to Nazism, and is calling for government regulations to prevent any sharing or publishing of any views deemed as 'dangerous thought' by the state. Specifically, Hollande is citing "Anti-Semitism" and also anything which could inspire 'acts terrorism' – as the chief vehicles for what the state will be designating as 'dangerous thoughts'. With the thumb of Hebdo still pressing down, this may just sound like politics writ large by the French leader, but in reality it's full-blown fascism.
Worse yet, with all of the world leaders gathered togther in Paris in January supposedly marching solidarity for 'free speech' and proudly chanting "Je Suis Charlie" (image above), that Hollande would use this as political cover to restrict free speech in Europe should shock even.
reports how the new censorship regime has already been implemented this week:
"Earlier this week, the Interior Minister of France — with no court review or adversarial process — ordered five websites to not only be blocked in France, but that anyone who visits any of the sites get redirected to a scary looking government website, saying:
You are being redirected to this official website since your computer was about to connect with a page that provokes terrorist acts or condones terrorism publicly.

While it could be argued that the four website initially listed by the government for 'blocking' were exclusively for ISIS/ISIL-related activity and thus, should be kept hidden, the government has made no caveat in its reams of policy literature, other than some vague language as to what it defines as 'extremist', as to where this growing list will stop, or indeed, if it has any limits at all. Because this process is extrajudicial, then there will be no warning to gov't targets of this new regime. In fact, as RINF reports, this has already happened:
"In that first batch was a site called "islamic-news.info." The owner of that site not only notes that he was never first contacted to "remove" whatever material was deemed terrorist supporting (as required by the law), but that nothing in what he had posted was supporting terrorism."
Will French gov't censors also block this website – because it is challenging the government's new public filtering program? Are we entering a new intolerant, Chinese-style policing culture in Europe, and throughout the west? Certainly they have the ability and the legal clearance to do just that right now.
Fear of losing control over manipulative narratives has always been a primary obsession with those in power, and clearly, based on what we've seen here – governments are making an aggressive move on free speech now. Skeptics will no doubt argue that this 21WIRE article itself constitutes a conspiracy theory. If that was the case, then why have western governments, particularly those in the US and Britain, already spent millions, if not billions in state funds in order to infiltrate, disrupt, and occupy forum websites, and social networking groups of so-called 'conspiracy theorist' and even creating entirely new groups just to contradict them? Does that not already prove what the government modus operandi is?
As if that wasn't enough already, now France wants to take it to a whole new authoritarian level. It may sound ridiculous, but this is exactly what is taking place in government as we speak.
History shows that once this new regime is in place, they will not relinquish any new powers of censorship, and so a long, intellectual dark age is certain to follow…
(Translation by Roger Lagasse)
[…]
Read the rest: 21stcenturywire.com
What The Economist predicted for 2021 and for what purpose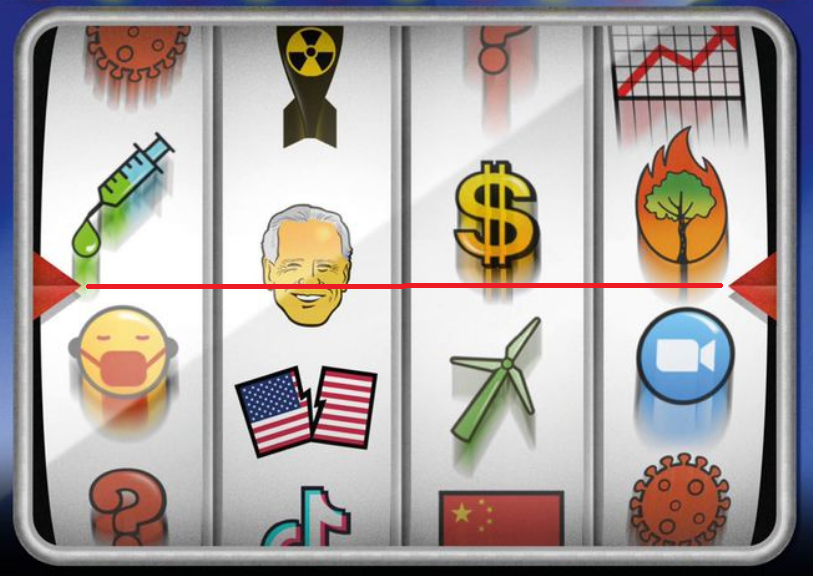 In mid-November 2020, The Economist magazine gave the world's conspiracy theorists a new bone in the form of another forecast cover for 2021 or more. Everything, as the conspiracy theorists believe, is within the framework of the old and ancient rule of the owners of this world: they must inform the flock of their plans for the future, which, according to universal principles, removes responsibility for their actions from great leaders.
Great bosses, at least for some reason, think so.
This is what the owners of The Economist wanted to tell us.
In the past, the people discussed each new cover of The Economist with terrible force, trying to guess the dates of the coming star, however, now there is no particular excitement. This is partly due to the fact that with the arrival of the coronavirus, the star has almost arrived, and the only thing that is still unclear is how and when its final stage will be.
We need to note of course that all the decryptions of the past covers did not come true – although there were several very significant hits.
Nevertheless, the picture is still discussed, since closer to the final everything is almost in plain text: a one-armed bandit with four drums, one of which stopped on the face of Mr. Biden or a person similar to him. On this basis, everyone in unison interpreted the stopped drum as a toughly resolved issue, the alternative to which was either a split in the United States or an atomic war. However, in fact, everything is there for a reason.
You don't need to look too closely at the cover to notice
The drawing divides a diagonal shadow, which practically none of their symbols on the drum captures – it shares only a symbol with Biden, something like this: Why such a direct allusion to some kind of rebirth and who is hiding behind the mask / back of Mr. Biden is unclear.
Although, judging by the position of the drum, in any case, whoever was hiding there won. The second point, which was not noticed by any of the YouTube "deciphers of the Illuminati messages" is the rising of some luminary at the base of the machine.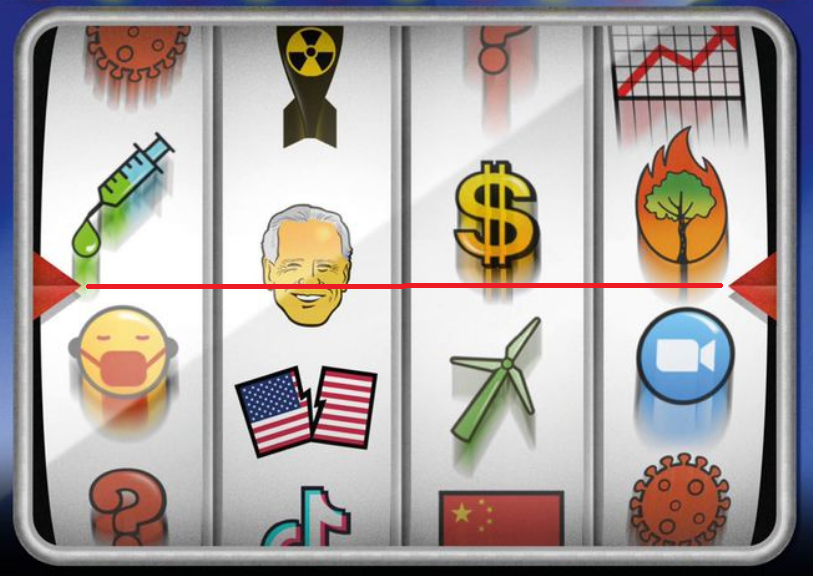 The luminary did not get into the frame, only its rays are visible, but these rays are suspiciously red. Moreover, they are red against a reddish sky. Does this mean that in 2021 we will be shown Nibiru or is it something else ascending – no one, except, of course, the Reptilians, even knows.
Finally, the virus deserves special mention, which is drawn on two reels. Why is the virus next to the vaccine in the first – it seems to be understandable, but why the virus is in the fourth? Therefore, it will not be a coronavirus, but some other pathogen?
All other symbols presented are obvious: a vaccine, a baby in a muzzle, TikTok, a Chinese flag, Skype with a TV camera, as if hinting at remote communication. Some other graph, which everyone interprets as economic growth / inflation, but it can also be an increase in mortality. It is not very clear, however, with the American flag: is this an allusion to the division of American society, or will America really split in half?
In one of the recent current covers, The Economist has already laid out a calendar with a volcano and an asteroid, so anything can happen with a split of the continent, but the main thing that is incomprehensible here is completely different.
It is unclear: is this a global plan that can be replayed by some other player who has approached the machine, or is it such an ultimatum that is no longer subject to discussion? We will not know the answer to this question before December 2021.
Poison, alien rays and black magic: The story of the unexplained death of conspiracy theorist Max Spiers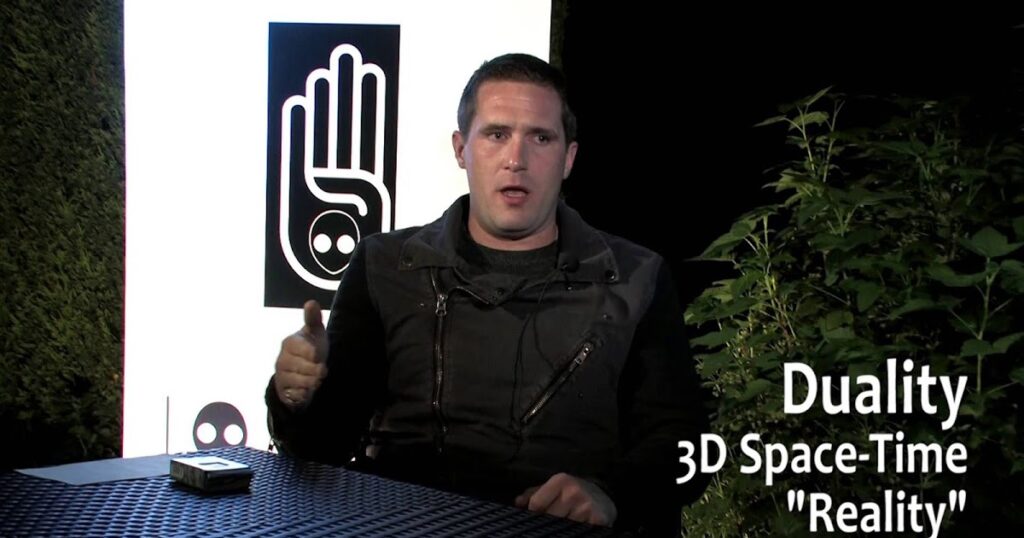 The researcher was preparing to reveal information to the public about a black magic circuit, in which a number of politicians and celebrities participated. According to 31-year-old Sarah Adams, who was engaged to the unfortunate man, Spiers had spent the last months of her life researching a black magic practice circuit in which celebrities were involved.
Was he poisoned, struck by alien rays or killed by black magic – in the versions of his fans and journalists, the truth collides with the most insane theories.
The father of two children, 39-year-old Spiers died in July 2016 at his friend's house in Warsaw, a death so strange that her circumstances were studied in Poland and the UK, albeit without much success.
The Polish police focused on the "natural causes" of his death, without even doing an autopsy, which caused the outrage of his relatives and fans. When the body of the British arrived at home, forensic experts could not even determine the cause of death. Then, in December 2016, the coroner's inquest was launched, which is still dragging on.
It is only known for certain that the conspiracy theorist before his death was sick of blood or some kind of black liquid.
Mr Spiers fell ill, had a fever and general weakness. The next day Mr. Spiers vomited two liters of black liquid. A friend called a doctor who tried to resuscitate the patient, but later admitted the fact of his death

from the official statement of the coroner.
Demons and super soldiers
Spiers went to the same school with actor Orlando Bloom, but he is not remembered for that. He was an unusual person even by the standards of his circle. Having spent many years searching in the X-Files style, Max has gained popularity among ufologists and conspiracy theorists as a bright orator who is not afraid of the most shocking statements. For example, he received his nickname "Super Soldier" for claiming that from birth he was part of a secret government program to create elite warriors. However, Max failed to prove this.
What absurd claims Spiers did not make, the last days of his life are indeed shrouded in mystery. In many interviews and TV programs made in the wake of this story, several main points are repeated: he conducted a new investigation, received threats from unknown persons, tried to warn his relatives about something before his death.
Shortly before his death, Spiers began studying the biographies of rich people: businessmen, politicians and show business stars . His mother Vanessa Bates told about this, without naming specific names. Two days before his death, he sent an extremely strange SMS, in which he actually predicted his death.
Your son is in danger. If something happens to me – investigate

SMS to Spiers' mother
When the mother was given the late son's computer, all of his records were deleted, she recalls. In her opinion, Max's investigation led him to "dark places", someone seriously wanted him dead. "He was a very tough man in his prime, and yet he just took it and died on a sofa in Poland," Bates marveled.
The popular conspiracy theorist was killed by Satanists in order to expel demons from him, some say with reference to his girlfriend. According to her, Spiers managed to call her from Warsaw and tell her that he was there against his will. Allegedly, devil worshipers seized him and tried to "reprogram", for which they gave him a substance that immersed him in a coma for two days.
"Max could not escape because he was kept in a house in the woods, he was surrounded by a fence under electricity. He said something "demonic" was going on, he had to get out and find a church or some other holy place. But two days later, he was dead, " Adams quoted the Sun tabloid as saying.
There is no confirmation of this conversation, but Adams repeatedly mentioned in conversations with reporters Spiers' investigation of a secret society of Satan fans associated with the highest circles of power and show business .
We've received death threats before, but this time they looked real. They wrote to us that we would both die … He was going to expose black magic, it was associated with political leaders and celebrities

Sarah Adams
Looking for the truth
Every day there are fewer and fewer opportunities to reliably establish the cause and culprits of Spiers' death. Many of his acquaintances and fans believe in the hand of the "world government" or a blow struck from outside our planet. Being killed by agents of the secret world government is the highest compliment, proving that you are a huge danger to them and their plans, the popular UFO blog Exopolitics writes.
Max Spiers used to say, among other things, that the masses have undergone a kind of hypnosis and live in a Matrix, with brainwashing in the media and their valid sources, etc., because they are "programmed".
Other material provides a long list of UFO researchers and scientists who have allegedly died a violent death. "Death from a headshot. Death that looks like poisoning, death that looks like strangulation, death as a result of the possible implantation of a deadly virus … This only confirms the long-known fact that the life of an experienced ufologist is much shorter than usual," says the journal Paranoia.
But there is a more prosaic explanation for Spiers' death. The BBC channel devoted its own investigation to this story, during which it learned about his addiction to drugs. Several years ago, he accidentally suffered a pelvic injury, began taking painkillers, and soon allegedly switched to heroin. In the video, filmed shortly before his death, the conspiracy theorist is allegedly "high", according to one episode of the project. Spiers' mother feared for his mental health and worried that he was hanging out with the wrong people.
Could Spiers' death be a banal heroin overdose? We wouldn't have to guess if the Polish authorities had given an immediate answer. While it remains to wait for the end of the coroner's inquiry – its results may give the UK the opportunity to start an international investigation.
What do Flat Earth advocates think of chemtrails?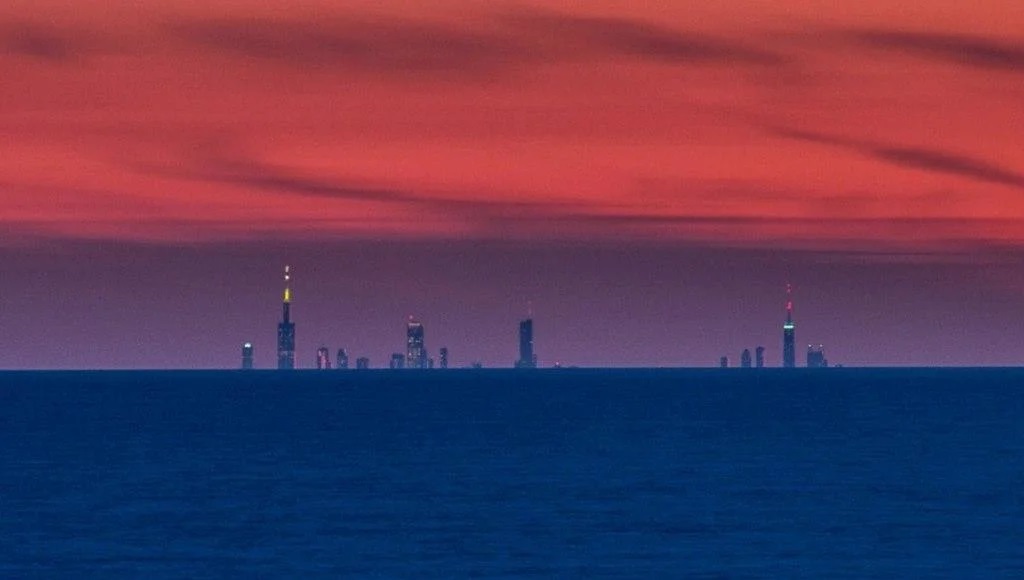 One of the eternal discussions that appears from time to time on conspiracy platforms around the world is the endless debate about the shape of the Earth. Some people believe that the Earth is a sphere that dangles around the Sun, while other people believe that we live in a circus, which is flat, like any arena. 
The day before, this discussion flared up again – in particular, under the impression of one of Elon Musk's videos, which people watched carefully:
In the video, the camera periodically turns on, looking at the engine of the last accelerating stage, the view from the lens leaves no doubt that the Earth is spherical:
However, from time to time, something happens to the lens and the Earth looks for some reason flat, like a table:
This phenomenon cannot be explained by the approximation function, since the size of the engine does not change and therefore it seems that the rounding of the Earth is achieved by a combined survey, during which some manipulations with the background are carried out.
Below is the video from a NASA satellite, from which one can think that something is flying fast near the Sun and is the size of Jupiter:
Another photo with the Sun:
This is only the catch of ufologists for a week, and so something constantly revolves near the Sun. Everyone would gladly think of shooting artifacts, but there have been a lot of artifacts lately, thus there is a suspicion that the Sun itself in SOHO frames is also an artifact, that the Earth is flat like a steppe and that we are shown in the sky a movie about The sun.
Most of the people who are under the yoke of the education of the Secondary School, for some reason, are sure that, totally misinterpreting everything, about something, but about the shape of the Earth, the textbook is not lying, and therefore it is heresy to challenge the textbooks. However, what does Round Earth have to say bout the chemtrails that have been sprayed in the sky for decades?
The Round Earth has nothing new to say about this. Nevertheless, if we assume that the Earth is covered with a kind of dome, then what will happen to the substances sprayed from aircraft in 10 years or more? From the Round Earth, these wonderful chemicals will escape into space, but on Flat Earth, all this chemistry will remain under the dome, as a result of which the owners of the circus will have the opportunity to turn on the "Project Blue Beam", during which "the sky will roll into a scroll" or something like this.
Naturally, "Blue Beam" can be turned on without a dome – for example, by organizing a broadcast from satellites. But it will take a year at most to prepare such a performance, since all the chemistry that can be used for the screen evaporates very quickly – no aerosols can fly in the atmosphere for decades. Meanwhile, chemtrails have been around for many, many years. That is, one gets the impression that something keeps this chemistry from above and makes it possible to build a screen for slides for years, forming a matrix layer by layer.
But what's the point in all this? – convinced supporters of the round Earth will ask us. The sense in this is that if there really is a dome above the Earth, then the screen can be made denser – with a good resolution, like on an advanced monitor. On such a screen, it is possible to show such tricks that the fake cannot be recognized even through a telescope.
Therefore, if the Earth is flat and covered with a dome, the "Blue Beam" may not be limited to alien ships hovering over cities, but even turn into a journey to other star systems through a wormhole, after which we will have a completely new sky overhead, but all these are just theories and one day, we may know.