The Four Top Cancer-Fighting Spices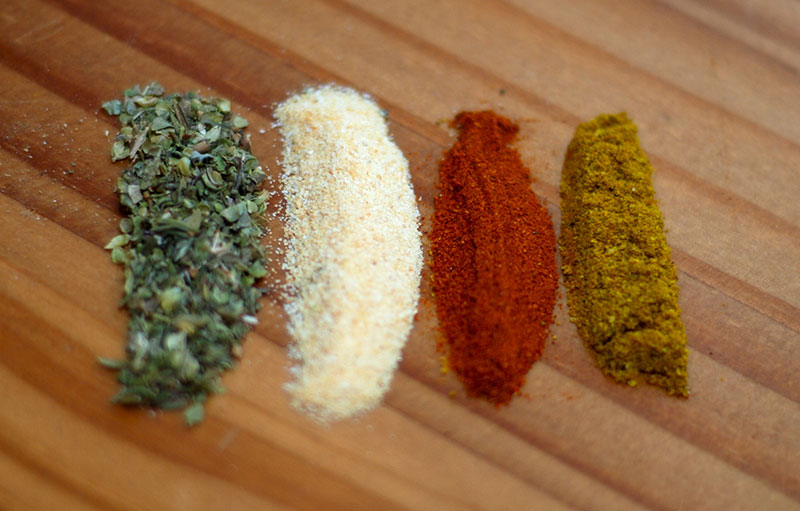 These four cancer-fighting spices have powerful health benefits and were part of my daily regimen to beat cancer without chemo.  They are common, but not commonly found in American cuisine, so I had to be very deliberate about adding them to my food. I took copious amounts of these four spices and still do today.
They are (organically grown): Oregano, Garlic, Cayenne Pepper, and Turmeric.
The Turmeric plant is a relative of Ginger and has been used for thousands of years in Indian Ayurvedic medicine (the science of long life) as an antiseptic and antibacterial agent to treat infection, inflammation, wound healing, poor digestion, etc.  And as you may know, it is also a staple ingredient in Indian, Persian, Thai, and Malaysian Cuisine.
Turmeric is the business because it contains the powerful cancer-fighting polyphenol Curcumin.
Curcumin has been clinically shown to inhibit growth of various cancer cells including: Bone Cancer, Breast Cancer, Brain Tumors, Colon, Liver, Pancreatic, Stomach, Bladder, Kidney, Prostate, Leukemia, Ovarian, Melanoma, and more!
One of its anti-cancer benefits comes from its ability to induce apoptosis (natural cell death) in cancer cells.
Curry Powder, a common ingredient in indian and asian cuisine, is typically a mixture of coriander, turmeric, cumin, fenugreek, and red pepper.  Love the stuff. It's delicious!
Oregano has extremely high levels of antioxidants and antimicrobial compounds.  One teaspoon of oregano has the same antioxidant power (ORAC) of two cups of red grapes!  It contains the phytochemical Quercetin, which is known to slow cancer growth and also promote apoptosis (there's that word again).  And on top of that Oregano is a good source of Vitamin K and Iron.
Garlic is a very powerful anti-cancer spice.  Studies all over the world have shown it to lower the risk of developing all types of cancers especially colon, stomach, intestinal, and prostate cancer.  It has strong antibacterial properties as well as the ability to block formation and halt activation of cancer-causing substances. It can also enhance DNA repair; slow down cell reproduction and, like Turmeric and Oregano, induce apoptosis.
The World Health Organization recommends adults have a daily dose of fresh garlic (approximately one clove).  So not only did I put garlic powder on everything I ate, but I also chopped it up raw garlic cloves into little bits and swallowed them like pills.  Did I reek of garlic?  Oh yeah. Did I care?  No I did not.
Cayenne Pepper contains Capsaicin, which is the active compound that sets your lips, tongue, and everything else on fire.  Turns out Capsaicin is also the stuff kills cancer cells, causing……………..can you guess it?
Apoptosis!
Cayenne is also a key ingredient in The Master Cleanse for its detox abilities.
The Hotter the Better: If you can handle the heat, Habanero Peppers contain 4-6 times more Capsaicin than Cayenne with a Scoville rating of 200,000 units.  Yeeoow!!!
The first time I ate a super hot chili pepper was on a dare when I was 20, my  friend Brad Stanfill bit half and I bit the other half.  It was so hot I couldn't think straight.  I don't know if it triggered endorphins or adrenaline or what, but we somehow ended up lying on our backs in the grass in our front yard until it wore off.  Good times.
Here's a super easy way to add more spice to your life:  I use all four of these cancer-fighting spices in a salad dressing I make from scratch. Read about it here.
A strange phenomenon in the Arctic, the cause of which is unknown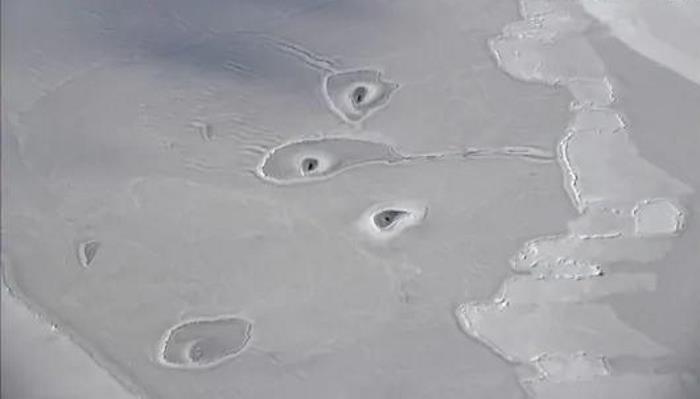 In 2018, a plane flying over the Greenland glaciers noticed strange holes in the ice. NASA scientists cannot yet find the reason for their appearance.
The Arctic is a mysterious place, and as the Earth's climate changes, it changes faster than scientists can record. So, according to NASA, strange holes began to appear in the ice, and so far no one can understand what causes them.
The photo was taken by John Sonntag, a scientist working for NASA's IceBridge operation, an ambitious mission to capture as much detail as possible of the North and South Poles in hopes of figuring out what is happening right now in these remote parts of the planet.
Unfortunately, this photo raises more questions than answers, at least for now. But even though scientists from IceBridge do not have an exact answer to what these holes are, they make assumptions. / These holes may be caused by ice melting due to the water warming under the ice, or they may be air pockets caused by whales or seals. However, for the latter variant the holes are somehow too big.
NASA even asked its readers on the Internet for advice on what it might be. There were many assumptions, but it is not yet possible to say exactly why these holes formed.
Rich people from all over the world are buying submarines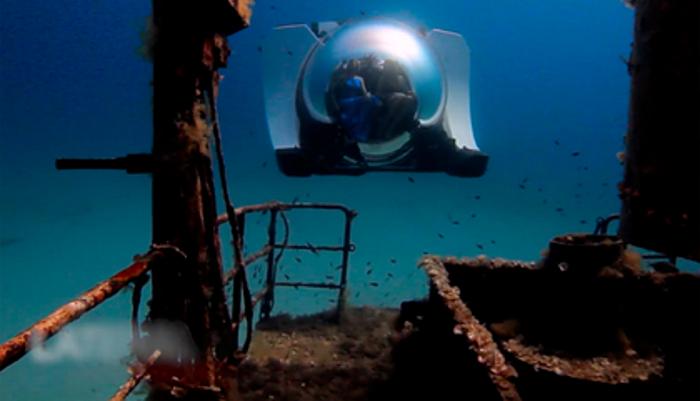 The wealthy around the world will spend millions of dollars on private submarines, following Russian billionaire Roman Abramovich, The Times reports.
According to the publication, in the period from 2019 to 2020, it was about the sale of 15 to 25 submarines, however, this number is expected to double in 2021. According to representatives of the three leading submarine manufacturing companies, next year the market will be estimated at 75 million pounds.
Among the first buyers of deep-sea vessels were the owner of Chelsea Football Club Roman Abramovich, the late Microsoft founder Paul Allen and the Emir of Abu Dhabi, Sheikh Khalifa Al Nahyan.
Roy Heijdra of the Dutch company U-Boat Worx noted that wealthy people increasingly want their yachts to be specially equipped for exploration, not just luxury holidays. According to him, ten vessels were sold in 2020 worth up to £ 2.2 million each. Among them was the Nemo model, which is estimated at 875 thousand pounds, has a height of 2.8 meters and can dive to a depth of more than 90 meters with two people on board.
In turn, the executive director of the Florida company Triton, Bruce Jones, said that compared with the previous year sales of submarines this year rose by almost a third, despite the pandemic coronavirus. At the moment, he has about five orders that need to be completed by the beginning of 2021.
A prehistoric forest that grew on earth a million years ago was found on the slope of Kilimanjaro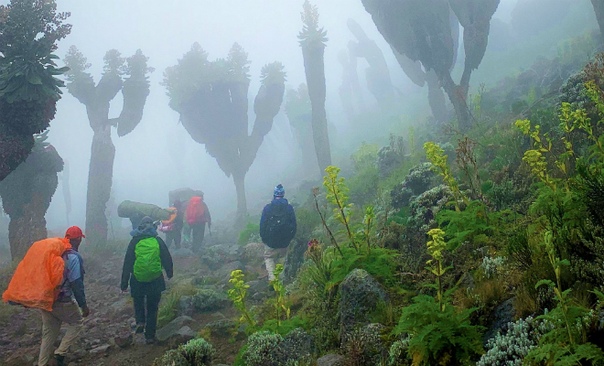 Just 300 kilometers south of the equator is the highest point in Africa, the potentially active stratovolcano Kilimanjaro, which covers an area of ​​more than 390 hectares. But as a free-standing mountain, the climatic zones of which become less and less like a terrestrial landscape as it rises, Kilimanjaro is especially notable as an incubator for isolated, mutated or rare species that are almost never found anywhere else.
Recently, on one of the slopes, scientists discovered plants of a prehistoric forest. They grew on Earth a million years ago.
Senecio kilimanjari is a giant plant. It has practically not changed over the past million years, dinosaurs once roamed in the same forests. The territory of the giant groundwort begins at an altitude of 3000 meters. There is less rainfall and therefore the prehistoric forest is not so dense. This only further emphasizes the monumentality of the giant plants standing separately from each other, capable of growing up to 5-7 meters.
To survive in such a harsh environment – high in the mountains, temperatures regularly drop below zero during the night – the plants have developed water accumulation in the core of the stem, the movement of nyctinous leaves (which means that the leaves close when the temperature drops too much), natural 'antifreeze "And self-isolation due to wilted and dead foliage (one of the reasons terrestrial plants look so strange).
The prehistoric forest rises to about 4,300 meters. Above the slopes of Kilimanjaro, only a barren alpine desert begins, ending in a colossal glacier at the very top of the stratovolcano.