Four Genetic Tests That Will Unlock Your DNA While Respecting Your Privacy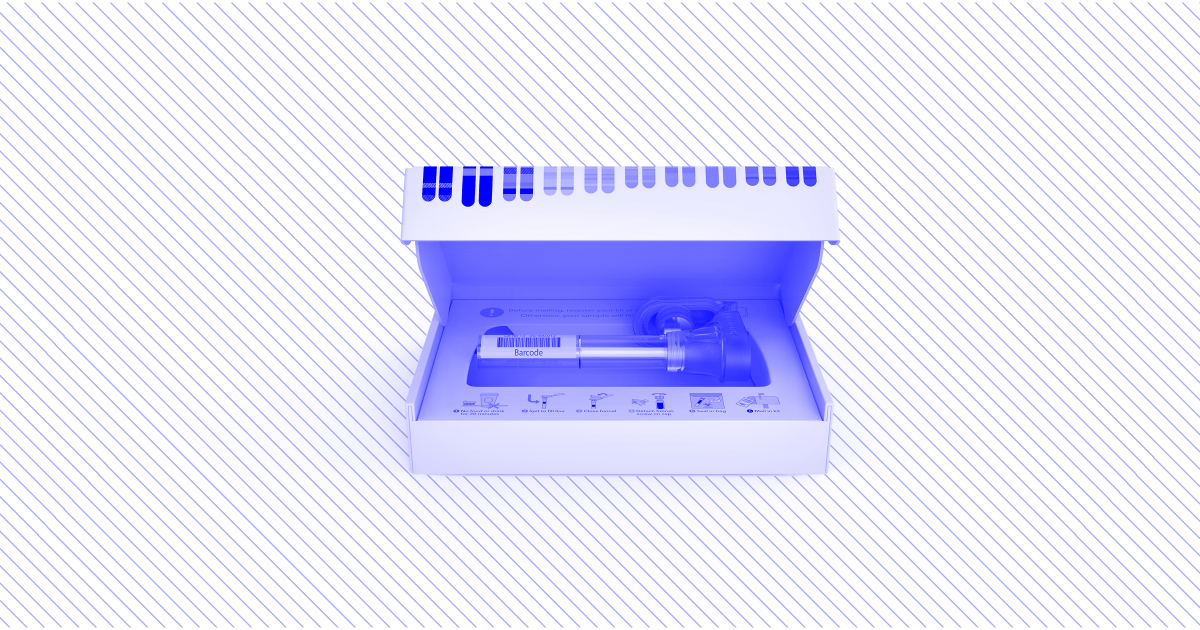 Since James Watson and Francis Crick unlocked they mystery of DNA's double-stranded helix in the early 1950's, human understanding of genetics has grown by leaps and bounds. Less than 50 years after winning the Nobel Prize for their work, the ideas Crick and Watson put forth lead to the completion of the Human Genome Project (in 2003), giving scientists a remarkably clear picture of how humanity is constructed.
Now, 15-years later, technology has advanced to the point where anyone can swab the inside of their mouths and, for a nominal fee, gain access to their own genetic code. But to paraphrase renowned 20th century mathematician Ian Malcolm, just because we can doesn't necessarily mean we should, at least not without first performing our due diligence.
Before you jump on the DNA bandwagon, it's important to stop and think about how your information will be used, and what control you have over your own DNA once you send in a sample. For example, is your DNA test kept private, or can it be sold to third parties? How secure is your data from hackers? Can an insurance company gain access? How about law enforcement? Are you able to have the sample destroyed?
These are just a few of the questions people should be asking before they allow a third party access to their very essence. Luckily, the following companies clearly answer these privacy concerns, and more, on their websites. So while it's up to you to research which test is right for you, the following list will give you a nice head start.
Ancestry.com, the world's largest for-profit genealogy company, turned researching family histories into a billion-dollar business. For its next act, the company is betting that consumers will be as interested in genetics as they are in genealogy. That's why it's now offering a detailed DNA test capable of tracing your genetic ancestry to "over 350 regions—sometimes down to a city." Based on the results, the company is also able to offer possible ancestral migration patterns, DNA matches to living relatives, and an estimate of your potential ethnic makeup.
As far as security is concerned, Ancestry.com uses "industry standard security practices to store your DNA sample, your DNA test results, and other personal data you provide." As an added precaution, your DNA information is stored "without your name or other common identifying information." You also retain ownership of your DNA data, and can chose to have it deleted at any time.
Based in Mountain View CA, 23andMe takes its name from the 23 pairs of chromosomes found in a typical human cell. And like our previous entry, it offers a detailed genetic ancestry test which can trace your roots back to a 150 different geographic regions. But the company also offers a variety of reports that examine your health – including your risk for certain diseases, your carrier status for inherited conditions, and an analysis of other genetic traits.
In order to keep your information private, 23andMe assigns a randomized customer identification number to your DNA sample and stores it in a "physically separate computing environment" from your personal information (name, credit card, etc.). You also control whether or not your saliva sample is placed in storage after the test is conducted, and whether your account is visible to other 23andMe members. The company will not share your results with third parties without your consent, including insurance companies or employers. It will also not share your information with the government unless legally compelled to do so with a valid subpoena, warrant or order.
Our next entry is Helix, which also offers genealogical and health-related insights from genetic testing. However, what separates this service from competitors is the fact that it offers an "entire marketplace of products" of customized DNA research via third party vendors. As a result, users are able to "unlock more DNA," which results in 100-times more data than your average at-home test. Helix and its partners then use this information to provide "more actionable insights," such as how you can best optimize your workouts to lose weight, or "which wines taste best on [your] palate."
All of Helix's third-party vendors are required to "meet the standards that [Helix] established when it comes to privacy, security, control, and experience." The company also claims it will not "sell or share your DNA data without your permission." That said, according to the Helix website, each partner sets its own policies for its products, so it's up to users to do their own research before purchasing.
And as far as legal matters are concerned, "Helix evaluates law enforcement and other legal requests for data on a case-by-case basis." If a request from law enforcement is made, the company's policy is to notify the user "unless [they] are legally prohibited from doing so."
Last but not least, we have Embark, a company that uses one of humanity's greatest achievements to offer insights on man's best friend. The test looks at 200,000 genetic markers to determine your dog's breed, traits, and other useful information. More than a simple vanity project for purebred breeders, Embark allows everyday pet owners information on nearly 165 genetic health conditions, so that preventive measures can be taken. This could lead to smaller vet bills down the road, and more importantly, a longer, happier life for your four-legged friend.
And if your dog's genetic privacy is something you value, you'll be happy to know that Embark will never share identifying information without your explicit permission (although the dog's consent isn't mentioned). And while the company does share aggregated, non-identifying information for research purposes, you are able to opt out.
Based on the popularity of genetic testing kits, there's no shortage of people interested in using DNA to gain insights into their health and family history. In fact, the consumer genetic testing market is expected to grow into a $340 million industry by 2022. But as mentioned above, trusting a third party with your DNA should not be a matter of faith. It's important to understand how your DNA will be used, and who will have access. And while it's ultimately up to you to decide what service to use, if any, the companies listed above have clearly stated their commitment to maintaining the privacy of their users and remaining transparent about how they use your DNA.
10 robotic dogs pull truck along in new video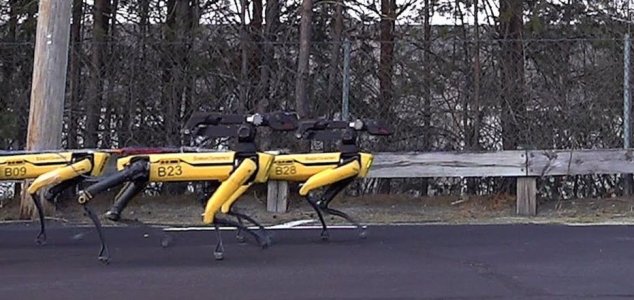 Image Credit: YouTube / Boston Dynamics
The robots seemed to have no problem hauling the truck.
A small army of Boston Dynamics' dog-like robots have been filmed hauling a truck through a parking lot.
Known as SpotMini, this four-legged contraption has become something of a celebrity in recent years thanks to videos showing it performing a wide range of tasks and balancing acts.
This latest footage shows more of the robots than ever before – ten of them to be exact – all working together to haul a large truck through the parking lot outside Boston Dynamics' headquarters.
Each robot is 0.84 meters tall and can carry a payload of around 14kg.
What's interesting is that these robots will actually be available for companies to purchase in the near future, meaning that they are no longer just a work-in-progress.
"It only takes 10 Spotpower (SP) to haul a truck across the Boston Dynamics parking lot," the firm wrote in the caption for the video on YouTube.

"These Spot robots are coming off the production line now and will be available for a range of applications soon."
Source: Evening Standard
New CRISPR Tech Could Cure Herpes
Hunter-Seeker
Gene hacking techniques that were recently used in human cells for the first time could someday let doctors shred up and destroy viruses like herpes or hepatitis B inside human cells, scientists say.
The new technique is called CRISPR-Cas3 — usually, when you hear about CRISPR tech, it's the Cas9 variety — and Cornell researchers believe it could be used to cure viral diseases, according to a university-published press release.
DNA Shredder
The scientists used Cas3 to identify and shred long stretches of human DNA, according to research published in the journal Molecular Cell last week. The new gene-hacking tool makes more and broader cuts in genetic material than CRISPR-Cas9, meaning it could let scientists quickly learn what specific, long stretches of genetic information do and how they interact with certain diseases.
It also means that the gene-hacking tool could attack and shred viral DNA.
"My lab spent the past ten years figuring out how CRISPR-Cas3 works. I am thrilled that my colleagues and I finally demonstrated its genome editing activity in human cells," said Cornell molecular biologist Ailong Ke. "Our tools can be made to target these viruses very specifically and then erase them very efficiently. In theory, it could provide a cure for these viral diseases."
READ MORE: CRISPR-Cas3 innovation holds promise for disease cures, advancing science [Cornell Chronicle]
Scientists Put Human Brain Genes in Monkeys and Made Them Smarter
It's time for the latest edition of "What Could Possibly Go Wrong?", the game show that pits seemingly unethical science against potentially catastrophic predictions. In today's competition, scientists in China (one point already for the catastrophic team) announce they used gene-editing to place human brain genes in rhesus macaque monkeys and it made their brains smarter. Cue the music from every "Planet of the Apes" movie and let the game begin!
"The presented data represents the first attempt to experimentally interrogate the genetic basis of human brain origin using a transgenic monkey model, and it values the use of nonhuman primates in understanding human unique traits."
If the opening paragraph of the new study, "Transgenic rhesus monkeys carrying the human MCPH1 gene copies show human-like neoteny of brain development," published recently in the journal National Science Review, is any indication, scientists are learning from lawyers how to protect their clients/experiments by hiding them in clouds of big, confusing words and phrases. Experimentally interrogate?
China Daily reports that researchers from the Beijing-based National Science Review, the Kunming Institute of Zoology, Chinese Academy of Sciences and the University of North Carolina (that's in the U.S. – looks like it's playing for the Seemingly Unethicals) edited human MCPH1 genes – a gene that is critical in fetal brain development because it controls brain size and rate of growth – and created 11 transgenic (a cloud word meaning "artificially carrying DNA from an unrelated organism") monkeys. Eight of those monkeys were first-generation and three were second-generation, obliterating the 'artificial' part of 'transgenic' by getting their human genes from their monkey parents.
"According to the research article, brain imaging and tissue section analysis showed an altered pattern of neuron differentiation and a delayed maturation of the neural system, which is similar to the developmental delay (neoteny) in humans."
In other words, the monkeys showed the human trait of slow brain development (neoteny) rather than the rapid growth of normal monkey brains. What was the benefit of this slow growth?
"The study also found that the transgenic monkeys exhibited better short-term memory and shorter reaction time compared to wild rhesus monkeys in the control group."
To put it bluntly — even the monkeys could understand the results because the human genes made them smarter!
Ding-ding-ding! That bell means it's time to play the lightning "What could possibly go wrong?" round.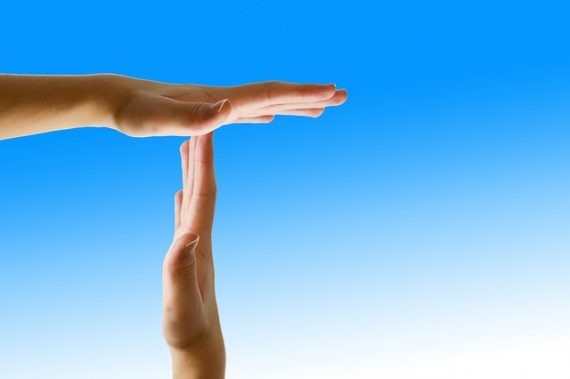 Time-out called by the Potentially Catastrophics. In a shocking and somewhat honorable display of conscience, Martin Styner, a University of North Carolina computer scientist and coauthor of the Chinese report, told the MIT Technology Review that his role was merely to train Chinese student on how to extract brain volume data from MRI images and, after learning the true purpose, considered removing his name from the paper, which he claims could not find a publisher in the West. Styner then throws his "What could possibly go wrong?" pitch:
"I don't think that is a good direction. Now we have created this animal which is different than it is supposed to be. When we do experiments, we have to have a good understanding of what we are trying to learn, to help society, and that is not the case here."
Unfortunately, that pitch didn't strike out Bing Su, the geneticist at the Kunming Institute of Zoology who led the research. He told the MIT Technology Review he is planning to create more smart monkeys and is planning to test another gene — SRGAP2C – which has been called the "humanity switch" and the "missing genetic link" because it appeared about two million years ago when Australopithecus (the Southern Ape) was being replaced by the smarter Homo habilis.
Putting the "humanity switch" in a monkey? What could possibly go wrong? This game isn't over … it's barely starting. Is this progress … or an unethical march down the field to unforeseen consequences?
If we've learned anything from "Planet of the Apes," it's that if this game goes into overtime, it won't be a sudden death.
Source: Mysterious Universe