Fossil Suggests Egyptian Pyramids and Sphinx Once Submerged Under Sea Water
The entire landscape of the Giza Necropolis, including the pyramids and the Sphinx, shows erosion that some say suggests the area was once submerged by sea water. A unique fossil amplifies this theory.
Archaeologist Sherif El Morsi has worked extensively on the Giza Plateau for over two decades, and in 2013 he partnered with Giza for Humanity founder and fellow researcher Antoine Gigal to publish his controversial discovery of this fossil.
Dr. Robert M. Schloch was one of the first scientists to really tackle the subject of the plateau structures being older than previously thought. In the early 1990s, he suggested the Sphinx was thousands of years older than typically believed, going back to 5000–9000 B.C., based on water erosion patterns found both on the statue and the surrounding rock.
Morsi has been digging deeper into the mystery ever since. During one of his photo shoots documenting the erosion patterns of many of the megaliths in the area, he made a discovery that further suggests the area was submerged at one time.
"During my photo shoot of this ancient seashore line, I nearly tripped off a second level temple block," said Mr. Morsi in an article published on the Gigal Research website. "To my surprise, the bulge on the top surface of the block that nearly made me trip was a petrified exoskeleton of what seems to be an echinoid (sea urchin), which is a shallow sea marine creature."
Morsi believes the Giza Plateau was once inundated by a sea surge. The Menkara temple site, in particular, may have once been an ancient lagoon when the high sea covered the Necropolis, the Sphinx, the temple complexes, and other sites.
Other scientists have suggested the echinoid in the limestone was exposed by erosion and the creature was part of the original limestone that formed 30 million years ago. But, Morsi countered those claims and suggested that the creature was cemented, or petrified, in a relatively more recent time, citing evidence that the creature is lying gravitationally flat, that it's in pristine condition, that it is within the intertidal range of the lagoon, and that it is a large specimen unlike the tiny specimens typically found in limestone blocks.
"We can clearly see the pristine condition and minute details of the exoskeleton perforation," continued Morsi, "which means that this marine creature must have petrified from recent times. It is not a body fossil as most fossils are that date back to 30 million years, but petrified by the sediment deposits that have filled its hollow."
The inundation, Morsi believes, was rather significant, reaching a maximum of about 245 feet (75 meters) over the current sea level and creating a shoreline spanning the Khafra enclosure near the Sphinx to the Menkara temple. Pitting and tidal notches due to waves and tidal ebbing pepper the stones in this area showing a 6.5-foot (2-meter) intertidal range, according to Morsi.
Moreover, at sites such as the Sphinx, the Sphinx temple, and the first 20 courses of the Great Pyramid, the stones are said to exhibit erosion due to deeper water saturation. On temple blocks, there are sediment and alluvial, or material, deposits seen in shallow sea beds and lagoons. As water recedes, it creates an oozing spongy effect in the rock.
For an echinoid to reach 3 inches (8 centimeters), the size of the fossil, it would take about 15 years. Furthermore the amount of sediments and alluvium deposits as well as the intertidal erosion on the shallower areas would takes centuries, suggesting the area was flooded for quite some time.
However, it's difficult to determine the exact year of the flooding. Over the past 140,000 years, the sea levels have fluctuated by more than 400 feet (120 meters), as major ice sheets have grown and receded during glacial cycles, according to CSIRO Marine and Atmospheric Research.
Mysterious Staircase Found In Giza Plateau?
An announcement that seemingly slipped us by, was made recently within Egypt.
This announcement, pertained to an amazing discovery made within an area of the Giza plateau, that for a number of decades, has been conveniently been shut off from the public…
Although the location is claimed to be a military training base, archaeologists have apparently been secretly beavering away within this remote slice of antiquity.
Announced by the Supreme Council of Egyptian Antiquities, Egyptian authorities have apparently found the mysterious traces of the legendary 4th lost pyramid of the plateau.
This provocative announcement stirred up a gale of protest among many Egyptologists, and the reasons for this may because the discovery, might turn out to be highly controversial…
Although the pyramid is in a very bad state, and this may be due to its immense age, with only a few rows of blocks remain, and these surviving blocks clearly displaying evidence to indicate, that the missing blocks have simply eroded away over the eons,,, this ruin, may not be the most important find in the area, or indeed the purpose for the video.
Along with these pyramidal remains at the site, is another amazing anomaly.
In the middle of this mysterious desert, an enormous staircase has been found, plunging into the desert floor.
Seemingly excavated before this announcement, and left for those who were fortunate enough to get access to the area, to rediscover and photograph.
This enormous staircase plunges straight through a limestone basin many metres in depth, this surgical slice, has revealed an astonishing implication, it ha revealed that the Giza plateau does indeed extend this far, not only that, but it demonstrates the sheer, unimaginable cubic size of this area of stone, a block of stone that was apparently man-made…
Where this staircase actually leads to, is as yet, unknown, although it is thought to drop far below that which is currently visible, and preliminary scans of the area are suggesting that it plunges through the plateau, deep into an ocean of ground water below.
By examining the pictures of the discovery, it appears that the site has indeed been excavated from the sand, having most likely been submerged from view beforehand, the questions are:
Who did these excavations?
Who built this unbelievable structure, or indeed the mind bogglingly enormous Giza plateau?
Who built the pyramids and sphinx upon it?
Where did such an enormous stone plateau come from?
How did they shape and carve such mysterious structures with such blocks.
Or perhaps most importantly of all, where does this staircase lead?
Did whoever undertake this excavation task, manage to discover where it led?
More research and exploration will undoubtedly be undertaken over the next few years.
We will, of course, keep you posted.
Source Mystery History , YouTube
Third Snowy Pyramid Recently Discovered in Antarctica Could Rewrite History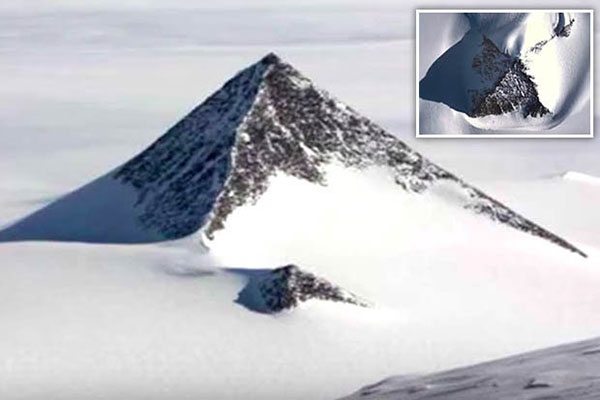 Though not everyone is willing to admit it, our planet is full of relics and monuments that prove Earth was once populated by extremely advanced civilizations. Point in case: the third ice-covered pyramid discovered in Antarctica!
Ever since the service was released, Google Earth been a boon not just for conspiracy theorists but also for anyone looking to uncover clues about what lies hidden beyond sight. If you need a good vantage point, you need good eyes and altitude. Satellites have both.
The latest in a group of three snow-covered pyramids was recently discovered through Google Earth satellite imagery and in a few days, the finding has taken the alternative history communities by storm. Two of the pyramids can be found approximately 10 miles inland while the third rests near the coastline.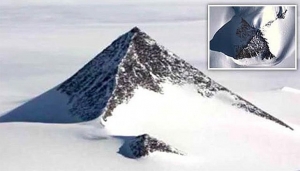 The implications of this discovery are complex and if accepted, it could turn the scientific world on its head. No history book ever mentioned an Antarctic civilization with the skills and technology necessary to erect enormous pyramids. There is one apparent reason behind this situation and by the looks of it, it would suggest tech-savvy civilizations existed on Earth a long time before our own emerged.
Antarctica is now a frozen wasteland but it wasn't always like this. It got to its current position through plate tectonics, inching closer to the geographic South Pole year after year. Millions of years ago, Antarctica's climate was much warmer because its position was closer to the equator. This is established fact backed up by several accepted discoveries, not some wild speculation.
Some years ago, the British Antarctic Survey (BAS) uncovered evidence that the antarctic climate was much different in the distant past.
Go back 100 million years ago," BAS's Dr. Vanessa Bowman said "and Antarctica was covered in lush rainforests similar to those that exist in New Zealand today."
Another expedition –led by NASA and involving 11 other scientific organizations– discovered out-of-place microbial life forms in the depths of Antarctica's Lake Vida, trapped under a sheet of ice 65 feet thick. The microbial colonies had been prospering in isolation for millions of years and scientists believe they are the descendants of microorganisms that lived in a much warmer climate. Who knows what other enigmas lay buried in ice, hopelessly waiting to be revealed.

The resemblance is unsettling.
Even with today's technology, building structures as massive as the pyramids of Antarctica would be nearly impossible. There are simply too many problems relating to manpower and the logistics required for such a project. If building these mysterious monuments were to be a viable venture, it must have taken place in the past, when Antarctica was a favorable place for human life.
And this opens up a king-sized can of worms. The continent was habitable only in the very distant past, but mainstream science says the wheel wasn't invented until some 6,000 years ago. At the same time, anatomically-modern humans are said to have mastered fire only 125,000 years ago. So where do these controversial pyramids fit in? Are they evidence of an ancient advanced civilization or do we need to stretch our imagination even further and regard them as proof of time travel? The mind boggles when we remain attached to our outdated beliefs.
Proponents of alternative history and fans of the ancient aliens hypothesis have no problem in accepting the parallel reality generated by such discoveries. It's not hard to see and accept that we aren't the first and though it may seem this way, we probably won't be the last.
Thousands of years after they were built, we are still fascinated by the Egyptian pyramids. The monuments left behind by their society have stood the test of time and in more than one way, they've granted their builders immortality. Keeping that in mind, what could be said about pyramids that are millions of years old? Does that put our own lives into perspective and make us see the bigger picture?
Or do we recoil in egotistic dismissal?
Source: https://ufoholic.com
Ancient texts suggest the town the legendary King Arthur comes from
King Arthur really did exist and was born near Leeds, according to a British historian who claims to have found evidence that proves legends about the ruler were true.
Arthur was born around 475 AD in his kingdom's capital, Barwick-in-Elmet, a once sprawling stronghold, he says.
The finding was made by studying a number of historical texts, narrowing down the range of potential figures who fit the descriptions presented.
His theory disputes the folklore tale that Arthur was conceived at Tintagel in Cornwall and challenges academics who believe the king was just a myth.
The claims are made by Adrian Grant after six-years of research critically examining 12 major battles he is believed to have fought in during the Arthurian campaign.
Mr Grant, the latest in a long line of amateur history writers fascinated by Arthurian mythology, set out to write his latest book, Arthur: Legend, Logic and Evidence, after working on a previous volume about Scottish clans.
After hearing of various clans claiming to have links to the legendary leader, the former high school geography teacher decided to look into Arthur's true lineage.
He set out to prove or disprove Arthur's existence by studying works by Gildas, Aneurin, Bede, Nennius, Marie de France, Chrétien de Troyes, Geoffrey of Monmouth, Thomas Mallory, works by two anonymous authors, the Welsh Annals and the Anglo-Saxon Chronicle.
He believes Arthur was the son of Masgwid Gloff, a fifth-Century king who ruled over the kingdom of Elmet – a region located in what is now the West Riding of Yorkshire – and his wife Gwenllian V Bryche.
His true name was Arthwys ap Masgwid, or Arthur, son of Masgwid.
Mr Grant came to this conclusion by marrying what historical texts say about Arthur and his roles in the Arthurian campaign, a series of battles in which the legendary figure was the leader.
Speaking to MailOnline, Mr Grant, 70, said: 'Many people have tried to identify Arthur and have squeezed the facts to fit an individual they have already decided upon.
'I created the time window in which he had to exist, through researching these historical records, then trawled the family trees available online.
'This Arthur fits all the criteria. He was born at the right time and he was a junior brother so almost a spare, which means he was free to fight and die well, but wasn't expected to inherit the throne.'
Today, the village of Barwick-in-Elmet – seven miles east of Leeds city centre – has just under 5,000 residents.
Arthur's family castle would have stood on or near to Hall Tower Hill, an existing mound and ditch once home to an Iron Age fort.
Mr Grant, added: 'I think I have uncovered the truth. This study was conducted with a view of separating fact from fiction and history from legend.
'Previous researchers have approached the matter in a completely different way. They have made assumptions that have turned out to be unwarranted.
'The thing is you have a limited time scale. The first battle was in 495 AD and the legend says that Arthur was selected at the age of 15.
'That leaves you with a date between 475 AD and 480 AD as to when he was born.
'We have a very small window and you have an individual with the right name and that fits all the necessary questions, there is nobody else – so therefore that's him.'
Source: http://www.dailymail.co.uk