Former Ambassador of Panama: "Hugo Chavez is dead!"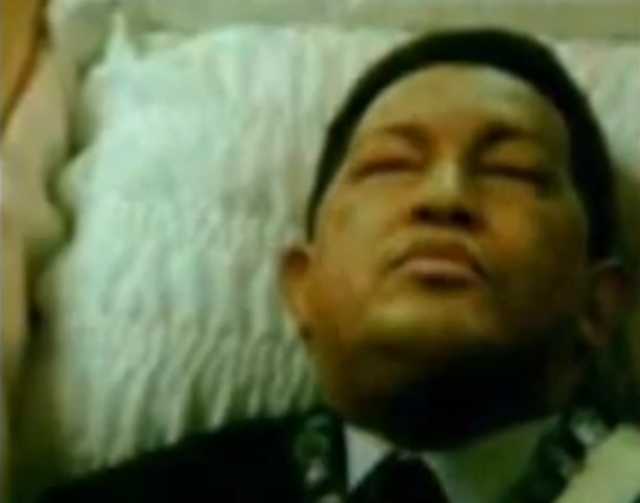 For weeks, Chavez has not been heard from, following a series of cancer treatments in Cuba. Earlier reports from Havana said he was fighting a respiratory infection that had developed after his fourth cancer surgery.

Chavez' respiratory problem – referred to officially as "respiratory deficiency" – reportedly was due to a severe lung infection.
Chavez was first diagnosed with cancer in June 2011.
Castro sent an open letter to Venezuelan Vice President Nicolas Maduro that was published in the Cuban Communist Party's Central Committee newspaper, Granma, reminiscing about when he first met Chavez in 1994.
The key words in the 350-word article were Castro's observation that "however painful (Chavez's) absence, all of you will be capable of continuing his work."
Chavez may have died two weeks ago, when further public information about him stopped, according to Venezuelan opposition and intelligence sources.
However, the sources concede they have no confirmation. Chavez, who had won re-election, was due to be sworn in for another presidential term in mid-January. His absence created a mini-constitutional crisis
Opposition leaders have argued that since Chavez wasn't sworn in for his new term, the Venezuelan Supreme Court should determine who is president.
The Spanish daily ABC had cited unnamed sources who say Chavez had been put into an induced coma and placed on life support.
Dr. Michael Pishvaian of the Georgetown University's Lombardi Cancer Center in Washington, D.C., said respiratory infections could require antibiotics and supplemental oxygen.
"It could be a very ominous sign," Pishvaian said, indicating that Chavez may have been on life support.
Other sources indicate that once put on life support following the type of cancer surgery Chavez had, along with respiratory complications, the chance of survival is slim.
Recent comments by members of Chavez's family said he was stable, although Maduro insisted the Venezuelan president had "enormous strength."
However, a doctor who is in contact with Chavez's medical team said several weeks ago the Venezuelan president wasn't responding to antibiotics, had a constant fever and hadn't eaten solid food for weeks.
The doctor, Jose Rafael Marquina of Florida, said Chavez then was on life support and that the medical team was "only prolonging unnecessary suffering." Marquina is an opponent of Chavez.
Chavez hasn't been seen in public since his last surgery in Havana Dec. 11.
Until now, the government has been silent on the latest rumors of Chavez's death, even though he had designated Maduro to succeed him.
Cuban officials also may be withholding information because of concern they would lose the significant influence they've acquired in Venezuela through Castro's close relationship with Chavez.
Since there is no record that Chavez was sworn in for his new presidential term, the Venezuelan constitution requires the government to call for new elections.
Opposition leaders are demanding that the government provide more information about the condition of Chavez and want new elections.
U.S. officials say they are watching developments closely but would have no comment on reports the 58-year-old Venezuelan president had died.
Earth in 2118 And He's on CIA mission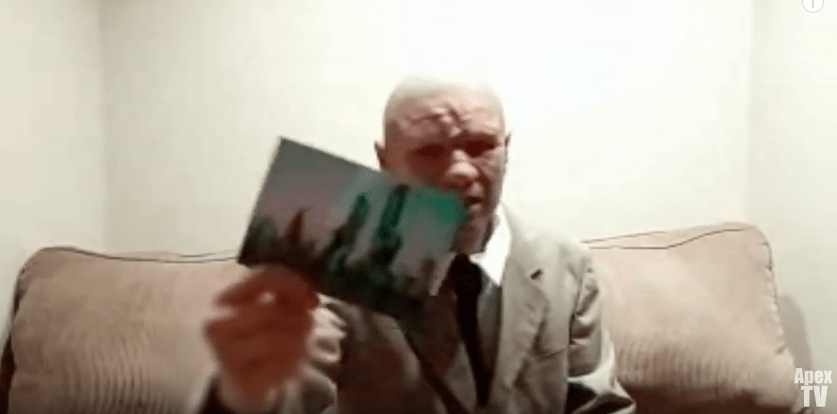 A SPOOKY image that claims to show what the world will look like in the year 2118 have surfaced on YouTube after an interview with a time traveller who says he's visited Earth more than 100 years into the future.
Alexander Smith, an elderly gentleman who travelled from the year 1981, indicates he has seen what the future looks like because he was involved in a secretive CIA experiment.
In a video on YouTube, the former secret service operative admits he is risking his life by talking about his time travel because the CIA "are looking for me and I am living in hiding".
He said: "I visited the year 2118 as part of a top secret CIA mission.
"As to my knowledge, it was one of the first times that time travel had been successfully completed.

"I went to the future and then back to the past."This all happened in the year 1981."Later in the video, the man offered proof of his venture to the future to ease the concerns of those who did not believe his tale.Reaching into the pocket of his jacket the man then pulled out a picture aimed at confirming his journey.He said: "I do have something to show you today.
"This picture was taken in the year 2118.

"This picture was the city I walked in.

"I'll never forget when I took that picture.

"It was right outside the city, before I had walked into it."
The blurry picture appears to show a number of tall green buildings, each one oddly shaped.
Far from being a crowded city like London or New York, the buildings in the photo seem to be spaciously spread out.However, little more can be deciphered from the poor quality photo.The mysterious Mr Smith added: "I chose to wait until now to reveal that picture to you because I didn't know if the world was ready to see it."That was a picture from the future which I was able to take back."There was only a minor amount of distortion on it that was caused by the time travelling process."
"The Government confiscated the original photo, but before they took it from me, I did manage to make the copy I held before you."
Detailing what the world will look like in the next century the old man also explained how humans will have received visits from aliens, speak a new language and climate change will get much worse.
The time traveller said: "Aliens do visit us, there are intelligent extraterrestrials that do come to earth.
"They visit first in the mid 21st century."
Source:https://www.express.co.uk/
Spate of UFO sightings reported near air field base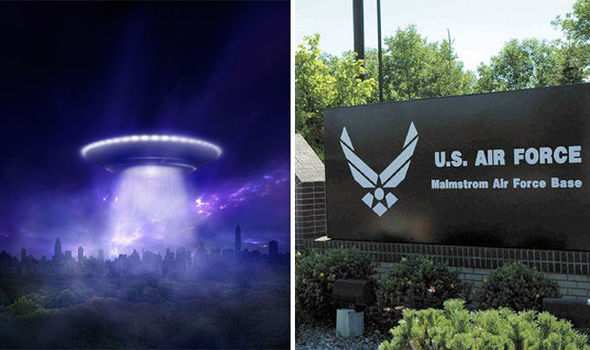 A GLUT of supposed UFO sightings near a military base in the US has alien enthusiasts concerned extraterrestrials are monitoring our planet's war preparations.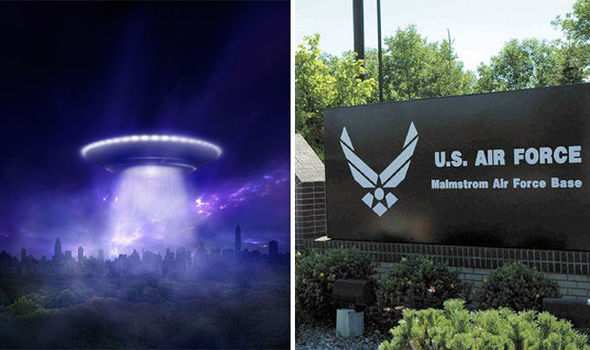 Alien hunters believe that extraterrestrials are watching the goings on at the Malmstrom Air Force Base in Montana after a spate of sightings there.
The most recent sighting of an unidentified space craft came on January 24, when a black object, which was reportedly over "half an acre" in size was spotted near the base.
According to website UFO Hunters – which monitors and collects records of sightings – there was a power outage in the region for around 10 minutes at the same time as the sighting.
The website also shows there have been close to 20 sightings within the past decade, making it a true hotspot for UFO activity.
However, sightings there stretch back much longer than the last 10 years.
One former employee at the Malmstrom Air Force Base claims a UFO shut down 10 missiles in 1967.
Capt Robert Salas said: "I was on duty when an object came over and hovered directly over the site.
"The missiles shut down – 10 Minuteman missiles. And the same thing happened at another site a week later. There's a strong interest in our missiles by these objects, wherever they come from. I personally think they're not from planet Earth."
UFO hunters believe aliens are monitoring military bases in the US.
A recent map from the US-based National UFO Reporting Center (NUFORC) was released which shows UFO sightings across the States.
Black 'UFO' object seen during Falcon Heavy test flight
However, it has been suggested the most dense areas for sightings coincide with US military installations.
Alex Hollings, a retired US duty marine, now writes for Sofrep.com, a news and intelligence service provided by former special operations veterans.
He wrote: "When laying that same map of reported UFO sightings over a US map showing the locations of all military installations, an interesting trend starts to emerge.
"Many of the regions that seem to show a high frequency of UFO reports coincide with the locations of military installations.
"For the conspiracy minded, this might mean our alien visitors have taken a particular interest in what our military is up to.
"Others might be inclined to conclude many of these supposed UFO sightings may be nothing more than misidentified military aircraft."
Source: https://www.express.co.uk/
'Aliens will return to Earth within 20 years', Chariots of the Gods author predicts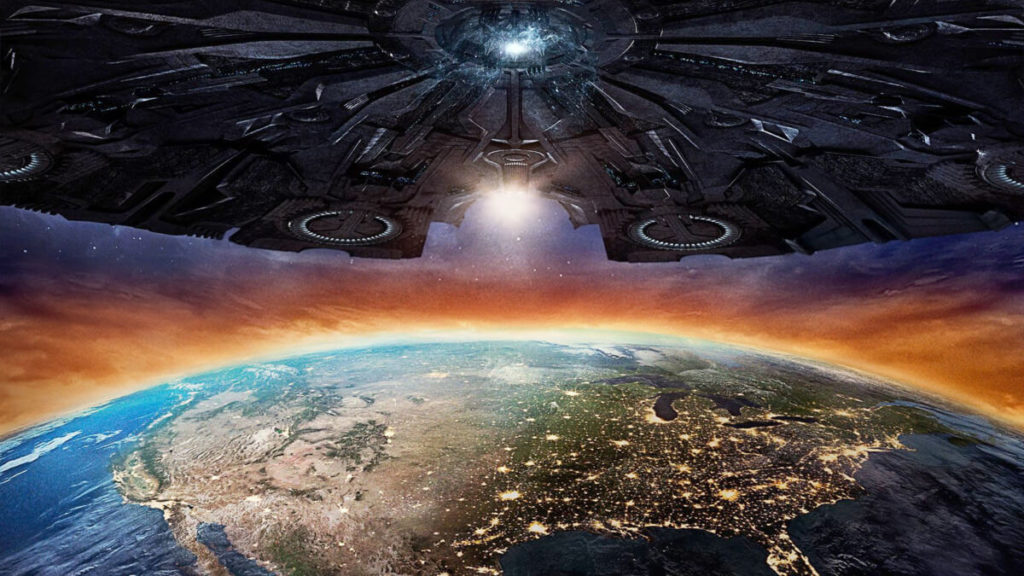 Erich Von Daniken the author of Chariots of the Gods, was presented with the Stella Citizen Award by Ancient Aliens TV regular Giorgio A. Tsoukalos, at the Princess Anne Theatre, Bafta, London last month.
In a two hour presentation Erich used video clips, computer animations, slides and diagrams to back-up his claim that thousands of years ago there was a war in heaven. He said,
'The E.T.'s know about us because we are part of their DNA. The Bible speaks of the daughters of men having intercourse with these visitors, and many worldwide myths and legends repeat the same story. These stories always say the E.T.s will return to us.'
Erich thinks this could be in the next twenty years.
The 'Erich Von Daniken Legacy Night' celebrated 50 years of his groundbreaking book that dramatically claimed humanoid extraterrestrials visited us in our distant past and caused the building of the Great Pyramids, Stonehenge, the Nazca lines, Stone Age cave paintings, Mexican temples and in more recent times UFO sightings and crop circles.
Evidence of this is contained in ancient Indian religious texts as well as in the Christian Bible, Daniken claims. Erich emphasised that their concept of heaven is really a reference to outer space, so the angels were E.T. visitors rather than spiritual creatures.
Visions by the likes of Ezekiel and Enoch strongly suggest they saw E.T. shuttlecraft and spaceships. After telling NASA scientists at a secret meeting about Ezekiel's vision, Erich claims they developed a multi-directional wheel from the Biblical descriptions and went on to patent the idea.
After his remarkable presentation he was interviewed on stage, where he confessed that he had always had an enquiring mind and was intrigued by the thought of alien visitors at an early age. He went on to work in the leisure and hotel industry, and worked as a hotel manager whilst writing Chariots of the Gods.
On its publication in the late 1960s it achieved worldwide success, and his books have now chalked up more than 70 million sales. They have inspired Hollywood blockbuster movies, TV series like The X-Files and numerous documentaries expounding his ideas and have become a cultural phenomenon far beyond his greatest expectations.
Source uk.news.yahoo.com