Forbidden Archeology – Secret Discoveries of Early Man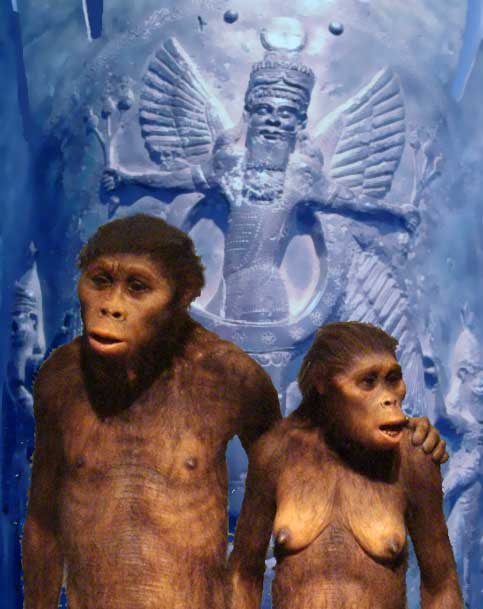 Early Man – Introduction
Taking isolated similarities by themselves, the theory of evolution appears to be quite reasonable… to a point.  However, it seems that too much weight has been placed on similarities without questioning the differences.   To the embarrassment of many a very intelligent man and woman of science, overly confident conclusions and arrogant statements have been made based on such similarities that have, on occasion, turned out to be not only wrong, but painfully wrong.  It is fine to hypothesize that similarities between different creatures are the result of common ancestry, but since such similarities have been and are often conflicting when compared with other features, it might be prudent to hold back a little when making conclusions about any sort of definite taxonomic classification model or even relationship.  The conclusions that are drawn from the evidence are often and have often been very much exaggerated to fit personal beliefs and biases.  Yes, even scientists have biases and favorite theories.  No one, not even a scientist, likes to see a theory that has cost a great deal of money and much of one's personal time and effort, go up in smoke.  So, some caution might be in order before even long established theories are accepted as the "gospel truth", especially when some of the most famous scientists in the field start to question their own life's work.
In considering the theory of human evolution it is interesting to note that some very well known scientists have actually suggested that the line of human evolution is far from clear.  For example, in 1990, Richard Leakey himself said that, "If pressed about man's ancestry, I would have to unequivocally say that all we have is a huge question mark. To date, there has been nothing found to truthfully purport as a transitional specie to man, including Lucy, since 1470 was as old and probably older.  If further pressed, I would have to state that there is more evidence to suggest an abrupt arrival of man rather than a gradual process of evolving." Mary Leakey also said pretty much the same thing just before her death at the age of 83.  Although Leakey was convinced that man had evolved from ape-like ancestors, she was equally convinced that scientists will never be able to prove a particular scenario of human evolution.  Three months before her death, she said in an interview, "All these trees of life with their branches of our ancestors, that's a lot of nonsense."
Biases are of course part of human nature.  No one is immune from bias.  However, bias should at least be admitted.  As it is, popular sciences often refuse to admit that there are significant limitations to the evolutionary interpretations that are given out to the public as "gospel truth."  Consider the evidence for yourself and judge if popular science has not and is not overstepping itself when it comes to its conclusions on "Early Man."
Read More: http://naturalselection.0catch.com/Files/Early%20Man.html
Forbidden Archeology – Secret Discoveries of Early Man and Civilization
Forbidden Science – Shattering the Myths of Darwin's Theory of Evolution
Then God said, "Let us make man in our image, after our likeness; … So God created man in his own image, in the image of God he created him; male and female he created them.  — Genesis 1:26-27
Controversial Footprints
In July, British researchers dropped a bombshell by reporting the discovery of 40,000-year-old human footprints in a layer of volcanic ash in central Mexico. The finding was highly controversial because it challenged the traditionally accepted view that humans first arrived in North America around 11,000 years ago after crossing the Bering Strait, a land bridge that once connected Russia and Alaska.
In a new twist, other scientists have performed their own dating of the volcanic ash and obtained wildly different results.
Using palaeomagnetic analysis—a technique that looks at the Earth's magnetic field during past geologic time—and a radioactive dating technique called argon-argon, the team concludes the ash is actually 1.3 million years old.
See more at: http://www.livescience.com/3939-controversial-footprints-earliest-man-modern-machine.html
Top 10 Missing Links
Every few years scientists unearth the bones of humanity's forefathers. From Lucy to the Hobbits of Flores Island — we are gradually seeing building the puzzle of mankind's evolution.
Neandertal
Stocky and squat and well suited for the cold, Neanderthals looked distinctly different from modern humans. But they were like us in other ways: they buried their dead, cared for their sick and injured and may have been capable of language and music. Scientists recently put together a complete Neanderthal skeleton and are working on the genome.
Cro-Magnon
These people looked identical to modern humans and lived in Europe between 35,000 and 10,000 years ago. Their cave paintings and sculptures are the earliest known examples of art by a prehistoric people.
Homo floresiensis
It turns out those Floresians were actually on to something. For centuries, their mythology described a race of very small human-like creatures called the Ebu Gogo. Hardly anyone took them seriously, however, until 2003, when word broke that a new species of diminutive hominids was discovered on the Indonesian island.
Homo erectus
For H. erectus, it may have paid to be dense. According to one theory, males rammed each other with their thick skulls in order to win females. H. erectus is generally believed to be the direct ancestor of modern humans and also the first hominid to live in caves and tame fire.
Homo ergaster
Scientists can't decide whether this African hominid is just a failed predecessor of H. erectus or the rightful ancestor of modern humans. It had a thinner skull than H. erectus and was more proficient at making tools and using fire.
Homo habilis
Many scientists believe H. habilis is the missing link between the ape-like hominids like Lucy and the more human-like ones that came after. It had long ape-like arms but walked on two feet and was capable of creating crude tools.
Paranthropus boisei
If P. boisei and its relatives weren't such picky eaters, we might not be here to wonder about them. They split from the line leading to modern human some 2 million years ago and lived alongside our ancestors for millions of years, but died out after failing to adapt their diets.
Paranthropus aethiopicus
This early ape-like hominid walked on two legs and lived between 2.8 million and 2.2 million years ago. Based on skull measurements, scientists concluded this species had the smallest adult hominid brain ever discovered.
Australopithecus africanus
A. africanus was an early descendent of Lucy and lived in Southern Africa between 2 million and 3 million years ago. Its brain was larger than Lucy's and its facial features were more human-like.
Australopithecus afarensis
The most famous member of this species is Lucy, an adult female skeleton discovered in 1974 and nicknamed after a Beatles song. Lucy lived about 3.18 million years ago and was fully capable of walking and running on two legs.
Source: http://www.livescience.com/11326-top-10-missing-links.html
Calico Early Man
The North American Great Basin is an arid expanse that reaches from northern Mexico to southern Oregon. It is presently a land of desert shrubs and isolated mountain ranges separated by arid basins that often contain salt flats or parched clay pans. However, it was not always so. At times in the past it has been a brushy landscape spattered with lakes, large and small, and rich with animal life including extinct forms of bison, horses, camels, mammoths, and their predators. In most lowlands, some 15,000 years of Late Pleistocene and Holocene alluvial deposition has effectively buried and sealed earlier sediments and possible traces of a human presence in the region in Pleistocene time–the "Ice Age"–when tool-making humans were present throughout the Old World and when the Great Basin was not the desert it is today.
However, in the Manix Basin (Lower Mojave River Valley) of San Bernardino County, California, close by the Calico Mountains, a fortuitous combination of environmental factors have exposed a series of deposits that represent more than 350,000 years of Quaternary history. Within these deposits are rocks that, if found outside the Western Hemisphere, could easily be regarded as having been artificially modified to form stone tools, or lithic artifacts.
The obvious antiquity of the geologic deposits containing these objects has caused the most influential North American archaeologists to reject them as artifacts. They are rejected on the basis of where they are more than what they are. Consequently the objects have been regarded as geofacts: artifact-like forms produced by natural geologic processes. On the other hand, many European and Asian scholars familiar with Old World Paleolithic technology do indeed recognize many of the Calico specimens as authentic lithic artifacts, implying a human presence in the Americas for a span of time vastly longer than that generally accepted.
This web site describes and analyzes the Calico Archaeological Site and the Calico Lithic Industry, which have been controversial since they appear to support the presence of tool-makers in California's Mojave Desert some 200,000 years ago–nearly twenty times more remote in time than the generally-accepted date for the earliest human arrivals in the Americas.
Read More: http://www.calicodig.org/
PS  "There Is Nothing New Under The Sun"
Ecclesiastes  1:4-11
A generation goes, and a generation comes, but the earth remains forever.
The sun rises, and the sun goes down, and hastens to the place where it rises.
The wind blows to the south and goes around to the north; around and around goes the wind, and on its circuits the wind returns.
All streams run to the sea, but the sea is not full; to the place where the streams flow, there they flow again.
All things are full of weariness; a man cannot utter it; the eye is not satisfied with seeing, nor the ear filled with hearing.
What has been is what will be, and what has been done is what will be done, and there is nothing new under the sun.
Is there a thing of which it is said, "See, this is new"? It has been already in the ages before us.
There is no remembrance of former things, nor will there be any remembrance of later things yet to be among those who come after.
Secrets of the Forbidden City are being solved by modern archaeologists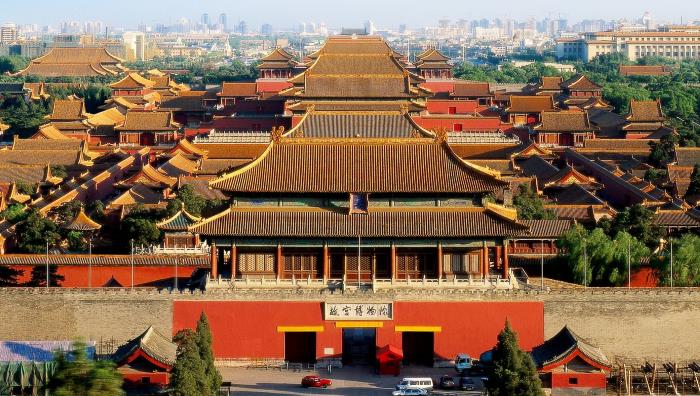 If we compare the millennia during which palaces were built and restored in China with an epic novel, then the Forbidden City in Beijing is its last impressive chapter.
An exhibition celebrating the 600th anniversary of the completion of the Forbidden City opened in Beijing on September 10. Photo: Jiang Dong / CHINA DAILY
The previous pages of this story, although no less amazing, were partially or even almost completely lost during the rise and fall of dynasties and turned into ruins, similar to archaeological puzzles. Experts are still solving them. However, in the heart of Beijing, there is a 720,000-square-meter palace complex built of wood and clay bricks – the last surviving structure of its kind in the world. This area, which served as an imperial palace from 1420 to 1911 and where 24 emperors once lived, celebrates 600 years since the completion of construction this year.
In honor of this event, the Umen Gate galleries at the entrance to the Imperial Palace Museum became a kind of lobby, where visitors to the exhibition "Eternal Splendor: Six Centuries in the Forbidden City" enter. It will run until November 15th.
"There is so much that has happened in 600 years that can be said," says Zhao Peng, director of the museum's architectural heritage department and chief curator of the exhibition. "It is best to focus on the 'city' itself, that is, on architecture: to understand how this place was formed and modified … This is the crystallized wisdom and talent of the ancient Chinese. "
Yet it is not easy to select just 450 items, including structural elements and imperial relics, to reveal a panorama of such architectural splendor. In order to chronologically show how the complex originated, expanded and developed with the help of the exhibits, 18 significant years were selected from the entire centuries-old history. 
"These time periods help to see a fuller historical picture," Zhao says.
In 1406, Zhu Di, the third emperor of the Ming Dynasty (1368-1644), proposed to move the capital from Nanjing (today it is the administrative center of Jiangsu Province) to Beijing in order to better guard the northern borders. Zhu Di himself lived in Beijing as a prince.The Forbidden City was built according to rules derived from centuries of Chinese history.
The construction was completed in 1420, after almost ten years of preparation and three years of active work. The following year, the capital was officially moved to Beijing.
"A striking feature of the Forbidden City is how, despite the changing eras, certain architectural forms are strictly adhered to," Zhao says. "This reflects traditional Chinese thought that emphasizes the importance of ritual and harmony between people and the sky."
The Forbidden City was built according to rules derived from centuries of Chinese history. The exhibition presents "Notes on the Study of Crafts" (Kaogongji) – a treatise that spells out the basics of building a palace. It was published during the Spring and Autumn Period (770-476 BC) and is part of the classic Chinese work Zhou Rituals (Zhouli) on rituals and notions of order.
"Notes on the Study of Crafts" regulate the symmetrical layouts of the capital cities, in the center of which on the north-south axis should be a palace. The historic districts of modern Beijing, including the Forbidden City, fully comply with this rule.

"Finally, this ideal layout, which has been guided for nearly 2,000 years, has been faithfully embodied in Beijing," Zhao says.
Following the rituals is reflected in the architectural details.
For example, only the roof of the Hall of Higher Harmony – the most prestigious structure in the palace, where the most important ceremonies took place – can be decorated with ten figures of deified beings. The simpler the roof is decorated, the lower the status of the building.
The Hall of Supreme Harmony also has 11 rooms – more than any other building in the complex. (In ancient Chinese architecture, a room was a square space between four columns.)
Roof shape is another important indicator by which you can determine the status of a building. For example, the roof of the Hall of Higher Harmony is four-pitched and two-tier, its ends protrude and bend upwards. Only buildings of the highest status can have such a roof.
In 1734, Emperor Yongzheng of the Qing Dynasty (1644-1911) issued an official guide to the construction of palaces. The book, which is over 2,700 pages, spells out all the architectural criteria, including the size of the columns and the decoration of the roofs. According to Zhao, this is an important milestone in the history of the fusion of rituals with Chinese architecture.
The Forbidden City in Beijing has two older brothers. When Zhu Yuanzhang founded the Ming Dynasty and became emperor, he made the capital of his hometown, which is today in Fengyang County, Anhui Province. However, the construction of a huge palace complex for unknown reasons suddenly stopped, and Zhu Yuanzhang decided to build an imperial city in Nanjing.
Both imperial cities fell into ruins, but some important details have survived to this day, such as stone fences and tiles in the galleries of the Umen Gate. They help to imagine what the early architecture of the Forbidden City might have looked like.
"The original appearance of buildings can often be seen in the paintings," says the deputy director of the architectural heritage department of the museum, Di Yajing.
No matter how the new emperors followed the precepts of their ancestors, it is clear that they wanted to decorate their new home. "The Ming emperors preferred simple yet stately architecture, and therefore large buildings were built during their reign," Di says. "However, the Qing emperors tended to be more sophisticated."To understand whether the pictures correspond to historical reality, you need to conduct additional checks
Sometimes this was a forced decision, since it was difficult to find giant pieces of valuable timber to renovate the palace. However, the Qing emperors demonstrated their wealth and status with handicrafts of the most skillful work. Thanks to Emperor Qianlong (1711-1799), who adored fine arts, this trend reached its peak. In 1766, he ordered the construction of the Palace of Serenity and Longevity in the Forbidden City, where he planned to live after leaving the throne. The garden of this palace has become a real treasure trove of exceptional decorative objects.
The lacquered gauze fabric, which used to be placed on the window, allows visitors to appreciate its uniqueness, because the garden has never been opened to the public before. The decor of this silk combines techniques such as paper cutting, gilding, dyeing and varnishing. This means that several artisans worked on its creation at once. 12-ply fabric is paper thin.
"We tried to replicate this decor, but even modern manufacturing techniques did not help us," Dee says. "This lost technique reminds us that cultural heritage must be carefully preserved."
Complex renovation of the main buildings of the complex has been going on since 2002. Although it was originally planned to be completed by a round date this year, in the end the architects decided not to rush to complete the work with full responsibility and respect for history.
From "living" runes to a hologram. Ancient technologies are making a comeback
Human civilization develops thanks to accumulated knowledge. Without knowledge and experience, there is no movement forward to progress. People make discoveries, bring them to life and pass this information on to subsequent generations. The most faithful and reliable storage is memory. But, unfortunately, it is limited to the framework of one human life or generation.
Therefore, in past centuries, when people were closer to each other, the continuity of generations was maintained. Wisdom was passed down orally: from grandfather to father, from father to son. So, epics and legends were composed. The image embedded in them was able to live for centuries. After all, only that which is felt is remembered. All events in the senses are imprinted with all the multifaceted connections.
We can say that feeling is a kind of "hard drive" that is turned on with the help of a computer brain.
In that distant era, when our ancestors lived in harmony with themselves and nature, they had developed imaginative thinking. Sounds had a special meaning because they created reality. But the means for transmitting information or extracting it from the past were musical instruments. Each of them had its own purpose. With the help of some, people remembered their past lives, others were introduced into an altered state of consciousness, in which it was possible to perform miracles.
Various folk tales have preserved the legends of "magic words" that open doors and launch flying ships. The Byzantine chronicles say how the northern people came to negotiations without weapons, holding only a folk psaltery in their hands. The sounds drawn from the strings decided the outcome of the negotiations.
Runes – the first material carrier
At this level of interaction with information, any drawn symbol had a magical effect. The ancestors called these signs – Runes. Not everyone could "work" with them. Due to the ability to materialize thoughts instantly, only initiates had access to them. For everyday needs, they used features and cuts that did not have such tremendous power. As the spiritual decline and loss of skills, it was necessary to create books, but they were so amazing that for a modern person they seem completely fantastic.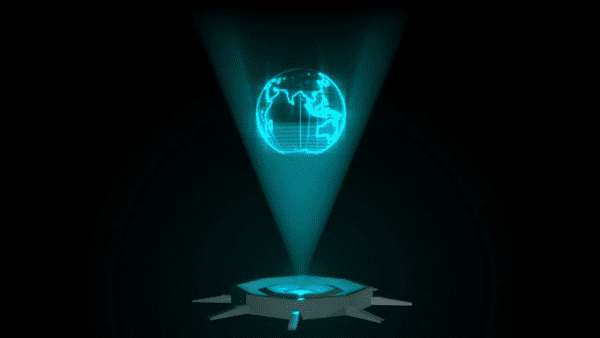 Ancient stereo books
These were ordinary pre-Christian books, which were then burned as a devilish "black book". Although they had nothing to do with the devilry. Their whole secret was the ability of our ancestors to use bioenergetics.
Such books have been carefully crafted for centuries. Every detail of her material had to have certain physical qualities.
The text of the future book was first written down with a metal stylus on wax-covered boards, where any corrections could be made. It is impossible to write straight away. Trying to accurately convey his thought, the author "runs after her", not worrying about spelling. The well-known expression "to spread the thought along the tree" comes from there.
Nevertheless, the main thing in the creation of the book was not the author, but a scribe who would have had imagination and such body cells that emit bioenergy. In this case, all the pictures that appear in his imagination, together with the biocurrents, are absorbed into the parchment as on a film strip. The effect of titles is created, as if hanging in the air between a person and those living pictures that the suede parchment has absorbed. For these purposes, it was manufactured in a special way. As well as cinnabar for writing.
Then the sheets of parchment were stitched like modern thick notebooks with a metal spiral on the spine. The cover was made of bog oak boards. Its name was engraved on the cover. To make it better read, silver and niello were poured into the grooves of the letters. At the same time, the same massive oak-copper case was made for the book, closed with copper clasps.
Incredibly, the natural ingredients and techniques used in this book produced a 3D effect. The only difference is that a modern person needs special glasses, and our ancestors developed such abilities. It's just that some could emit biocurrents, while others perceive them. In short, living people were transmitters and receivers.
Gold and stone discs – the prototype of modern discs
In addition to such wonderful books, there were also discs that contained a huge layer of information in a compressed form. Perhaps they are "read" in the same way as "miracle books", but it is possible that there was a certain computer into which these disks could be inserted.
In any case, according to the first version, attempts were made to decipher the Phaistos disc, a phenomenon that made a lot of noise at one time. It was discovered that the disc contains layered information. It cannot be read like an ordinary letter.
The hologram is the library of the future
With the advent of Christianity, all ancient knowledge and skills were declared devilish, and the possessors of these abilities were witches and sorcerers. Both books and people were burning in the bonfires. In order to preserve the rest, the manuscripts were rewritten, but already in an ordinary linear letter. Of course, distortions were inevitable and the picture of past events, presented in this way, did not correspond to reality.
Pen books have proven to be a rather primitive way of conveying information. Although, for many centuries, they remained a guiding thread for knowledge. And yet, as we can see, important discoveries were and are being made as a result of practical research, often thanks to insight, which proves the existence of an information field, from where you can get the necessary information.
Now, humanity is approaching again the stage when the need for the usual carriers of information will disappear. Everything will be transferred to a virtual memory base. But if earlier holograms were created and accepted by people themselves, now machines will do it for us.
In the event of another disaster, we will lose access to the electronic library. And then everything will have to start over. And our descendants, just like we are now, will believe that at this period people were illiterate, because they did not have a written language …
What secrets and mysteries of Angkor baffle modern scientists?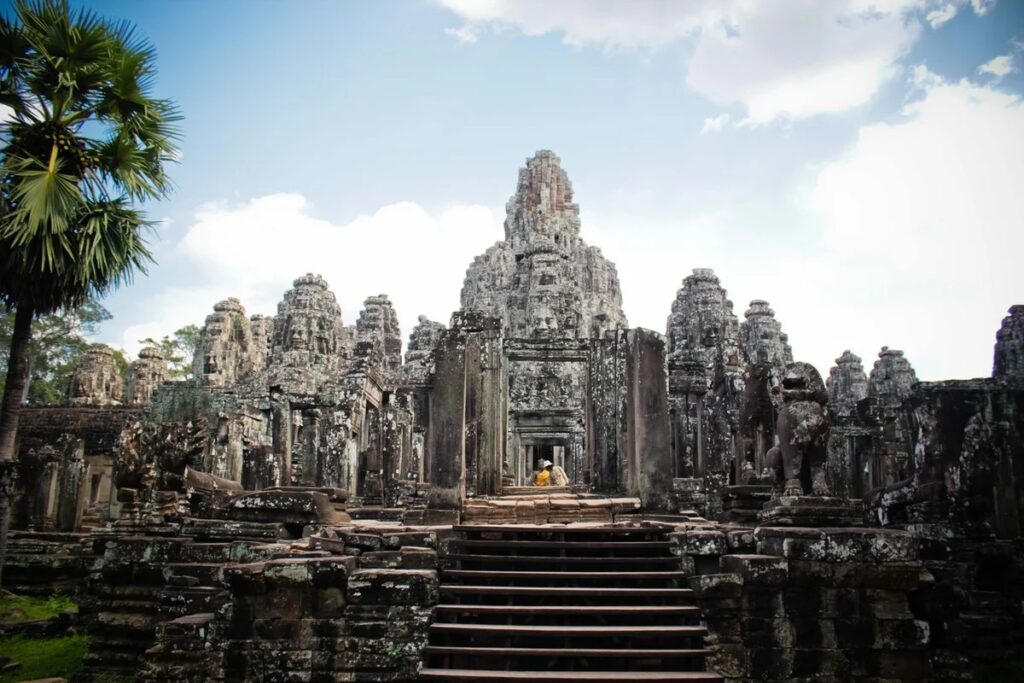 Angkor was discovered in the Cambodian jungle by French naturalist Henri Muo in 1861. Almost 160 years have passed, and the mysterious city has not yet revealed its secrets to us.
Angkor is not only numerous temple complexes, among which Angkor Wat is the most famous. But there are also huge hydraulic structures of ideally verified shapes and gigantic dimensions. These are ditches with water surrounding each complex, and huge reservoirs – "man-made seas" – barai , and the famous river in the valley of a thousand lingams.
The view of Angkor from space resembles a plan-drawing perfectly calculated and executed by an engineer-architect. Historians cannot explain how the Khmers managed to "bring to life" such a grandiose plan in the 9th-12th centuries, while maintaining strict geometry. The lines are well-parallel for over 8 km, and all angles are straight. It was simply impossible to do this in those days with those instruments.
Angkor has been studied not only by historians and archaeologists, but also by enthusiastic researchers, including those from the Laboratory of Alternative History. And they came to the conclusion that the ancient architects either built the structures of Angkor using the preserved secret knowledge and technologies, or restored and completed what they inherited from more ancient civilizations.
According to legend, the capital of the Khmer state was founded in a different place, but the astrologers indicated where to build the city.
Many sources mention the correspondence of the location of the temples of Angkor to the constellation of the Dragon , and in the position in which the stars were twelve and a half thousand years ago. The Bayon Temple , according to legend, symbolizes the heart of the Dragon.
Why, in the 9th-12th centuries, correlate buildings with the most ancient map of the sky? And how could they know about her? This, perhaps, confirms the hypothesis of the creation of the city on the already existing foundations left over from prehistoric civilization.
In addition, most of the temples of Angkor are designed as five-step pyramids. And the pyramids around the world were built at a much earlier period than the officially accepted dating of Angkor Wat.
All the temples of Angkor are oriented with front facades along the north-south line. The main entrance to all the temples is on the east side, and only Ankor-Wat, according to legend, being built as a place where King Suryavarman II was to be reborn, has a western entrance.
The moat around the temple complex raises many questions. This is a real hydraulic engineering miracle, the construction of which required the deepest knowledge in many fields of science.
The channel was "calculated" and built in the shortest possible time. Before starting the construction of the foundation of buildings. And the complex itself was under construction for about 35 years, which is extremely short, given the huge amount of work and the primitive level of technology (according to official science).
A number of towers and temples reach a height of 60 meters, this is the height of a twenty-story building. In the modern world, such structures are presented as high-rise objects of increased complexity. The foundations of such structures are performed on a pile foundation using sophisticated construction equipment.
According to the research carried out , the soil was dug out under the complex and sand was poured, which was carefully tamped. A layer of soil was laid on it, or, as modern builders say, backfill soil, and then another layer of compacted sand. Or, in modern construction language, preparation has been made for the base of a floating foundation.
This technology began to be applied in practice only in the 70s of the last century. Until now, they try to install high-rise buildings on a pile foundation, since they cannot foresee all the nuances.
And the ancient builders could. Apparently, they had a lot of experience (or possessed some knowledge) of erecting high-rise buildings and structures on floating foundations in tropical conditions.
It is also striking with what precision the ancient builders adjusted and processed stone blocks. And they did it easily, without thinking about the size and shape.
There are also quite large blocks with polygonal masonry , typical of the ancient structures of South America.
In the temples of Angkor there are columns of different quality. Some show traces of processing on some kind of machine, as suggested by alternative researchers.
But not only the temple complexes of Angkor are surprising.
Valley of a Thousand Lingams – Kbal Spien River
For example, the river Kbal Spien , which originates in the mountains and reaches Angkor. The entire river bed is lined with stone slabs with lingams carved on them.
The Khmers believed that the lingas (lingams) fertilized and purified the water that irrigated the rice fields. It was believed that it was because of this that the Khmer empire had rich harvests and flourished.
It is believed that the construction of Qbal Spien was started by King Suryavarman I (1001/06 – 1050). and later finished by King Udayadityavarman II . (1049/50 – 1066)
The researchers were interested in this fact. The length of the river channels is about nine kilometers. To accomplish such a task, it is necessary to run the river along a different channel, scoop out all the silt, light fractions along the entire length of the river and to the entire depth of river sediments, then add an unthinkable amount of sand and lay on top not just sandstone slabs, but decorated with bas-reliefs.
This requires special hydrotechnical knowledge and a huge number of working hands.
The Qbal Spien bed is covered with thousands of images of lingams, which are arranged in even rows. Alternative researchers believe that the lingams worshiped in Hinduism are in fact the oldest artifacts – the legacy of prehistoric civilization. And the purpose of the lingams was not religious and cult, but quite technological, as evidenced by its unusual design.
So, it is likely that the lingams of the Kbal Spien River performed some kind of technical function, which gave the water flowing through them special properties.
Is Kohker a "pyramid of death"?
90 km from Angkor there is a very unusual place called Kahkay or Kohker. This ancient temple complex. Of the surviving buildings in Kahkai: the Prasattom pyramid temple. It is seven-step, 32 m high and 55 m long, reminiscent of the stepped pyramids of South America.
The Garuda , carved into the stone block, guards the top of the pyramid. Henri Parmentier , a French architect, historian and archaeologist, estimates that the colossal lingam, which, according to the inscriptions, was erected at the top, reached at least 4 meters in height and weighed 24 tons.
According to legend, one of the rulers of Angkor was the sorcerer king – Jayavarman IV. It is believed that he erected this pyramid in one night.
In 921, Jayavarman IV laid claim to the kingdom and then left the capital and decided to create his own center of power. About 10,000 supporters fled with him, including women and children.
In 928, Jayavarman IV became the sole ruler of the Khmer Empire, but did not return to Angor. He died in 941, and Kahkay was the capital of the Khmer Empire until 944.
The most amazing thing is that in the Kohker area, archaeologists found an inscription carved on a stone, which indicates the exact date of illumination of the main lingam at the top of the pyramid – December 12, 921, at 8:47 am (translated from the ancient Hindu chronology). And Jayavarman IV came here just a few days before that date.
Experts cannot explain how this is possible. Clear the site from the jungle, cut down huge stone blocks, process, deliver and lay in the masonry walls, raising them to a height of 30 meters, and all this in one night?
Official science does not study this issue, and ancient legends give their explanation for this.
In the 9th century, a certain nobleman of non-royal blood lived at the court, who married a woman from the royal family. He practiced witchcraft and communicated with the demon of the underworld, which helped the nobleman become king – Jayavarman IV.
Legend says that Jayavarman IV turned to a certain "architect" for help, who was able to create a pyramid overnight using a magic tool. Sources call this weapon "white fire". They could whip enemies at a distance.
Legend also says that Jayavarman IV made sacrifices to this demon by throwing people into a deep well in the Kohker pyramid. Since then, it is believed that the pyramid is the gateway to the demon world. Locals call it the "pyramid of death" and do not like it.
Scientists are still exploring the jungle around Angkor and discovering new complexes . Since they are all covered with thickets, it is very difficult to explore them.
But everything discovered only confirms the hypothesis that Angkor was built in the deepest antiquity by some highly developed civilization. And its creation is unsubstantiatedly attributed to the Khmers, just as the construction of a grandiose monument in Baalbek is attributed to the Romans. The Khmer Empire was only completing and restoring the prehistoric heritage that it inherited.