Foods That Help Your Body Heal
Super-Foods that can help your body heal faster.
Get a Boost from Power Foods
Whether you're fighting fatigue, searching for ways to boost your immune system, or recovering from an illness, doctors often recommend healthy lifestyle changes. Prevention and management of symptoms can often significantly be helped through the foods we eat.
Kelp—Iodine Intake
Low thyroid levels can cause sluggishness, weight gain, and moodiness. Iodine is essential to the thyroid, the butterfly-shaped gland in the neck.
Kelp is rich in calcium, magnesium, potassium, and—most importantly for low thyroid levels—iodine. Be aware that overdoing iodine can create problems too. The key is a moderate amount to raise energy levels and brain functioning.
Other power greens include kale, bok choy, spinach, parsley, green beans, and alfalfa.
Ginger—Nausea ReducerMany of us recognize ginger as a cooking spice, but its centuries' old uses range from aiding digestion and calming upset stomach to treating arthritis. Ginger is now recognized by many healthcare professionals for reducing nausea,particularly in the prevention and reduction of postoperative nausea and vomiting (PONV).
Sources of ginger include ginger root (prepared as tea), foods and drink, and in an herbal form in extracts, capsules, and oils.
Mushrooms—Power Food
Mushrooms are hailed for their health-promoting properties, and common types include white button, shiitake, portobella, and crimini. Shiitake mushrooms promote a healthy heart byaccelerating LDL ("good" cholesterol). Studies continue to examine how shiitake mushrooms mayfight cancerby boosting the immune system through the compound lentinan, believed to slow tumor growth. According to the American Cancer Society, "at least one randomized clinical trial of lentinan has shown it to prolong life of patients with advanced and recurrent stomach and colorectal cancer."
Fats: Good vs. Bad
Not all fats are created equal. Calorie-counting often leads to the drastic reduction of fat from the diet. But fat is essential for our brain to function properly. Plus, cutting fat entirely may lead to depression and contribute to acne.
Healthy fats—monounsaturated and polyunsaturated—reduce your risk of heart disease. Healthy sources of fat include fatty fish, avocado, olive oil, and certain nuts, such as walnuts, almonds, and pecans.
Beets—The EnergizerCarbohydrates give us energy. In today's fast-paced world, many of us often turn to processed carbs that don't provide other nutrients. Beets are a natural energy supplypacked with carbs, calcium, iron, and vitamins A and C.
Although they tend not to rate high in popularity, beets are equipped to satisfy a mid-afternoon sugar craving without the guilt. Plus, studies reveal that beets help fight cancer and protect against heart disease.
Probiotics—Fight Disease
Probiotics are live microorganisms ("friendly bacteria") that our bodies need to protect against disease. They can be found in foods like yogurt, kefir, and soy beverages.
Probiotics can also be obtained in supplement form. Ongoing studies continue to explore the potential of probiotics to treat diseases includingirritable bowel syndrome, skin infections, andcertain cancers. Research looks promising. A report from the National Center for Complementary and Alternative Medicine revealed evidence of probiotics to treat diarrhea and prevent infections of the urinary tract.
Calcium—Heal Broken Bones
Turning to calcium-rich foods instead of calcium pills is a recommended step toward healing broken bones. The next step is incorporating vitamin D, which helps your body absorb the calcium.
Calcium sources include dairy products (such as yogurt and milk), green vegetables (such as kale), nuts, and beans. Vitamin D sources include eggs, dairy, and fatty fish(such as sardines and salmon).
Swiss Chard—Multiple Benefits
A relative of the beet, Swiss chard provides an excellent source of vitamins C, E, and K, as well as fiber, zinc, and calcium. With a wide green leaf, and a stalk ranging in color from white to red to yellow, Swiss chard combines a bitter taste with a salty flavor.
This nutrition-packed vegetable supports bone health, fights stress-related disease, and holds anti-inflammatory properties. Saute it, toss it in a salad, or replace it for spinach in any dish.
Healing and healthy living require balance. Avoid or limit empty calories and foods that rob you of energy, ultimately slowing you down and harming your health. Opting for nutritious foods to fuel your day will help prevent illness and improve recovery should an injury occur.
Health authorities have confirmed a case of a rare type of smallpox in a UK patient
A patient in England has been diagnosed with a rare case of monkeypox, as reported by Public Health England (PHE).
The rare viral infection is similar to smallpox, and though it is milder, it can be fatal.
It has been reported that the individual was in Nigeria and that he would have contracted the disease there. Later, upon returning to the United Kingdom, he stayed in the southwest of England where the disease occurred.
Upon symptoms, he was transferred to the Guy's and St Thomas' NHS Foundation Trust , a center specializing in infectious diseases in London.
The health authorities have taken the necessary measures to prevent the virus from spreading to other people.
The PHE said in a statement:
As a precaution, PHE experts are working closely with NHS colleagues to implement rapid infection control procedures, including contact with people who may have been in close contact with the individual to provide health information and advice. "
But experts are not very worried about contagion, because monkeypox does not spread easily among people and the risk of affecting the population is quite low, said Dr. Meera Chand , PHE consulting microbiologist.
Although the infection usually occurs mildly and people get better without treatment; Some individuals may develop very serious symptoms, with a percentage of 1 to 10 percent of patients dying from the disease during outbreaks, according to the World Health Organization .
The symptoms presented are similar to those of smallpox but milder. First, fever, headaches, muscle aches, back pain, swollen lymph nodes, chills and exhaustion. Subsequently rashes may appear on the skin , starting on the face and spreading throughout the rest of the body.
This is not the first time a patient has been infected with smallpox in the United Kingdom. In 2018, there were three cases after a person was diagnosed with the disease. The individual had also returned from Nigeria.
Source: Gov.uk / IFL Science
A cold virus can infect a pregnant woman's fetus
The study showed that the expectant mother is able to transmit a respiratory tract infection to her unborn child.
Scientists from Tulane University (Louisiana, USA) received the first evidence that the cold virus, which affects a pregnant woman, can penetrate the placenta and infect the fetus. An article about this has been published in PLOS One .
The placenta, an organ that develops in the uterine cavity of a woman during pregnancy, provides the necessary nutrition from the mother to the embryo and simultaneously performs another important task: it filters out potential pathogenic microorganisms. However, a group of pediatricians led by Professor Giovanni Piedimonte found that this natural "barrier" is not so impenetrable.
Scientists took the placenta from donors, isolated three main types of cells – cytotrophoblasts, fibroblasts and Kashchenko – Hofbauer cells – and in vitro exposed them to the human respiratory syncytial virus, which causes respiratory tract infections. Although cytotrophoblast cells supported a weak process of the spread of the virus, two other types were more susceptible to infection. So, Kashchenko-Hofbauer cells survived and allowed the virus to replicate inside the cell walls. According to scientists, then these cells, moving inside the placenta, are able to transmit the virus to the fetus.
"Such cells do not die after they become infected," Piedimonte explains. – When they enter the fetus, they are comparable to bombs stuffed with a virus. They do not spread the virus in the area of ​​the "explosion", but carry it through the intercellular channels. <…> Thus, our theory is confirmed that when a woman gets a cold during pregnancy, the virus that causes the infection can pass to the fetus and cause a pulmonary infection before the birth of a child. "
Pediatricians also suggested that the respiratory syncytial virus is able to infect the lung tissue of the unborn baby and provoke the development of an infection that will subsequently affect the predisposition to asthma. To confirm or refute their theory, the authors of the study intend to conduct clinical tests.
Last year, scientists from the University of Cambridge created an artificial and functional mini-placenta using trophoblasts, and recently it turned out that particles of air pollution can penetrate the placenta of pregnant women
How are ETs traveling through space and time today?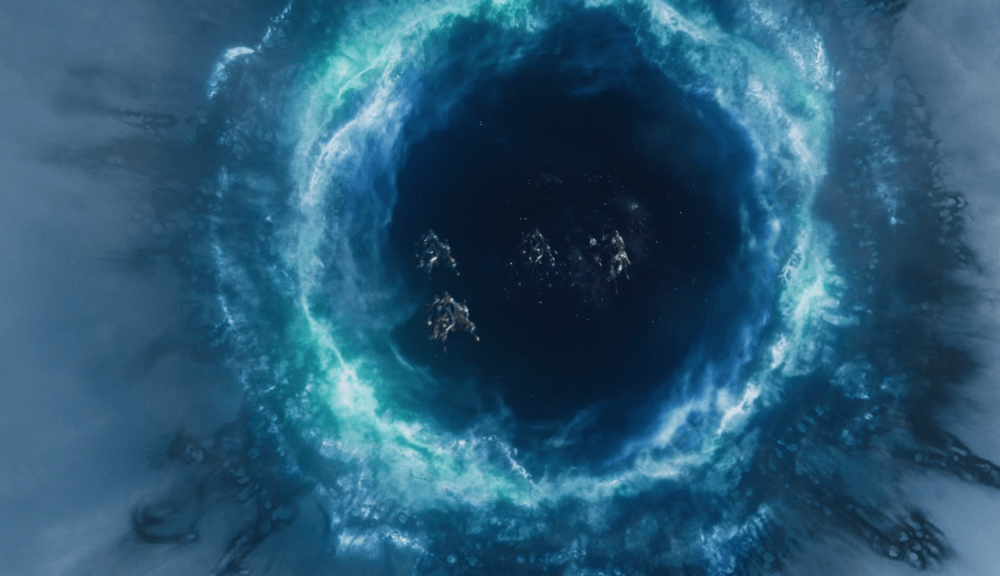 Traveling through space has always been a difficult task, as the distances between planets and even more between solar systems and galaxies are incomprehensible.
Science fiction makes things look easy using space warp engines and wormholes in space. There has been much speculation about the idea that there is a way to travel the vast distance of space with relative ease. Now it seems that no conventional science can support these ideas. Many men and women of science bet that this is possible.
Something that any viewer has seen on films several times is the crew of a spaceship needing to reach another planet or region of space deep within the universe. They enter some coordinates and voila , cross some tunnel-like structure, and reach a destination millions of light years from the point of departure.
But what was fantasy can now come true, as recent discoveries have found that galaxies can move between great distances and against predictions of basic cosmological models. The reason for this may make us rethink everything we think science knows about the universe.
The universe is full of many mysteries; It is an impressive kaleidoscope of patterns that science studies. These nebulae and star clusters continually reveal secrets about how they move in unexplained patterns.
Galaxies tend to form clusters that are limited by gravity, and continue to clump together until they become much larger superclusters. Earth is part of a cluster (galaxy) we call the Milky Way, which in turn is part of the Virgo supercluster that contains over 1,000 galaxies. These masses continually change into different shapes, merging with each other, and some are even pulled between competing galaxies. The movement indicates that there is possibly some massive invisible force at work.
Generally, galaxies have an effect on each other, exerting gravitational force that moves them in a way that is predictable. What scientists have found is that there are exceptions to this and they are theorizing that this may be related to the influence of "large scale" structures..
These "large-scale structures" are composed of hydrogen gas and dark matter and form a pattern of strings, sheets, filaments, and knots that connect galaxies. Imagine a giant cosmic web that connects all parts of the universe.
This web has enormous implications for the way we think the universe works, the movement of galaxies and the development of planets and suns, and basically every astronomical body has massive consequences on the habitability of a world and the possibility of life's evolution.
So what makes these clusters move the way they do, and why are newfound structures a problem for current gravity-based theories?
First, it is contrary to current thinking that galaxies follow a fixed uniform pattern, which means that many of the patterns that have been shown and explanations of why a galaxy follows such a pattern will need to be reexamined.
The impact of these large structures will need to be added to the mix and they could actually change the accepted cosmic model. Science needs to collect much more data about structures in order to calculate this effect. A man who works on this is a scientist named Hutsemékers.
When asked about discovering this connection network, he said:
One of the great things about science is that you can create a model with thousands of dice, but if something doesn't 'stick', it starts to break. This crack has to be sealed or it will tear down the entire house.
This new discovery will really stir up the established ideas. Theories about the universe, as the most important of events, "the big bang " will need to be reworked.
Why is this so interesting?
Because it can help us understand, link ideas and theories about the existence of extraterrestrial life somewhere deep in space.
If we discover the web that connects the universe, an advanced alien race may also have learned about it. Could this be how ETs are traveling the universe today?
One thing that many skeptics point to as a way of refuting extraterrestrial visitation on the planet is that the vastness of space prevents any species from traveling between worlds. What if an advanced alien race had found a way to utilize this cosmic web?
Making a full circle to the beginning of this story, would they have some kind of drive, motor or technology that could allow access to the structure and then travel between galaxies?
A tunnel like a shortcut or a 'wormhole' could very well accommodate this need.