For centuries, people have used protesting as an inclusive, grassroots way to bring about change. While protests can vary from non-violent to ferocious and small-scale to a million-member march, each has a specific goal it seeks to achieve. Here are some of the most bizarre protests methods to date:
Bizarre Protest Movement No. 1: Performer Protests Shark Finning
Source: International Business Times
To protest shark finning, or removing a shark's fin (used in delicacies like fin soup) and discarding the now-handicapped shark into the water to die, British performing artist Alice Newstead decided to pierce her skin with fishing hooks and hang by the hooks in a busy shopping area.
Source: All Pet News
Source: Echeng
Newstead's protest, which took place at LUSH cosmetics in San Francisco, attracted hundreds of gawkers as well as local and national media attention. Newstead, who was meant to represent the shark during the demonstration, allowed herself to hang by the same hooks used in the gruesome shark fishing process. She has performed this stunt multiple times.
Source: News Hopper
Bizarre Protest Movement No. 2: Just Plane Stupid
Source: Plane Stupid
Protesters from the Plane Stupid organization hope to put an end to airport expansion, stop airplane advertising, and transition into more sustainable methods of transportation. The group, which began in 2005, has staged multiple non-violent protests in which they occupy airports and force airlines to delay or cancel flights. In 2010 at the Aberdeen airport, nine Plane Stupid protesters were fined for occupying the airport's tarmac, affecting hundreds of travelers and preventing an emergency flight from taking off.
Source: Airport Watch
Source: Academic
Bizarre Protest Movement No. 3: Nude Protesting
Source: Facebook
Protesters from the activist group FEMEN are known most for their wild, profanity-infused, topless protest techniques. The Ukrainian-based group is composed mainly of young women who claim to use female beauty and body as a weapon aimed at overthrowing patriarchal society. The women, who often protest partially or completely nude, primarily target religion, the exploitation of women, and dictatorship. They have led wild protests, many of which end in violence. FEMEN has few known supporters, and its critics deem the protests futile as vulgar, virulent exhibitionism doesn't create change so much as it does shock.
Source: Wodu Media
Source: Diario Da Cidade
Despite the backlash, other organizations have used nudity as a form of protest, though many lack the violent, militaristic attitude FEMEN embodies. In the United States, Go Topless, an organization that supports gender equality in shirtlessness laws, created Go Topless Day. The daylong event takes place on the Sunday closest to Women's Equality Day, and women are encouraged to protest by taking the streets topless. The Go Topless organization even offers information regarding each state's nudity laws on their "boob map."
Source: Wikimedia Commons
Source: Digital Spy
Bizarre Protest Movement No. 4: Farmers Take Brussels
Source: NBC
In 2009, more than 2,500 farmers gathered in Brussels, Belgium to protest unreasonable quotas and the falling price of milk. Farmers responded by driving their trucks and tractors into the city and blocking the European Union. Incensed, the crowd–which also included cows and other animals–began wrecking the city. Farmers burned hay and tires, and launched eggs and other items at police, officials and the occasional passerby.
Source: The Telegraph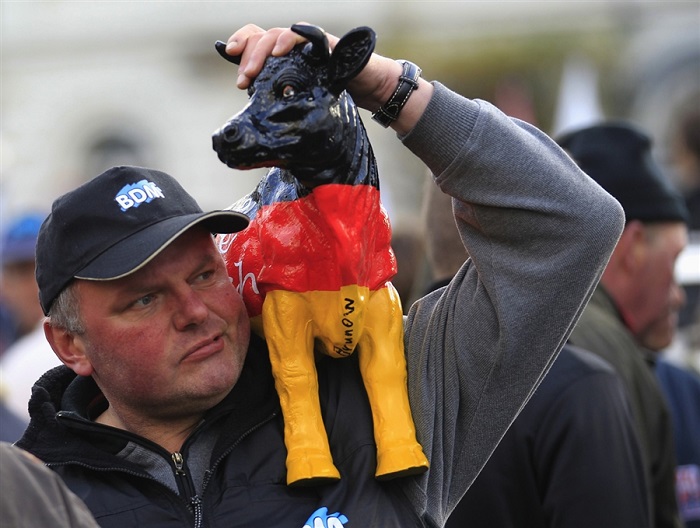 Source: NBC
Organized by the European Milk Board, farmers also squirted and sprayed cow milk in protest. The chaotic situation brought traffic to a standstill, and significant police involvement further complicated the scene. Violent protests by farmers are not uncommon in the area. Shortly before overtaking the city, farmers dumped millions of liters of milk onto their fields in yet another protest.
Source: LOL Snaps
Source: NBC
Bizarre Protest Movement No. 5: Spelling Bee Protestors
Source: Artemis
In a protest of the more poindexter sort, individuals from the American Literacy Council took issue with the spelling of English words at the 2010 Scripps National Spelling Bee and thus decided to contest it. The group endorses SoundSpel, a reform proposal which seeks to change the English language spelling to reflect phonetic pronunciation. Supporters say the change would make language more intuitive and easier to understand.
Source: Cronkite News Online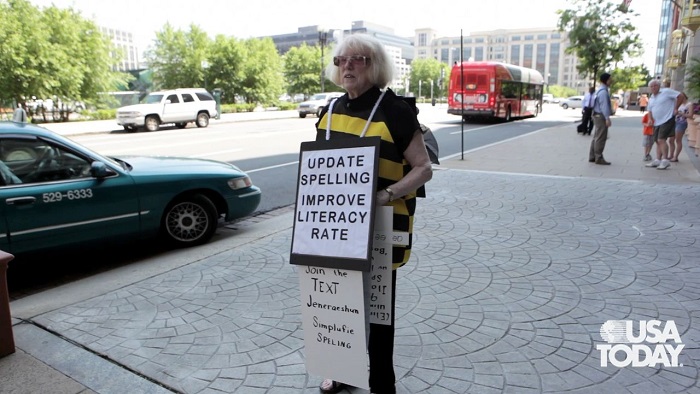 Source: Flickr
The tiny group of protestors, who felt that the current spelling rules prohibit individuals from being able to read and write, say that each year more and more people prefer phonetic spelling. Sadly, if the American Literacy Council's desired changes were made to the English language, the National Spelling Bee would cease to exist.