By Jill Reilly | MailOnline
America was first discovered by Stone Age hunters from Europe, according to new archaeological evidence.
Across six locations on the U.S. east coast, several dozen stone tools have been found.
After close analysis it was discovered that they were between 19,000 and 26,000 years old and were a European-style of tool.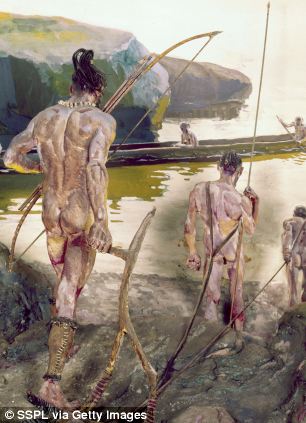 The discovery suggests that the owners of the tools arrived 10,000 years before the ancestors of the American Indians set foot in the New World, reported The Independent.
Finding the tools is being heralded as one of the most important archaeological breakthroughs for several decades.
Archaeologists are hopeful that they will add another dimension to understanding the spread of humans across the world.
Three of the sites were discovered by archaeologist Dr Darrin Lowery of the University of Delaware, while another one is in Pennsylvania and a fifth site is in Virginia.
Fishermen discovered a sixth on a seabed 60 miles from the Virginian coast, which in prehistoric times would have been dry land.
Previous similar discoveries before the recent artefacts, dated back 15,000 years ago, which was long after Stone Age Europeans had stopped making those tools, and as a consequence, most archaeologists had refuted any possibility of a connection.
But the age of the newly-discovered tools are from between 26,000 and 19,000 years ago and are virtually exactly the same as western European materials from that time, reported The Independent.
Professor Dennis Stanford, of the Smithsonian Institution in Washington DC, and Professor Bruce Bradley of the University of Exeter, were the two leading archaeologists who analysed  the evidence.
They have argued that Stone Age humans were able to make the 1500 mile journey across the Atlantic ice and suggested that from Western Europe, Stone Age people migrated to North America at the height of the Ice Age.
About three million square miles of the North Atlantic was covered in thick ice for all or part of the year at the peak of the Ice Age.
However, beyond the ice, the lure of the open ocean began would have been extremely rich in food resources for hunters.
But until now there was relatively little evidence to support their thinking.
They are presenting their theory and evidence in a new book – Across Atlantic Ice – which is published this month.
Buoyed by the recent discovery, archaeologists are now turning to new locations in Tennessee, Maryland and even Texas, all sites which are they believe will produce more Stone Age evidence.
But most of the areas where the newcomers stepped off the ice on to dry land are now up to 100 miles out to sea – along with any possible evidence.
Article from: dailymail.co.uk