Film director claims to have proof that Stanley Kubrick shot the false arrival to the Moon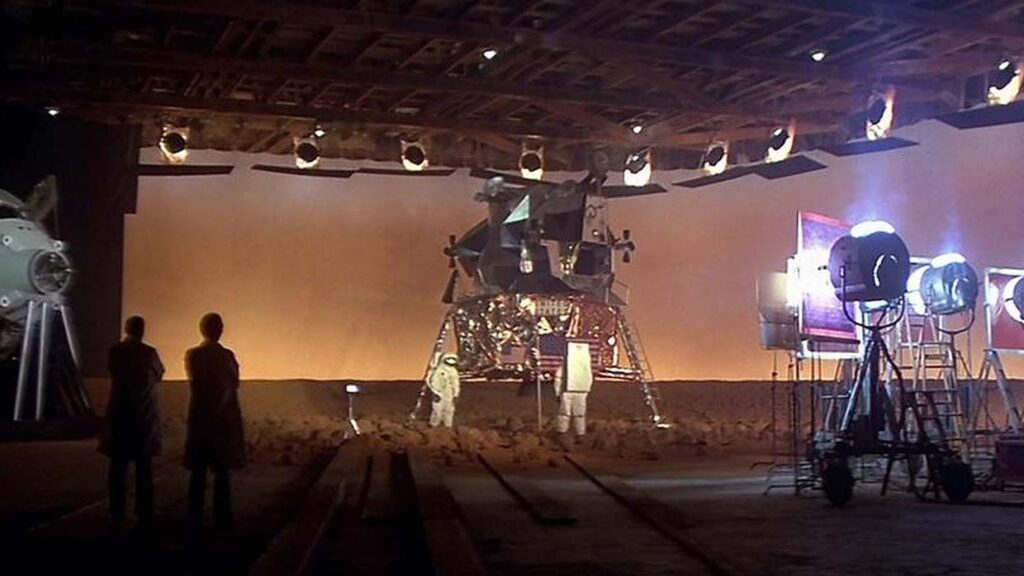 On July 20, 2019 will mark the 50th anniversary of the 1969 landing, when Neil Armstrong and Buzz Aldrin stepped on the moon for the first time in history. Since then, all sorts of conspiracy theories have emerged and that the "small step for a man, but a great leap for humanity" was apparently nothing more than a montage prepared in a film studio.
And as the conspiracy theorists claim, the greatest project directed by director Stanley Kubrick was the landing of Apollo 11 in 1969. For decades, some people have argued that the US government has UU hired Kubrick to film the "false landing of the Moon" . It even seems that the American film director came to admit the deception in his 1980 film "The Shining" , where you could see how Danny Torrance, played by Danny Lloyd, wore an Apollo 11 sweater.
However, the most controversial revelation took place on December 10, 2015, when a video was published that purportedly showed the acclaimed director Stanley Kubrick admitting that the NASA moon landing was false. Filmmaker T. Patrick Murray interviewed Kubrick before his death in March 1999. He explained that he was forced to sign an 88-page document to keep the contents of the interview secret for 15 years. After its publication, a spokesperson for Kubrick's widow said the interview was a lie, and that Stanley Kubrick had never been interviewed by T. Patrick Murray. But now a film director claims to have proof that Kubrick worked with NASA to simulate the landing of the Apollo 11 moon.
The greatest conspiracy in history
Film director Jay Weidner is convinced that NASA along with Stanley Kubrick prepared and executed one of the greatest conspiracies of all time , the Apollo 11 moon landing in 1969.
"I think they just decided for advertising reasons that it was probably better to do it here on Earth ," Weidner told British tabloid Daily Express . "Then they could go about their business and not reveal their technology to the Soviet Union during the Cold War. So, in reality it was not such a big leap since they could have shown us something that was not entirely real, to protect national security. "
Weidner explains that the images of the moon landing were used through a visual technique that Kubrick used in his film "2001: A Space Odyssey" called "front screen projection". The film director believes that Kubrick was perfect for NASA's needs to simulate the moon landing because he was an expert photographer, understood lighting, understood the emulsion, understood all the techniques of a photographer. This is how the montage was conceived.
"He came to the cinema first as a technician and then as a director, and that suited perfectly to NASA because it was what they needed," Weidner continues. "They needed someone who could solve problems, someone who could come and solve them technically. The performance was not as important to them as the technical problems, so Stanley began to solve the technical problems. "
Weidner claims to have analyzed the photographs of Apollo 11 and believes that he has found evidence of the assembly, such as the lines strategically located on the horizon behind the Apollo 11 module. But unlike what conspiracy theorists believe, Weidner does not doubt that Neil Armstrong was the first man to set foot on the Moon, he only believes that the images that were transmitted all over the world were false.
The reason would be for the tensions at that time between the United States and the Soviet Union, so NASA was forced to prepare the assembly. Not only did the false images hide the Russian secret technology of the Russians, but there was also the question of what would happen if it had gone wrong during the landing. For example, if the Apollo lunar module had not descended correctly, everyone would have witnessed the death of the astronauts live.
Of course, there is also the theory that when astronauts actually landed on the Moon, they found themselves with extraterrestrial life . Something that the government of the United States hid to avoid chaos in the world, since humanity was not prepared for this revelation.
"I'm not saying we did not go to the moon, I think if we went. I'm sure there are reflectors on the moon, they put seismographs on the moon, but I do not think what we saw was real. And it certainly is an insult to the memory of those who have given their lives for the exploration of space, " concludes Weidner.
NASA has not ruled on this new and controversial revelation about the false moon landing led by Stanley Kubrick, but on other occasions has said that to some extent, discussing this issue is an insult to the thousands of people who worked for years to achieve the most amazing exploration exploits in history. But unlike other accusations, this time it is not said that man did not reach the Moon, rather that what we saw was a montage. Although we are sure that again this revelation will be discredited by the most skeptical , those who refuse to believe in the obvious.
Do you agree with the opinion of Jay Weidner? Was the NASA moon landing in 1969 a montage directed by Stanley Kubrick?
Woman captures a strange figure while on a video call to her best friend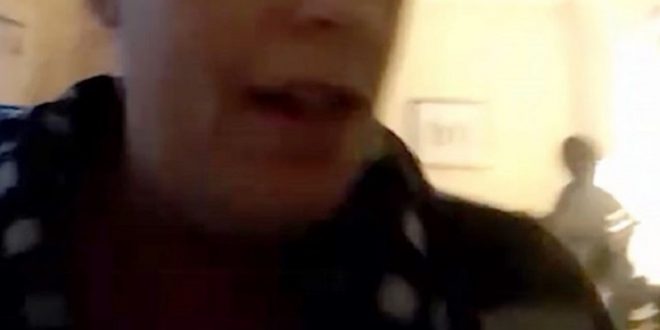 Lori – who claims to have been home alone at the time – said her 'heart stopped' after she replayed the chilling footage and witnessed a dark figure dash in and out behind her while she spoke to Shana.
The store manager said: "I'd only just moved into my apartment, so I was video chatting with my friend to show her around and I was just talking about general things. It was nothing out of the ordinary.
"We were using an app called Marco Polo, which is like a video walkie talkie. You can hit the start button to record, and others can watch you in real time like a regular video call. You can then replay it.
"But all of a sudden, her face got really serious and she asked if someone was in the house with me.
"I live alone but I instantly looked around because it was so weird the way she said it and it really frightened me.
"I told her I was home alone. She looked pretty shocked and told me to watch my video again to see what I thought. She said it was like someone was following me around the house.
"So I watched it, and my heart jumped into my throat. I couldn't believe what I was seeing.
"It was so scary. It sent chills down my spine, and just shocked me so much.
"I've had lots of paranormal experiences in my life, but nothing quite like this.
"I've only cried twice in my entire life from things that I've seen, but this did make me cry."
Lori said she was so frightened by what she saw that she decided to stay at her daughter's house for the night – and the next day had the house 'cleaned and blessed' by a spiritual friend.
The mum added her new house, which was built in 1935, is located in the oldest part of town and is situated right next to both a hospital from the early 1800s and a nursing home.
Lori believes the figure to be the ghost of a 'prankster' teenage boy – but is also open to the idea of it being an alien.
And despite the horrifying ordeal, the mum is determined to stay in her new home.
She said: "I showed the video to people at my work and they actually screamed. That scared me, to see their reactions.
"I believe it was the spirit of a teenage boy, maybe 13 or 14 years old.
"But many people have said they think it's an alien. I definitely believe in aliens, so it's certainly a possibility.
"People have told me to move out, but you can't run from these types of things."
Jewellery maker Shana, 46, was on the video chat with her best friend Lori at the time and said she 'couldn't believe her eyes' when the figure appeared.
She added: "I seriously thought someone was walking behind her, like a human child.
"I watched this all happen in real time on the app. I saw this thing peek around the corner at me as if to see if we were still talking.
"I've watched this video probably 1000 times and it still creeps me out. I kind of felt like it wanted to be seen, almost playful.
"I believe it was the spirit of someone who has passed and wants to be acknowledged.
"It was very startling to see. I can't stop thinking about it."
Source: New Idea
What do you make of it?
Why Some Scientists Worried About Interest in Aliens and the "Face" on Mars
by Micah Hanks| 
1976 was a historic year for Americans. A contentious U.S. election was underway between incumbent Gerald Ford and Jimmy Carter, his Democratic challenger. It was also the year of the bicentennial, as the United States celebrated two centuries since its founding. And like NASA had done less than a decade before by putting men on the moon, in September of that year the space agency would seek to make history again, as the Viking 2 mission went speeding toward the Red Planet in an attempt to place an unmanned lander on Martian soil.
In the humid summer months preceding the successful Viking 2 mission, its predecessor, Viking 1, had already been in orbit around Mars, sending back a constant stream of photographs which NASA scientists planned to use to help them locate a suitable landing site for Viking 2. On July 25th, the usual batch of images were being received and processed, when a peculiar geological feature of the planet began to reveal itself.
One of the photos depicted a sloping prominence, befitted with a number of depressions and rock formations that, casting hard shadows and observed under the sharp contrast of Viking 1's photography, bore an obvious likeness to a human face.
Some thought little of it, chalking the ghostly visage staring back at the orbiting Viking 1's cameras as being merely an instance of pareidolia—the natural tendency of the human eye to assemble familiar shapes and images from random features in nature.
Most who observed the area depicted in the photograph probably thought this, in fact. Although it is hard to imagine that there weren't some, at least—or perhaps even several—who hadn't cautiously entertained the other possibility: what if there had been a civilization on Mars at one time? And if so, what if this gloomy face befitted upon an odd, polygonal mountain in the Cydonia region, might actually be some remnant of that civilization?
It wasn't long before NASA determined that the "face" on Mars was, in fact, a natural formation. In their own words, upon releasing the image publicly just days later, the space agency described a "huge rock formation in the center… which resembled a human head."
The image was, of course, enough to get people talking, whether or not they believed NASA's determination about the photograph. Many found it impossible to believe that the likeness of the curious features in the photograph to a human face could be pure coincidence. The hope for discovery of life on Mars had already been a source of great anticipation: now an eager public was nearly sold on the idea, but instead of microbes, hoped that within the coming months there would be irrefutable evidence of life on the planet in the form of archaeological traces of a civilization that once lived there.
Interestingly, some scientists were concerned about the emphasis being placed on the search for life on Mars. "There is also a fear that if too much emphasis is placed on the possibility of life and none is then found, as still seems likely, the public will consider the mission a futile failure," a New York Times article reported on July 22, 1976, just three days before the photos of Cydonia returned to Earth depicting what many believed to be a face.
However, if the famous "face on Mars" had indeed been such, it would raise a number of hard questions. Chief among them is: how could a feature like this—if artificial, as many claimed—have lasted for the untold amounts of time that passed before Viking 1 arrived… especially considering how much it appears to have weathered in the few decades since that time?
While the 1976 photographs remain the most famous ones of the region depicting an alleged face, NASA has released numerous additional photos of the location over the years, captured during ensuing missions (which is interesting in itself, since it shows that there was at least a modicum of interest in the unusual collection of features). However, as we can see in the photos below, NASA's infamous face didn't appear to age very well:
Arguably, the more perplexing element to the region where the Martian "face" appears is not the rocky places that form what many liken to eyes, a nose, and a mouth, but the odd, almost geometric shape of the outcrop itself. According to Space.com, "The rocky outcropping that creates the illusion is approximately a mile across and bears a resemblance to buttes or mesas from the American West. It likely formed from a combination of landslides and collected debris."
Additionally, the differences between the 1976 and 1998 photos are actually greater than those between the first photos, and some of the most recent, in which the face-like details appear to have returned, although only slightly: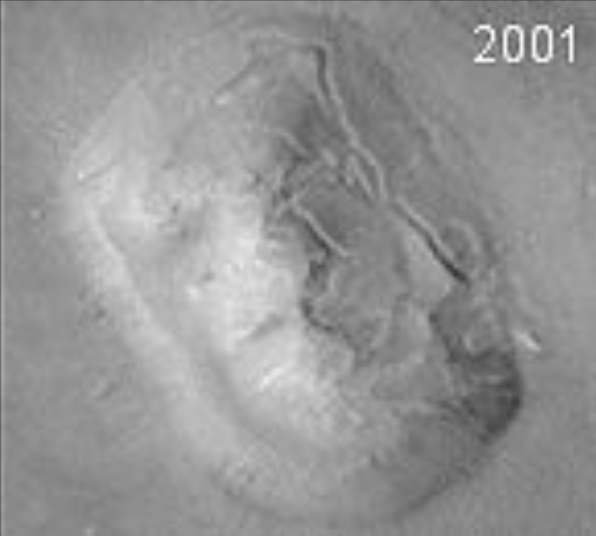 Perhaps what is most fascinating about all of this is people's desire to look for unusual things on barren, alien worlds. Rather than aliens, or simply a desire to believe in them, people's interpretations of Martian "anomalies" seems to say an awful lot about us.
I'm reminded of a story my grandmother told me once as a child. Often at night, she and her siblings would become very frightened by the sound of loud crashes that came from the back of their family home. Occurring only at night, they would emanate from the back of the home, the portion facing the forest at the edge of their property. Naturally, they began to believe that an animal—or perhaps something else—had been appearing and pounding on the house at night. Several years later, she laughed about how she finally learned that the thick slabs of pine in the walls would creak and pop as they cooled at night, no monsters necessary.
In much the same way that some people interpret random, natural events as evidence of "supernatural" happenings, people seem to both enjoy, and at times even display a need to look for structured things in environments where none should exist. In years since, similar "anomalies" have continued to appear on Mars, which range from odd structures and other alleged "manmade" features, to sightings of Bigfoot.
So let's face it: that famous "face on Mars" was never really a face at all. Of course, that's not to say that there aren't other "faces" that have been spotted on the Red Planet…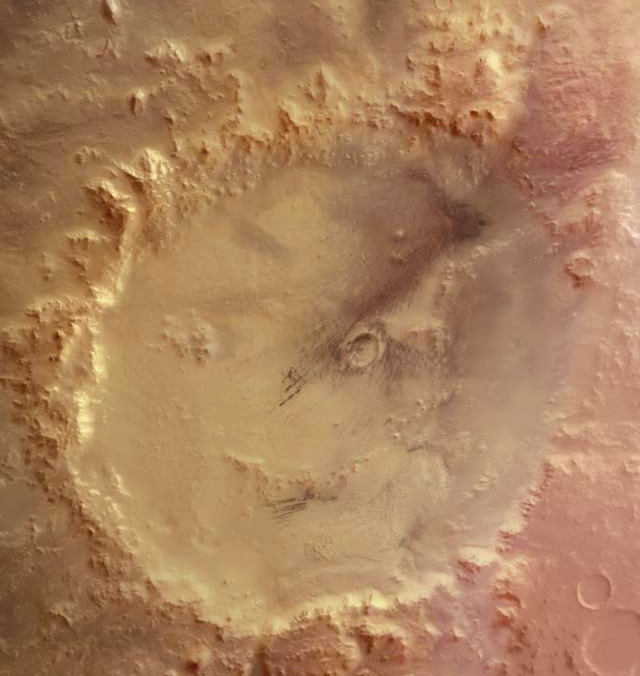 Crashed Israeli Lunar lander Likely Left Thousands of Tardigrades on the Moon
When Israeli lunar lander Beresheet crash-landed onto the Moon in April, watched live by millions across the world, the spacecraft left a rather serious dent in the lunar surface.
According to a report published Monday by American magazine Wired, however, Beresheet may have left more on the Moon than previously thought. The SpaceIL spacecraft was apparently carrying thousands of microscopic tardigrades, also known as "little water bears," which are among the most resilient animals known to man.
The tardigrades, only 0.5mm in length when fully grown, joined the lunar-destined journey as part of an initiative led by the Arch Mission Foundation, founded by Nova Spivack.
Aiming to maintain a backup of planet Earth around the Solar System, Beresheet carried the foundation's lunar library – a tiny 30-million page archive of human history and civilization, human DNA samples and a few thousand dehydrated tardigrades.
Based on the foundation's analysis of the spacecraft's trajectory and the composition of their lunar library, Spivack told Wired that he was quite confident that their payload mostly or entirely survived the impact.
Engineers lost contact with the spacecraft only minutes before it was due to complete the historic lunar landing on April 11, making a high-velocity crash-landing inevitable. Reaching the moon was a feat previously completed only by the United States, Russia (then the USSR) and China, backed by giant sums far exceeding Beresheet's modest NIS 350 million ($99m.) budget.
"For the first 24 hours, we were just in shock," Spivack said. "We sort of expected that it would be successful. We knew there were risks but we didn't think the risks were that significant."
Known for their resilience, a 2007 European Space Agency experiment showed that tardigrades are able to survive space exposure. Some 3,000 organisms joined a 12-day journey into space on-board the agency's Foton-M3 mission, and survived conditions that would kill humans in minutes.
If the dehydrated tardigrades survived the landing, Spivack added, they could hypothetically be revived in years to come by future human astronauts upon their return to Earth. Research has previously shown that dehydrated micro-animals can be revived decades later.
While SpaceIL and its lead donor, Morris Kahn, quickly stated their ambition following the Beresheet crash to launch a second spacecraft to the Moon within two years, the organization announced in June that reattempting the same mission would not present a sufficiently great challenge.
If some lunar enthusiasts might have been disappointed by the announcement, SpaceIL co-founder Kfir Damari told The Jerusalem Post in July that the decision is about broadening their horizons even further.
"It's possible that we will return to the Moon, but we won't give a green light to the same project with the same design," Damari said.

"We decided that we want to look for different options – maybe to go to the Moon and come back or to take something special with us. We're also thinking about other places, including the ability to go beyond the Moon."
It remains to be seen whether SpaceIL's next mission will include taking even more tardigrades to the Moon, or perhaps even beyond.
Eytan Halon
Jerusalem Post