FDA Wants to Lower Amount of Fluoride in Bottled Water, but Scientists Say it is Still Too High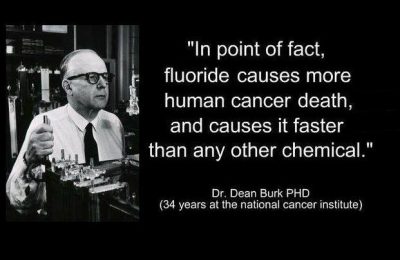 Emma Fiala, TMU
Waking Times
Rather than combating the high levels of pesticides found in much of the food grown in the United States, the negative effects of factory farming, or the lack of clean water available to numerous communities across the country, the U.S. Food and Drug Administration (FDA) is proposing slightly lowering the standard for fluoride content in bottled water.
Thankfully, scientists and environmental organizations alike are pushing back on the proposed changes, saying the new standard will still be too high for safe consumption.
The FDA's current standard straddles 0.8 and 1.7 milligrams per liter. The new regulation, if finalized, will lower the standard for both imported and domestically packaged bottled water to 0.7 milligrams per liter. The new regulation only addresses bottled water with fluoride added during the process, not bottled water that contains fluoride from the source.
For years, critics of the fluoridation of drinking water have maintained that it is not safe nor helpful in combating tooth decay. As long as critics of fluoride have existed, so has a campaign to mock those same people as conspiracy theorists or science deniers.
In 2015, the U.S. Public Health Service suggested that 0.7 milligrams per liter was the optimal concentration for fluoride in community water. According to the FDA, the proposed rule "is based on findings from evolving research on optimal concentrations of fluoride that balances fluoride's benefits in preventing tooth decay with its risk of causing dental fluorosis, a condition most often characterized by white patches on teeth." Dental fluorosis is causedwhen too much fluoride is consumed while teeth are still developing.
Some scientists are now speaking out, expressing concerns extending beyond tooth health and instances of dental fluorosis.
Christopher Neurath, research director of the American Environmental Health Studies Project, published a study this year highlighting a "dramatic increase in fluorosis" over the last decade. Over 30% of adolescents involved in the study showed "moderate and severe dental fluorosis" with 35% showing lesser, but still significant, signs of dental fluorosis.
Neurath maintains that the slight decrease in bottled water fluoridation that would result if the standard were approved would do little to reduce occurrences of dental fluorosis.
"Dental fluorosis is a visible sign of overexposure to fluoride, but there are other nonvisible signs and adverse health effects that are much more serious," Neurath said. "Currently, there are rapidly increasing scientific studies showing neurotoxicity to fluoride."
Dr. Philippe Grandjean, adjunct professor of environmental health at the Harvard TH Chan School of Public Health, wrote:
"Given that fluoride can damage brain development, I would recommend that the maximum fluoride concentration in bottled water be kept at a lower level than 0.7 mg/L."
Neurath calls the link between IQ and fluoride exposure in the womb their "largest concern." Neurath insists the effects of prenatal exposure to fluoride on IQ is "very large," adding that "on a population basis, that's very concerning."
As reported by CNN:
"Morteza Bashash, an assistant professor in the Dalla Lana School of Public Health at the University of Toronto, found that higher fluoride levels as measured in urine samples of pregnant women are associated with both lower IQ and increased risk of attention-deficit hyperactivity disorder among children in Mexico."
Bashash found "a drop in children's scores on intelligence tests for every 0.5 milligram-per-liter increase in fluoride exposure beyond 0.8 milligrams per liter detected in a pregnant mother's urine."
Despite concerns, the American Dental Association and the American Academy of Pediatrics "fully support the public health benefits of community water fluoridation."
Dr. Grandjean maintains, "Given that fluoride is added to toothpaste to secure that the enamel surface of the teeth is properly protected against caries, there is no need to supplement the dietary fluoride intake."
For those in the know about the potential effects of water fluoridation, avoiding bottled water in the United States is one way to avoid its ill effects. While many adults and parents choose to avoid toothpaste and dental treatments that include fluoride, many remain unaware or helpless when it comes to municipal water supply fluoridation, meaning the water consumed directly or used in cooking in homes, schools, and restaurants alike contains invisible and odorless fluoride.
More and more Americans are combating municipal water fluoridation by using filtration systems that remove fluoride like reverse osmosis, gravity filters, distillers, and pitchers. While all four types remove fluoride, each has advantages and disadvantages including cost, ease of use, mineralization and more.
In addition to individuals, since 1990 more than 400 communities across the United States and Canada have opted to end municipal fluoridation. A list of those communities can be found here. When it comes to reversing municipal fluoridation, the process usually begins with one concerned citizen making their neighbors and city council aware. Visit the Fluoride Action Network to learn how to start a successful local fluoride-free campaign.
The 5G Roll Out of 20,000 Telecom Satellites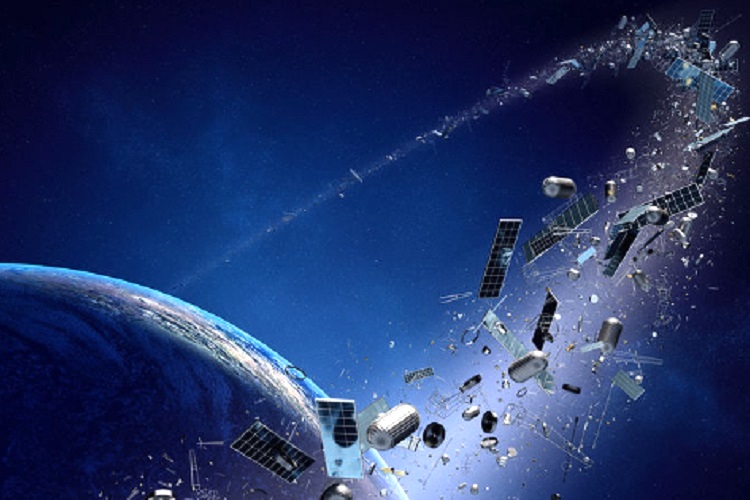 Gary Null, PhD, GreenMedInfo
Waking Times
For years, scientists have warned about the dangers of enormous amounts of debris orbiting our planet. Aside from wrenches and other tools used by astronauts, plastic bags, and yes even a toothbrush, according to the federally-funded Aerospace organization, the greater dangers are obsolete spacecraft, portions of damaged and disabled satellites, rocket fragments, flywheels, and nuclear reactor cores that have broken up or collided with various other objects. Yet even a screwdriver traveling at an average of 17,500 mph, with an impact velocity of 21,000 mph, can be very destructive if it were to crash into a satellite, rendering it inoperable. And this simply adds to more useless junk, now estimated at 128 million small bits of debris under 1cm and the 34,000 larger pieces, floating above our heads. Imagine being hit with a piece of space scrap the size of a sugar cube is "equivalent of standing next to an exploding hand grenade."
A Business Insider story about space debris noted that the US government already tracks 23,000 objects regularly, including China's bus-size Tiangong-1 space station that incinerated in orbit. In February of 2011, a Russian military satellite collided with an American Iridium commercial satellite. The former disintegrated into hundreds of thousands of pieces of debris while the latter spun out of control. Approximately 2,000 of these larger objects are being tracked regularly. Three thousand large objects from the Chinese anti-satellite weapon FY-1C, which the Chinese military deliberately blew up, also have to be routinely monitored. As more and more satellites, space stations, rocket and missile remains, and a variety of other orbiting technologies are shot into space, the more frequent these accidents will occur.
Julian Assange, a life that slowly fades (Video)
Julian Assange's father says his son may not be released from prison after revealing criminal acts perpetrated by the US.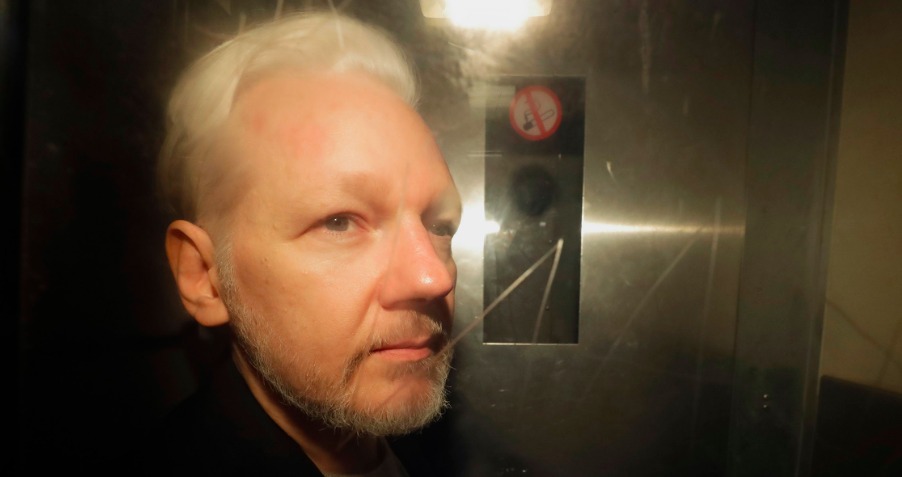 Australian journalist Julian Assange, founder of the WikiLeaks platform, which unveiled, among others, crimes committed by the United States (USA), is increasingly at risk of dying in jail, his father, John Shipton warned.
"Julian can die in jail after a 9-year persecution for revealing the truth of war crimes (in the US)," Shipton told reporters in London on Friday.
He said that this is the "bitter truth" after hearing the testimony of a United Nations (UN) rapporteur who visited Assange a few days ago in Belmarsh prison, southeast London, where he has been since last April, and who said that the life of the activist is in danger.
The UN special rapporteur on torture, Nils Melzer, said that Assange is suffering from an "inhuman situation" in Belmarsh, where he hopes the British justice will decide whether or not to request an extradition made by the United States, to respond to the alleged crime of conspiracy, among other charges.
On October 26, musician Roger Waters, founder of the progressive rock band Pink Floyd and known for his activism, said in an interview with RT that "they are clearly trying to kill Assange as much as they can."
"Julian Assange is becoming a warning to other journalists that if they tell the truth -particularly to power-' we will catch them, "Waters said.
On Monday, October 21, Assange appeared at a London court hearing, and seemed confused, as it was hard to remember his name and age, according to a report by Reuters.
According to that testimony, the judge asked the activist at the end of the hearing if he was aware of what was happening and replied: "not exactly."
Under normal circumstances, the Australian must have been released on bail after 50 weeks in prison and while his trial is taking place, but British justice chose to keep him in jail.
Judge Vanessa Baraitser, of the Court of Magistrates of the Westminster district of London, decided that Assange remains imprisoned due to his "history of evasion", as there are "substantial indications" to fear that he can again evade the action of justice.
The founder of WikiLeaks will face an extradition hearing to the United States on February 25 for 17 counts of espionage and one of conspiracy, which can lead to a sentence of up to 175 years in prison.
BBC film crew was held at gunpoint at Area 51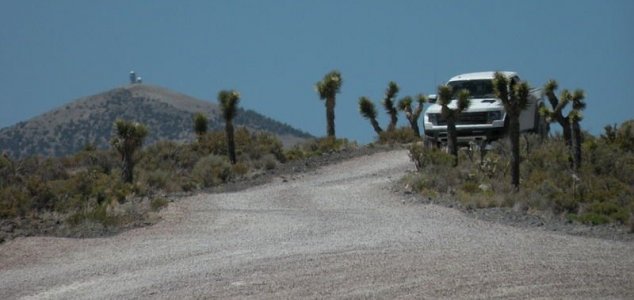 Image Credit: CC BY-SA 3.0 Jimderkaisser
Area 51 is well guarded. 
Comedian Andrew Maxwell and his crew once had their own harrowing experience near the secretive facility.
The incident, which occurred back in 2012 during filming of the BBC Three show 'Conspiracy Road Trip', began when the group, having arrived at the entrance to film a segment for the show, got a bit too enthusiastic and ended up venturing into the restricted zone beyond the gate.
"To me it seemed like an ordinary military facility," said Maxwell. "But my companions were convinced this was the gateway to the extraterrestrials."
"We got a little bit overexcited, and we strayed into the restricted zone to ask where the aliens were kept. But after knocking on the guard house door, we found ourselves lying on the ground, with gun barrels pointed at our heads."
The military guards confiscated the crew's camera equipment and recordings and detained them for a full four hours for trespassing before releasing them without charge.
Such incidents are not actually that unusual – several visitors to the secretive base have been arrested and detained over the years, a testament to the level of security guarding the facility.
Back in September of this year, two Dutch YouTubers – 20-year-old Ties Granzier and 21-year-old Govert Charles Wilhelmus Jacob Sweep – were picked up by guards 3 miles into the restricted zone surrounding the base. Unlike Maxwell's crew however, the pair did end up being charged.
Mass arrests were also expected during the infamous 'Storm Area 51' event, also during September, however in the end relatively few people showed up and the actual 'storming' never took place.
Suffice to say, if you do venture into the restricted zone, don't expect to get very far.

Source: The Mirror