False Alarms From Apple Watches Are Stressing out a California Police Department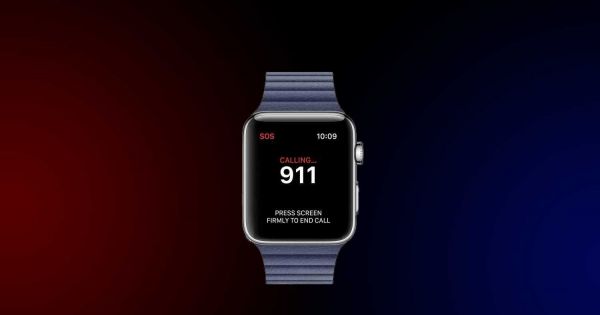 In 2017, Apple added an Emergency SOS feature to their Apple Watch that allows wearers to contact emergency services by holding down the device's side button. The feature may be too easy to trigger, however, as law enforcement officials have received hundreds of accidental calls.
False Alarm
Apple's Emergency SOS feature makes it incredibly easy for a person to call for help, but this ease of use could be causing problems for police departments.
In 2017, Apple added a feature called Emergency SOS to their Apple Watch. To contact emergency services, a Watch owner just holds the device's side button and waits for the triggered countdown to finish. At that point, the device contacts local emergency services.
Dispatchers for the Elk Grove, California, police department have answered nearly 1,600 emergency calls from a local Apple repair and refurbishment facility. Occasionally, the dispatchers hear the muffled sounds of repair technicians on the other end of the line.
"It started back in October, and we have been averaging about 20 calls per day," Elk Grove Police Department Public Information Officer Jason Jimenez told Motherboard.
The timing of these calls lines up with the addition of the Emergency SOS feature to Apple Watches, and Jason Carroll, founder of Fruit Fixed, an independent Apple repair shop, believes the Watch's screen size could be the reason the device is particularly susceptible to false calls. "It would probably [be easier] for a mistake [on the Apple Watch] because the screen is so much smaller," he told Motherboard.
In a public statement to Mac Rumors, Apple confirmed they are aware of the problem: "We take this seriously and we are working closely with local law enforcement to investigate the cause and ensure this doesn't continue."
Emergency SOS 2.0
Emergency SOS has already proven effective for its intended purpose – the feature may have even saved the life of a Pennsylvania woman and her child last year after a car accident. Unfortunately, accidental SOS calls could prevent others from receiving the same help when they really need it.
Elk Grove isn't the only city on the receiving end of these calls. According to Newsweek, Watch owners in Michigan, North Carolina, and other parts of California have accidentally triggered the Emergency SOS feature.
Apple Watch and iPhone owners can adjust their Emergency SOS settings so that they have to drag a slider to make an emergency call, rather than the call going through automatically. This could prevent false calls, but it also creates an added barrier to getting help in a life-or-death situation, and device owners might not want to take that risk.
In the end, Emergency SOS is an incredibly valuable feature – Apple just needs to work out a way to reduce the number of accidental calls without affecting its usability.
"As far as safety goes, having that ability to press a button and reach us and have us be able to respond I think is very important," said Jimenez. "Once that [issue] is resolved, still having the ability to have emergency help at a push of a button is important."
Eventually, Apple could apply what they learn from the Watch false alarms to ensure future devices won't have the same problem. The company is working on self-driving cars, and those are sure to include emergency features that will need to be easily accessible.
Sailors Use Xbox Controllers to Operate Part of the Navy's Newest Sub
You know that $30 Xbox controller you have in your living room? The same thing now directs the Navy's new $2.7-billion attack submarine.
For more than a century, a periscope was the only way for those within a submarine to take a look at the world above. Sailors used them to help determine the sub's position and even direct torpedoes in the days before advanced sonar.
In 2004, the Navy began commissioning submarines with photonics masts, devices equipped with sensors that function like digital periscopes, but takes up less space. Operators typically control these masts from the control room using a joystick, but not everyone was happy with that.However, periscopes had their shortcomings. Only one person could look through the device at a time, and their size placed limitations of the submarine's design.
"The Navy got together and they asked a bunch of J.O.s and junior guys, 'What can we do to make your life better?'" Kyle Leonard, a Lieutenant (junior grade) and the assistant weapons officer aboard the USS John Warner, told The Virginia Pilot in September. "And one of the things that came out is the controls for the scope. It's kind of clunky in your hand; it's real heavy."
To alleviate that problem, the Navy began experimenting with using an Xbox controller instead.
Yes, the sailors are more comfortable with the lighter, more versatile controller, Reed Koepp, the Colorado's commanding officer, told the Associated Press. It's also more natural for them to use — because many of the young sailors who report to the submarine have probably played games on Xbox before enlisting, they won't need as much training.
Plus, it saves the Navy a ton of money. Just one of the custom-built photonics mast joysticks costs roughly $38,000, according to The Virginia Pilot. An Xbox 360 controller runs about $30.
The USS Colorado, in service at Connecticut's Naval Submarine Base as of Saturday, is the first submarine to use Xbox controllers from the very beginning of its service. But if the controller ends up working as well as its engineers anticipate, it might not be the last.
Unknown Sky Phenomenon Witnessed AGAIN!
MrMBB333 shared another strange unexplained sky phenomenon that is similar to the one we shared a few days ago called 'Strange Large Orange Object Ascending Up from the Horizon Near Ecuador'. This one was spotted in Thailand.
MrMBB333 gives all the details in his video and also shows a comparison of the two events, take a look at the video below.
Amazing sky phenomenon spotted again..

MrMBB333
YouTube
Flying Saucer German Technology From Before WW2
A German newspaper recently published an interview with George Klein, famous German engineer and aircraft expert, describing the experimental construction of 'flying saucers' carried out by him from 1941 to 1945."
Exotic technology has been around for a long time, and so have the agencies within the Department of Defense that use it. Just imagine what type of technology the NSA — an intelligence agency whose existence was denied until the mid-1960s — was using in the 1950s. Then there's the National Reconnaissance Office, which was founded in 1960 but remained completely secret for 30 years. Secret technologies have been wrapped up in the Black Budget and Special Access Programs (SAPs) for years, and many of these SAPS remain unacknowledged by anybody within the government. They're exempt from standard reporting requirements to Congress.

"It is ironic that the U.S. would begin a devastating war, allegedly in search of weapons of mass destruction, when the most worrisome developments in this field are occurring in your own backyard. It is ironic that the U.S. should be fighting monstrously expensive wars in Iraq and Afghanistan, allegedly to bring democracy to those countries, when it itself can no longer claim to be called a democracy, when trillions, and I mean thousands of billions of dollars have been spent on projects about which both the Congress and the Commander in Chief have been kept deliberately in the dark."
– Former Canadian Defense Minister Paul Hellyer

During World War Two, multiple strange sightings occurred, of disc-shaped objects travelling at incomprehensible speeds. When the Associated Press and New York Times covered the topic in 1945, they speculated the objects might be a new form of German weaponry.
There is no shortage of strange documents in the CIA's Freedom of Information Act (FOIA) electronic reading room. Many reveal the agency's efforts to keep tabs on the technological developments of other countries, especially during and after World War II.
One document brings up a famous German engineer named Georg Klein, who, as the document states, expressed that "though many people believe the 'flying saucers' to be a postwar development, they were actually in the planning stage in German aircraft factories as early as 1941."
The document then goes on to mention an experiment described by Klein:
"The "flying saucer" reached an altitude of 12,400 meters within 3 minutes and a speed of 2,200 kilometers per hour. Klein emphasized that in accordance with German plans, the speed of these "saucers" would reach 4,000 kilometers per hour. One difficulty, according to Klein, was the problem of obtaining the materials to be used for the construction of the "saucers," but even this had been solved by German engineers toward the end of 1945, and construction on the objects was scheduled to begin, Klein added.