Faceless Toad Found Jumping Around in Forest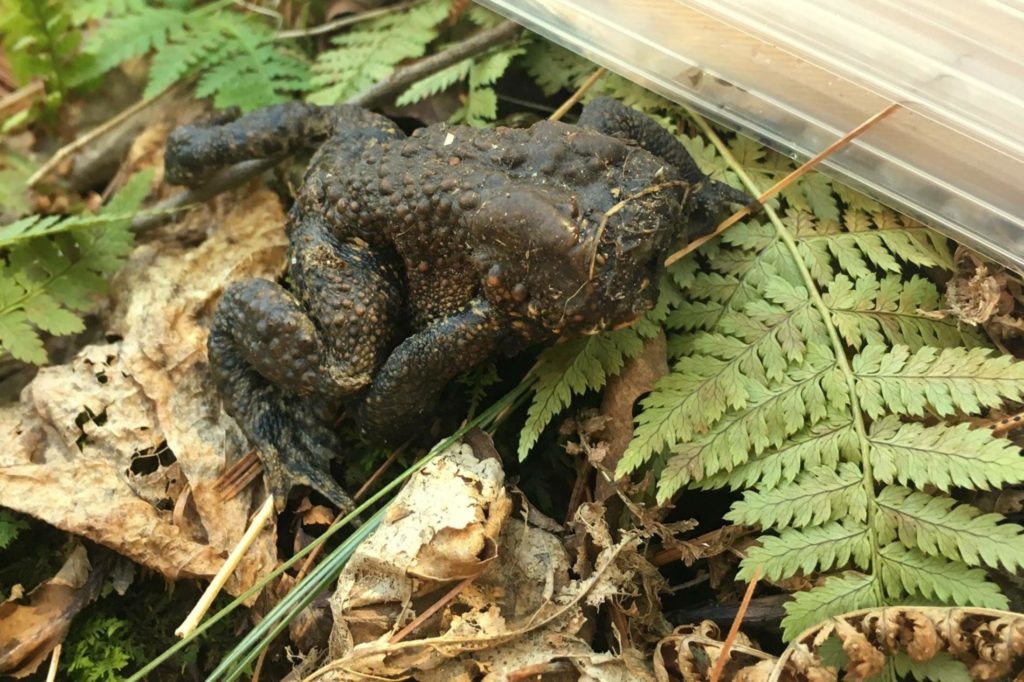 Photograph by Jill Fleming
A toad found in a state forest in Connecticut startled researchers in the field because it had no face.
The amphibian, an adult American toad, was hopping into the researchers' feet and other objects repeatedly while they were collecting information about newts. Jill Fleming, a herpetologist and student at the University of Massachusetts at Amherst, took notice. She and her colleagues took a closer look at the toad, and they were surprised to see that its eyes, nose, jaw, and tongue were completely missing.
She says the reason why the toad is missing its face is a mystery, though there are a few possible explanations.
"My initial thought, which I still believe is a likely explanation, was that the extensive injury was inflicted by one of the toad's many natural predators during hibernation (for example, garter snakes or American mink)," she says. "For whatever reason, the predator did not finish the job and the toad was able to become active again on that early spring day—amphibians are incredibly resilient."
Herpetologists on Twitter also thought it could be the result of parasitism by a toad fly, though Fleming thinks it's less likely.
"I believe the injury happened during hibernation because it seemed to have healed over, which I don't think it would have the opportunity to have done outside the toad's hibernacula," she says.
Amphibians like the American toad are cold-blooded, and need to hibernate to survive during the winter. American toads use their digging skills to burrow into the ground below the frost line, and their bodies produce ice crystals that slow their heart and stop their breathing until temperatures rise above freezing again.
Fleming says this isn't something that she sees often in the field, and the reactions of her fellow herpetologists on Twitter also indicate they haven't seen it frequently, either.
"Turtles can come out of hibernation with an injury as severe as a missing limb—their hardy shell protects their vital organs and many of them do just fine. But I have never seen anything with a head injury this severe still capable of getting around like this toad was."
Unfortunately, the toad's condition was so severe that Fleming doesn't think it was alive much longer after she and her colleagues found it.
"It would not have been able to eat in this condition and was an easy target for predators," she says.
Sailors Use Xbox Controllers to Operate Part of the Navy's Newest Sub
You know that $30 Xbox controller you have in your living room? The same thing now directs the Navy's new $2.7-billion attack submarine.
For more than a century, a periscope was the only way for those within a submarine to take a look at the world above. Sailors used them to help determine the sub's position and even direct torpedoes in the days before advanced sonar.
In 2004, the Navy began commissioning submarines with photonics masts, devices equipped with sensors that function like digital periscopes, but takes up less space. Operators typically control these masts from the control room using a joystick, but not everyone was happy with that.However, periscopes had their shortcomings. Only one person could look through the device at a time, and their size placed limitations of the submarine's design.
"The Navy got together and they asked a bunch of J.O.s and junior guys, 'What can we do to make your life better?'" Kyle Leonard, a Lieutenant (junior grade) and the assistant weapons officer aboard the USS John Warner, told The Virginia Pilot in September. "And one of the things that came out is the controls for the scope. It's kind of clunky in your hand; it's real heavy."
To alleviate that problem, the Navy began experimenting with using an Xbox controller instead.
Yes, the sailors are more comfortable with the lighter, more versatile controller, Reed Koepp, the Colorado's commanding officer, told the Associated Press. It's also more natural for them to use — because many of the young sailors who report to the submarine have probably played games on Xbox before enlisting, they won't need as much training.
Plus, it saves the Navy a ton of money. Just one of the custom-built photonics mast joysticks costs roughly $38,000, according to The Virginia Pilot. An Xbox 360 controller runs about $30.
The USS Colorado, in service at Connecticut's Naval Submarine Base as of Saturday, is the first submarine to use Xbox controllers from the very beginning of its service. But if the controller ends up working as well as its engineers anticipate, it might not be the last.
Unknown Sky Phenomenon Witnessed AGAIN!
MrMBB333 shared another strange unexplained sky phenomenon that is similar to the one we shared a few days ago called 'Strange Large Orange Object Ascending Up from the Horizon Near Ecuador'. This one was spotted in Thailand.
MrMBB333 gives all the details in his video and also shows a comparison of the two events, take a look at the video below.
Amazing sky phenomenon spotted again..

MrMBB333
YouTube
Flying Saucer German Technology From Before WW2
A German newspaper recently published an interview with George Klein, famous German engineer and aircraft expert, describing the experimental construction of 'flying saucers' carried out by him from 1941 to 1945."
Exotic technology has been around for a long time, and so have the agencies within the Department of Defense that use it. Just imagine what type of technology the NSA — an intelligence agency whose existence was denied until the mid-1960s — was using in the 1950s. Then there's the National Reconnaissance Office, which was founded in 1960 but remained completely secret for 30 years. Secret technologies have been wrapped up in the Black Budget and Special Access Programs (SAPs) for years, and many of these SAPS remain unacknowledged by anybody within the government. They're exempt from standard reporting requirements to Congress.

"It is ironic that the U.S. would begin a devastating war, allegedly in search of weapons of mass destruction, when the most worrisome developments in this field are occurring in your own backyard. It is ironic that the U.S. should be fighting monstrously expensive wars in Iraq and Afghanistan, allegedly to bring democracy to those countries, when it itself can no longer claim to be called a democracy, when trillions, and I mean thousands of billions of dollars have been spent on projects about which both the Congress and the Commander in Chief have been kept deliberately in the dark."
– Former Canadian Defense Minister Paul Hellyer

During World War Two, multiple strange sightings occurred, of disc-shaped objects travelling at incomprehensible speeds. When the Associated Press and New York Times covered the topic in 1945, they speculated the objects might be a new form of German weaponry.
There is no shortage of strange documents in the CIA's Freedom of Information Act (FOIA) electronic reading room. Many reveal the agency's efforts to keep tabs on the technological developments of other countries, especially during and after World War II.
One document brings up a famous German engineer named Georg Klein, who, as the document states, expressed that "though many people believe the 'flying saucers' to be a postwar development, they were actually in the planning stage in German aircraft factories as early as 1941."
The document then goes on to mention an experiment described by Klein:
"The "flying saucer" reached an altitude of 12,400 meters within 3 minutes and a speed of 2,200 kilometers per hour. Klein emphasized that in accordance with German plans, the speed of these "saucers" would reach 4,000 kilometers per hour. One difficulty, according to Klein, was the problem of obtaining the materials to be used for the construction of the "saucers," but even this had been solved by German engineers toward the end of 1945, and construction on the objects was scheduled to begin, Klein added.