Facebook Says It's Deleting Accounts On Behalf of The U.S., Israeli, & German Governments — This Is Just The Beginning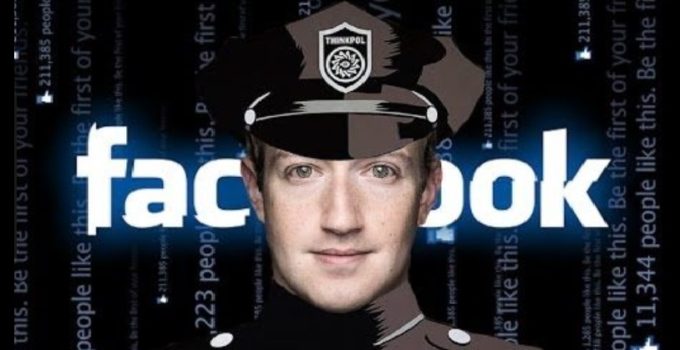 Germany is raiding civilian homes over social media posts, France is threatening to ban websites indefinitely, Trump's White House is having Facebook & Instagram accounts deleted, and Israel just threw a woman in jail for recording a confrontation with their military through Facebook's Live video feature — and this is just the beginning…
Artist credit: Luis Quiles 
According to Pulitzer prize winner Glenn Greenwald, the Israeli government — in partnership with Facebook — have begun aggressively targeting Palestinian voices on social media for censorship;
"The meetings — called for and presided over by one of the most extremist and authoritarian Israeli officials, pro-settlement Justice Minister Ayelet Shaked — came after Israel threatened Facebook that its failure to voluntarily comply with Israeli deletion orders would result in the enactment of laws requiring Facebook to do so, upon pain of being severely fined or even blocked in the country… Ever since, Facebook has been on a censorship rampage against Palestinian activists…"
This isn't much of a surprise though, considering the Times of Israel reported in early January of 2016 that the government's military censor had been trying to control much of what could and could not be posted on Facebook.
Interestingly (or unsurprisingly), the Intercept claims Israeli calls for Palestinian bloodshed remain largely untouched by way of comparison.
Image Credit: Carlos Latuff/mondoweiss
Israeli leadership say they're only targeting social media accounts that inspire "incitement" against their country and people, but critics — including myself — believe this is simply an indirect form of censorship, considering that they have a very well documented history of aggressively targeting and silencing media correspondents.[1][2][3][4][5][6][7][8][9][10][11][12][13]
In fact, journalists frequently engage in self censorship to avoid the Israeli government's reproach. I don't blame them for this chosen course of action either, since Israeli forces have (successfully) targeted media personnel for assassination in the past, by simply using the excuse that they were affiliated with terrorists. Human Rights Watch has accused the regime of "war crimes" because of this.
They also recently arrested a woman for simply filming a live recording on Facebook, of an incident between her daughter and the military, claiming she was engaging in "incitement". Israeli officials are quick to go after anything that even vaguely resembles resistance to their illegal occupations and colonization of Palestine.
It should also be mentioned that Israeli authorities passed a law to censor websites engaged in "promoting criminal or terror activity"  — another vague generalization, ambiguous enough to justify shutting down any pro Palestinian website or group that rejects Israeli foreign occupation.
Facebook also recently deleted the Facebook and Instagram accounts of the head of the Chechen Republic Ramzan Kadyrov, simply because the U.S. government decided to place him on a list of people that should be sanctioned.
Now, don't get me wrong, to the best of my limited knowledge this guy is a very bad person, but just because the U.S. government says someone should be sanctioned does not justify censoring them, for the obvious fact that the U.S. government has a long history of deception and corruption — as well as supporting dictators, drug lords and even terrorists — and thus simply cannot be relied upon to be the arbiter of Truth.
Germany's government has taken even greater repressive steps towards imposing censorship; On January 1st The German Network Enforcement Law (NetzDG) was passed, which allows the authorities to censor any website they claim is involved in the spread of "hate speech," or "fake news". Social media outlets that do not obey the government's demands, to have content removed within 24 hours (7 days for more "complex cases"), will be fined up to to €50 million (roughly $58 million).
According to the Guardian, far right wing deputy leader Beatrix von Storch had her Facebook account suspended as a result of this law, and is currently facing potential criminal prosecution because of her behavior.
The staunch nationalist politician was quoted as accusing the Cologne police department of appeasing "barbaric, gang-raping Muslim hordes of men" when they tweeted an Arabic Happy News Years message (they did the same in French, German, and English). Twitter temporarily banned her account as well for this.
Do I agree with her opinion or method of expressing it, no I most certainly do not. But this is a slippery slope that leads to irrational censorship, because emotions and feelings are starting to override logic and reason. When someone insults me online I debate with them, and rebuke them logically and intelligently. If they persist and are clearly irrational trolls I simply block them, just as everyone online can do when they are confronted with an unpleasant human being. It's really not rocket science.
This censorship started long before this law even came into effect though. According to the New York Times, 36 homes were raided by German police for "hateful postings over social media" last year. And according to a posting made by Facebook's European Vice President for Public Policy back on June 19, 2017, "In the last two months, we've deleted an average of 3,500 posts per week, which were reported as hate speech in Germany. This means we delete around 15,000 posts a month for hate speech in Germany." A few months after this, "tens of thousands of fake profiles" were allegedly deleted by Facebook during the German election. How many of these were actually fake we most likely will never know, since Facebook's customer service is shockingly awful and people tend not to pursue these things as a result.
French president Emmanuel Macron has just announced similar proposals to allegedly ban fake news.  Like the German government, they intend to block any website they find fault with. In response to these overreaching intentions, French Twitter users have been spreading the hashtag #InventeDesFakeNews (or InventYourFakeNews).
Facebook's willingness to compromise on freedom of speech, and their moral integrity, shouldn't come as much of a surprise either. Back in 2016, several former employees told Gizmodo that they routinely manipulated people's newsfeeds, and the world's most popular social media platform was also caught conducting psychological experiments on their users back in 2014. Relevant to this blog in particular, the company has also made headlines on numerous occasions for engaging in censorship.[14][15][16] Likewise, Twitter has also engaged in censorship on a number of occasions, including censoring the hashtags #PodestaEmails and #DNCLeak during the U.S. elections. Strangely, this censorship has hardly been addressed by the establishment media.
This Is Just The Beginning
Throughout history there has been an information war between the ruling class and the common people. The so called elite know that without us believing in their imaginary authority, they would never be able to rule over us, wage major wars, or turn us into worker ants for their unscrupulous system.
Since the internet's introduction there has been a change in the world unlike any before. Activists, revolutionaries, and concerned citizens alike, are all now able to communicate in an unprecedented way. You see, the ruling class's power historically, has firmly been rooted in our ignorance and inability to effectively communicate and organize rebellion. Naturally, as our access to information and social media have accelerated, so too has our ability to intelligently rebel.
The ruling class are well aware of this dangerous unfolding, and although it has taken them rather long to respond to this mass awakening (showing that they underestimate our power in my opinion), they are now taking more assertive steps to control our ability to access important information. Consequently, we can expect this censorship to only get worse, and it will be done under the guise of "preserving democracy," or some other bullshit excuse that the unwitting and naive will cheer with ignorant fervor.
It should also be mentioned that although I have been highlighting tech giant abuses in this blog, I largely believe that Mark Zuckerberg and other social media bosses have very limited control over what they can and cannot actually do with their own companies, so placing all the blame on them would be wrong. I believe this is due to an antiquated power structure that has been in place for much longer than any of these companies have even been around, as vaguely mentioned by Facebook's former executive Chamath PaliHapitiya. This system is much bigger than any one man, or one company, and is going to take a collective effort from a significant percentage of the world's population to overcome.
Google Is Hiring 10,000 Additional Human Censors
Google announced last month that it will be hiring an additional 10,000 human censors to police "problematic content" online. While this will most certainly be done under the auspices of fighting terrorism, hate speech, and the usual stories — and in many instances I presume they will — I know from first hand experience it will also be used as a tool of indirect censorship.
Amongst the many annoyances I have personally dealt with pertaining to online activism, I've also had my YouTube account shut down, and banned, with no proper clarification as to why except a broad set of ambiguous community guidelines which I allegedly violated. 
Last year Google claimed it would fight "fake news," but was caught instead censoring legitimate websites like CounterPunch, World Socialist Website, Democracy Now, American Civil liberties Union, and Wikileaks, amongst others. Certainly not the type of behavior one would expect from an organization with the ironic motto, "Do the right thing" (previously "Don't be evil"). 
Furthermore, as I documented in a previous blog, there are numerous verifiable instances of the establishment media spreading lies, inciting war (large scale terrorism), and deceiving the public, yet they aren't being held to the same standard as smaller alternative media outlets, who are being censored for doing the same thing on a much smaller scale.
This is shamefully biased and wrong, if we are to earnestly purge deception from news media, it should be done indiscriminately and with objective concern for the Truth.
Censorship Of The Internet Is Ultimately Censorship Of Knowledge & Truth
The internet does not merely represent technological achievement, it mostly represents the knowledge and ideas of millions and millions — and even billions — of people who dedicated their lives before us to fighting for a better world. And although these great thinkers and minds may no longer be with us, their thoughts, ideas, and teachings live on through the internet.
These teachings are then discovered by other people like us, who are lucky enough to have access to something as remarkable as the world wide web. We then learn from them and then expand upon them. We see the world around us, and try to figure out how we can create a better world by applying many of these teachings, and where possible we expand upon them through social media and other available platforms.
Being able to communicate and share our thoughts and ideas freely, is the key to furthering this great mission and progress, because mankind as is; dominated by war, racism, tribalism, elitism, poverty, inequality, injustice, and corruption, has yet to actually reach a state of authentic civilization — It is a great duty which we all share to help realize a decent world.
But when a group of powerful governments and elitist interests — that have ultimately profited from keeping us ignorant throughout history — start telling us that they are going to censor our thoughts, ideas, and regulate our ability to communicate under the cloak of benevolence, it means they are ultimately going to hide important knowledge from us; because all expression online — even the most irrational and idiotic — represent some form of knowledge, even if it is just the knowledge of what the most extreme elements of society are thinking.
Why should it be up to the ruling class to decide what knowledge is good, and what is bad? Do not all of us possess the ability to think for ourselves? Do not all have us have the ability to block or ban someone that is acting like a fool online? So how can we rely on the very elitist class that has benefited from our ignorance throughout known history to be in charge of the regulation of knowledge and information?? The answer to that last question is very simple, we cannot, and we would be very stupid to think that we can.
At the end (or beginning depending on your perspective) of our journey towards creating a better world, is the realization that we are actually the ones with the power not them. Their only real power resides in controlling our minds and what we believe. Without this, they literally have nothing. They become insane people running around making ridiculous demands and establishing rules using their imaginary authority — a course of action that would generally land someone in a mental institution, which is exactly where the overwhelming majority of them belong.
We must adjust intelligently to the changing of these times, and raise our standards accordingly my friends. Be precise when sharing information, fact check, and where ever possible, provide overwhelming evidence to prove your point. The censors are looking for reasons to take us down, so we must become more intelligent in our delivery.
Our ignorance has always been their power, but our disillusionment, and subsequent awakening — which is happening right now — will ultimately be their demise. I am not calling for a violent revolution, I am calling for a revolution of the mind.
We are many, and they are few. We just have to wake up and their bullshit game is over.
Written by Gavin Nascimento, Founder Of aNewKindofHuman.com
Find me also on;
Facebook
Twitter
Instagram
YouTube
Bibliography:
1]Philip Weiss, NYT, Reuters, Economist journalists self-censor reports from Israel so as not to be 'savagely targeted' — John Lyons, Mondoweiss, July 26, 2017
2]Peter Orsi, Christopher Sherman, Mexican journalists, activists targeted with Israeli spyware — report, Associated Press, 20 June 2017
3]Reporters Without Borders, Palestinian media death toll reaches 13, August 5,2014
4]Ali Abunimah, Israel among world's worst jailers of journalists, The Electronic Intifada, 16 Dec 2016
5]National Union Of Journalists, IFJ condemns targetting of journalists in Gaza, 19 Nov 2012
6] Jason Stern, After journalist killings, potential violations in Gaza must be investigated, Committee to Protect Journalists, Aug 28 2014
7] International Middle East Media Center, Israeli Soldiers Continue To Target Journalists; 60 Violations this Week, Dec 17, 2017
8]Committee to Protect Journalists, Attacks Against Journalists in the West Bank and Gaza since September 2000
9]Human Rights Watch, Israel/Gaza: Unlawful Israeli Attacks on Palestinian Media, Dec 20, 2012
10]Sue Surkes, Military censor seeks control over blogs, Facebook posts, The Times of Israel, 4 Feb 2016
11]Nora Barrows-Friedman, When Israel says it doesn't target journalists, it is lying, 19 November 2012
12]Press Release, The Board of the Foreign Press Association, Statements 2015
13]Press Release, The Board of the Foreign Press Association, Statements 2009
14]James Bovard, Facebook censored me. Criticize your government and it might censor you too, USA Today, Oct 27, 2017
15]Julia Carrie Wong, Facebook blocks Pulitzer-winning reporter over Malta government exposé, The Guardian, 19 May 2017
16]Kjetil Malkenes Hovland and Deepa Seetharaman, Facebook Backs Down on Censoring 'Napalm Girl' Photo, The Wall Street Journal, Sep 9, 2016
Why I'm Concerned About Samsung Hypnotizing People & Erasing Their Memory
Samsung's Swedish site recently revealed a new program that offers hypnosis so that you can erase your memories and re watch your favourite shows for the first time. The program is called Unspoil Me and it's comprised of 23 minutes of swirling patterns, mesmerizing music and a hypnotherapist directing your thoughts and attention in order to erase your memory.
Now, here's the kicker, this is not a joke. This is totally real, and the implications of what this technology could really do are concerning. We can only hope that people will not fall for this and that maybe tv shows, are actually just not that important? We can only hope.
This isn't something new, despite the fact that we don't hear much about it. The US military was using hypnosis in the Vietnam war, erasing soldiers memory and then sending them back out to battle.
We have to ask ourselves what kind of other possible effects this could possibly have on our brain.
Some of the terms and conditions stated on the website that must be consented to before this session begins include the following:
"Before starting the experience I guarantee that I'm over 18 years old, fully mentally healthy and not suffering from any neurological problems or epilepsy. If not, I guarantee that I will contact a doctor before I take part of the experience. If I suffer from abnormally low blood pressure, I will also consult with a doctor before taking part of the experience."
"I am aware that the experience (self hypnosis) could have real effects and I am prepared to forget the whole, or parts of my favourite TV series."
"I ensure my sole purpose of using Unspoil Me is for its intended purpose, and I will therefore only think about a film clip or a tv-series which I will have the possibility to forget."
The suggested guidelines for the hypnosis session involve putting in headphones, isolating themselves in a tranquil place so that they can watch the whole video with no interruptions. A suggested one nights sleep is also recommended before they attempt to watch the show that is inevitably responsible for this whole ordeal.
What Actually Happens During This Hypnosis?
The session begins by having hypnotic patterns swirling on the screen and then having a hypnotist come on and introduce himself. There is a genuinely creepy vibe, and then the music starts and views are instructed to focus on the swirling pattern.
Then the backwards count from 300 begins while the hypnotist repeats over and over again to go into a "deeper place." The hypnotist eventually instructs the viewers to walk down a set of imaginary stairs as he proceeds to tell a story about an emperor and a mathematician. Then, the hypnotist tells the listener to envision a linear timeline and the think about when the said T.V. show was first watched. They are then instructed to "float" to a point on the timeline before the TV how happened in their reality in the first place. After that step is complete the listener is told to fly back, at super speed, to the present moment of "now."
After all this the hypnotist claims that the show to be forgotten will become just a "small fuzzy image" in the subject's mind and that after one full night's sleep a dream will "install" this new found amnesia towards the show.
The fact that one human being can make another follow their will completely without question is concerning. We've seen this type of thing, although the Samsung technology is different, the same concept of hypnosis was and probably still used within the MK Ultra program.
Is There More To This Than Meets The Eye?
I'm just going to go out on a limb here and say, yes, most likely. A software that can literally hypnotize you and erase your memory, simply so that you can re watch your favourite T.V. show for the first time, is, in my opinion, nuts!
First of all, who knows what is really going on during this hypnosis session, there could be all sorts of other subliminal messages being used and you would have no idea. It's hard to put your trust in any type of major corporation these days that attempt to 'play' with your consciousness.
We can hope that the majority of people out there will have enough awareness to know that this is probably not the best idea to partake in, in my opinion, and that really, are T.V. shows that important? We need to find better ways to use our time, erasing our memories to watch even more T.V. – this has gone too far!
Is this all we are? Drones and slaves who simply enter into the system without ever questioning it? Go to school, get a job, watch T.V., go to the bar, put your total trust in the government and the corporations that control them, don't worry about the world…. That seems to be the message.
On the positive side, no, this is not all we are! We are amazing beings with so much potential, way more than we are even aware of. Something special is happening on the planet right now, human beings are starting to actually question the human experience.
This means that we are in the process of building another one, and the catalyst for that is the massive shift in consciousness that's happening right now. We're waking up, and starting to see things in a different way.
We are waking up from the hypnosis we've been in. Ask yourself, are your thoughts really yours? Are your wants really yours? Or have they been programmed into via mass marketing. There are may different forms of hypnosis, but not all of us are hypnotizable!
One needs to be extremely wary about being guinea pigs for a corporate-sponsored hypnosis session.
Much Love
Ex Chief Adviser For The UN's Child Labour Program Arrested For Pedophilia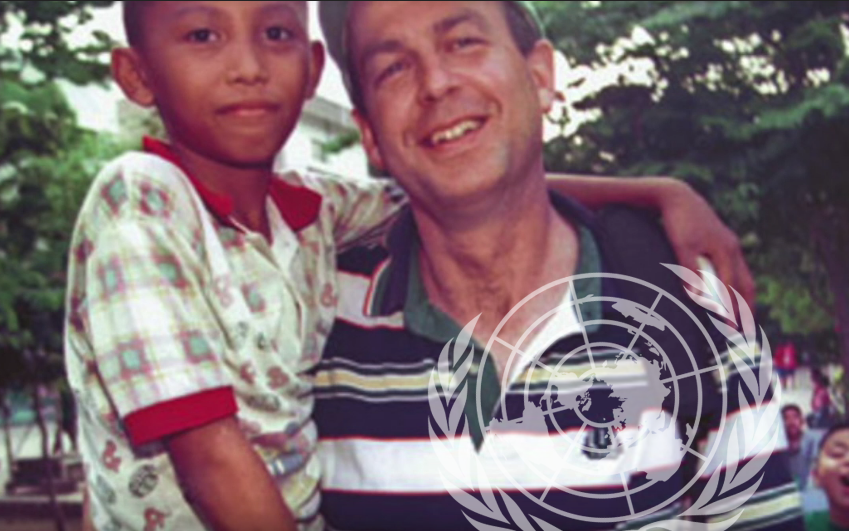 There's been a massive amount of disclosure with regards to elite pedophile rings for decades, but more attention was brought to it last year, with some weird and bizarre leaked emails from long time politician, John Podesta, it's how the whole "Pizzagate" debacle began.
Not only that, last year an NBC news report claimed that Hillary Clinton, while acting as secretary of state, shut down an investigation into an elite pedophile ring in State Department ranks in order to avoid scandal and protect the careers of high ranking officials and an ambassador.
Pretty crazy, isn't it? Former U.S. representative, Cynthia McKinney, was well aware of the corruption that was going on within DynCorp, and she actually addressed it in 2005. She grilled former Secretary of Defense, Donald Rumsfeld, on the government's involvement and compliance with military contractor DynCorp's child trafficking business of selling women and children. She was brave enough to bring it up. More than a decade later, Retired Army General James Grazioplene, who worked in the Pentagon and as the Vice President of DynCorp, is currently facing six rape charges.
The list of examples go on, and to deny such activity is ridiculous. It's something that happens in multiple industries, by people in positions of great power. Hollywood is another popular example, where childhood star Corey Feldman seems to be leading the charge.
This kind of thing also goes straight to the Vatican, you can read more about that here.
Where else does this type of activity happen? Unfortunately, from those within the United Nations as well.
The International Labor Organization estimates that there are 20.9 million human trafficking victims worldwide and 4.5 million people trapped in forced sex trafficking around the globe. At least 100,000 children are prostituted annually in the U.S., adding to the $9.8 billion U.S. sex trafficking industry.
It's not just pimps and escaped convicts involved. It's the people we're expected to respect or "look up to" the most: politicians, the elite, the wealthy businessmen, your neighbours, and oftentimes the people that you'd least expect.
An Associated Press investigation into the United Nations (UN) has revealed that over the past 12 years, there have been approximately 2,000 allegations of sexual abuse and exploitation by UN peacekeepers and other employees around the world. Over 300 of those cases involved children; however, very few perpetrators have actually been arrested and held accountable for their crimes. There were even allegations of this type of abuse during Haiti peacekeeping missions.
In exchange for food, the UN peacekeepers demanded sex from children as young as 12. In regards to the child sex ring run by UN peacekeepers in Haiti, nine children were being passed around from 2004 to 2007.
"I did not even have breasts," said a girl, known as "V01" (Victim No. 1). Vo1 was allegedly forced to have sex with approximately 50 peacekeepers over a period of three years, between the ages of 12 and 15. One of the perpetrators was a "Commandant" who she said gave her 75 cents in exchange for sex. Vo1 explained that she would often sleep in UN trucks on the base.
You can read more about that story here.
The latest news comes from ex chief advisor for the United Nation's Child Labour Program, Peter Dalglish, who was recently arrested for pedophilia. In early 2017 the United Nations Secretary General admitted to 145 incidents involving 311 victims in 2016 alone, mainly in peace operations. We covered this earlier this year.
Sadly, the 311 victims are only those who were brave enough to come forward to report the rapes and abuse. Many of the victims were children. The UN Secretary General confessed that this was only the tip of the iceberg. But how big is the iceberg?
"According to police, Dalglish was taken from a home in a district north of Kathmandu. Police said in a statement two girls, 12 and 14 years old, were "rescued" from the home. Police allege children were lured with a promise of education and foreign travel before they were sexually abused. Authorities said in the statement they are investigating whether more children may have been victims."
Dalglish has quite the resume, apart from being a senior UN official he founded the charity known as "Street Kids International." He was taken in by Nepal police on Sunday April 8th, as Xinhua news agency reported.
The Central Investigation Bureau (CIB) of Nepal Police wanted to question him.
Bringing The 'Dark' To 'Light,' It's Really All One
If we want to move forward aas a human race, we have to look at the 'darker' aspects of humanity and bring them to light. We have to expose our 'humanitarian' organizations and 'leaders' who commit acts like this, so we can see the bigger picture about who we, as humanity, allows to be appointed to positions of power.
This type of activity is literally unbelievable, and the fact that multiple allegations of elite level pedophilia have been made public over a period of many years, is quite disturbing. To find out that someone whom you once looked up to, or someone who is praised in the eyes of the masses, is involved in such things can really be quite a big shock.
The most important thing, however, with such revelations, is not to direct the same energy into it. If we accuse, attack, blame, and punish, we're really getting nowhere. Instead, we should look at the bigger picture, make the connections and find out why all of these elitist groups are engaged in such activity, and why they are continually portrayed to be the saviours of humanity.
This is one big human experience, the human mind labels certain experiences as 'good' or 'bad,' or 'dark' and 'light,' but the truth is, it's just an experience, and we can change what doesn't resonate about us anytime we choose. Although it's hard to deliver a conscious take away from this story, as we try to do with all our other stories, it's really about coming to grips with the fact that some dark things are happening on planet Earth, but our reaction and response to these things determine whether or not we are going to put a halt to it.
Global Debt is Now an Insane $164 Trillion, but Who Exactly Do We Owe?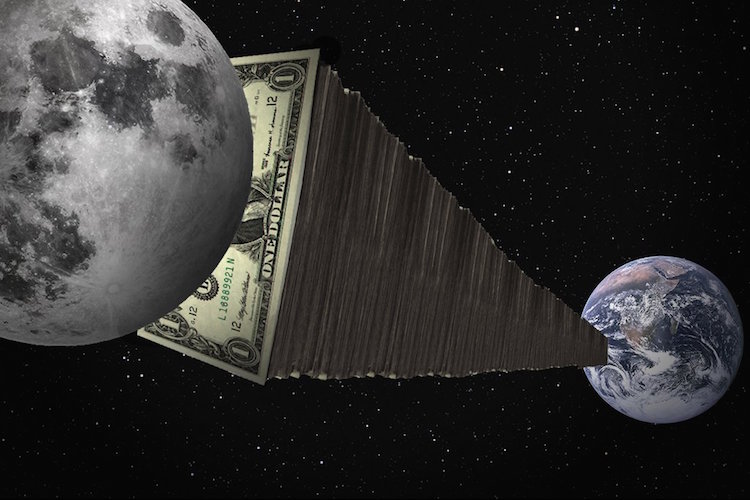 If you've ever wondered why the world seems hopelessly fraught with endless conflict, ruled corrupt states, and bent on developing a never-ending supply of advanced weaponry, you'd need to understand the nature of our debt based economy.
The IMF has just reported that total global debt is now at a staggering $164 trillion, which amounts to 225% of total global GDP. Every person on this planet could turn over everything they produce for the next two plus years and we'd still be in debt.
The number is now so astronomically high that its impossible to pay off, and so there really is no point to even trying. In fact, government's are not at all concerned with paying off the debt because they know the number has lost it's meaning in the face of such cartoonish proportions.
Even Alan Greenspan, former chairman of the Federal Reserve knows this, essentially admitting that the economy is structured in such a way that the only way to survive is to keep adding debt.
"The United States can pay any debt it has because we can always print money to do that. So there is zero probability of default." ~Alan Greenspan
But who do we owe, and who's doing all the borrowing?
In an article on this by Bloomberg, Andrew Mayeda lays the blame for such high numbers on an increase in private sector debt along with the fallout of the economic crisis of 2008.
"Surging private-sector debt, particularly in China, is driving the build-up. China has accounted for almost three-quarters of the increase in private debt since the global financial crisis, according to the fund.

The IMF figures lay bare the scale of the debt hangover from which the world is still recovering a decade after the financial crisis pushed the global banking system to the brink and tipped the world economy into recession. Governments increased spending to boost growth, while central banks resorted to unconventional methods to ease financing conditions, such as buying bonds." [Source]
What is not said here is the how the debt bubble actually works.
Currency today is created by private institutions who create as much money as banks and governments desire. This money is created out of thin air, literally by punching a few keys on a computer and sending tiny currents of electricity to a screen which displays whatever number the private corporation wants. It is not backed by anything of value, yet these private institutions charge interest to governments and private sector borrowers.
For every dollar created and loaned, the magical money-lender demands that dollar back plus interest. Since the lender is demanding more than was created, it is mathematically impossible to ever pay off debt, because the interest simply just doesn't exist.
This system ensures that the human race will always be in debt, and this system is the new slavery, meaning that when we owe money in this fashion we are not free to use the full power of our labor and resources to improve our communities and infrastructure. Instead, lending moves in the direction of the development of instability and weapons of war. Any time the lender wishes to flex its muscle it can create instant economic hardships by calling in this and making it more difficult to borrow money to service the debt.
The modern-day debt system maintains a tragic dramatic tension in the world, and on a planet with such abundant resources, you have to wonder with a global debt number so high, do the people of the planet owe each other, or are we really in debt to some type of off-planet entity?
This is a legitimate question, asked by researcher Catherine Austin Fitts, who wonders that with such astronomical numbers, it is possible that planet earth engaged in some type of trade with extra-terrestrials.
After years of investigative research into the trillions of dollars missing from the U.S. government, former Wall Street banker and former Assistant Secretary of Housing and Federal Housing Commissioner at the United States Department of Housing and Urban Development in the first Bush Administration, Catherine Austin Fitts has come to the conclusion that global debt may very well be owned by off-planet entities who operate planet earth as a real estate investment.

"Is earth an open or closed economy? I went to business school, I worked on Wall Street for eleven years, you know I've been involved in the economy my whole life and the whole time I was invited to assume that earth was a closed economy. So, if we issued debt, then other humans owned that debt. If we issued stock, other humans owned that stock. But if you look at all the economic experiences I've had over my whole life, in government, businesses, everything else, what I will tell you is, you know, if you ask me to describe the economic model on planet earth, I would say, 'well planet earth is a real estate investment trust because we're paying a dividend some place every year, and I don't know where it's going. It's going into that question mark, on the planetary balance sheet." [Source]
Looking at global debt as a transaction between the planet and some other ET force makes a good bit of sense, as it definitely does not make sense for the human race to enslave itself to itself with such an insane system.
About the Author
Isaac Davis is a staff writer for WakingTimes.com and OffgridOutpost.com Survival Tips blog. He is an outspoken advocate of liberty and of a voluntary society. He is an avid reader of history and passionate about becoming self-sufficient to break free of the control matrix. Follow him on Facebook, here.
This article (Global Debt is Now an Insane $164 Trillion, but Who Exactly Do We Owe?) was originally created and published by Waking Times and is published here under a Creative Commons license with attribution to Isaac Davis and WakingTimes.com. It may be re-posted freely with proper attribution, author bio, and this copyright statement.