Recently, protective face masks are in high demand. This is especially noticeable in the countries of the Asia-Pacific region, and is due, first of all, to a high level of air pollution. Thus, according to the World Health Organization (WHO), every year polluted air causes premature death of at least seven million people around the world. And this is not surprising: inhalation of polluted air increases the risk of developing cardiovascular diseases, some types of cancer, and also exacerbates asthma and other respiratory diseases. The situation is aggravated by rapid climate change, as well as forest fires that are raging in various regions of the planet.
Protective masks now don't scare anyone
Some 10 years ago, people tried to stay away from a person in a protective mask. In those years, outbreaks of SARS, bird flu, influenza pandemic (H1N1) and other equally dangerous diseases were periodically observed in the world. Today the situation has not changed much – so, recently, an outbreak of bubonic plague in China was announced as well and an unknown disease that struck 44 people. And this is not counting the return of measles as well as outbreaks of the BVRS-CoV coronavirus, which was recorded in different countries of the world. However, our attitude towards people in protective masks has changed.
Perhaps the reason for the lack of fear of masked people lies in an ordinary habit – they just stopped surprising us. But not only. Rapid climate change caused by human activities has become especially noticeable in the last decade. Photos of masked people often appear in news bulletins – whether it be forest fires or extreme air pollution. Moreover, musicians popular among the younger generation made masks a part of their image, painting them with different colors, adding stripes and inscriptions. As a result, in almost any city in the world you can meet young people in now-trendy face masks.
How clean air becomes a business
Ao Air's Atmos Faceware recently announced its intention to solve the problem of polluted air. No, you won't have to change anything dramatically – just buy a new device for 350 US dollars. The gadget, which has just debuted at CES, is a mask that, according to company representatives, provides better protection against particulate matter than standard masks certified by the National Institute of Occupational Safety and Health (NIOSH). According to an official press release , Ao Air considers the mask a new effective method of protection against polluted air.
According to The Verge and the mask manufacturer, the functioning of Faceware will not be prevented by facial hair, sweat and other factors. Moreover, the company also thought about design. So, Atmos Faceware masks are transparent, rely on the nose bridge, allowing others to see your face, including a smile. The kit includes a mask with four additional filters, and the number of new devices today is very limited. However, despite the obvious advantages, not everyone can afford such an acquisition. For comparison, the N95 mask, the most common NIOSH-certified mask, costs about $ 15.
Meanwhile, wealthier people today are breathing clean air. The fact is that air pollution is usually concentrated in low-income areas, where people are more likely to face environmental problems, natural disasters and climate change. Even if high-tech face masks are able to provide better protection, they will only exacerbate social inequality, as they will be available only to those who have a large amount on their bank account. But regardless of our desires and possibilities, the world is heating up. The season of fires, according to experts, will gain momentum.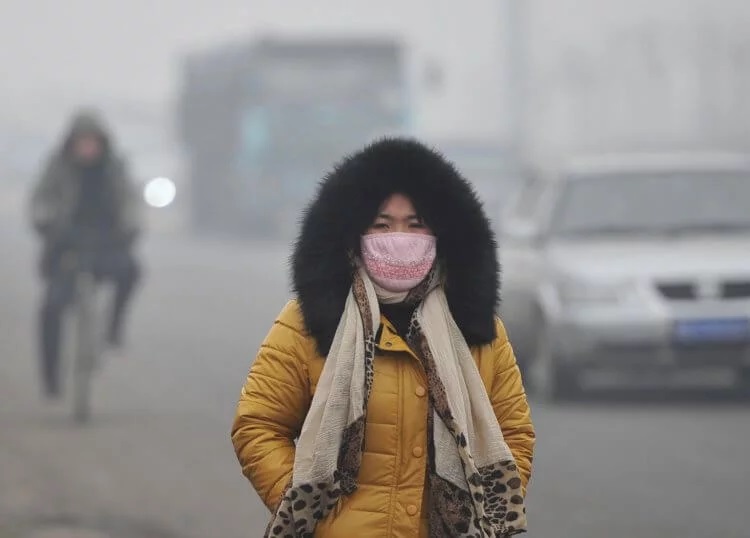 Due to the drought caused by climate change, their intensity and duration will increase, thereby greatly polluting the air. But it's not just about fires. Rising temperatures, volcanic eruptions, earthquakes and dust storms will not make the air on Earth cleaner. Against this gloomy background, the production of protective masks is a logical and natural goal for many companies. It is possible that in the near future, protective face masks will become the same accessory as sunglasses. The issue, as before, is equal access to resources, which, as we know today, does not exist.
Michigan nurse shares details of what is happening in hospitals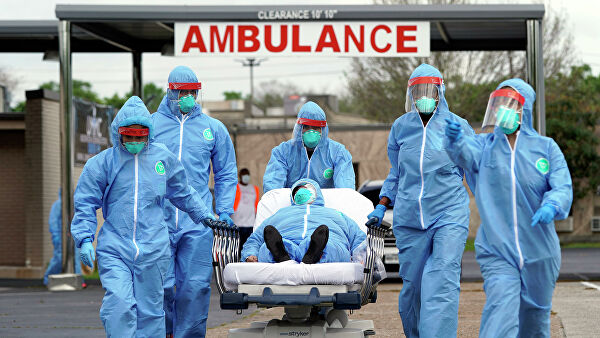 One of Michigan's nurses shot a terrifying video of her workday so people would be more careful about their health and especially with coronavirus. The woman added that she felt as if she was in a battlefield. During her story, she was constantly in tears.
During her last shift, the duration of which was 13 hours, she was separately from her colleagues and was involved in the treatment of two seriously ill patients. She supported them with an assisted breathing apparatus. The nurse encourages people to be more careful and take this problem as seriously as possible.
The nurse plead for hospitals to make every effort possible to eliminate the effects of the coronavirus outbreak, which has only recently intensified. To date, Michigan is in fifth place in case numbers, in which more than two thousand are infected with coronavirus and at least 43 deaths were recorded.
Just a few days ago, two hospitals already announced that they were completely full and they did not have the opportunity to accept new patients. The state expects that over the next three weeks the number of patients may increase to 16 thousand. The government, in turn, said that at the moment there are only 25 thousand beds, 80% of which are already occupied.
The number of cremated people in Wuhan significantly exceeded the death toll from coronavirus
On March 23, Chinese authorities allowed relatives of coronavirus victims in Wuhan to receive the urns with the ashes of their relatives. According to Liu Ping (pseudonym), a local resident who was in front of the Hankou funeral home, there were huge queues of people lined up. Liu Ping arrived in the morning to pick up her father's ashes, and was only able to pick up the ashes at 14:00.
After leaving the bureau, Liu Ping saw a truck that was transporting bins. She found out from the driver that an order had been placed for 2500 boxes, the same quantity had been delivered the day before. A total of 5 thousand deaths from coronavirus is against the 2531 official cases. This information is from only one funeral home. There are eight in total in Wuhan.
According to Sun Jiatong, deputy director of the Wuhan City Civil Affairs Bureau, 21,703 corpses were cremated in a month and a half, eight times the official statistics.
At first, all the bodies were planned to be taken to the Hankou crematorium, but there were no available spaces there. As a result, other local institutions accepted and shared the dead between them. It is scary to imagine the real number of deaths in the whole of China.
Evidence of the "end of the world" by a huge comet found in Syria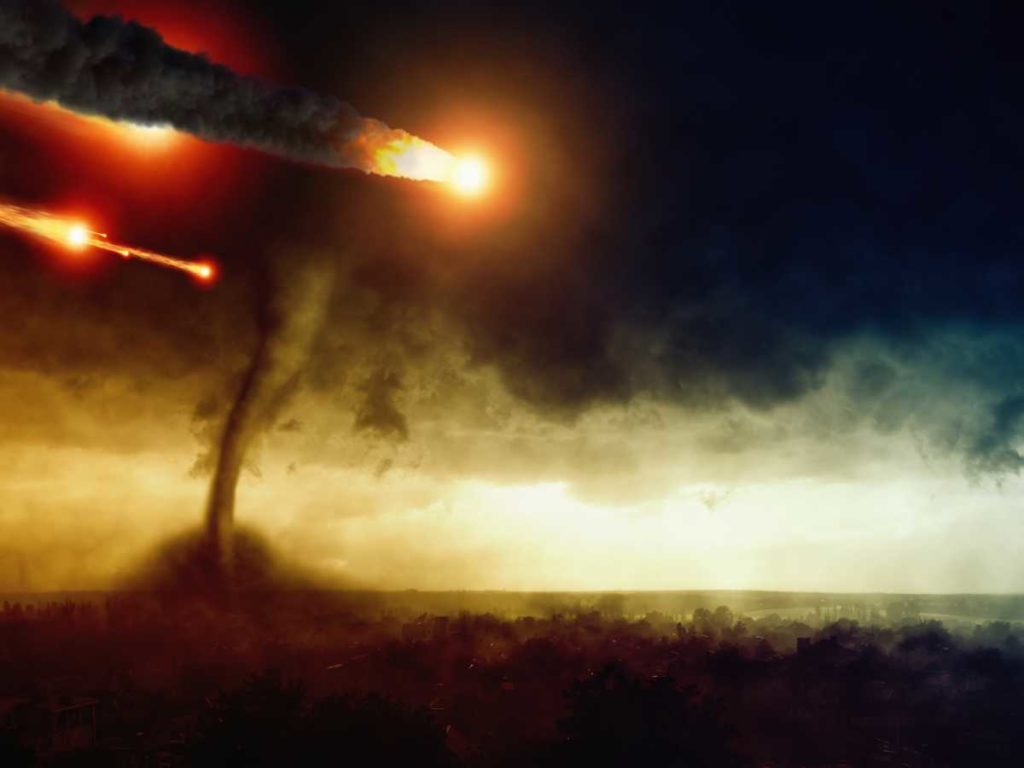 During archaeological excavations in the area of ​​the Syrian settlement of Abu Hureira, scientists came across sensational evidence of a global catastrophe that occurred 12,800 years ago.
It is believed that it was caused by the explosion in the Earth's atmosphere of a huge comet – a piece of rock covered with ice and methane, which led to a powerful cooling, the collapse of ancient civilizations and the disappearance of many animals, such as mammoths.
An amazing layer of "dark matter" brought from outer space was found in Abu Hureira. Rich in carbon and platinum, it contains millions of nanodiamonds and tiny metal spheres formed under the influence of huge temperature.
At a temperature of 2200 degrees, the soil turned into pieces of glass scattered throughout Abu Hureira, even the most refractory elements, such as silicon, flowed.
The temperature that arose on Earth could melt a car in one minute. Even with modern technology it is very difficult to achieve such temperatures, and even on such large areas. This is not observed during lightning strikes and even during volcanic eruptions. A molten mass appeared on the caked earth's surface, which, upon cooling, turned into thousands of glass fragments. A temperature close to this occurs only in explosions of nuclear devices.
This could only happen when the Earth collided with a cosmic body flying at high speed. The glazed soil turned out to be rich in minerals with chromium, iron, nickel, sulfides, titanium and iridium-enriched iron. All this was also brought to Earth by a comet.
A monstrous cosmic body with a thousand explosions covered both hemispheres of the Earth. That ancient catastrophe reminds mankind that it can be expected any day. Although, even with such a catastrophe, the human race managed to survive and adapt to new conditions.
Comets travel in orbits of incredible length that extend beyond the limits of the solar system, and one can only guess what else will fly to us from distant worlds. The comet materials were scattered over a territory of more than 14 thousand kilometers in the Northern and Southern hemispheres. One of the explosions of a part of a decaying comet occurred near Abu Hureira, which at that time was inhabited by nomads who had settled down to engage in farming. The same glazed samples of molten soil were found during excavations in southern Chile.
SARS-CoV-2 virus: important questions that are not yet answered
Unanswered questions about the new coronavirus do not let you know what will happen in the near future. Can I get infected twice? How long will a pandemic last? Will the number of victims increase or vice versa decrease?
To predict the spread and further evolution of SARS-CoV-2 (the official name for the new coronavirus CoVID-19), fundamental data are needed, but so far they have not been obtained. In this case, one of the most important issues is the possibility of re-infection. To date, in addition to the dubious cases described in the press, re-infection has been scientifically proven by only four medical professionals in Wuhan, China. Symptoms in all confirmed repeated cases were mild. We tell you what the next few months may be and whether it is worth worrying for those who have had a new coronavirus.
Is it possible to get the new coronavirus again?
According to the Spanish El Pais, the authors of the work from Wuhan University admit that the results obtained on re-infection can be false positive, since sometimes the tests fail. However, it must be clarified that scientists repeated the test several times. If similar cases occur in the future, then all efforts made to contain CoVID-19 may prove futile.
Of all the possible explanations, double infection is the least realistic. Animal test results indicate that re-infection is not possible. Chinese scientists have found that macaques, who become infected with the new coronavirus and recover, do not get sick again a few days later, even if they are exposed to the virus. Preliminary research results can be found on the BiorXiv preprint server.
The question also remains open about how quickly after a virus enters the body, a person becomes infectious – after a day or longer. Today we know that the incubation period can last from 5 to 14 days, but there are cases when symptoms appeared 24 days after infection. In this case, the immune system takes about a month to develop immune memory for the virus.
The question of the longevity of acquired immunity also remains unknown. The fact is that immunity to MERS (Middle East Respiratory Syndrome) – which jumped from a camel to a person and caused an epidemic that claimed the lives of more than 850 people – lasts less than a year. The same thing can happen with SARS-CoV-2, although at the moment it's too early to talk about it. However, if the virus is capable of re-infection, it is likely to do so with much lower intensity, and the symptoms will be much easier.
Will the pandemic end in the fall?
The 1918 Spanish flu pandemic claimed the lives of more than 50 million people and raged for a year. However, most died during the second wave, which occurred in October. According to a study published by scientists from Imperial College London, after quarantine cancellation, the second wave of CoVID-19 will be almost inevitable. Researchers also warn that the stronger the quarantine measures, the more people can suffer during the second wave.
It must be understood that the meaning of isolation measures introduced in Italy, Spain and other European countries is not so much to prevent the spread of infection as to save hospitals – about 15% of infected need resuscitation and connection to mechanical ventilation and ECMO devices. Since the main problem of quarantine cancellation is the repeated spread of the virus, scientists propose that after the restrictive measures have been lifted, they establish safe periods of stay in the hospital, an alarm will be raised after the end of each stay and the population will be restricted again.
Does the new coronavirus mutate?
From an evolutionary point of view, the most successful viruses are the most infectious, not deadly, because their main purpose is reproduction. In most cases, the tendency is that viruses become less dangerous and allow the host to lead a more or less normal life. It is possible that such a fate awaits the new coronavirus. However, coronaviruses do not mutate much, since they encode a protein that corrects errors in DNA copying, which raises some concerns. Compared to other viruses, coronaviruses accumulate 10 times less errors in DNA, and therefore are much less variable.
One way or another, no one has been able to accurately predict the future. Therefore, today, as a society, we must take care of each other and follow all the recommendations of the World Health Organization. And yet, something is clear today – the pandemic will not pass quickly, and the usual order of things may change dramatically.