Humanoid insect-like creatures are some of the most frightening cryptids. Sudden movements, thin long limbs, similar to arachnids or cockroaches, these creatures seem to come from nightmares.
Here are some eyewitness accounts that have encountered such creatures.
This story was told in September 2016 on Coast To Coast AM paranormal radio. The narrator went camping with his family and friend in Sequoia National Park, southern Sierra Nevada, California.
This park is famous for its giant ancient redwoods. The majestic trees give the local landscape a special, fabulous atmosphere.
In the evening, while camping, the eyewitness sees something very strange there.
He tells:
"About 9 pm, all my relatives already wanted to sleep and went into their tent. Only my friend and I stayed by the fire. But, I was bored and decided to take my iPod out of my pack to listen to music with headphones.
I went to the car and opened the back door. Then suddenly I saw that there was something infront, next to a tree. In the darkness, I saw the outline of something great.
When I aimed the lantern, I swear, I saw a huge mantis, almost 2 meters tall. When I saw it I froze, I held my breath and stared at it. I was shocked.
Then, this creature stepped back and … disappeared. It was as if it had become completely invisible. I couldn't believe my eyes.
When the shock passed, I slammed the car door, ran back to the fire, and told my friend everything. I started waking my loved ones telling them about the "mantis". But, they didn't believe me, even though I was apparently horrified. They even started laughing at me.
Suddenly strange noises were heard, which others also heard. It was like a very sharp click. It was all so weird and I was really scared. "
What the creature is, the author of this story did not understand. He no longer heard or saw anything strange in the park.
The following story is taken from the archive of the researcher Albert Rosales and is taking place in Poland. An eyewitness is a tourist who goes camping in the forests of the Greater Poland Voivodeship, in the western part of the country.
The woman installed her tent near a small forest lake, and then went to look around. In the evening, she returned to the tent. As she approached her, she noticed an unusual figure crouching by the lake.
At first, she though it was another tourist, surprising as this area is very isolated and away from hiking trails. But as she began to approach, about 15 steps from the figure, she realized that she was not human.
The structure of its body was humanoid but similar to an insect. At a height (in a sitting position) it was about a meter and a half, with thin long limbs and grayish-beige color. The creature had huge black eyes, similar to the facet eyes of an insect, and on the back were thin, translucent and fragile entities such as wings.
Hearing the woman approaching, the creature turned to her. She was surprised to realize that she was not alone.
The woman shares:
"It was looking at me. I also looked at it and didn't know what it was going to do. Our meeting was casual and unexpected for both of us. "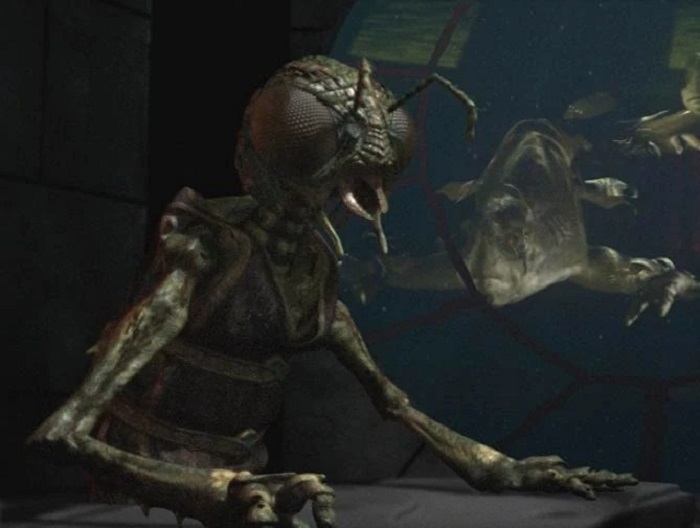 The creature quickly disappeared and the woman didn't even know where. After that, she quickly gathered her things and left the area.
The story described below happened to a resident of Ontario, Canada, and was sent to mysterious creature researcher Lon Strickler.
At the time this was happening, the eyewitness was still a child and lived with his family in a remote mountainous area.
The Canadian says:
"The summer of 1968 turned out to be very hot and stuffy. In those years, no one had air conditioning, so we just left all the windows in the house open day and night. I slept in the nursery where my older brother and sister were in addition to my bed.
One night, I suddenly woke up to some noise. I got up and went to the open window. From there, I saw a strange creature in the backyard.
This creature was squatting beside a bush, resembling both a human and an insect. It was thin, with black shiny skin. Suddenly, it looked up at me. I saw some antennas or thin needles sticking out of his head.
That's all I remember. I don't remember what happened after that. The next morning I told my mother about it, but she decided I was just having a nightmare. But in the years that followed, I saw this creature twice more at night. I'm convinced it's not a dream. "
Another story was sent to the ufology website at MUFON and describes a strange incident that occurred in April 2016 in the vicinity of Ziggy village, Cyprus. An eyewitness said that that evening, there was a friendly party in the yard of her house with sandwiches, treats and various soft drinks.
At one point, only she and her friend stayed out. The others entered the house. Suddenly, her friend noticed a flicker moving slowly across the sky. At first, the woman thought it was a comet. But, the object was moving too slowly. For a moment, she remained completely still among the stars.
In a few minutes, this object descended so low that it was near the line of the nearby tree tops. Then it became apparent that this object had a triangular shape.
The woman says:
"We wanted to get close to it, but all of a sudden, my friend and I felt paralysed. We were lying on loungers and could hardly move.
Meanwhile, a humanoid figure emerged from this ship with the head of an ant, flaky skin on the body, like a crocodile. It had many tiny eyes and weak long limbs. This creature came very close to the fence in our yard, but then turned abruptly and disappeared into the darkness. Then the triangle ship flew west and disappeared completely.
Later, my friend and I remembered that when we were lying on deck chairs and the creature was standing by our fence, there was some strange "tool" in its hands. "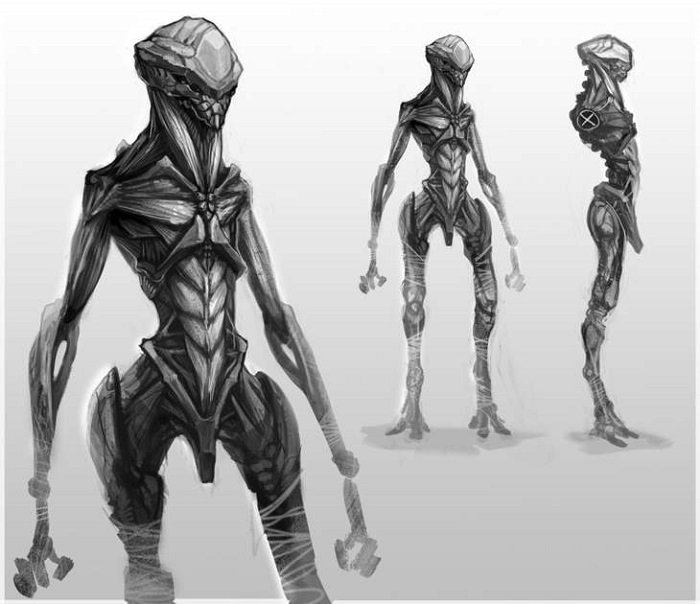 The October 8, 2017 issue of Strange Magazine published an eyewitness story that recounted an incident that occurred in 1948 in Bremen, Washington.
On her day off, Virginia Staples walked with a basket of dirty clothes to the laundry room in the basement of her apartment building. The girl regularly used washing machines in this basement and nothing unusual happened to her.
The grim cellar had long been in need of repair. In places there were holes in the walls and the floor, there were water leaks. Water was said to have seeped through the canals of the local port.
The basement looked always scary, but on this day, Virginia was especially scared. She felt a strong sense of anxiety as she went down into the basement. The light bulb barely illuminated part of the room. The rest was at dusk and the shadows seemed to be moving.
Virginia began filling one of the laundries, and the sinister sensation increased. She shares:
"I suddenly felt a lot of fear. I turned and looked at the back of the room. I froze in place. I couldn't move in fear because there was a creature in one of the holes in the floor. It had a bright orange color, its weak limbs resembled the legs of a spider, and the antennas on its head moved back and forth.
I ran out of the basement, reached my apartment, packed up all my belongings as quickly as possible, and left. I was terribly scared and couldn't even stay in this city.
I went to Seattle with my cousin. No one believes me, but God testifies to me, it really happened!