Extinction Rebellion: Climate Change Protests Aim To Crash Global Economy To Usher In MMT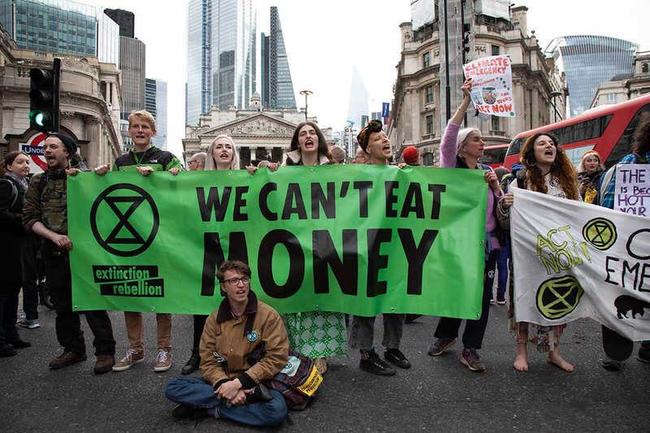 (Zero Hedge) R.T. News is reporting that 'Extinction Rebellion' protests are scheduled across 200 sites in London over the next several weeks. These protests could bring the city to a standstill as protestors demand government officials take immediate action to combat climate change.
Extinction Rebellion is expected to hold protests in 60 major cities across the world through late October. Some of the countries that could experience the most massive demonstrations are the Netherlands, Australia, Germany, Spain, France, the U.S.
These protestors have already taken over streets, blocked roadways, and disrupted public transportation in London, Sydney, Paris, and Berlin.
Trafalgar Square is completely closed to traffic.

Extinction Rebellion have set up a stage for speakers and music, first aid tent, improvised cycle lane, and snack stall.

There's also a "well-being sanctuary" in case you're feeling down. pic.twitter.com/YE6jhARVgS

— Theo Usherwood (@theousherwood) October 8, 2019
Extinction Rebellion are gloriously vibrant and peaceful protesters whether you accept or detest the disruption. I back the climate emergency urgency if fearing the tactics occasionally backfire but the good humour's welcome when Westminster's often plagued by Far Right thugs pic.twitter.com/2gNvsiNOqL

— Kevin Maguire (@Kevin_Maguire) October 7, 2019
"If we keep on destroying, we destroy what allows us to live."

'Extinction Rebellion' activists held protests around the 🌍 against climate change. Demonstrators brought London to a standstill, hundreds were arrested.

Read more: https://t.co/FmsiW0YHHR pic.twitter.com/GTRbKEPYIg

— Al Jazeera English (@AJEnglish) October 8, 2019
Extinction Rebellion's message is that climate change is an emergency that requires drastic and immediate action. And the only way to force significant policy change is to shut down parts of major infrastructure, like roads, bridges, highways, rail, airports, and ports.
"Extinction Rebellion is widely credited with accelerating policy change in the U.K.," said Robert Falkner, a fellow at Chatham House.
The group's tactics are already causing severe economic and social disruptions in major cities across the world. While specific demands are wildly unrealistic, it seems that there's a more sinister agenda at play.
The plan is to crash the global economy by unleashing climate change protestors into the streets to shut down critical parts of infrastructure. While protestors think they're in the streets to save the planet — they're really causing mini-economic shocks in cities across the world, simultaneously. These shocks are occurring in a period where the global economy has already opened up into a cycle of vulnerability, indicating the world could be one or two shocks away from a severe economic downturn.
If Extinction Rebellion succeeds in shutting down streets across the world in the next several weeks, then it could certainly point to slower economic growth for the world through year-end.
And what's the reason behind climate change protestors shutting down cities and causing economic shocks across the world? Well — it's all about crashing the global economy to install a new economic model called Modern Money Theory (MMT) that will transition the world economy into the new green era.
 "One of the obstacles that has been listed to stopping climate change is having enough money to transition away from fossil fuels and heal the damage done to our environment. It is true that in the way we currently run our economy that is not possible.We know that it's still possible to avoid the worst impacts of climate change if we transition to renewable energy sources without delay. We know that we can contribute to a just and equitable society with dignity for all, if we build this green infrastructure as rapidly as possible" said One Sustainable Planet.
So now you know the master plan of the elites, create social-economic chaos, crash the global economy, probably blame it on the trade war, then implement MMT and transition the global economy into a new green era. Buckle up; volatility is here.
The news is important to all people because it is where we come to know new things about the world, which leads to the development of more life goals that lead to life wisdom. The news is also serves as a social connection tool, as we tend to relate to those who know about and believe the things we do. With the power of an open truth-seeking mind in hand, the individual can grow wise and the collective can prosper.
Latimeria found, lived on our planet long before the dinosaurs
The unique fish Latimeria chalumnae, also called "Coelacanth", lived on our planet long before the dinosaurs. They were long thought to have disappeared around the same time, about 65 million years ago.
However, after 1938, when the first Latimeria was officially discovered by chance, it turns out that the Latimerians did not die, but live in the deep waters off the east and south coasts of Africa.
Later, a second type of Latimeria was discovered in Indonesia.
The oldest fossils of Latimeria are 360 ​​million years old, and the "freshest" are 80 million years old. At the same time, it should be known that there were a huge number of Latimerians, at least 90 different species. They have been distributed worldwide, in sea and fresh waters.
Latimeria stand out against the modern fishes with their unusual fins, more like limbs, and a wedge-shaped tail. Their bodies are covered with solid scales, similar to armor.
Latimeria are pretty big fish. They can reach up to 2 meters in length and weigh up to 90 kg. At the same time, the fact that no one has found them for so long is amazing.
Even after this species has been officially recognized as being extant, the Latimeria is still rare and can only be found through specific monitoring in the waters where it has been observed.
Latimeria swim slowly and feed on cephalopods and deep-sea fishes. Often, they were discovered in groups in underwater caves. They live to about 48 years. Females give birth to live individuals after a long pregnancy of 13 months.
The history of the Coelacanth is the cornerstone that supports the belief of many cryptozoologists that the mysterious Yeti, sea monsters, Chupacabra and other cryptids, actually exist, but simply have not yet been found.
At least two species of Latimeria, and perhaps more, have survived to this day without hiding at all. In addition, as mentioned above, Latimeria's "freshest" fossils date back to 80 million years.
Just imagine this huge period of time during which archeologists have not found a single skeleton of Latimeria, even though they existed all this time.
According to some reports, there are populations of 300-400 individuals near the coasts of Africa and Indonesia. This comes after several years of increased illegal fishing. In the 1980s, the Latimerians were hunted (supposedly) because of the healing properties of their meat, and before that there were probably several thousand of them.
But if they were initially much smaller, they would probably never have been discovered at all, still considered extinct.
And the rare stories of local fishermen about "fish with a foot and a shell " would be considered the same fiction as the stories of Africans about living dinosaurs.
Humpback Whales Have Made a Stunning Recovery After Coming Close to Extinction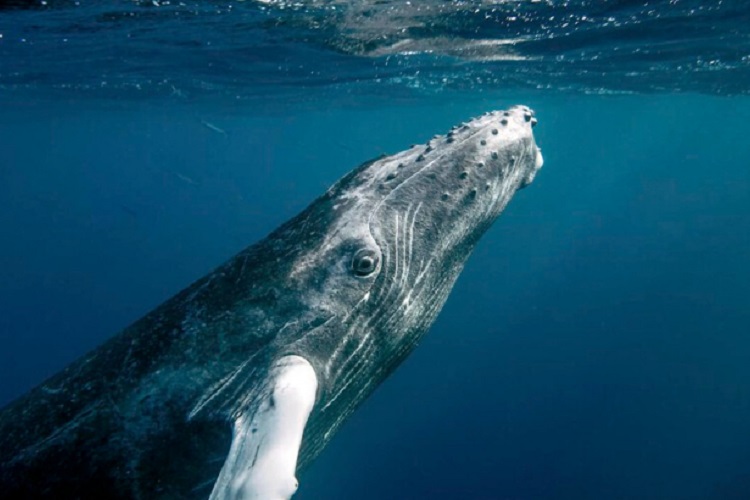 Elias Marat, The Mind Unleashed
After coming dangerously close to the brink of extinction, the humpback whale population in the South Atlantic Ocean has made a stunning rebound, according to scientists.
Around 60 years ago, it was estimated that the western South Atlantic (WSA) humpback whale population had been thinned out to less than 500.
The heartbeat of a blue whale is recorded for the first time
Blue Whales can survive with two beats per minute in the ocean depths and now for the first time heartbeat of a blue whale is recorded.
When a blue whale feeds, it skips several heartbeats, sometimes up to 30. this is what a team of marine biologists has discovered after being able to record the heartbeat of a blue whale, on the coast near California. To do this, a suction pulse monitor was placed on his back.
The researchers watched as the marine giant emerged and submerged again for a period of almost 9 hours, alternately filling its lungs with air and its stomach with appetizing schools of fish hundreds of meters below the surface.
During the dives, the whale's heart has brutal ups and downs, pumping from 34 times per minute on the sea surface to only 2 per minute at the deepest depths – between 30 and 50% slower than expected to be recorded.
According to the new study published in PNAS, the simple act of opening the mouth to eat takes the heart of the cetacean to its physical limits, something that could explain why there are no creatures larger than the blue whale on the planet.
"Animals that function at physiological extremes can help us understand the biological limits of size," said lead author Jeremy Goldbogen, an assistant professor at Stanford University in California. "In other words: if the heart of a whale is not able to pump faster during the effort required in the search for food, how could it support the heart of an older animal and provide the required energy?"
The largest animal in the world Blue Whale
Blue whales are the largest creatures that have ever inhabited the oceans (the Patagotitan mayorum dinosaur was consecrated as the largest terrestrial creature that has stepped on the planet, after its study and classification in 2014 ).
Upon reaching adulthood, the blue whale can be more than 30 meters long, more or less the length of two school buses parked one after the other. It takes a big heart to drive a beast of such size; and while this organ is not so large that a human can swim inside one of its arteries, as an urban myth says, the truth is that stranded whales have allowed hearts to recover up to 200 kilograms and the size of a golf cart .
Scientists already knew that the pulse of these cetaceans decreased in the aquatic environment. When mammals submerge, their bodies automatically begin to redistribute oxygen; The heart and brain are the ones that most demand oxygen, while your muscles, skin and other organs receive less. This allows animals to stay underwater for longer with a single inhalation, resulting in a lower than normal heart rate. This is so true for humans who like diving as for blue whales, however, given the enormous size of the whale and its ability to reach 300 meters below the surface, their hearts are pushed to limits beyond our own. .
Change in the heartbeat of a blue whale with change in depth
In the creature studied, its maximum immersion lasted 16.5 minutes, reaching a depth of 184 meters. On the other hand, he never spent more than 4 minutes on the surface to fill his lungs with air.
The sensor set by the scientists showed that in the deepest dives, the heart of the whale beat at an average rate of 4 to 8 times per minute, with a minimum of only 2 beats per minute. "During these beats that were so temporarily separated, the flexible aortic artery of the animal contracted to maintain a slowed movement of the oxygenated blood through the body," the researchers write.
Back on the surface, the heart rate accelerated rapidly to 25 to 37 beats per minute, charging the bloodstream with enough oxygen to support the next dive. "At that time the heart of the whale was working near its physical limit," the authors add. "It is unlikely that your heart can beat faster than that."
Source: Live Science