Expedition Bigfoot' scours Oregon woods for signs of the mythical and elusive beast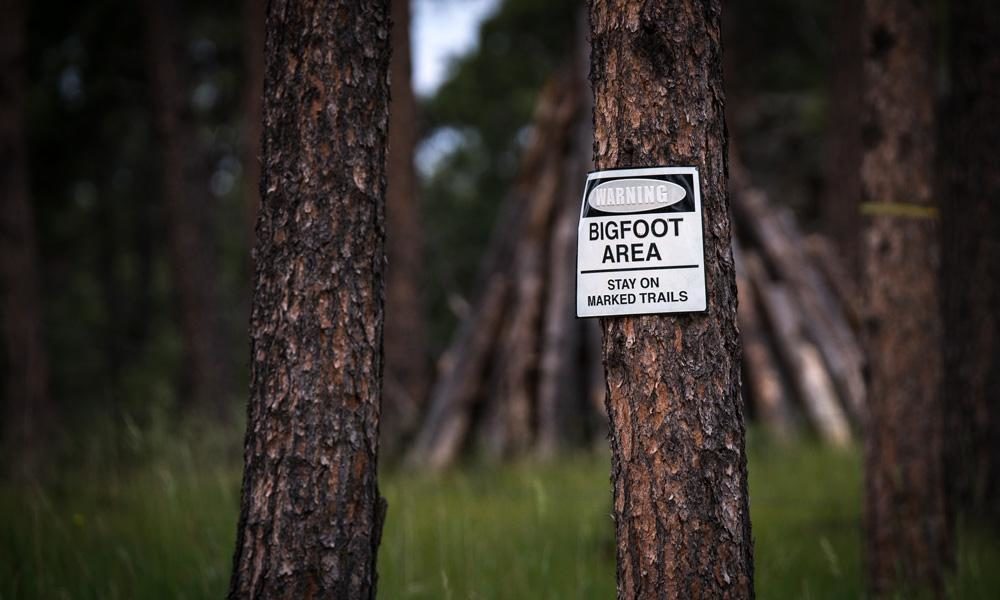 Mindy Weisberger
LiveScience
A man crouches on the Oregon forest floor late at night, peering between the trees for signs of nocturnal life. The scene is pitch-black but his face and hands are visible in infrared footage, and he scans the landscape with a thermal camera, looking for a heat signature that would indicate he isn't alone.
Suddenly, a red blob emerges in the distance.
"Do you see that?" he whispers. "It's something big."
But could it be Bigfoot, North America's fabled apelike creature? That's the question this man — author and explorer Russell Acord — and his colleagues are trying to answer, in the new Travel Channel documentary series "Expedition Bigfoot," premiered on Dec. 8 at 10 p.m. ET/PT.
More than 10,000 eyewitness accounts have described Bigfoot encounters in the continental U.S. over the past 50 years. Bigfoot even has an FBI file that was released to the public on June 5; in 1977, the agency examined 15 unidentified fibers that were suspected of being Bigfoot hairs. But the hairs were eventually found to be "of deer family origin," FBI Assistant Director Jay Cochran, Jr. wrote in a letter.
Now, Travel Channel searchers are hot on the trail of the bipedal beast, bringing the hunt to the Pacific Northwest, where about one-third of all "Bigfoot" encounters have taken place.
In the series, a team of experts — including a primatologist — embarked on a three-week search for the elusive Bigfoot. Using state-of-the-art equipment and computer algorithms, the team analyzed footprints and possible nest sites, and recorded mysterious vocalizations at Bigfoot "hotspots" around 90,000 acres of land in central Oregon, Travel Channel representatives said in a statement.
© Travel Channel
Primatologist Mireya Mayor has searched for rare and elusive animals in remote locations around the world.
Hairy and apelike
Purported Bigfoot sightings often describe a tall, hairy creature resembling a gigantic ape that walks on two legs. An enormous primate known as Gigantopithecus — standing 10 feet (3 meters) tall and weighing up to 595 lbs. (270 kilograms) — once lived in Southeast Asia, but it went extinct hundreds of thousands of years ago. And large, hairy animals such as woolly mammoths and rhinos roamed North America during the Ice Age. But to date, there is no fossil evidence showing that large primates other than humans ever inhabited North America, said primate researcher and "Expedition Bigfoot" team member Mireya Mayor, director of the Exploration and Science Communications Initiative in the College of Arts, Sciences and Education at Florida International University.
However, the idea that a new type of undiscovered primate could be hiding in dense woodlands in North America "is totally within the realm of possibility" as long as the animals have food, shelter and a habitat that isolates them from humans, Mayor told Live Science. In fact, chimpanzee researcher Jane Goodall said in a 2002 interview that she wouldn't dismiss the possibility that such creatures might be real.
"I'm a romantic, so I always wanted them to exist," she told NPR host Ira Flatow.
Big and small
In 2001, Mayor co-discovered a new species of tiny mouse lemur that is one of the world's smallest primates, weighing less than 2 ounces (57 grams). Small animals can be hard to spot in the wild, but even a very big primate such as the reported Bigfoot could conceal itself from humans quite effectively, Mayor added.
"We've seen that throughout history with other apes," she explained. "When I went in search of western lowland gorillas, because of the dense vegetation that they live in [and] the fact that they're not habituated and in fact avoid humans at all costs, there were times where we were no more than 3 feet [1 meter] away from a 450-lb. [204 kilograms] silverback, and didn't know that it was there for a good hour or two."
As Mayor reviewed eyewitness accounts of possible Bigfoot sightings, one thing that stood out was the consistency of the descriptions: a large, bipedal creature with primate-like behavior. "And when we were in the field, we were able to capture something on video that fits this description: very big and moving in an apelike — if not bipedal — fashion," Mayor said. "That, to me, is probably the most compelling piece of evidence that I've seen so far."
Mayor shared this footage with a fellow primatologist who has studied living primates around the world and is familiar with all known forms of primate locomotion.
"When he saw the footage, he was completely blown away and agreed with me that something apelike was far from its home," Mayor said.
The burden of proof
Compelling though this new evidence may be, only a recovered body or genetic data from organic tissue, feces or hairs could definitively establish this fabled creature as a newfound species. Scientifically describing any new species means establishing a holotype — a single physical specimen representing the species, according to paleontologist David Hone, a senior lecturer in zoology with the School of Biological and Chemical Sciences at Queen Mary University of London.
Describing the new species also requires a detailed outline of behavioral, anatomical, and genetic features that establish the animal's uniqueness and set it apart from its close relatives, he wrote for the Guardian.
To date, physical evidence supposedly representing Bigfoot has consisted primarily of hairs, and all of those samples that underwent genetic analysis have belonged to existing animals. In 2014, researchers examined 36 "Bigfoot" hair samples collected around the world, linking most of the hairs to raccoons, horses, deer, cows, coyotes, a Malaysian tapir and even humans.
Intriguingly, two samples did not belong to any known species. However, the DNA data showed that the mystery hairs didn't come from primates, and they likely belonged to unknown bear species, the scientists reported in their study, published in March 2014 in the journal Proceedings of the Royal Society B.
A creature assembling a Mermaid discovered in Antarctica: Google Earth user provides evidence
A Google Earth user spoke about the incredible discovery that he managed to make in Antarctica. Thanks to the rather rapid melting of the ice, he managed to consider a strange creature in one of the images received.
He claims to have found a frozen mermaid in the ice, or a "sea creature resembling a mermaid." YouTube user Florida Maquis claims that the mermaid is by no means a natural geological formation.
The man believes that either a mermaid or some obscure sea creature froze in the ice, which very much resembles a popular mythical creature. At the same time, the user is trying to prove that his find has absolutely nothing to do with natural formations of a geological nature. The user is sure that this is some unusual creature from mythical stories. He says:
"I found in Antarctica many different things that seem to be sea creatures. I think that due to the melting of snow and ice, the mermaid became visible, its shape simply cannot be explained by ice crumbs or snow." The coordinates of the mermaid-like object are 76 ° 52'51.92 "S 145 ° 42'4.27" W.
The video above was posted online with confirmation of the man's words. It was watched by several thousand people who commented on what they saw. Most users are sure that the video does not contain a mermaid, but, for example, a walrus. Some believe that this may turn out to be a dolphin of a sufficiently large size. Some say it could be a Ningen. The author also found support from some users who have no doubt that the mermaid is depicted in the frames.
Ningen: A Humanoid Monster Hiding in the Antarctic
Since the early 2000s, there have been rumors of a creature allegedly spotted by Japanese researchers in the Antarctic. Since the appearance of the first messages, interest in this mysterious creature has grown, fueled on the Internet by alleged photos and videos. The creature was named Ningen, a Japanese term meaning "man."
First observation
It is unclear when the Ningen was first seen, but the most popular version of this appears to come from a 2chan blog post. The blogger claimed to have collaborated with a whale-owned state research institute. He was allegedly told the story of a meeting with a mysterious creature. The crew initially suggested that it was a foreign submarine. However, when an unknown large object approached, the sailors realized that it was a living creature.
This topic gained great popularity, which only increased when an article about Ningen was published in 2007 in the Japanese magazine MU, devoted to paranormal phenomena. The article deserves attention not only because of the growing interest in Ningens in Japan, but also because it contained an image of Google Maps, which, presumably, was this creature.
After the article was published, numerous photos and videos began to appear on the Internet, which allegedly depict the creature. Some photos of Ningen can be traced at least until 2006, which suggests that these images may have preceded the creature's popularity.
Appearance
Judging by eyewitnesses, the length of the Ningen is estimated at 20-30 meters. It is completely white and has a human shape. Messages diverge depending on whether he has legs, five-fingered hands or even fins, a tail, like a mermaid or tentacle. Eyewitnesses seem to agree that Ningen does not have any distinctive features that could be spoken of, although he has a mouth and eyes. In a Gaia.com article, the creature, in particular, is described as "with a small slit-like mouth and two empty eyes ."
Conspiracy
There is no convincing evidence to support the existence of Ningen. However, since in most cases an unidentified creature may be mentioned, this did not stop the rampant speculation on the Internet.
The most popular rumor spreading about the Ningen is that the Japanese government actually took messages about the creature seriously, but hid all the real evidence. But why should the Japanese government do this?
One theory is that Ningen, whatever it may be, is capable of producing a rare chemical compound that has healing properties, or that it is very toxic, and the government intends to investigate this creature.
Some went even further with this conspiracy theory , suggesting that numerous low-quality photos and videos are in fact a government disinformation campaign in an attempt to discredit factual evidence of Ningen.
However, the lack of high-quality photographs was also explained by the fact that the observations appear to occur most often at night, which complicates their documentation.
There were also rumors that men in black came to eyewitnesses. This, of course, is not confirmed (because "men in black" would not be true professionals if there was convincing evidence of their visits), and it is unclear whether this implies that the Ningen is of alien origin?
Explanations
Due to the alleged elusiveness of Ningen, cryptozoologists were not able to directly study the creature. Because of this, all information comes from eyewitnesses and photo and video evidence, often of poor quality, such as the following:
Based on available data, some suggest that Ningen cannot be a living creature at all, as many photos of the creature look more like blocks of ice. Those who think that Ningen is a living creature consider him a giant albino stingray, white whale or beluga whale. Some explanations have gone so far as to suggest that it could be a water sloth or even a mermaid, an alien, or some previously unknown species of aquatic humanoids.
Those who do not believe in the existence of Ningen have been suggested that the stories of this creature are just a modern embodiment of old tales of sea monsters.
Ningyo
Some experts made a connection between the stories of Ningen and Ningyo, a creature from Japanese folklore.
Ningyo is a term meaning "human fish", although it is often translated as "mermaid". This fish-like creature is described as having a monkey mouth, small teeth, golden scales and a quiet, flute-like voice.
It is very tasty, and the use of its meat in food significantly increases a person's life span. However, they say that catching a ningyo brings storms and misfortunes, so if a fisherman ever caught a ningyo, he usually released it back into the sea to avoid possible consequences. Seeing a ningyo ashore is considered an omen of war or some other great calamity.
Perhaps, given that rumors about Ningen originate on a Japanese site and are further popularized by a Japanese magazine, they may turn out to be a modern interpretation of folklore about Ningyo.
So what (or who) is Ningen? Well, that could be pretty much anything. Personally, we are inclined to believe that this is a natural evolution of ancient folklore, adapted to modern times. But, true, this is not as interesting as a giant monster hiding somewhere in the waters of the Antarctic.
Orang Ikan – Mermaids from Indonesia
Mermaids live in the folklore of most peoples. Indonesians call their mermaids, orang ikan. The orang in translation from the local language is "man", and Ikan is "fish".
Where do Orang Ikan live?
They chose for themselves the Kai Islands in the province of Maluku. These islands are famous for their white sandy beaches, amazingly clear water and are a real gem.
In 1943, when the Japanese landed there, the soldiers immediately began reporting that they were observing some strange creatures. Those were seen in coastal waters, looked like a man, especially the face and hands.Their mouth was described as very wide and similar to the mouth of a carp.
They barely reached one and a half meters, their skin was pink, and on their head were some spikes. At the same time, unlike the classic mermaids, they had ordinary human legs, not fish tails.
These creatures swam in shallow water near the beaches. It happened that they were selected on land.
The style of their swimming seemed to the Japanese like a breaststroke. One night, one of the soldiers went swimming and saw a creature in the sand, which he at first mistook for a child.
But when it turned to face him, he saw that his features were not like human ones. Immediately after this, the creature scooted into the water and disappeared. The soldier peered into the water for a while, but the creature never surfaced.
Fishermen said that sometimes these creatures get on their nets, and the Japanese asked if this happens again, to deliver Orang Ikan to them.
Real story
One day, Sergeant Taro Horibu was called to the village, where, as it turned out, a dead fish man was found on the shore. The creature was picked up and brought to the elders' house, where Horibu was able to examine it.
"It was 160 centimeters tall, had long dark hair with a reddish tinge. His neck was covered with spikes, his face seemed to the Japanese like a monkey face with a wide fish mouth, in which there were a lot of small sharp teeth. Between the fingers and toes the fishman's membranes were stretched, and the body was dotted with strange growths that looked like algae "
– Horibu said.
Sergeant Horibu said the creature was not like anything known to him. Unable to photograph or sketch the creature, he limited himself to oral stories, but many considered him a liar or an inventor.