Ex-CIA Pilot Claims: The Moon Has Over 250 Million Citizens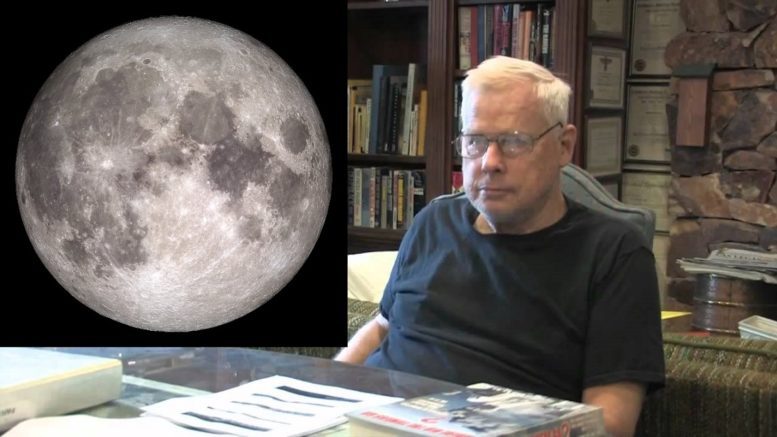 A former CIA pilot shocked the public with his statement that the Moon is actually a livable place with over 250 million citizens.
The former CIA pilot, John Lear, has been quite famous among the conspiracy theorists.
"Everything you heard about the Moon is a lie," exclaimed Mr. Lear.
He said he has discovered secret structures on the Moon and furthermore, showed some images that allegedly show proof of these artificial formations.
Amateur astronomers have recently recorded something that looks like a holograph projection of the Moon's surface.
There are many conspiracists that believe that some kind of a science or technology is hiding the structures on the moon. So, this holographic technology might actually be the one that covers them up.
The first visits to the Moon most probably happened thanks to the Tesla's antigravity craft.
I can't prove this of course or I'd be dead already.  I can't show you a picture of the USS Enterprise up there now.  It's just what makes sense knowing the technology gained after the US government pumped billions or trillions into all of Tesla's research," claims Lear.
In Lear's video, you can observe some photos taken from an observatory in 1946. They apparently show a big catastrophe that happened north-west from the Endymion crater.
He further continues explaining how the Moon was made inside of Jupiter 40 million years ago. Allegedly, during the last ice age, 15,000 years ago, the electromagnet trajectory was stuck in the Earth's orbit. Thus, he claims, the big cities, civilizations and bases on the Moon started showing up.
Lear described the Moon's citizens as humanoid aliens. He also said that among them there is also the race of the Greys, but they live under the Moon's surface, working in enormous laboratories.
To sound even weirder, he said that the Earth is actually a planet-prison that serves as a place for punishments. There are millions of others planets like Earth, he stated.
John Lear has some unbelievable ideas and claims, so it's not strange he is being a subject of constant jokes among the rationalists.
However, this former CIA pilot was also a former captain of the US air forces. He has operated more than 100 different planes and has many certificates that prove his expertise.
You can watch his video on this link. Don't forget to tell us your opinion.
UFO Hunter Suspects NASA Cover Up of Alien Base on the Moon
While Waring claimed that NASA is purposefully withholding the evidence pointing to the existence of extraterrestrial life and UFOs, the space agency claims that his alleged lunar discovery could, in fact, be explained by a well-known phenomenon.
Dedicated UFO hunter Scott C. Waring has announced that he discovered what looks like an "alien structure" while studying an old NASA photo of the lunar surface.
As Waring explained in his blog "UFO Sightings Daily", the structure seems to be located near the edge of one of the craters dotting the moon's landscape, adding that alleged building's estimated size is "close to 1.5-3 miles across".
"The structure looks like an oval sphere with two thick arms coming out of it. It also appears to have a few antennas or thin structures coming out of its top center. The shininess indicates it is absolutely a metallic surface", he wrote.
He also accused NASA of purposefully withholding the evidence pointing to the existence of extraterrestrial life and UFOs and subjecting the public to what he described as "mental manipulation".
According to the Daily Express, however, the space agency rebuked the claims made by Waring, attributing his findings instead to pareidolia.
"Pareidolia is the psychological phenomenon where people see recognisable shapes in clouds, rock formations, or otherwise unrelated objects or data. There are many examples of this phenomenon on Earth and in space", the newspaper quoted NASA as saying.
Earlier this month, Waring also declared that he found "the infamous ET base at Zeeman crater" while studying Google maps of the moon surface.
The UFO hunter claimed that the alleged alien base's image has been "deleted" by Google, which he insists is "100 percent proof that Google is working with the US government to hide the existence of alien life from the public".
Sputniknews
Rumors of Change on the Horizon: Child Sacrifice, Pedophilia and the Global Banking System
The following is a synopsis of several alleged efforts working against the Deep State. Some of these claims are totally unsubstantiated, a rumor. Others can be verified to some degree, but not with definitive certainty. As always discern carefully so that you don't subscribe to a fool's hope. There are many indications of change happening, the most obvious being that we the people know of these injustices and as such can personally do something about them.
Dutch Banker Ronald Bernard had reached the highest levels of the Illuminati, crashed national economies, bankrupt companies and was an expert at money laundering. As with most involved in international banking, he was involved in a Satanic cult – until while at a party, he was asked to sacrifice a child. It was then he turned into a heroic whistleblower, exposing the dark secrets of our global financial system.
Just prior to his suspicious death Bernard did a series of TV interviews uncovering the Illuminati pyramid of power. He had a simple explanation of how it functioned: "They use child sacrifices to test and blackmail members." Videos of Ronald Bernard banker
It was not surprising that Bernard didn't survive after laying bare the illegal activities of the international banking system. His Satanic group – the Ninth Circle Child Sacrifice Cult – was powerful, complicated, centuries old, based on pedophilia and blackmail for political power, organized by the Vatican and funded by US taxpayer dollars funneled through the CIA, NASA, US Inc, Queen's Bank of London and Vatican Bank to Central Banks across the globe, with activities enforced by various mafias who ran international child exploitation, kidnapping, murder, drug and gun running rings.
President Trump to the rescue. Trump was helping to take it all down by eliminating the Ninth Circle's money flow. Since 1871 the private bankers had owned and controlled US Taxpayer's funds. This month of March was expected to see the serious serving of over 74,000 sealed indictments, Military Tribunals and a US participation in a soon-to-be-implemented Global Currency Reset that would return tax dollars back for use of The People.
Haven't heard about all this? Again, not surprising. The mainstream media has refused to cover anything labeled Illuminati or Satanic – perhaps because their owners were complicit?
And, don't you get tired of the Mainstream Media's negative view of our President? I do, but then perhaps I should understand that with 74,000 indictments about to be unsealed, some of them may just name Trump's critics.
Unlike the Mainstream Media some in Congress weren't afraid to speak the truth. In a Feb. 25 interview on Fox News Congressman Trey Goudy confirmed that Military Tribunals were going on.
Actually President Trump's secret rescue of ourselves from the Ninth Circle all started the morning of his inauguration when the president-elect paid a visit to CIA headquarters. There he declared a war on international Child Sex Trafficking. One of his first official acts as president was to put an Attorney General from Utah, Robert Huber, over 740 investigators, charging them to look into the vast problem.
Since then most of Huber's over 74,000 indictments filed in federal courts across the nation were said to involve pedophilia, with perpetrators ranging from the general population to leaders in the Catholic Church, to Hollywood, to political and global elites (look for articles on Pedogate, Pizzagate, Pedowood). There have been many arrests and convictions, plus a few children rescued – most of which has gone unreported in the Mainstream Media. We really do have a problem there.
Evidently secret trials and tribunals have been going on in federal courts across the nation and at GITMO since Jan. 1. It was estimated that it would take around two years to prosecute the over 74,000 cases. There were so many pending that there wasn't enough personnel to handle it all.
On a global scale Kevin Annett and the International Tribunal into Crimes of Church and State (ITCCS) have long been attacking child kidnapping, rape and murder of the Ninth Circle. The ITCCS's protests and trials by the International Common Law Court of Justice in Brussels (ICLCJ) have led to convictions of child kidnapping, rape and homicide against the likes of Queen Elizabeth and Popes Francis and Benedict, as well as other well-know figures known to be involved in the Ninth Circle. Pope Benedict's Feb. 11 2013 conviction by six judges of the ICLCJ court was immediately followed by him stepping down as leader of the Catholic faith. See the history in these articles:http://beforeitsnews.com/contributor/pages/243/590/stories.html
Like I said, the over 74,000 cases ranged from the general population to political elites, to the Catholic Church and on to Hollywood. "The Khazarian mafia pedophile blackmail network was being dismantled" Benjamin Fulford wrote. "First Trump targeted Harvey Weinstein, then Las Vegas casino king Steve Wynn (Weinberg), then CBS titan Les Moonves, and now billionaire New England Patriots owner Bob Kraft, and more. Last week's defrocking of sex predator ex-Cardinal of D.C. Ted McCarrick was likely to be followed by the defrocking of convicted pedophile Cardinal George Pell, former head of the Vatican Bank."
The Vatican was well known for it's sex abuse problems and they weren't about to go away. Nuns were speaking out as the Catholic Church headed for another Sex Abuse Scandal: https://www.sbs.com.au/news/dateline/the-catholic-church-is-headed-for-another-sex-abuse-scandal-as-nunstoo-speak-up 
In Hollywood others like Home Alone star Macaulay Culkin were exposing Satanic Hollywood pedophiles. During the Academy Awards Culkin tweeted: "Rami Malex eats babies (Malex won Best Actor for Bohemian Rhapsody). There were 14 secret rapists in that room such as R. Kelly, Adam Levine and Keanu Reeves." https://www.youtube.com/watch?v=2PrXFlocDYU Operation Disclosure Compilations — Macaulay Culkin Exposes Big Names, Pedowood, Such Evil, Unstoppable Truth, Victimizing, Under the Radar, and More
Another regularly exposing pedophilia in Hollywood was a PEDOWOOD Facebook page: https://www.facebook.com/PEDOWOOD/
The non-profit ENOUGH.ORG reported that just this past weekend three national news stories broke of well-known figures ensnarled in allegations of criminal sexual behavior:
On Friday, R&B singer R. Kelly was arrested and charged with 10 counts of aggravated criminal sexual abuse. The alleged sexual assaults dated back to 1998. Three of the victims were between the ages of 13 and 17 at the time of the alleged crimes.
New England Patriots owner Robert Kraft was formally charged Monday with soliciting prostitution. The bust was part of a larger-scale Florida sex trafficking ring that has led to hundreds of arrest warrants.
The activities of wealthy, politically connected Florida financier Jeffrey Epstein were also back in the spotlight. The news this time revolved around his apparently light sentence after a 2008 plea deal secretly ended a federal sex-abuse investigation involving at least 40 teenage girls.
And the saga continued.
Strange cloud over Stonehenge : A strange vertical unexplainable 'cloud' appears
Stonehenge is an emblematic monument for people from all over the world. Built about 5,000 years ago, it represents the mysteries and forgotten secrets that await deciphering. Located in Wiltshire, England, three kilometers west of Amesbury, archaeologists have suggested that it could have been built using the Pythagorean theorem. Interestingly, Stonehenge dates back to 2,750 BC, long before the time of Pythagoras. It was after two millennia that Pythagoras was born to present his theory that states that the square of the hypotenuse (the side opposite the right angle) is equal to the sum of the squares of the respective lengths of the legs.
And the truth is that there are triangles perfectly aligned in Stonehenge , so it would show that the ancient humans knew perfectly the Pythagorean equation years before the legendary mathematician presented this theory. It is for this reason that one can not speak of Stonehenge without mentioning the theory of the ancient extraterrestrials. The Swiss author Erich von Däniken suggested in his book "Cars of the gods" published in 1968 that ancient religions and technologies were taught by extraterrestrial beings , who were received as gods.
Moreover, von Däniken states that Stonehenge was built by these visitors from other worlds, or at least that they provided the knowledge and technologies necessary to build it, as happened with the Pyramids of Giza and the moáis on Easter Island, between other things. And perhaps this would explain the large number of UFO sightings and supernatural phenomena at Stonehenge. But now the mystery that surrounds this place returns. Expert meteorologists and the British Ministry of Defense have been baffled by the presence of a strange cloud in an upright position on Stonehenge.
The mysterious vertical cloud
A strange spiral cloud similar to the vapor trail left by the planes has left the experts surprised. So far no one understands how the trail was formed, a kind of rippling cloud near Stonehenge and a few installations of the British Ministry of Defense (MoD).
Weather experts and MoD officials are trying to find an explanation for the unusual phenomenon. The incredible photo was taken by David Hargrave, of Sidbury Hill in Salisbury Plain, on Tuesday night. He was walking with his dogs when he saw the trail of steam , which also looks like the trail left by the launch of a rocket. David said he appeared about 50 kilometers from where he was, heading for Westbury at the northwest corner of Salisbury Plain.
"I also have no idea what it is, I hope someone has an answer," Hargrave, 66, told MailOnline . "It's a mystery."
Apparently, nearby there are MoD facilities where weapons are tested and military maneuvers are carried out. However, the Defense Infrastructure Organization, which is part of the British Ministry of Defense, said that no military tests or maneuvers were conducted in the entire area . For their part, meteorologists from the University of Bristol and experts from the drone company Somerset Drone have not been able to explain the unusual phenomenon.
Extraterrestrial evidence
Because of this, there were many who said that it was clearly the trace left by the takeoff of a UFO in Stonehenge . In addition, this would show that this ancient structure was actually built by aliens who visited our planet in the past. Moreover, its true function, debated for decades, would be to hide an extraterrestrial base within it.
These beings from other worlds were in contact with our ancestors , helping them in their technological and spiritual development, and those who worshiped them as gods. Several cave paintings around the world also confirm the theory that aliens visited Earth in the past.
Without a doubt, we are facing a really disconcerting phenomenon, as it is possible for a "cloud"to form vertically. And if we add that the meteorologists and the British Ministry of Defense have not been able to find a logical and rational explanation, we have one of the best evidences of how the Stonehenge continues to be some kind of "landing strip" for ships from of other worlds or dimensions.
What do you think about the mysterious cloud? Is it a strange and unusual natural formation? A secret military test? Or is it the trace left by a UFO?