Evil Among Us – Tales from the Warrens
I am nearly certain that most of you visiting this site have heard of Ed and Lorraine Warren. If you have not I will be honored to introduce them to you.
Ed and Lorriane Warren are considered by many well respected people in the field of paranormal study to be among the fields biggest advocates, ambassadors and experts.
Lorraine a clairvoyant who has been able to see and communicate with spirits from a very young age and Ed an ex police officer and self-taught Demonologist.
In 1952 they founded the New England Society for Psychic Research the oldest ghost hunting group in New England. They authored many books about the paranormal and about their private investigations into various reports of paranormal activity. They claimed to have investigated over 10,000 cases during their career.
Edward Warren Miney was born September 7, 1926 in Bridgeport Connecticut he joined the United States Navy on the day he turned seventeen and at one time like his father was a police officer. Ed says that he lived in a haunted house from around five years of age until around twelve. His father  would say "Ed there is a logical reason for everything that happens in this house" but as Ed would later reflect His father never could provide that logical answer.
Ed speaks of many events that took place that were simply unexplainable. When Ed was sixteen he worked as an usher at the Colonial Theater in Bridgeport and it was there that he met Lorraine Rita Moran. She was only sixteen as well.
"Lorriane and her mother would come every Wednesday night" Ed remembered  One of those nights he asked to walk her home which turned into him asking for a date that's how it started. They were both only sixteen. Ed died on August, 23 2006 in Monroe Connecticut at the age of 79.
Lorraine Rita Moran Warren was born January 31, 1927 in Bridgeport Connecticut. She learned from a young age that she was a clairvoyant. A trance medium. It was by fate that she would later become the wife of a Demonologist. When their individual powers were combined, they were second to none in their field of study. The Paranormal. Lorraine passed away just this year on April 18, 2019 at the age of 92.
THE BEGINNING
Shortly after beginning a court-ship with Lorraine Moran. Ed Warren went to serve in World War ll four months later the ship he was on sank in the north Atlantic and while home for thirty days for survivors leave the two were married.
After he returned from the war. The Warrens welcomed a daughter Judy and that's when Ed started attending Perry Art School which is a subsidiary of Yale for about two years.
He eventually parted ways unhappy with some of the instructors and there methods.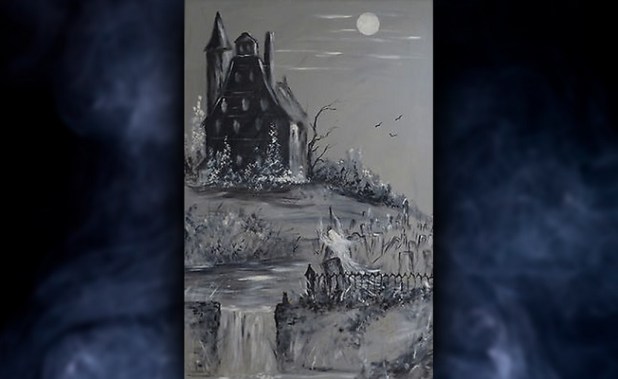 This is an interesting fact on how The Warrens began their careers in the Paranormal world. After Ed left Art school he purchased a 1933 Chevy Eagle-deluxe for a whopping $15. With this car they traveled around selling Ed's art paintings and they did pretty well.
If Ed heard of any houses or locations claiming to be  "Haunted" he would drag Lorraine a long to check it out. "Oh Ed there are no such things ghosts" she would say. Pretty funny thing for her to say considering how it all turned out.
Ed used his talent as an artist to create a painting of the, haunted house and have Lorraine deliver the final product to the home occupants. In most cases this impressed upon them enough to allow the "curiosity seekers" to come have a look around and ask some pointed questions. Ed was drawn to their experiences from his own this is basically how it all began for these two remarkable people and as time would have it they became in my opinion to this day the two most famous paranormal investigators of all time.
The New England Society for Psychic Research- was founded in 1952 and the goal at first was to simply investigate hauntings. Then one day in 1965 they were in the home of a little girl and listened to her through a deep trance medium and understood she was looking for her mommy, it was then they decided they didn't just want to experience the hauntings but wanted to help.
The Cases
Below are four of the Warrens most famous and controversial cases.
A Haunting In Connecticut
In 1986 The Snedekers rented an old house in Southington Connecticut. Allen and Carmen moved in with their daughter and three young sons. One day Carmen found some strange items that turned out to be morticians tools. The family soon discovered to their dread that the home was once a funeral parlor and the eldest son began seeing ghosts and having terrifying visions. It even went far enough that Carmen was being sexually abused by demons and called upon the Warrens for help.
The Perron Family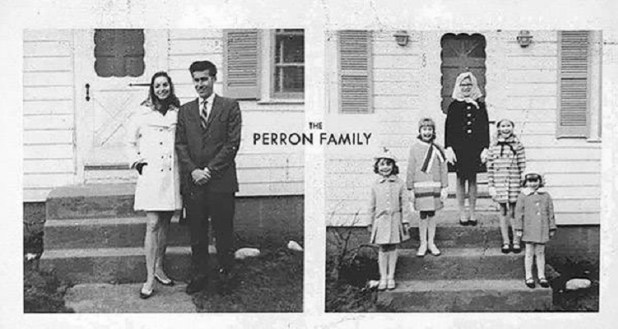 In January 1971 in Harrisville, Rhode Island the Perron family moved into a huge fourteen room farmhouse that they would claim was haunted. This home and family and what took place here would become the basis for the 2013  movie
The Perron family were being tormented by several entities that were somehow tied to the property. Including a woman by the name of Bathesheba Sherman who pushed them over the edge until Carolyn called upon the Warrens who after a long investigation and battle with the forces there were finally able to help bring the family some closure.
Annabelle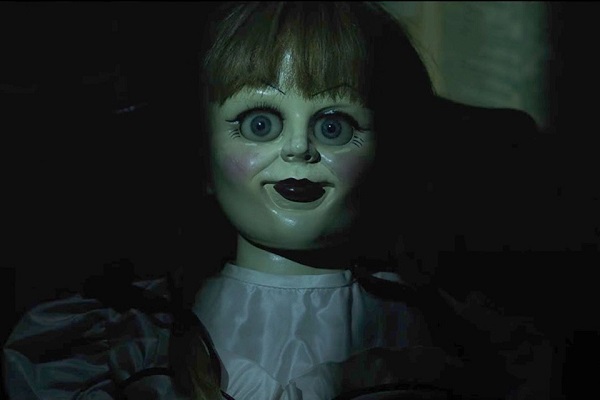 In 1968 a ragdoll was bought as a gift for a nurse named Donna by her mother for her 28th birthday. She brought it back to her apartment that she shared with a fellow nurse named Angie.
All was well at first. Until Annabelle started moving from spot to spot on her own and leaving notes. When the girls called for help a medium told them the doll was haunted by a deceased child named Annabelle. This prompted the Nurses to make a huge mistake by inviting her to stay.
After the doll attacked one of the girls boyfriends and scratched his chest. They contacted the Warrens who would order an exorcism of the apartment and take possession of Annabelle and lock her in a glass case in there Occult museum.
Amityville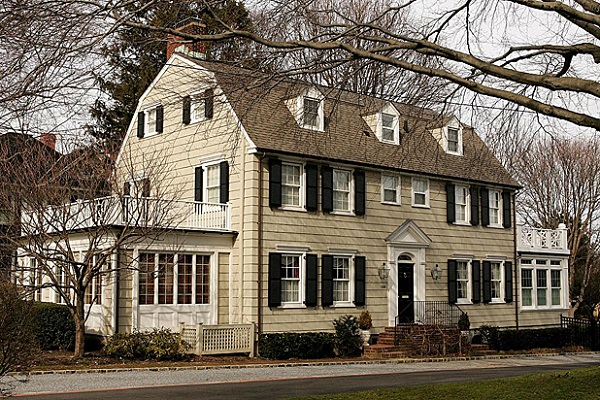 Without a doubt the most famous and controversial case taken on by the Warrens. In 1974 thirty-miles outside of New York in the Long Island town of Amityville Ronnie DeFeo Sr. A car salesman, His wife and four children, two sons and two daughters were shot to death in the family home by 23 year old Ronnie DeFeo jr. Who said voices in his head told him to.
Thirteen months later the Lutz family moved into the house at a drastically reduced price. Due to the murders. They only lasted 28 days before clearing out. There spine tingling tales of paranormal activity is what led to the legend.
So many evil things happened while they were there that 20 days after the Lutz family moved out Ed and Lorraine Warren and their team studied the home and documented several negative encounters that are well documented. They also captured this picture that they claimed to be of the ghost of a little boy
There were several critics that claimed the whole thing to be a hoax ,even though George and Kathy Lutz passed lie detector tests. I personally believe in all of these stories because I have encountered demonic forces many times in my life perhaps if given the opportunity I will be able to share some of those stories right here on this very site.
Author: Brandon C. Allen is a web-blogger and freelance writer who has written short stories and poetry for over twenty years.
Reality show to be filmed in medieval "haunted castle" in Wales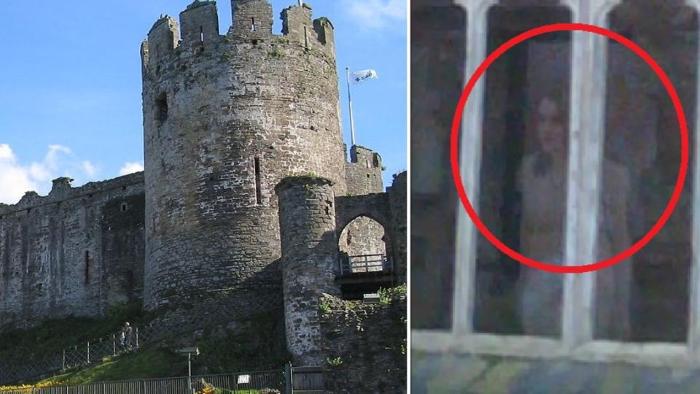 British celebrities will take part in a reality show at the medieval castle of Grich in the city-county of Conwy (Wales), which, according to legend, is full of ghosts. It is reported by The Sun.
According to data from open sources, the castle was built in 1283-1289 by order of Edward I of England. For four years one and a half thousand people erected the fortress and walls. The castle is surrounded by a stone wall with round towers and loopholes.
According to local residents, the ghost of the previous owner, Countess Dandonald, who died in 1924, wanders around the castle. According to legend, the woman's spirit is angry because her husband took the valuables out of here. 
About ten years ago, a mysterious silhouette appeared in the photo, which was noticed on the first floor of the castle in the former banquet hall. In addition, it is rumored that objects are moving mysteriously in the castle. Also, fans of everything mystical believe that there you can meet the ghosts of gamekeepers and a maid who died after falling from a horse.
The creators of the reality survival show I'm a Celebrity … Get Me Out of Here! Became interested in the legends of the ancient castle, in which celebrities perform creepy tasks. 
The producers are delighted with Greich Castle. It is planned to spend almost 1 million pounds and six weeks to prepare the location for filming.
Loftus Hall is the most famous haunted house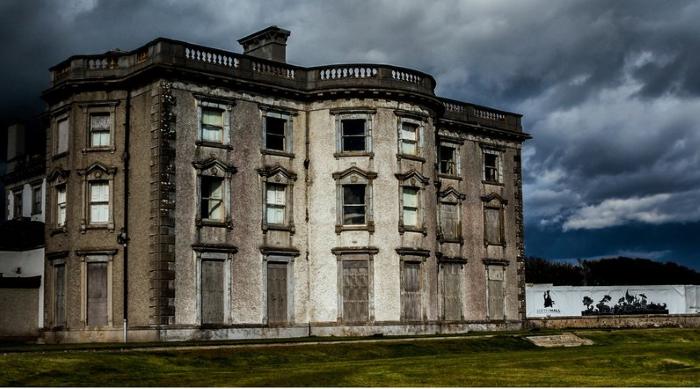 Almost any house built 150 years ago is tempting to think of ghosts. Of course, if it was not restored beyond recognition. But a special pleasure is to visit, or at least look at photographs of a house in which ghosts are definitely found. Well, exactly: in the opinion of its owners and those who live nearby.
Loftus Hall is one of those. Even if, in the opinion of the locals, ghosts were not found in it, they would be worth inventing again – this is how the atmosphere of this gloomy house located on the windswept and washed by waves of the Hook Peninsula in the Irish County of Wexford has to do this.
But, before we tell you what is so paranormal in this Loftus Hall, we suggest that you familiarize yourself with real historical events related to the house. Moreover, they are worthy of attention without any devilry.
We can say that the history of the house began in 1135, when the Norman knight, Raymond Le Gros, landed on the peninsula. To assimilate faster, the knight renamed himself the more familiar to the Irish ear by the name Redmond.
The castle, built by the knight, stood for two centuries, until in 1350 the descendants of Redmond built a new house in its place. It is interesting that they were building right during the Black Death – a plague pandemic that arrived in Ireland by ship from Bristol a year earlier. The new house, Redmond Hall, was named.
Three centuries later, in 1650, the house became the site of one of the fiercest sieges of the Irish Uprising. The owner of the house, 68-year-old Alexander Redmond, with his two sons, a couple of local activists and a tailor who happened to be in the house at an unfortunate time, barricaded himself and bravely repulsed the attack of almost 90 British for several days.
In all fairness, most of these Englishmen have crawled into neighboring villages, indulging in robbery and violence, instead of laying siege to an impregnable home.
The attack was repulsed with the help of the Irish forces arrived in time, which attacked the British under the cover of a thick fog, which in time fell on the Hoek Peninsula.
According to local chronicles, Alexander repelled several more attacks. When the British nevertheless conquered Ireland in general, and Redmond Hall in particular, Cromwell even let Alexander die in peace in his own house – for his courage.
Well, after the death of Redmond, his relatives were evicted from the house and soon the house was sold to a family of Englishmen named Loftus, who live nearby.
Subsequently, the Redmond repeatedly tried to sue Loftus Hall back, but to no avail. But as compensation, they were given land in the neighborhood.
The Loftuses moved rapidly up the court stairs. If in the 18th century the head of the family was called Baron Loftus of Loftus Hall, then already in 1800 the title of Marquis of Eli was created especially for the Loftus.
Actually, the 4th Marquess of Ely gave the modern look to Loftus Hall. A major renovation was undertaken by the Marquis in the second half of the 19th century: he very much hoped that Queen Victoria would come to visit. After all, the Marquis's mother was her maid of honor!
The Queen never came. But the 4th Marquis of Ely became the owner of a luxurious house with such unprecedented conveniences as flush toilets at that time. And, alas, the owner of huge debts. Soon the house had to be sold and its wanderings began among different owners.
In 1917, the house was sold to the monastery order of the Sisters of Providence. In 1983, the house was converted into a hotel. Well, in the early 2000s, it was acquired by the Quickly family. In 2020, it became known that the house was again put up for sale. Moreover, Quickly emphasize that they will not choose a new owner, but "the house will choose him." And that's why…
The story of how the devil sailed to Loftus Hall and what happened after his visit dates back to the 19th century. It sounds like this.
On a cold rainy night, a dark-robed rider rode up to Loftus Hall on a dark horse. He said that his ship was caught in a storm and had to dock in a nearby bay. The Loftuses were away, the family of their distant relatives, the Tottenham, lived in the house. They sheltered the rider and offered him shelter and bread.
Tottenham's daughter, young Anna, immediately fell in love with a mysterious stranger. A couple of days later, in the evening, everyone sat down to play cards. During the game, Anna dropped the map and, bending down to pick it up, saw that the stranger had cloven hooves instead of legs.
The stranger realized that he had been discovered. He immediately soared up, surrounded by devilish flames – and, as expected, made a huge hole in the roof.
It would seem that the devil is expelled, you can live on. But Anna, after the disappearance of the stranger, became not herself. She went crazy by leaps and bounds. The family, frightened by this development of affairs, locked the girl in her favorite sewing room.
There Anna sat, almost motionless, clasping her knees with her hands and soon died.
According to another version of the legend, before her death, she managed to give birth to a child – that is, the devil did not lose time during two days in the house.
Anna was not buried in an ordinary coffin: they could not straighten her and buried her in a sitting position, in which she spent the last months of her life.
Since then, according to numerous testimonies of guests and owners of the house, ghosts of a girl have been walking around the house. And the house itself has become a place of attraction for lovers of everything paranormal and creepy – excursions, especially popular on Halloween, are regularly conducted in Loftus Hall.
If you consider yourself a mystic, but do not have the opportunity to visit Loftus Hall yet, we recommend watching the gothic horror film The Lodgers 2017. It is filmed entirely in the luxe and eerie interiors of Loftus Hall, and has received excellent critical reviews. Here's the trailer:
The ghost of the Haycock Manor Hotel: a beautiful legend about a frequent visitor to an ancient building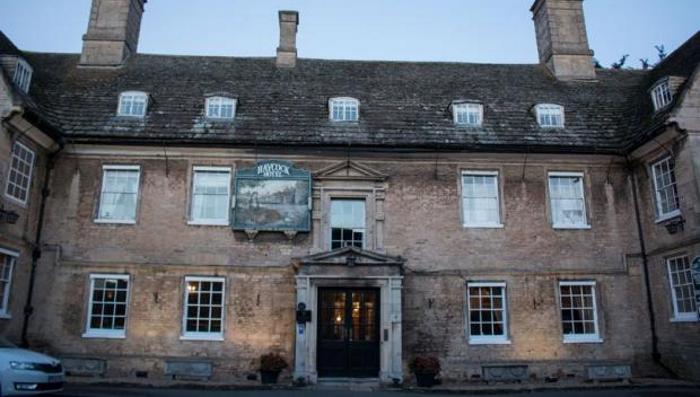 For decades, the Haycock Manor Hotel, located in the small English village of Wansford, has attracted tourists by claiming to be the home of the ghost of Queen Mary Stuart.
Mary of Scotland, aka Mary Stuart, according to legend, visited the Haycock Hotel on the way to Fotheringay Castle, where she was executed. Why, in this case, she chose a hotel in a small village as her last refuge , and not a stone castle, is anyone's guess. Nevertheless, visitors to the hotel claimed to have seen the ghost of Queen Mary, the Mirror writes.
The last resting place of Mary Stuart
Because of her intrigues against Queen Elizabeth I of England, Mary Stuart was put on trial and sentenced to death, which took place at Fotheringay Castle. On the way to the castle, Mary of Scotch stopped at the Haycock Hotel.
Despite the fact that the woman spent only one night in the hotel, this is the place she, for some reason, decided to choose as her last home. At least that's what those who encountered her ghost say.
Manifestations of supernatural powers
Many of the hotel guests, who ventured to spend the night in the last refuge of Mary Stuart, complained about strange things that happened to them.
Some guests claimed to have seen a ghost, which they identified as Mary of Scotland. Why they were so sure that the ghost was exactly Mary Stuart is not clear, because the history of England has a large number of women rulers, and it is simply impossible to remember them all.
Other hotel guests recall seeing an obscure ghostly cloud-like figure in the oldest part of the hotel. They also shared that they often encountered the feeling that there is someone else in the room – someone who cannot be seen, but can be felt.
Guests also reported that they heard quiet voices and footsteps, although there was no one else in the rooms.
Despite the fact that such stories can scare ordinary people, they are not of interest to real seekers of the paranormal, since they can easily be explained by the dilapidated state of the building.
Haycock Manor is currently closed for renovation, which means that if the phenomena of supernatural forces could be explained by the state of the hotel, then after the renovation they should disappear.