Evil Among Us – Tales from the Warrens
I am nearly certain that most of you visiting this site have heard of Ed and Lorraine Warren. If you have not I will be honored to introduce them to you.
Ed and Lorriane Warren are considered by many well respected people in the field of paranormal study to be among the fields biggest advocates, ambassadors and experts.
Lorraine a clairvoyant who has been able to see and communicate with spirits from a very young age and Ed an ex police officer and self-taught Demonologist.
In 1952 they founded the New England Society for Psychic Research the oldest ghost hunting group in New England. They authored many books about the paranormal and about their private investigations into various reports of paranormal activity. They claimed to have investigated over 10,000 cases during their career.
Edward Warren Miney was born September 7, 1926 in Bridgeport Connecticut he joined the United States Navy on the day he turned seventeen and at one time like his father was a police officer. Ed says that he lived in a haunted house from around five years of age until around twelve. His father  would say "Ed there is a logical reason for everything that happens in this house" but as Ed would later reflect His father never could provide that logical answer.
Ed speaks of many events that took place that were simply unexplainable. When Ed was sixteen he worked as an usher at the Colonial Theater in Bridgeport and it was there that he met Lorraine Rita Moran. She was only sixteen as well.
"Lorriane and her mother would come every Wednesday night" Ed remembered  One of those nights he asked to walk her home which turned into him asking for a date that's how it started. They were both only sixteen. Ed died on August, 23 2006 in Monroe Connecticut at the age of 79.
Lorraine Rita Moran Warren was born January 31, 1927 in Bridgeport Connecticut. She learned from a young age that she was a clairvoyant. A trance medium. It was by fate that she would later become the wife of a Demonologist. When their individual powers were combined, they were second to none in their field of study. The Paranormal. Lorraine passed away just this year on April 18, 2019 at the age of 92.
THE BEGINNING
Shortly after beginning a court-ship with Lorraine Moran. Ed Warren went to serve in World War ll four months later the ship he was on sank in the north Atlantic and while home for thirty days for survivors leave the two were married.
After he returned from the war. The Warrens welcomed a daughter Judy and that's when Ed started attending Perry Art School which is a subsidiary of Yale for about two years.
He eventually parted ways unhappy with some of the instructors and there methods.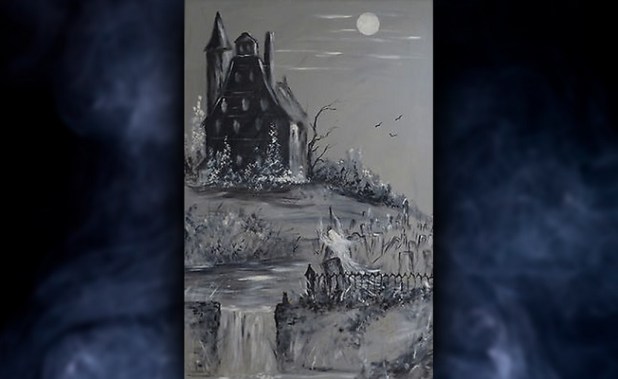 This is an interesting fact on how The Warrens began their careers in the Paranormal world. After Ed left Art school he purchased a 1933 Chevy Eagle-deluxe for a whopping $15. With this car they traveled around selling Ed's art paintings and they did pretty well.
If Ed heard of any houses or locations claiming to be  "Haunted" he would drag Lorraine a long to check it out. "Oh Ed there are no such things ghosts" she would say. Pretty funny thing for her to say considering how it all turned out.
Ed used his talent as an artist to create a painting of the, haunted house and have Lorraine deliver the final product to the home occupants. In most cases this impressed upon them enough to allow the "curiosity seekers" to come have a look around and ask some pointed questions. Ed was drawn to their experiences from his own this is basically how it all began for these two remarkable people and as time would have it they became in my opinion to this day the two most famous paranormal investigators of all time.
The New England Society for Psychic Research- was founded in 1952 and the goal at first was to simply investigate hauntings. Then one day in 1965 they were in the home of a little girl and listened to her through a deep trance medium and understood she was looking for her mommy, it was then they decided they didn't just want to experience the hauntings but wanted to help.
The Cases
Below are four of the Warrens most famous and controversial cases.
A Haunting In Connecticut
In 1986 The Snedekers rented an old house in Southington Connecticut. Allen and Carmen moved in with their daughter and three young sons. One day Carmen found some strange items that turned out to be morticians tools. The family soon discovered to their dread that the home was once a funeral parlor and the eldest son began seeing ghosts and having terrifying visions. It even went far enough that Carmen was being sexually abused by demons and called upon the Warrens for help.
The Perron Family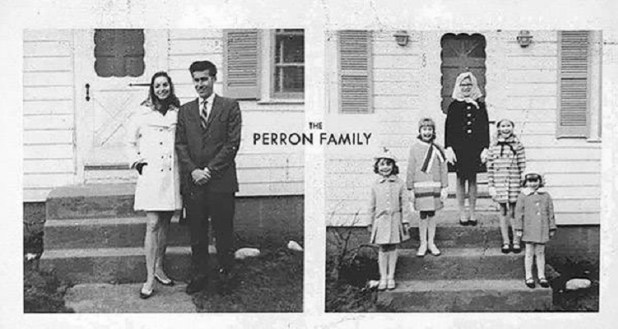 In January 1971 in Harrisville, Rhode Island the Perron family moved into a huge fourteen room farmhouse that they would claim was haunted. This home and family and what took place here would become the basis for the 2013  movie
The Perron family were being tormented by several entities that were somehow tied to the property. Including a woman by the name of Bathesheba Sherman who pushed them over the edge until Carolyn called upon the Warrens who after a long investigation and battle with the forces there were finally able to help bring the family some closure.
Annabelle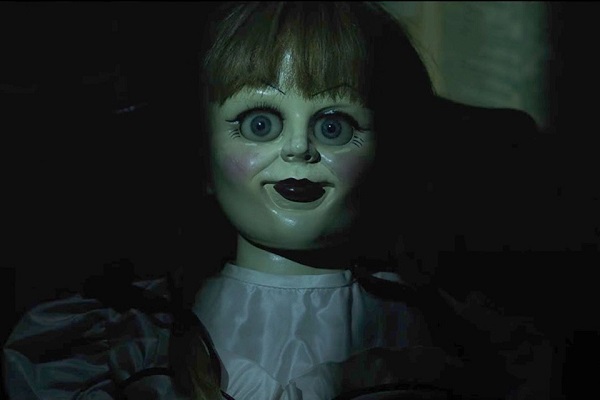 In 1968 a ragdoll was bought as a gift for a nurse named Donna by her mother for her 28th birthday. She brought it back to her apartment that she shared with a fellow nurse named Angie.
All was well at first. Until Annabelle started moving from spot to spot on her own and leaving notes. When the girls called for help a medium told them the doll was haunted by a deceased child named Annabelle. This prompted the Nurses to make a huge mistake by inviting her to stay.
After the doll attacked one of the girls boyfriends and scratched his chest. They contacted the Warrens who would order an exorcism of the apartment and take possession of Annabelle and lock her in a glass case in there Occult museum.
Amityville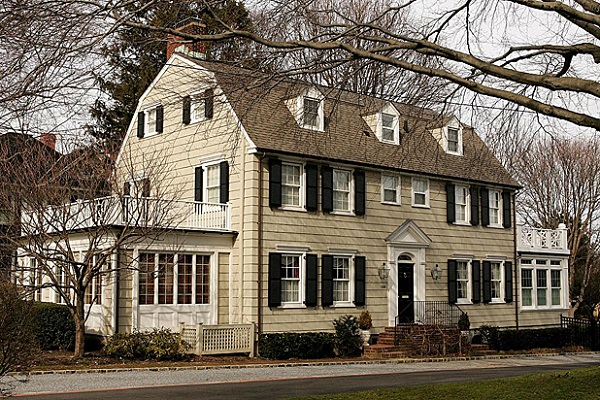 Without a doubt the most famous and controversial case taken on by the Warrens. In 1974 thirty-miles outside of New York in the Long Island town of Amityville Ronnie DeFeo Sr. A car salesman, His wife and four children, two sons and two daughters were shot to death in the family home by 23 year old Ronnie DeFeo jr. Who said voices in his head told him to.
Thirteen months later the Lutz family moved into the house at a drastically reduced price. Due to the murders. They only lasted 28 days before clearing out. There spine tingling tales of paranormal activity is what led to the legend.
So many evil things happened while they were there that 20 days after the Lutz family moved out Ed and Lorraine Warren and their team studied the home and documented several negative encounters that are well documented. They also captured this picture that they claimed to be of the ghost of a little boy
There were several critics that claimed the whole thing to be a hoax ,even though George and Kathy Lutz passed lie detector tests. I personally believe in all of these stories because I have encountered demonic forces many times in my life perhaps if given the opportunity I will be able to share some of those stories right here on this very site.
Author: Brandon C. Allen is a web-blogger and freelance writer who has written short stories and poetry for over twenty years.
The Mirror Lake Michigan Hauntings
Ideally, institutions of higher learning are environments where young people who are first stepping out on their own are encouraged to become independent thinkers and dynamic individuals.
In the face of so much newness, university and college culture often develops systems of ritual and ceremony which provide a contrast to this independence as well as comfort and structure to students as they transition into adulthood.
This week is, typically, when many students at The Ohio State University would be participating in one of it's best known rituals: jumping into a freezing Mirror Lake prior to a football game with it's biggest rival, The University of Michigan.
Why jump in an ice cold lake in support of your school football team? The tradition seems to have it's origins in a turn of the century hazing practice where upperclassmen would assert their dominance by tossing freshmen into the lake.
This became a common occurrence during "May Week", an annual demonstration of school spirit. As the rivalry between Ohio State And Michigan State grew, May Week activities slowly shifted to the increasingly popular "Beat Michigan Week" and the tradition of voluntarily throwing oneself into the lake was born.
The idea of young people being cast into a lake before an important event has been around for centuries. The Aztec, Mayan, Celt and early Nordic cultures all participated in this practice as an offering to their gods during significant times of the year, and although the young people they hurled into the water were victims of human sacrifice, the Mirror Lake Jump certainly invokes thoughts of these ancient rituals.
In fact, it was the tragic death of a 22 year old Dayton man during the 2015 jump that caused the University to put a stop to the practice once and for all. My heartfelt condolences go out to the family of this young man.
According to the campus rumor mill, this wasn't the only time this type of tragedy has occurred. Stories persist of a member of the Alpha Omicron Pi sorority that broke her neck during a Mirror Lake jump in the 1980s.
The legend states that her fellow sorority sisters carried the body back to the house and hid her to avoid the repercussions of underage drinking gone horribly wrong. Ever since, many have claimed to hear screaming and splashing in the waters of the lake only to see it's surface mirror smooth when they turn to find the source of the commotion.
Another tale tells of a jogger that was killed near the lake during a mugging. This young man is said to be seen running by the lake, looking over his shoulder, before vanishing into thin air.
The most commonly spotted and well-established ghost of OSU goes by the name Lady of the Lake. Since the 1920s people have witnessed the apparition of a woman in turn of the century clothing glide across Mirror Lake on cold, wintry nights and mornings.
Some believe her to be a mysterious ice skater, but most know her as the wife of Frederick Converse Clarke.
Clarke was a professor of economics and sociology that lost all his money when he invested in a Georgia Gold Mine project that failed miserably. Aside from the obvious blow to his credentials as a professor of economics, the financial ruin left Clarke despondent and suicidal.
After airing his feelings to Dr. Oxley Thompson and getting no sympathy, the depressed professor took his own life on September 21st, 1903 in a garden overlooking Mirror Lake.
Clarke's wife blamed the university's insensitivity to her husband's plight as the cause of his death and vowed to haunt the grounds after her passing.
In 1922 the university built Pomerene Hall on the site of Clarke's suicide garden and it appears that the spirit of Mrs.Clarke decided it would be a fine building to inhabit when not gliding across the lake.
It is here that she is thought to be responsible for doors that lock and unlock of their own accord, the sound of footsteps across empty rooms and the manipulation of computer voice software, occasionally causing machines that aren't even turned on to greet the living with a dull, electronic "hello".
For reasons unknown she is most fond of room 213, where she is seen in a pink antebellum dress moving across to a window that overlooks the very lake that her husband last gazed upon before taking his life more than 100 years ago.
Today, Mirror Lake sits drained and fenced off awaiting a 6 million dollar renovation that will give it a "more natural appearance". In an effort to end the tradition of the lake jump, the timing of this renovation was no accident, but some defiant students are vowing to leap into some body of water, even if it is the Olentangy River.
Source: Booze & Boos
The German Navy's Cursed and Haunted Submarine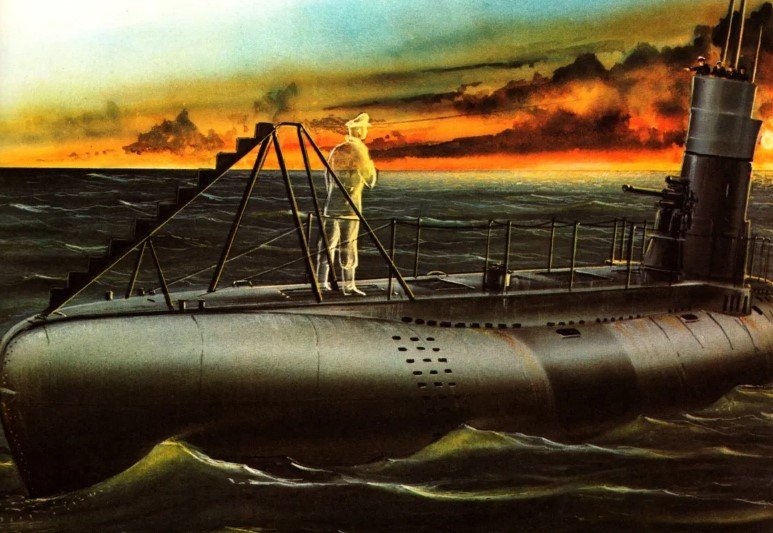 From the time she was being constructed, in 1916, there was something sinister and evil about the German submarine UB-65.
Before she was even launched, an accident in the Hamburg shipyard occurred, where a steel girder broke from a crane, crushing a ship builder to death. A second worker was also badly injured.
Investigators could find no reason for the accident, and within a few months, the submarine had put to sea, undergoing trials. Three engineers, testing the ship's batteries, were overcome with deadly fumes. Again, an inquiry was launched, but failed to determine the cause of their deaths.
Despite her early record of tragedy, the submarine was commissioned, and placed under the command of Kapitanleutenant Martin Schelle, a 29-year-old veteran of the Kaiser's Navy.
She soon put to sea in an operational capacity, and found herself in the middle of a fierce storm. Captain Schelle used this opportunity to test his boat's ability to surface in rough seas, and upon breaking the surface, a sailor was washed overboard to his death.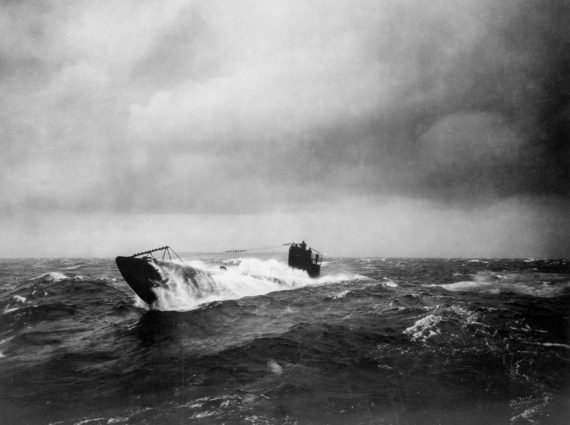 German U-boat
Unexplained Malfunctions Aboard UB-65
Soon after, ballast tanks sprung a leak, and the submarine plunged to the bottom of the sea. Seawater rushing inside caused the dry cell batteries to leak the same toxic fumes that had earlier killed the engineers.
This time, however, the crew was fortunate and suffered no fatalities. UB-65 remained on the bottom of the ocean for 12 long hours, before she was finally able to surface.
Returning to harbour, engineers could again find no explanation for the malfunctions. The crew were beginning to feel their ship was cursed, and many no longer wanted to serve on UB-65. She had soon earned the nickname "The Iron Coffin" within the U-boat fleet.
After leaving port, another tragedy occurred. An exploding torpedo killed the second officer, and wounded several others. Schelle returned to port, the officer was buried, and things started to get really eerie.
Ghost of the Second Officer Appears
While still docked, shortly after the funeral, a seaman claimed to watch the dead officer walk up the gangplank, towards the bow of the ship, and disappear before his very eyes.
More sightings were soon being reported. A lookout claimed to have seen the dead officer standing on the deck of the ship, in rough seas. At first, the commander dismissed the ghost stories, but then he reportedly came face to face with the dead man himself. Whether he admitted it or not, Captain Schelle was now a believer.
The high command finally agreed to have a priest bless the ship, a feat almost unheard of in the no nonsense German Navy. She docked in a port in Belgium, where the ritual was carried out.
After the ceremony was completed, the crew was broken up, and assigned to other ships in the fleet. A new crew was assigned to UB-65, and the captain demanded there was to be no further talk of ghosts.
The change of crew seemed to have no effect. The ghost of the officer was reported on several more occasions, once walking through a steel bulkhead. A torpedoman, terrified by the spirit, jumped to his death in the sea.
The Strange End to UB-65
In July of 1918, off the south coast of Ireland, a U.S. submarine sighted UB-65. Before the American crew could take any action, the German boat mysteriously exploded, seemingly on its own.
UB-65 took her entire crew to the bottom of the ocean, leaving only a patch of oil, some debris, and mystery behind.
The most haunted house in England 'The Cage' has finally sold after 12 years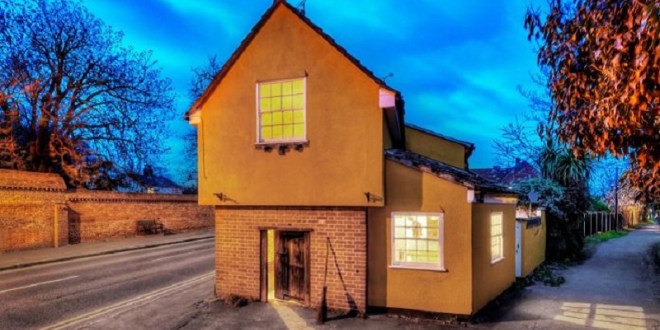 Vanessa Mitchell has owned a two-bedroom house 'The Cage' since 2004 and often reported seeing ghosts and other spirits. The ghost and spirits would regularly disturb and scared the woman.
The owner insisted she had to leave the house after the horrific incident happened when the ghosts physically attacked her at home. Years Later, it was revealed that the house was used to hold prisoners accused of Blackmagic and witchcraft in the 16th century.
She states she was walking over the stairs and suddenly got pushed over while pregnant and saw mysterious blood spatterings appear.'
Electric gadgets have also turned themselves on, and doors started slamming while walls inexplicably were covered in blood.
After this horrific incident, she decided to move out in 2008 – just four years after purchasing it – buyers were wary and doubtful of taking the house.
Now the haunted house The Cage, in St Osyth, Essex, has finally sold, subject to deal, after nearly a dozen years on the market.
Guests often reported hearing women's voices and cries from the storeroom even though no one was there when they checked for it.
The claims led to paranormal detectives who regularly came to the haunted house, and it was also a matter of many documentaries.
A plaque on the rear of the house depicts the plight of Ursula Kemp, who was jailed in The Cage on doubt of witchcraft before being hanged in Chelmsford in 1582.
Source: The Digital Wise