The End of Your World As You Know It…
As adults, we are expected by society to be mature enough to take care of a few basic but important things; namely ourselves and anyone we have responsibility for.  I feel a sense of duty to take care of and love my wife, children and family. Don't get me wrong, it isn't something I look at as a chore that I begrudgingly do, but I look at this responsibility as a higher valued aspect of my job as a human in some respects. Anyone can go through life only thinking about themselves and how they feel, what they want or need. When you take responsibility for someone else, you are placing them and their needs above yours even if just for a relatively temporary period of time. Your friends, neighbors and even complete strangers could briefly fall into your sphere of responsibility if the right situation allows, and you would offer them your time, compassion, energy or resources in some way over your own immediate needs or concerns. This trait is in most of us to differing amounts at different times and I think prepping is another example of being responsible.
You might be prepping for yourself or your entire community. You could be getting ready for an economic collapse, a global pandemic or the renewed threat of nuclear war. There are people preparing to survive natural disasters such as hurricanes, earthquakes, volcanoes, solar Flares and polar shifts. Even more common occurrences like an extended illness or the loss of a job can be motivating factors and just as worthwhile reasons to prepare. People from all walks of life, races, countries and beliefs are preparing for the end of the world as we know it. But in order to be able to start this journey of becoming prepared you might have to begin by going through the end of your world as you know it first.
You have to wake up first
Many of you reading this have already been making plans for how to survive any number of different scenarios with your family for years, but there are so many more who are just now sensing that tingling in the back of their brain. For those new to prepping, you might have seen or lived through recent events that proved to you how your life might have been better with some simple precautions. For others, your spidey sense is going off and you may not quite know why, but you feel that something bad is coming that you need to prepare for. This is what happened to me back in 2007/2008. I had a gnawing feeling in the back of my mind that wouldn't go away so I started researching various topics on the internet. One thing led to another and my viewpoint of the world and more importantly, my sense of responsibility to my family changed. My initial research started at a high level but ended up going in a myriad of directions. From basic home safety tips to deep conspiracies and the stuff that most people laugh at. The end result was that learning and research evolved into a greater appreciation for just how fragile our society is. For you reading this, your reason could be completely different. Anything that trips your trigger to wake up to the fact that life isn't always bed of roses. We don't all have happy endings and some of the things you have been told, might not be true. It's time to wake up Alice.
Don't believe in conspiracies? No problem, you can still be a hard core prepper or someone who simply takes steps to protect and provide for their family and hold your head just as high as anyone else. You don't have to believe in anything other than this one simple fact. You and you alone are going to be responsible for taking action to provide for your own survival no matter what happens.
Any threat you imagine from zombies all the way down to that lost job will work for this exercise. No matter what you think is possible, this much is almost certain and that is that neither FEMA, the National Guard, Navy Seals, your police, the neighbors, your family, the Avengers or the X-Men; none of them can be counted on to help you in a real emergency as quickly as you will need them to. You have to take responsibility now, for taking care of yourself and that means looking at the world differently.
The most overused (but very appropriate) example of this is from the movie The Matrix. The lead character Neo must make a choice between finally seeing the truth around him (waking up) or going back to a false reality that keeps him safe and secure (or so we think). I don't mean to imply that we are all living in pods with our brains hooked to a computer, but the metaphor of waking up is pretty similar in my opinion.
To start with, you have to stop thinking that any organization or government and by that I mean any bureaucracy at all is going to be able to take care of you if a disaster happens. You don't have to look very hard to see example after example of people who when faced with a real tragedy were forced to rely on themselves. Help may or may not have eventually arrived, but I guarantee it was not speedy. In hurricanes, floods, wars, conflicts, famines, uprisings, whatever situation you want to point to I can show you how a blind reliance on any government agency to fix any problem, bring quick relief or to save you was a futile hope. I am not talking about the US solely either. Look at the governments of other countries and you will see the same thing. When all hell breaks loose, you have to look out for yourself. The sooner you accept this as reality, the sooner you will be able to effectively take steps to take responsibility for yourself.
What you should do
Learn – Everything you do should begin with a learning component.  There are tons of additional sites out there and information in our resources section that can help as well. Get up from in front of the TV and start learning about potential issues that could affect your family. Research your area and learn about geographic threats that might be around you but you didn't know about. How close do you live to any kind of power plants? Are there military bases near you? Do you live in a flood zone? Is there a chemical plant that produces possibly dangerous compounds near your town?
Learning can also be in the form of skills that can help your family. This could be skills that could save a life like an EMT course. It could be skills to defend yourself or your family. It could be skills that would increase your ability to take care of your family if you suffered a layoff. This might mean that you don't watch Dancing with the Stars every night, but I think that is OK.
Take action – Once you understand a little about the types of things you think are valid to prepare for, start with a plan. This doesn't have to be complicated; I started by writing down a list of items on a notebook. Some of these items were simple to accomplish, others took time but writing that list gave me something to look to and check off as I made progress towards my goal of having everything on that list covered.
Start with the basics of Water, Food, Shelter and Security and build from there. Just having a basic supply of food and water for your family could be the difference between life and death, but don't think that a gallon of water, some pop-tarts and a flashlight are all you need to be prepared. As you learn about the additional threats you are preparing for, increase your plans to be able to sustain longer duration events and that will further ensure your families ability to weather whatever you go through. This might require you to get organized and proactively look at elements in your life that need improvement like exercise. Action usually changes something.
Teach others – Getting back to that responsibility topic I started with. Once you have made a plan and started on your path to getting prepared, you need to share what you know with others. We all have a responsibility to take care of those around us and it is far easier to teach someone what you know so that they can do the same work as you than it is to plan for taking care of them too. Start by talking to close friends and extended family to broach subjects like this. We always seem to be having some weather event that knocks out power and disrupts life for people so there are plenty of examples of how being prepared could be a great thing. Don't be afraid to talk about this because it is simple common sense. You don't have to share the Matrix movie with anyone if you don't want to. That will be our little secret…
You may find that your world has changed from the way you used to know it. You may look at events differently and take information and use it differently because you will be proactively thinking about how you as the responsible person for your family will need to act, or when the time comes, will be ready to act. I am glad I took the red pill and I think you will be too. I am pretty confident that if you are prepared to take care of your family, they will really appreciate it in the end as well.
Source: theprepperjournal.com
The apocalypse is approaching: which Torah prophecies about the End of the World began to come true
In 2018, the predictions of the end of the world made by the Jewish prophets began to come true.
According to legend, the text of the Torah was dictated to Moses by the Almighty himself. Over the centuries, these divine precepts were supplemented by various sages, they clarified certain provisions of the ancient religious document for their contemporaries, and also wrote down their own prophecies.
Of course, the lengthy text of the Torah contains many contradictions, because each of its co-authors had a personal idea of ​​the end of the world, for example. But in its most general form it says that the Almighty gave our world six millennia from the moment of creation. Then, as the prophets predict, bloody wars, numerous natural disasters will begin, the death of most of humanity will occur.
But every cloud has a silver lining: at this time the Messiah will appear on earth, who will lead the righteous to prosperity and prosperity. Therefore, individual followers of Judaism are trying with all their might to bring the end of the world closer, hoping to see the long-awaited messenger of the Almighty with their own eyes.
Three prophecies come true
Mystically minded people are always looking for signs of the approaching Apocalypse in various events: the movement of comets; natural disasters; solar and lunar eclipses; armed conflicts. There are several reasons for the followers of Judaism to believe that the end of the world is near. Three prophecies from the Torah, predicting the imminent Apocalypse, came true one after another.
Judge for yourself, in September 2018, a red heifer was born in Israel, which symbolizes the imminent divine cleansing of our world. In early October, renowned photographer Noam Bedein unveiled sensational photographs proving the presence of live fish in the waters of the Dead Sea, which has not been seen for millennia. And a month later, tourists were surprised to see a snake on the Wailing Wall hunting a pigeon.
All these events are similar to the omens of the Apocalypse described in the Torah, which gave various mystics and conspiracy theorists the opportunity to talk about the approach of the Day of Judgment. The next date for the imminent end of the world, based on these predictions, is set for fall 2021 – three years after the prophecies came true.
Snake on the Western Wall
On November 3, 2018, the British edition of The Sun and several other information resources reported about a snake that crawled between the stones of the Western Wall in Jerusalem. A reptile hunted a pigeon in the female section of the tourist complex.
However, the event did not cause much commotion. The Western Wall Heritage Foundation (the official organization responsible for this site of cultural and religious value) made a statement that the snake, approximately 1 meter long, was non-venomous. The summoned serpentologist without much difficulty caught her, and the incident was over.
But numerous mystics found a special, sacred meaning in this event. As you know, the inhabitants of the Middle East, like other lands, in ancient times worshiped animal totems. It was believed that they protect and support people, give them strength. Conspiracy theorists claim that the snake was a symbol of the ancient family from which the legendary kings of the Jewish people – Solomon and David – originated. The appearance of their totem animal in the women's section of the Western Wall was interpreted as a sign of future changes. And the fact that the snake hunted a dove, personifying the Christian faith in various esoteric practices, was perceived by many mystics as evidence of the approach of the Apocalypse.
Although, according to some Jewish religious leaders, this event has a positive meaning. It is possible that our civilization will face a serious transformation in the near future, because any changes bring not only troubles, but also renewal of life. Moreover, the number of snakes (nakhash) in traditional numerology is 358, and the word "Messiah" (Moshiach) has the same arithmetic indicator.
The Book of Zohar, referred to by many Jewish mystics, calls our world a kind of opposite to the Garden of Eden. That is, on a sinful earth, a snake is not the personification of the forces of Evil. On the contrary, this reptile here signifies the purification and revival of divine holiness.
It is noteworthy that a few months ago, just after the end of the Tisha Bav fast, dedicated to mourning over the destruction of two Jewish temples, a stone weighing 220 pounds fell from the western part of the Western Wall.
Explaining this event, the conspiracy theorists decided that the centuries-old suffering of the Jewish people was over. Now the long-awaited revival begins, which will mark the imminent appearance of the Third Temple – a mystical religious building, which should be a testament to the onset of an era of prosperity and prosperity.
Live fish in the Dead Sea
In early October 2018, all the world's news agencies published sensational photographs taken by the famous Israeli photographer Noam Bedein. For many years he explored the Dead Sea, capturing this unique natural reservoir. And here's the real luck – in the waters, which were considered absolutely lifeless, fish calmly swim. And earlier, algae were seen there.
The Dead Sea is a closed lake with a salinity level of 300-350%, which is one of the highest in the world. According to biblical tradition, the reservoir was formed on the site of the destroyed cities – Sodom and Gomorrah. And here, on the earth cursed by the Almighty, there were no traces of life for many millennia.
The Old Testament prophet Ezekiel (622-570 BC), however, left an unambiguous indication of this. He wrote that the dead waters will come to life again just before the end of the world. And in the reservoir, which was considered unusable, fish will appear again.
But on the other hand, salt water is not an insurmountable obstacle to life. For example, Artemia (toad-legged crustacean) lives in the lakes of the Tiligul reserve, located near Odessa. The salinity level of those reservoirs is 269%. This is lower than the Dead Sea, but not much. And in the estuaries of Tuzla near the Kerch Strait, a furry worm lives quietly.
In any case, the appearance of fish in the Dead Sea is proof of significant changes taking place in nature.
Red calf
The book of the biblical prophet Daniel says that the sacrifice of the red cow will be another foreshadowing of the imminent appearance of the Messiah, since this ritual action will help to cleanse the world from all accumulated filth. Many followers of Judaism believe that after the sacrifice, the construction of the mystical Third Temple will begin, marking the beginning of an era of prosperity.
But the problem is that it is very difficult to find a cow suitable for the ritual. It should be an animal with perfectly red fur. Even two hairs next to each other, which have a different shade, make the horned pretender unfit for sacrifice. In addition, a cow should never wear yokes, be involved in agricultural work, and she must also be born on Israeli soil.
According to biologists, a perfectly red cow is a biological anomaly. Nevertheless, the Old Testament says that the first such sacrifice was made by Moses himself, and before the destruction of the Second Temple, the ritual was performed eight or nine times.
The Israeli religious organization "The Establishment of the Temple" set itself the goal of accelerating the coming of the Messiah, and breeders were involved in the work. And so, in September 2018, the birth of the "red heifer", suitable for sacrifice, was solemnly announced to the whole world.
According to the instructions of the Mishnah (the sacred text of the followers of Judaism), the cow should be slaughtered in a special, ritual way, and the carcass should be burned. The ashes of such an animal have a cleansing power, which should contribute to the restoration of biblical purity in our sinful world.
According to mystics, the birth of the red calf is another omen of global changes that await our world. After all, it was from clay of this color, according to legend, that the first people were created.
By themselves, the above events are not particularly remarkable. Snakes are found in Israel and crawl wherever they please. Stones fall from the Western Wall, after all, this is an ancient structure. Ginger calves are born from time to time. And fish can live in salt water if they adapt. But it all depends on how you look. And if these are really omens of the Apocalypse? Wait and see.
Will the conflict in Karabakh develop into a nuclear one?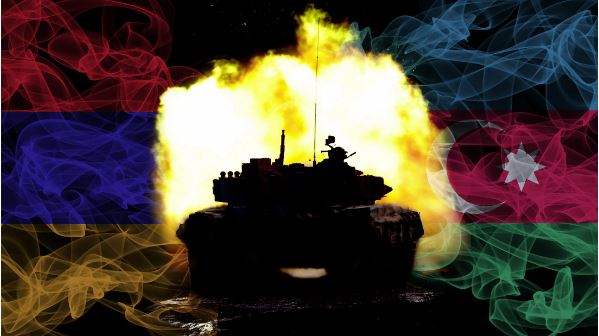 With the outbreak of the war in Nagorno-Karabakh, crowds of political correspondents rushed to televisions and newspapers, spreading their fingers and puffing out their cheeks, vang about a future that will never come true.
Nevertheless, everyone, especially the inhabitants of the Caucasus, is terribly interested in this future, and in the absence of another source of information, people are forced to listen to the songs of the mindless and stupid. Meanwhile, there are other sources of information, which are called Prophecies.
With prophecies, however, everything is very difficult, especially with fake texts of recent times, where some "Lugansk elders" vang about getting up from their knees and call to unite around the great supreme leader.
The second problem with prophecies is the absence of such small countries as Armenia and Azerbaijan, for example. Prophets communicate with angels, and angels think on the scale of continents and hardly show them small territories. However, sometimes a few things slip:
I saw an Angel lifting a sickle. He moved it over the countries of the Middle East. I saw Iran, Persia, Armenia, Azerbaijan, all of Georgia, Iraq, Syria, Lebanon, Jordan, Israel, all of Asia Minor. All these lands were covered in blood. I saw fire. Atomic weapons were used against many of these countries, smoke rose to the sky everywhere. Great destruction – people destroyed each other. I heard the words: "Israel, Oh Israel, the time of the great judgment has come."
This prophecy belongs to a gentleman named Samuel Doctorian or Doctorian. He lives (lived?) In the United States and was either an ethnic Greek or an Armenian – we have no exact information. The prophecy was made in 1998, and by some miracle for 1998, it lists all the hotbeds of current or emerging conflicts.
The only thing is that there is nothing in Georgia yet, but from other sources we know that at least the city of Tbilisi will be destroyed by a nuclear explosion. One of the well-known elders in Georgia spoke about this back in the 1970s. Literally, he described the black ruins remaining from the city, over which even birds fell dead, but this is a separate topic, so we turn to the prophecies of Lord Doctorian:
The angel said: "Millions will die in China and India. The largest river in China will flood and destroy thousands of homes in flooding. Some nationalities will be against other nationalities, brother will go against brother. Asians will fight among themselves, atomic weapons will be used, which will destroy millions of people. " Twice I've heard the word "disaster". Then the Angel said that there would be a financial crisis in Asia and God would shake the world.
The largest river in China and in general on the continent is the Yangtze River. And somehow it so happened that in the summer of 2020, an unprecedented flood in the history of the PRC began there, which is taking place against the backdrop of a covid financial crisis, the conflict in Ladakh, Hong Kong and the South China Sea. And if not today, then tomorrow the dam of the Three Gorges hydroelectric power station will collapse, after which everyone will say "disaster" in chorus . But we read further:
I saw how large stones fell from the sky in different parts of Africa. The earth will be shaken with such force, with which it has not yet been shaken from the creation of the world. No one can escape the sword of the Lord. I saw the Nile river dry, the Nile was a god for the Egyptians. Most of central Africa will be covered in water – millions will die.
A very strange prophecy. On the one hand, it says that the Nile will dry up, on the other, Africa will be flooded. What does it mean? And to understand this as the Hydase hydroelectric power station, which is being built by the Ethiopians:
The result of filling this reservoir will first be the drying up of the Nile, and then a tactical missile strike on the dam, followed by flooding. And somehow it so strangely coincided that the dam began to be filled in 2020 – simultaneously with the flooding in China and the beginning of the war in the Caucasus.
In general, three hits out of five (in total, Mr. Doctorian had five visions) and all three fall on 2020. The Angels did not name the date, but there is every reason to believe that the time for the fulfillment of the prophecies has begun.
H askolko exactly they realized we did not know how and do not know that they were there for the Angels. Maybe Angels from local orbital hosts, maybe Angels from a rival company, or maybe it's some kind of Third Force. But in any case, the prophecy deserves to be brought in full and wang it on the development of events.
The prophecy of Samuel Doctorian about a future tectonic cataclysm.
This prophecy (vision) was revealed to Doctor Samuel Doktorian on the island of Patmos in 1998. On the same island, John the Theologian wrote down his predictions – "The Revelations of John the Theologian".
Doctorian says: "I was alone for some weeks on the island of Patmos in my house. There I prayed and sought the Lord. There was a small church of St. Nicholas on the island, which no one visited. I went there and poured my heart into it before God. One day I found a large rock at the edge of a cliff, I wanted to sit on it to pray and read the Bible. I ate very little these days. Repeatedly visited the place where John saw the Revelation. A month has passed since I prayed in this remote place. I thought, asking myself, "Maybe God will send me HIS ANGEL for the tenth time?" I have already seen Angels nine times: in England, in Belgrade, Amman, in Jerusalem. I saw one Angel in Upper Egypt: He saved a woman who decided to commit suicide by hanging. I saw the Ninth Angel amid the hostilities in Beirut. At three o'clock in the morning, he woke me up from sleep and told me to leave this country at once. Until today, I am grateful to God for this, although I do not know what could have happened to me. And so I thought, "Will I see an Angel for the tenth time?"
An angel appeared with a message
On June 20, 1998, at 3:50 am here on Patmos, my room suddenly filled with light, even though there was no electricity here. On my right side were two Angels. Looking to the left, I led away three more Angels with wings. I saw their faces as the faces of people, they shone. They were dressed in very nice white long clothes. It cannot be described in human language. I asked myself "Why are there five of them?"
I was trembling all over, I was shaking. I wanted to scream, but I couldn't. Then I saw myself standing in front of the meeting and prophesying, these words: "My Church, you preach love, but you must live by love, you must show it to others. There must be unity in my Body. There are many divisions among you. Where there is no unity, the Spirit cannot move and work. The flesh rules in My Church. There is a lot of impurity in My Church. I need and yearn for a people who would live a holy life. I died to make you holy. "
While the prophecy was going on in the Spirit, I was shaking all over. Opening my eyes, I looked into the crowd. During this prophecy, these powerful Angels suddenly appeared. Walking back from the pulpit, I thought I was going to fall. Some force supported me so that I would not fall. I asked myself: "What will happen next?"
Suddenly the first Angel said: "We, the Angels of the five continents, have come to tell you about the future of these continents." At that moment, I heard the screams of the people standing in front of me " Oh-oh-oh-oh! " I think they saw Angels too. Somehow, God made me understand that in the coming days in many places on earth He will reveal Himself to people through Angels. Such phenomena will often occur in churches. Thousands of people will simultaneously see Angels. The angels said: "What you see and hear – tell people." Whether the peoples will accept it or not, I consider it my duty to announce what has been said to me.
First Angel: Message to All Asia
The First Angel said, "I have a message for all of Asia." When He said this, in the blink of an eye I saw all of China, India and other Asian countries such as Vietnam, Laos, the Philippines, Japan, Singapore, Malaysia. Then the Angel showed me New Guinea and further down to Australia and New Zealand. "I am the Angel for Asia," He said.
I saw in His hand a very large trumpet with which He will blow over all Asia. Millions will hear this powerful trumpet voice. Then He said: "There will be catastrophes and famines. Many will starve to death. All over Asia there will be earthquakes and the sea will cover the land. "
I clearly heard the words spoken by the Angel: "Large parts of the earth will fall into the sea. In some places in Australia there will be earthquakes, it will split and most of it will be covered by the sea. " It was scary.
I asked myself, "Did I hear correctly?" To this the Angel said: "In China and India, millions will die. The largest river in China will flood and destroy thousands of homes in flooding. Some nationalities will be against other nationalities, brother will go against brother. Asians will fight among themselves, atomic weapons will be used, which will destroy millions of people. " Twice I've heard the word "disaster". Then the Angel said that there would be a financial crisis in Asia and God would shake the world.
As He spoke, I was shaking. Looking at me, He smiled and said: "There will be a great spiritual awakening, the chains will break, the obstacles will be overcome. All over Asia, China, India, people will come to Christ. There is going to be a big and strong revival in Australia. This is the final harvest. "
Then, as if in the name of God, He said: "I will prepare My Church for My coming." After the news of the judgment, I was happy to hear this good news. All this time, five Angels were in my room. It was a powerful experience.
Second Angel: Middle East
Then I saw the second Angel holding a sickle in his hand, as they do during the harvest. He said, "The harvest has come in Israel and the countries before Iran." In the blink of an eye, I saw these countries and heard: "All Turkey and those countries that rejected Me, rejected the message of love, will hate and destroy each other."
I saw an Angel lifting a sickle. He moved it over the countries of the Middle East. I saw Iran, Persia, Armenia, Azerbaijan, all of Georgia, Iraq, Syria, Lebanon, Jordan, Israel, all of Asia Minor. All these lands were covered in blood. I saw fire. Atomic weapons were used against many of these countries, smoke rose to the sky everywhere. Great destruction – people destroyed each other. I heard the words: "Israel, O Israel, the time of the great judgment has come."
The angel said: "The elect, the Church and the remnant, the people will be cleansed. The Holy Spirit will prepare the children of God. " I saw a flame of fire rising to the sky. The angel said, "This is the final judgment. My Church will be cleansed, preserved, and prepared for the last day. People will die of thirst. There will be very little water throughout the Middle East. The rivers will dry up, and the people in these countries will wage war over water. "
The angel showed me that the UN, due to the catastrophic situation in the Middle East, would disintegrate and as such would no longer exist. The angel with the sickle will reap the harvest.
Third Angel: Europe
After that, Angel showed me all of Europe from the North down to Spain and Portugal. In His hand He held a measuring branch.
I saw Him flying over Europe and saying these words: "I am deeply concerned, filled with suffering. Injustice, impurity and godlessness throughout Europe. Sin has risen to the sky. The Holy Spirit is filled with suffering. "
I've seen rivers in Europe overflow their banks and flood millions of homes. Czechoslovakia has had the worst floods ever before.
Suddenly I heard the rumble of an earthquake all over Europe. "Countries that have never been shaken by an earthquake will be shaken," said the Angel. Suddenly I saw how the Eiffel Tower broke and disintegrated in Paris. Most of Germany will be destroyed. Big city London – destruction everywhere.
I've seen floods all over Scandinavia. I looked south and saw Spain going through great famine and great destruction. Many in Spain and Portugal will starve to death.
I was alarmed and said: "Lord, what will happen to Your Children?" The angel responded with the words of God: "I will prepare them. They should be looking forward to the appearance of the Lord. Many in these days will cry to Me and I will save them. I will work great miracles for them, I will show them My Power. Amid this great destruction, in these countries the mercy of God will dwell. I was happy – God protects his children.
4th Angel: Africa
Now we went to Africa. I saw the fourth Angel with wings flying over Africa. Also, I could see all the way, from the cities in the south to Cairo in the north. The angel destined for Africa was carrying a huge sword.
Suddenly I heard them say the words: "Innocent blood is shed, strife among the nations. Generations are far from the Lord – thousands have ruined each other. I have seen my believing children in Africa. I will bless them abundantly. I will control the weather: the sun will burn fieryly in certain places. Big rivers will dry up, millions will die of hunger. There will be floods elsewhere. The grounds will be shaken. Those who thirst for blood and do lies, My sword will judge, there will be many earthquakes, many cities will be flooded. "
I saw large stones falling from the sky in different parts of Africa. The earth will be shaken with such force, with which it has not yet been shaken from the creation of the world. No one can escape the sword of the Lord. I saw the Nile river dry, the Nile was a god for the Egyptians. Most of central Africa will be covered in water – millions will die.
"Lord, this is all bad news, just all destruction. Is there any good news? "I asked. The Lord answered: "The last day has come – the day of judgment. My love was rejected and the day of judgment came. " I was trembling and shaking all over. I thought I would not survive this.
Fifth Angel: America
I saw the last Angel flying over North and South America, en route from the North Pole to Argentina, from the US East to California. I saw the cup in his hand. The angel said that he would pour out the judgments of the court over these countries, which are in this bowl.
Then I heard an Angel speaking: "There is no morality, no justice, no holiness. Idol worship, materialism, drunkenness, attachment to sin. The shedding of innocent blood – millions of children are killed before they are born. Families break up. An adulterous generation. Exactly the same position as in the days of Noah. Lying preachers, false prophets, rejection of My love. Many of them preach religion, rejecting the true Power. "
When I heard all this, I asked the Angel: "Can't you wait a little longer? Don't pour it out. Give one more chance for repentance! " He replied, "The Lord often spoke to them, but they did not listen. Look, the time has come. They love money and entertainment more than they love Me. "
When the Angel began to pour out the contents of the bowl, I saw how large icebergs began to melt. When it started, I saw flooding all over Canada and North America: all the rivers overflowed their banks, causing destruction everywhere.
I heard how international trade collapsed – like an earthquake and New York's skyscrapers collapsed and fell. In the oceans I saw ships sinking, I saw how an Angel poured a bowl over Mexico, and both oceans joined – the Atlantic and the Pacific. Most of Brazil was covered in water. The Amazon River has turned into a large lake. Forests have been destroyed and flooded. Major cities in Brazil have been destroyed, and earthquakes have hit many places. When the Angel poured out the contents of the bowl, great destruction occurred in Chile and Brazil, which had not happened before. The whole earth was shaking.
Everything will be done soon
Here the Angel said: "This will all happen in a very short time." I said, "Can't you put it all off? Don't pour these things over the globe (earth). " Suddenly I saw five Angels standing around the globe with their arms and wings raised to heaven, saying, "All the glory of God is in heaven and on earth. The time has come and He will glorify His Son. A new heaven and a new earth will be created. God will destroy the works of the devil forever. I will show My Power by keeping My children in this destruction. Get ready for the day when the Lord comes. "
My room was filled with light and brilliance of Angels. Suddenly, they ascended into the sky. As I looked up into the sky, I saw Angels heading in five directions. I did not sleep, my body trembled all the time.
I asked: "Lord, should I leave Patmos?" He said, "No, for a special reason I brought you here." I said, "The Angels' message about the whole world is not good news. This is judgment, punishment, destruction, obliteration. What will people say about me? I have always been a preacher of love, peace and good news. " The angel said, "This is our message. You are an instrument, a channel ". I said, "Lord, let your will be done."
Scientists warn of imminent pole reversal and critical weakening of the Earth's geomagnetic shield
Since 1850, the Earth's magnetic field has been weakening. At the turn of the millennium, it began to decline exponentially, by more than 10% in a decade – this decline is extreme and alarming.
The Earth's magnetic field protects us from cosmic radiation. Our shields have been discharged and this is very bad news for all life on our planet and this may even lead to another mass extinction.
""When the magnetic field weakens, the poles change," says David Mauriello of ORP and MRN. Over the past 100 years, both the north and south poles have been rapidly approaching the equator and their rate of mixing increases, Mauriello warns.
The S Pole is now behind the Antarctic continent and is heading straight for Indonesia, and the N Pole is moving across the Arctic Circle towards Siberia, it too is heading for Indonesia – where the poles are likely to meet over the next few decades, perhaps around 2050.
This "meeting" will lead to one of two possible options:
1) a complete reversal will occur (aka "reversal", where the magnetic poles change)
or
2) a "bounce back" will occur and the poles will quickly return to their original starting points (in other words, an "excursion").
The main problem, however, is not the pole shift, although that is certainly one of the problems, Mauriello continues. No, the biggest problem is the waning magnetosphere resulting from the pole shift.
"As the magnetic field weakens, more and more cosmic radiation can penetrate the Earth," Mauriello explains.
"Not only cosmic rays will increase, but also the entire wide spectrum of radiation. Did you notice this summer, just standing in the sun for even a few minutes was hell? "
"This is because we are at the solar minimum, we have a reduced magnetic field, and you feel the influence of this radiation. And this, unfortunately, will increase for the rest of your life – or as long as the reversal / hike takes place. "
In recent years, it has been documented that magnetic inversions and excursions have caused some of the largest mass extinctions on the planet, including the Early Dryas event, which wiped out up to 65% of the world's megafauna.
And this is already happening right now!
Heartbreaking images show the aftermath of Australia's worst massive whale landfall in history. To date, an estimated 400 whales have died.
It may well go down in history as one of the largest such events in history, but it certainly isn't unprecedented. Recently, there are data in many other directions, and moreover, that they all occur during solar minima.
Back in 1985, about 450 whales were stranded in Auckland, New Zealand. In 1996, 320 whales stranded off Dunsborough, Washington.
In addition, this week in Tasmania, for the first time since 2009, more than 50 stranded whales were deployed.
And in 2017, a staggering 600 whales landed on New Zealand's South Island, killing more than 350.
So, this is 1985, 1996, 2009, 2017, and now 2020 – these are not random dates: all these years fall within the solar minima, "when the maximum cosmic radiation penetrates the planet, and this would also be a decrease in the magnetic field – confusion for animals "- Mauriello notes.
"These are predictable events based on the simultaneous extinction of the magnetosphere and the disintegration of our Sun," Mauriello says. ""These events will continue for maybe another year or so, and then when we hit the solar minimum of cycle 25, we can expect them to happen in 2031, 2032, 2033.""

Mauriello concludes: "The magnetic deflection or reversal will continue as the Sun also enters great lows – these two events occurring at the same time, in my opinion, are not accidental, but will actually intensify the already ongoing Little Ice Age."
"You and I – we all seem to be experiencing the beginning of the next cosmic catastrophe here on Earth."