Elon Musk has revealed the first glimpse of a SpaceX base on Mars.
Musk tweeted the pictures with the simple caption 'Mars base alpha'.
It shows the firm's Big F***ing Rocket (BFR) on the surface of the red planet, with a dome base in the background, and what appear to be solar panels.
It a response to a question about the base and when it could be build, Musk tweeted 'Probably 2028 for a base to be built'.
It comes as SpaceX chief operating officer Gwynne Shotwell, 54,confirmed SpaceX's intentions to launch the rocket for the first time in 2020, with missions to the moon and Mars planned for 2022 and 2024 respectively.
'We would like to put large cargo on the surface of the moon by 2022,' she told the Air Force Association's annual symposium in Maryland.
'And we have our eyes on the prize to send people to Mars in 2024.'
She admitted those plans might 'sound crazy, but everything we've ever done has sounded crazy to people.'
The top part of the BFR rocket has 40 cabins, which could hold up to six passengers each.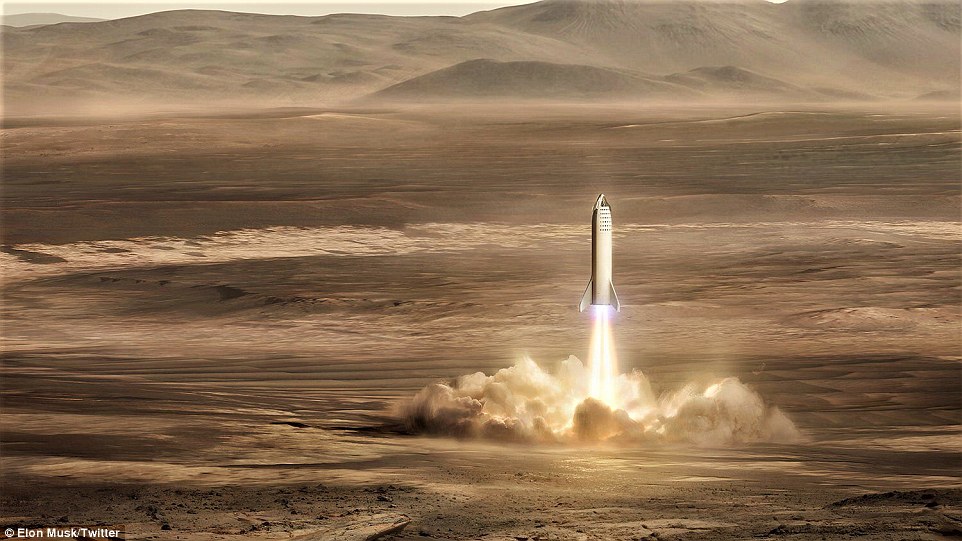 The powerful launch vehicle will have the capacity to lift 150 tons into space and consist of two stages – both of which are reusable.
Shotwell said: 'I hope to be doing hot tests next year with the second stage, the spaceship, and make an orbital flight in 2020.
Earlier this month Musk revealed a Japanese billionaire and online fashion tycoon, Yusaku Maezawa, will be the first man to fly on the BFR SpaceX rocket for an approximately seven-day trip around the Moon as early as 2023, and he plans to bring six to eight artists along.
Maezawa, 42, will be the first lunar traveler since the last U.S. Apollo mission in 1972.
He paid an unspecified amount of money for the privilege.
Continue Reading: https://www.dailymail.co.uk/