A fabled 'Elixir of immortality' mentioned throughout ancient Chinese texts has been discovered in a bronze pot hidden inside in a 2,000-year-old burial tomb, experts say.
China's rich and powerful searched for a magical potion over thousands of years that would bring them eternal life.
The mythical quest for the non-existent cure was inevitably unsuccessful
and instead yielded a drink which is thought to have spelled like
alcohol.
The container was unearthed in the tomb of the Western Han Dynasty (202 BC-8 AD) noble family and contains six pints (3.5 litres) of the concoction.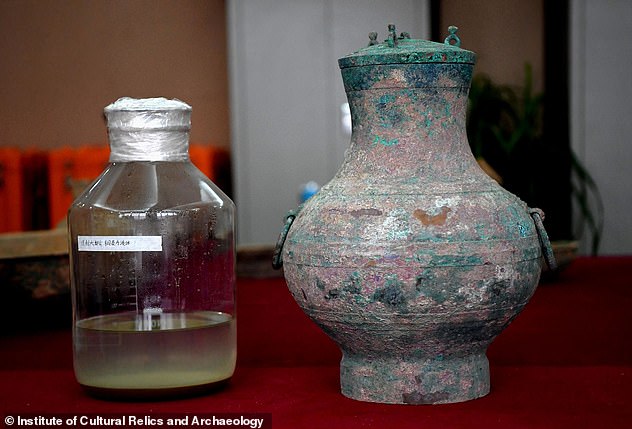 'It is the first time that mythical "immortality medicines" have been found in China,' said Shi Jiazhen, head of the Institute of Cultural Relics and Archaeology in Luoyang, where the burial site is being excavated.
'The liquid is of significant value for the study of ancient Chinese
thoughts on achieving immortality and the evolution of Chinese
civilisation'.
Archaeologists initially thought that the six pints (3.5 litres) may be liquor as it gave off an alcoholic aroma.
A large number of colour-painted clay pots, jadeware and bronze artefacts were also unearthed from the tomb, which covers 2260 square fee (210 sq m).
The remains of the tomb's occupant have also been preserved.
Continue Reading: https://www.dailymail.co.uk/