Electromagnetic Energy Pollution
Dylan Charles, Contributor
Activist Post
As revealed in the study of quantum physics, the world around us is comprised of energy. It is not something we can touch or see with our human eyes. Yet, energy patterns and vibrations surrounding us and moving through us have a profound effect on our physical bodies. Author Daniel Reid, who has written numerous books and magazine articles on various aspects of Asian self-health and self-healing practices, offers an interesting perspective in his article Electro-magnetic Energy Pollution, which discusses the effects that electromagnetic energy pollution has on our energetic and physical bodies:
In traditional medicine, the human energy system (HES) serves as a functional bridge between body and mind, and energy is the therapeutic medium that heal and balances both physical disease and mental malaise. Today, the HES has come under intensive attack from an entirely new phenomenon which the human system has never before had to face. This new threat to human health and longevity is the rapidly growing hazard of electromagnetic 'energy pollution.'
Energy pollution is made up of artificial electromagnetic fields (EMF) caused by artificially-generated radio frequencies, electrical power lines and transformers, smart-meters, home appliances such as microwaves and electric stoves, fluorescent lights, electrical devices such as electric razors, computers and cell phones, and many other every-day items.
These invisible but highly reactive energy waves and artificial EMF…have become the big unknown factor in all the vital equations of human health, and they constitute the hidden cause in many common human ailments, from cancer to schizophrenia. This pollution of our energy environment is even more hazardous to the human system than chemical and ecological pollution, and it calls for an entirely new approach to healing, an approach that effectively protects the HES from distortion by artificial energies and EMF and cures the conditions they cause.
The human body is now routinely bombarded with all types of pollutants, from toxic chemicals, to biochemical pollutions such as GMOs, to unnatural energy fields. This affects the tissues, bodily fluids and the bloodstream, and often results in conditions such as acidosis, which, in turn, is believed to causally trigger many other illnesses such as diabetes, high blood pressure, cancer, arthritis and even mental disorders.
Despite the proven risk of exposure to artificial EMF over 3 mG [3 milligaus], very few countries have legislated legal limits to the EMF produced by machines and appliances at home and in offices and factories. In Sweden, there are strict laws prohibiting EMF exposure to humans above 2.5 mG, and in Russia, where this hazard has been extensively researched, the limit is an even safer 1.5 mG. Compare that with the legal limit of 1,000-5,000 mG exposure to EMF for people in homes, offices, and schools in Australia, and similar hazardous levels in America, Canada, and the UK, as well as most of Asia. Small wonder that one in three people today develop some form of cancer, and that brain disorders and mental malaise have become rampant throughout the world."
Energy Disturbances from Wireless Cell Phones
One of the most common culprits of EMF pollution are wireless cell phones, believed to be exposing human brains to unsafe levels of microwave radiation, resulting in what one might call "microwaving of the brain."
The human body, particularly the electrically active brain, is extremely sensitive to disruption from the high-frequency electromagnetic radiation produced by cell phones and cell phone transmission towers. Our brains and bodies depend on hundreds of delicately balanced, internally generated electrical impulses to conduct the vital functions of life, and these are thrown into disarray by the invasive ultra-high frequencies generated externally by cell phones and phone towers. As Blake Levitt states in his book Electromagnetic Fields, 'When it comes to mobile phones, a worse frequency could not have been chosen for the human anatomy.'
Various studies have been conducted to assess the effect that cell phone use has on brain function and have identified many possible ailments. In his writings, Daniel Reid refers to numerous studies and researchers who have publicized potential harmful effects that cell phone use has on brain function and on the human body:
Tests conducted by the U. S. Department of Energy found that 'using mobile phones impairs memory and reaction times.
Late biophysicist Dr. Neil Cherry of Lincoln University in New Zealand…warned that frequent exposure to these frequencies disrupt the delicate balance of the brain's electro-chemical communications and can result in chronic headaches, fatigue, lethargy, nausea, dizziness, depression, arteriosclerosis, and possibly Alzheimers."
'There is also a higher incidence of cardiac problems,' states Dr. Cherry.
Dr. George Carlo…found that rare types of brain tumors have more than doubled among mobile phone users, particularly on the side of the head where they use their phones."
Studies conducted by Dr. Peter French in Sydney, Australia, show that 'cells are permanently damaged by mobile phone frequencies and inherited unchanged, from generation to generation.'
Professor Leif Salford stated to the Daily Mail his finding that after a two minute conversation on a mobile phone, 'It seems that molecules such as proteins and toxins can pass out of the blood, while the phone is switched on, and enter the brain. We need to bear in mind diseases such as MS and Altzheimers, which are linked to proteins being found in the brain.'
Discouragingly, most of these studies and researchers are not being validated by global health authorities. Of course, in order to protect their interests, electronics and telecommunications industries also do not care to validate in any way the argument that electromagnetic energy emitted by electronic devices and our communications infrastructure is hazardous to human health. It is thus, up to each individual to either avoid using high-frequency electronic devices, or start using high-tech devices designed to protect the body from artificial EMF, and protect themselves in other creative ways, such as using the mysterious Orgonite.
Bio-Electro-Energy Medicine
Our scientific understanding of energy dynamics is still at a nascent stage, although several ancient cultures had designed complete holistic healing systems based on the therapeutic properties of life energy. Now, modern technology is also being used to create a new products that neutralize adverse effects of man-made EMF.
One of the most important new developments in energy medicine is the line of titanium products made by Tesla's Innovational Technologies in Australia. These products are based on the original scientific genius of Nikola Tesla, the man who invented modern electric power systems in the early 20th century. After realizing the harm which EMF from high-voltage AC electric power lines and other electromagnetic radiation causes to human health, he developed a method to alter the atomic structure of titanium so that it becomes a transceiver of a very fine, bio-friendly energy known as 'photon' or 'tachyon' energy.
EMF neutralizing products include: phone tags, personal pendants, travel plates, computer plates, house plates, and car plates. Each type of plate is unique in its circumference, diameter, thickness, and is typically made from one of the Earth's natural elements. Personal items are touted to significantly boost vitality and strengthen the immune system.
More about Tesla's titanium products made by Tesla's Innovational Technologies can be found here.
More EMF protection products can be found here.
Sources:
http://www.danreid.org/daniel-reid-articles-electro-magnetic-energy-pollution.asp
http://www.cell-nique.com/images/Acidosis.pdf
A new ice age: why it will begin in 2030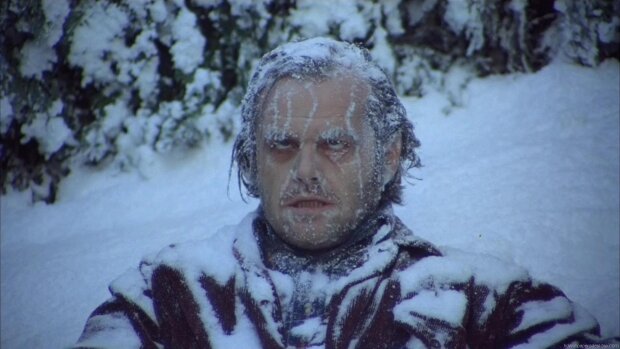 The sun is both the main source of life and the greatest threat to it. On the one hand, the star converts four million tons of matter every second into energy, which is the main source of light and heat. On the other hand, it is a source of powerful emissions that cause strong disturbances on Earth and near-earth space.
Magnetic storms and auroras are nothing more than a consequence of anomalies occurring on the luminary. Fortunately, today scientists have learned to predict these manifestations, and humanity as a whole already knows how to neutralize their negative impact.
At the same time, some of the processes occurring on the Sun cause concern among specialists. Experts around the world state an unprecedented decrease in solar activity and predict the approach of a new ice age – the fifth in the last 400 thousand years.
What are solar cycles
A lot of what happens on the Sun and, as a consequence, in the entire solar system, depends on the state of the magnetic field of the star. Its amplitude and spatial configuration are constantly changing, which, together with the formation and decay of other strong fields in the atmosphere, leads to the transformation of the wave radiation of a celestial object and the intensity of fluxes of corpuscles – particles of solar gas in a plasma state. The number of spots – relatively cold regions in its photosphere – on the surface of the Sun also changes.
Long-term studies have shown that the activity of a star associated with the appearance of spots has a cyclic structure. Scientists estimate the duration of the cycles in different ways – up to six thousand years, but most often they distinguish three periods: 11-year, 90-year and 300-400-year cycles.
The shortest of them is more pronounced and is associated with changes in the direction of the main component of the magnetic field of the star. The period is characterized by a rather rapid – for about four years – increase in the number of sunspots and its subsequent decrease, which takes about seven years. At the same time, the assessment of the cycle duration of 11 years is an average, in some cases it can last from nine to 14 years.
The 90-year variation is associated with a 25-50 percent periodic decrease in the number of sunspots in 11-year cycles. 300-400-year intervals are completely characterized by the appearance of long, up to several tens of years, intervals when very few sunspots appear on the Sun. The last such period was recorded quite recently – in 2017. And the most famous – the Maunder minimum – lasted from about 1645 to 1715 and coincided in time with the coldest phase of climate cooling – the Little Ice Age.
How the Sun's cycling affects the Earth
Scientists have long formed certain ideas that the activity of a star affects the climate – both space and terrestrial. When there are many sunspots on the Sun, the probability of reconnection of magnetic lines of different polarities increases. The visible result of this process is flares, characterized by explosive energy release. This burst of radiation, reaching the Earth, causes strong disturbances in its magnetic field, disrupts satellites and increases the likelihood of aurora borealis in low geographic latitudes.
The planet's ionosphere is also subject to fluctuations in solar activity, which manifests itself in a change in the propagation of short radio waves. It also affects the chemical processes in the Earth's atmosphere, since it affects the intensity of galactic cosmic ray fluxes.
Moreover, it is now known that a change in the total value of the electromagnetic radiation of the Sun by only one percent can entail a noticeable change in the distribution of temperature and air currents on the Earth. An increase in the flow of particles leads to the fact that warm currents from the south rush with even greater energy to the northern latitudes, and the cold ones, carrying the Arctic air, penetrate deeper to the south.
Should we wait for a new ice age?
Each solar minimum traditionally raises concerns about the possible onset of the next global cooling, akin to that observed at the turn of the 17th and 18th centuries. During the Little Ice Age, global average temperatures dropped by one to two degrees Celsius, snow lay on some of the plains all year round, and Greenland was covered with glaciers. Moreover, the waters of the Thames and Danube rivers were frozen, and the Moscow River was covered with ice every six months.
However, for such cataclysms, a simple decrease in solar activity is not enough; a significant deviation is needed. A sharp decline, according to an international group of scientists, may occur in 2030-2040. This conclusion was made by experts after analyzing solar radiation during the 1982-2002 cycles. The data they obtained made it possible to derive analytical formulas that can be used to predict the behavior of a star in the period from 1200 to 3200.
"If the existing theories about the influence of solar activity on the climate are correct, then this minimum will lead to a significant cooling, similar to that which was during the Maunder minimum. In view of the fact that our future minimum will last three solar cycles – about 30 years, perhaps the decrease in temperature will not be as deep as in the Maunder minimum. But this will need to be studied in more detail, "the MSU website writes.
Scientists see a lot of other "bells" that foreshadow a sharp decline in solar activity. For example, Matthew Penn, an astronomer at the National Solar Observatory in Tucson, Arizona, told Deutsche Welle that sunspots are not observed at all if the magnetic field of the star falls below 1500 gauss. Moreover, in the penultimate cycle, local fields weakened by about 50 gauss per year.
"If we extrapolate this trend, then by 2021 they will become too weak and will not be able to resist convection. The spots on the Sun will disappear," he stated.
The director of the National Solar Observatory in Tucson, Frank Hill, even notes that in the new millennium, a malfunction was recorded in the formation of a plasma flow, the movement of which to the equator of the star and becomes the cause of the appearance of spots.
At the same time, the connection between disruptions in solar activity and the beginning of ice ages has not yet been reliably established, and so far experts are very cautious about this.
"My position is this: we do not yet have scientific data that could confirm or deny such a relationship," Frank Hill emphasized. – Of course, a long minimum of solar activity, in principle, will have some effect on everything – both on space exploration and on the Earth's climate. But I still want to emphasize: we are predicting changes in the solar cycle, and not at all the onset of a new Little Ice Age."
A strange phenomenon in the Arctic, the cause of which is unknown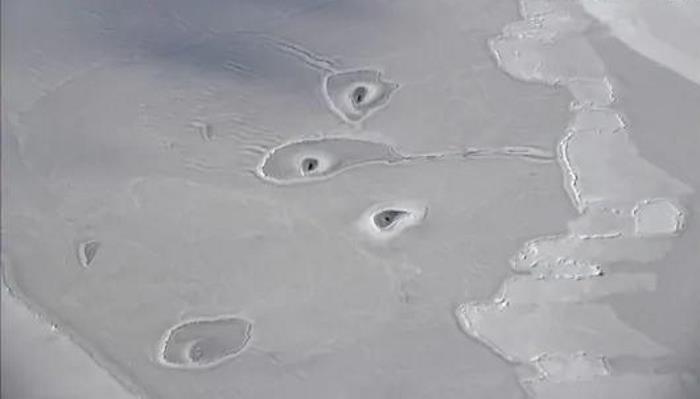 In 2018, a plane flying over the Greenland glaciers noticed strange holes in the ice. NASA scientists cannot yet find the reason for their appearance.
The Arctic is a mysterious place, and as the Earth's climate changes, it changes faster than scientists can record. So, according to NASA, strange holes began to appear in the ice, and so far no one can understand what causes them.
The photo was taken by John Sonntag, a scientist working for NASA's IceBridge operation, an ambitious mission to capture as much detail as possible of the North and South Poles in hopes of figuring out what is happening right now in these remote parts of the planet.
Unfortunately, this photo raises more questions than answers, at least for now. But even though scientists from IceBridge do not have an exact answer to what these holes are, they make assumptions. / These holes may be caused by ice melting due to the water warming under the ice, or they may be air pockets caused by whales or seals. However, for the latter variant the holes are somehow too big.
NASA even asked its readers on the Internet for advice on what it might be. There were many assumptions, but it is not yet possible to say exactly why these holes formed.
Rich people from all over the world are buying submarines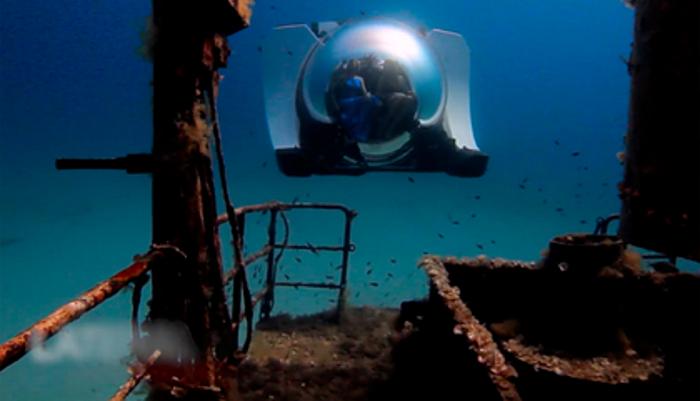 The wealthy around the world will spend millions of dollars on private submarines, following Russian billionaire Roman Abramovich, The Times reports.
According to the publication, in the period from 2019 to 2020, it was about the sale of 15 to 25 submarines, however, this number is expected to double in 2021. According to representatives of the three leading submarine manufacturing companies, next year the market will be estimated at 75 million pounds.
Among the first buyers of deep-sea vessels were the owner of Chelsea Football Club Roman Abramovich, the late Microsoft founder Paul Allen and the Emir of Abu Dhabi, Sheikh Khalifa Al Nahyan.
Roy Heijdra of the Dutch company U-Boat Worx noted that wealthy people increasingly want their yachts to be specially equipped for exploration, not just luxury holidays. According to him, ten vessels were sold in 2020 worth up to £ 2.2 million each. Among them was the Nemo model, which is estimated at 875 thousand pounds, has a height of 2.8 meters and can dive to a depth of more than 90 meters with two people on board.
In turn, the executive director of the Florida company Triton, Bruce Jones, said that compared with the previous year sales of submarines this year rose by almost a third, despite the pandemic coronavirus. At the moment, he has about five orders that need to be completed by the beginning of 2021.