Electrifying: Giant futuristic 'Tesla Tower' in abandoned woods near Moscow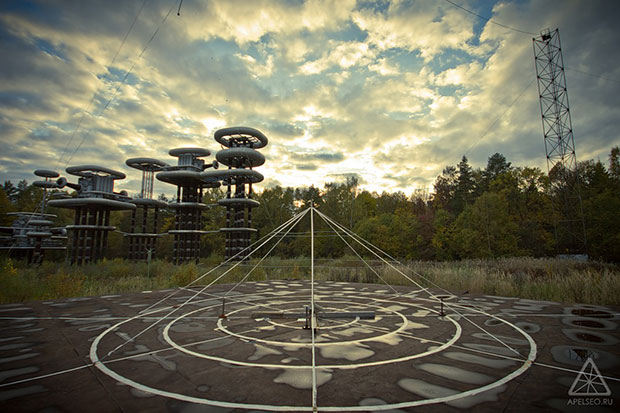 No, it's not an alien colony, a time machine, or even a Russian version of America's ionospheric HAARP program. But in a forest near Moscow, this Soviet-era "lightning machine" has a capacity arguably equal to Russia's entire electricity output.
Bloggers flock to see this technical marvel, which has been dubbed the "High Voltage Marx and Tesla Generators Research Facility." The testing range, a branch of the Russian Electrical Engineering Institute, is in the sleepy town of Istra, 40 kilometers west of Moscow.
Photo from www.jerusaleem.ru
It is situated in a relatively small forest next to the New Jerusalem Monastery on the edge of town.
Image from Google Maps
The secret, open-air, high-voltage testing device was constructed in the late 1970s for testing insulators to protect vehicles, aircrafts and electronic equipment against lightning.
Photo from www.esosedi.ru
The facility is absolutely unique; nothing like it exists anywhere in the world, primarily because of its outstanding charge capacity. At its peak operating capacity the giant Marx generator, when lightning is discharged onto an isolated platform, has power equal to all power generation facilities in Russia – including thermoelectric, hydroelectric, nuclear, solar, and wind power stations combined. But only for about 100 microseconds, Rossiya-1 TV reported.
The Marx Generator was named after German electrical engineer Erwin Otto Marx, who described it back in 1924. In Russia it's known as the Arkadyev-Marx generator, as Russian physicist Vladimir Arkadyev and his co-worker, renowned scientific film director Nikolay Baklin, constructed a so-called "lightning machine" 10 years earlier, in 1914.
Photo from www.esosedi.ru
The Istra "lightning machine," unparalleled in its discharge capacity, consists of a 3 Megawatt capacity transformer cascade; a 9 Megawatt Pulsed Voltage Generator (PVG), measuring 39.3 meters high, capable of creating 150-meter artificial lightning, believed to be largest in the world; and a 2.25 Megawatt constant voltage unit.
Photo from www.4turista.ru
The test bench discharges a lightning of a desired capacity on a special heavily isolated platform, on which a device or a material being tested is placed. The platform is full of sensors showing how exactly the electric discharge affected the tested object.
Photo from www.esosedi.ru
When the facility is operating, the static charge in the "hot zone" is so large that the hair of anyone present bristles. In a TV report made for Rossiya-1 TV, staff said that once a nosy observer intruded into the facility and entered the testing ground right in the middle of a experiment, when condensers were charged to the maximum.
"God only knows how this guy remained alive and wasn't struck by a discharge," said Vladimir Sysoev, a leading research worker at the facility.
Photo from www.esosedi.ru
Others say that lightning is still a matter for deep exploration, and that several trees burned to a crisp around the test bench serve as a reminder that lightning is very hard to control.
Photo from www.borshec.ru
The Istra research center has conducted many tests since Soviet times. Among the latest carried out were lightning protection tests for Russia's Sukhoi Superjet aircraft.
Photo from www.esosedi.ru
As the facility is really expensive to operate, it is only turned on for special occasions.
Photo from www.borshec.ru
Unlike the famous High Frequency Active Auroral Research Program (HAARP) facility in the US, the Marx generator in Istra was never meant to modulate the weather, yet like HAARP it was involved in designing weapons for the future.
Photo from www.4turista.ru
Next to the research facility there is another test center, called "Allure." It is a stationary simulator of the electromagnetic pulse (EMP) needed to test the sturdiness of military and civilian aviation hardware to impulse electromagnetic fields of a natural and artificial nature.
An EMP created by a nuclear explosion is capable of terminally damaging electronic equipment, so the capability of creating an artificial EMP, particularly without exploding a nuclear device, is valuable in a military sense. That's why an EMP weapon is a general's dream in any country.
Photo from www.ausairpower.net
The Allure complex was set to become a part of a grandiose scientific building, with a dome 118.4 meters high and 236.5 meters wide, but when the construction was nearly ready, the behemoth structure imploded, collapsing on the early morning of Jan. 25, 1985. The building was never reconstructed, though its circular base could be seen from space (coordinates 55° 55' 8"N, +36° 49' 7"E).
Photo from wikimapia.org
Though the dome crumbled because of mistakes in its construction, the collapse had unintended historical consequences.
The high-ranking Soviet Communist Party official in Moscow supervising the construction of the Istra dome was fired from his job and sent to a remote posting as punishment.
He was replaced with fellow Communist apparatchik Boris Yeltsin, who was invited to work in Moscow and eventually became Russia's first president.
New Physics: Mysterious radiation pointed to the verge of discovering a "ghost" particle that makes up dark matter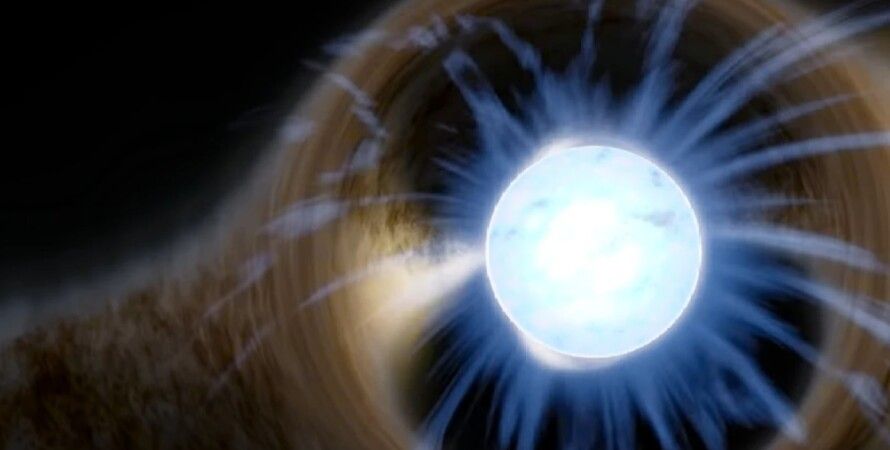 Physicists at the Lawrence Berkeley National Laboratory in the United States have found that the mysterious high-energy radiation emitted from the vicinity of a group of neutron stars may indicate the existence of axions – not yet discovered particles within the framework of New Physics, the search for which has been going on since 1977. It is assumed that special types of axions form dark matter. This is reported in an article published in the journal Physical Review Letters. The research is summarized in a press release on Phys.org.
It is believed that axions can form in the core of neutron stars and transform into photons in the presence of a powerful magnetic field. To detect the electromagnetic radiation associated with axions, you need to find stars that do not emit radiation at different wavelengths that can mask the desired signal. 
These objects include the Magnificent Seven neutron stars that emit only X-ray and ultraviolet radiation. They are located at a distance of 200-500 parsecs from the Earth.
The researchers ruled out the scenario that the excess X-rays produced by the Magnificent Seven are actually emitted by other, more distant objects. These sources would be found in datasets from the XMM-Newton and Chandra X-ray space telescopes.
The extra X-rays likely originate from axions hitting an extremely strong electromagnetic field billions of times stronger than the magnetic fields that could be created on Earth, the scientists concluded. The axions themselves resemble neutrinos in their properties, since both have insignificant masses and rarely and weakly interact with matter.
The axion is currently viewed as the most promising candidate for dark matter particles, since another hypothetical candidate, the massive WIMP particle, has gone unnoticed in experiments aimed at detecting it. 
In addition, there may be a whole family of axion-like particles that form dark matter, as suggested by string theory. If axions are found, it will prove that there is a whole new area of ​​physics outside the Standard Model describing the properties of all known particles.
To find out, the next step will be to study white dwarfs, which are not expected to emit X-rays.
"If we see an abundance of X-rays there too, our arguments will be pretty compelling," said lead author Benjamin Safdie.
The goal of human civilization is to create AI and disappear?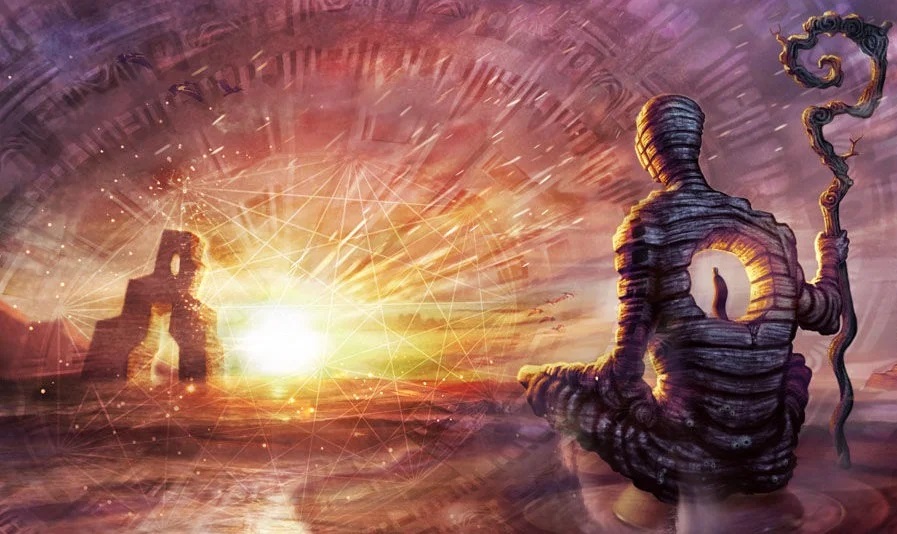 Various sources often talk about civilizations that lived long before us. They all developed, prospered for a while, and then disappeared in an incomprehensible way.
What is the reason for their decline, we probably will not know. All we can do is admire the remains of stone buildings, over which time has almost no power.
While looking for an answer, we somehow accidentally stumbled upon an interesting saying about the life of Japanese samurai: "A samurai has no goal, but a path." In the end, the "path of the samurai" ended in what is known – death. The path of any civilization ended in the same way.
If you look at the issue through the prism of a samurai saying, then there is no point in looking for why and how civilization ended its existence. Probably, the process itself and its result are important here. But to whom is it important and what result does it expect?
Mysterious director
Apparently, behind the curtains of this "ancient theater" there is a mysterious "director" who periodically makes necessary adjustments to the history of civilization.
To figure out what's what, you need to look at current trends in science. Where does a person strive with such an irresistible desire to "play God." This attracts him and at the same time frightens him, but in no way turns him away from the intended path. Most likely, artificial intelligence (AI) is the purpose of our civilization's existence.
About 50 years ago it would have seemed nonsense, but to someone, perhaps even now. However, if you trace the last 100 years of the life of our civilization, you get the feeling that most of the discoveries were given to mankind at the same time. A powerful leap has taken place in a hundred years. Why did it happen?
At the beginning of the last century, scientists recognized the existence of fields that have memory and the ability to store and transmit information. It is very likely that such or a similar field can be around the Earth and, more interesting, possess intelligence. Isn't this the same "Director" hiding behind the screen of the "ancient theater"?
If this is so, then at a certain moment the "Director" gives the selected scientist "access" to certain knowledge (perhaps even in a dream, like Mendeleev), and another scientific breakthrough occurs in the world. Step by step, discovery after discovery, humanity is steadily moving towards the creation of AI. The trend is already well visible.
AI is probably the next "Babylon", which will combine all the knowledge, culture and accumulated experience of civilization. In the future, the neural network will enter into a connection with the general information field and leave humanity without knowledge, technology, and even a spoken language. This will be the next decline of civilization. And the "Director" will receive another array of new data (experience) in order to start creating a new civilization.
If someone believes that past civilizations ended in large-scale conflicts, then most likely this is already the consequences of "turning off" AI.
Co-founder of Skype talked about the threat of AI to humanity
One of the creators of the Skype internet call service, Jaan Ta
llinn, said that the development of artificial intelligence (AI) threatens humanity. According to him, humans face three key threats, but it is AI that should be feared most of all, the expert said.
Tallinn explained that at the moment, no one can predict what development AI will achieve in the next decades. In addition, the fact that scientists are creating artificial intelligence that can form a new AI without human intervention is also a cause for concern.
In addition, as the co-founder of the popular video calling service noted, the development of synthetic biology also causes concern. According to him, this direction in science allows the creation of artificial DNA sequences and biological systems that may not exist in nature.
Tallinn also drew attention to the fact that he fears we are entering an era of "unknown unknowns", things that people are not even able to imagine right now.
Volkswagen robot will autonomously charge cars: a working prototype presented
The renowned German car manufacturer announced a new development. This time, engineers have created a unique robot capable of autonomously charging electric vehicles. 
For more than a year, specialists have been developing this project, but only now the concern was ready to demonstrate the first working prototype. The robot is ready to charge electric vehicles and has shown the high efficiency of this process.
It is called the Mobile Charging Robot, and experts have already compared it to the R2-D2 droid from Star Wars, including squeaks and clangs. Indeed, there is a similarity. Before implementing this idea, the engineers decided that robots should be allowed to charge cars parked in large residential complexes.
This will save their owners from leaving in order to find a gas station. Another advantage is that large parking lots and garages do not have to contain several expensive charging points for electric cars. The car company said in a press release that the robot works exclusively autonomously.
It independently controls and interacts with the vehicle being charged. It opens the cover of the charging socket and independently connects the power plug, then disconnects it. The robot looks like a trailer, which is a mobile energy storage.
It is capable of charging multiple electric vehicles at the same time. Despite the fact that the manufacturer confidently praises its concept, experts saw inefficiency in the fact that first it is necessary to charge the robot's battery, which is then used to recharge electric cars.
Volkswagen Group Components CEO Thomas Schmall noted that creating an efficient charging infrastructure for the cars of the future is an important step in the company's development.
Its engineers focus on finding solutions to avoid costly do-it-yourself measures. The mobile robot is only part of the concept that will continue to be developed.