Ecologists Share a Glimpse of Our Grim Future from Global Warming
The UN has recently published a troubling report on global warming suggesting that the temperature rise at the North Pole will be greater than anticipated in the coming years and that soon climate change could become irreversible, threatening humanity with massive disasters. Sputnik has discussed the report with two prominent ecologists.
A recent UN report on global warming has shown that our planet could soon reach a "tipping point", when rising temperatures will melt the permafrost layers in the Arctic and release enormous amounts of methane, a greenhouse gas "between 25 and 100 times as powerful as carbon dioxide", into the atmosphere, drastically increasing the rate of global warming.
The consequences of such irreversible heating of our planet could range from massive floods and rising sea levels to social upheavals due to famine, one of the academics interviewed by Sputnik suggested.
Grave Danger…
Rupert Read, chair of the Green House think-tank and a philosophy academic at the University of East Anglia, says that the report is long overdue, as ecologists like him have been warning about the potential dangers of melting permafrost in the Arctic for some time. He noted, however, that the real danger is far more serious than what was described in the UN paper.
"We should be extremely, extremely concerned about it. This is the gravest news yet on the climate to have come through the UN", he said.
Read complained that although the report was "well-supported" in the scientific community, it has received poor coverage in the media and was rather a sideshow for political news.
"It should be top of the news everywhere in the world. This is about whether we have a future or not. It is as stark and as simple as that", Read said.
The academic further said that humanity is facing an "extraordinary and unprecedented" task to change the situation drastically in a very short period of time, as otherwise the cataclysms will become inevitable. He added that if mankind were to fail at this, life on the planet will become unrecognisable "within a generation".
"[The] Arctic is the worst place in the world for there to be severe warming […] This could destabilise a lot more than just sea levels; this could destabilise our entire climate and could lead to quite rapid temperature rises. So, everything else is a sideshow compared to this", he said.
Read added that humanity will have to devote far more resources than before and work as "a world community" to change the situation. But even if it were to do so, people still need to prepare for failure, as in the academic's opinion, it could already be too late and we need to brace ourselves for "various kinds of breakdowns in our societies".
"We need to deeply adapt, which means we need to be ready for the potentiality of various kinds of partial societal collapses", the academic said.
He also points out that societal breakdowns and rising sea levels won't be our only problems. Rising temperatures are likely to "horrifically destabilise" agriculture around the world, provoking mass famine and, as a consequence, mass migration.
"If we have a series of very severely disrupted growing seasons and that is increasingly likely as you get this kind of extreme Arctic heating kicking in, then we are talking about the potentiality for mass famines which are going to make the kind of things that are happening in Yemen look relatively small scale", Read said.
…or Just Speculation?
On the other hand, John Christy, a distinguished professor of Atmospheric Science at the University of Alabama in Huntsville, is highly sceptical of the UN report. He noted that the UN is a government-supported organisation and hence its reports would be biased towards the political goals of the organisation, while facts and observations that do not fit its agenda would be left out.
Christy notes that his and many other scientists' analysis has shown that existing climate model simulations of temperatures in the Arctic are unreliable, especially when it comes to predicting the temperatures of the lower layers.
"The bulk Arctic atmospheric temperature indicates a warming rate of +0.25 C/decade over the past 40 years as well as the past 20 years, so the warming rate is not accelerating. By 2050, this indicates a rise of another 0.5 to 1.0 is possible in this critical layer", he said.
The professor further pointed out that the planet's rate of warming was higher during the 20th century and added that temperature fluctuations in the Artic are some of the greatest in the world and are mostly the result of natural processes.
He further stated that for now, there is no way of telling "why" temperatures change, although we have good records that show "what" has been happening in the Arctic. Christy clarified that there is no way of telling just how much human activity affects these changes.
"This region has large swings of temperatures on decadal time series which show, for example, it was roughly this warm in the late 1930s and certainly much warmer than today for a period 4,000 to 8,000 years ago", he said.
Still, the professor acknowledged that humanity could be having an effect on the temperature due to greenhouse gas emissions, noting that the main contributors in this area are China and India, while Europe and the US are reducing their emissions year-on-year. Christy doesn't predict any major changes in the global climate in the next 30 years that would result in calamities.
via Sputniknews
33ft 'frozen dragon' pterosaur found in Canada
Image Credit: CC BY-SA 4.0 PaleoEquii
Cryodrakon was absolutely enormous. 
Palaeontologists have identified one of the largest flying creatures ever to live on planet Earth.
This gargantuan creature, which soared through the Cretaceous skies over 76 million years ago, has been named Cryodrakon boreas, which means 'frozen dragon of the north.'
Originally discovered in Dinosaur Provincial Park in southern Alberta 30 years ago, the partial skeleton had been mistaken for another genus of pterosaur until very recently when a new analysis enabled experts to finally recognize it as a new species.
Thought to stand 9ft tall and with a weight of 250kg, this enormous flying reptile would have likely feasted on just about anything, including small dinosaurs.
Its 33ft wingspan – which would have made it similar in size to a small plane – is almost three times that of the wandering albatross which has the largest known wingspan of any living bird.
"These are among the most popular and charismatic of all fossil animals," said Michael Habib from the Natural History Museum of Los Angeles. "They have been inspiration for countless movie monsters, they were critical parts of global ecosystems worldwide during the age of dinosaurs, so they are key to understanding the ecology and extinctions of that time."
"Just like flying animals today, [they] could carry important clues about how animals at the time responded to major changes in climate."
Source: Independent
Meteor Fireball Streaking Across the North Carolina Sky Captured by Dashcam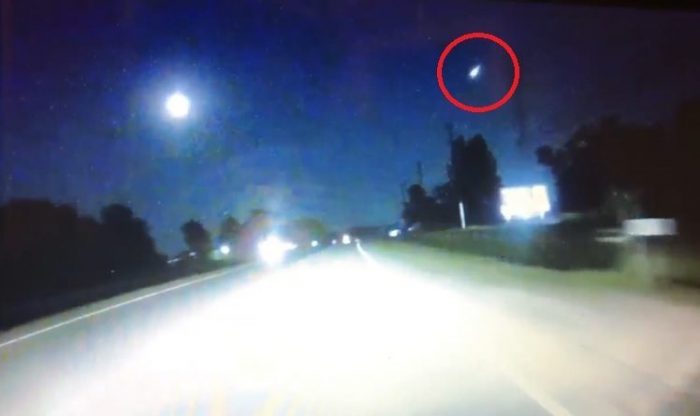 A car dashcam recorded a fireball streaking across the night sky in North Carolina.
An ABC11 viewer recorded the video Thursday night while driving on Raleigh Road in Wilson toward Airport Boulevard.
In the top right of the screen, a bright light can be seen entering the frame and streaking toward the horizon for about three seconds.
According to the American Meteor Society, as many as 20 witnesses from South Carolina to Virginia reported seeing something similar around 8:07 p.m.
With all of the reports are taken into consideration, AMS projects the fireball's trajectory happened off the coast of Morehead City.
Defending the Amazon, Indigenous Rights & Planetary Integrity
As the Amazon Rainforest crisis persists, our inability to protect our planet poses an existential threat to all of Earth's inhabitants. As the sky recently turned black over Sao Paulo, Brazil because of smoke (thousands of kilometers away) from the fires that is so thick it can be viewed by NASA space satellites, the world's leaders were assembled at the G-7 summit in Europe, seemingly more interested in exchanging sophomoric insults than solving the world's most pressing and urgent problems. According to Brazil's National Institute for Space Research, almost 73,000 forest fires have been documented this year alone. That's an alarming 84% increase from what was observed in 2018.
As Indigenous groups and conservationists scramble to defend the lungs of our planet, Brazil' President Jair Bolsonaro audaciously shrugged off the news and blamed NGO's and Indigenous groups for the glaring uptick in fires in the Amazon. Since taking office in January, Bolsonaro has promised to roll back environmental protections and indigenous rights in order to exploit the Amazon for increased farming and mining, and he has made good on that promise.
Invasion of indigenous territories are on the rise in Brazil, and indigenous groups are increasingly under threat as titans of industry within mining, logging, and animal farming continue to encroach upon indigenous land and destroy precious parcels of the Amazon for commercial exploitation. Bolsonaro has emboldened these invasions. Recently, a group of heavily armed miners invaded indigenous land in Northern Brazil and assassinated one of the community's indigenous leaders.
Indigenous peoples in Brazil are once again on the front lines today of one of the most brutal attacks on their rights and on the forest in recent history. We're now seeing the drastic rollback of 30 years of progress on human rights and environmental protection in Brazil under Bolsonaro's regime, which romanticizes Brazil's past when military dictatorship took helm and presided over wanton destruction of the forest. The Munduruku people have been resisting encroachment and destruction of their land for centuries, and their fight (along with other indigenous groups and the very spirit of the Amazon jungle itself) is more urgent than ever as Brazil's government and commercial industries continue to violate with impunity.
The tragedy currently taking place in the Amazon is indicative of a broader cultural problem in regards to our relationship with our planet. 1/5th of all the world's plants and birds and about 1/10th of all mammal species are found in the Amazon. Earth has lost half its wildlife in the past four decades. Based on an analysis of thousands of vertebrate species by the wildlife group WWF and the Zoological Society of London, our way of life has presided over the destruction of 60% of our animal populations since 1970. The report calculates a global "ecological footprint," which measures the area required to supply the ecological goods and services humans use. It concludes that humanity currently needs the regenerative capacity of 1.5 Earths to supply these goods and services each year.
With the planet's population expected to grow by 2.4 billion people by 2050, the challenge of providing enough food, water and energy (while sustaining planetary health) will be difficult. This should be the real "RED ALERT" placated all over the media, as the shocking and rapid decline of planetary biodiversity poses an imminent catastrophe that plagues all of us, requiring urgent and bold alterations to our way of life.
That being said, we have more than enough resources to profit food and shelter to billions of people. Solutions done seem to be the problem, it's human consciousness, greed and ego.
Outrage is an understandable response to the Amazon crisis, but not sufficient to redress the problem. We need to take individual action in our daily lives by altering our lifestyles. One of the most under-reported aspects of Amazonian deforestation is our addiction to consuming meat. Beef, soy, palm oil and wood drive the majority of tropical deforestation.
Animal agriculture is devastating for the Earth. Raising livestock for meat, eggs and milk uses about 70% of agricultural land, and is a primary factor in the proliferation of deforestation, biodiversity loss, and water pollution.
"1.2 billion farmed animals are slaughtered globally every week for human consumption. In one week, more farmed animals are killed than the total number of people killed in all wars throughout history. Although these animals are treated as commodity, they are — in fact — sentient beings — like your pet cat or dog. We tend to assume that only vegans and vegetarians follow a belief system — but when eating animals is not a necessity (which is the case in much of the world today) — then it is a choice, and choices stem from beliefs. "Carnism" is a dominant philosophy — as eating animals is just the way things are — yet it runs contrary to core human values such as compassion, justice, and authenticity. And so — they need to use defense mechanisms that distort our thoughts and numb our feelings so that we act against our core values without fully realizing what we are even doing." ~Dr. Melanie Joy
The challenges that face our planet, our indigenous family, and our own imminent future are immense. It is easy to feel discouraged, angry, and hopeless about the state of the world, but the ability to harness humanity's intelligence, creativity and compassion to steer the planet in a new direction is with us right now. We can take individual responsibility today, which can resonate immediately and create waves of influence that can lead to a collective change in behavior and attitudinal shift towards our relationship with nature and with ourselves. This change starts from within, and this work begins with each of us making the choice to defend and protect this wondrous planet which has so graciously hosted our livelihood.