Ecocide: The Push to Criminalize Humanity For the Sake of Saving the Planet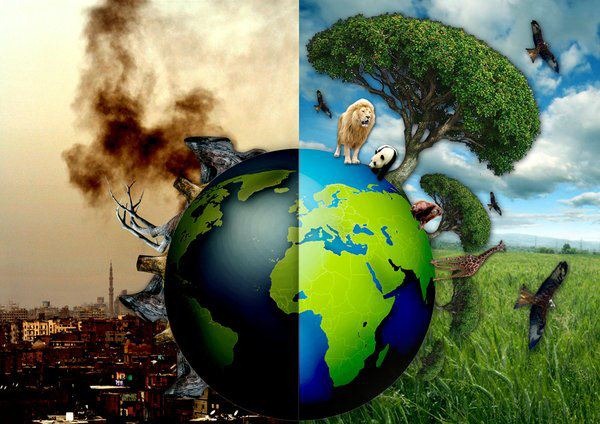 By the year 2020, the eco-fascists hope to make ecocide the ultimate crime against the planet. With the green economy installed, and the mandates of Agenda 21 firmly in place, the only thing left to do is criminalize the entire human race. And ecocide promises to be the definitive "crime against peace".
Ecocide is defined as "the extensive damage to, destruction of or loss of ecosystem(s) of a given territory, whether by human agency or by other causes, to such an extent that peaceful enjoyment by the inhabitants of that territory has been or will be severely diminished."
Yet the proposed explanation of ecocide is vaguely termed with phrases like:
• Large-scale land use change that causes the direct destruction of habitats • Significant pollution whether deliberate or incidental • Open cast mining where entire landscapes are removed
The demonization of humanity is central to ecocide where human effects on the planet are classified as unsustainable and having irreversible consequences; hence requiring a criminal mandate that can be internationally enforced to protect the planetary boundaries of our world.
As a global law to be enforced by the UN, ecocide can enforce sustainable development under the control of the UN Environmental Program's Green Economy.
According to the Green Economy Report, the "new millennium" demands a "new economic paradigm" which involves a world where a green economy replaces "environmental risk, ecological scarcities and social disparities." The necessity of the engagement of the private sector is an imperative which includes "leveling the playing field for greener products by phasing out antiquated subsidies, reforming policies and providing new incentives, strengthening market infrastructure and market-based mechanisms, redirecting public investment, and greening public procurement."
Securitizing fuel, food, water and the global financial system would drastically improve the global climate and biodiversity of which humanity is having "disastrous consequences". And by 2050, the UN and the global Elite desire to have complete authority of all resources and control how those resources are doled out to the entire human population.
Nations like Ethiopia, South Sudan, Democratic Republic of Congo and Sierra Leone, in Africa have coerced signed agreements with multi-national corporations and foreign investors, allowing them to control agricultural land. The nation's leaders believe that giving access to their resources will benefit their people; however this is just another manipulative ploy to coercively acquire control over land, food production and securitization.
The UN has enacted global guidelines on purchasing agricultural land from developing nations like Africa and Asia.
The UN claims that to secure equality for the poor and disadvantaged, this international body must control their lands through the allowance of mutli-national corporations and governments who will develop the land for agriculture and securitize the crop yields; thereby giving the UN control over the global food supply.
The document entitled "The UN Global Compact and the OECD Guidelines for Multinational Enterprises" outlines through "voluntary" means, the UN will implement their international guidelines with respect to corporate conduct, standards and abilities.
The UN decries that their voluntary code of conduct promotes equal rights for women by securitizing title to land. They also claim that they will give poor people access to their own land once they own and control it. And once the UN controls the land, they will enact "legal help" to settle disputes.
This document requires governments and local communities to adhere to UN rules with respect to business practices.
In 1992, the UN Sustainable Development Summit at Rio declared that in order "to achieve sustainable development and a higher quality of life for all people, States should reduce and eliminate unsustainable patterns of production and consumption and promote appropriate demographic policies."
The Law of Ecocide promises to "prosecute those who destroy the planet." And when made a legitimate legal mandate, alarmists and eco-fascisits will finally have the judiciary standing to unilaterally prevent any atrocities perpetuated upon the planet by corporation or individual.
While these fanatics complain that governments have yet to "intervene to make the destruction of our world a crime" the law enforcement and justice system of sovereign nations have their hands tied. With the advent of a global mandate, those nations would be forced to adhere to global governance and punish those found guilty by international law.
In Europe, the Green Party of England and Wales have given their "whole-hearted" support to ecocide – to be recognized as the international Crime Against Peace.
As it stands, with the UN Rome Statute, ecocide is not considered a crime against peace because those are defined as crimes of:
• Genocide • War • Humanity • Aggression
Defined in the proposed Ecocide Act, all nations, corporations and individuals would be "under the principle of superior responsibility" and legal obligation to "ensure their actions do not give rise to the risk of and/or actual extensive damage to/or destruction of or loss of ecosystem(s)."
International mandate would empower eco-fascists to hold any nation, corporation or individual accountable for damage to or loss of any ecosystem and determine the legal ramifications of such actions which would include imprisonment and costs to restore the destroyed area.
The legislation justifying this remedy would be the Proceeds of Crimes Act of 2002. In the name of good environmental governance, usurping authority over persons, corporations and nations for the sake of ensuring the viability of our planet's future seeks to ensure the UN and their factions have their hand over our lives indefinitely.
Alvin Toffler: Rural bioconverters as an alternative to urbanism
The great American futurologist Alvin Toffler gives a chance to the countryside. His prediction is that the countryside will be covered by a network of "bioconverters" where biomass waste is converted into food, feed, fiber, bioplastics and other goods.
The US domestic bioeconomy will be able to meet 90% of the country's need for organic chemical fertilizers and 50% – the need for liquid fuel. Every million liters of bioethanol produced creates 38 direct jobs. Therefore, jobs are formed not "at the oil pipe", but in agricultural regions.
American philosopher and futurologist Alvin Toffler and his wife Heidi Toffler published the book "Revolutionary Wealth" in 2006. There was no Internet power yet, the heyday of alternative energy and robots, but Toffler was already looking beyond the horizon of our time. For example, he not only draws attention to the fact that "time has become denser" (the same processes a hundred years ago and today are proceeding at different speeds), but that traditional institutions – family and education, bureaucracy and political parties – are increasingly lagging behind the growth rate production, from new values, communications and from the process of globalization. And in this discrepancy between the old institutions and processes of the new time lies the source of the impending crisis.
In the preface to the Toffler's book, he writes:
"Wealth does not arise only in fields, factories, and offices. Revolutionary wealth is associated not only with money. Currently, even the most stupid observers cannot help but see that the economy of the United States and several other countries is transforming, turning into an intelligent economy controlled by the mind. The full impact of this transformation on the fate of an individual, as well as on the fate of all countries and even continents, has yet to be felt. The past half century has been only a prologue to this transformation."
Nevertheless, Tofflers in their book also pay attention to the transformation of old institutions – for example, rural production, assuming that, having transformed, it will give people an alternative way of life from the city. We provide an excerpt from the book "Revolutionary wealth" about the new life of the countryside.
"In a stunning document that was not given due attention, the Center for Technology and National Security Policy at the University of Washington National Defense paints a picture of the world where" agricultural fields will have the same meaning as oil fields."
Even oil company managers have spoken about the "last days of the oil century." Dr. Robert Armstrong, author of a report by the University of National Defense, develops this idea by claiming that we are moving towards a biology-based economy, where "gas will be replaced by genes" as a key source of not only various raw materials, but also energy.
At the beginning of the XXI century, American farmers produced 280 million tons of unnecessary leaves, stems and other plant waste per year. Some of this material is already being used, turning into chemicals, electricity, lubricants, plastic, adhesives and, most importantly, into fuel. This, however, is only the beginning. Armstrong anticipates that the countryside will be covered by a network of "bioconverters," where biomass waste is converted into food, feed, fiber, bioplastics, and other products. He quotes from the 1999 report of the National Research Committee, which states that the US domestic bio-economy "will be able to satisfy 90% of the country's need for organic chemical fertilizers and 50% of the need for liquid fuel."
And this applies not only to America. In such an economy, Armstrong continues, "genes will be the basic raw materials, and they can be found everywhere, unlike oil." Thus, he predicts a gigantic geopolitical shift in power from desert oil powers to tropical regions characterized by a rich and diverse biosphere.
"In the world of biotechnology," Armstrong writes, "our relationship with Ecuador (a representative country) will become more significant than our relationship with Saudi Arabia." Reason: Ecuador has a much greater diversity of the biosphere, and therefore – a variety of genes that have potential value for the whole world. If this is true in the case of Ecuador, what about Brazil? Or Central Africa?
The Eden project in Cornwall, England, launched by Tim Smith, is the largest greenhouse in the world. Smith believes that "we are on the eve of the greatest revolution. From plant materials we can produce composite materials that are more durable than steel and Kevlar. The possibilities for its use are phenomenal. Every country in the world can possess modern materials derived from its own plants."
Moreover, Smith continues, "bioconverters should be built close to sources of raw materials. It is likely that regional agricultural crops will be actively developed, and special crops will be grown in certain regions to supply local bioconverters. The result of this process will be the creation of non-agricultural jobs in agricultural areas."
Armstrong concludes:
"An economy based on biotechnology can ultimately stop the process of urbanization."
North America plans to plant empty fields with Miscanthus, a giant elephant grass. Studies show that from one hectare it is possible to obtain by burning such an amount of fuel that is enough to replace 40 barrels of oil.
An example of Russia
In Russia, it is technically possible now every year to use about 800 million tons of wood biomass, which is not currently used in timber harvesting, and about 400 million tons of dry matter of organic waste, and 250 million tons of them of agricultural origin , 70 million tons of forestry and woodworking industry, 10 million tons of wood and hardwood waste (collected annually in cities), 60 million tons of municipal solid waste (mainly pulp and paper products and plastics) and 10 million tons other waste (for example, precipitation of municipal drains, etc.). Their processing potentially allows you to get 350-400 million tons of oil equivalent per year and open up to 500 thousand new jobs.
US example
Every million liters of bioethanol produced creates 38 direct jobs. Therefore, jobs are formed not "at the oil pipe", but in agricultural regions. The raw materials for most bioeconomic products are sugar (glucose), starch (sugarcane) or cellulose (straw, sawdust). One of the most modern bio plants is the Dupont plant, which produces 100 thousand tons of corn bioplastics per year. This bioplastics surpasses nylon in cost price and consumer qualities.
Silvery clouds alerted scientists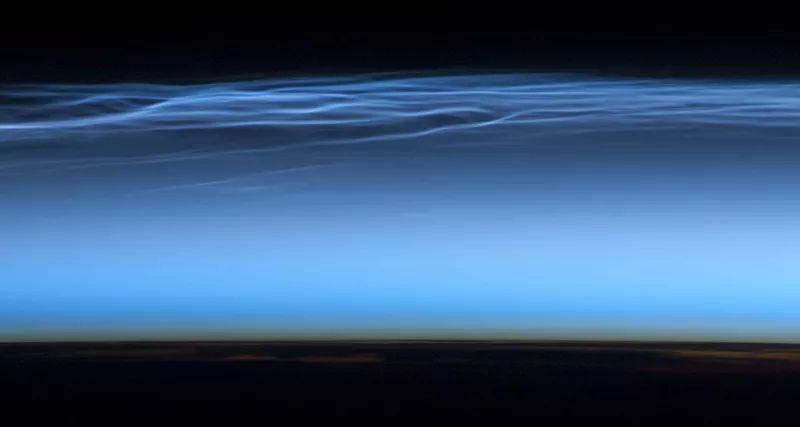 In summer, in the night sky, you can see something truly magical, namely silver clouds or mesospheric clouds. This rare phenomenon got its name because of the flickering effect in the twilight sky. However, despite its beauty ,these clouds can be a wake-up call.
Silvery clouds form in the mesosphere – a rarefied upper atmosphere with a small amount of moisture and low temperatures at an average height of 82 kilometers. The nature of this phenomenon has not been fully studied, however, scientists suggest that clouds form due to scarce water vapor, which freezes, creating crystals. Since the mesosphere is the coldest in summer, such clouds are observed precisely in this season.
The reason this phenomenon is not well understood is that the history of these clouds is relatively young. For the first time they were reported in 1885, and immediately scientists began to talk about the fact that they could appear due to climatic changes.
Now experts are again considering this possible reason, since for many years these clouds were mainly found only in the polar regions. But lately they have been laid much further, and look much brighter. So, on June 21, residents of the UK watched this beautiful phenomenon, although it is quite unusual for these places.
Most of the moisture needed to form clouds comes from methane – a greenhouse gas – that produces water vapor when it is destroyed in the upper atmosphere. And as methane pollution increased, silvery clouds became brighter, and most importantly, noticeable in new places.
Silvery clouds are studied by scientists, both from the Earth and from space, since they are quite high. However, to understand the true cause of the phenomenon, specialists still have a lot of work to do.
A clear comparison of all the plastic in the world with New York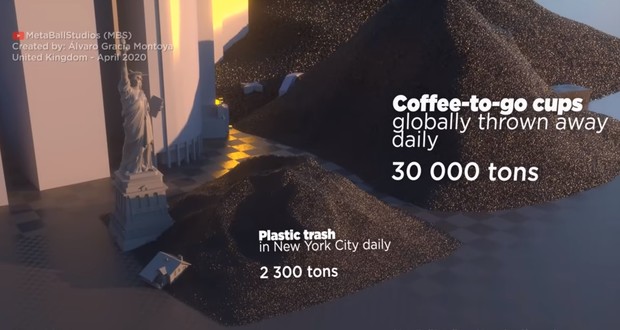 A modern person has a huge number of reasons for constant concern. And one of the most pressing concerns is plastic, which is about to evict us from our home planet.
Graphic craftsmen from the MetaBallStudios Youtube channel, specializing in visual comparisons of various things, decided to team up with the anti-plastic organization BeyondPlastic.net and create not just entertaining video, but entertaining and informative. It turned out, in our opinion, a real mini-horror movie.
Here's what it took to create a horror movie: count all the volumes of plastic, put them together in black bags and compare with the city of New York. The video shares the following information with us:
on average, every inhabitant of Europe and America spends 100 kg of plastic annually (if you remember that plastic weighs almost nothing, it becomes uncomfortable);
daily in New York (substitute any city with a population of 9 million people) spent 2,300 tons of plastic;
30 thousand tons of disposable coffee cups are thrown around the world every day;
840 thousand tons of plastic are thrown out in New York annually;
in 1950, the global consumption of plastic was 1.5 million tons;
and today, up to 8 million tons of plastic are thrown into the ocean;
58 million tons of plastic bottles are produced worldwide annually;
and plastic bags altogether 100 million tons;
Perhaps, we will stop at this terrible figure – watch the video and understand everything yourself. We urge you to be responsible for nature.
Try to go to the store with a reusable bag, start with a reusable mug if you buy take-away coffee and generally think about the planet. Alas, we have nothing for life better than the Earth. This is proven.