Cattle mutilations, abductions, alien/human hybrids, Reptilians, Greys, mind manipulation experiments, underground bases, murder and cover-ups.
The Dulce Papers story has it all.
Central to the story of Dulce is Thomas Costello, or Castello, depending on the source you find. Castello is the named source of the much talked about but rarely, if ever seen "Dulce Papers." These papers are supposed to have been taken from a joint Alien/US Government underground facility beneath Dulce New Mexico and are said to include 25 black and white illustrations of scenes witnessed by Castello.
Images like these found on Bibliotecapleyades

Despite rumors that there are 25 images, these and 3 others you can see at Bibliotecapleyades are all that can be found online as the original document is said to be lost. Somehow a video has made its way to YouTube claiming to show footage of the storage tanks described in the image on the left.
Thomas Castello himself is something of a "Deep Throat" in this whole story. No one has ever met him, or apparently spoken or communicated directly with him, at least not that they can prove; always through an intermediary.
All of this alien interaction is said to take place in a deep underground bunker described here.
From Sacred Texts website
"THE DULCE BASE"
by Jason Bishop III

This facility is a "GENETICS LAB" and is connected to
Los Alamos, via a "Tube-Shuttle." Part of their research is
related to the General Effects of Radiation (Mutations and
Human Genetics). Its research also includes other
"Intelligent Species" (Alien Biological Life Form
"Entities").
In the revised September 1950 edition of "THE EFFECTS OF
ATOMIC WEAPONS" prepared for and in cooperation with the U.S.
Department of Defense and the U.S. Atomic Energy Commission,
under the direction of the Los Alamos Scientific Laboratory,
we read about how "complete Underground placement of Bases is
desirable". On page #381: "There are apparently no
fundamental difficulties in construction and operating
Underground various types of important Facilities. Such
facilities may be placed in a suitable existing mine or a
site may be excavated for the purpose".
There is plenty more at Sacred Texts website.
According to another Dulce Witness, Phil Schnieder, as told in Before Its News.
Phil Schneider

"To give you an overview of basically what I am, I started off and went through engineering school. Half of my schooling was in that field and I built up a reputation for being a geological engineer, as well as a structural engineer with both military and aerospace applications. I have helped build two main bases in the United States that have some significance as far as what is called the New World Order. The first base is the one at Dulce, New Mexico."
Scheider, like Castello and the Dulce Papers themselves is no longer available to give testimony.
Phil Schneider… was found dead on January 1996, due to what was said to be an execution style murder. He was found dead in his apartment with a piano wire wrapped around his neck. According to some sources, it appeared that he repeatedly suffered torture before he was finally killed.
Despite those willing to speak out disappearing and/or dying, images continue to slip out. A tunnel which is supposedly part of the underground complex, and one of the hybrid storage areas are notable.
In an X-Files, or even Roland Emmerich style twist, supposedly in 1979 there was a short lived shooting war at Dulce, where alternately according to rumor, either Humans attempted to wrest control of the base from the Greys in control, OR during a presentation by one of the Greys which was attended by world scientists (who, with the exception of Phil Schneider, have never spoken of the incident) a security guard entered the presence of a Grey carrying a sidearm. This breach of Grey security protocol was punished by the Grey and set off the firefight.
Never fear, it gets weirder.
Supposedly the conspiracy and experimentation is also responsible for… wait, I'll give you three guesses…
Mothman! And yet another story of the fighting that is rumored to have happened.
"The Human Genome Project may well have the greatest direct impact on humanity of any scientific initiative before us today", said David Shirley, Director of the Berkeley Laboratory. Covertly, this research has been going on for years at the Dulce bio-genetics labs. Level 6 is hauntingly known by employees as "Nightmare Hall". It holds the genetic labs at Dulce. Reports from workers who have seen bizarre experimentation, are as follows:

"I have seen multi-legged 'humans' that look like half-human/half-octopus. Also reptilian-humans, and furry creatures that have hands like humans and cries like a baby, it mimics human words… also huge mixture of lizard-humans in cages. There are fish, seals, birds and mice that can barely be considered those species. There are several cages (and vats) of winged-humanoids, grotesque bat-like creatures…but 3 1/2 to 7 feet tall. Gargoyle-like beings and Draco-Reptoids."

"Level 7 is worse, row after row of thousands of humans and human mixtures in cold storage. Here too are embryo storage vats of humanoids in various stages of development. I frequently encountered humans in cages, usually dazed or drugged, but sometimes they cried and begged for help. We were told they were hopelessly insane, and involved in high risk drug tests to cure insanity. We were told to never try to speak to them at all. At the beginning we believed that story. Finally in 1978 a small group of workers discovered the truth. It began the Dulce Wars".
According to ExoPolitics.org another player in the story, Paul Bennewitz has tied the Dulce Facility to cattle mutilations, and abductions.
Dr Paul Bennewitz is an electronics specialist who in the late 1979 began to film, photograph, and electronically intercept what appeared to be extensive UFO/ET activity and communications that he traced to the vicinity of the Archuletta Mesa on Jicarilla Apache Reservation land near the town of Dulce. Based on the collected evidence Bennewitz concluded that an underground extraterrestrial (ET) base existed near Dulce that played a role in both cattle mutilations and abduction of civilians. In 1980, the Air Force Office of Special Intelligence (AFOSI) began investigating Bennewitz's evidence, and this eventually led to its disinformation campaign to discredit Bennewitz. Bennewitz's subsequent electronic evidence and field research alleging extensive human rights abuses were occurring at the Dulce underground base became associated with the AFOSI disinformation campaign. Most UFO researchers concluded that Bennewitz had been too influenced by disinformation to be taken seriously
The Dulce drama is either the Holy Grail of alien invasion stories, or the Gilligan's Island of them. You know, the episode where the mad scientist swapped people's minds and Ginger ended up inside Skipper.
Either way, even among the UFO believer community, there are those who think the Dulce Papers are a bit far fetched, and that is saying something.
Photos show evidence of life on Mars, entomologist says …
Ohio University Emeritus Professor William Romoser analyzed a number of photos from various Mars rovers and found insect-like and reptile-like forms in the images, appearing to verify that life exists on Mars.
As scientists scramble to determine whether there is life on Mars, Ohio University Professor Emeritus William Romoser's research shows that we already have the evidence, courtesy of photographs from various Mars rovers.
Dr. Romoser, who specializes in arbovirology and general/medical entomology, has spent several years studying photographs from the red planet that are available on the Internet. He found numerous examples of insect-like forms, structured similarly to bees, as well as reptile-like forms, both as fossils and living creatures. He presented his findings Tuesday, Nov. 19, at the national meeting of the Entomological Society of America in St. Louis, Missouri.
Romoser said, noting that the images appear to show both fossilized and living creatures:
There has been and still is life on Mars. There is apparent diversity among the Martian insect-like fauna which display many features similar to Terran insects that are interpreted as advanced groups – for example, the presence of wings, wing flexion, agile gliding/flight, and variously structured leg elements.
Romoser said that while the Martian rovers, particularly the Curiosity Rover, have been looking for indicators of organic activity, there are a number of photos which clearly depict the insect- and reptile-like forms. Numerous photos show images where arthropod body segments, along with legs, antennae and wings, can be picked out from the surrounding area, and one even appears to show one of the insects in a steep dive before pulling up just before hitting the ground.
Individual images were carefully studied while varying photographic parameters such as brightness, contrast, saturation, inversion, and so on. No content was added, or removed. Criteria used in Romoser's research included: Dramatic departure from the surroundings, clarity of form, body symmetry, segmentation of body parts, repeating form, skeletal remains, and observation of forms in close proximity to one another. Particular postures, evidence of motion, flight, apparent interaction as suggested by relative positions, and shiny eyes were taken to be consistent with the presence of living forms.
Romoser said:
Individual images were carefully studied while varying photographic parameters such as brightness, contrast, saturation, inversion, and so on. No content was added, or removed. Criteria used in Romoser's research included: Dramatic departure from the surroundings, clarity of form, body symmetry, segmentation of body parts, repeating form, skeletal remains, and observation of forms in close proximity to one another. Particular postures, evidence of motion, flight, apparent interaction as suggested by relative positions, and shiny eyes were taken to be consistent with the presence of living forms.
Distinct flight behavior was evident in many images, Romoser said. These creatures loosely resemble bumble bees or carpenter bees on Earth. Other images show these "bees" appearing to shelter or nest in caves. And others show a fossilized creature that resembles a snake.
Romoser, who was an entomology professor at Ohio University for 45 years and co-founded its Tropical Disease Institute, also spent nearly 20 years as a visiting vector-borne disease researcher at the U.S. Army Medical Research Institute of Infectious Diseases. Between 1973 and 1998, Romoser authored and co-authored four editions of the widely-used textbook, "The Science of Entomology."
Romoser noted that interpretations of insect- and reptile-like creatures he described may change in the future as knowledge of life on Mars evolves, but that the sheer volume of evidence is compelling.
He said:
The presence of higher metazoan organisms on Mars implies the presence of nutrient/energy sources and processes, food chains and webs, and water as elements functioning in a viable, if extreme, ecological setting sufficient to sustain life," he said. "I have observed instances suggestive of standing water or small water courses with evident meander and with the expected blurring of small submerged rocks, larger emergent rocks at the atmosphere/water interface, a moist bank area, and a drier area beyond the moist area. Water on Mars has been reported a number of times, including surface water detected by instrumentation on Viking, Pathfinder, Phoenix, and Curiosity.

The evidence of life on Mars presented here provides a strong basis for many additional important biological as well as social and political questions," he added. It also represents a solid justification for further study.
USB Stick of Quisto found with incredible images of Planets, Extraterrestrial Spaceships and Aliens
A German man named Quisto, who lives in a small village near Berlin, Germany, found a USB stick with a strange symbol engraved on it in a parking lot near the so-called "Steintor" shopping center. Later, the man opened the USB key in his laptop and to his surprise, he saw many old 20th century images of what appeared to be planets, space, extraterrestrial spaceships and even alien figures.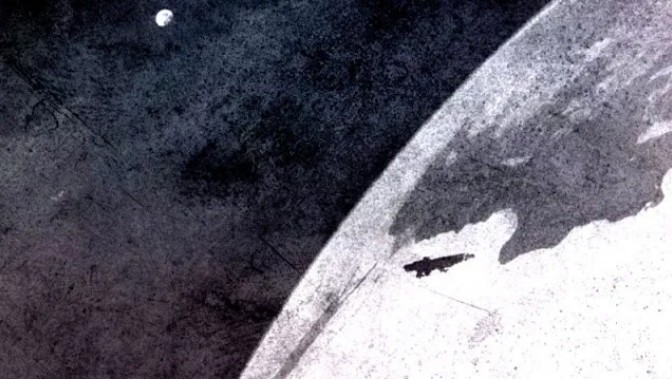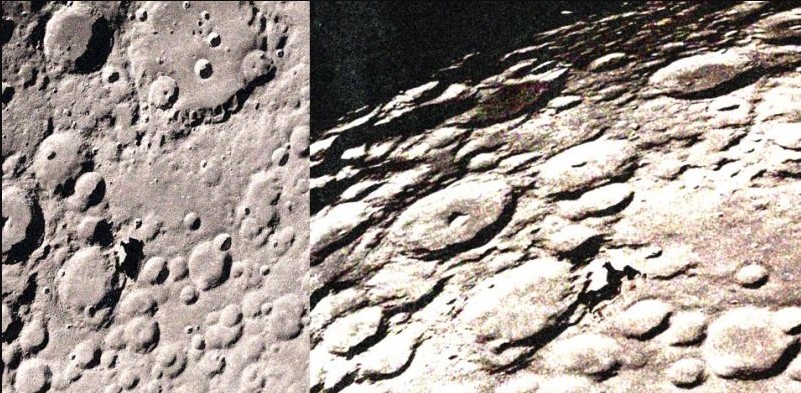 According to Quisto, who has no idea who the owner of the USB key was, he decided to share about 28 images, hoping that someone will have an answer to give for these mysterious and incredible images.
It seems that the incredible images are authentic, but obviously one must keep in mind that it could be a hoax, but according to a friend of Quisto, the stick contains old Voyager probe travel records and the files that are inside the stick, would be Tops Secret and that should not be in the public domain. The witness stated that he never saw anything like this.
NASA launched Voyager 1 on September 5, 1977 and Voyager 2 42 years ago, or August 20, 1977. The probes had to study the most distant planets in the solar system.
Since its launch, Voyager 2 has met several planets, including Jupiter, Saturn, Uranus and Neptune. Some of these planets can also be seen on images, such as different types of UFOs, including the infamous Black Knight. There are also photographs of lunar bases and spaceships flying in space near the Moon and planets in the solar system. In some photographs, mysterious unidentified alien figures are visible. Whether true or false, the experts are analyzing all the photographs and for now they cannot see any case of CGI input.
Meteorological Radars record three "Huge Anomalies" in the Texas skies
The images we show you have appeared through the American media, where there was talk about an Alien Invasion. On November 2, 2019, three huge anomalies were recorded in several Texas cities. Ufologists said they were giant mother ship UFOs . The UFOs showed up on the meteorological radar recording mysterious concentric waves with a diameter of a few miles on Texas late at night around 9:45-10:30pm. The UFOs were so large that the radar bounced off on each of them … causing a series of rings around the UFO. Each UFO had six thick refracted rings around it, caused by the radar bouncing of of them. 
Social media, especially Twitter, was lit up by messages from people who tweeted @wfaweatehr that looked like an alien invasion. They were worried about the rings seen over the cities of Waco, Austin and more. Now the WFFA news is trying to convince people in the video that they have the answer to this phenomenon. According to weather experts, not knowing how to justify these anomalies, they said it was a super refraction. But people do not believe in this version, also because there have been hundreds of UFO reports that evening on Saturday 2 November, not surprisingly when these mysterious radar echoes were appearing.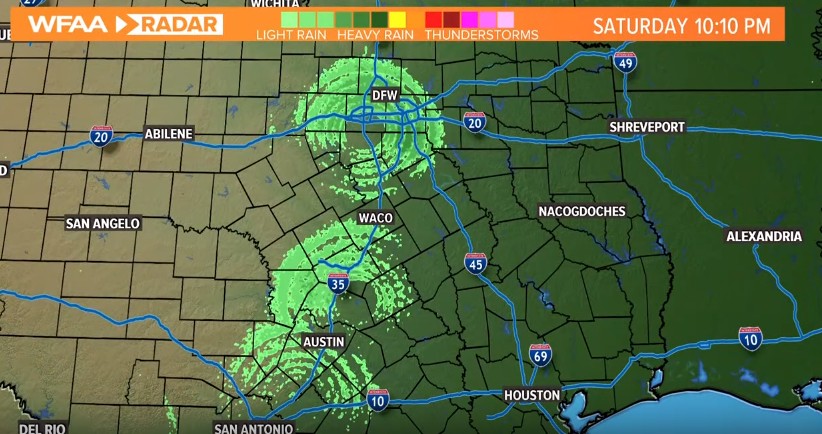 Alien UFOs do sometimes get caught in weather radar maps. This is 100% proof that several huge UFOs were over Texas this week "They are large enough to cover an entire county. UFO motherships must have remained in place for up to 15 minutes … allowing them to be seen on the radar. I believe they came from the Gulf of Mexico from an alien submarine base. I also believe they were testing their cloaking devices against our human technology to see if they would be noticed … and yes, our technology is reaching them fast. Doppler radar makes larger ships visible. Where did they go then? Probably straight and out of our atmosphere" Said Scott Waring.