Dr. Greer Researches Possible ET Body!
After many weeks of travel, we are back to report that amazing results have been obtained from our study of the small possible ET body which was discussed in an earlier blog post.
Dr. Bravo, Emery Smith and I traveled to the country that is now home to this small possible ET body and were able to successfully obtain extensive X-Ray and CT Scans of the entire body. We were also able to obtain DNA samples under sterile, surgical conditions. These DNA samples are now being studied by one of the world's top geneticists.
The X-Ray and CT scan show an intact, actual biological humanoid organism, without question. Astonishing 3-D images were able to be constructed of the body from the detailed CT scan, and we were able to see internal organs such as lungs and what I am fairly sure is a heart structure.
These images have just been examined by the world's foremost authority on skeletal abnormalities, dysplasias and fetal skeletal syndromes and he has stated that this being is unlike any known skeletal structure found in humans. We also know that it is not an ancient hominid, and while humanoid, not apparently human.
Both this expert as well as the radiologist who is head of the imaging center where all X-rays and CTs were done have stated that the bone density precludes the body being that of a 20-22 week aborted human fetus.  There is just too much calcium in the bone for this being to have been the result of a fetus of that age. Both doctors feel that the being was post-natal at the time of death (that is had lived for some time outside the womb, if indeed a womb is involved…).
The procedures for the DNA studies are complex and time-consuming. Literally the state-of-the-art technology available on earth will be brought to bear on this study, and the team of experts are without a doubt the most advanced and professional team that could possibly be assembled. The DNA studies will take around 2 months, and possibly longer.
We hope to provide some of these results, and the detailed CT and X-ray images, in the film Sirius. (See Sirius.Neverendinglight.com)
The STAR team has provided film footage of our trip including the examination and surgical procedures performed on the small being,  as well as the CT scan and X-rays to the A. Kaleka and the Neverendinglight team to use in the film Sirius.
We have also completed the Sirius Lecture Event in Santa Monica CA which was a great success and standing room only. A big thank you to all of you who came out to make that event a wonderful and historic event!
We have  transferred to Neverendinglight hundred of UFO photos, video tapes, dozens of top-secret witness testimony and top-secret government documents as well as other materials for the film At this point there is enough evidence in hand for a 20 part series!  We hope the film Sirius will be completed in December, 2012 and I will be further interviewed by NEL in November prior to our Contact expedition to the CA desert Nov. 10-17.
I would like to thank all of you for the enthusiastic support you have provided to this historic film project Sirius. Without you, none of this would be possible
Former NASA Astronaut Admits To Seeing UFOs Aboard Space Station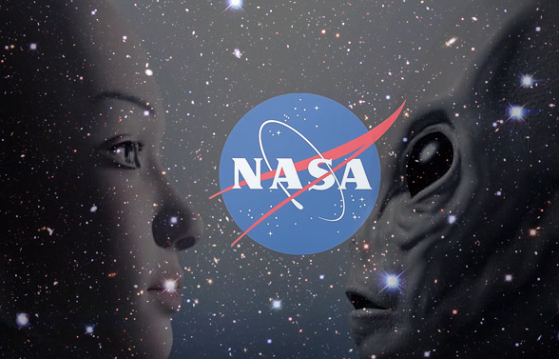 Jerry Linenger has revealed there were multiple instances that made the entire space crew aboard the International Space Station scratch their heads. Linenger, a former NASA astronaut, referred to the anomalies as unidentified flying objects while requested the media not to take him out of context.
Linenger admitted to seeing multiple bizarre objects or unexplained things during his five-month stay in space.  He recalled how he and colleagues could only guess and ask among themselves what they witnessed. He claimed to have seen stuff that made him call his crewmates over.
Linenger, who's also a former captain of the U.S. Navy Medical Corps, not only stayed at NASA's ISS but also did a stint at the Russian Space Station Mir, which operated from the mid-1980s to 2001.
Along with two Russian crewmates, he spent five months at the SS Mir, which was situated 50 million miles above Earth while orbiting the planet 2,000 miles. He was the first American astronaut to perform a spacewalk from a non-American space station while wearing a foreign space suit.
Linenger has made a disclaimer, though, that he made no mention of seeing aliens but only UFOs.
NASA admits that "Mysterious Objects" photographed in space are "unknown"
NASA has labeled the strange sightings that occurred during Shuttle space missions as "unknown objects" on an official website. Since then, the images have resurfaced after being published on YouTube.
The NASA cameras captured three strange objects in space – and the agency cannot explain what they are. The images on the Gateway to Astronaut Photography of Earth website from NASA resurfaced after being shared on YouTube by controversial conspiracy theorist Scott C. Waring. In a 1985 photo, a snake shaped object, like many seen from Earth, floats on the dark background of space.
A second photo of the same year shows a large object that bizarrely imitates a screw or a rivet. And a third object – photographed by the Space Shuttle astronauts in 1990 – shows an object similar to a grid suspended over the Atlantic Ocean, off the coast of Brazil.
Mysteriously, all the images were classified as "unknown objects" by the space agency – apparently contradicting the consensus that these structures are simply space junk.
Scott – who has earned a reputation in the past for his bizarre claims of having found mysterious life on Mars – found the photos disconcerting and shared them on his YouTube channel. He was more fascinated by the snake-like UFO, which suggested it could be "alive, organic".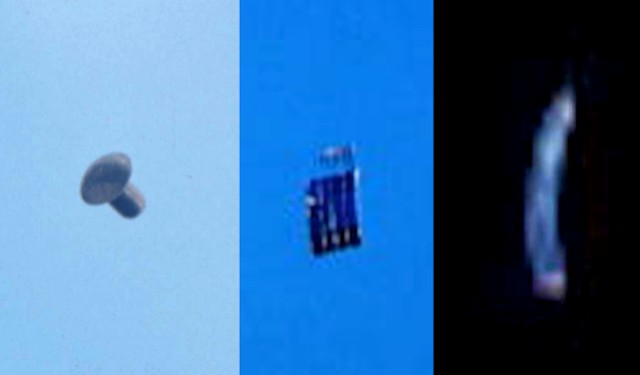 "It seems that it floats in space like a real animal," said Scott, mentioning a conversation he had with an astronaut earlier this year who said he saw something "that looked like a semi-transparent living creature" outside of the International Space Station.
UFO hunter claims spike in sightings of 'snake-like objects' in US skies – speculation runs rampant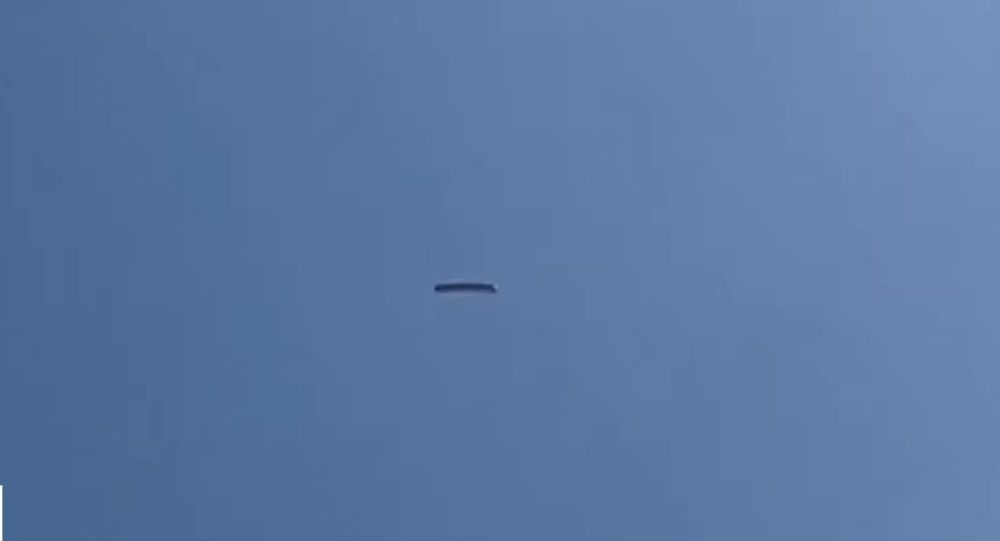 Over the last month, an elongated unidentified object, which reminded some of a cigarette or a snake, has been spotted in several US states, from California to Wyoming, and even Scotland. However, there is still no explanation of what it was or where it came from.
Numerous sightings of snake-shaped objects hovering in several places in the US, from Wyoming to Texas, have prompted conspiracy theories about the government secretly spying on people, The Daily Star reports. The claims were fueled by reports about one of them hovering over Dallas, Texas. According to the outlet, images of the "craft," which witnesses on the Mutual UFO Network (MUFON) describe as "a black pipe" with a "dull metal colour," have now emerged, although they were initially taken in September.
The outlet reports that at least two people have independently said that they spotted the strange object that day.
"They had also seen the object and shared the exact same testimony. That definitely adds some validity to this sighting. I don't think, right now, anyone is lying," UFO hunter Jane Kyle told the British outlet, dismissing an allegation that it could be something as simple as a balloon.
With no feasible explanation available, researchers have suggested their own theories. Kyle agreed with one of them, saying it could be something "top-secret military," but added we will hardly be able to find out exactly if that was the case as "it's something we don't have access to as the public." However, the unusual shape of this object offers room for debate.
"A snake-like UFO, I feel like I want to lean towards that not being something of our own," she told the outlet.
Over the past month, the enigmatic object (or similar objects) has been spotted above numerous places in the US- New York, Wyoming and Washington -even Edinburgh, Scotland. It was allegedly spotted for the first time in June above California's Mojave Desert, located not far away from the notorious Area 51 – a military base, where, as various conspiracy theorists claim, the US government allegedly experiments with alien technologies. Its reappearance there was reported in September.
"Something big in the sky up there is moving really-really-really slow. And it is tilting back and forth sometimes. Look at how slow that thing is moving. And it's humungous. It's really-really big," said the author of the video.