Donald Trump may have launched US Space Force army after learning about America's UFO secrets, expert claims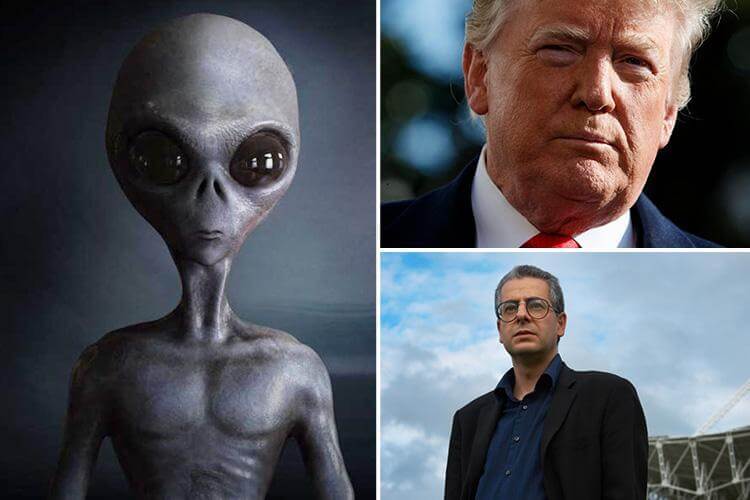 Former MoD insider Nick Pope says there's no way the president is being kept in the dark about potential UFO threats
PRESIDENT Donald Trump must know America's UFO secrets – and it may have contributed to his plans for a military Space Force, according to a defence insider.
Nick Pope, who used to run the Ministry of Defence's UFO project, said it would be "nonsense" to suggest the President is being kept in the dark about potential UFO threats, as some conspiracy theorists believe. 
Donald Trump must know about America's UFO secrets, according to Nick Pope
Pope – often dubbed the real-life Fox Mulder for his official UFO research – says Trump must know about the Pentagon's secret UFO research project – AATIP (Advanced Aerospace Threat Identification Program), which was uncovered earlier this year.
He will be aware that the influential US Armed Services Committee has been investigating the money spent on the shadowy AATIP project, according to Pope.
Trump will also know that a Senate committee is currently investigating a 2004 incident in which US Navy pilots chased and filmed an unidentifiable white "tic-tac" shaped object which travelled at "balistic missile speed" off the coast of Mexico, Pope said.
Pope believes that this knowledge may have contributed towards the president's plans to create a Space Force, a new military branch dedicated to fighting wars in space.
The Space Force is due to be created by 2020, and has been championed by Trump, who tweeted in August: "Space Force all the way!"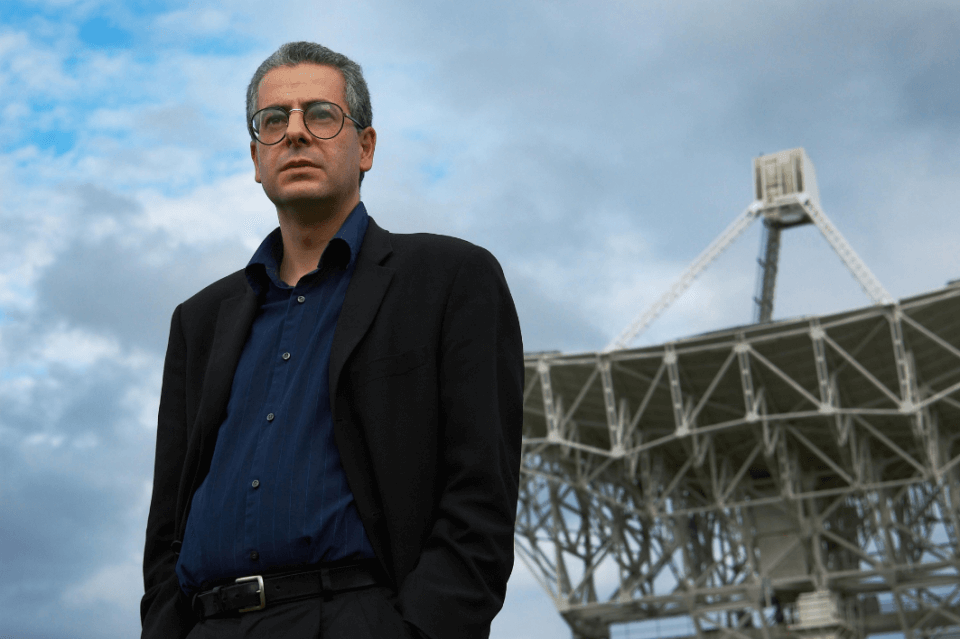 Pope used to run the MoD's UFO programme which was axed in 2009
Pope told Sun Online: "There are conspiracy theories suggesting President Trump's plans for a Space Force reflect a need to protect Earth against hostile aliens. There were similar conspiracy theories about President Reagan's Star Wars plan.
"While there may not be an alien connection, President Trump surely knows all of America's UFO secrets – some of which were released earlier this year as part of the AATIP project – and this may have contributed to his keenness to develop a military Space Force.
"And of course he knows that the two key battlespaces in any future conflict are going to be cyberspace and outer space, so it's vitally important for the US to dominate those battlespaces.
US Navy pilots chased and filmed an unidentifiable white "tic-tac" shaped object in 2004
"In the 2016 Presidential campaign both Hillary Clinton and her campaign chairman John Podesta made some fairly strong 'pro-UFO' statements, but we don't know what President Trump knows or thinks about the issue. 
"He'll know that the House Armed Services Committee is taking an interest in the Pentagon's AATIP project, which looked at the UFO phenomenon, and he'll know that the Senate Armed Services Committee is looking into the 2004 incident where US Navy pilots chased and filmed a UFO around the aircraft carrier USS Nimitz. 
"But we don't know – for example – whether he supports the move to hold formal Congressional hearings on this."
Pope says that despite the conspiracy theories it was unbelievable to think that Trump would not know about any UFO secrets the US may be keeping from the public. 
And he even suggested that those conspiracy theorists currently waiting for full disclosure of the US government's extra-terrestrial knowledge
"Many people in the UFO community believe in a conspiracy so vast, shadowy and deep that even the president doesn't know," he said. 
"They use phrases like 'need to know' and 'plausible deniability' to suggest POTUS is out of the loop. 
"This is nonsense. If the US had proof that aliens have visited Earth, the President would have to know, because in his role as Commander-in-Chief he might have to make immediate top-level strategic decisions, if the situation suddenly became hostile.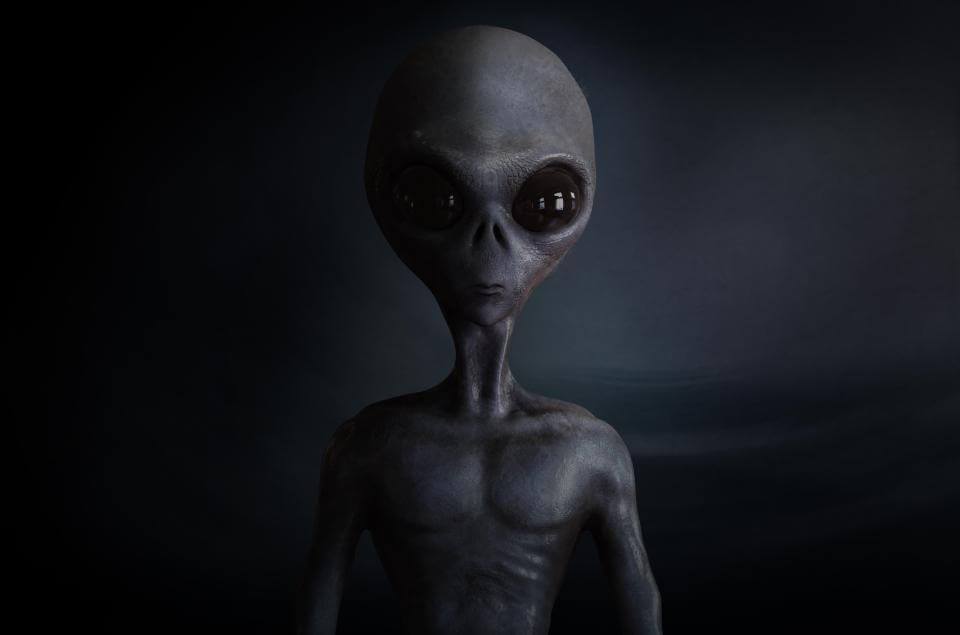 Many conspiracy theorist believe that even the US president wouldn't know if aliens had visited earth or not
"The President needs to know all the big, important things, as part of a culture of no surprises. If anyone in the military industrial complex is keeping UFO secrets from President Trump, or suggesting he keep quiet about things, they may be in for a rude awakening. 
"He's a particularly forceful and strong-willed president, and won't take kindly to being kept in the dark or told how to play the UFO issue. 
"The UFO community fantasize about 'Disclosure' – maybe President Trump will just Tweet it one evening."
Donald Trump signing his Space Policy Directive calling on the Pentagon and Department of Defence to begin plans to set up a Space Force
Pope, who ran the UK's now defunct UFO project from 1991 to 1994 said he hopes the president takes an interest in the issue – and would be happy to use his expertise to help him.
"I hope President Trump takes a personal interest in this and I'd be happy to get involved," he said.
"The UK government axed its UFO project in 2009, so there's no current subject matter expert, but having done this job in the Nineties I'm happy to help in any presidential briefings and Congressional hearings, to explain what some of us in the MoD concluded about the threats and opportunities that arise from the UFO phenomenon, whatever its true nature."
Source www.thesun.co.uk
NASA admits that "Mysterious Objects" photographed in space are "unknown"
NASA has labeled the strange sightings that occurred during Shuttle space missions as "unknown objects" on an official website. Since then, the images have resurfaced after being published on YouTube.
The NASA cameras captured three strange objects in space – and the agency cannot explain what they are. The images on the Gateway to Astronaut Photography of Earth website from NASA resurfaced after being shared on YouTube by controversial conspiracy theorist Scott C. Waring. In a 1985 photo, a snake shaped object, like many seen from Earth, floats on the dark background of space.
A second photo of the same year shows a large object that bizarrely imitates a screw or a rivet. And a third object – photographed by the Space Shuttle astronauts in 1990 – shows an object similar to a grid suspended over the Atlantic Ocean, off the coast of Brazil.
Mysteriously, all the images were classified as "unknown objects" by the space agency – apparently contradicting the consensus that these structures are simply space junk.
Scott – who has earned a reputation in the past for his bizarre claims of having found mysterious life on Mars – found the photos disconcerting and shared them on his YouTube channel. He was more fascinated by the snake-like UFO, which suggested it could be "alive, organic".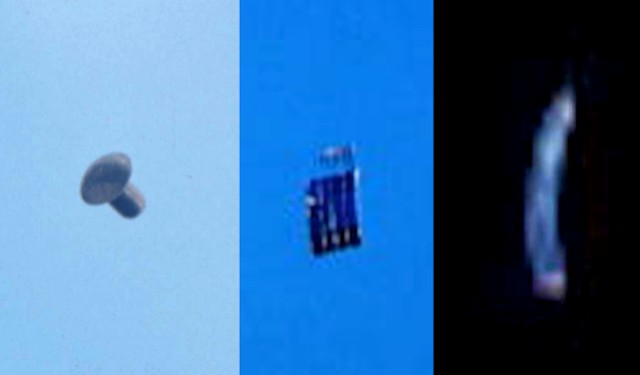 "It seems that it floats in space like a real animal," said Scott, mentioning a conversation he had with an astronaut earlier this year who said he saw something "that looked like a semi-transparent living creature" outside of the International Space Station.
UFO hunter claims spike in sightings of 'snake-like objects' in US skies – speculation runs rampant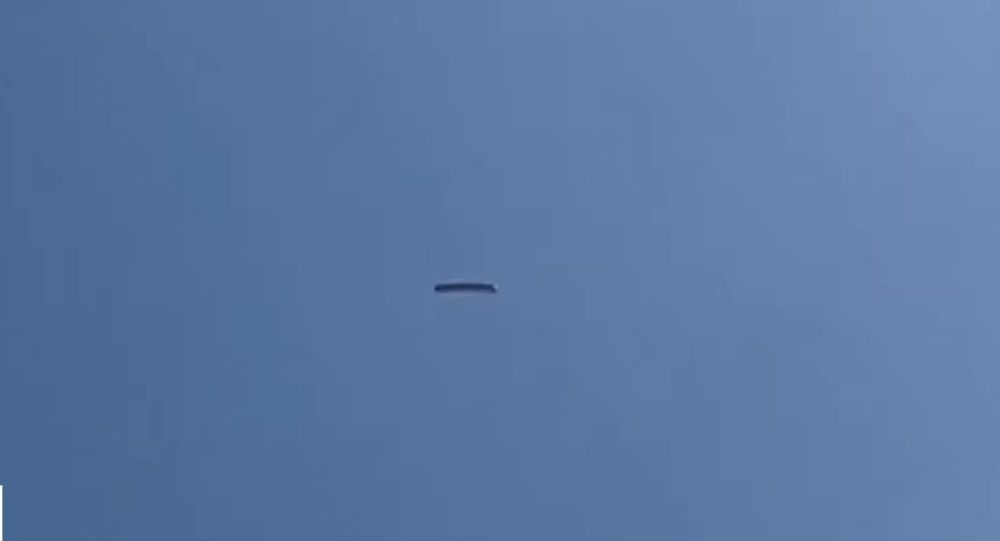 Over the last month, an elongated unidentified object, which reminded some of a cigarette or a snake, has been spotted in several US states, from California to Wyoming, and even Scotland. However, there is still no explanation of what it was or where it came from.
Numerous sightings of snake-shaped objects hovering in several places in the US, from Wyoming to Texas, have prompted conspiracy theories about the government secretly spying on people, The Daily Star reports. The claims were fueled by reports about one of them hovering over Dallas, Texas. According to the outlet, images of the "craft," which witnesses on the Mutual UFO Network (MUFON) describe as "a black pipe" with a "dull metal colour," have now emerged, although they were initially taken in September.
The outlet reports that at least two people have independently said that they spotted the strange object that day.
"They had also seen the object and shared the exact same testimony. That definitely adds some validity to this sighting. I don't think, right now, anyone is lying," UFO hunter Jane Kyle told the British outlet, dismissing an allegation that it could be something as simple as a balloon.
With no feasible explanation available, researchers have suggested their own theories. Kyle agreed with one of them, saying it could be something "top-secret military," but added we will hardly be able to find out exactly if that was the case as "it's something we don't have access to as the public." However, the unusual shape of this object offers room for debate.
"A snake-like UFO, I feel like I want to lean towards that not being something of our own," she told the outlet.
Over the past month, the enigmatic object (or similar objects) has been spotted above numerous places in the US- New York, Wyoming and Washington -even Edinburgh, Scotland. It was allegedly spotted for the first time in June above California's Mojave Desert, located not far away from the notorious Area 51 – a military base, where, as various conspiracy theorists claim, the US government allegedly experiments with alien technologies. Its reappearance there was reported in September.
"Something big in the sky up there is moving really-really-really slow. And it is tilting back and forth sometimes. Look at how slow that thing is moving. And it's humungous. It's really-really big," said the author of the video.
Quantum physicist makes impressive predictions about UFOs
A "time capsule of the mind" by the physicist Deep Prasad serves as a kind of mission statement for an in-depth exploration of technology related to unexplained sightings of UFOs on the west coast of the United States.
Prasad, vice president of technology at UAP Expedition Group and CEO of ReactiveQ, expects big things to happen in the next 5 to 10 years. The synopsis of what he is trying to do appears on the site Medium.com.
He predicts that "we will discover that we are not alone in the universe." But it goes beyond that. Before he even lists 10 points he intends to explore, he insinuates about an agenda to find out the truth he seeks:
If it turns out that a secret group of humans has surpassed every single country, military capability and private industry on the planet in an insurmountable leap, we will report.
His predictions suggest that he has a different understanding of what extraterrestrial life means, using the alien term "for lack of a better word."
The website Mystery wire previously reported the emergence of UAP Expedition Group in the UFO research scenario. The composition of the group includes people who were on board the USS Princeton at the time of the Tic Tac UFO report, which was reported by New York Times in December 2017 and recognized as 'real' by the US Navy earlier this year. The Dave Fravor's Navy Commander's visual observation in 2004 off the coast near San Diego sparked interest in understanding UFOs.
The group told the vice.com that aims to exploit technology to revolutionize travel.
The website punkrockandufos.com interviewed Prasad in June. He explained his interest in the topic then. The article states:
The young innovation star is also an avid UFO advocate; He is one of us.
Below are the impressive predictions of quantum physicist Deep Prasad, followed by a video of his interview on the channel. Townhall media:
We will find that we are not alone in the universe.
This will become a familiar fact sometime in the next 5 to 10 years. Some will naturally debate this, no matter how much science and evidence is presented. After all, we still have people who believe in Terra Plana to this day.
We will find that the engineers of these advanced technologies are not human, but they are NOT extraterrestrial as we define them.
We will find that words like extraterrestrial, ultra-terrestrial, and interdimensional are inaccurate descriptions of what the beings behind these UFOs really are. From what I have seen in terms of data, it seems that the answer will be complicated, if not totally impossible to fully understand with our current knowledge of physics and philosophy.
We will find that an unfortunate amount of human mythology and folklore is the result of intelligent nonhumans messing with holographic technology for some unknown reason.
Let's find out much, much more about ourselves, who and what we really are.
Such revelations will shock virtually every living sentient person. Depress some while releasing others (I would bet more…).
Finally, there will be communication between human civilization and alien civilization, for lack of a better word, once enough humans are psychologically ready for the first contact.
UFOs will be formally recognized as a valid doctoral and masters topic in the fields of Quantum Information, Quantum Gravity, Condensed Matter Physics, High Energy Physics, Sociology, History, Literature, Engineering and even Biology.
Sometimes things we cannot change, end up changing us.