Dogs Can Detect Lung Cancer With 97 Percent Accuracy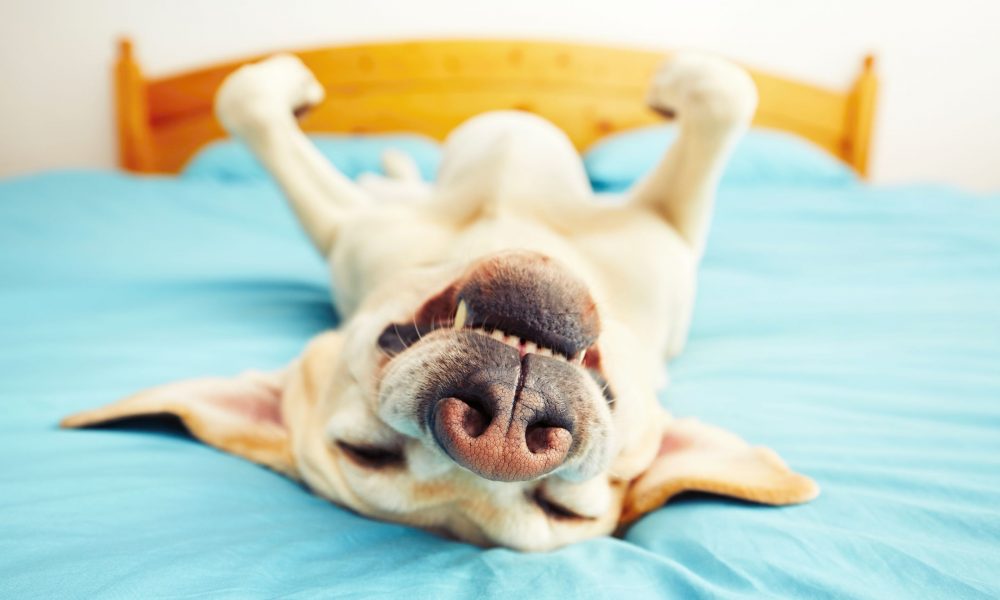 IN BRIEF
The Facts:Early detection provides the best opportunity for lung cancer survival; however, lung cancer is difficult to detect early because symptoms do not often appear until later stages. Dogs were able to help solve that issue.
Reflect On:Why do we use animals for experiments? Unless they are willing and have a loving home and are provided for, animals should never be used as lab rats or for scientific purposes. What makes us think we have the right to do that?
Animals are a precious gift to humanity, and we have so many lessons to learn from them. If you were an empathetic, benevolent alien looking down on planet Earth, no doubt you'd be heartbroken at and terrified of the way we treat animals. We slaughter them by the billions, destroy their homes, experiment on them, and worse. That being said, the 'good' side of humanity loves animals, and there are a lot of activist efforts out there that are speaking up for those who do not have a voice, not to mention the ever growing movement promoting a plant-based diet. We are making progress.
Another important point regarding animals is the fact that we know so little about them. We think we know, but the truth is we don't know, and there is so much more to discover, especially with regards to certain abilities they may possess like clairvoyance, precognition, telepathy, and other types of extra-sensory perception that human beings may have dormant within them as well.
I recently came across a study regarding three beagles successfully showing that they are capable of identifying lung cancer by scent, which is the first step in identifying specific biomarkers for the disease. The researchers hypothesized that their abilities may lead to the development of a new type of cancer screening method that is fairly inexpensive. Although we still need more research on the factors in our environment that are causing cancer in the first place, this is still great to see.
However, it's only great if these animals are not being used solely for the purpose of study and are living happy and healthy lives because, as you may not know, beagles are the dogs most commonly used for scientific experiments, which are cruel and inhumane. At the end of the day, animals should not be used for such purposes. They are here as our companions, as part of our human family.
These dogs were able to tell the difference between blood serum samples that were taken from patients with malignant lung cancer and health controls with, as the study points out, 97 percent accuracy. The double blind study was published in The Journal of the American Osteopathic Association.
Thomas Quinn, the lead author of the study and professor at Lake Erie College of Osteopathic Medicine, said, "We're using the dogs to sort through the layers of scent until we identify the tell-tale biomarkers. There is still a great deal of work ahead, but we're making good progress."
Again, I can't help but wonder: Do these dogs have families? Are they being loved and cared for? Or are they simply being used for lab experiments? The thought of that is heartbreaking, and it makes me not even want to support or write about a study like this, but I couldn't find any details about the lives of the dogs.
It sounds like they are simply 'lab rats,' given the description of the study, but again, we don't know. They were led into a room with blood serum samples at nose level. Some samples came from patients with non-small cell lung cancer; others were drawn from healthy controls. After sniffing a sample, the dogs sat down to indicate a positive finding for cancer or moved on if none was detected.
"Samples from 10 donors (6 women and 4 men) were used in the testing phase. Their ages ranged from 26 to 80 years (mean, 58.2 years). The samples from female donors (mean age, 64 years) came from 3 black women, 2 white women, and 1 Hispanic woman. The samples from male donors (mean age, 49.5 years) came from 2 black men, 1 white man, and 1 man of mixed race. Canine No. 1 indicated a positive sample on 10 of the 10 cancer samples and 1 of the 40 control samples during his test runs. Canine No. 2 indicated a positive sample on 10 of the 10 cancer samples and 0 of the 40 control samples during her test runs. Canine No. 3 indicated a positive sample on 9 of the 10 cancer samples and 2 of the 40 control samples during her test runs. (From study)."
A Few Words About Cancer
I often become frustrated at the bombardment of "cancer awareness" advertisements, or when I see the Heart & Stroke Foundation serving processed meats at their fund raisers. In many cases, the companies raising money for cancer research are putting out products that are causing the problem in the first place. Why do we constantly raise money for cancer research and become so emotional and "patriotic" about 'finding a cure' and 'fighting cancer' without ever acknowledging the causes of cancer? Why do we see advertisements of cancer patients fighting cancer in order to entice us into donating? Why do people proudly fight cancer and go through conventional treatments without ever being aware of alternative, more successful and effective treatments? What is going on here?
When it comes to cancer awareness, all of us should really be tweeting and posting about environmental pesticides, electromagnetic radiation, processes foods and meat, unhealthy lifestyles, sugar, emotional baggage, trauma, stress, and several other factors that are clearly causing cancer.
Why is it that there are only a couple of accepted treatments for cancer that oncologists are legally able to recommend?
There are so many head-scratchers when it comes to cancer, and any cancer awareness efforts should be bombarded with 'f**ck glyphosate,' and things of that nature. That would be REAL cancer awareness.
The Takeaway
Animals are not to be used as experiments, but I wanted to present this info simply because, as I mentioned earlier, there are so many amazing, good, positive things about them. Their abilities go far beyond what we know, and when it comes to dogs in particular, they are nothing but of service to others. If you have a dog, you know what I am talking about, and in many cases they already know things about you and your biology that you may not be aware of, unless you are really in tune with them.
If the investigation into whether or not Donald Trump colluded with Russia and the ensuing 'special counsel' headed by Robert Mueller is starting to look to you like little more than a smoke screen, you are not alone. If FBI agent Peter Strzok's text message that 'there's no big there there' seems prophetically self-incriminating, you are on the right track. And if Attorney General William Barr's appointment of US attorney John Durham to investigate how the probe into Russian meddling in the 2016 election began has you anticipating that maybe, finally, the floodgates of truth are about to open wide, I would not be one to bet against you.
Nothing is guaranteed in the political arena, of course. Certainly not in terms of the public being told the truth of what is really going on in the chambers of power. Nor should we be looking to our elected leaders or their appointees for our ultimate salvation. However, for those with an ear to the ground and a sense of the rising dramatic tension in political theatre, it seems that there is nothing else left but for the truth behind the weakening veils of deception to start gushing out.
There is now an abundance of riches when it comes to evidence that there is a shadow government, a Deep State, that has long wielded the power behind the U.S. Government, and has operated in its own self-interest to the detriment of the American people and their liberties. The notion that the entire 'Russia Collusion' narrative was founded on the desire of this shadow government to hide its own activities from the public, and project its own crimes onto innocent people, will start to make more and more sense to an ever-widening audience in the coming months.
The mystery of the "Mandalorian" with a Jetpack flying behind a plane is revealed
Documents have been released revealing the secret of a man with a rocket pack who flew behind passenger planes, according to The Drive.
The owner of The Black Vault, John Greenewald, took advantage of the US Freedom of Information Act to secure the publication of material relating to the rocket pack incident. From the records of the air traffic controllers' conversations, which he received, it follows that the man maneuvering at an altitude of about 900 meters was noticed by several pilots. At the same time, the radars did not record a single object that would correspond to their description.
It also turned out that in early September 2020, government officials contacted David Mayman, the chief tester of the California-based company Jetpack Aviation, which develops rocket packs. Meiman said that the company had not flown for several months, and questioned the existence of rocket packs that would allow them to climb and hold at an altitude of 900 meters.
Another letter provided to Greenwald mentions that the FBI interrogated an American Airlines pilot who spoke of a man with a jetpack. During the conversation, he confirmed that the figure he noticed resembled a drone in the form of a man from a video filmed at the German Aircraft Modeling Festival in 2019.
This is a radio-controlled drone that was built by model aircraft designer Ralph Kayser. It resembles a life-size human figure, but weighs less than five kilograms. The Rotor Drone Pro website wrote that the device is made from a paintball suit stuffed with packing film and can stay in the air for up to eight minutes.
The incident leading to the investigation took place on August 30, 2020. According to press reports, an unidentified person with a jetpack flew approximately 270 meters from an American Airlines plane landing at the Los Angeles airport. In October, the man with the rocket pack was reported by several other pilots in southern California.
An abnormal phenomenon on Earth captured from space: NASA and ESA have never seen such lightning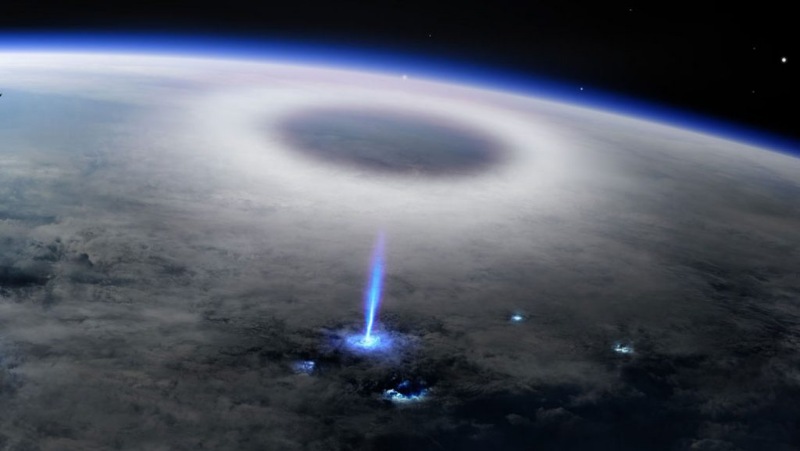 The Atmosphere-Space Interactions Monitor (ASIM) observatory has recorded five blue jets , an anomalous type of lightning that strikes from the top of a thundercloud into the stratosphere. This is reported in an article published in the journal Nature.
On January 20, a video filmed from the International Space Station was posted on the channel of the European Space Agency, which puzzled all academics who study the atmosphere and build theories about how everything works there:
The 10 microsecond jets were sighted on February 26, 2019, near Nauru Island in the Pacific Ocean. One of the lightning flashes produced a jet that reached the stratopause – the boundary between the stratosphere and the ionosphere at an altitude of about 50 to 55 kilometers. In addition to the jets, "elves" were recorded, which are expanding rings of optical and ultraviolet radiation in the stratosphere, lasting no more than a millisecond.
Electrical phenomena in the upper atmosphere are poorly understood and attract a lot of attention from physicists from around the world. They are short-lived and vary greatly with altitude. 
Blue jets occur during electrical breakdown between the positively charged top of a thundercloud and the negatively charged air layer above it. As a result, a leader is formed – a conducting channel of ionized air, through which the discharge propagates. However, in this case, the radiation from the leader was weak, which indicates that the leader itself was short compared to the conductive channels of conventional lightning.
The blue jets belong to streamers – branched filaments of electrical discharges, similar to those generated by Tesla coils. In addition, blue jets are more likely to occur as a phenomenon than previously thought.
Some of the most mysterious are the "elves". Their name comes from the abbreviation ELVES , which stands for "Emission of Light and Very Low Frequency perturbations due to Electromagnetic Pulse Sources.". These phenomena reach four hundred kilometers in diameter and occur at an altitude of about one hundred kilometers. The list of optical phenomena associated with electrical discharges in the upper atmosphere does not end there. There are also TROLL , Pixie , Ghost, and Gnome , but their nature is even less understood. 
There is nothing like this, that is, such strange huge lightning has never been observed before. Something is happening in the Earth's atmosphere, and it started quite recently. How it will end and what will result in – we do not know, since people living today have no such experience.
Ancient asteroid sent dinosaur bones into moon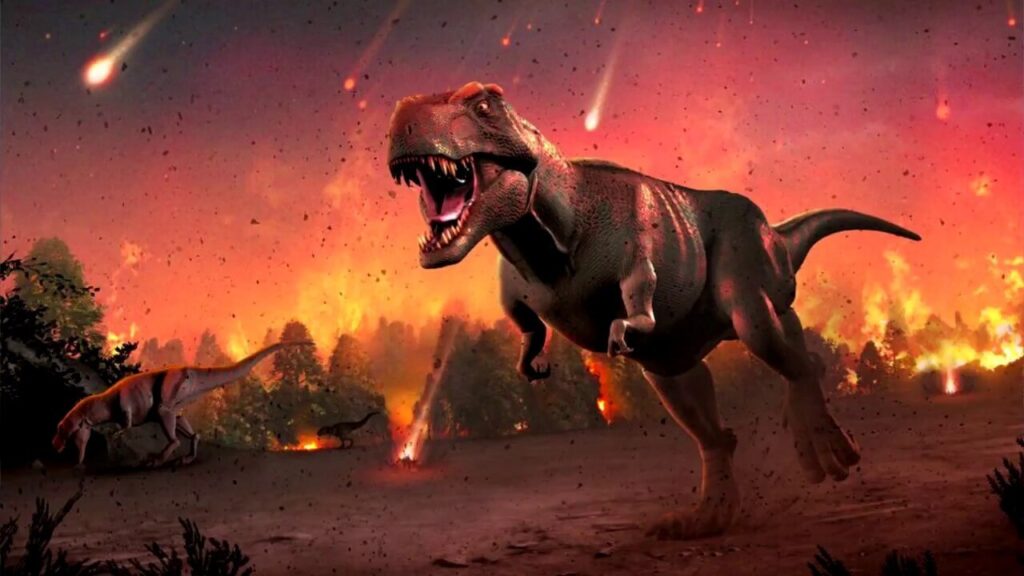 The impact of the asteroid that destroyed the dinosaurs 66 million years ago was so powerful that it sent into space huge volumes of earth's soil and rocks from the crash site. But together with them, he could send into orbit the remains of living beings, including dinosaurs.
Such a possibility is discussed in the book "The End of the World" by the scientific journalist and winner of several awards Peter Brannen, according to the Daily Mail.
It is known that an asteroid or meteorite about 10 km in size collided with the Earth 66 million years ago, forming the Chikshulub crater on the Yucatan Peninsula in Mexico. About 15 trillion tons of ash and soot were thrown into the air. Because of this, during the day it was dark on Earth, like a moonlit night.
As a result of the lack of light in plants, photosynthesis slowed down, which could lead to a decrease in the concentration of oxygen in the atmosphere. Temperatures on continents dropped by 28 ° C, in oceans by 11 ° C. The disappearance of phytoplankton has led to the extinction of zooplankton and other marine animals. Other species died after them. 
This is one of the largest mass extinctions in the history of the Earth, which is called the Cretaceous-Paleogene. Brannen, trying to make the numbers more descriptive, points out that the asteroid (or meteorite) was larger than Everest and crashed into the atmosphere 20 times faster than a flying bullet. At the same time, the pressure of the atmosphere was so strong that a crater in the Yucatan began to form even before the asteroid fell.
The "response" release of soil into the atmosphere occurred only within a second or two after the impact and was incredibly powerful.
"So there are probably little pieces of dinosaur bones on the moon," Brannen suggests.