Dogs Can Detect Lung Cancer With 97 Percent Accuracy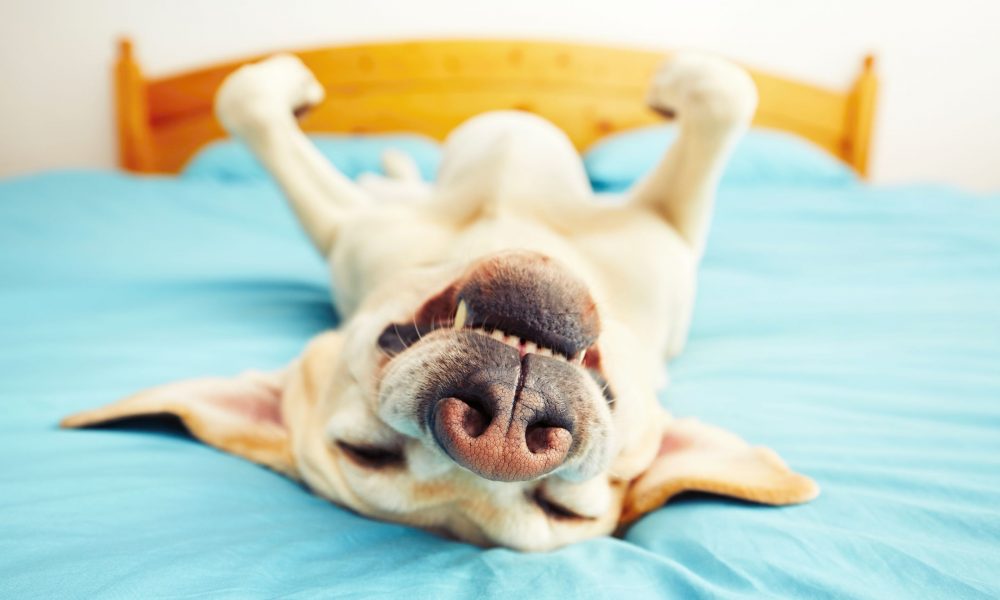 IN BRIEF
The Facts:Early detection provides the best opportunity for lung cancer survival; however, lung cancer is difficult to detect early because symptoms do not often appear until later stages. Dogs were able to help solve that issue.
Reflect On:Why do we use animals for experiments? Unless they are willing and have a loving home and are provided for, animals should never be used as lab rats or for scientific purposes. What makes us think we have the right to do that?
Animals are a precious gift to humanity, and we have so many lessons to learn from them. If you were an empathetic, benevolent alien looking down on planet Earth, no doubt you'd be heartbroken at and terrified of the way we treat animals. We slaughter them by the billions, destroy their homes, experiment on them, and worse. That being said, the 'good' side of humanity loves animals, and there are a lot of activist efforts out there that are speaking up for those who do not have a voice, not to mention the ever growing movement promoting a plant-based diet. We are making progress.
Another important point regarding animals is the fact that we know so little about them. We think we know, but the truth is we don't know, and there is so much more to discover, especially with regards to certain abilities they may possess like clairvoyance, precognition, telepathy, and other types of extra-sensory perception that human beings may have dormant within them as well.
I recently came across a study regarding three beagles successfully showing that they are capable of identifying lung cancer by scent, which is the first step in identifying specific biomarkers for the disease. The researchers hypothesized that their abilities may lead to the development of a new type of cancer screening method that is fairly inexpensive. Although we still need more research on the factors in our environment that are causing cancer in the first place, this is still great to see.
However, it's only great if these animals are not being used solely for the purpose of study and are living happy and healthy lives because, as you may not know, beagles are the dogs most commonly used for scientific experiments, which are cruel and inhumane. At the end of the day, animals should not be used for such purposes. They are here as our companions, as part of our human family.
These dogs were able to tell the difference between blood serum samples that were taken from patients with malignant lung cancer and health controls with, as the study points out, 97 percent accuracy. The double blind study was published in The Journal of the American Osteopathic Association.
Thomas Quinn, the lead author of the study and professor at Lake Erie College of Osteopathic Medicine, said, "We're using the dogs to sort through the layers of scent until we identify the tell-tale biomarkers. There is still a great deal of work ahead, but we're making good progress."
Again, I can't help but wonder: Do these dogs have families? Are they being loved and cared for? Or are they simply being used for lab experiments? The thought of that is heartbreaking, and it makes me not even want to support or write about a study like this, but I couldn't find any details about the lives of the dogs.
It sounds like they are simply 'lab rats,' given the description of the study, but again, we don't know. They were led into a room with blood serum samples at nose level. Some samples came from patients with non-small cell lung cancer; others were drawn from healthy controls. After sniffing a sample, the dogs sat down to indicate a positive finding for cancer or moved on if none was detected.
"Samples from 10 donors (6 women and 4 men) were used in the testing phase. Their ages ranged from 26 to 80 years (mean, 58.2 years). The samples from female donors (mean age, 64 years) came from 3 black women, 2 white women, and 1 Hispanic woman. The samples from male donors (mean age, 49.5 years) came from 2 black men, 1 white man, and 1 man of mixed race. Canine No. 1 indicated a positive sample on 10 of the 10 cancer samples and 1 of the 40 control samples during his test runs. Canine No. 2 indicated a positive sample on 10 of the 10 cancer samples and 0 of the 40 control samples during her test runs. Canine No. 3 indicated a positive sample on 9 of the 10 cancer samples and 2 of the 40 control samples during her test runs. (From study)."
A Few Words About Cancer
I often become frustrated at the bombardment of "cancer awareness" advertisements, or when I see the Heart & Stroke Foundation serving processed meats at their fund raisers. In many cases, the companies raising money for cancer research are putting out products that are causing the problem in the first place. Why do we constantly raise money for cancer research and become so emotional and "patriotic" about 'finding a cure' and 'fighting cancer' without ever acknowledging the causes of cancer? Why do we see advertisements of cancer patients fighting cancer in order to entice us into donating? Why do people proudly fight cancer and go through conventional treatments without ever being aware of alternative, more successful and effective treatments? What is going on here?
When it comes to cancer awareness, all of us should really be tweeting and posting about environmental pesticides, electromagnetic radiation, processes foods and meat, unhealthy lifestyles, sugar, emotional baggage, trauma, stress, and several other factors that are clearly causing cancer.
Why is it that there are only a couple of accepted treatments for cancer that oncologists are legally able to recommend?
There are so many head-scratchers when it comes to cancer, and any cancer awareness efforts should be bombarded with 'f**ck glyphosate,' and things of that nature. That would be REAL cancer awareness.
The Takeaway
Animals are not to be used as experiments, but I wanted to present this info simply because, as I mentioned earlier, there are so many amazing, good, positive things about them. Their abilities go far beyond what we know, and when it comes to dogs in particular, they are nothing but of service to others. If you have a dog, you know what I am talking about, and in many cases they already know things about you and your biology that you may not be aware of, unless you are really in tune with them.
If the investigation into whether or not Donald Trump colluded with Russia and the ensuing 'special counsel' headed by Robert Mueller is starting to look to you like little more than a smoke screen, you are not alone. If FBI agent Peter Strzok's text message that 'there's no big there there' seems prophetically self-incriminating, you are on the right track. And if Attorney General William Barr's appointment of US attorney John Durham to investigate how the probe into Russian meddling in the 2016 election began has you anticipating that maybe, finally, the floodgates of truth are about to open wide, I would not be one to bet against you.
Nothing is guaranteed in the political arena, of course. Certainly not in terms of the public being told the truth of what is really going on in the chambers of power. Nor should we be looking to our elected leaders or their appointees for our ultimate salvation. However, for those with an ear to the ground and a sense of the rising dramatic tension in political theatre, it seems that there is nothing else left but for the truth behind the weakening veils of deception to start gushing out.
There is now an abundance of riches when it comes to evidence that there is a shadow government, a Deep State, that has long wielded the power behind the U.S. Government, and has operated in its own self-interest to the detriment of the American people and their liberties. The notion that the entire 'Russia Collusion' narrative was founded on the desire of this shadow government to hide its own activities from the public, and project its own crimes onto innocent people, will start to make more and more sense to an ever-widening audience in the coming months.
Mysterious lights in the sky scared the people of China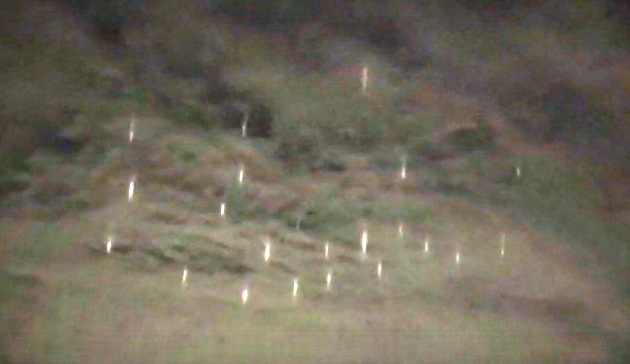 The night sky over Matsu and Jinmen surprised the locals, many people photographed the sky and clouds, where unusual light spots shone brightly.
In Chinese and Taiwanese social networks, this event became so "viral" that the authorities even had to broadcast a story in which, with reference to meteorologists, this phenomenon was explained by the effect of "light pillars".
True, meteorologists did not bother to clarify how this phenomenon appeared in the subtropics. Indeed, there is such a phenomenon, but these "pillars" look like a vertical luminous strip and, most importantly, this optical effect occurs at sub-zero temperatures.
Jinmenquandao are islands in the western part of the Taiwan Strait, ruled by the Republic of China. Geographically located close to the coast of Fujian province of the People's Republic of China, east of Xiamen city and south of Quanzhou city of Fujian province of China.
The Matsu Islands is an archipelago in the northern part of the Taiwan Strait, ruled by the Republic of China, near the coast of Fujian province.
This phenomenon was observed at 1:15 am on August 9, 2020. In the night sky of Dongju, Lianjiang County, a thin cloud floated, and at least 12 to 21 luminous points appeared in it.
Noah's Ark or Nazi ship: a mysterious "ship" discovered off the coast of Antarctica
One of the users of Google Earth examined in the images a huge "ice ship", which lies not far from the coast of Antarctica. The huge ice structure south of New Zealand strikingly resembles a cruise ship with a row of windows and many chimneys.
The "ice ship" was noticed by a video blogger registered on YouTube under the nickname MrMBB333, who describes himself as the guardian of the Earth.
"I follow [on Google Earth] everything from the seabed to space and everything in between," MrMBB333 says about himself.
In one of his latest videos, the author highlighted the part of the snow-covered Antarctica, in which, in his opinion, he found the ship. According to him, the vessel is about 130 meters long.
If you do not look closely, then we can assume that this is a huge iceberg, but if you examine the find in more detail, then there is absolutely no doubt that this is a real ship that was built on purpose.
Users in the comments under the video, which MrMBB333 posted on his channel on August 7, continue to argue where such a large ship could have come from in Antarctica. One user suggested that the ship was built a few years ago to save rich people in the event of the end of the world. Others leaned towards the shipwreck version. Another part believed that the YouTuber managed to find the mysterious Noah's Ark. Also, the widespread version was that the ship had some direct relation to a secret Nazi military base.
At the moment there is no information about what kind of ship it actually is. In order to lift it off the ice and transport it for further study, it will take a lot of resources, and it is not possible to do this now.
Earlier in the same video, MrMBB333 shows another piece of ice in Antarctica, which he claims has wall marks and parking spaces. In the comments to the video, users either jokingly or seriously build conspiracy theories about the origin of the ship.
Various versions are being put forward: from a secret Nazi base to traces of an ancient civilization.
53-year-old looking 25 reveals the secret of "eternal youth"
Edson Brandao from the Netherlands told Unilad how at 53 he manages to look several decades younger."People are always shocked when they find out that I'm 53 years old. They all think I'm 25," he admits.
Brandao claims that he never resorted to the help of plastic surgeons, and his appearance is the result of a healthy lifestyle.
He adheres to a special diet: he does not eat fried and canned food, and also avoids sugar.
The man combines all this with strength training. He prefers mineral water from drinks, drinking about two liters daily.
Brandao also stresses that he has never smoked or used drugs in his life.
"Now I feel no worse than when I was not even 30," he says. – I feel the same energy as before. To be honest, I've never felt so good." he says.