Does this 1917 photo prove time travel is possible?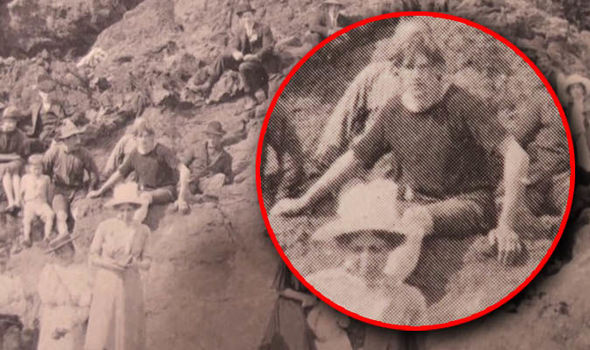 A BIZARRE photo of what appears to be a time traveller in 1917 has resurfaced online after scores of disbelievers have finally found a piece of 'evidence' which made them question the laws of physics.
The photo taken more than 100 years ago in Canada, portrays a group of men, women and children sitting on the side of a hill of some sorts.
But eagle-eyed observers have noticed the photo stands out for a very particular reason – what appears to be a man straight out of the 20th century.
The photo was discovered in Lester Ray Peterson's 1974 book 'The Great Cape Scott Story' – a tale of the Canadian region's history.
What has fascinated those who came across this photo is how out of place the 'surfer man', as some have called him, appears to be.
He is wearing a very baggy t-shirt and shorts, sporting a modern windswept haircut and is clearly at odds with everyone else around him.
Looking closer at the people around, the man to his left appears to be utterly stunned by his presence.
Further to the right a woman also appears to be pointing her hand at the supposed time traveller, leading many to speculate the man was out of place and out of his time.
In fact, it almost looks as though he jumped right into the scene as the photo was taken.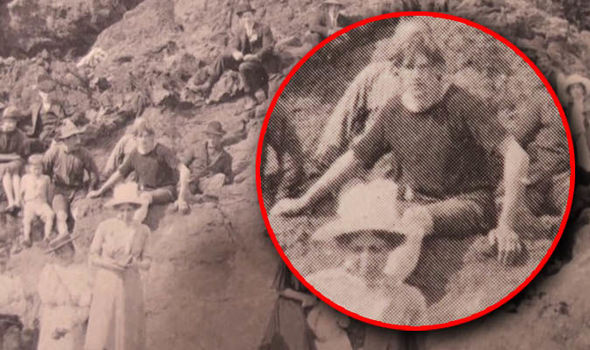 YouTuber Jamie D. Grant found himself gobsmacked when he picked up the book and came across the mysterious photograph.
In a YouTube video titled 'Time Travel proof found. Truth or Illusion?', he says: "Notice the group, their clothes, their hats. Even how they sit poised for a photo.
"Now look closer. His head uncovered, his hair, his shorts. The man on the left stares in disbelief.
"Has a mysterious traveller proved the impossible and journey through time? What do you think?"
The 'surfer man' has joined the ranks of the so-called 'time travelling hipster' who appeared in a 1940s photograph with a fashion sense seemingly decades ahead of those around him.
But as some have pointed out, 'surfer man' may appear to stick out like a sore thumb from the rest of the crowd, but his clothing could have very well been in vogue.
One person commenting on the book on GoodReads.com, referenced a Post Gazette article, saying: "In the comments to the article, someone mentioned that t-shirts were around then and that they made it into the common lexicon soon after that date – it appeared in the Merriam-Webster Dictionary in the 1920s.
"This Article says they were worn by US Navy sailors as early as 1913.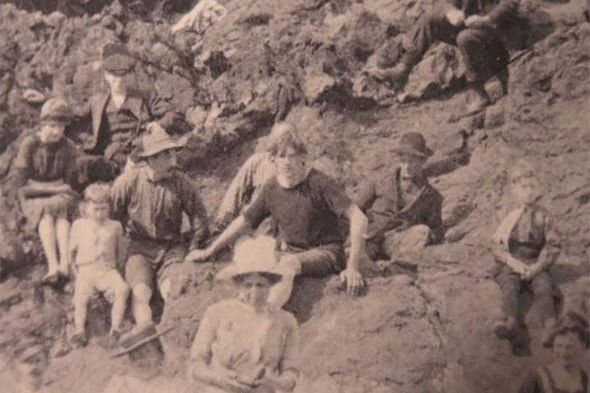 "Considering that other guys in the picture are also wearing shorts, I'm going to say that he's not a time traveler.
"Other than Bill and Ted, what time travellers would think that a t-shirt and shorts would be the best thing to wear when time-traveling into the past anyway?"
In either scenario, physicists all agree that it is impossible to travel back in time by our current understanding of the universe and its laws.
According to Professor William Hiscock, of Montana State University, we can move forward due to the the time-dilation effect of Special Relativity. Moving backwards however is a dead end.
The expert said: "Time travel into the past, which is what people usually mean by time travel, is a much more uncertain proposition.
"There are many solutions to Einstein's equations of General Relativity that allow a person to follow a timeline that would result in her (or him) encountering herself – or her grandmother – at an earlier time.
"The problem is deciding whether these solutions represent situations that could occur in the real universe, or whether they are mere mathematical oddities incompatible with known physics."
The professor underlined that no experiment or observation in the universe has ever indicated such time travel occurs.
Source: https://www.express.co.uk/
Trailer for paranormal documentary 'Hunt For The Skinwalker' released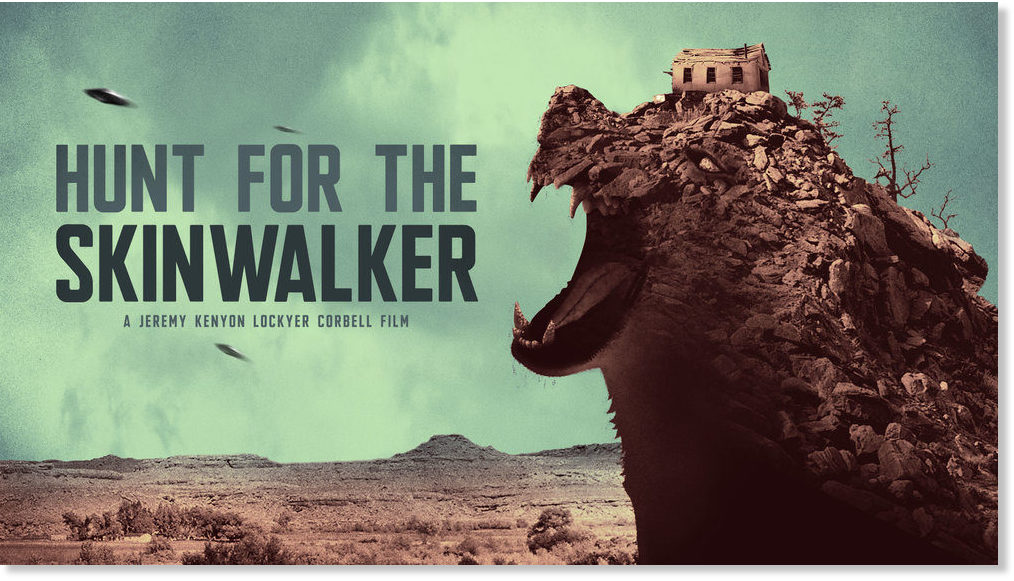 "Nobody knows what we're dealing with…" The Orchard has released a trailer for a creepy documentary titled Hunt for the Skinwalker, made by filmmaker Jeremy Kenyon Lockyer Corbell.
This doc film is about the "most intensive" scientific study of a UFO and paranormal hotspot in human history, a place in Utah known as Skinwalker Ranch.
A scientific study first began in 1996, including "PhD-level investigators". Additionally, there's a rumored secret government-funded investigation looking into whether or not there's anything to actually be found out there. "The shroud of mystery hanging above Skinwalker Ranch and the Uintah Basin has fascinated director Jeremy Corbell for years. He finally journeyed to the property to interview eyewitnesses – including the new owner of the ranch – and uncover rare, previously unreleased recordings."
This looks like an unsettling paranormal documentary, but I also can't really tell if it's all fake and being sold to us like The Blair Witch Project. If you're into UFOs and aliens, you should check out this.
Here's the official trailer (+ poster) for Jeremy Corbell's Hunt for the Skinwalker, direct from YouTube:
The Montauk Project Is Yet Another Proof The Government Achieved Time Travel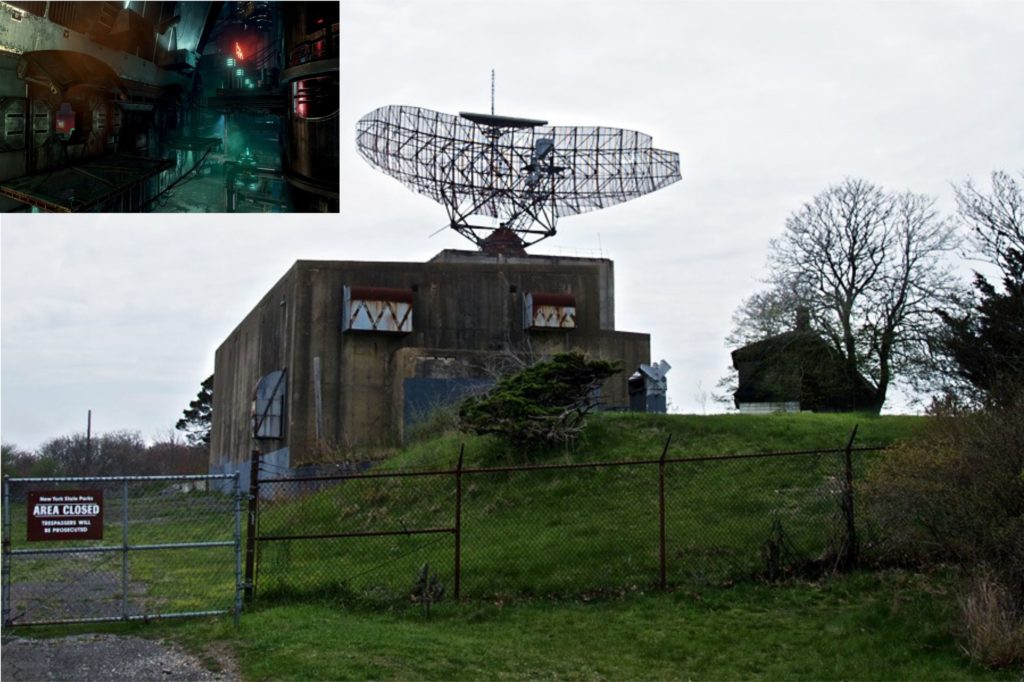 Proceeding from the Philadelphia Experiment, the military supposedly carried yet another secret program at the Camp Hero Air Force base on Long Island, known as the Montauk Project.
The program involved different studies, such as psychotronics, black hole simulations, and weather control. In order to perform experiments, it worked with a shadow company, the Brookhaven Institute, along with the government's cooperation.
According to their website, this company examines a plethora of studies regarding nuclear and high energy physics, superconducting magnets and condenses matter physics.
Along with the unit of energy, the company further attributes for multiple thriving discoveries and inventions.
Their bad side is that they suffer from many lawsuits over radiation and contamination. Radiation doesn't affect only its employees but for the surrounding environment too.
Preston Nichols is a man who claims he worked on the experiments that took place in the Brookhaven Institute.
According to him, abundant psychic research was conducted on excellent mental minds and children as well.
Some experiments successfully performed the materialization of objects, teleportation and creation of black holes.
Duncan Cameron was a person whose statement as a psychic purported to reveal the evil nature of the experiments.
Many believed he is, in fact, the brother of Al Bielek who said he achieved to travel through time in the Philadelphia Experiment. During his period in the Montauk Project, Cameron underwent tests in the Montauk Chair.
The Montauk Chair is a consciousness augmentation object where he could obtain a secured time loop between the Montauk Project and the Philadelphia Experiment.
In collaboration with Nichols, Cameron worked on a project so-called The Seeing Eye. He used his psychic abilities and a lock of a person's hair to directly enter his mind and affect his thought.
The project came to an end on August 12, 1983 – precisely 40 years following the Philadelphia Experiment.
Cameron's psychic capabilities freed an abnormality which devastated much of the base. Therefore, the military slowly decided to finish up the project.
The ones who participated in the Montauk Project were later said to have been brainwashed. However, many of them claim they regained their memory after some time.
Philadelphia Experiment: The Government Achieved Time Travel During WWII
During the World War II, there were conducted many infamous Nazi experiments involving weapon technology. The US also carried out its own fair proportion of wartime tactics. Did they achieve time travel through the so-called Philadelphia experiment among the rest of the weird attempts? Let's find out.
One of the strangest stories suggests that the Navy allegedly conducted an attempt to build up technology that could make a whole ship to disappear.
However, these bizarre experiments brought some unintentional results which led to an end of the project.
Nobody knew the specific details about it until a man who was allegedly part of it decided to speak up.
The Philadelphia experiment.
The main role in the whole story of this experiment plays a man named Al Bielek.
Many people didn't believe his account suggesting it's absurd, while there is a fair share of people who actually thought he might be telling the truth behind the secret government operations.
In the late 1930s, according to the Bielek, the US Navy was developing a project based on electromagnetism. Their aim was to produce an invisibility wrap for its warships.
Nearly at the same time, Bielek alleged that Einstein was working on a mission of camouflaging ships by covering them with electromagnetic coils in order to evade the magnetic mines of the Nazi.
Supposedly, Nikola Telsa practiced this type of technology and wanted to lay it down on this particular experiment.
Allegedly, he did succeed but only on a small boat. When it came to larger ships, his attempts weren't prosperous so he backed out and handed the project to Dr. John von Neumann.
Dr. Von Neumann at some point managed to succeed in making a whole ship invisible for a short time in his first attempt. The ship name was USS Eldridge and it was a Cannon-class destroyer escort.
Bielek assures that Tesla's technology called Zero Time Reference Generator helped the experiment to attain a good outcome.
This device apparently bolts to the Earth' magnetic fields and serves as a cosmological connector to the electromagnetic fields at the center of the galaxy.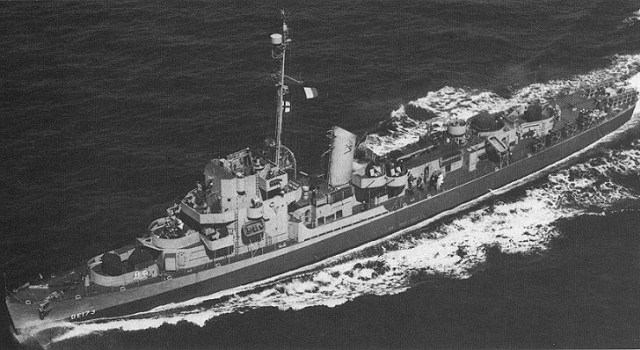 Bielek also stated that Tesla gave Von Neumann a mysterious notice of the possible negative consequences of the experiment. Regardless of this warning, he continued the project.
On August 12, 1943, the US Navy conducted their second test. After they veiled it with a "green, ozone-laden haze", the ship allegedly vanished for a few hours during which it traveled through time to eventually reappear again.
At the time it returned, some sailors were very sick, some engulfed in flames and the others molecularly fused with the ship.
Bielek said he and his brother also happened to be aboard the ship. However, they managed to jump during the time twist and resided in 1983 on Montauk, Long Island. In this place, a government facility was conducting another time travel experiment as well.
Bielek explained his own version of the story of how time travel is possible using Tesla' technology.
He said that the Zero Time Generator helped the ship come back to its primary location. Moreover, Bielek explained how our reality is five-dimensional in which the time is the fourth and the fifth dimension.
He added that every human being has a set of locks that fasten those dimensions in a period of time. However, the Philadelphia experiment broke those time references.