Do pilots believe in UFOs? Many of them do and here is my close encounter story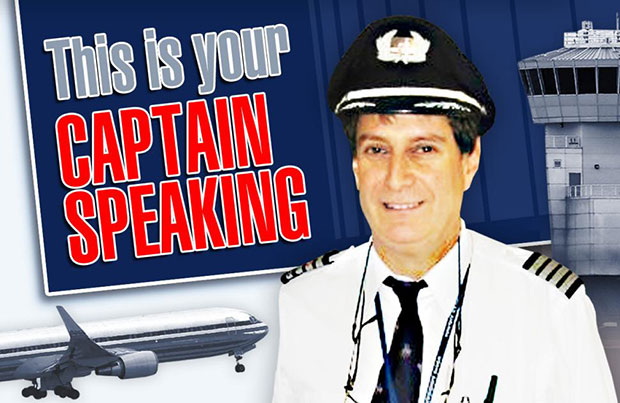 People love to ask pilots questions. But my favorite, and certainly the most interesting, is "Have you ever seen a UFO while flying?"
The answer is yes. And here's how it happened.
It was April 10, 1989 and early in my career. I was still a first officer at a regional airline. It was about 8 p.m. and we had just taken off from Kansas City International Airport bound for Waterloo, Iowa. It was a beautiful evening, with a full moon, clear skies and crisp early spring temperatures. The weather forecast for Waterloo was as nice, with clear skies and unlimited visibility.
After a short taxi and take-off, Air Traffic Control (ATC) cleared us to our cruise altitude of 15,000 feet. We established a Northeasterly heading, pointed strait at Waterloo, about 200 miles ahead. There were thin wispy clouds all around us, illuminated by the light of the full moon that shone through the captain's-side window at our left. Despite the presence of these clearly visible wispy clouds everywhere, we weren't flying through any of them. There was also a white disc dimly but clearly visible through those clouds just off to our right.
Rastan/Getty Images/iStockphoto
Andrew Danziger said he saw a UFO during a flight from Kansas City to Iowa in 1989.
We flew on and I commented to Bruce, the captain, about this dimly visible disc. He said that he'd been watching the same thing since we had leveled off. It looked similar to the moon faintly visible though thin fog, except the two were visible at the same time on opposite sides of our cockpit. We looked down below for search lights, you know, the kind that's sometimes used for aerial light displays or advertising at a car dealer, but there was no beam of light coming from the ground, no search light from an airport either. The captain and I had cumulatively spent many years flying and were accustomed to seeing — day and night — all manner of airplane, blimp, hot air balloon, satellite and bird. But neither of us had any idea what this disc could be.
We spent 20 to 30 minutes at our cruise altitude, all the while staring at this white disc dimly visible through some clouds that we somehow never seemed to fly through. Within about 40 miles of Waterloo, ATC confirmed the weather, still clear skies and unrestricted visibility at our destination as we began to descend. We got busy with our flying duties and for a short while, maybe for a minute, both of us had looked away from the disc, but when I looked up at it again I saw something that has been burned into my memory.
Felipe Caicedo/REUTERS
Pilots can call the "National UFO Reporting Center" to reporting sightings of extraterrestrials.
I yelled to Bruce, "Holy s–t." He immediately looked over from what he was doing. Above the clouds, where the white disc had been, was a now giant red ball. It was big and bright and just sat there above the clouds. It wasn't intense enough to illuminate us with a red glow but it was still plenty bright. We sat there in stunned silence. We obviously didn't want to hit it but quickly saw that it was flying parallel to our course. We weren't on a collision course and we also weren't gaining on it. Time became a blur as we continued our descent, this giant, red ball holding its course.
We slowly lost altitude and at around 13,000 feet, the brightly glowing ball began a gradual descent, too. As it did, it slowly started disappearing behind those wispy clouds. In about 30 seconds, like a setting sun but not nearly as bright, it vanished behind the clouds. The instant it fully disappeared, hundreds of lights began flashing from within the clouds.
As I looked on in disbelief, the flashing lights were brighter than ever and I could see that the section of the cloud that the glowing red ball had descended behind was starting to stretch apart like a piece of "Silly Putty," two halves being pulled slowly apart with the middle getting thinner and thinner. This continued until the halves grew so thin that it tore apart and, pop! Everything was gone. The dimly lit disc, the flashing lights, the thin wispy clouds that we had with us for the last 40 minutes; all of it, gone. There wasn't a cloud in the sky. Only the full moon remained off to our left.
Bruce and I just looked at each other. "Oh my God, what the f–k was that", was all I could muster. My colleague just stared out the windscreen, mesmerized. We discussed whether we should report what we had just witnessed. After a few minutes, I picked up the radio mic and asked the Kansas City Center controller if they had anything on radar. "Nope, nothing but you," came the response. "No, not right now but a couple minutes ago, at our one to two o'clock," I replied. "No," he repeated, "It's a slow night. I've got the entire sector between Kansas City and Waterloo and you're all that's been in it for the last hour." Bruce and I again just looked at each other, completely dumbfounded. "So for the last say 40 minutes or so you've had no traffic at all, not at our one or two o'clock?" I asked. "No sir, not at your one or two o'clock, not anywhere, you're all there is," he assured us.
Thomas Koehler/Photothek via Getty Images
Do pilots believe in UFOs? It's a question people often like to ask.
A minute or so later, from over the radio came, "Air Midwest , do you want to report a UFO?" We looked at each other for a couple seconds and Bruce nodded his head. "Yes sir, we do," I finally replied. "OK, take down this number and call when you get on the ground."
After deplaning we called the number. "National UFO Reporting Center" said the voice from the other end. At the time I didn't even know such a place existed, but they took collect calls from pilots and air traffic controllers. Bruce told the person on the other end of the line that we wanted to report a UFO. We were interviewed separately, first the captain and then me. When my interview was finished the man on the other end of the line said that we would never hear from him again and would never receive any additional information, this was going to be our first and only contact regarding the sighting. I asked, "Can I ask just one question, do you think we're crazy, has anyone else ever reported something like this?"
Antonio M. Rosario/Getty Images
Many pilots believe in little green men, Captain Andy said.
"Oh no, you're not crazy at all," he replied. "This very same thing has been reported by pilots countless times." And while neither of us had any idea what we had saw one thing we were certain of, it wasn't from here.
Our airline had no official UFO policy (nor did any that I ever worked for), but at the time we were both young with long and promising careers in front of us. We knew through the grapevine that pilots weren't supposed to talk about UFOs so we swore the station agent on duty to secrecy and agreed not to talk about our incident to any of our co-workers.
That was more than 25 years ago. Today I'm older, wiser and at the end of my career. In my last few years of flying the subject of UFOs occasionally came up in the cockpit. If it was brought up at all, it was usually by a younger, newer first officer who'd say something with much trepidation. More than a few pilots have shared their UFO stories with me, too. I'm not going too far out on a ledge to say that virtually all pilots believe in UFOs. Little green men, "close encounters", alien kidnappings,… not so much, but with billions of stars and trillions of planets out there, "ya gotta believe", and almost all of us do.
Andrew Danziger is a 28-year airline veteran, with experience in turboprops and Boeing aircraft. He was an international 757/767 captain for the last 14 years. He has served as an airline ground school instructor and check pilot in both simulators and aircraft and was one of the pilots to fly Barack Obama during his 2008 presidential campaign.
Cases of Interest: Shapeshifting UFOs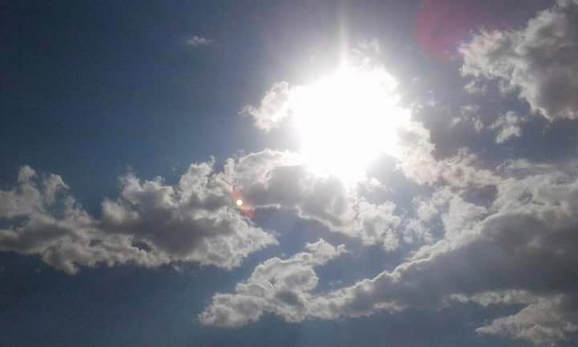 by Roger Marsh
​UFO encounters may be frightening as witnesses observe never-before-seen objects moving in incredible ways. But some sightings are further stressed when the object morphs into different shapes.
Four shape-shifting UFO sightings were listed in the recently-released book, UFO Cases of Interest: 2018 Edition, by the Mutual UFO Network (MUFON).
A New Mexico witness at Albuquerque reported watching a boomerang-shaped object just 500 feet away that hovered and seemed to change shape while moving, according to testimony in Case 82456.

The witness was outside walking north on a lunch break at 12:30 p.m. on March 2, 2017.
"A light gray shape caught my eye," the witness stated. "The object was approximately 500 feet away, and about 50 feet in the air over a building. At first, I thought it was a flock of birds, and I said, 'That's interesting. What kind of birds would those be?' It seemed to be moving east in a slow flutter. Then it disappeared, like it folded back into the sky."
The witness thought that was strange.
"It then reappeared in a fat boomerang shape. It seemed to be made up of multiple light gray, possibly reflective objects, but working together, like a school of fish, or sequins on a purse or dress. It did seem to have a common background that was dark gray or black. It was still fluttering, but it paused and hovered and moved backward, just slightly."
At this point, a bare tree blocked the view, but the witness kept walking to see the object again.
"When I saw the shape again, it had changed. And it seemed to be a soft, billowy, upside down parachute shape, or the bottom of a puffy cloud or a puff of factory smoke. I almost convinced myself it was a deflated weather balloon, but there was no top to the shape, only a distinct bottom. The color of this object seemed to blend with the sky. I could only decipher a dark gray sitting in the bottom of the cloud/parachute."
Then the object changed again.
"Now it became almost transparent, as if the sun were reflecting on an invisible craft. Now there really is no overall shape that I can make out. I saw a few smaller, very rigid shapes, like flat prisms or solar panels, and they seemed to fold backwards into the object and then the whole object faded away."
The witness said these events occurred in about 20 – 25 seconds.
An Idaho witness at Idaho Falls reported UFO sightings over a period of time, including a "huge, camouflaged triangle," according to testimony in Case 88223.

One of those sightings occurred on June 8, 2017.
"I've seen quite a few UFOs and think I've been possible visited," the witness stated. "A saucer, a huge, camouflaged triangle, a huge white orb covered the moon and moved across the sky, an orange orb in my backyard and more. All in Idaho Falls area. People just don't look up."
Idaho MUFON Field Investigator Scott Thunstrom closed this case as an Unknown Aerial Vehicle.
"Witness reports seeing a massive triangular craft while camping near a lake," Thunstrom wrote in his report. "Triangle shape, changed direction, changed shape, cast light, hovered, affected cell phone, appeared solid, glowed, reflective, glowing, mist/shroud, larger than aspirin in apparent size, white surface lights, pink/rose exterior lights, red-orange, yellow-orange, and blue surface lights, pulsating lights, no sound, 20 feet or less from witness, lowest altitude at over 500 feet, flight path stationary, unknown direction first and last observed."
A Fort Rucker pilot reported watching an "oddly-shaped, circular object" hovering over the Alabama army base, according to testimony from Case 84970.

The witness had just finished morning PT (Physical Training) and was standing around talking to two other friends before heading home at 6:45 a.m. on June 15, 2017.
"It was a warm morning with partly cloudy skies," the witness stated. "The sun was just starting to peak over the buildings around us and was quickly starting to warm the day. At approximately 6:45 am, I observed a UH-60 (Blackhawk) helicopter flying above the tree line approximately a mile from my current location. This is a pretty typical sight as Fort Rucker is home to initial Army flight training."
As the witness looked up to watch the Blackhawk helicopter, another object was noticed hovering approximately a thousand feet or so above the tree line.
"From my line of sight, the Blackhawk was passing under the object but was much closer to me then the object appeared to be. From where I was standing the object was rather small but taking into consideration the altitude and distance from my location, it had to have been no smaller than the size of an average car. The object omitted a light similar to a star but was not as bright. You could also tell that the object's color was most likely white or a dull-like color. We knew this was no star because it was below the clouds and appeared to be much closer. The longer we watched it, the less it seemed to have a definitive shape. It appeared to be shifting shapes kind of like a ball of liquid would behave. Almost like a pulsating type behavior."
None of the three observers could identify the object.
A Missouri witness at Gladstone reported watching a shapeshifting, black craft moving along at the three top level, according to testimony in Case 85100.

The witness and her son were driving southbound along the 6500 block of N. Flora at 9:02 p.m. on July 14, 2017.
"I saw bright lights just under the low-lying clouds as a storm was blowing in," the witness stated. "They caught my attention as they looked quite low to the ground. I observed two amber lights on each side with a brighter, larger white light in the middle. As we moved forward, my view was obstructed by trees, so I sped up slightly to better my view. The lights had disappeared, but as I scanned the sky looking for them, I noticed a large black object moving slowly directly in front and above my vehicle."
The witness shouted to her son and pointed in the direction of the object.
"We witnessed the object as it crossed above the road, heading northwest, at the closest point to us being about 20 feet above. We pulled into the parking lot of the elementary school and watched the craft fold in on itself, changing from a black, sphere-like object, to a squared shape, then into a large, disc-shaped craft. It ascended above the tree tops and took up into the clouds. We continued to watch as many as 20-plus sparkling, amber colored lights appear through the clouds exactly where the craft had disappeared. We watched in awe until all the smaller, twinkling lights disappeared."
​
Other featured news generated from UFO Cases of Interest include:
UFO Cases of Interest: 2018 Edition is available at Amazon.com.
UFO, spy plane or drone? Triangular object flying above Texas claimed to be USAF spy craft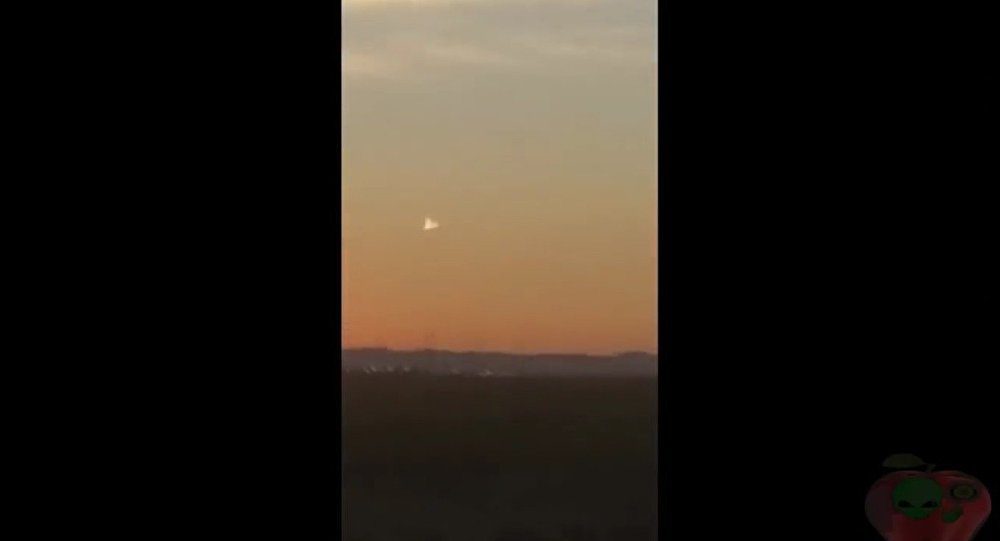 Despite the aircraft believed to be fulfilling surveillance missions outside the US, this time it has apparently been spotted while spying inside the country, according to claims by exceptionally inquisitive internet users.
Weird footage has emerged featuring the moment a man inadvertently caught on camera something he could not effectively explain. As he stopped his car at a red light glancing right into the blazing sunrise while on his way to work, he caught sight of something unusual in the skies above El Paso, Texas, and quickly reached for his phone to film it.
He later checked out the footage just to realize that it was something inexplicable in the video, namely some glowing triangular object off in the distance. The video racked up thousands of likes after the source, who spoke to The Daily Star on the condition of anonymity, posted it online.
"Looks to me like a TR-3B craft with the circles under each corner of the triangle if that makes sense," one viewer claimed, with many others rushing to support this point of view. Another commentator even recalled helping develop those "at a top secret base back in the 1960s."
"I clearly remember working tirelessly round the clock to fix all the glitches," he wrote.
The supersonic TR-3 Black Manta, which is a covertly designed US Air Force spy plane, is said to be of a triangular shape and is well-known for being used in espionage missions well beyond the borders of the US. Most recently, there were reports of the TR-3 being spotted over Russia and Australia. It is believed to have been used by the US-led coalition during the first, Iraqi war, or the Gulf War in 1991, to determine targets for Lockheed F-117 Nighthawk bombers.
'We Don't Have To Go Anywhere To Find Them, They're Already Here'
The Facts: Robert Bigelow, founder of the Bigelow Aerospace Corporation lets the world know that he has knowledge that we are not alone, and that we are currently being visited by intelligent extraterrestrials.
Reflect On: Bigelow is just one person, but he is joined by hundreds of others with impressive credentials. These people have been telling the world that we are not alone for years, in a very serious manner. Why do you think this is considered a 'conspiracy?'
"We have, indeed, been contacted – perhaps even visited – by extraterrestrial beings, and the US government, in collusion with the other national powers of the Earth, is determined to keep this information from the general public." – Victor Marchetti, former special assistant to the Deputy Director of the Central Intelligence Agency (Second Look, Volume 1, No 7, Washington, DC, May 1979)
If you're paying attention to what's happening in the world, it's OK if you feel like Alice in Wonderland. For years humanity has become comfortable with their enslavement, prior to today, a large portion of the population was content with the human experience, simply entering into the system, trying to put food on the table and chase higher 'material' status, among other things, without ever questioning what is really happening. All of us have been engulfed in our own lives when the world is calling for us to be concerned about others.
Today, it's a different story. There's a massive shift in consciousness that's occurring, and part of that shift is questioning the human experience and the systems we've chosen to surround ourselves with. Revelations are now coming forth in all areas that surround every aspect of human life; health and finance, to education, politics, entertainment etc… It's quite clear that our world is not what we've all been presented with, and that there are aspects of reality that we should really start paying attention to if we want to grow, move forward, and break out of the cycle we currently find ourselves in. We can't change our world if we continue to do the same things over and over again without questioning what's happening, and why it's happening. There are people in all fields coming forth to 'blow the whistle,' and witness testimony is backed up by credible evidence, which gives these whistle-blowers confidence to come forward and say what they say. Edward Snowden is one of many great examples, prior to him, mass surveillance was considered another 'conspiracy theory.'
One big revelation hitting the mainstream right now is the fact that we are not alone, and that intelligent extraterrestrial life-forms have been visiting our planet for a long time, and still do. As unbelievable as this may sound, it comes from the highest ranking military personnel, academicians, intelligence agents, politicians, and private contractors from within the military industrial complex. There are hundreds of these people who keep telling the world that we are being visited and that governments around the world have had evidence that some of these 'UFOs' are indeed extraterrestrial.
"Yes, it's both. It's both literally, physically happening to a degree; and it's also some kind of psychological, spiritual experience occurring and originating perhaps in another dimension. And so the phenomenon stretches us, or it asks us to stretch to open to realities that are not simply the literal physical world, but to extend to the possibility that there are other unseen realities from which our consciousness, our, if you will, learning processes over the past several hundred years have closed us off."
– Dr. John E. Mack, a Harvard University psychologist and Pulitzer prize winner (source)
The Credibility of These Sources
The sources are the most credible in the world, the only issue is, the topic. No matter how much evidence for a given phenomenon, and no matter how obvious its reality, if it goes against the human mind and what we are willing to accept, it is usually ignored or greeted with ridicule. We see the same thing with science, which has largely become dogma, the downright denial of parapsychology (telepathy, healing at a distance, etc) when it has more statistically significant results than the science used to approve most of our drugs (source). It's called cognitive dissonance… We believe what we choose to believe, and humanity is currently in the process of shedding some belief systems in order to accept new realities that once did not fit the frame, and thus were ignored and ridiculed.
One of the latest 'whistle-blowers' to speak openly about their knowledge about extraterrestrial visitation is Robert Bigelow, founder of the Bigelow Aerospace Corporation. Bigelow has done work for multiple international space agencies and is currently in agreements with multiple nations to build space habitats and space stations.
Before we get to his comments, it's important to let the reader know what type of circles Bigelow is currently 'in' with regards to space and the extraterrestrial/UFO question in general. Bigelow's comments were made approximately a year ago now, but not a lot of information was given as to the type of connections this person has, if it isn't already obvious as being one of the leading aerospace contractors in the world…
Towards the end of last year, an article titled "Glowing Auras and 'Black Money': The Pentagon's Mysterious U.F.O Program" put to rest the question of whether or not UFOs are real. CEO Tom Delonge, along with several other people, including a recently retired director of Lockheed Aerospace, Steve Justice, a Department of Defense Scientist, Hal Puthoff, a senior intelligence officer from the CIA, Jim Semivan, a Director of National Intelligence, Louis Elizondo, the Deputy Assistant Secretary of Defense for Intelligence in the Clinton and Bush Administrations, Christopher Mellon, and many more are all releasing official video footage and electro-optical data (radar trackings, returns) and letting the world know that these things (UFOs) are real.
---
I go into more detail regarding the latest updates in an article I published previously:
The US Government Just Admitted To Recovering Materials From UFOs – Here Are The Latest Updates
---
Multiple people from within this new initiative have expressed that they believe there is an extraterrestrial intelligence behind the operation of some of this craft.
This movement brought to light the Pentagon's UFO program (AATIP) for aerial threats, one program out of what could be many, according to Hal Puthoff. You can view the entire team and their credentials here.
The main hub for all of this recent and future 'official mainstream' UFO disclosure is the To The Stars Academy, it's the organization that's releasing all of this information.
Where does Bigelow come in? Well, as the New York Times article points out:
The shadowy program – parts of it remain classified – began in 2007, and initially it was largely funded at the request of Harry Reid, the Nevada Democrat who was the Senate majority leader at the time and who has long had an interest in space phenomena. Most of the money went to an aerospace research company run by a billionaire entrepreneur and longtime friend of Mr. Reid's, Robert Bigelow, who is currently working with NASA to produce expandable craft for humans to use in space.
Bigelow is part of the team at To The Stars Academy, and here's what he had to say about extraterrestrials,
"I am absolutely convinced, that's all there is to it. There has been and is an existing presence, an ET presence."
He also stated that we "don't have to go anywhere" to find extraterrestrial life, that we can find it here on Earth, implying that they're already here, walking among us, and based on my research, are already working with multiple governments.
How many races are we talking about? Perhaps hundreds, maybe even thousands of races have been catalogued by our governments worldwide.
For decades, as General Carlos Cavero told the world in 1979, "everything has been in a process of investigation both in the United States and in Spain, as well as the rest of the world." On a global scale, "the nations of the world are currently working together in the investigation of the UFO phenomenon" and there is "an international exchange of data." (Via Richard Donal's UFOs for the 21st Century Mind)
A couple of years ago, longtime Bigelow Aerospace executive Mike Gold, who's now director of Washington operations for Space Systems Loral, was asked about how Bigelow Aerospace's' involvement with UFOs.
He gave an intriguing answer, with some interesting expressions on his face. He mentions how he finds the subjects matter "very interesting," and also mentions a congressional hearing where scientists emphasized that the universe is teeming with life. He goes on to state that he "cannot comment" on what Bigelow Aerospace does with UFO reports, but glad that "somebody is taking the reports because these are important issues that deserves serious attention."  (source)
Clearly, we now know that this is the case!
"An extraterrestrial influence is investigating our planet. Something is monitoring the planet and they are monitoring it very cautiously." —  2008 Presidential Candidate, Mike Gravel (source)(source)
We interviewed Franco DeNicola about what is happening with the shift in consciousness. It turned out to be one of the deepest and most important information we pulled out within an interview.
We explored why things are moving a little more slowly with the shift at times, what is stopping certain solutions from coming forward and the important role we all play.