Do Free Energy Devices Exist?
"The opinion of the world does not affect me. I have placed as the real values in my life what follows when I am dead."  — Nikola Tesla
Introduction
Free energy suppression is a conspiracy theory which claims that Free energy suppression that would reshape current energy paradigms is being suppressed by governments or special interest groups. In this context, the term "free energy" is not well-defined, and should not be confused with thermodynamic free energy. Generally, it is used to refer to purported transformative technologies which have the potential to dramatically reduce personal energy costs with relatively little capital investment.
There have been numerous "free energy" claims over the years. Many, such as those evidently implying perpetual motion are impossible according to the universally accepted physical laws. Others, such as cold fusion while not fundamentally proven impossible, are not accepted as established or even regarded as potentially viable by the scientific community at large. Skeptics usually regard all claims of and research into free energy technology as pseudo-scientific.
It is very easy to fake things on the Internet just like it is in movies ( YouTube has hundreds of  fake "free energy" generators.)
On the other hand, it is possible that if  a working generator based on Transformational Energy Technology was invented, oil producing companies would try to suppress its implementation…

The alleged suppression (or weakening) is claimed to be going on for a long time and perpetrated by government agencies, special interest groups, fraudulent inventors and/or a non-demanding public. The special interest groups are usually claimed to be associated with the fossil fuel or nuclear industry, whose industry would be threatened. The suppression claims basically are: The claim that the scientific community has controlled and suppressed research into alternative avenues of energy generation via the institutions of peer review and academic pressure. The claim that devices exist which are capable of extracting significant and usable power from preexisting unconventional energy reservoirs, such as the quantum vacuum zero point energy, for little or no cost, but are being suppressed. The claim that more efficient versions of renewable energy technologies (such as solar cells and biofuels) and energy-consuming technologies (such as electric vehicles) are being suppressed.

– from a Wikipedia article
The energy systems of the future—whether they tap sunlight, store electricity, or make fuel from splitting water or reducing carbon dioxide—will revolve around materials and chemical changes that convert energy from one form to another. Such materials will need to be more functional than today's energy materials. To control chemical reactions or to convert a solar photon to an electron requires coordination of multiple steps, each carried out by customized materials with designed nanoscale structures. Such advanced materials are not found in nature; they must be designed and fabricated to exacting standards using principles revealed by basic science. [– Source >>]
It seems not everything accepted by official science is "written in stone"…
Until recently, magnetic monopoles were considered to be scientific "heresy"…
Alan Tennant explains what magnetic monopoles are, the most challenging aspects of the experimental setup for their observation at Berlin research reactor BER II, the significance of their discovery for future applications and the international collaboration with research groups. Please read the news release on www.helmholtz-berlin.de.
– – –
Before Tesla, we could not imagine electric motors in our daily life. Perhaps today we are near having "free energy" generators in every house?
Below are few examples of promising "free energy" generators. The future will tell if these are real or fake…
Tesla free energy generator
Update (as of April 5, 2013)
Mr. Yildiz has been invited by the Turkish patent office to demonstrate his all-magnet motor at the Inventors Expo in Geneva, Switzerland, from April 10-14. They are paying his way. He plans to have more than one motor, and for at least one of them to run the entire duration. The idea is to run it more than long enough to rule out the possibility of hidden batteries inside. Yildiz has invited me to participate in this event, and thanks to so many of you who have chipped in, I will be attending and reporting from there.
Free Tesla Energy is possible says Muammer Yildriz at the university of Delft, presenting energy from magnetism
I had a Dealership with Dennis Lee and I saw with my own eyes and inspected both the Sun-dance Generator and Hummingbird Motor 4 ft by 4 ft footprint 30 KW per Hr generated The 300 Club does not want this type tech out yet Not until One World Government in Place and 4 Billion people gone from the Earth FACTS All.
35+ Reasons Why I Think Yildiz' Magnet Motor Really Works
by Sterling D. Allan Pure Energy Systems News
April 16, 2013
Context
As I fly home from this trip to Geneva to attend the 41st International Exhibition of Inventions in Geneva, Switzerland, where Muammer Yildiz demonstrated his magnet motor design (thanks to all you who chipped in to make this trip possible), I thought I would compile a list of a few reasons why I believe that what was demonstrating was indeed an all-magnet motor, and not some kind of trick, hoax, or scam.
(They shouldn't put power plugs on airplanes. It makes it hard for me to sleep knowing I could be working. So much easier to sleep when I only have so much power left in my batteries. So adjusting my biological clock to Mountain time will have to wait a day.)
Though we were hoping to see the motor run for five days continuously, thereby ruling out any kind of hidden battery or other conventional energy storage mechanism that might have been concealed out of view inside the motor body, it turns out that the motor only ran for 4.5 hours continuously on the first day, before a malfunction occurred.
The malfunction was of four magnets that came loose. The motor slowed, and after a while, a noise could be heard, which is what spurred Yildiz to turn it off.
That night, in the privacy of the motor home he rented, he opened the motor and extricated the four magnets, two of which had obvious damage to them. In order to clean up the motor of those fragments, he would need 1.5 days and a large area to disassemble the entire motor, clean each magnet (not easy to do) and reassemble the motor.
Instead, he opted to not try and resume continuous operation, but to just give brief demonstrations of the motor running for about a minute, starting it up by releasing the braking mechanism, then stopping it by re-engaging the braking mechanism. He didn't feel the motor was stable enough to run continuously, and he didn't want a cascading, cataclysmic malfunction of this motor that is 15 years old and allegedly contains some 1200 magnets.
There was talk that he might get the smaller motor running, a task he attempted until 4 am the second night, but apparently abandoned.
Read the entire article:  http://peswiki.com/index.php/Article:_35%2B_Reasons_Why_I_Think_Yildiz%27_Magnet_Motor_Really_Works
The Searl Effect Generator
Technology pioneer John Searl emerges from the lab to discuss The Searl Effect – an exciting innovation that will make power plants obsolete and power our vehicles into perpetuity for free.
The Searl Effect Generator (SEG) promises to be one of the greatest inventions in human history and a window to a new world of possibilities. It generates electricity without external input (e.g. fossil fuels such as oil or natural gas), producing economically sustainable clean energy. If you're passionate about eliminating air pollution, solving our looming energy crisis, and supporting unprecedented economic growth, this interview is not to be missed!
Related Links
M.T. Keshe Research
M.T. Keshe, the founder of the Keshe Foundation, joins us to share his expertise, insights, and experience as a nuclear engineer and pioneer of what appears to have the attention of DARPA, the Navy, and many other agencies and countries around the world. M.T. Keshe is the author of The Structure of the Light and The Universal Order of Creation of Matters. He holds nothing back when it comes to sharing how extensively he has traveled to bring his systems into existence and who he has approached to bring his new discoveries to the world. This segment is bound to turn the lights on to what's available right now for this generation.
PS1 Stuff They Don't Want You To Know – Nikola Tesla
When impoverished inventor Nikola Tesla died in New York City, the U.S. government confiscated his notes. Why? Were they trying to steal his technology? Did they ever relinquish the notes? Tune in to this episode to find out.  Greed is destroying the world. We do not even know how many inventions and technologies were suppressed because rich people cant make profit out of it.Tesla was a genius.
PS2 Amazing Recent Inventions
Invention of the day: A bladeless wind turbine
It may look like a giant airplane window strung with Venetian blinds, but this structure, designed by Dutch architecture firm Mecanoo and installed at the Delft University of Technology in March, is a model of a machine that would convert wind to energy without any moving parts.
Windenergy convertor EWICON animation, TU Delft
Any mechanical moving parts, at least: The technology, developed by the Electrical Engineering, Mathematics and Computer Science faculty at Delft, uses the movement of electrically charged water droplets to generate power.
Ultra Efficient LED
MIT physicists have been testing a light-emitting diode (LED), built by the Ioffe Physico-Technical Institute in St. Petersburg, that has an electrical efficiency of more than 100 percent. You may ask, "Wouldn't that mean it breaks the first law of thermodynamics?" The answer, happily, is no.
The LED produces 69 picowatts of light using 30 picowatts of power, giving it an efficiency of 230 percent. That means it operates above "unity efficiency" — putting it into a category normally occupied by perpetual motion machines.
However, while MIT's diode puts out more than twice as much energy in photons as it's fed in electrons, it doesn't violate the conservation of energy because it appears to draw in heat energy from its surroundings instead. When it gets more than 100 percent electrically-efficient, it begins to cool down, stealing energy from its environment to convert into more photons.
In slightly more detail, the researchers chose an LED with a small band gap, and applied smaller and smaller voltages. Every time the voltage was halved, the electrical power was reduced by a factor of four, but the light power emitted only dropped by a factor of two. The extra energy came instead from lattice vibrations.
Don't miss: Let there be LED: The future of the light bulb
The scientists involved have detailed their discovery in a paper published in Physical Review Letters, saying: "Experiments directly confirm for the first time that this behaviour continues beyond the conventional limit of unity electrical-to-optical power conversion efficiency."
69 picowatts of light, of course, is a very small amount — so you're not likely to be able to read in bed with one of these LEDs. However, it could have applications in low-power electronics, acting as a thermodynamic heat engine but with fast electrical control.
Source: Ultra-efficient LED puts out more power than is pumped in
Subject Related:
The U2 Ultra from Surefire gives you a super bright light with five brightness options that are changed by a selector ring beneath the head. The levels range from 2 all the way up to 100 lumens on 2 CR123 batteries.
Links
Health authorities have confirmed a case of a rare type of smallpox in a UK patient
A patient in England has been diagnosed with a rare case of monkeypox, as reported by Public Health England (PHE).
The rare viral infection is similar to smallpox, and though it is milder, it can be fatal.
It has been reported that the individual was in Nigeria and that he would have contracted the disease there. Later, upon returning to the United Kingdom, he stayed in the southwest of England where the disease occurred.
Upon symptoms, he was transferred to the Guy's and St Thomas' NHS Foundation Trust , a center specializing in infectious diseases in London.
The health authorities have taken the necessary measures to prevent the virus from spreading to other people.
The PHE said in a statement:
As a precaution, PHE experts are working closely with NHS colleagues to implement rapid infection control procedures, including contact with people who may have been in close contact with the individual to provide health information and advice. "
But experts are not very worried about contagion, because monkeypox does not spread easily among people and the risk of affecting the population is quite low, said Dr. Meera Chand , PHE consulting microbiologist.
Although the infection usually occurs mildly and people get better without treatment; Some individuals may develop very serious symptoms, with a percentage of 1 to 10 percent of patients dying from the disease during outbreaks, according to the World Health Organization .
The symptoms presented are similar to those of smallpox but milder. First, fever, headaches, muscle aches, back pain, swollen lymph nodes, chills and exhaustion. Subsequently rashes may appear on the skin , starting on the face and spreading throughout the rest of the body.
This is not the first time a patient has been infected with smallpox in the United Kingdom. In 2018, there were three cases after a person was diagnosed with the disease. The individual had also returned from Nigeria.
Source: Gov.uk / IFL Science
A cold virus can infect a pregnant woman's fetus
The study showed that the expectant mother is able to transmit a respiratory tract infection to her unborn child.
Scientists from Tulane University (Louisiana, USA) received the first evidence that the cold virus, which affects a pregnant woman, can penetrate the placenta and infect the fetus. An article about this has been published in PLOS One .
The placenta, an organ that develops in the uterine cavity of a woman during pregnancy, provides the necessary nutrition from the mother to the embryo and simultaneously performs another important task: it filters out potential pathogenic microorganisms. However, a group of pediatricians led by Professor Giovanni Piedimonte found that this natural "barrier" is not so impenetrable.
Scientists took the placenta from donors, isolated three main types of cells – cytotrophoblasts, fibroblasts and Kashchenko – Hofbauer cells – and in vitro exposed them to the human respiratory syncytial virus, which causes respiratory tract infections. Although cytotrophoblast cells supported a weak process of the spread of the virus, two other types were more susceptible to infection. So, Kashchenko-Hofbauer cells survived and allowed the virus to replicate inside the cell walls. According to scientists, then these cells, moving inside the placenta, are able to transmit the virus to the fetus.
"Such cells do not die after they become infected," Piedimonte explains. – When they enter the fetus, they are comparable to bombs stuffed with a virus. They do not spread the virus in the area of ​​the "explosion", but carry it through the intercellular channels. <…> Thus, our theory is confirmed that when a woman gets a cold during pregnancy, the virus that causes the infection can pass to the fetus and cause a pulmonary infection before the birth of a child. "
Pediatricians also suggested that the respiratory syncytial virus is able to infect the lung tissue of the unborn baby and provoke the development of an infection that will subsequently affect the predisposition to asthma. To confirm or refute their theory, the authors of the study intend to conduct clinical tests.
Last year, scientists from the University of Cambridge created an artificial and functional mini-placenta using trophoblasts, and recently it turned out that particles of air pollution can penetrate the placenta of pregnant women
How are ETs traveling through space and time today?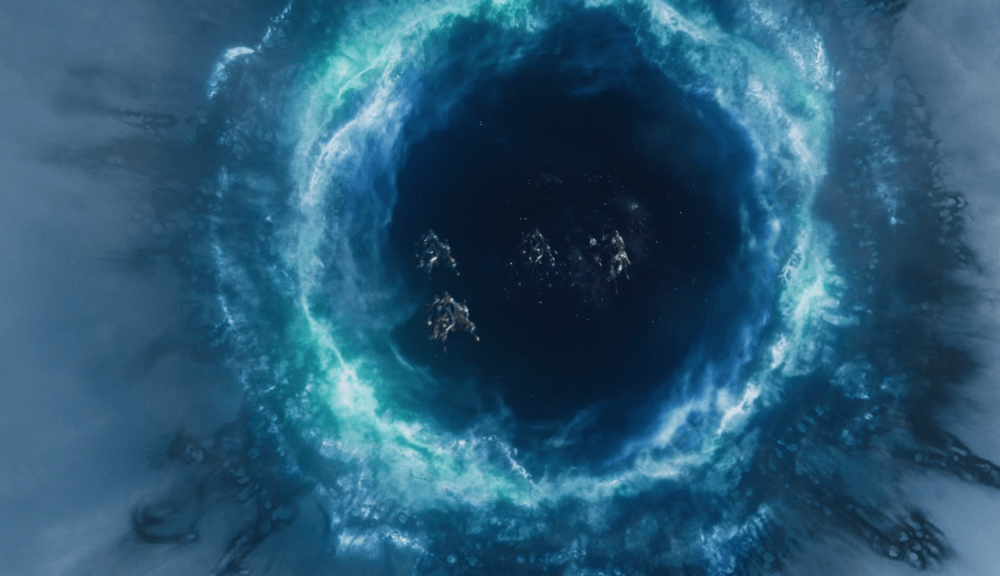 Traveling through space has always been a difficult task, as the distances between planets and even more between solar systems and galaxies are incomprehensible.
Science fiction makes things look easy using space warp engines and wormholes in space. There has been much speculation about the idea that there is a way to travel the vast distance of space with relative ease. Now it seems that no conventional science can support these ideas. Many men and women of science bet that this is possible.
Something that any viewer has seen on films several times is the crew of a spaceship needing to reach another planet or region of space deep within the universe. They enter some coordinates and voila , cross some tunnel-like structure, and reach a destination millions of light years from the point of departure.
But what was fantasy can now come true, as recent discoveries have found that galaxies can move between great distances and against predictions of basic cosmological models. The reason for this may make us rethink everything we think science knows about the universe.
The universe is full of many mysteries; It is an impressive kaleidoscope of patterns that science studies. These nebulae and star clusters continually reveal secrets about how they move in unexplained patterns.
Galaxies tend to form clusters that are limited by gravity, and continue to clump together until they become much larger superclusters. Earth is part of a cluster (galaxy) we call the Milky Way, which in turn is part of the Virgo supercluster that contains over 1,000 galaxies. These masses continually change into different shapes, merging with each other, and some are even pulled between competing galaxies. The movement indicates that there is possibly some massive invisible force at work.
Generally, galaxies have an effect on each other, exerting gravitational force that moves them in a way that is predictable. What scientists have found is that there are exceptions to this and they are theorizing that this may be related to the influence of "large scale" structures..
These "large-scale structures" are composed of hydrogen gas and dark matter and form a pattern of strings, sheets, filaments, and knots that connect galaxies. Imagine a giant cosmic web that connects all parts of the universe.
This web has enormous implications for the way we think the universe works, the movement of galaxies and the development of planets and suns, and basically every astronomical body has massive consequences on the habitability of a world and the possibility of life's evolution.
So what makes these clusters move the way they do, and why are newfound structures a problem for current gravity-based theories?
First, it is contrary to current thinking that galaxies follow a fixed uniform pattern, which means that many of the patterns that have been shown and explanations of why a galaxy follows such a pattern will need to be reexamined.
The impact of these large structures will need to be added to the mix and they could actually change the accepted cosmic model. Science needs to collect much more data about structures in order to calculate this effect. A man who works on this is a scientist named Hutsemékers.
When asked about discovering this connection network, he said:
One of the great things about science is that you can create a model with thousands of dice, but if something doesn't 'stick', it starts to break. This crack has to be sealed or it will tear down the entire house.
This new discovery will really stir up the established ideas. Theories about the universe, as the most important of events, "the big bang " will need to be reworked.
Why is this so interesting?
Because it can help us understand, link ideas and theories about the existence of extraterrestrial life somewhere deep in space.
If we discover the web that connects the universe, an advanced alien race may also have learned about it. Could this be how ETs are traveling the universe today?
One thing that many skeptics point to as a way of refuting extraterrestrial visitation on the planet is that the vastness of space prevents any species from traveling between worlds. What if an advanced alien race had found a way to utilize this cosmic web?
Making a full circle to the beginning of this story, would they have some kind of drive, motor or technology that could allow access to the structure and then travel between galaxies?
A tunnel like a shortcut or a 'wormhole' could very well accommodate this need.