DNA and Genealogy Tests Reveal the Identity of a 19th Century Vampire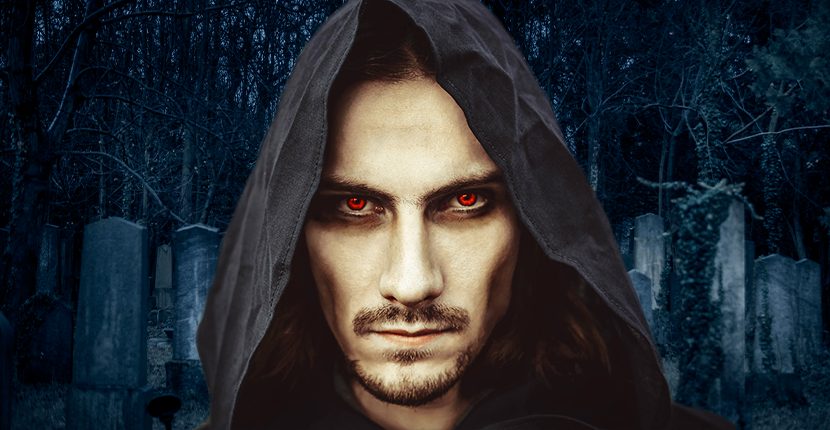 Imagine taking one of those genealogy tests which are so popular these days and finding out you're a descendant of a vampire. You would undoubtedly deny it (or perhaps be proud of it) and seek to prove your point either way with a DNA test … only to find that your DNA matches up to the vampire. If your name is Barber and you have ancestors in New England, you may want to take notes and wear some extra sunblock at the beach this summer because researchers have identified a man buried as a vampire in 19th century Connecticut.
In 1990, an abandoned cemetery was found in Griswold, Connecticut. Researchers determined it to be the private cemetery of the Walton family, which owned and farmed the land from 1690 into at least the 1800s. The remains of 29 individuals were found – men, women and children – and most showed evidence of lives of hard labor. However, one stone-lined grave caught the attention of Paul S. Sledzik and Nicholas Bellantoni, who were doing research for their paper "Bioarcheological and Biocultural Evidence for the New England Vampire Folk Belief," which was eventually published in The American Journal of Physical Anthropology. Why?
"Upon opening the grave, the skull and femora were found in a "skull and crossbones" orientation on top of the ribs and vertabrae, which were also found in disarray. On the coffin lid, an arrangement of tacks spelled the initials "JB-55", presumably the initials and age at death of this individual."
In their study of New England vampire beliefs, Sledzik and Bellantoni found that the descriptions of alleged vampires generally say that the person was wasting away and losing flesh despite leading an active and otherwise normal life. This led to the belief that vampires craved food and ultimately human flesh, which is why relatives of vampires seemed to eventually suffer from the same wasting away. These are also the symptoms of tuberculosis, which was called consumption in those days and ran rampant throughout the unsanitary farms of 18th and 19th century New England. While most cemeteries of that era showed many people suffering from and dying from consumption, only JB-55 had it in the Walton cemetery.
"Several years after the burial, one or more of his family members contracted tuberculosis. They attributed their disease to the fact that J.B. had returned from the dead to "feed" upon them. To stop the progress of their disease, the body of the consumptive J.B. was exhumed so that the heart could be burned. Upon opening the grave, the family saw that the heart had decomposed. With no heart to burn, the bones of the chest were disrupted and the skull femora placed in a "skull and crossbones" position."
According to the paper, the New England way of dealing with suspected vampires was to burn their heart, especially if blood was found in it. In this case, the heart had decomposed, so instead the family rearranged the bones into a skull-and-crossbones formation – the next best thing since decapitation was also a way of keeping a vampire in its grave.
The case of JB-55 intrigued Charla Marshall, a forensic scientist with SNA International in Alexandria, Virginia, who participated in the DNA and geneaology analyses to identify JB-55. In a presentation given recently at the National Museum of Health and Medicine in Silver Spring, Maryland, the findings of Marshall and experts at the Armed Forces Medical Examiner System's DNA laboratory in Dover, Delaware, were revealed.
"When modern tools were used – Y-chromosomal DNA profiling and surname prediction via genealogy data available on the Internet – the experts said they came up with a match for the last name: Barber."
Barber! That made it easy for the forensic experts to check old cemetery and newspaper records. As the Washington Post reports:
"They discovered a newspaper notice mentioning the death there in 1826 of a 12-year-old boy named Nathan Barber, whose father was a John Barber. Researchers had found a grave near JB's containing a coffin with the notation NB 13 similarly tacked on the lid."
SO, JB-55 was not a vampire but a poor farmer and father named John Barber who lost his 12-year-old son and eventually wasted away from tuberculosis, only to be later suspected of vampirically rising from the grave and attacking his own relatives before they dispatched him forever by detaching his skull and rearranging his bones.
All you New England Barbers out there — you don't do things like that anymore, right? RIGHT?
Source: Mysterious Universe
How to buy a Crystal Ball for Scrying.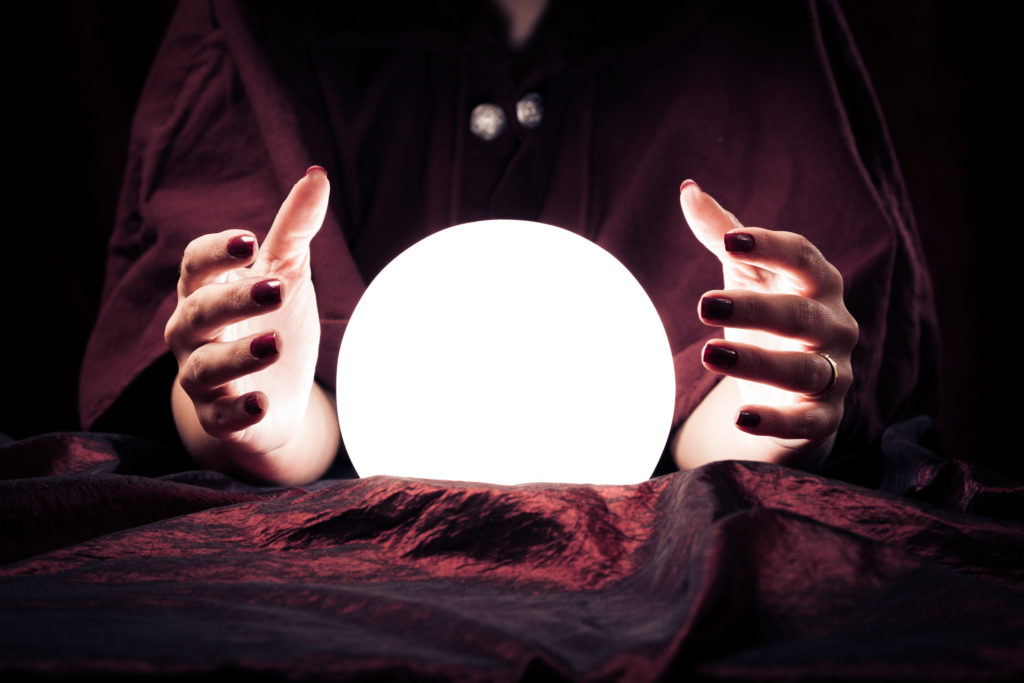 Crystal balls were once, years ago, much more common in occultist practices than they are today. The typical type of crystal ball is a very large, thick, heavy solid glass sphere that would be set upon an extremely dark; a blackish huge square-cut piece of wool, cloth, or satin. A person would stare intently into the circular glass and concentrate on seeing visions of the future, or even conjure spells.
Divination using a crystal ball or other light reflective object or surface, even upon water, is known as scrying. When scrying is practiced with crystals or any transparent body, it is known as crystallomancy or crystal gazing. The crystal ball is said to become misty before the future scene is visually displayed. A crystal ball is also known as an orbuculum or a crystal sphere. Some people, over a century ago, would stare in the crystal ball on a bright, sunny day; but actually doing so is harmful. A large crystal ball reflects the sunlight to such a high degree that the sunlight hurts and damages the eyes and hands if held, and may burn the cloth or such material around it. So that activity soon becomes terminated.
The established method is to use at the crystal ball at night; in the darkness or a dimly lit room for scrying. Many people have tried to see the future in a crystal ball only to see nothing paranormal and have turned skeptical and disappointed. Other people, when trying to see the future while crystal gazing, soon get nervous and frightened; feeling they should not try to see future events in case some type of horrible tragedy and even death reveals itself. Their fear can be based on a terrible incident to occur that these people feel as though they cannot stop it. Thus, with these individuals, their minds have produced a blocking effect to see ahead in time which neutralizes any type of psychic precognition ability they might really have.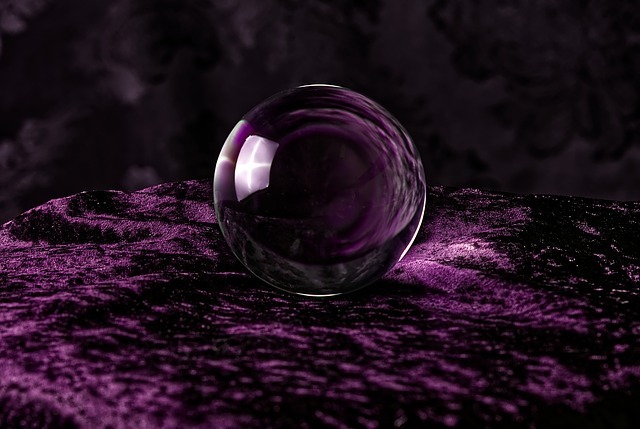 Nowadays, many people who continue to look toward crystal ball precognition desire their crystal balls to be bit mere glass that has a small amount of mineral, such as lead, in it, but an actual crystal ball made from quartz crystal. Lead can be added to originary glass and the higher content of lead is also known as "crystal" and is common in antique glasses, dishes, candlestick holders, etc. Lead in glassware results in a smoother, more lustrous finish. Quartz crystal balls are on today's occult supplies market but are very expensive. Quartz is known to have a certain amount of stored electricity inside of it. If two pieces of dry quartz are rubbed together, flashes of light are seen because of electrical discharge. This phenomenon is called triboluminescence, or also called "cold light" because no heat is produced. The flashes of light are best seen in the dark.
An American Indian tribe, the Uncompahgre Ute, would fill a translucent rattle, made of rawhide, with bits of quartz. When the rattle is shaken, the quartz particles would glow. Other divination balls have been made using amethyst: a precious stone consisting of mainly a violet or purple variety of quartz. The violet; purple quartz variety, in Europe, since ancient times has been considered a special stone with virtues associated with royalty and was used to decorate English regalia. Some forms of quartz derived amethyst are red to vanter lilac hue. Amethyst is the birthstone for folks born in the month of February. There are crystal balls made of black obsidian which is volcanic lava harden glass. Many people in hot Western states-California, Nevada, Arizona, New Mexico like the black obsidian crystal balls. Native American Indians in such states, as well as other warm-weather places, were very fond of creating jewelry, arrowheads, spears, and knives from black obsidian. A common misconception is that obsidian is a mineral, but it is not, due to the lack of a crystalline structure obsidian is sometimes described as a mineraloid. Some feel what obsidum lacks in structure it makes up for in sheer beauty and origin making the substance a valuable addition for the physic.
One of the uses of the natural black glass was to polish it to create early mirrors. Ancient peoples who did not understand the properties of light reflection thought these black mirrors were magical. A black obsidian so called crystal ball is of course not made from real crystal and makes it a glass ball for divination. Beware of occult suppliers who claim to sell crystal balls claimed to be quartz, amethyst, or black obsidian but are really just colored glass. The most common kind of glass is soda lime or plate glass, which is most often clear. This type of glass is often found in your home and is used to make windows. If you go to a hardware store you can look at its edge which has a greenish hue. This cast, however, is more difficult to see once it is made into a crystal ball unless there is a flat spot for it to rest on, crystal balls have no edges!
To tell quartz from glass: with quartz, there is usually no additional tinted colors when staring through it. Glass, however, you can see a green tint when looking through it in strong light near the perimeter of the glass. Crystal will often show lines or cracks where glass has a tendency not to. Also, check for air bubbles which generally mean the object is glass. In any case, you may need to use a jeweler's 10x magnifying loupe to look for any of this.
To tell colored ordinary glass, from real black obsidian is generally hard to do. Fake obsidian can be more translucent than real black obsidian but remember on rare occasions, black obsidian can be nearly clear. Even though real black obsidian is, of course, glassy looking, it is also very smooth, and very shiny. Often times, real obsidian has a conchoidal fracture: a curved break-off point where it has been chipped away and these fracture surfaces are very sharp.
Lastly, a very interesting method to create a crystal ball is possible using ordinary ice. The method suggests a balloon is filled with water and placed into a freezer for several days. The shape should take on that roughly of a sphere. After the ballon solidifies, simply cut the neck end off with a pair of scissors and peel away the rubber. Ice can successfully be used as crystal balls. Some clairvoyants prefer to have a clear type while others prefer to use cloudy ones. There are ways to make ice clear for scrying attempts.
Divining Rods, Water Witching, and Pendulum Divination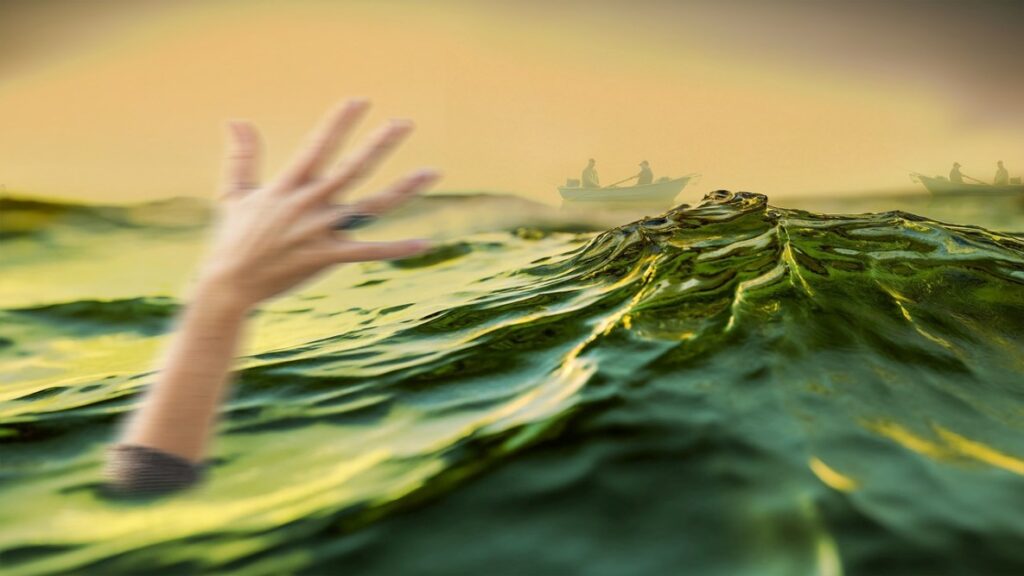 For centuries, families who live on homesteads, farms, and ranches would experience, in certain parts of the world, droughts. Crops began to fail and the supply of fresh, safe drinking water became scarce. At such times, certain people would engage in the activity known as "water witching". A forked stick; a branch that resembles a big letter "Y" was found or cut off from the limb of a tree. One of the bent ends were held in one hand; the other bent end was held in the other hand.
The extended, vertical part of the branch was held mainly upright but somewhat angled downward. The person would slowly walk over the land, at times muttering incantations or prayers for this rod to reveal where water is underground. If the vertical part of the rod sharply went downward; that is believed to be an indication of the spot or area where underground water is. Then, a shovel was used to dig downward to try to find this buried water supply. The person using the divining rod for water was called a "water witch".  The activity of using divining rods evolved into trying to find all sorts of things under the earth-gold nuggets, gold coins, silver coins, very rare old copper coins, loaded up treasure chests, oil reserves, petroleum deposits, natural gas reserves, grave sites, among various other things.
In various cases, a diviner would take an inexpensive ring, put a strong thread or cord being very lightweight through the circle part, tie tightly thereto, and hold the ring downward, walking slowly and looking for the ring to twitch, swing from side to side or move in a circular motion to indicate that which is being sought is allegedly right there underground. In other cases, a pendulum, like the type seen on an old, old "grandfather clock" or a metronome would be attached to a string or cord held by a single hand to use for the seemingly magical underground detection according to where the pendulum would gravitate to.
Some people have had very good experiences, on various occasions; in finding lots of water, coins, treasure chests, etc. with their divining rods, rings, and pendulums. But consider this: large amounts of land can have quite a number of huge water deposits beneath the soil. According to the United States Geological Survey, more freshwater is located underground than there is in all of the earth's freshwater lakes and rivers.  Earth's "underground oceans", trapped in minerals and located hundreds of miles underground, could have 3 times more water than the water on the surface of our planet.  Also, long, long ago people did not trust banks for security and some people then buried their gold, silver, and copper coinage in containers, at times even valuable jewelry was put in glass jars with tight lids, then buried underground.
Scientific researchers who studied divining rods, divining rings and such pendulums discovered such items have no power of themselves. The operator thereof is using his or her subconscious mind to make these objects move by slight hand action that seems as though these so called detectors are moving by themselves. The subconscious mind also uses clues in the terrain to make what are educated guesses as to where a desired item to discover is lying unseen underground. Consider that water has a greater chance of existing in areas of depression, such as a valley, rather than a hilly area. The presence of various plants and trees that gravitate toward water can also be a clue to where deposits of underground water are. Even in dried up riverbeds, ponds, or streams there is often underground water just below the surface.
And at times, accidental movement of a divining rod, ring, or pendulum has occurred being mistaken for the 'detector' picking up a 'signal'. Some people have used their ' divining tools' over a large, opened outward map to look for special things, marking the so called location allegedly revealed with an ink pen.  Over a whole lot of years; many people who claimed to have special dowsing abilities have been rigorously scientifically tested and then discovered to do no better in results than by random chance.
The World's Largest Ouija Board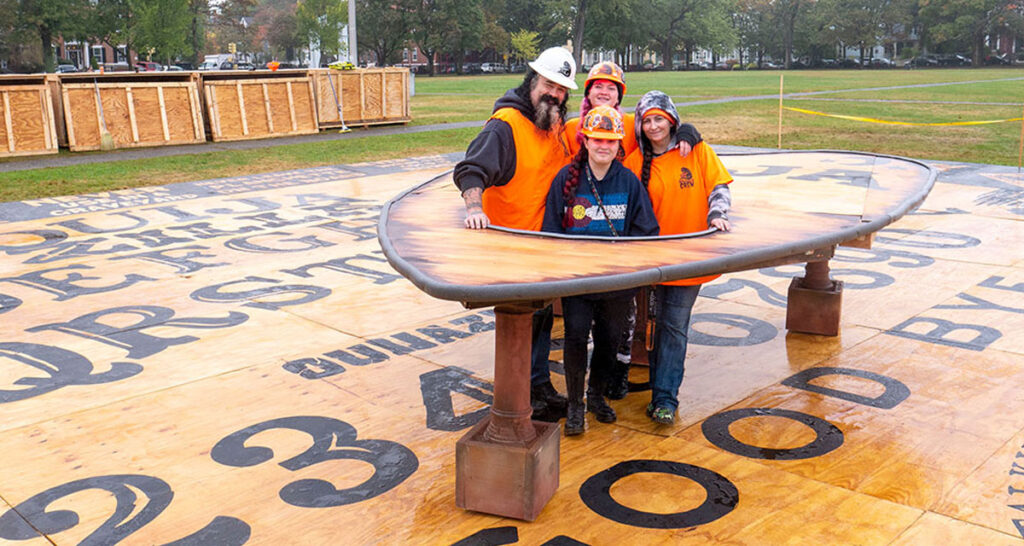 The Talking Board Historical Society set the new world record for the largest ouija board with the 9,000-pound OuijaZilla.

The Schreck family with OuijaZilla, the world's largest Ouija board
OuijaZilla was unveiled in Salem, MA on October 12, 2019 and officially took the crown for the world's largest Ouija board from the previous record holder, the Grand Midway Hotel.
Weighting in at an estimated 9,000 pounds, OuijaZilla is made of 99 sheets of plywood and measures 3,168 square feet. The planchette is 400 pounds on its own and measures 15.5 feet long and 10 feet at its widest point, but can be effortlessly moved across the board by just one person (or spirit?), Ripley's reports.
OuijaZilla was handcrafted by Rick "Ormortis" Schreck, a lifelong collector of spirit boards and Vice President of the Talking Board Historical Society.
Schreck started collecting Ouija boards in 1992 and filled his house with them hoping to make it haunted.
So far, the OuijaZilla site notes, it hasn't worked.
Ouija Board Rules