Divine Guardian: A Warrior's Magic Shirt
The word talisman refers in its widest sense to an object made to protect the owner, to avert the power of evil, and promote well-being. Talismanic objects in various cultures belong to realm of magic and made in many different forms and sizes some were even worn as clothing like the shirt.
Islamic tradition
The history of talismanic shirts goes back a very, very long way. The prophet Joseph (Yusuf in Arabic) is believed to have owned one that protected him from hardship and evil. It is even credited with performing miracles – as when it restored the vision of Joseph's father Jacob (Ya'qub in Arabic), following an instruction recorded in the Qur'an, Surah Yusuf (XII, verse 93):
اذْهَبُواْ بِقَمِيصِي هَـذَا فَأَلْقُوهُ عَلَى وَجْهِ أَبِي يَأْتِ بَصِيرًا وَأْتُونِي بِأَهْلِكُمْ أَجْمَعِينَ
"Take this, my shirt, and cast it over the face of my father; he will become seeing. And bring me your family, all together."
Though talismanic shirts were used as protection from disease, famine, difficult child birth, sudden death, and the unpredictability of travel, it is believed that the majority of these shirts were meant for use in battle. Particular verses from the Qur'an that refer to victory were commonly inscribed on shirts worn under armour – the word of God was intended to protect the owner while they fought.
Four distinctive types of Islamic talismanic shirts have been identified: Ottoman, Safavid, Mughal (Indian) and West African –none of which can be dated to earlier than the 15th century. Each group has its own unique stylistic approach to the shape of the garments and the talismanic formulas used, as well as the design of the illumination.
Ottoman culture
The tradition of talismanic shirts – known as the Ottoman magic shirts- dates from Turkey's shamanist past. Back then, the shirts, engraved with geographical designs, were believed to protect the person who wore them against diseases and enemies.
With Islam, the geographical designs became verses from Quran and the "talismanic shirts" entered the Ottoman Palace, to be mostly worn by crown princes, to protect them from the wrath of their brothers and contenders to the throne or to assure they had plenty of offspring to ensure their line of blood continued.
By comparison to how accurate curators can sometimes be about the making of these incredible shirts, their function is far more debatable. Unfortunately, there are very few sources that discuss or even mention the use of these objects. One source, written in the 1530's in Istanbul, describes a shirt made by a holy man in Mecca through which neither bullets nor swords could penetrate. That shirt was commissioned for the Ottoman Sultan Suleiman the Magnificent (1520—1527) by his wife Hürrem Sultan, and still survives to this day. It is housed in the Topkapı Palace Museum in Istanbul.
The Talismanic Shirt was worn by the Ottoman Sultan, Suleiman the Magnificent (1520—1527) under his armor at the Mohacs Battle and during other military confrontations. It was prepared by the head (or court) astrologer (Münecimbashi) according to his time of birth and contains the Al-Fath (Victory) Sura and other Suras of the Koran. (Image Source)
Another Topkapı shirt was commissioned for Cem Sultan (d.1495), son of Sultan Mehmed II, and includes not only the exact date and time at which the construction of the shirt was begun, (30 March 1477, Tuesday, 12:36pm, the Sun in 19 degrees Aries), but also the exact date and time it was finished (29 March 1480, Sunday 3:57am, the Sun in 19 degrees Aries). Topkapı's dated example gives an unusually accurate idea of how time consuming the production of such garments could be – three years to complete a single shirt.
Slavic culture
In ancient Slavic culture it was common to have a talismanic shirt – tight fitting garment, worn as a sort of armour. It was supposed to hold back diseases and the evil eye and protect from enemies on the battlefield.
Traditional Slavic warrior shirts featured magic symbols and some amulets could be stitched or embroidered directly to onto the collar, sleeves and the bottom part.
Left: Sketch of Slavic male ritual shirt. Right: Sketch of Slavic male warrior shirt (Image Source)
Usually the decoration was made in red pattern represented a "fire-line". Main spiritual protecting element of warrior shirt was so called "shield" rectangular piece, outlined with a different colour, in the top front of the shirt. Containing some special symbols it believed to possess strong protective powers.
Viking Age
During the Viking Age there were so called berserkers (or "berserks") super skilled  Norse warriors who are primarily reported in Icelandic sagas to have fought in a trance-like fury, a characteristic which later gave rise to the English word "berserk." They are said to be possessed by the spirit's of the animals they worshipped, at the times, Berserkers join up with the regular Vikings to fight alongside them for unknown reason, they are said to jump into the battle without any fear or hesitation and were ready to slaughter anyone who stands in their way.
An engraving of an image shown on a Vendel era bronze plate discovered in Öland, Sweden. Depicted are a berserker about to decapitate his enemy on the right and Oden on the left. Oden's famous characters markers are not present.
Interesting fact that these warriors would often go into battle without mail coats, wearing instead a kind of shirt or coat (serkr) made from the pelt of a bear (ber-). The bear was one of the animals representing Odin, and by wearing such a pelt the warriors sought to gain the strength of a bear and the favour of Odin.
This expression berserk most likely arose from their reputed habit of wearing a kind of shirt or coat (serkr) made from the pelt of a bear (ber-) during battle. The bear was one of the animals representing Odin (Odin is a widely revered god in Norse mythology), and by wearing such a pelt the warriors sought to gain the strength of a bear and the favor of Odin.
The bear-warrior symbolism survived to this day in the form of the bearskin caps worn by the guards of the Danish and British monarchs, the Royal Life Guards and the Queen's Guard.
A Very Pagan Christmas Special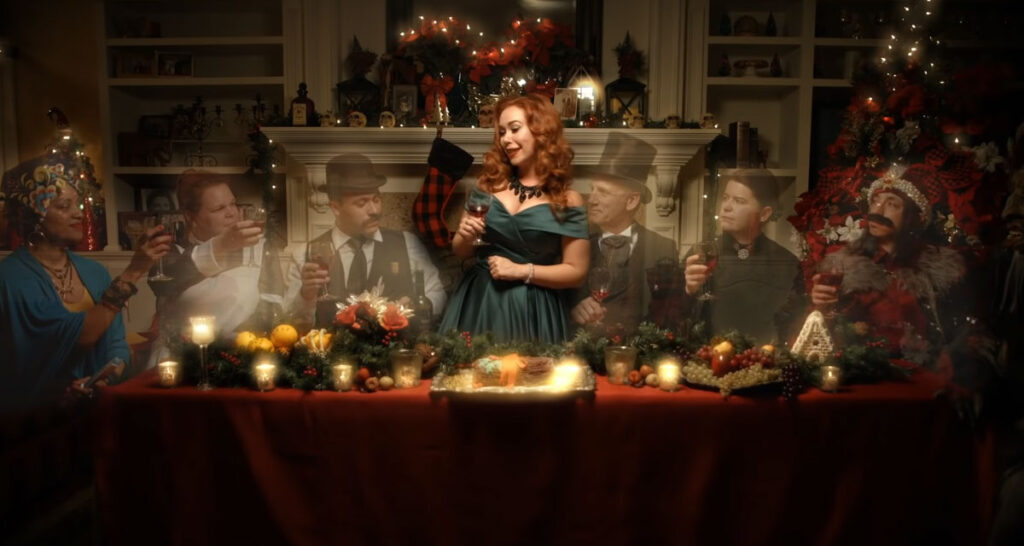 Explore the dark origins of Christmas with this pagan Christmas special from Macabre Mondays.
When you dig just under the surface of modern Christmas you begin to find the joyous holiday full of ghosts, monsters, and other darkness. For creeps like us it's basically a second Halloween. Colder, yes, but with equal amounts of macabre merriment.
Macabre Mondays host Malia Miglino invites you to join her festivities as she explores the holiday's pagan roots:
Human sacrifice, Yule logs, mistletoe…what do all 3 of these things have in common? Easy – Christmas AND Paganism. I'm breaking the door open on the origins of Christmas and Creeps, it's DARK.

From the ancient Romans who celebrated Saturnalia to the Vikings who poisoned human sacrifices with mistletoe to Charles Dickens ghost stories….the history of Christmas is long, varied, dark and stolen. So grab some wine, prepare a feast and settle in for a crazy night of lore and Yule while I celebrate with some of my favorite ghosts of Christmas's past.
For more Macabre Mondays subscribe on Youtube right here.
Satanic 'Snaketivity' on Display for Christmas in Illinois Capitol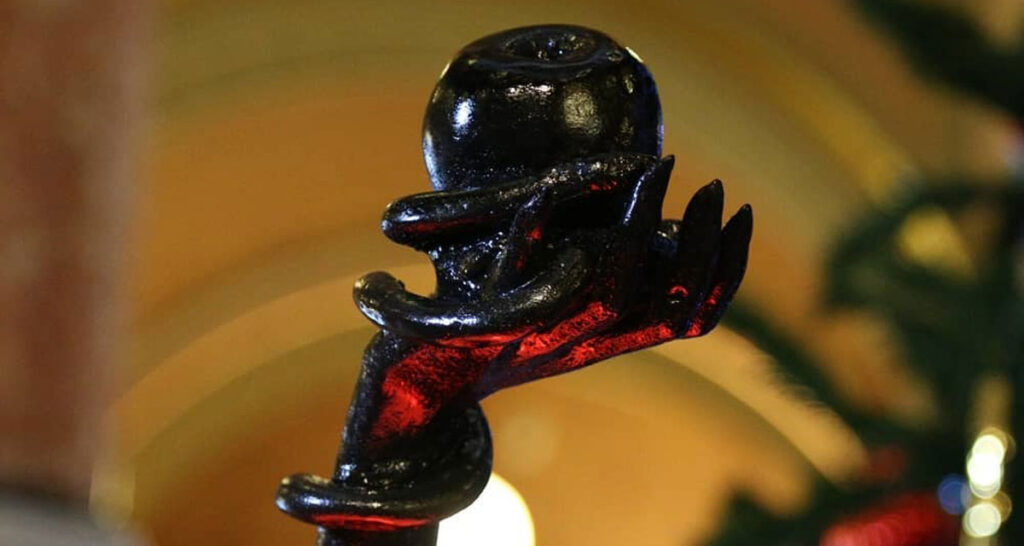 The Satanic Temple of Chicago installed a sculpture of a hand holding an apple with a snake wrapped around it for the holidays.

Snaketivity on display in Springfield, Il.
"Fill your eyes and ears with Satanic holiday cheer! The Snaketivity is here!" the Satanic Temple of Chicago posted on Instagram this week.
The "Snaketivity" is a black resin sculpture of a hand holding an apple with a snake wrapped around it. The base reads, "Knowledge is the greatest gift." It is currently on display for the holiday season in Springfield alongside a menorah, a Christmas tree, and a Nativity scene.
More weird holiday cheer:
When the Satanic Temple announced the plan in November, they wrote that the Snaketivity would be "bringing a message to the Illinois state capital that religious freedom means freedom of representation for ALL religions… not just the ones that don't offend Christians."
With a plea to "Please consider what you may do to help us bring Satan to Springfield!," the group raised $1,700 on GoFundMe for their Satanic holiday display.
"I suppose it is their free speech rights to do that, so I can't deny that. But do I agree with it? Absolutely not," one interviewee told WBMF News. "I can't disagree with the statement in itself but when it's coming from a satanic or a cult group, my response would be that everything about Satan is a lie."
"I think it's inappropriate because it's not something that should be displayed for a lot of people to be offended by," said another. "I would be offended by that myself."
The statue will remain on display in the Illinois State Capitol until Dec. 29.
Exquisite New Edition of 16th Century Occult Tome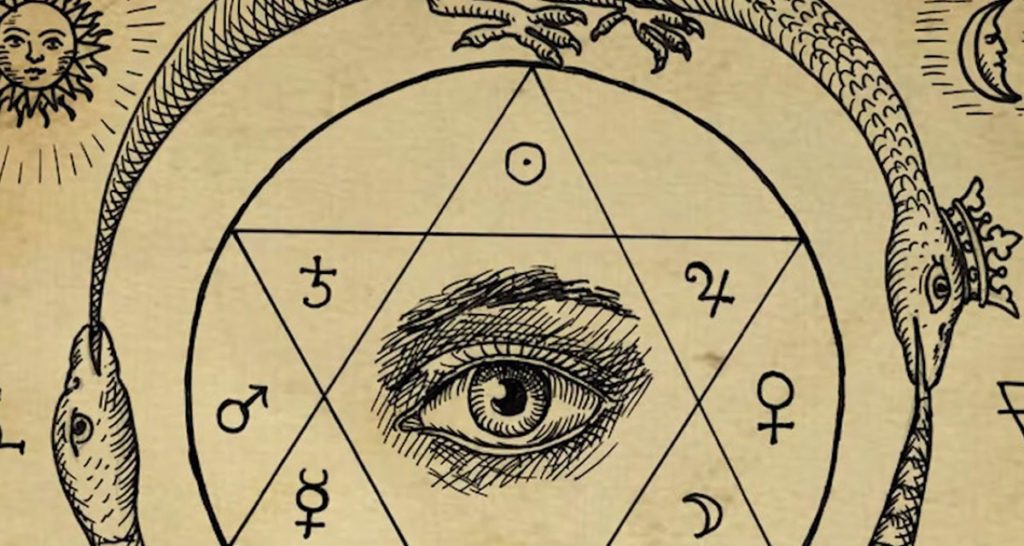 Bring this once banned book of science and the occult back to life with a beautiful new edition from Black Letter Press.

Black Letter Press is crowdfunding an exquisitely illustrated new edition of Natural Magick by Giambattista della Porta, the 1558 book about the occult that was listed in an idex of forbidden books.
From the IndieGoGo campaign:
Natural Magick was first published in 1558. Giambattista della Porta was a magus, or a natural magician, who searched nature for similarities that would serve to build a broad template of forced understanding of seeming likenesses, looking for the great connector in the exceptional and the unusual, the stuff outside of the formerly Aristotlean world.

Porta writes in the first chapter, defining the word "magic": "Magic took her name and original [sic] from Persia… In the Persian language, a Magician is nothing else but one that expounds and studies divine things; and it is the general name of wise-men in that country… Magic was begun in Persia by Zoroastres". Therefore it is not a book of ceremonial magic, spells or any religious topics but an encyclopedic work of natural wonders, a gold-mine of information and clever wishfulness written at a time when science was still in its infancy. Magic is described as a specific science of natural objects.

Natural Magic concerns itself with a variety of subjects della Porta had investigated such as magic, alchemy, optics, geometry, cryptography, magnetism, agriculture, the art of memory, munitions, and many other topics, all grouped together and refined, distilled, into a compendium of natural knowledge.

While some of della Portas described Experiments on living animals and Humans might seem curious and quite cruel to the modern reader, his researches in optics were visionary. He gave the world the first published description of the convex lens and the camera obscura. Though he did not invent these, his work is perfecting and describing them, and their inclusion in Natural Magick, contributed to the dissemination of this knowledge.

The first edition of Natural Magic (1558) ended up on the spanish Index of forbidden Books due to Porta's naturalistic approach to witchcraft and necromantic arts. A second version in 1589 was purged of the infamous – and one of the few passed on – recipes for a witches unguent. Della Porta speculates in this banned chapter, that the witches flight and orgiastic encounters with demons and the devil had a natural explanation. Hallucinogenic plants were used to create the flying ointment – a material substance with occult, but non-demonic properties.
A new edition of Natural Magick by Giambattista Dell Porta from Black Letter Press
Back this project on IndieGoGo right here.