Did Tesla Have An E.T. Connection?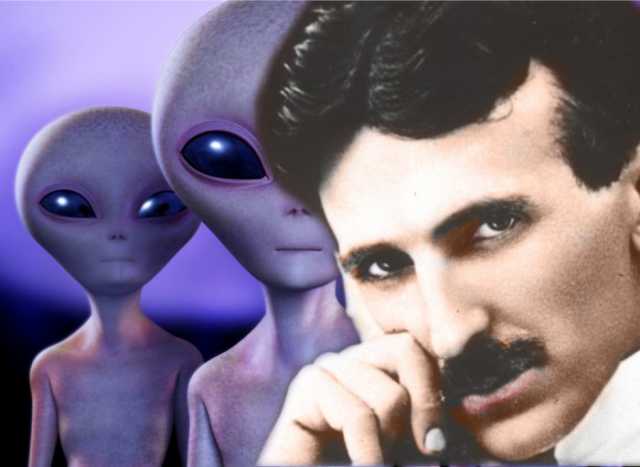 Nikola Tesla was one of the greatest minds of all time and was considered to be the father of the 21st century. There were rumours that Tesla received his inventions from E.T. sources. Was this the main reason every step Tesla made was monitored by the elite?
Many devices that we use today contain Tesla's patents, ideas, concepts. Most people have no idea that Tesla is behind these inventions. However, we rarely hear his name mentioned, especially in school books. His genius was often too much both for ordinary people and the elite. From bankers like JP Morgan to politicians, jealous, scientists, and others, the goal was to not only stop him from bringing these inventions to humanity but to steal them while keeping it out of the public eye.
His research was a threat to everything humanity was allowed to know. Could there have been something hidden about Tesla that was an even bigger threat?
Did Tesla Have An E.T. Connection?
Tesla's entrance into this world
Tesla's birth is mentioned in many stories, especially in the region of the Balkans. Tesla was born on July 10th, 1856 in a village in what was then Austro-Hungarian empire which is modern-day Croatia. His mother had a midwife helping her that night when Nikola was about to be born. There was relentless thunder outside. The story goes on to say that the midwife was very scared, but Tesla's mother told her not to be afraid, that her child would be a very important person. When the midwife started getting used to relentless thunder outside the house, she asked Tesla's mother how she knew the baby would be a very important person. Tesla's mother responded that she did not know how but she simply knew.
His very birth was an interesting event because later Tesla literally played with thunder in his experiments and was born during similar circumstances. Just like his mother knew that her child would become an important person, Tesla simply knew what to do and would create complete devices in his mind before experiments. Another interesting thing is that his father was a Serb Orthodox priest and his son was anything but his father in terms of understanding the universe.
Tesla was also born in a region that was not particularly known for anything at that time. If you believe many Tesla followers that Tesla himself was an alien who incarnated in this world, the question is why he chose the family and the region for his birth and why there was such a storm while he was being born.
The period in which Tesla was born coincided with the old Zoharic prophecy about the opening of the gates of wisdom upon the earth. Coincidentally, Einstein was born during this time as well.
Tesla's childhood
The "genius who lit the world", as some call him, witnessed a terrible accident at the age of seven. In 1863 Tesla's brother Danijel was killed in a riding accident. Tesla was in a state of shock and was reported to have started seeing visions. Many people have said that Tesla suffered from lifelong mental illnesses caused by the loss of his brother. A more logical explanation is that this shock served as a trigger in Tesla's mind (as it happens to many people who witness terrible things) and that it prepared him for the unique way of using his mind.
Tesla's life was very dramatic. At an early age he showed the superiority of his mind and was fascinated with thunderstorms and lightning. It is possible that this was also caused by the impressions of the storm when he was born. Nikola was fascinated with electricity and was absolutely determined that he would harness the power of the Universe to help humanity.
Tesla's downloads
In 1882, the idea of a brushless AC motor simply came to him as Tesla was walking. He sketched the images in the sand. That is the first story about how he would simply have an idea in an instant, create the whole design in his head, and then simply start building it from scratch.
When Tesla moved to New York in 1884, he was hired as an engineer at Thomas Edison's headquarters. Edison was impressed with Tesla and told Tesla he would give him 50 thousand dollars for a better design of his DC dynamos. Tesla experimented for months. However, when he presented his solution, Edison did not give Tesla any money and Tesla quit.
Tesla then decided to work alone and ideas kept coming one after another. In 1887 and 1888 he was granted more than 30 patents for his inventions. George Westinghouse, Edison's major competitor, was very interested in Tesla's work. What followed is one of the greatest and strangest stories of all time.
Tesla kept creating more and more, sleeping only two hours at night. Tesla would stay awake 22 hours a day, taking a nap 15 – 20 minutes for every four hours awake. This started when he was very young. When he was studying in Graz, Austria, Tesla became very good at playing billiards. Sometimes he would play more than 48 hours in a stretch. Also, once Tesla worked in his laboratory for 84 hours without any rest or sleep.
To the people around him this was simply incredible. Tesla had unusual amounts of energy and would get complete schematics in an instant. All this and much more points to two possible conclusions: Tesla was an E.T. or Tesla was able to contact them and the invisible realms and that is how he would get his ideas and energy.
Probably the most famous Tesla quote regarding his communication with other realms is:
"My brain is only a receiver. In the Universe there is a core from which we obtain knowledge, strength, and inspiration. I have not penetrated into the secrets of this core, but I know that it exists."
Tesla openly stated that his brain was a receiver and that the knowledge came from a core. Was he trying to mask the fact that he was communicating with an E.T. race that many say he was a part of? It is possible, but it is certainly much easier to explain his incredible work to the public in this way, saying that he was doing something that Da Vinci and Einstein were also famous for – communication with other realms.
Another quote is very interesting:
"My method is different. I do not rush into actual work. When I get a new idea, I start at once building it up in my imagination and make improvements and operate the device in my mind. When I have gone so far as to embody everything in my invention, every possible improvement I can think of, and when I see no fault anywhere, I put into concrete form the final product of my brain."
The whole process explained in his words, an invention in his brain without any drawing, experiments, something most people can only dream of, yet so natural to Tesla. Was it possible because he communicated with E.T.'s, other realms, the core as he called it?
Intelligent electrical signals from space
Nikola Tesla built a laboratory in Colorado Springs, Colorado, in 1899, to experiment with high frequency electricity and other phenomena. In that laboratory he received and recorded cosmic radio waves on his sensitive instruments. He announced that he received extraterrestrial radio signals. The scientific community in 1899 did not believe him, because knowledge of cosmic radio signals did not exist at that time.
Here is what Tesla said about the signals:
"I can never forget the first sensations I experienced when it dawned upon me that I had observed something possibly of incalculable consequences to mankind. I felt as though I were present at the birth of a new knowledge or the revelation of a great truth.
My first observations positively terrified me as there was present in them something mysterious, not to say supernatural, and I was alone in my laboratory at night; but at that time the idea of these disturbances being intelligently controlled signals did not yet present itself to me.
The changes I noted were taking place periodically and with such a clear suggestion of number and order that they were not traceable to any cause known to me. I was familiar, of course, with such electrical disturbances as are produced by the sun, Aurora Borealis, and earth currents, and I was as sure as I could be of any fact that these variations were due to none of these causes.
The nature of my experiments precluded the possibility of the changes being produced by atmospheric disturbances, as has been rashly asserted by some. It was sometime afterward when the thought flashed upon my mind that the disturbances I had observed might be due to an intelligent control. Although I could not at the time decipher their meaning, it was impossible for me to think of them as having been entirely accidental. The feeling is constantly growing on me that I had been the first to hear the greeting of one planet to another. A purpose was behind these electrical signals."
This is very revealing- Tesla openly stated that he had the feeling that he had been the first to hear the greeting of one planet to another. Here Tesla went further and replaced the core that he had mentioned with a direct link with E.T. life. It seems that to an open mind person it cannot be any clearer.
At the time, it was surmised by prominent scientists that Mars would be a likely haven for intelligent life in our solar system, and Tesla at first thought these signals may be originating from the red planet. He would later change this viewpoint as he became more adept at translating the mysterious signals. Near the end of his life, Tesla had developed several inventions that allegedly could send powerful amounts of energy to other planets.
"The signals are too strong to have traveled the great distances from Mars to Earth," wrote Tesla. "So I am forced to admit to myself that the sources must come from somewhere in nearby space or even the moon. I am certain however, that the creatures that communicate with each other every night are not from Mars, or possibly from any other planet in our solar system."
Tesla said he had flashes, some kind of light, and then he would get his ideas. He never said that the images in his mind were holographic, but some researchers claim that it was exactly what was going on in his mind. It may have been similar to what computers do today when they create models, rotate them, and analyze all possibilities needed to complete the task.
Tesla wrote letters to friends in which he talked about mysterious signals. He was convinced that the communication was with E.T's. Tesla was not very popular in those days and many newspapers mocked him for saying that he was in contact with some kind of space intelligence. What the press wrote was almost certainly ordered by those who did not want Tesla to succeed in his intentions. So what better way to belittle him than say that he was a mad scientist who thought he was in contact with aliens? It often works in our so-called modern age, so it definitely worked such a long time ago.
The first clean energy
When speaking of Tesla, we cannot forget about Wardenclyffe Tower that was located in Long Island, New York. The tower was 187 feet to the top and 120 feet into the ground. What Tesla had in mind were various wireless transmitter points all over Earth. Tesla wanted to move energy from one tower to the next wirelessly. No, we are not talking about wireless technology like we have today, which is very toxic and harmful. This was clean energy to be used interplanetary.
Researchers at MIT managed to transmit power wirelessly only 100 years after Tesla and at a much shorter distance. 100 years is a lot of time and it is hard to believe that it took so much time for scientists to imitate Tesla to some extent.
Tesla wanted to give free energy to humanity but the Tower was demolished in 1908. J.P. Morgan was the founder of the project. When he discovered what Tesla's intentions were, he did everything to stop him. Tesla also invented beam weapons, wireless power transmission, antigravity devices, anti-war shields, and a plethora of other suppressed inventions.
Can we prove that Tesla had contact with alien intelligence? If we take a closer look at what Tesla did, said, and created, we can at least say that he had the ability to tune into the core that he talked about.
His life was full of drama, sci-fi-like stories, synchronicities, and many interesting things and events. But is there proof that Tesla had ET contact? If we accept the fact that we live within the visible light in that tiny fraction of what we call space, we can also accept that some consider our reality to be a projection in our minds. Proof is just in the physical realm that we decode, but Tesla was not limited by visible light. His genius can almost certainly be attributed to his communication with other realms and probably aliens themselves.
Tesla was the most brilliant scientist that Earth has probably ever had, and he was not afraid to say that he believed in spirituality. This is not even common in the science community today. He was a spiritual scientist in communication with other realms and possibly E.T.'s- and left a legacy behind of bewilderment and awe in the true history of humankind.
If you fancy a camping trip this summer, then why not spice things up a bit by camping in a haunted location or an alien zone. Camping in areas where UFO's have been spotted is a thrilling experience, and who knows, you may wind up experiencing your very own close encounter of the third kind.
And what better time to ponder over the mysteries of the universe and the vast potential for alien life than while you're on the open road!
Jump on board the Extraterrestrial Highway
There is no better place for an alien focused camping trip than the Nevada State Route 375, also known as the Extraterrestrial Highway. It's a vast and lonely 98 mile stretch of road that has had many reported UFO sightings, hence the nickname.
Camping or RVing on this route will give you your best shot at an alien encounter but do be aware that spending long periods in a location such as this, far away from human civilization will increase your chances of an encounter with unexplained.
Quirky stops along the way
There are also some great little stops along the route that will enrich your extra-terrestrial experience. 'The Little Aleinn' is undoubtedly one of the most famous stops along the route.
Once you've had your fill of alien patties, we mean beef burgers… You can take a look at the UFO-themed merchandise in the gift shop and have a chat with the staff about the different alien encounters that have been recorded on the road, and they can point you in the direction of the UFO crash sites and the mysterious area 51.
Catch a glimpse of Area 51
Visitors are of course limited on how close they can get to the infamous and highly classified area 51, besides, the US government wouldn't want you uncovering the world's best kept extra-terrestrial secrets.
In any case, just make sure you're on the lookout at all times, particularly if you are camping off road out there in the wilderness, as you never know what you might see. Turning your attention skywards at night is an absolute must as the stargazing opportunities are unparalleled.
Strange sightings in the desert and forests of Arizona
Sedona, Arizona is also one of the most popular destinations in America for spotting UFO's. Sedona first appeared on the alien hot spot map after local residents witnessed an array of mysterious and unusual lights in the night sky back in 1997.
There are a number of tours that go out there during the night for visitors where you will be equipped with telescopes, binoculars and night-vision goggles. This might be your best chance at spotting alien activity, as the amount of recorded sightings of alien activity is astonishing. Many reports indicate sighting of portals, orbs, aliens and even Bigfoot.
The secret Ranch
Another popular location in the heart of the National Forest that draws in a high number of tourists is the mysterious Bradshaw Ranch. Reports say that this infamous ranch has actually been confiscated by the U.S government because it was reported to have accommodated an extremely powerful inter-dimensional portal…
While visitors are not permitted to enter the National Forest at night, there are a number of tour operators that will take you there for an overnight stay, leaving at dusk. According to many accounts, it is during the last hour of twilight that many of these strange and exciting phenomena's take place.
A secret alien base in the Tonto National forest
This isn't the first reference to there being a secret alien base in this location. Former US Airforce Intelligence Officer George Filer claimed that aliens in UFOs were helping the US during the Vietnam War. He is now the Director of the world's largest organization dedicated to alien and UFO investigation known as the Mutual UFO Network (MUFON).
The most major base is said to be located in the Tonto National Forest in New Mexico, where there has also been a spate of unexplained disappearances in the last 30 years, with mysterious circumstances surrounding them such as abandoned cars with people's valuables left behind.
If you decide to go camping in this location, make sure you don't leave the tent alone, and be sure take a few torches with you to conduct your own alien investigations.
Mysterious Disappearances
During the construction in 2013 local officials received a call from a man who claimed to have seen UFO's and aliens working together with people on site, as well as severed heads, which he claimed to have pictures of.
This man was early 60's and reported to be perfectly sound of mind. He said he called the local office near the site only to find that the people there seemed to turn a blind eye to the allegations which he found suspicious.
In light of these shocking discoveries and supposed high presence of alien activity, camping in the Tonto National Forest is not for the faint hearted. If you are a thrill seeker of the highest order with oodles of courage and a keen imagination then this is undoubtedly one of the best camping in an alien zone locations.
Camping at the location of one of the most famous UFO sightings
Another popular hotspot for Extra-terrestrial activity is Mount Rainer in Washington. 1947 was a particularly active year for UFO sightings in the United States. On June 24th 1947 a civilian pilot named Kenneth Arnold reported seeing 9 glowing bright blue and white objects soaring through the sky above Mount Rainer in a V formation at an estimated 1700mph.
He described the objects as saucer like, describing their erratic motion as like a saucer skipping across the water, it is because of this sighting that people believe that most UFOs are shaped like flying saucers. This reported sighting was considered to be the first most significant and widely reported in the United States.
Despite the enthralling alien encounter possibilities, the views across Mount Rainer are reputed to be absolutely breathtaking, and there are tons of stunning camping destinations across the park.
You could choose to camp at the foot of Mount Rainer of brave a trek up to its summit if you are feeling adventurous. Some great destinations that offer fantastic views of the night sky include the Glacier Basin, Mystic Camp, White River and Cougar rock.
TR – 3B ASTRA – From Myth To Reality
If you have any idea about the sightings of UFOs (unidentified flying objects), you probably just stare at the sky and wonder what aliens control these things. For, TR-3B Astra, it is not what you'd expect at all.
To understand the truth about TR-3B Astra is to catch a glimpse into the world of Aurora, one of the best kept secrets by the government today. To clarify this, Aurora is not a planet of aliens or an invading army of cyborgs. As a matter of fact, this is happening right here on the U.S. soil.
So, what is this TR-3B Astra?
The TR-3B Astra, also known as the black triangle, is a nuclear-powered anti-gravity aircraft secretly built and maintained by the U.S. government.
It all started in 1982 and is part of the Black Program, a secret Air Force project funded with what is known as the Black Budget (estimated to be worth about $3 billion).
The technology behind this aircraft is considered beyond everyday technology. Some even point out that it might as well have been inspired by alien technology. For example, this aircraft can move stealthily, a feat uncommon during those times.
The TR-3B Astra is extremely lightweight, giving it the ability to easily outmaneuver other aircrafts. This is possible through a technology known as the MFD technology. The MFD is a short form of a circular plasma-filled accelerator ring, called a magnetic field disruptor.
This technology designed by the Sandia and Livermore Laboratories is so powerful that it was totally kept a secret by the government, making it officially non-existent. As you would expect, a lot of money goes into this research.
A good amount of citizens' taxes go to fund this project carried out at the Area 51 Groom Lake Air Base in Nevada. To understand how massive the operations going on in Nevada are, know that the government owns about 80% of all the lands in Nevada.
Source: Matrix World Disclosure
UFO Lands On A Mountain In Trinidad And Filmed By Witnesses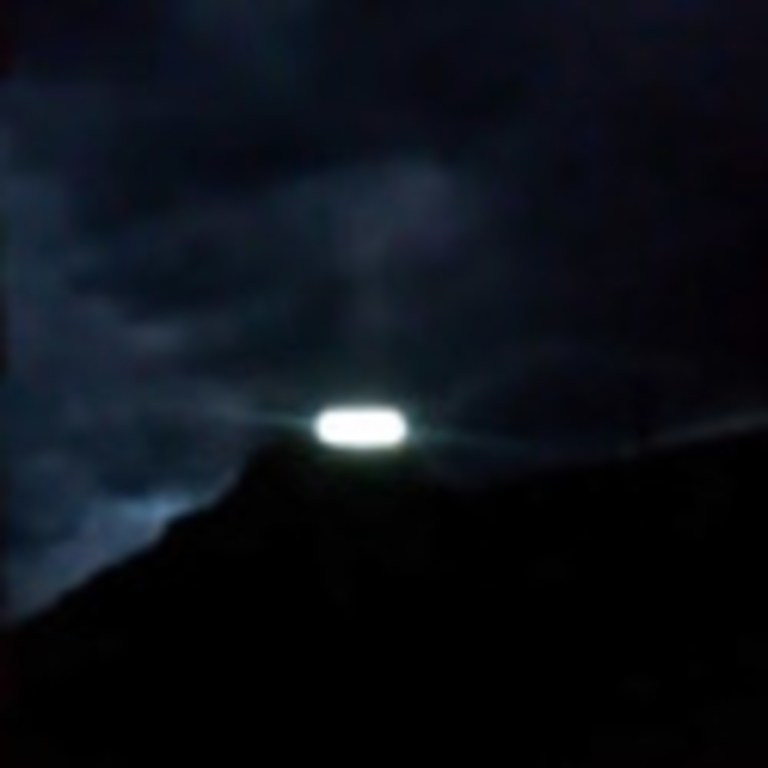 On the evening of January 14, 2019, Ms. Dorothy Romero, who lives in the city of Trinidad, Colorado (United States), witnessed with her husband the landing of an unidentified flying object on the historic Simpson's Rest mountain. Then the video sent by the witness claiming UFO Lands On A Mountain In Trinidad.
«My husband was outside to wash our porch when he saw a UFO flying directly over our house … At first I didn't believe him and I thought it was just flashes and lightning. However, my husband insisted and claimed that the object had landed at Simpson's Rest, on the mountain directly behind our house. When he landed, he produced sparks that seemed to come out of the bottom of this mysterious object, "Dorothy related.
«I had my phone in my hand and started recording what was happening. I regret that the quality of the video is not the best, but you can see very well the bright UFO behind the roof of our house, which later disappeared without a trace, as if it had vanished.
To clear up any confusion, it should be noted that the UFO in question is spherical and can be seen somewhat below the luminous sign of the city of Trinidad (as specified by the witness in English in the video).
The mountain where the UFO would have landed owes its name to George S. Simpson, a famous explorer, merchant and pioneer who settled in what is now the city of Trinidad in 1848. History tells us that the explorer survived an attack by the Ute natives when hiding in a recess of the mountain for three days. When he died years later, he asked to be buried in that place.
The landscape from Simpson's Rest is amazing, from there you can see the entire city of Trinidad, the Purgatory River and its valley. Would the UFO be there for this view?