Did Humans Walk the Earth With Dinosaurs? Triceratops Horn Dated To 33,500 Years
A Triceratops brow horn discovered in Dawson County, Montana, has been controversially dated to around 33,500 years, challenging the view that dinosaurs died out around 65 million years ago.  The finding radically suggests that early humans may have once walked the earth with the fearsome reptiles thousands of years ago.
The Triceratops brow horn was excavated by palaeontologist Otis Kline Jr, microscope scientist Mark Armitage, and microbiologist and avocational palaeontologist Kevin Anderson, in May 2012, and two horn samples (GDFM 12.001a and GDFM 12.001b) were given to the Glendive Dinosaur and Fossil Museum in Montana. The samples were then sent to the University of Georgia, Center for Applied Isotope Studies for Carbon-14 dating, which yielded an estimated date of 33,570 ± 120 years for the first sample and 41,010 ± 220 years for the second.
Triceratops, a name meaning "three-horned face", is a genus of herbivorous ceratopsid dinosaur that is said to have first appeared during the late Maastrichtian stage of the late Cretaceous period, about 68 million years ago in what is now North America, and became extinct in the Cretaceous–Paleogene extinction event 66 million years ago. However, scientists from the Paleochronology Group, a team of consultants in geology, paleontology, chemistry, engineering, and education, who perform research relating to "anomalies of science", maintain that dinosaurs did not die out millions of years ago and that there is substantial evidence that they were still alive as recently as 23,000 years ago.
Classical reconstruction of a Triceratops (Wikimedia Commons)
Until recently, Carbon-14 dating was never used to test dinosaur bones, as the analysis is only reliable up to 55,000 years. Scientists never considered it worthwhile to run the test since it is generally believed that dinosaurs have been extinct for 65 million years, based on radiometric dating of the volcanic layers above or below fossils, a method which the Paleochronology Group states has "serious problems and gross assumptions must be made".
"It became clear years ago that paleontologists were not just neglecting to test dinosaur bones for C-14 content but were refusing to. Normally a good scientist will be curious about the ages of important fossil bones," Hugh Miller, a research and consulting chemist and Head of the Paleochronology Group, told Ancient Origins in an email.
YouTube video explaining results of carbon testing on dinosaur bones
The results of the Triceratops Horn analysis are not unique. According to Mr Miller, numerous C-14 tests have now been carried out on dinosaur bones, and surprisingly, they all returned results dating back in the thousands rather than millions of years.
"I organized the Paleochronology group in 2003 to fill a void with regards fossil wood and dinosaur bones as I was curious as to their age by  C-14 dating.  We thus have used C-14 dating to solve the mystery why soft tissue and dinosaur depictions exist world-wide. Our model predicted dinosaur bones would have significant C-14 and indeed they did in the range of 22,000 to 39,000 years BP," Mr Miller added.
Results of C-14 tests on dinosaur bones provided by the Paleochronology Group.
Numerous independent researchers have long argued that there is evidence man and dinosaur once walked the Earth together, such as hundreds of ancient artworks and artifacts that appear to depict dinosaurs, long before modern science had pieced together dinosaur fossils and conducted analyses to produce detailed reconstructions of their appearance.
Top left: Relief carving at Angkor Wat, Cambodia (1186 AD). Top Right: Textile from Nazca, Peru (700 AD). Bottom: Tapestry in the Chateau de Blois (1500 AD)
However, even more intriguing is the discovery of soft tissue in dinosaur fossils. In the March 2005 issue of Science, paleontologist Mary Schweitzer and her team announced the discovery of soft tissue inside a 68-million-year-old Tyrannosaurus rex leg bone from the Hell Creek Formation in Montana, a controversial finding considering scientists had thought soft tissue proteins degrade in less than 1 million years in the best of conditions. After recovery, the tissue was rehydrated by the science team and testing revealed evidence of intact structures such as blood vessels, bone matrix, and connective tissue.
More recently, Mark Armitage and Kevin Anderson published results of a microscopic analysis of soft tissue from a Triceratops horn in the peer-reviewed journal Acta Histochemica. Mr Armitage, a creationist, claimed that the preservation of cells is a scientific impossibility if the dinosaur really walked the Earth over 66 million years ago. On this basis, he opened a discussion with colleagues and students about the implications of such a finding being that the creationist perspective is correct and that dinosaurs existed much later than mainstream science maintains, a move that promptly saw him fired by the University of California.
While the Paleochronology Group says it is not "of any particular creed or denomination", there are undoubtedly those with creationist beliefs among the group, a fact which critics may say could bias their results. Nevertheless, the group has urged any and all scientists to replicate their results by carrying out rigorous C-14 testing on any dinosaur sample.
"Every sample tested yielded significant original Carbon-14 by extensive cross-checking of their ages in bone collagen, bulk organics and carbonate from bone bioapatite on AMS units and obtained concordance.  Thus, the overwhelming  odds are that most if not all unpetrified or even supposed petrified dinosaur bones in museum and university collections will show the same result," Mr Miller told Ancient Origins. "We urge therefore that all those in charge of such collections see if they can replicate our findings. The implications are immense."
The challenge, so far, has been met with rejection, and previous attempts to publish C-14 test results were repeatedly blocked. Raw data without interpretation was blocked from presentation in conference proceedings by the 2009 North American Paleontological Convention, the American Geophysical Union in 2011 and 2012, the Geological Society of America in 2011 and 2012, and by the editors of various scientific journals.  The Center for Applied Isotope Studies at the University of Georgia, who conducted 'blind' C-14 tests on dinosaur bones, without knowing what they were, refused to conduct further C-14 tests after finding they were testing dinosaur bones.  Paleontologist Jack Horner, curator at Montana State University's Museum of the Rockies, who excavated the Tyrannosaurus Rex remains that contained soft tissue, even turned down an offer of a $23,000 grant to carry out a C-14 test on the remains.
"[T]he public should be made aware that the discovery of soft tissue, C-14 in dinosaur bones and dinosaur depictions world-wild renders current beliefs about how old they are obsolete," said Mr Miller. "Science is about sharing evidence, and letting the chips fall where they may."
While there is a possibility that the C-14 test results were a result of contamination or error, (even though the results were replicated and rigorous pre-treatments were carried out by the University of Georgia to control for this), or are perhaps due to some other factor not currently understood by science, it seems reasonable to expect scientists to attempt replication of such groundbreaking test results. Failure to investigate or even acknowledge such significant findings unfortunately suggests that some scientists are more interested in holding on tight to current perspectives, rather than seeking to advance knowledge and understanding in this field.
Featured image: Triceratops horn discovered in Dawson County, Montana, which yielded C-14 results of around 33,500 years.
A seal with the image of the god Apollo was found in the Jerusalem wall
A carved stone whose age is estimated at 2,000 years old adorned the ring and, apparently, was not used as a seal, although it was intended precisely for this. Archaeologists say that images of other gods are extremely rare in Jerusalem.
While exploring the ancient wall of Jerusalem in the west of the city, an unexpected find was made – a jasper seal depicting the Greek god Apollo, according to Daily Mail.
A carved stone whose age is estimated at 2,000 years old adorned the ring and, apparently, was not used as a seal, although it was intended precisely for this.
Scientists believe that although in Jerusalem it is extremely rare to find images of other gods, even such small ones, the owner of the seal apparently relied on "light, purity, health and success" that Apollo personified.
Archaeologist Eli Shukron, who took part in the excavation, said that this is the third such seal found since the time of the Second Jerusalem Temple. The first was found during excavations at Masada, and another – during the research of the Hebrew tombs on Mount Scopus.
"It is rare to find the image of the god Apollo in places identified with the Jewish population. When we found the gem, we asked ourselves:" What is Apollo doing in Jerusalem? "And why would a Jew wear a ring with a portrait of a foreign god?" Said Shukron.
Researchers note that Apollo, associated with divination, was one of the most revered gods of that time in the regions of the Eastern Mediterranean.
The Janibekov effect and other indirect evidence of the existence of antediluvian civilization
Recently, in the northeast of Siberia, archaeologists have discovered the sites of ancient people thirty thousand years old. Before that, it was believed that the first people appeared there fourteen, fifteen millennia ago, that is, approximately when mammoths, cave lions and woolly rhinos disappeared.
People were still considered to be responsible for the disappearance of these animals. Allegedly, the ancient people, who lived by hunting and gathering, mercilessly exterminated these animals for several centuries until they completely destroyed their population.
The decline in the number of rhinos and other animals does not coincide with the appearance of humans in this region, said the professor of evolutionary genetics at the Center for Paleogenetics Love Dalen.
New archaeological data refute this theory and testify in favor of some kind of global catastrophe that happened about 13 thousand years ago.
According to one of the versions, regular global cataclysms on Earth occur due to a regular change of poles (the Janibekov effect).
The Janibekov effect is the intermediate axis theorem, or the tennis racket theorem in classical mechanics – a statement about the instability of the rotation of a rigid body about the second principal axis of inertia. (Wikipedia)
It is believed that periodically, in the interval from 600 to 650 thousand years, the earth's poles change, which is accompanied by global catastrophes. This is usually accompanied by powerful volcanic eruptions, intensified seething of mud springs, increased degassing, earthquakes and tsunamis, which ultimately leads to fatal changes in the climate and topography of the planet's surface.
These practically proven facts about the global catastrophe that happened on Earth 13 thousand years ago also indirectly confirm the possible existence of an ancient (antediluvian) civilization in the northern part of the planet.
There is almost no intelligible evidence of the high development of antediluvian civilizations. There are controversial and unrecognized by science artifacts, legends, myths, traditions, strange anomalous areas, the poorly explored bottom of the ocean, probable places for mining stone and other minerals.
All of this is either poorly researched or deliberately rejected and declared falsification. There are unique ancient structures made of stone, and their design features, construction methods and quality of stone processing are so high that sometimes they even surpass the capabilities of modern civilization.
According to the testimony of some enthusiastic researchers, namely, they are trying to unravel the mysteries of history and return historical science itself to the mainstream of truth, traces of some ancient civilization have been preserved on the Kola Peninsula. 
Most likely – Atlantis, (or Hyperborea), because somewhere in this area supposedly was the legendary island of Atlantis.
A fierce embodiment of Earth: The Mayan structure used for direct dialogue with the gods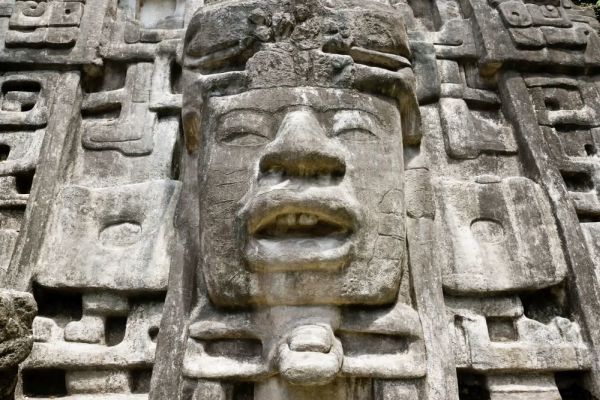 Scientists at the Smithsonian Tropical Research Institute (STRI) working in Guatemala have found evidence of the ritual significance of the classic Maya pairings. They found a structure the likes of which had never been found in Mesoamerica.
According to EurekAlert, archaeologists visited the city of Ksultun, where an ancient bathhouse was found earlier. She received the name Los Sapos. Scientists have long known that the Maya built a kind of steam room – their baths, according to their principle of operation, were designed for profuse sweating.
These baths were believed to have religious significance. They also sent here for treatment, brought women in labor. However, new research showed that the importance of such structures was even more important. The fact is that the Los Sapos bath, dating from the early classical period (250-550 AD), turned out to be unlike any other ancient Mesoamerican bath.
The researchers concluded that this was not just a place for direct dialogue with the gods. The Maya considered this bath itself an amphibian goddess. Outside, near the entrance to it, scientists found an image of this little-known deity. The goddess is depicted squatting with legs on which iguanas and reed toads sit.
"No other structure in Mesoamerica – a bathhouse or anything else – is like this building," says STRI archaeologist Ashley Sharp. the amphibian that personified this bath."
According to lead author of the study, Mary Clarke, the name of this goddess remains undeciphered, although it is written next to the image. Preliminary analysis of the inscription led scientists to speculate that this goddess was responsible for the cycles of pregnancy. The connection between the ideas of the birth of children and the figures of reptiles is often traced in the Maya of the classical period.
She also noted that the Los Sapos baths have been actively used by the Sultun community for about 300 years. But then something important and frightening happened. The fact is that in the "doorway" archaeologists unearthed the remains of an adult man who was buried there around 600 AD.
The analysis showed that after that no one used the bath for another 300 years. Only three centuries after the funeral, someone re-entered this structure. It is interesting that this person or several people had a strictly defined goal – they dug out a burial place and took with them part of the remains.
The rest of them they put in another place, and in the vacated grave they lit a fire. Subsequently, they repeatedly put various offerings to the gods in this grave. Dogs, birds, reed toads and iguanas were sacrificed. Archaeologists found the remains of a child in this pit, as well as numerous stone tools and ceramic shards.
"Archaeologists often find clusters of artifacts that were probably dedicated to places of worship, but rarely is there such an obvious connection between artifacts and objects," Sharpe says. "From the image on the outer wall of Los Zapos, we know it was a 'steam room' "It was a rare occasion for us to associate offerings with the role that this structure played in the life of the community."
According to the authors of the work, the offerings were probably an attempt to seek help from the goddess who personified Los Sapos. Moreover, it could even be the last attempt to please a supernatural being and prevent the loss of their lands, which were abandoned shortly after the Mayan collapse in 900 AD.
"This supernatural figure is the fierce embodiment of Earth," Clarke concludes. "When she is unhappy, she can take revenge or deny people the things they need to survive. they negotiated with this goddess for their survival. "