Did H. R. Giger Inspire Chupacabras? Species Creator Dies
A famed designer of metallic-appearing movie creatures has died from the result of injuries from a fall.
Swiss surrealist artist H.R. Giger who designed the monster and revolutionary sci-fi sets for the film Alien died in a hospital on Monday, May 12, 2014. He was 74.
Hans Ruedi Giger, the son of a chemist, was born Hans Rudolf in the eastern Swiss town of Chur on February 5, 1940.
Having studied architecture and industrial design in Zurich, Giger's work explores the relationship between the human body and the machine, and he created nightmarish dreamscapes in a style he described as "biomechanical."
Giger's vision of a human skull encased in a machine appeared on the cover of "Brain Salad Surgery," a 1973 album by the rock band Emerson, Lake and Palmer. Along with his design for Debbie Harry's solo album, "Koo Koo" (1981), it featured in a 1991 Rolling Stone magazine list of the top 100 album covers of all time.
Giger's Most Famous
Giger went on to work as a set designer for Hollywood, contributing to Species, Poltergeist II, Dune, and most famously Alien, for which he received a 1979 Academy Award for special effects. His most famous creation would be the otherworldly creature in Ridley Scott's 1979 science fiction horror film Alien. Frequently frustrated by the Hollywood production process, Giger eventually disowned much of the work that was attributed to him on screen.
In 1998, he opened his own museum in Gruyeres in central Switzerland, which displays many of his own paintings, sculptures and film designs as well as his private art collection, including works by Salvador Dali.
Chupacabras and Species
Although Giger is best known for his creations for the Alien films, cryptozoology fans will recall him more significantly for his Species invention, Sil. And from Sil may have come the modern Chupacabras (the singular and plural of the name is the same)!
In 2010, National Geographic News published an article by Kar Than quoting me about the various origins theories for Chupacabras ( see here).
Loren Coleman, director of the International Cryptozoology Museum in Portland, Maine, agreed that many Chupacabras sightings—especially the more recent ones—could be explained away as appearances by mangy coyotes, dogs, and coyote-dog hybrids, or coydogs.

"It's certainly a good explanation," Coleman said, "but it doesn't mean it explains the whole legend."

For example, the more than 200 original Chupacabras reports from Puerto Rico in 1995 described a decidedly uncanine creature.

"In 1995 Chupacabras was understood to be a bipedal creature that was three feet [about a meter] tall and covered in short gray hair, with spikes out of its back," Coleman said.

But, as if in a game of telephone, the description of the Chupacabras began to change in the late 1990s, due to mistakes and mistranslations in news reports, he said.

By 2000 the original Chupacabras had been largely replaced by the new, canine one. What was seen as a bipedal creature now stalks livestock on all fours.

"It was actually a big mistake," Coleman said.

"Because of the whole confusion—with most of the media reporting Chupacabras now as dogs or coyotes with mange—you really don't even hear any good reports from Puerto Rico or Brazil anymore, like you did in the early days. Those reports have disappeared and the reports of canids with mange have increased."

First Chupacabras: Monkeys or Movie Madness?

So what explains the original Chupacabras myth?

One possibility, Coleman said, is that people imagined things after watching or hearing about an alien-horror film that opened in Puerto Rico in the summer of 1995.

"If you look at the date when the movie Species opened in Puerto Rico, you will see that it overlaps with the first explosion of reports there," he said.

"Then compare the images of [actor] Natasha Henstridge's creature character, Sil [picture], and you will see the unmistakable spikes out the back that match those of the first images of the Chupacabras in 1995."

Another theory is that the Puerto Rico creatures were an escaped troop of rhesus monkeys on the island, which often stand up on their hind legs.

"There was [allegedly] a population of rhesus monkeys being used in blood experiments in Puerto Rico at the time, and that troop could have got loose," Coleman said.

"It could be something that simple, or it could be something much more interesting, because we know that new animals are being discovered all the time."
The Visuals Are Compelling
Of course, I credited Ben Radford for the Species theory, but the reporter left that out. In Ben Radford's book, Tracking the Chupacabra, the then Skeptical Inquirer editor wrote that Chupacabras, in the original 1995 form, came on the scene in Puerto Rico, after the "first eyewitness" viewed the film or clips for Species. Radford might be wrong about this hypothesis, but it is worthy of noting the similarity in body design between Sil and the classic P.R. Chupacabras.
Chupacabras cultural items are displayed at the International Cryptozoology Museum.
The Associated Press noted a final intriguing tribute that Giger himself acknowledged before he died.
Giger was pleased that his idea of machines with human skin became a popular motif in body art, that many took on a Giger flair. "The greatest compliment is when people get tattooed with my work, whether it's done well or not," he told Seconds magazine in 1994. "To wear something like that your whole life is the largest compliment someone can pay to you as an artist."
What aliens are doing at Loch Ness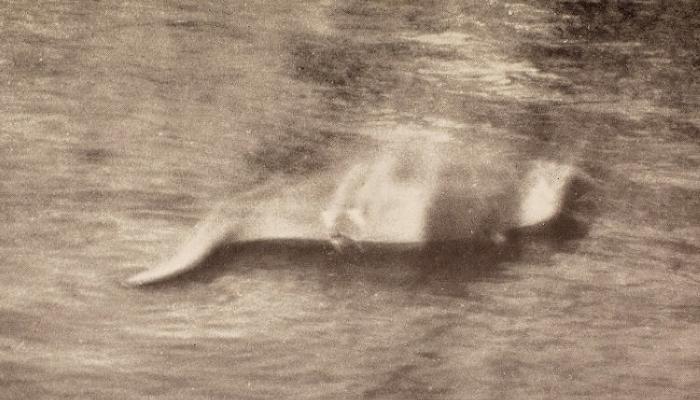 What connects aliens to the Scottish lake monster? And why did many eyewitnesses say that a mysterious force prevented them from taking photos or videos of this monster? There are no answers to these questions yet.
Loch Ness, located in Scotland, is primarily famous for its mysterious monster, nicknamed Nessie, which according to various theories is either a huge eel, or a seal, or a prehistoric dinosaur. In turn, some associate the appearance of Nessie with the activities of aliens, and not from scratch.
It is true that strange lights or disc-shaped UFOs are regularly seen over Loch Ness, but there is also an eyewitness story about how aliens landed on the shore of the lake. This happened on August 14, 1971, when the eyewitness Jan Ove Sudberg (now deceased) was 23 years old. Early in the morning, between about 8:30 and 9:30 am, he was on the shores of Loch Ness in the Foyers Bay area.
Suddenly he stumbled upon something amazing and it was not a monster. Sudberg saw a clearing ahead, on which stood an unusual large object, shaped like a huge cigar. It was about 10 meters long, and at the top there was something like a cockpit. Near the object were "pilots" – humanoid creatures.
There were three of them and they were dressed in tight suits, similar to diving. When they entered the object and the object then rose high into the air, then Sudberg realized that he was observing aliens. As the ship gained altitude, it began to slowly fly over the hills towards the nearby Loch More Lake.
The story doesn't end there. Sudberg was not a Scotsman, he came to Loch Ness as a tourist and flew back to his native Sweden shortly after seeing the aliens. And there a new stage in this strange story began. In Sudberg's house, unusual phenomena began to occur, a poltergeist, he began to receive mysterious phone calls, and later even Men in Black came to him.
Soon Sudberg contacted the British researcher of anomalous phenomena, Ted Holiday, and told him his story. He also complained to him that he could not photograph UFOs and aliens in the photo, although he had a camera with him. He felt as if some force paralyzed his will and did not allow him to do it.
It is curious that Holiday later repeatedly encountered a similar phenomenon from Nessie's eyewitnesses. All of them, when they saw the monster in the lake, for some unknown reason, either could not photograph it, or tried, but they did not succeed.
He also found out that much earlier eyewitnesses of Nessie faced this phenomenon. On November 12, 1933, eyewitness Hugh Gray captured a photograph of Nessie, which is considered the first 100% authentic photograph of the Loch Ness Monster.
Gray's photo shows something serpentine floating in the water. However, few people know that when Gray saw this creature in the lake, he took as many as five pictures before it went under water.
However, only one out of five photographs showed the monster, the rest of the negatives for some reason turned out to be empty.
The conclusion seems to be obvious: the monster in Loch Ness is more than just a large eel, it has some powers to protect it, and in some way it is connected with UFOs and aliens.
A Briton captured on camera a creature similar to the Loch Ness monster
A resident of British Southampton Steve Challis, during a vacation in Scotland last year, photographed a creature in a lake that looks similar to the famous Loch Ness monster, reports the Daily Record.
Photos were taken during a trip to an excursion to Arkart Castle on the shores of the famous lake. A man photographed the opposite shore when he noticed a ripple in the water. He took some pictures, and then the creature itself appeared out of the water for a moment. 
After that, it disappeared and did not appear again. As a result, the camera recorded the animal in only one frame, which Challis discovered a few months later, when he looked at the quarantine pictures taken during the trip because of the coronavirus.
After the Briton shared a strange picture on the Internet, users suggested that it was the famous Loch Ness monster. However, the photographer does not share this opinion. He does not believe in the monster and believes that the creature he shot was simply a big fish or seal.
Interest in the photograph was expressed by blogger and expert on Nessie Roland Watson, but he suggests that the picture taken by Challis was edited in Photoshop. Challis claims that the photograph is genuine. He drew attention to the fact that the shot he made was completely different from those snapshots of monsters that the network abounds in. At the same time, he is still convinced that he shot just a big fish.
The story of the Nessie creature from the Scottish Loch Ness attracts many tourists who want to see it with their own eyes. According to eyewitnesses, the mythical monster from the urban legend has a long neck and a huge torso. Nessie's existence is not proven.
A video of the second "confirmed" appearance of Nessie appeared on the internet
A Nessie fan recorded a second meeting with her this year. O'Faodhagen, a 55-year-old employee of the Irish hospital, claimed to have seen Loch Ness floating in Urquhart Bay.
He managed to film this meeting. He is delighted with the video. O'Faodhagen sent his results to the Official Loch Ness Monster Observation Register, and they confirmed the footage as an official second observation in 2020.
The video shows a dark figure rising from the water.
She splashes, creating waves and a white foamy substance. Then it goes under water and reappears. Despite the fact that he saw about 1.2 m of the creature emerging from the water, O'Faudhagein estimated that it probably had a length of at least 3 m. The frames that show this creature last 1 minute 38 seconds. O'Faudhagain said that Nessie had not appeared for the past three months. He decided that Nessie went to quarantine.
Her appearance surprised him. He believes that Nessie has stepped out of the depths to say hello. O'Faodhagen noticed that during her appearance on the lake there is no activity. On January 18 of this year, he observed her appearance from the water. Gary Campbell, keeper of the Official Loch Ness Monster Observation Register, confirmed this observation.
According to O'Faodhagen, it is very exciting to get a new observation, especially when it happened almost immediately after the first. And he seems to know what he is looking for.
Last year, he managed to capture 4 encounters. 2019 was a record year for people who saw the Loch Ness Monster. A total of 18 observations were confirmed. This is the biggest since 1983.
Some believe in the existence of Nessie, others are critical. Perhaps it is not worth denying that a strange creature unknown to science lives in the dark waters of the lake. If you have not seen any phenomenon, this does not mean at all that it is not.