Defending the Amazon, Indigenous Rights & Planetary Integrity
As the Amazon Rainforest crisis persists, our inability to protect our planet poses an existential threat to all of Earth's inhabitants. As the sky recently turned black over Sao Paulo, Brazil because of smoke (thousands of kilometers away) from the fires that is so thick it can be viewed by NASA space satellites, the world's leaders were assembled at the G-7 summit in Europe, seemingly more interested in exchanging sophomoric insults than solving the world's most pressing and urgent problems. According to Brazil's National Institute for Space Research, almost 73,000 forest fires have been documented this year alone. That's an alarming 84% increase from what was observed in 2018.
As Indigenous groups and conservationists scramble to defend the lungs of our planet, Brazil' President Jair Bolsonaro audaciously shrugged off the news and blamed NGO's and Indigenous groups for the glaring uptick in fires in the Amazon. Since taking office in January, Bolsonaro has promised to roll back environmental protections and indigenous rights in order to exploit the Amazon for increased farming and mining, and he has made good on that promise.
Invasion of indigenous territories are on the rise in Brazil, and indigenous groups are increasingly under threat as titans of industry within mining, logging, and animal farming continue to encroach upon indigenous land and destroy precious parcels of the Amazon for commercial exploitation. Bolsonaro has emboldened these invasions. Recently, a group of heavily armed miners invaded indigenous land in Northern Brazil and assassinated one of the community's indigenous leaders.
Indigenous peoples in Brazil are once again on the front lines today of one of the most brutal attacks on their rights and on the forest in recent history. We're now seeing the drastic rollback of 30 years of progress on human rights and environmental protection in Brazil under Bolsonaro's regime, which romanticizes Brazil's past when military dictatorship took helm and presided over wanton destruction of the forest. The Munduruku people have been resisting encroachment and destruction of their land for centuries, and their fight (along with other indigenous groups and the very spirit of the Amazon jungle itself) is more urgent than ever as Brazil's government and commercial industries continue to violate with impunity.
The tragedy currently taking place in the Amazon is indicative of a broader cultural problem in regards to our relationship with our planet. 1/5th of all the world's plants and birds and about 1/10th of all mammal species are found in the Amazon. Earth has lost half its wildlife in the past four decades. Based on an analysis of thousands of vertebrate species by the wildlife group WWF and the Zoological Society of London, our way of life has presided over the destruction of 60% of our animal populations since 1970. The report calculates a global "ecological footprint," which measures the area required to supply the ecological goods and services humans use. It concludes that humanity currently needs the regenerative capacity of 1.5 Earths to supply these goods and services each year.
With the planet's population expected to grow by 2.4 billion people by 2050, the challenge of providing enough food, water and energy (while sustaining planetary health) will be difficult. This should be the real "RED ALERT" placated all over the media, as the shocking and rapid decline of planetary biodiversity poses an imminent catastrophe that plagues all of us, requiring urgent and bold alterations to our way of life.
That being said, we have more than enough resources to profit food and shelter to billions of people. Solutions done seem to be the problem, it's human consciousness, greed and ego.
Outrage is an understandable response to the Amazon crisis, but not sufficient to redress the problem. We need to take individual action in our daily lives by altering our lifestyles. One of the most under-reported aspects of Amazonian deforestation is our addiction to consuming meat. Beef, soy, palm oil and wood drive the majority of tropical deforestation.
Animal agriculture is devastating for the Earth. Raising livestock for meat, eggs and milk uses about 70% of agricultural land, and is a primary factor in the proliferation of deforestation, biodiversity loss, and water pollution.
"1.2 billion farmed animals are slaughtered globally every week for human consumption. In one week, more farmed animals are killed than the total number of people killed in all wars throughout history. Although these animals are treated as commodity, they are — in fact — sentient beings — like your pet cat or dog. We tend to assume that only vegans and vegetarians follow a belief system — but when eating animals is not a necessity (which is the case in much of the world today) — then it is a choice, and choices stem from beliefs. "Carnism" is a dominant philosophy — as eating animals is just the way things are — yet it runs contrary to core human values such as compassion, justice, and authenticity. And so — they need to use defense mechanisms that distort our thoughts and numb our feelings so that we act against our core values without fully realizing what we are even doing." ~Dr. Melanie Joy
The challenges that face our planet, our indigenous family, and our own imminent future are immense. It is easy to feel discouraged, angry, and hopeless about the state of the world, but the ability to harness humanity's intelligence, creativity and compassion to steer the planet in a new direction is with us right now. We can take individual responsibility today, which can resonate immediately and create waves of influence that can lead to a collective change in behavior and attitudinal shift towards our relationship with nature and with ourselves. This change starts from within, and this work begins with each of us making the choice to defend and protect this wondrous planet which has so graciously hosted our livelihood.
Polar vortex: "wild" winter is coming in the US, Northern Europe and East Asia after the 16th of January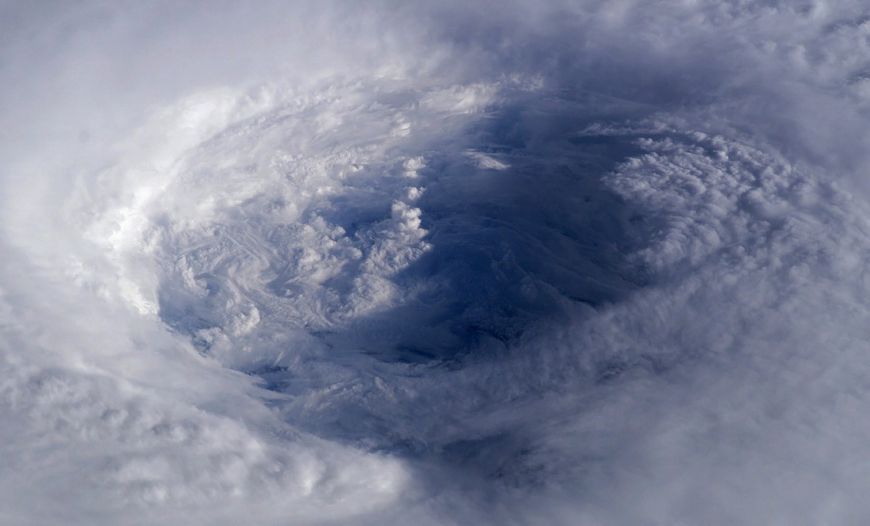 In the upper atmosphere above the North Pole, experts saw a rapidly swirling vortex of cold air that could bring severe frosts to the United States, Northern Europe and East Asia. Serious cold snap and snowy weather are expected after January the 16th.
Snowfalls and a cold snap hit South Korea since the start of 2021, hitting historic snow maximums and temperatures. In the country, for the first time since 1964, television and newer communications are sending people cold snap warnings:
The situation is similar in Japan, where a new snow storm hit historic highs:
On January 7, the thermometer In Beijing dropped to -20 degrees Celsius, breaking the 1966 record. In other regions of China, the temperature is also not sugar, and you can only move around in special uniforms:
The cold even reached Taiwan, where the temperature in some areas dropped below freezing point, snow poured down and people realized that rice terraces can be used as a ski jump:
Even more snow went to Spain, where on January 6, 2021, a temperature of -34.1 ° C was recorded – the lowest on record. After that, a snow storm hit the country, which has not been seen for 80 years:
The same thing happens in Canada and in the northern states of the United States:
It seems that after a stratospheric warming, the subpolar vortex began to split:
The vortex itself is a standard phenomenon. However, this time experts were surprised at his movement. It is possible that in the near future it will be divided into two parts. 
Scientists associate the strange behavior with the changed climate in the Arctic, which has become warmer. From September to December, the amount of ice cover decreased significantly.
The polar vortex is a low-pressure region located in the stratosphere and filled with cold air. When the jet stream of air that holds the vortex weakens, the low pressure area moves south. 
As the ice shrinks, more moisture will move inland. It will turn to snow, so snowfalls are expected. Snow, in turn, reflects heat, leading to a cold snap.
Hospital in Naples was evacuated after a new, huge sinkhole appeared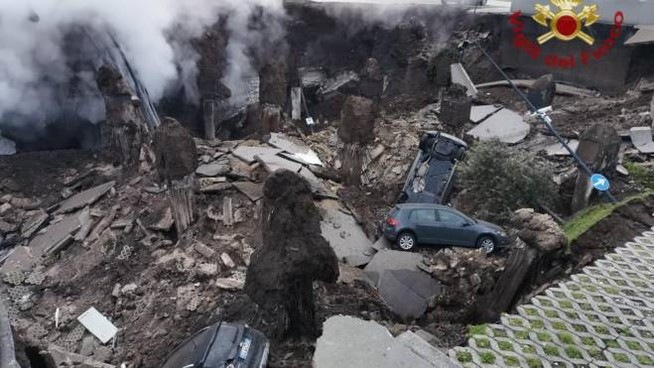 Eyewitnesses said they heard a loud crash at dawn when a huge hole in the ground formed outside the Ponticelli Ospedale del Mare hospital in eastern Naples.
Early in the morning of January 8, 2021, a sinkhole occurred in the parking lot of a clinic in Naples. The depth of the formed cavity is about 20 meters, the total area of ​​the hole is about 2,000 square meters.
No casualties were found at the scene; firefighters say the sinkhole "affected an area of ​​about 500 square meters" and engulfed several cars parked near the hospital.
As the press writes and as a little can be seen from the videos, rescuers and firefighters were running around the pit together with the governor of the area.  But who should be there in the forefront are Italian geologists, since Naples stands in the very center of the volcanic system known as the Phlegrean Fields.
If the surface collapsed, moreover – the surface reinforced with concrete and reinforced from below with some kind of communications, then we are talking about serious soil deformations caused by the activity of magma.
Italy has been in doubt since the summer of 2020, because swarms were observed there in very atypical places in May, and according to the forecasts of old Italian seismologists, who had witnessed many strong earthquakes, it should have boomed in the August region.
Fortunately, nothing bad happened to Italy and there was no big earthquake. But, since there are swarms, it means that something is being prepared, the magma is gathering strength. 
Following this particular sinkhole event – an obvious sign that a major earthquake in Italy is already very close.
A new great pandemic cycle has begun (again) in China
In the first months of 2020, the whole world with a certain fright followed the events unfolding in China, where people fell on the streets during the day and astronauts wandered, and in the evening crematoria began to smoke. And now, with the onset of December, the cycle seems to be repeating itself.
Shunyi area in Beijing, where the authorities announced "wartime status" the day before. As you can see in the videos, thousands of people are lined up in the queue for mandatory testing:
Dalian city, where "wartime" is also declared. Neighborhoods are blockaded, people are walled up in entrances, familiar characters of George Lucas roam the streets:
Chinese 'rescuers', before performing a combat mission:
Chengdu City:
Daluo Port, Yunnan – tourists came for adventure and they received the 'time of their life' after leaving the ramp:
If something happens in Beijing, it does not mean that tomorrow the same will happen everywhere. However, the trend towards such dynamics is observed and, as the practice of the first wave of the pandemic has shown, all countries and people, to one degree or another, have taken into account the 'Chinese experience'.
Therefore, one must think that everything will now be in peace, as in spring – a new global round of the fight against the Covid has begun in China, a new great pandemic cycle!