Defending the Amazon, Indigenous Rights & Planetary Integrity
As the Amazon Rainforest crisis persists, our inability to protect our planet poses an existential threat to all of Earth's inhabitants. As the sky recently turned black over Sao Paulo, Brazil because of smoke (thousands of kilometers away) from the fires that is so thick it can be viewed by NASA space satellites, the world's leaders were assembled at the G-7 summit in Europe, seemingly more interested in exchanging sophomoric insults than solving the world's most pressing and urgent problems. According to Brazil's National Institute for Space Research, almost 73,000 forest fires have been documented this year alone. That's an alarming 84% increase from what was observed in 2018.
As Indigenous groups and conservationists scramble to defend the lungs of our planet, Brazil' President Jair Bolsonaro audaciously shrugged off the news and blamed NGO's and Indigenous groups for the glaring uptick in fires in the Amazon. Since taking office in January, Bolsonaro has promised to roll back environmental protections and indigenous rights in order to exploit the Amazon for increased farming and mining, and he has made good on that promise.
Invasion of indigenous territories are on the rise in Brazil, and indigenous groups are increasingly under threat as titans of industry within mining, logging, and animal farming continue to encroach upon indigenous land and destroy precious parcels of the Amazon for commercial exploitation. Bolsonaro has emboldened these invasions. Recently, a group of heavily armed miners invaded indigenous land in Northern Brazil and assassinated one of the community's indigenous leaders.
Indigenous peoples in Brazil are once again on the front lines today of one of the most brutal attacks on their rights and on the forest in recent history. We're now seeing the drastic rollback of 30 years of progress on human rights and environmental protection in Brazil under Bolsonaro's regime, which romanticizes Brazil's past when military dictatorship took helm and presided over wanton destruction of the forest. The Munduruku people have been resisting encroachment and destruction of their land for centuries, and their fight (along with other indigenous groups and the very spirit of the Amazon jungle itself) is more urgent than ever as Brazil's government and commercial industries continue to violate with impunity.
The tragedy currently taking place in the Amazon is indicative of a broader cultural problem in regards to our relationship with our planet. 1/5th of all the world's plants and birds and about 1/10th of all mammal species are found in the Amazon. Earth has lost half its wildlife in the past four decades. Based on an analysis of thousands of vertebrate species by the wildlife group WWF and the Zoological Society of London, our way of life has presided over the destruction of 60% of our animal populations since 1970. The report calculates a global "ecological footprint," which measures the area required to supply the ecological goods and services humans use. It concludes that humanity currently needs the regenerative capacity of 1.5 Earths to supply these goods and services each year.
With the planet's population expected to grow by 2.4 billion people by 2050, the challenge of providing enough food, water and energy (while sustaining planetary health) will be difficult. This should be the real "RED ALERT" placated all over the media, as the shocking and rapid decline of planetary biodiversity poses an imminent catastrophe that plagues all of us, requiring urgent and bold alterations to our way of life.
That being said, we have more than enough resources to profit food and shelter to billions of people. Solutions done seem to be the problem, it's human consciousness, greed and ego.
Outrage is an understandable response to the Amazon crisis, but not sufficient to redress the problem. We need to take individual action in our daily lives by altering our lifestyles. One of the most under-reported aspects of Amazonian deforestation is our addiction to consuming meat. Beef, soy, palm oil and wood drive the majority of tropical deforestation.
Animal agriculture is devastating for the Earth. Raising livestock for meat, eggs and milk uses about 70% of agricultural land, and is a primary factor in the proliferation of deforestation, biodiversity loss, and water pollution.
"1.2 billion farmed animals are slaughtered globally every week for human consumption. In one week, more farmed animals are killed than the total number of people killed in all wars throughout history. Although these animals are treated as commodity, they are — in fact — sentient beings — like your pet cat or dog. We tend to assume that only vegans and vegetarians follow a belief system — but when eating animals is not a necessity (which is the case in much of the world today) — then it is a choice, and choices stem from beliefs. "Carnism" is a dominant philosophy — as eating animals is just the way things are — yet it runs contrary to core human values such as compassion, justice, and authenticity. And so — they need to use defense mechanisms that distort our thoughts and numb our feelings so that we act against our core values without fully realizing what we are even doing." ~Dr. Melanie Joy
The challenges that face our planet, our indigenous family, and our own imminent future are immense. It is easy to feel discouraged, angry, and hopeless about the state of the world, but the ability to harness humanity's intelligence, creativity and compassion to steer the planet in a new direction is with us right now. We can take individual responsibility today, which can resonate immediately and create waves of influence that can lead to a collective change in behavior and attitudinal shift towards our relationship with nature and with ourselves. This change starts from within, and this work begins with each of us making the choice to defend and protect this wondrous planet which has so graciously hosted our livelihood.
A bright fireball exploded over Armenia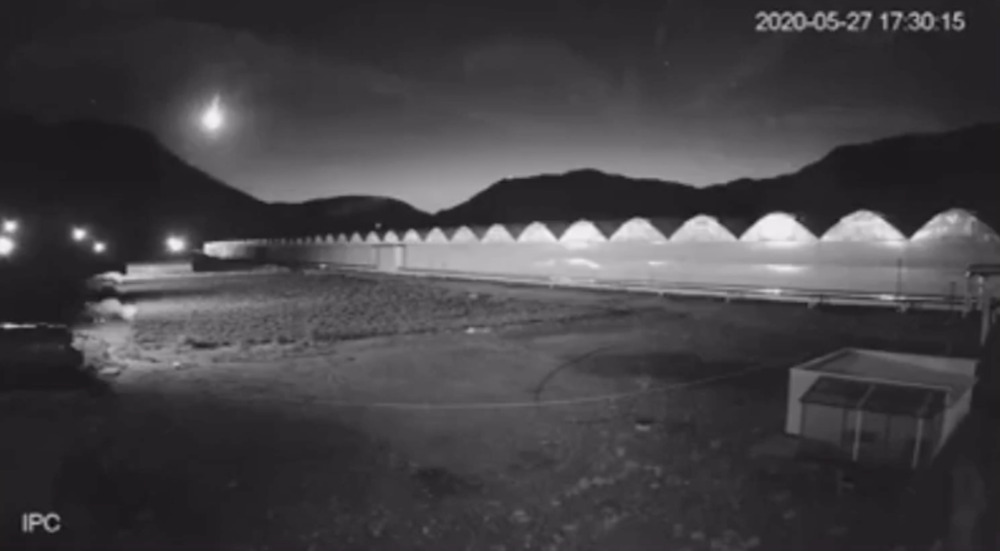 Yesterday, a very bright fireball exploded over Armenia. This was announced by the head of the meteorological forecast department of the Hydrometeorological Center Gagik Surenyan on Facebook. The magnitude (brilliance) of a celestial body, which entered the Earth's atmosphere with great speed, is at least 12.
On the evening of May 27, local residents saw a luminous ball flying from the sky, when it collided with the ground, an outbreak occurred.
Users of social networks began to share their guesses, but they officially gave a comment at the  Hydrometeorological Center  only the next day:
"Yesterday's fall of a large meteorite in the Hrazdan  -Hankavan section  ," Gagik Surenyan wrote, head of the meteorological forecast department of the Hydrometeorological Center and posted a video showing the meteorite.
Those who also saw the meteorite offered to go to the site of the fall of the celestial body and "collect the pieces", others reproached the authorities and scientists for silence, when everyone discussed the event, no one began to confirm to people that the luminous ball was a meteorite.
"A meteorite is the final act of this nightmare year," users of social networks wrote a comment on the video, with sad irony.
The camera was installed in the vicinity of Hrazdan and was directed towards the village of Hankavan.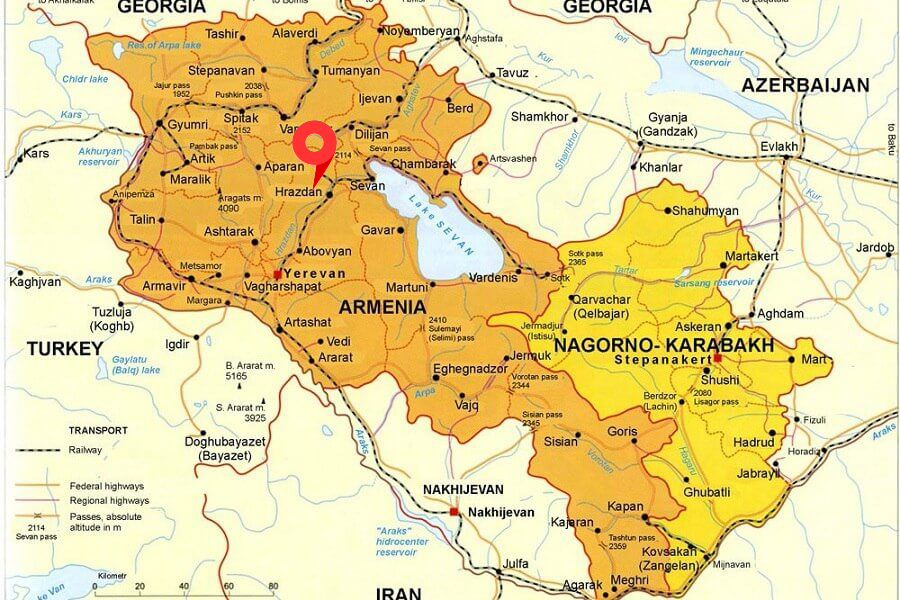 "The meteorite, judging by the records studied, was very large and entered at great speed the atmosphere of the planet, where it burned at an altitude of several kilometers. The risk that parts of this fireball could reach Earth is small, and the likelihood that they can be somehow found tends to zero, including the woodland and the fact that, when burned, meteors and fireballs crumble, as a rule, for particles up to several millimeters in size," astrophysicist R. Martirosyan said.
Powerful sprites over Kansas were visible to the naked eye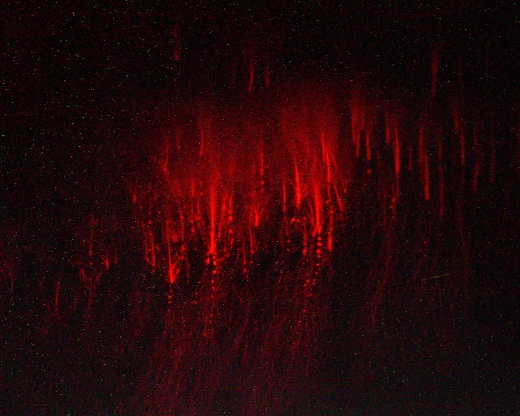 Have you ever seen sprites? They say that this is impossible. Strange and fleeting forms of Red Lightning materialize over thunderclouds, usually disappearing in less time than it takes to blink. However, storm hunter Michael Havan had no problems seeing them on May 23rd.
"The extremely bright jellyfish sprites were easily visible to the naked eye at dusk!" Says Gavin. "This is one of the brightest shots I've captured with my modified Canon T3i."
Gavin saw this sight from Northwest Kansas. "Clear skies provided fantastic views of the MCS (mesoscale convective system) moving through Nebraska almost 100 miles from us," he says. "I was not the only one who saw them." There have been reports that people also saw sprites from Interstate 70. "
The storm lasted so long that Gavin managed to attach an 85mm lens to his camera for several close-up shots. "Because I had an image of the same area without a sprite from a few seconds earlier, I was able to subtract the sky (stars, air glow, etc.) to take a photo of the structure of the sprite without any distractions.
A solar minimum can stimulate sprites. During the low phase of the solar cycle — now occurring — cosmic rays from deep space penetrate the inner solar system relatively unhindered due to the weakening of the Sun's magnetic field.
Some models claim that cosmic rays help sprites get started by creating conductive paths in the atmosphere.
By the way:
Today, May 25, 2020, the level of cosmic rays crashing onto the Earth, reached its maximum levels, increasing today by 10.4% of average values.
Cosmic rays
The magnetic field of the sun is weak, which allows additional cosmic rays to penetrate the solar system. Neutron counts from the Sodankylä Geophysical Observatory of the University of Oulu show that cosmic rays reaching Earth in 2020 are close to the peak of the space age.
A surge in volcanic activity threatens the Earth with a new Ice Age
Over the past few days, we have witnessed a turbulent global volcanic surge in activity. He sends us all signs that the Great Solar Minimum is approaching.
The Japanese meteorological satellite HIMAWARI-8 recorded two powerful eruptions on May 16, both of which occurred in Indonesia.
The first took place in IBU – a relatively new volcano with only 3 noticeable eruptions; in 1911, 1998 and 2008 – and was confirmed by Darwin Volcanic Ash Advisory Center (VAAC), which warned that the ash plume rises to about 13.7 km.
The second high-level eruption occurred just a few hours later on Semera – a very active volcano with an eruptive history; the first happened in 1818, the most recent in 2014.
As with IBU, the Semeru eruption was confirmed by both HIMAWARI-8 and VAAC Darwin, the latter confirming the generation of a "dark ash plume that reached a height of 14 km.
In addition, active lava flows remain active on the southeastern flank of Semeru, currently about 1.5 km long (as of the morning of May 18).
Direct cooling effect
These high-level eruptions are notable for the fact that solid particles are thrown to a height of over 10 km – and into the stratosphere – are often delayed, where they have a direct cooling effect on the planet.
Volcanic eruptions are one of the key factors pushing the Earth toward its next round of global cooling, with their worldwide surge associated with low solar activity, coronal holes, a diminishing magnetosphere and the influx of cosmic rays penetrating silica-rich magma.
In addition to Indonesia, Icelandic volcanoes have intensified, and it is this high-mountain volcanic region of the world that is believed to be home to the next "big eruption" – one that will plunge the whole world into the new Ice Age almost instantly.
Katla is such a volcano here and it shows signs of activity, since a significant gas output has been recorded over the past few days.
In addition, seismic activity under a large ice volcano has also increased, and this activity is probably caused by injections of new magma entering the chamber.
Icelandic authorities are aware of the danger posed by the next Katla eruption, and a delegation of volcanologists regularly meets with the Icelandic parliament to discuss how to respond in the event of an eruption, the likelihood of which is simply a matter of when, not if.