Deep State is Now Pushing Satanism: Huff Post: "Satan Is Having A Moment"
(Stillness in the Storm Editor) The Deep State, according to several insiders, whistleblowers, and respected researchers, practice dark Luciferianism, also known as Satanism. Part of their long term agenda is to eventually come out in the open with this dark and sadistic practice, recruiting the masses into the faith en mass. In order to do that, they need to "sell" satanism to the public. They need to make it hip, cool, and fun. How do they do this? Many different ways, such as in the Netflix series Chilling Adventures of Sabrina, which is filled with rather obvious glorifications of satanic ideology.
The following article, published by Huffpost, an arguably Deep State news outlet, is the latest pro-Satanism propaganda.
Read this carefully.
The satanic augmentation of culture is not a new agenda. These efforts have been in place for at least the past 250 years, spearheaded by dark occult groups and royal families since the beginning of the 18th century. By all accounts, secular society is increasingly becoming satanic in nature, while never explicitly citing satanic tenets in the process.
Thus, the culture war, so to speak, is covert and hidden. It is waged in the hearts and minds of each individual, through cultural influences that are increasingly dominated by the Deep State and it's manifold influencers.
To be sure, learning how badly our world has already aligned with a satanic agenda is unsettling. But what's more unsettling is what can happen if we, who are alive today, avoid this information, and thereby unwittingly act to ensure the distortion continues.
Culture is itself a tapestry of individual actions. Your choice, your actions, no matter how small, contribute to the whole.
I encourage you to gain awareness of these influences so that you can, in your own way, guard against them, and thereby positively contribute to changing the tide towards goodness once again.
by Matthew Jacobs, April 18th, 2019
Satanists, it turns out, are everything you think they're not: patriotic, charitable, ethical, equality-minded, dedicated to picking up litter with pitchforks on an Arizona highway.
That much is clear in the fantastic new documentary "Hail Satan?" — which chronicles the rise of the Satanic Temple, a movement that has little to do with its titular demon. Founded in 2013, the organization is equal parts modern-day religion, political activist coalition and meta cultural revolution. By reclaiming the pop iconography that has long frightened evangelical America ― devil worship, ritualistic sacrifice, horns, pentagrams, the so-called Black Mass ― the Satanic Temple aims to catch people's attention and then surprise them with messages of free speech, compassion, liberty and justice for all.
No wonder membership has spiked since Donald Trump's election.
Penny Lane's film, opening in limited release this weekend, enthusiastically dispels myths about the history of satanism, using the controversial belief system as a lens to survey the myriad ways our government has made Christianity the national religion. If a state legislature votes to erect a Ten Commandments monument, the church argues, why shouldn't the Satanic Temple be able to introduce a pillar of their own? It's only fair.
I sat down with Lane in New York for a fascinating conversation about making the movie, how Hollywood has popularized erroneous devil worship clichés, the satanic-panic frenzy of the '80s and '90s, and the ubiquitous theocratic motto "In God We Trust."
At what point did you know what this movie would be? It's more than a profile of an organization or an exhaustive cultural history.
There's a moment early on in my research, just in my reading, where I realized that I was completely wrong about something. I thought, upon casually scanning headlines about this group and what they were up to, that the Satanic Temple was like a fiction ― a political troll satire thing, like The Yes Men, where they were pretending that they were members of an imaginary organization in order to make these points. The moment I knew what the film would be was when I realized that that was totally wrong.
What would a new religion, starting from scratch, do if it wanted to make sense in the world we actually live in?Penny Lane, director of "Hail Satan?"
The [group] perhaps had started as that, and then had very quickly evolved to be something real, where there is a thing called the Satanic Temple, and there are members, and they have very particular beliefs, and they're not just trolls. I was like, "Oh, that's a cool story." It was almost the same as the birth of any religion; first, you have to have some publicity stunts to get attention ― some miracles, maybe. From there, maybe you have something to say, and then people would join. I feel like I had never seen that story: watching a religion get born, right before our eyes.
The story of the Satanic Temple is one of free speech. Did you always know the movie would be about that?
Sort of, yeah. I don't think it's really about free speech. The politics of what they're doing is obviously really important, and as a particularly American phenomenon, they're trying to uphold the First Amendment. Their activism is not particularly radical. They're not anarchists, they don't want to burn it all down.
The freedom-of-speech thing, for me, comes under the headline of "a new religion for modernity." What could religion be in the 21st century? What would a new religion, starting from scratch, do if it wanted to make sense in the world we actually live in? Would it be about nonscientific, paranormal claims about invisible people in the sky, or would it be about embracing the centuries of progress that the Enlightenment project has given us? It seems like that would be a better religion.
Satanic Temple co-founder Lucien Greaves delivers a speech in front of the Arkansas Capitol, with the group's Baphomet statue by his side.
You started working on the film before Trump's election. Once his presidency began, did anything shift in terms of what the movie was trying to say?
Like everything else, it's the same answer. Everything was suddenly more urgent. Trump's alliance with the evangelical community [has] none of the values but all of the power grab. It was very frightening for a lot of people, who ended up with people like Mike Pence, who is legitimately a theocrat. He would love for the Bible to be the document that we obey as Americans. Then, someone like Betsy DeVos: still super evangelical, loves prayer in school.
It was super easy, if you were me, under Barack Obama, to not pay attention. I don't even know what that guy was doing for, like, six months at a time, Now you're hyper-aware and fearful. So I think for a lot of people, this story took on a lot more urgency. And certainly, membership in the Satanic Temple spiked after Trump's election. Many people that I spoke to told me that Trump's election was a turning point for them.
The moment in the film that stunned me the most is when a Satanic Temple member reframes satanic panic as the Catholic Church projecting its own history of abuse onto the public. We all know how ridiculous and sensationalistic that era was, but I'd never heard it put that way. It's pretty stunning.
I had the same response to that. I will say this about that: The entire history of satanism is one of projection. Satanic panic is one example. All the way up until 1966, there were no people who called themselves satanists. There literally weren't any. There was a fear that manifested into an elaborate fantasy on the part of the Catholic Church, mostly, if you want to point a finger somewhere.
Then you have this imaginary idea that everywhere around you, there are these devil worshipers who are doing these terrible things. In many cases ― well, in all cases ― that was used as justification to kill people, whether it was witches or, for many millennia, the Jews. All the same, atrocities were attributed to these groups of people by the Catholics as a way of murdering them. Then you go into the satanic panic and you see this same thing. I was blown away as well.
Penny Lane, whose credits include "Nuts!" and "Our Nixon."
Was there a singular moment like that for you ― something that made your jaw drop?
I would say the main thing for me was the moment when I suddenly turned to my producer and said, "How is our national motto 'In God We Trust'?" I'm a lifelong atheist. Somehow, I never realized that that is so weird.
And it's ubiquitous. It's on every dollar bill you touch.
What they do, the satanists, is they awaken you to look around and see the world you actually live in. Suddenly, you do notice the Ten Commandments monuments on the statehouse lawn. Suddenly, you do notice that we think it's normal that people pass out Bibles in public school. These are all actually not normal, in some sense. It looks normal to us because we're so used to it.
Of course, it's a long story, but the most recent iteration of putting God in government was really only 50 years ago, as opposed to 200 or 300 years ago, which is what I would have assumed. I think that, for me, was the biggest mind-blowing thing. It's actually a quite modern phenomenon.
If you went home and Googled it, you'd see that there's hundreds and hundreds of these local fights happening where some senator somewhere wants to put the Ten Commandments on statehouse property or some senator somewhere wants to have prayer in public schools or write "In God We Trust" on police cars. Those battles all look really stupid and petty. Who cares if the Phoenix City Council wants to have prayers before their meetings? But when you look at them in totality and start to understand, it's not like they're going to stop. It's not like, "Oh, we got 'In God We Trust' on the police car, now we're done."
It's evidence and ammunition for the next battle. With these Ten Commandments monuments, people now suddenly believe that this is an integral part of our American history, when in fact, they're movie props. That was very chilling for me.
Initially, someone like [Satanic Temple co-founder] Lucien Greaves would make that point, and I'd think, "OK, that sounds a little bit paranoid, or a little bit of a conspiracy theory; it's probably not that serious." As I did the research, I realized that he was completely right. I didn't know the extent to which there's an organized, very well-funded, very effective lobbying happening nationwide. You don't have to be paranoid to think, "Just because we have a liberal, secular democracy now doesn't mean we will always."
It's not saying it's gonna happen tomorrow, but it has happened in the past. Iran was a secular nation [until 1980], when all a sudden, it became a theocracy. It's something that awakened a kind of urgency in me. I never thought there was any reason to be at all concerned. It's certainly much more possible every time you let one of these small steps get taken.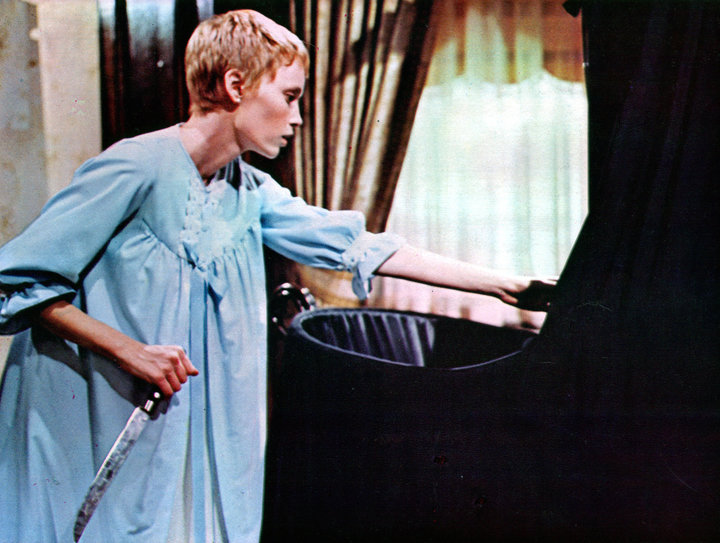 Mia Farrow in "Rosemary's Baby," released in 1968.
I'm fascinated by the way devil-worship imagery has infused pop culture. A few years ago, when the horror movie "The Witch" came out, the Satanic Temple was very supportive of it, which is interesting because that movie embraces the occult in a way that runs counter to the organization.
There's never been a fictional movie about satanists that was even kind of accurate.
Right, one that doesn't involve some type of sacrifice or bloodletting.
Not even close. It would be really interesting to see if someone could ever do that. I think it would be so confusing.
Did you talk to folks about cinematic depictions of satanism?
It's so weird and interesting to watch that negotiation take place. You've got this weird cycle ― you see it all the time, with "Sabrina" and "American Horror Story" and whatever ― where you have these depictions of devil worshipers, and it attracts rebellious teenagers to this idea of satanism. Any of them who actually develop any interest go to the bookstore and learn about Anton LaVey [who founded the Church of Satan in 1966]. Then they're like, "Oh, this isn't actually at all what 'Sabrina' said it was, but it is interesting to me."
If you're a certain kind of provocative person who likes to troll people, you might be into putting the pentagram on your shirt. But there's no satanists in the way that you think there are in the movies. Then you end up with more satanists of the real kind because there's a weird back-and-forth where they take the iconography and the imagery, all of which, as you said earlier, are projections. There never was a Black Mass ― it was only a fantasy on the part of Catholics. Then you've got the real satanists doing a fake Black Mass. It just confuses people to no end. I try to explain it to people and I'm like, "They really want you to think about the fact that there never really were any satanists."
The imagery becomes meta. It's all about reclaiming what people assumed was happening in suburban basements or whatever.
It's a very weird relationship between the pop-cultural fantasy of satanism and the reality of satanism, and the back-and-forth between them is very complicated. Anton LaVey loved that shit. He circulated lots of rumors.
I think it's been demonstrated that it's not true, but he wanted everyone to believe that he actually played the devil in "Rosemary's Baby." Even while he's saying satanism is about atheism, freedom, individual values [and] sexual liberation, he was also really into the idea of being associated with "Rosemary's Baby." You can't do satanism without the popular fear of Satan, so those movies help. They continue to keep Satan relevant.
No one cares if you want to be an atheist and go home and yell about how dumb Christians are. They really do care if you're a Satanist. You get a lot of attention.
It's like reverse-engineering the way that people develop a belief system. I would have thought of it as bad branding, like, "Hey, you guys, movies like 'Hereditary' are not the way it works."
It's not bad branding. It just helps them seem more relevant. At the end of the day, if you think satanism is bad branding, you're just not a satanist. For them, it can't be anything else. It's not like they were looking around for the right symbol, considered a spaghetti monster and went with satanism.
Right, and it's dependent on the idea that Satan is a concept that comes from organized religion. 
Unlike the spaghetti monster, they want to be part of culture. They want to be like, "We, as Western civilization, have been having this now 2,000-plus-year-old conversation about good and evil and what it means to be a human and how we got here and how we're supposed to live. We want to be part of that conversation. We don't want to be like Richard Dawkins and just go over there and say, 'Look at all these idiots. Fuck 'em all, wait till they're all dead. Can't wait for the future secular world.'"
They want to be part of the conversation, so it has to be Satan, because that's how they get to be a part of the conversation. No one cares if you want to be an atheist and go home and yell about how dumb Christians are. They really do care if you're a satanist. You get a lot of attention.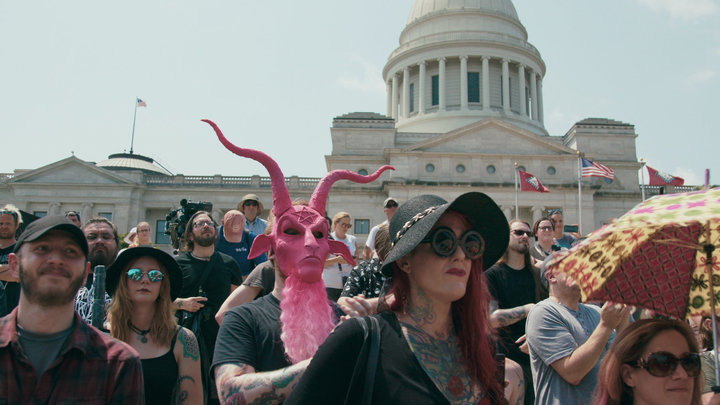 Satanic Temple supporters gather at an August 2018 rally for religious liberty in Little Rock, Arkansas.
What's the thing you left on the cutting-room floor that was the hardest to let go?
All this satanic panic stuff. We had so much more. It's years and years, with all these cases. The power of the human mind ― it's just nuts. I think about all those kids who were convinced by adults that they had been basically fucking raped by the devil and that they were irrevocably harmed by it, walking around as adults. That's so disturbing to me. Those poor people. I think that was the hardest thing we cut.
We did so much really good research and interviews on that topic, and then we ended up with one scene because it was just so much. To start to get into false memories, multiple-personality disorder, dissociative identity, all these psychological ideas that allowed this concept to continue, and what happened with this crazy alliance with feminists who were like, "Believe the victims, child abuse is bad," alongside these crazy people who were just imagining devil worshippers everywhere. Gloria Steinem was a big part of this. It's a long story. Once we had to start explaining what dissociative identity disorder was, we were sunk.
The fact is, there would be no Satanic Temple without the satanic panic. It's very generational. It's people our age, because we're like, "Oh yeah, right. We all learned about satanism on daytime television."
Based on your research, what really was satanic panic? What was actually going on?
That's what's crazy. When I talk to all these experts, there's so many factors. Anyone who gives you an answer to that is leaving out something. It really was the growth of an understanding of domestic sexual violence as a very important, real thing in the '70s. There was a moment: "Fuck, most rape is happening in the home." That happened, then there was the stranger-danger panic, which was a whole other thing. Then there was the rise of the Christian right, and their dominance in popular culture through televangelism. Then you had women going into the workforce in record numbers, leaving their kids in daycare. A lot of anxiety about that, and guilt: "What's happening with our children while we're off at work? Is this good for society?"
There was so much going on that it's hard to blame any one person, so then no one got blamed and no one ever apologized. Everyone had their little piece to the puzzle. Why did it end ― which is at least an equally important question ― is also unclear. It just sort of did. It wasn't because we as a society all woke up one day and had a conversation about this, because it seems like we never did that.
For someone who wants to explore more about the history of satanism, what else was part of your research? 
I was reading First Amendment law, trying to understand the framework. Jay Wexler was our legal expert ― I read a bunch of books by him. Then Kevin Kruse was our historian ― he'd written a really good book called "One Nation Under God" that helped me understand that history. Then there was Jesper Petersen, who was our religion expert. I'd read a bunch of his books and articles about satanism as a religious phenomenon of modernity, and that was super helpful for me to understand, from a religious-scholar point of view, what this meant.
There was another expert who we didn't get to use, Debbie Nathan, who wrote the seminal book on the satanic panic, "Satan's Silence." Then another expert we didn't end up using was Kathleen Stewart, who's a journalist, whose beat has been the attempt on the part of evangelicals to take over the government. Amazing story — who's making the plan happen, who are the lobbying groups, what is the model legislation that's being written by these lobbying groups, what's their stated agenda. Also, we didn't even do the interview, but we wanted to get a Christian theologian who could talk to us about the history of the devil. It's not like there's one representation of the devil. In fact, there was no devil in Christianity for quite some time. Only in retrospect did we start saying, "Oh, the snake in the garden of Eden is the devil."
Because in the Bible, Satan's just a fallen angel.
Yes, exactly. The history of Lucifer and this idea of Satan, which was a word out of Judaism that just meant "the adversary," combined and created its own new narrative. Again, we keep rewriting the Bible, so then future generations of scholars go back and read the Bible and say, "Look, here's Satan all along."
Part of the message of the Satanic Temple is that the meaning of symbols changes. They're malleable to culture. Things change over time. It's not insane to say this Baphomet image means freedom and diversity and reconciliation of opposites and openness to all. Just because you think it means the devil and evil and baby sacrificing doesn't mean that's what it means. That's why they were so mad at "Sabrina" when they ripped off the Baphomet monument and put it in that show as a monument that means evil. They're like, "We worked really hard to make that monument. All of our lawsuits were proposing a meaning for this monument. And if that monument ever did get installed on a statehouse lawn, the meaning of it would be religious diversity."
There's no particular reason we have to hold on to this idea of Satan as the ultimate embodiment of evil. I think that's a really important thing. The meaning of these images is not settled. The Ten Commandments monument, the meaning of it 60 years ago was "go see this Charlton Heston movie." Now it's like an important part of our heritage as a nation, the idea that Ten Commandments are so foundational. You're like, "This is not what it was one generation ago."
This interview has been edited and condensed.
Various historians, insiders, and whistleblowers claim that dark occult groups and forces have long controlled the planet and shaped its history. The preceding video offers some of this history in an effort to substantiate the notion of a powerful group working behind the scenes, sometimes called the Illuminati, the Deep State, the Order of the Black Sun, and so on. Properly identifying causes in reality is essential so as to lead a fulfilling life and work constructively to improve the world around you. We need accurate and complete knowledge. With this knowledge in hand, an individual can contend with the realities of malevolence, which will inexorably lead to an activation of the truth-seeking and freedom craving urges.
Source:
https://www.huffpost.com/entry/hail-satan-documentary-penny-lane_n_5cb62721e4b0ffefe3b84c1c
The remains of "witches" burned at the stake for killing children in the 17th century were found by archaeologists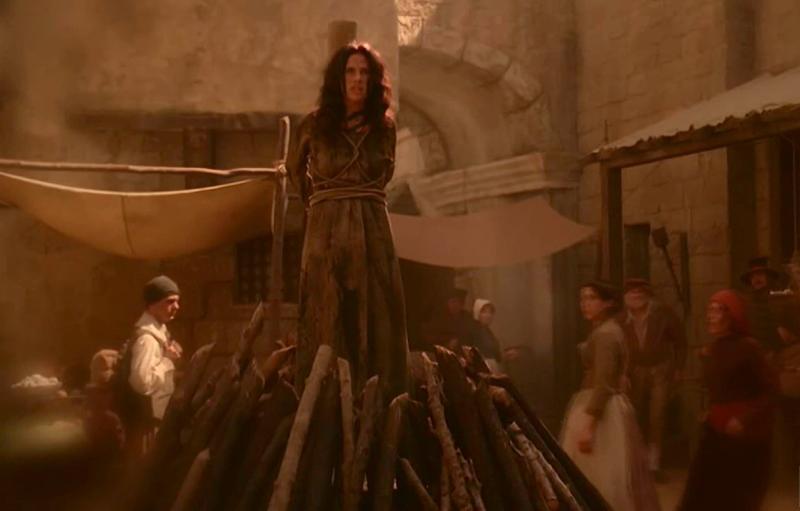 In the Polish city of Bochnia, archaeologists unearthed the charred remains of two women. The discovery was made during restoration work in the local market.
They are believed to have lived approximately 300 years ago. According to scientists, it is known that in 1679 three women were burnt in this place. So far, two skeletons have been found, but experts have no doubt that they will soon find a third one, according to Express.
Researchers believe that the victims were accused of witchcraft and murder of children. After that, they were probably burned in the city market. Such punishment was common in the Middle Ages, from the 5th to the 15th centuries. Historians believe that the public burning allegedly showed "witches" going to hell.
Archaeologists will continue to investigate the remains, but they have already stated that the women were buried right at the place of execution. According to experts, in that era it was customary: people convicted of such a crime could not be buried near the church.
According to historical sources, at least 13 women accused of witchcraft were executed in Bochnia. Before the execution of the sentence, they were kept in the neighboring town hall and, most likely, tortured in order to get a confession of their deeds. In addition, the archives contain the names and crimes of the "witches".
Which castle in Europe is considered the most mystical: you will be surprised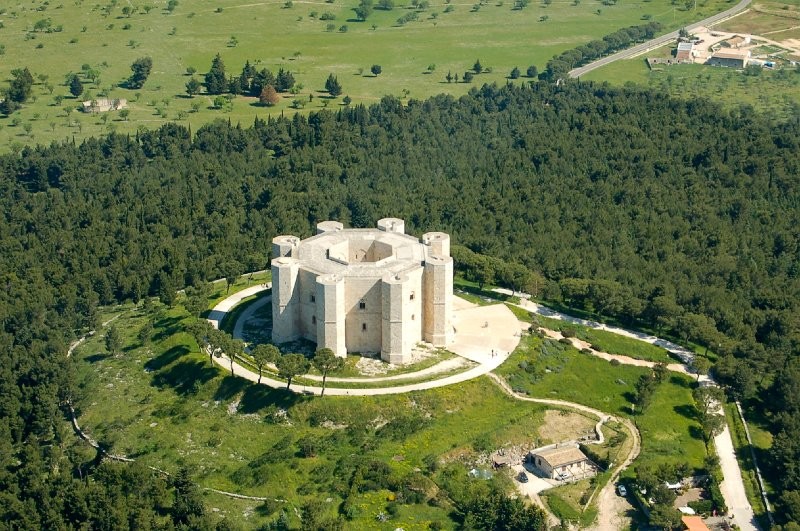 Many castles have survived in Europe, which to modern people seem incredibly beautiful and majestic. Their main purpose was to deter enemies if necessary.
That is why such factors as a good location, a moat, a rampart and other opportunities to repel potential enemies played a strategic role.
However, there is one architectural object that does not fit into the traditional framework.
The majestic is one of the most famous landmarks in the Italian region of Apulia. Moreover, it will not be an exaggeration to say that this is the most mystical castle in the world.
Unlike other mystical places, this amazing castle is not hidden from prying eyes behind the mountains and forests. On the contrary, it is visible from afar. You drive along the freeway and see it, towering on top of the hill. It doesn't matter that the name of the building is translated as "castle on the mountain", only those who have never seen real mountains in their life can literally take the name Castel del Monte.
It was built on a castle on the very spot where the Maria del Monte monastery was located until the thirteenth century, hence the first name of the building, which few people remember today – castrum Sancta Maria de Monte.
Today, crowds of people frequently visit Castel del Monte. For this, many thanks to the magical world of cinema and the Italian director Matteo Garrone in particular, because it was in the unusual halls of this monumental structure that he settled the characters of his "Scary Tales" – the king who raised a flea, and the princess whom the eccentric father married to a cannibal. Curiously, until the twentieth century, the castle was in an abandoned state, and shepherds spent the night there.
Today, the architectural structure is in the care of UNESCO, as a result, it was cleaned and put in order, but the interior decoration of the halls was not preserved – for that reason, Matteo Garrone had to hastily fill the space of the premises with the props brought to the castle.
Garrone chose Castel del Monte for the film adaptation of the tales of the Neapolitan Giambattista Basile for a reason, because this place is incredibly mysterious. Although located 16 kilometers from the city of Andria, Castel del Monte bears the honorary title of one of the most famous medieval castles in the world, in essence it is not a castle.
The fact is that in the understanding of a normal person of the Middle Ages, a castle could only be built for one of two purposes. The first goal, it is also the main one – defense and terrain control. In this case, one or another lord erected a small fortress, as a rule, on the top of a mountain, which helped to repel enemy attacks, and at the same time to influence the situation in the region as a whole. The second task is a fortified place to live. Sometimes castles grew to the size of cities, take, for example, the same Carcassonne, but their powerful walls, again, made it possible to hold back hordes of enemies.
But Castel del Monte is not intended for defense at all. Where are the walls and the moat with water? Where are there any decent defenses?
This place also seems to be of little use for life. Of course, even Walter Scott in his "Ivanhoe" wrote that the concept of "comfort" did not exist in the Middle Ages, but this castle, even by medieval standards, is far from the home of a self-respecting lord. It's okay that all the rooms inside are connected to each other, but, most importantly, there is no place for a stable and there is no kitchen.
So, most of all, the castle looks like a kind of an old art object, built for the sake of ideas, such houses are sometimes designed by modern architects who have received absolute carte blanche for the implementation of their creative ideas coupled with an unlimited budget.
This association is quite appropriate if you know who built Castel del Monte. The castle was built on the mountain by the Emperor Frederick II Staufen – a legendary person in all respects. He not only managed to win the title of Emperor of the Holy Roman Empire from competitors and lead the sixth crusade, but was also considered one of the most educated people of his time.
He knew Greek, Latin and Arabic, founded a university in Naples, where not only Christians, but also Jews and Arabs taught, and this, by the way, is the height of tolerance by medieval standards. Frederick II as a whole was very far from Christian prejudices, here are illustrative examples: the emperor insisted that doctors study anatomy on corpses, and Frederick also had a warm attitude towards Fibonacci and even organized mathematical tournaments.
The emperor also had a penchant for writing: he is credited with writing an essay on falconry, and at his court he created a Sicilian school of poetry. At the same time, like all progressive people of his time, Frederick II was an admirer of a wide variety of mystical teachings, studied astronomy and astrology.
With the personal life of the emperor, everything was also interesting, he earned the reputation of Bluebeard, because he was married four times, however, the church did not recognize his last marriage with his permanent mistress Bianca Lancia. Frederick II spawned a great many children – 20 legitimate, but for obvious reasons, no one scrupulously counted the bastards.
Historians still cannot solve the riddle of the Italian Castel del Monte, to which scientists have many questions
Castel del Monte was built by Frederick II from 1240 to 1250, that is, in the last decade of his life. The name of the architect is unknown, but many historians, not without reason, believe that he was the emperor himself – a painfully intricate design was the result.
The fact is that, like many medieval mystics, Frederick was obsessed with the number eight, which symbolizes infinity, and it is constantly traced in the structure of the castle.
To begin with, the castle, when viewed from above, is a regular octagon, and an octagonal tower is erected at each corner of the structure. The shape of the inner courtyard of the castle also repeats the octagon. The castle has only two floors, the roof is flat, and the main entrance to Castel del Monte looks strictly to the east, because, as it was believed in the Middle Ages, the good news came from the east.
There are 8 rooms on each floor of the castle, all of them are connected to each other, so that Castel del Monte can be easily walked around the perimeter. The rooms are made in the form of trapezoids, and windows are cut through the walls. Toilets, wardrobes and spiral staircases are located in the corner turrets.
By the way, the castle has a separate story with the stairs – usually in all castles they are "twisted" to the right, since this is optimal for the defense of the object, but in Castel del Monte, on the contrary, they are "turned" to the left, that is, the way it does nature, because it is to the left that the shells of mollusks or snail shells are twisted.
All rooms of the castle are exactly the same, the rooms differ from each other only in the location of the doors and the number of windows. In the decorative elements, the number eight again dominates: on the capitals of the columns there are eight leaves each, on the bas-reliefs in the rooms there are eight leaves or clover flowers.
Another interesting thing is that direct rays of sunlight fall into the windows of the second floor twice a day (with the first floor, this rule works only in the summer), so many assume that the mysterious castle is nothing more than a huge sundial, and at the same time astronomical device.
In addition, twice a year, during the summer and winter solstice, sunlight is evenly distributed among all rooms on the ground floor. This, of course, is also no coincidence, so many historians suggest that the first floor of Castel del Monte is a kind of analogue of the solar calendar.
Here's another curious reason for thinking – twice a year, on April 8 and October 8, the sun's rays pass through the windows of the castle into the courtyard in such a way that they fall strictly on the part of the wall where in the time of Frederick II a certain bas-relief was carved, now lost.
Well, and to make everything quite difficult, it is worth remembering that October in the thirteenth century was considered the eighth month of the year.
The castle bears the title of the most mysterious at all because there are many ghosts or other manifestations of mysticism
Frederick II died before he could finish the construction of the castle – the building of Castel del Monte was completed, but the interior decoration was not completed to the end. After the death of the emperor, there were legends in Europe that Frederick did not die, but disappeared in an unknown direction in order to reform the church and establish universal brotherhood and peace.
A certain symbolism is seen in this, because the octagon, repeated in the structure of Castel del Monte, in the Middle Ages symbolized the transition from the world of the living to the kingdom of the dead, and at the same time the union of heaven and earth.
Everything is very simple here – a square was considered a symbol of the earth, a circle was a symbol of the sky, and an octagon was an intermediate figure that signified both unity and transition. However, scientists far from mysticism believe that the repeated use of the octagon is simply a reference to the Dome of the Rock in Jerusalem, because Frederick II saw the dome over the cornerstone during his crusade.
Historians are confused by the dubious architecture of the object – in such a castle there was not a single chance to hide from an armed attack. No protective mechanisms were used during the construction.
In addition, the building itself boasts the ideal shape of a real octagon. The castle has also 8 turrets.
Scientists did not fit the theory that this castle was used by noble people in order to rest there after hunting. Castel del Monte looks too monumental and luxurious for this.
Some historians suggest that the purpose of the mysterious castle was to comprehend the secret sciences
Castel del Monte has encrypted and biblical symbols. The fact is that the castle has exactly five drainage basins and five fireplaces, many associate this with the phrase of the Baptist John from the Gospel of Luke:
"I baptize you in water for repentance, but the One who follows me is stronger than me; I am not worthy to bear His shoes; He will baptize you with the Holy Spirit and fire."
So, it is easy to assume that Castel del Monte was for Frederick II an analogue of the temple, built according to his personal project, and this fully meets the ambitions of the emperor.
By the way, this hypothesis is confirmed by another curious detail. If you look closely at the entrance to the castle, you can see a giant letter F encrypted there. If inside the tomb of Frederick II, associations with the pyramids would be inevitable, and so Castel del Monte seems to be a kind of personal portal of the emperor, erected according to his plan and in his honour.
At least when you stand in the courtyard of the castle and, with your head raised, look at the sky, imprisoned in an octagon of powerful limestone walls, even the most inveterate materialists have a feeling of belonging to the medieval magical tradition.
The energy of this place is special, in the style of those "Scary Tales" by Matteo Garrone.
Occult symbolism of the 2020 Vatican nativity scene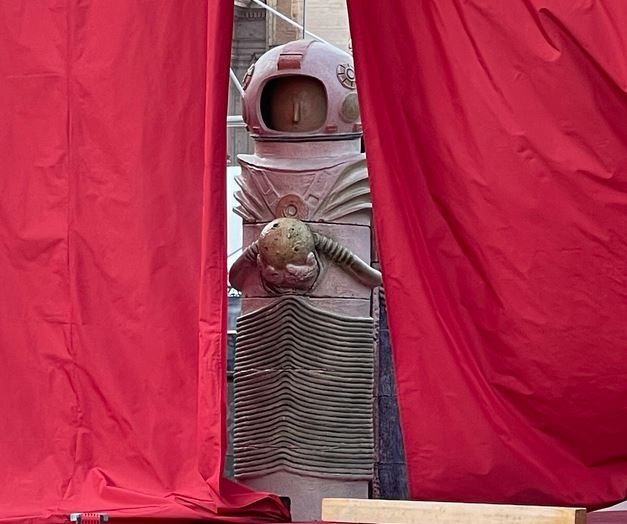 On December 11, the Vatican unveiled its 2020 nativity scene in St. Peter's Square. And as soon as the red drapery covering the stage was removed, the crowd found a towering, brutal and totem-like angel Gabriel watching them, along with an astronaut and a masked executioner (yes, those guys who kill people on death row).
Let's say the applause after the opening was "polite". Here are some images of the nativity scene.
An ominous angel looks down at the crowd while Jesus remains in the red cloth for a while (not sure why). Behind the figures is a neon light that should probably look like mountains on the horizon. However, at first glance, it looks like a lightning strike in a nativity scene.
In a press release, the Vatican Governorate announced that the nursery "is intended to be a sign of hope and faith for the entire world, especially during this difficult time due to the health emergency related to COVID-19."
But this did not bring "hope and faith" at all. In fact, almost all observers hated it.
It is as if the Vatican purposely created something so ugly that devout Christians hate the play depicting the birth of Jesus. Satanists couldn't have done better.
Ugliness with weapons
This nativity scene, titled "Monumental Christmas", was originally created between 1965 and 1975 by students and teachers of the F.A. Grue art school in Castelli, Italy. The original work contained over 50 pieces, but only a few were selected for the Nativity scene at the Vatican, and they chose the horned-masked executioner.
The "Monumental Nativity Scene" is considered a tribute to the world-renowned pottery works of the Abruzzo region and gives a postmodern twist to the classic nativity scene.
In a conversation with a local newspaper, Italian art historian Andrea Chionchi asked if it was "a nightmare or a masterpiece."
"Forget the sweet face of the Madonna, the tender radiant incarnation of the Child Jesus, the paternal sweetness of Saint Joseph and the pious miracle of the shepherds. For the first time in the middle of the colonnade, Bernini, the Vatican erected a work of the sixties in a brutal postmodern style.

The figures resemble the masks of the ancient and ferocious Samnites, the ancestors of the Abruzians, who professed a pantheistic, animistic, fetishistic and magical religion, somewhat reminiscent of the Andean goddess of fertility, Pachamama.

Castelli's "Nativity Scene" is an outdated work, the product of a strongly ideological art school. The work offers a depiction of Castelli ceramics that is definitely not true, given that this remarkable art is renowned for its formal elegance and refined, subtle decorative inspiration, which are completely absent here.

References to Greek, Egyptian, and Sumerian character sculptures suggest a liberal historical-critical method of interpreting Scripture. Liberal Bible scholars have hypothesized about various aspects of the Bible as an adaptation of pagan cultures, and not as a result of divine revelation.

Although "ugliness" is subjective, this nativity scene almost tries its best to be as unpleasant to the eye as possible, which in turn is unpleasant to the soul. At least one could say that this scene is anti-Christian. I mean, who's actually going to pray to this thing? You just can't. And that's kind of a target for the twisted minds behind this thing.
Moreover, in addition to its general ugliness, the nativity scene also contains many symbols and historical references that convey a rather egregious message: it is actually an anti-Christmas scene.
Anti Christmas
Usually in the center of the nativity scene is the baby Jesus. However, in this case, Baby Jesus is essentially a random toddler who just stands there and looks like a giant cork.
WORSHIP ME
The focus of this play is not Jesus, but rather the angel Gabriel. It is surrounded by a massive halo, while Jesus still stands there like a giant cork. In addition, the angel rises above everything on a ribbed pillar. The overall shape of this column closely resembles an important symbol of Ancient Egypt: the Jed Column.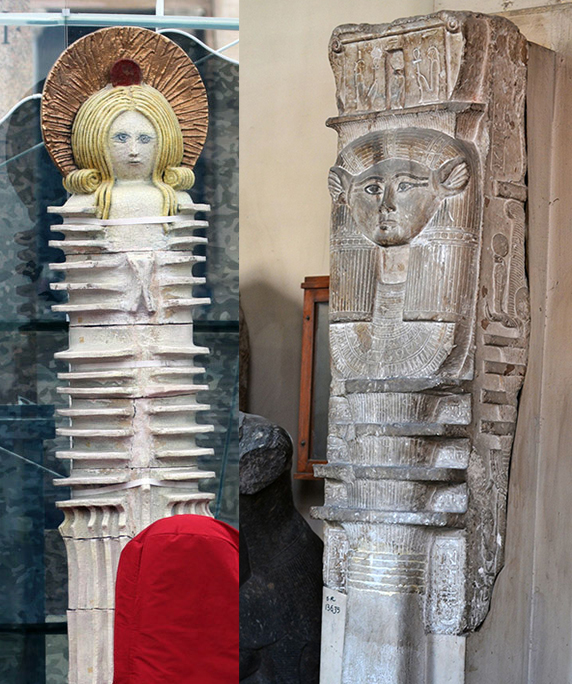 Jed is a common symbol in Ancient Egypt believed to represent the god Osiris, or rather his spine. While this symbol probably has an esoteric meaning in relation to the chakras (which are said to be based on the spine), the Jed also has a phallic character and is associated with fertility rites. In fact, the "erection of the Jed" was an important ceremony in ancient Egypt.
The erection of the Jedi ceremony is to symbolize Osiris' triumph over Set. During the ceremony, the pharaoh uses ropes to lift the pole with the help of the priests. This coincided with the time of year when the agricultural year began and the fields were planted. This was only part of a 17-day celebration dedicated to Osiris. In general, the ceremony of the erection of the Jed personified both the resurrection of Osiris and the strength and stability of the monarch.
– Ancient origins, sacred symbol of the Jed Pillar
Did the Vatican trick its believers into witnessing the Jed Ascension ceremony? One thing is for sure: the Egyptian influence of this den sit well with what is immediately behind it.
The general plan of the Vatican is Egyptian magic in plain sight. The phallic obelisk (representing Osiris and the masculine) faces the womb-like dome of St. Peter's Basilica (representing Isis and the feminine). The same exact layout can be found in various power centers of the world, including Washington, DC.
In Washington DC, an obelisk (Washington Monument) faces the dome of the US Capitol.
In Egyptian magic, the union of masculine and feminine principles (Osiris and Isis) gives birth to a "star child" (Horus). From an esoteric point of view, this star child is a powerful magical energy.
The hieroglyph representing Sirius, the most important star of occult symbolism (read my article on this here), consists of three elements of the Egyptian trinity: an obelisk, a dome and a star.
So, the Vatican has an obelisk and a dome. Where is the star completing this trinity? It is there, but you have to look from above.
The Obelisk of St. Peter is located right in the center of the eight-pointed star, also known as the Ishtar Star.
The eight-pointed star also adorns the Christmas tree that stands next to the nativity scene this year.
Speaking of cosmic things, the Vatican nativity scene also depicts an astronaut. Why? God knows.
It seems that the astronaut is holding / giving birth to something. There is also an eight-pointed star on the helmet.
Given the fact that this figure was created between 1965 and 1975, this may be a reference to the 1969 moon landing. But why in 2020 did the Vatican choose this thing to stand next to Jesus?
It is even more incomprehensible why an executioner in a horned mask is standing next to Jesus?
In ancient times, executioners carried out death sentences for lawful convicts by chopping off their heads. In some cases, they wore grotesque masks with dark and menacing features to further intimidate prisoners, depersonalizing them as a person. In short, it is an odd figure to be placed next to the newborn baby Jesus, especially considering the fact that Jesus himself was ultimately sentenced to death.
Apparently this guy is here to represent the "Vatican's opposition to the death penalty." This is a rather weak argument that makes little sense. I mean, I'm pretty sure the Vatican is also against methamphetamine. Should they also add a methamphetamine dealer to the nativity scene?
In the scene literally called "Christmas," this horned figure represents death. This is the complete opposite of "Christmas". I don't think Satanists would have done better by desecrating the scene depicting the birth of Jesus.
Finally
In a sense, this year's nativity scene is a sad reflection of 2020. This is a collection of expressionless and socially detached figures who do not interact with each other, standing under the neon lights of phones and computers.
It also reflects how the occult elite has raised their ugly head this year, poisoning every aspect of our lives with their toxic program. Through their outspoken anti-Christian demonstration, the elite sought to prove that its toxic ideology was also ingrained in the Vatican.
Although the Monumental Nativity scene was created several decades ago, it was chosen for the Christmas scene in 2020 for a special reason: it contains certain symbols, conveying a certain energy. Like everything else that has happened this year, this scene demonstrates the control of the elite and the demoralization of the masses.