Declassified CIA Document Shows How Astronauts Conducted Telepathy Experiments In Space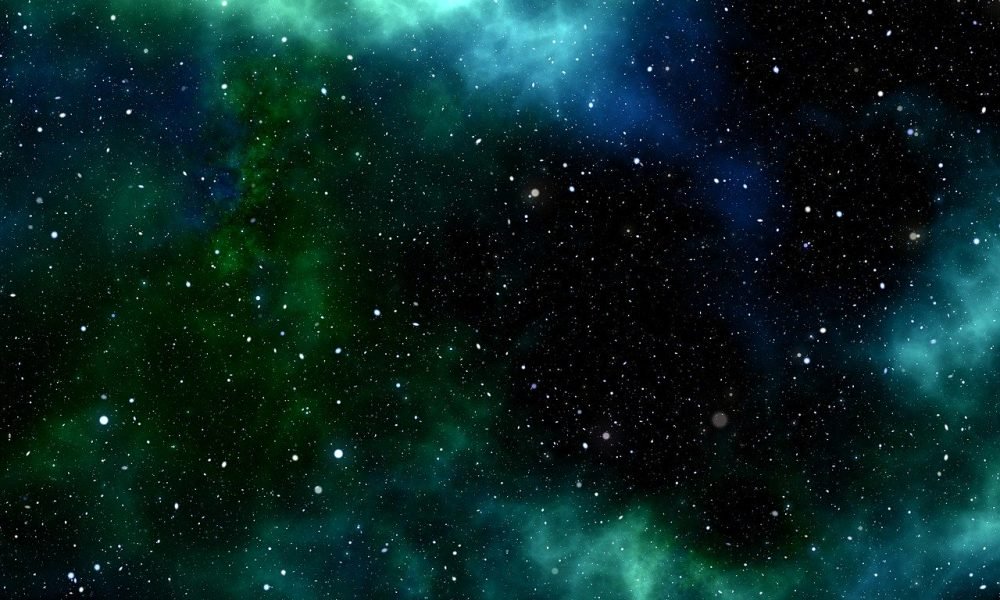 The Facts:A document found inside the CIA's electronic reading room goes into detail regarding several telepathic experiments performed successfully, decades ago by both US and Soviet astronauts.
Reflect On:With decades of statistically strong results in the lab and so many real world examples, why is this topic still shunned by mainstream academia? And why is it studied by at the highest levels of government in multiple countries if it's fake?
"The Soviet Union is well aware of the benefits and applications of parapsychology research. In 1963, a Kremilin edict apparently gave top priority to biological research, which in Russia includes parapsychology. The major impetus behind the Soviet drive to harness the possible capabilities of telepathic communication, telekinetics, and bionics is said to come from the Soviet military and the KGB. Today it is reported that the USSR has twenty or more centres for the study of parapsychological phenomena, with an annual budget estimated in 1967 at over 13 million dollars and reported to be as high as 21 million dollars.

Soviet parapsychology research was actually stimulated by the 1960 French story concerning the US atomic submarine Nautilus. The French journalists splashed the now rather infamous Nautilus story in headlines "US Navy Uses ESP on Atomic Sub!" Ship to shore telepathy, according to the French, blipped along nicely even when the Nautilus was far under water. "Is telepathy a new secret weapon? Will ESP be a deciding factor in future warfare?" The speculating French sensationalized, "Has the American military learned the secret of mind power?" In Leningrad the Nautilus reports went off like a depth charge in the mind of L.L Vasilev."
The above information comes from this declassified CIA document.
It goes on to mention that in  April of 1960, Dr. Leonid Leonidovich Vasiliev addressed a group of high-ranking soviet scientists stating:
We carried out extensive and until now completely unreported investigations under the Stalin regime. Today the American Navy is testing telepathy on their atomic submarines. Soviet scientists conducted a great many successful telepathy tests over a quarter of a century ago. It's urgent that we throw off our prejudices. We must again plunge into the exploration of this vital field.
As you can see, telepathy and parapsychology, which include remote viewing, ESP and psychokinesis, have all been studied in-depth within black budget special access programs in multiple countries. These programs are often highly classified, and so whatever has been revealed in official documentation is only the tip of the iceberg. Sometimes, the declassification of documents is used to halt more questioning into the phenomenon. The STARGATE program is a great example of that in the United States. Although the documents that were declassified show some startling findings, like the fact that remote viewing is real and that it was used for intelligence collecting purposes, it's safe to assume that many details of this program remain highly classified.
Russel Targ was the co-founder of that program. Here's a video of him sharing everything he knows about ESP.
The crazy thing about parapsychology is the fact that studies have yielded statistically significant results. I'm talking about hundreds if not thousands of studies that have been conducted worldwide have seen positive results.
There seems to be a deep concern that the whole field will be tarnished by studying a phenomenon that is tainted by its association with superstition, spiritualism and magic. Protecting against this possibility sometimes seems more important than encouraging scientific exploration or protecting academic freedom. But this may be changing. —Cassandra Vieten, PhD and President/CEO at the Institute of Noetic Sciences (source)
Many of these results are just as strong, if not stronger, than a lot of the results that come from hard sciences like physics and mechanical engineering. The Department of Defence has openly stated that the phenomena within this realm is real, despite the fact that they are still somewhat inexplicable. As far back as 1999, the head of the statistics department at UC Irvine, Jessica Utts, published a paper showing the results dealing with parapsychology and mind-body connection are a lot stronger than the results used to approve some of our medications!
Again, most of what's known is still protected and locked up by the black budget world.
The documents referenced above are also decades old, so just imagine what's happened or what's been discovered since then!
The documents also outline how these experiments were not limited to earth.
Soviet research into biocommunications phenomena does not appear to be earth-bound and limited to inner space, but apparently extends to outer space as well. The so-called Father of Soviet Rocketry, K.E Tsiolkovsky, stated that:

"In the coming era of space flights, telepathic abilities are necessary. While the space rocket must bring men toward knowledge of the grand secrets in the universe, the study of psychic phenomena can lead us toward knowledge of the mysteries of the human mind. It is precisely the solution of this secret which promises the greatest achievements." (source)

There are reports that the Soviets are training their cosmonauts in telepathy to back-up their electronic equipment while in outer space. One of these back-up schemes is known to involve coded telepathic messages. This method was previously demonstrated in March 1967, when a coded telepathic message was flashed from Moscow to Leningrad. The involvement of astronauts or cosmonauts in telepathy experiments is not necessarily unprecedented. In February 1971, during the Apollo 14 flight to the moon, astronaut Edgar Mitchell made 150 separate attempts to project his thoughts from inside the space capsule back to an individual on earth. The results of the Apollo 14 experiments have been well-documented in detail and are published in the Journal of Parapsychology. source()
Mitchell used 25 numbered cards in the experiment, in which he attempted to send a thought message to four people regarding the symbols on each card. He said two of the four got 51 of the 200 correct, and the other two were less successful. (source)
Dr. Elizabeth Rauscher, a world-renowned physicist, researcher, and presenter who has done a lot of work for NASA, among several other organizations, has admitted that quantum entanglement experiments have also successfully been carried out from Earth to space.
Much Stronger Examples
Some materialistically inclined scientists and philosophers refuse to acknowledge these phenomena because they are not consistent with their exclusive conception of the world. Rejection of post-materialist investigation of nature or refusal to publish strong science findings supporting a post-materialist framework are antithetical to the true spirit of scientific inquiry, which is that empirical data must always be adequately dealt with. Data which do not fit favored theories and beliefs cannot be dismissed a priori. Such dismissal is the realm of ideology, not science. – Dr. Gary Schwartz, Professor of Psychology, Medicine, Neurology, Psychiatry, and Surgery at the University of Arizona (source)
Although the above mentioned phenomena is very intriguing, especially the Soviet part, we have to remember that there is still a lot of information that has not been disclosed yet. This is not really studied openly in mainstream academia yet, it's only really studied at the highest levels of government.
I published a well-sourced article providing multiple examples from a CIA document that confirm the existence of humans with 'special abilities' who are able to do 'impossible' things. You can access that here. It's very interesting and goes to show just how strong results in the field of parapsychology are, and what information may still be kept hidden from us.
Today, hundreds of scientists are coming together to emphasize that physical matter is not our only reality. They've created a manifesto, and you can find links and access more information about this initiative, which started a few years ago, in an article we published here.
There is an entire non-physical world out there for us to study.
"The day science begins to study non-physical phenomena, it will make more progress in one decade than in all the previous centuries of its existence." – Nikola Tesla
The point is that this stuff is very real, and has been studied for a long time.
Here's an interesting quote from the literature regarding remote viewing, one subject within the realm of parapsychology that allows a person to view other people or objects in different locations, regardless of the distance:
Here's a telling quote from some of the declassified literature:
"To summarize, over the years, the back-and-forth criticism of protocols, refinement of methods, and successful replication of this type of remote viewing in independent laboratories has yielded considerable scientific evidence for the reality of the [remote viewing] phenomenon. Adding to the strength of these results was the discovery that a growing number of individuals could be found to demonstrate high-quality remote viewing, often to their own surprise. . . . The development of this capability at SRI has evolved to the point where visiting CIA personnel with no previous exposure to such concepts have performed well under controlled laboratory conditions." (source)
One participant of the program, remote viewer Ingo Swann, was tasked with the job of taking a look at what could be going on off the planet.
Dr. Puthoff explains:
"To determine whether it was necessary to have a 'beacon' individual at the target site, Swann suggested carrying out an experiment to remote view the planet Jupiter before the upcoming NASA Pioneer 10 flyby. In that case, much to his chagrin (and ours) he found a ring around Jupiter, and wondered if perhaps he had remote viewed Saturn by mistake. Our colleagues in astronomy were quite unimpressed as well, until the flyby revealed that an unanticipated ring did in fact exist."
The Takeaway
Why do we still ridicule parapsychology? It's correlated with quantum physics, and it seems to be the next logical step for science. The fact that this type of study is not included within mainstream media is truly a shame, and it's not fair that government agencies are the only ones who seem to be actively and heavily engaged in this type of study.
At the end of they day, no skeptic can deny the reality of parapsychological phenomena.
This haunted hotel houses a huge Ouija board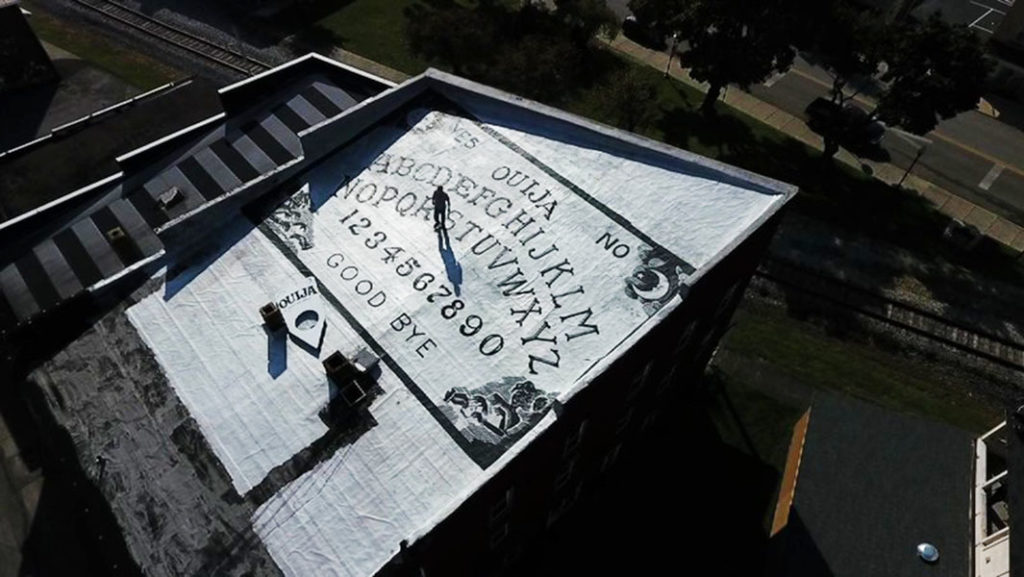 Waking up in a haunted hotel every day may seem like a living nightmare, but for Blair Murphy, it is a reality.
As the owner and operator of the Grand Midway Hotel in Windber, Pennsylvania (United States), mysterious noises and inexplicable events are only part of normal life when they live in a 130 year old historic building.
Although the walls point to the heads of taxidermed animals and show the ghost portraits that haunt the hallways – it's not the only things that make the place more frightening than an average home.
Even if it contains the formidable "Canopy Room" that most of the clients cannot bear to stay all night, there are two particular eccentricities within the structure that make the Grand Midway Hotel stand out from the rest: the grand Ouija Board and the World's Largest Tarot Card .
"The Grand Midway Hotel was a former coal mining hotel in the late 1880s," says Blair. "I could remember countless stories of meeting ghosts of people who stayed here overnight. It was actually a fascinating place to live. But then the paranormal hum became silent for about two years. "
The inspiration for the large board is the direct result of the two-year lull, when Blair and his girlfriend at the time, Camille Zamboni, decided to play with the game Ouija created by Hasbro in 2016 to see if they could boost morale.
After a night of playing the board and communicating with the spirits in the Edgar Allen Poe room, the two were left with the idea of ​​creating the world's largest board on the roof of the hotel.
"Shortly after that night, things turned upside down throughout the hotel. The energies swirled. The guests were completely panicked, "says Blair. "It seemed to kick-start a whole new level of paranormal activity. We saw people floating and hearing voices, and even the hotel pets turned and reacted to invisible forces. Our dreams were pretty crazy. "
"And it wasn't just us. Other longer-term hotel residents said "there's absolutely something going on here" and have their own strange encounters in the middle of the night. "
It took weeks to complete the final plank of 121.01 m² (1,302.54 ft²), after a lot of planning and coordination between team members Brian Cano, James Bertolasio, Mark Portante, Mark Swindler, Nova Lox, Luke Hoffman, Camille Zamboni and project manager Blair Murphy.
As a dedicated artist, Camille Zamboni directed the painting of the board, ensuring that the lettering was an exact replica of the painting as directed by Guinness World Records.
"After we finished, really strange things started to happen. Blair and I were sleeping and in the middle of the night we woke up because we both heard my son screaming. Except that he was not staying at the hotel that night. "Said Camille.
Camille also mentions it and Blair saw "angry" versions of each other while the other person was nowhere to be seen.
"I remember going to sleep and woke up screaming and yelling at the end of the bed. I was so confused because he never does that, so I asked "What's going on?" And when I looked again, he wasn't there. He had been in his office the whole time. Likewise, another day, Blair saw me in the attic talking and yelling something and began to respond to "me." However, I was not at the hotel – I went shopping when that happened. "
Now located on the hotel's third floor roof, the irony of the placement is that the inventor of the original Ouija board William Fuld died after falling from the roof of a third floor building.
Even with these frightening events and coincidences, it was not enough to stop the team at The Grand Midway from reaching other records.
As Blair himself is quite an artist and filmmaker, he decided that creating the largest tarot card of the world would be a fitting addition to all the work in progress he had done at the hotel since he acquired it in 2001.
"I always looked at it like the hotel had chosen me. I was living in Los Angeles when an ad for the historic Pennsylvania hotel appeared in my email one day like a scary witty finger from the grave, tapping my attention, saying "buy me … move here … live here. .. it will be fantastic… "It was a fantastic adventure," said Blair.
The son of two funeral directors, Blair was used to death when he was a child; something that played a big part in his interest in the many paranormal experiences that would occur regularly in his haunted house which has 32 rooms with scary themes.
These rooms have a variety of different atmospheres, ranging from the Vampire room which contains a hidden passage to the adjoining, full of coffins quarters, up to the magician's room, where one has to push through a secret library to enter the 'darkness residence.
The Canopy Room, which is said to be haunted by a ghost who died decades ago – is by far the most terrifying in the building.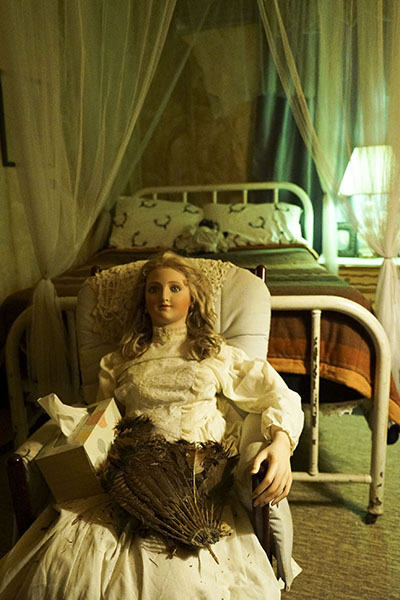 With a life-size doll and Victorian decor surrounding the area – many claim to have felt spirits touching them or to have seen ghosts appear in the room.
No wonder, then, with all of the eclectic and bizarre artifacts around the hotel – Blair would like to add another record object to the establishment.
After recruiting painter Terrence Kauffman in 2017, the couple worked together to form a 6.42 m (21 ft. 1 in.) Long and 4.87 m (16 ft. 0 in.) Wide tapestry that is now hanging from the ceiling of the library on the first floor.
Terrence and Blair chose The Universe card from the Thoth Deck as their symbol for recording.
Unlike some of the sinister components of the Grand Midway Hotel, this card symbolizes positivity and satisfaction – as it represents luck and reward for the one who comes out of the life for which he worked hard.
Similar to the woman who dances in the center of the image, this special card is representative of a celebration and the joy of making success a reality.
Since this particular card now has a Guinness World Records title, it seems to be quite effective.
This is the first time that artist Terrence has worked on a record – because his day job is being a tattoo artist.
He says he's happy to be working on one of the many projects Blair has done to put Windber, Pennsylvania on the map.
And despite recent headlines from another Ouija Board claiming to have beaten its record title, Blair still holds the official Guinness World Records title as directed and has submitted evidence.
The rivalry inspired him to continue chasing more records in the future, as he now ponders the idea of ​​creating the largest coffin in the world in the historic church he recently acquired on the rue de l hotel, which now houses the Anne Rice doll collection.
Now, many of those who have heard of extraordinary record titles have flocked to see them in person, and are impressed by the story that encompasses the historic building from 19 e century.
Longtime residents of the Grand Midway, like Synthia Berns, recognize his hard work and ambition.
"It's really great to see what Blair has done for the community, he has just gathered so many people and it is an honor for the city to be able to have two Guinness World Records titles. I'm just impressed with the incredible work he has done. "
Want to learn more about The Grand Midway Hotel? Check it out here .
Singapore: meet father-son duo banishing demons for a prize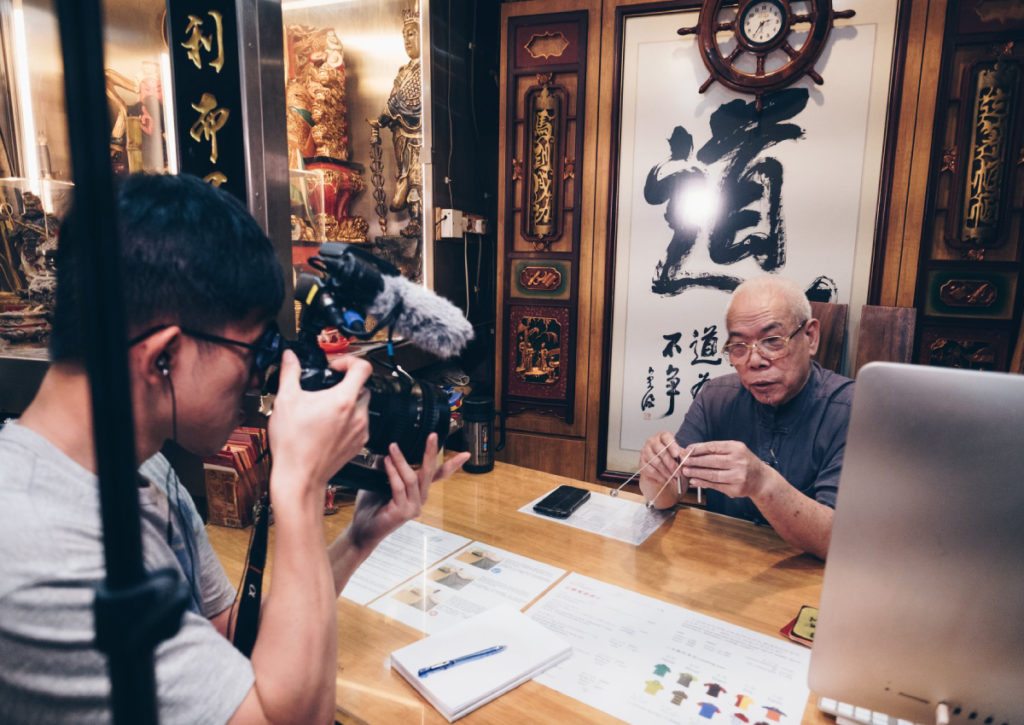 Anderson Lim clasped his hands tightly in a praying position as a spiritual medium made back and forth movements before him.
Lim then chanted indistinctly as the medium set a paper doll – known as a "substitute" – on fire.
The doll, dressed in a blue shirt that belonged to Lim's brother, was part of a Taoist ritual performed to ward off bad luck.
" Recently [my brother] had a very bad fall. He missed a step and his ankle was severely fractured. He was hospitalized for two weeks, "said Lim, a 41-year-old businessman.

"I hope that after this ritual, he will be fine. I have seen too many things that cannot be explained, so there are some things that we have to believe. "
Like Lim, many Singaporeans in the modern city-state still turn to supernatural means, such as traditional spiritual mediums, for good luck, health, and prosperity.
While some of his clients seek feng shui advice for disagreements at home, others seek help when they are unlucky or have career issues, said Jeroen Chew , an exorcist and master of feng shui.
Chew joined unconventional commerce over a decade ago after hearing stories that his father Chew Hon Chin, better known as Grand Master Chew, changed the lives of many people around the world.
"My father showed me that non-Taoists and non-religious believed in him," said Chew, 44. "When we went to the Philippines, there was a long line of people lining up to see him … And I thought to myself that this man can really do something to change people's lives. "
For former Chew, joining the profession was more of a calling. He said he was cursed 16 years ago, and after coming out of the "spell", it was time to help others.
"I was cursed for about 10 years. I couldn't sleep or eat properly, my business failed and everyone thought I was crazy, "said the 72-year-old, who added that he had also attempted suicide.
"Nor did I believe in gods or spirits in the past, I only believed in myself. But one night I dreamed that someone told me that if I got out of the curse, I would need to help people the same way. "
He then created Ghostbuster.
Explaining how the name was born, young Chew said his father originally wanted to "catch ghosts," but that the family business has since evolved to offer not only exorcism services, but also feng shui readings as well. as luck improvement and ancestral prayer services.
The company also offers ba zi reading, reading its date and time of birth, which would allow Chew to "warn customers" of things as if a conflict should arise with their superiors or their bosses.
" [The lectures] will tell them, "Today you are not in a good energy mood with your boss, you have to be careful," said Chew, whose services are offered from 88 Australian dollars (65 US dollars).
"Some people don't take us seriously. But like I said, we help those who want us to help. Those who don't believe us are fine with us. "
Today, Ghostbuster has approximately 1,000 customers of different faiths. On larger events, such as the eighth day of the Lunar New Year, also known as the jade emperor's birthday, attendance averages between 400 and 600 "followers."
According to Chew, 70% of his clients are Christians, even if certain elements of his business are rooted in Taoism.
"We will never tell to you to change religion. We are here to solve your problem. If I solve your problem, I do something that makes you feel good, you feel better and you keep going with your life. You will not change anything, "he said.
Customers ranging from teens to those in their thirties are increasing, said Chew, representing about 60% of his clients.
Most of them ask for help when they face bad business prospects or problems with their family.
Chew added, "Some people feel that they are not reaching their maximum potential … and let's help each client achieve the best they can in their career or family life. "
Among those who turn to such supernatural means is Wilmer Ang, 30, who went to see a master several years ago "out of curiosity". He later consulted with the master when he started his business and when he encountered problems at work.
"I will visit my master occasionally, either to ask for advice on my business or to love life," said Ang, who works in the real estate industry.
He is said to carry certain objects, including precious stones, or to place "lucky charms" in his office to bring him prosperity.
Another believer, Max Tan, 35, first consulted a numerologist in his twenties. Then he thought it would be a "good idea to see what the future holds."
During the consultation, he discovered that he had conflicting character traits and "slowly reconciled" with who he was.
Tan, who is a fashion designer, recently consulted his master again, who confirmed his decision to continue his studies.
Dhylan Boey, a professional metaphysician, who has been in the business for over 10 years, has suggested that the younger generation is more open to such practices because it has "fewer hangups" with taboos and conventions, compared to the older generation.
Boey, who specializes in numerology, crystal healing, tarot and feng shui readings, said, "My Generation Y or Generation Z clients are open to new things that may not be be validated by clinical sciences. "
"On some level, they like to believe that some magic still exists in this world and that as young humans grappling with life problems, and discovering their purpose in life, they may also be doing part of this magic. "
Source: AsiaOne
Unexplained Case Of Stone-Throwing Devil of New Castle Island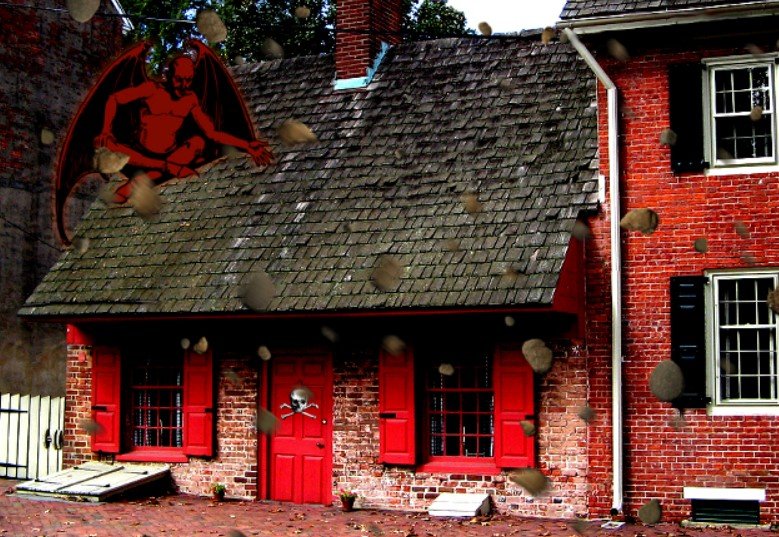 In 1682, stones battered George and Alice Walton's home and crashed through windows in the living quarters above their tavern.
Hails of stones followed them into their fields. Richard Chamberlain, Secretary of the British Colony of New Hampshire, who was staying with the couple documented the events and coined the word, Lithobolia,a Greek-sounding one that translates as Stone-Throwing Devil.
He published a book about the seventeenth century poltergeist.
Stone-Throwing Devil Activity – Summer 1682
George was the stones' target. There were up to one hundred of them in sessions and George was hit as many as forty times. Some were very hot, while some were icy cold.
Their size ranged from small pebbles to rocks as large as a human head. When people put them on a table, they disappeared and reappeared. The Waltons tried to repel the Stone-Throwing Devil by boiling crooked pins in a pot of urine. Twice, a stone hit the pot, spilling the liquid.
A gate from the Waltons' house to neighbor Amazeen's was tossed off if its hinges. A spit from the fireplace disappeared, then fell down the chimney and impaled itself into a log. A wheel of cheese was broken into pieces.
The drainage stopper in George's boat vanished. Household items were tossed into the yard. Witnesses heard rocks rolling in the upstairs room, snorting, heavy breathing and sounds of distant hoofbeats.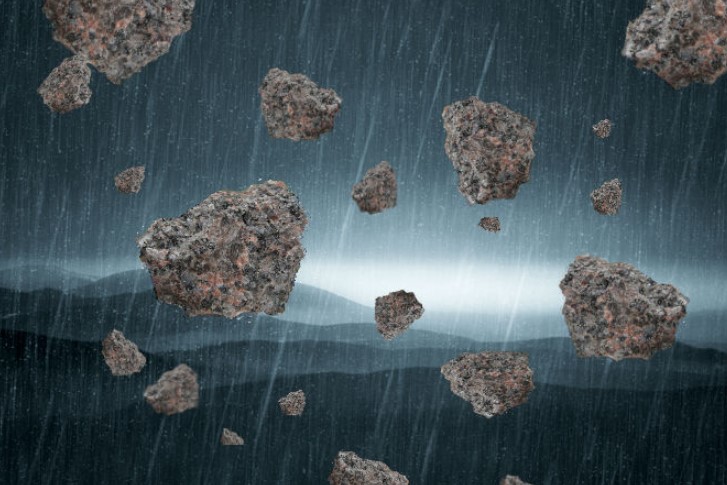 Stone-Throwing Devil and Accusations of Witchcraft
The Waltons were considered wealthy property owners. Goody, a term used for women who didn't have the status of being called missus, Hannah Jones was poor.
They both claimed ownership to a small field. Walton accused her of being a witch when she told him he should never enjoy that piece of land. She countered by accusing him of sorcery.
Some believed this event summoned the Stone-Throwing Devil.
Political Climate in New Castle Island
The islanders, two days before the stone throwing started, petitioned to separate from Portsmouth. It was denied. The heirs of John Mason, who was granted all of the land in New Hampshire, wanted their land returned or to collect taxes from all residents.
Chamberlain, the Waltons' guest, was also the lawyer for the Masons. The Waltons were Masonian sympathizers and Quakers. Members of the sect were persecuted as those suspected of practicing witchcraft were.
Waltons' household included servants an African man and an AmerIndian woman, in an era of great racial prejudice.
Stone-Throwing Devil's Activity Ends
The poltergeist activity ended after Chamberlain returned to England. Two and a half years later, George Walton, who was seventy at the time, signed his property over to Alice and provided legacies to his children and grandchildren.
When he died in the following year, George still suffered from the wounds caused by the stones.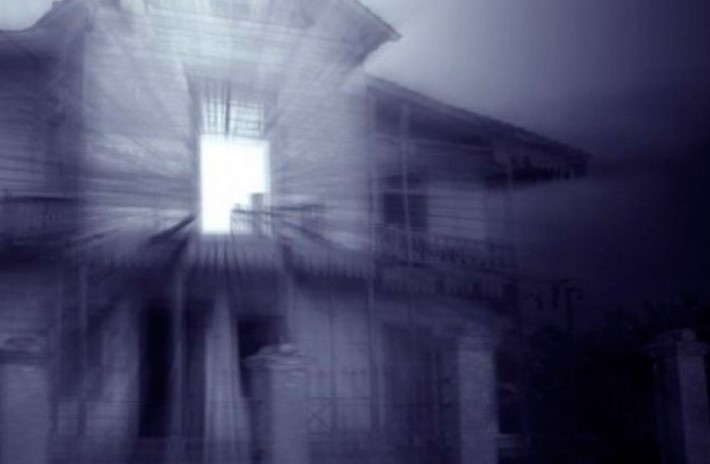 What was the Stone-Throwing Devil?
There were those who believed the stone tossing was caused by the devil. Increase and Cotton Mather, two powerful colonial New Englanders, wrote about the events that many believed were caused by witchcraft.
Cotton played a prominent role in the future Salem Massachusetts witch hysteria involving persecutions, accusations, trials and executions. No record can be found that indicates executions of anyone connected with the Stone-Throwing Devil.
Some islanders believed mischievous humans they dubbed the Boys at Work were the culprits. The Waltons had a houseful of grandchildren. The boys heard the snorting sounds; the girls, awakened by sounds of rolling rocks.
Both ran outside during the hails of stones. The problem with this theory is that stones pelted George in the children's absence.
There is a phenomenon called the rock-throwing poltergeist that has been investigated and documented in modern times. Their activity is limited to stone tossing.
This is a manifestation of PK, psychokinesis, the ability of the mind to affect matter. The agent can be a human or an entity. There is a profile for human agents.
They experience unpleasant emotions such as frustration, anger and feelings of worthlessness, and test above average for PK. Emotions are repressed and released by subconscious PK. The activity may stop spontaneously or by psychotherapy.
By today's standards, this case would be considered as trickery or a poltergeist, not the work of the devil.